create a baseball logo on your own (
click here to jump down to the tutorial
)
, and we're going to show you how. First, let's take a look at some of the best logos out there. Need more inspiration?
See the list of famous baseball logos below
.
9 Best Baseball Logos
How to Make Your Own Baseball Logo
If you need to create a baseball logo for a local team or casual club, you may not have the budget for matching uniforms, let alone a professional designer. Luckily, you can make your own baseball logo for a reasonable price. One of my favorite DIY logo makers is
Looka.
For more information about the platform,
click here to read the full review
 or watch the video below:
The service is free to use. You can play around with different options and design as many logos as you like.
You pay only if you like the logo you create
. To get started,
go to the Looka homepage
. In the
Type of Business
field, type "baseball team."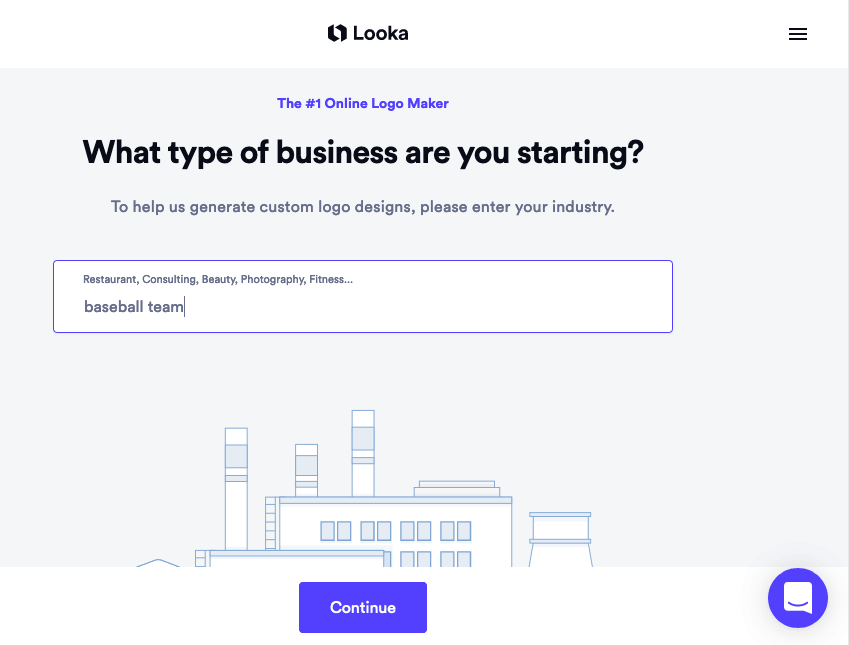 After specifying your team name and what kind of logo you need, Looka will try to determine your stylistic preferences. You're asked to choose your favorites among a series of preexisting logos so that the AI can gauge your tastes.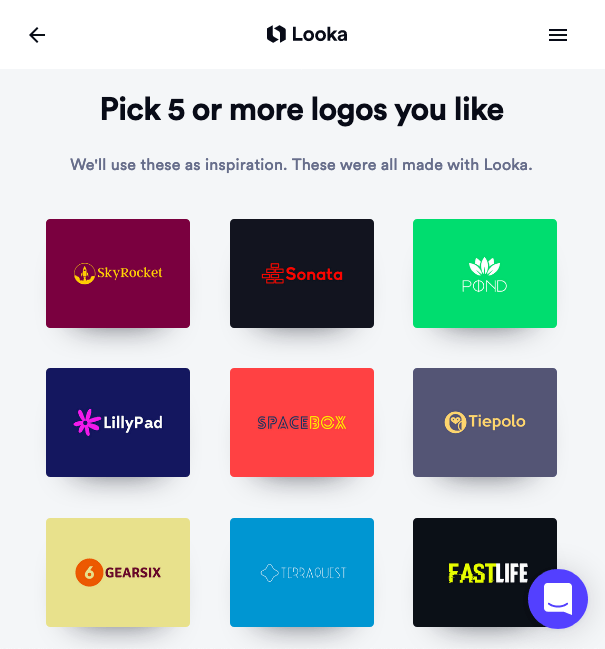 Next, you choose your color schemes. The specific colors can be customized later, but for now, Looka just needs a broad idea of what you're looking for.
Expert Tip: Although colorful logos may show off how fun and playful a brand is, this doesn't translate as well for baseball logos. Sports teams should have clearly identifiable colors – one primary color and an optional secondary one – so that fans can easily show their support. It's asking a lot to have your supporters paint a rainbow on their face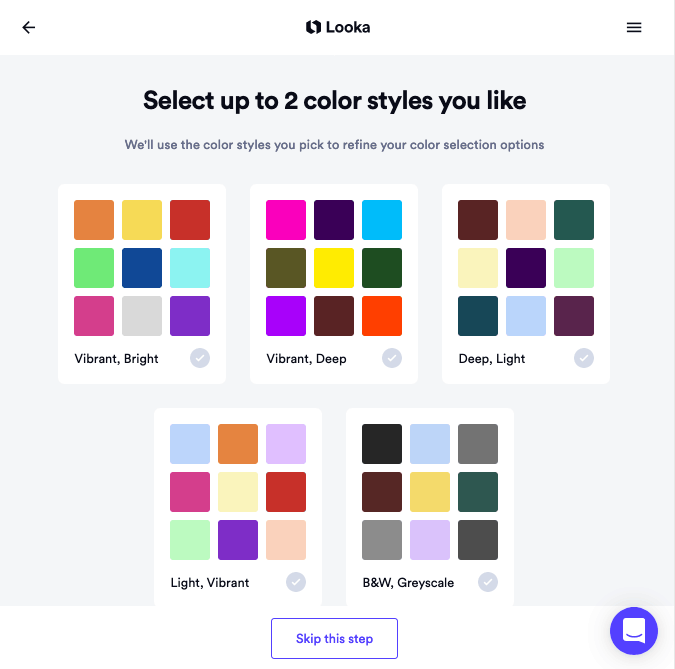 Now, you can choose from a gallery of premade icons. Don't feel limited to just sports icons – if you have an idea for an animal mascot or other non-sports imagery, you can experiment with them here.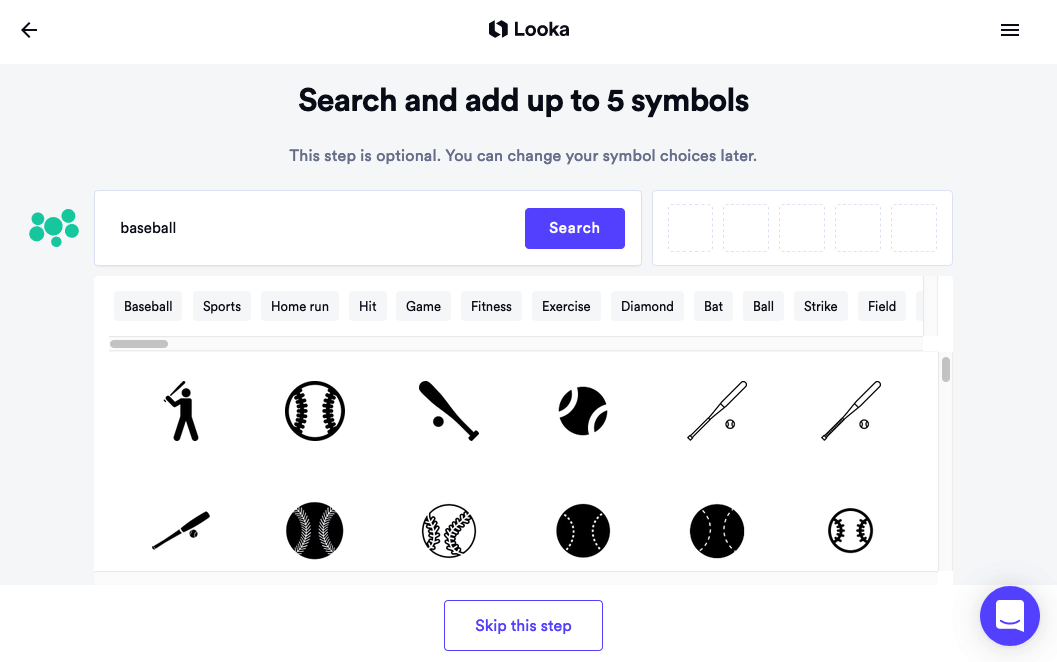 Looka then automatically generates logos based on your input.
You can customize the colors, text, sizing, and icons as you like.
If you find a logo you want to use, you can purchase the ownership rights and download it in seconds.
Expert Tip: Sometimes you can tell a baseball logo from the font alone. Recurring themes include "spikes" on the sides of letters (like the Red Sox logo), or a curvy underscore beneath the team name (like the Dodgers logo). You can use these trends to communicate visually and save space elsewhere, rather than using obvious imagery like a baseball or a bat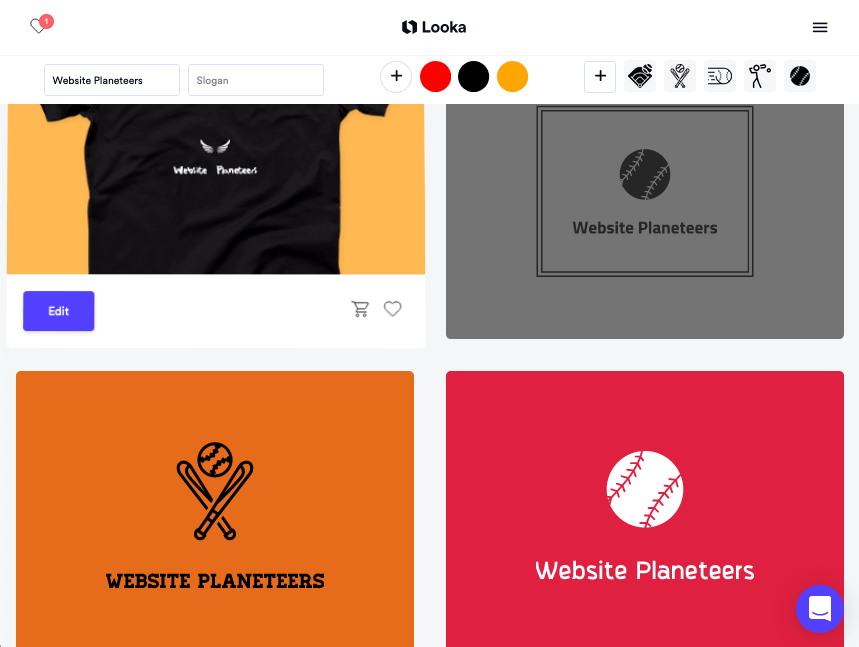 Best Looka Alternatives
Need more options? Here are some alternative logo generators you can try.
If you want to be able to customize your logo even more, you'll like Wix Logo Maker's intuitive drag-and-drop editor.
If you like Looka's AI-based logo maker, but want to see more samples, try Tailor Brands.
If you need a baseball logo for t-shirts, jerseys, or hats, LogoMaker offers printing services.
Prefer to Have Your Baseball Logo Created by a Designer?
Even with the best AI logo generators, you still don't get that artistic originality that you do working with a flesh-and-blood designer. True, you have to pay more, but not as much as you might think – especially if you use
DesignCrowd (click here to read the full review)
. Through DesignCrowd, you have access to designers from all over the world and of all different skill levels and price ranges.
DesignCrowd makes the entire process easy, and it's more affordable than other design platforms
.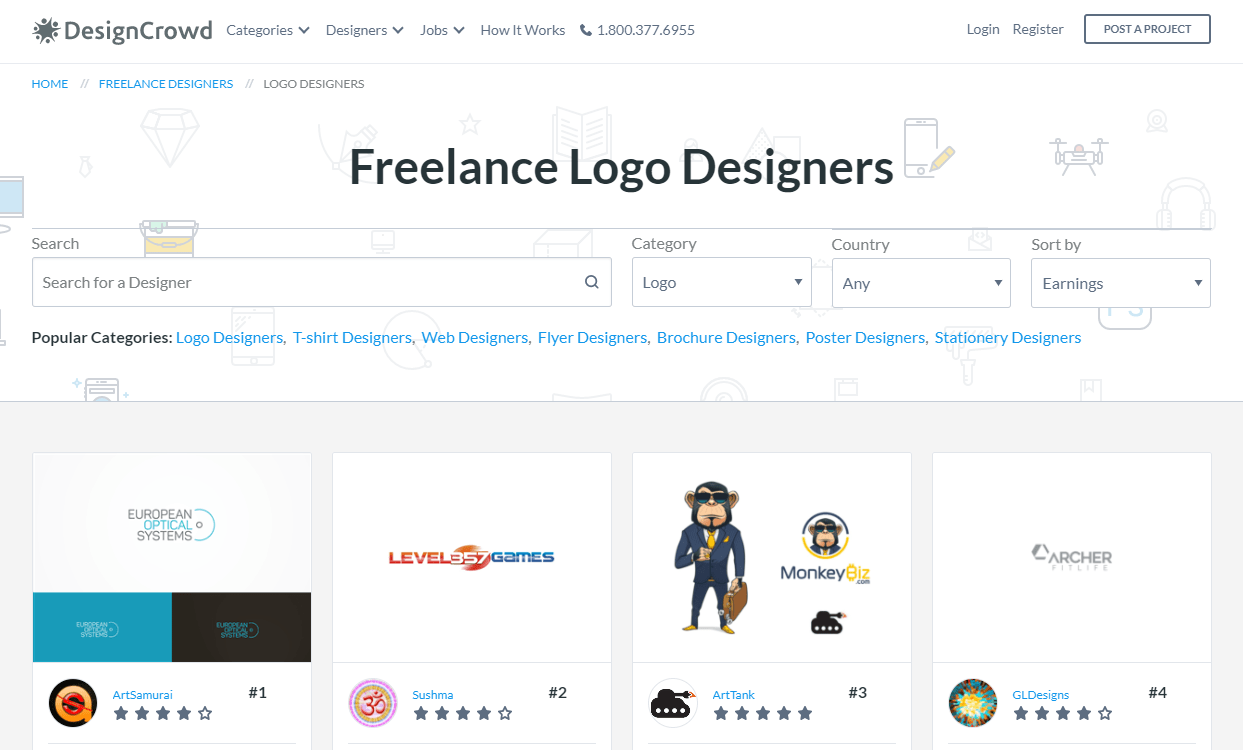 If you'd like to commission a logo, you first fill in a questionnaire, similar to the one in Looka, but more in-depth. Your brief is then given to the design community, where artists and designers create sample baseball logos based on what you specified. For a small fee, you can even invite a DesignCrowd designer to submit a sample if you like their style. Once the submission process ends, you can browse all your selections and choose the one you like best. The pricing model is set up so that you get to see all the options created by the designers, but you're only paying for the price of one logo.
Throw in the money-back satisfaction guarantee, and it's not a bad deal
. DesignCrowd works well for baseball logos because:
Fast deadlines – If you need your baseball logo ASAP, you can accelerate submissions with a 3-day deadline, something other design platforms don't always offer.
Money-back guarantee – If you don't like any of the submissions, you can request a refund within 60 days.
Averages 25-100 submissions per project – DesignCrowd has a huge community, and it's a good choice if you want to receive as many submissions as possible.
DesignCrowd is great because it's a middle-ground between affordable pricing and design quality. If, however, you're willing to pay more for a high-tier designer, check out
99designs
. It offers a similar service, but with more emphasis on graphic design skills. On the other hand, if you're looking for a cheaper option, check out
Fiverr
, where you can hire professional designers for some of the lowest prices around.
Famous Baseball Logos for Your Inspiration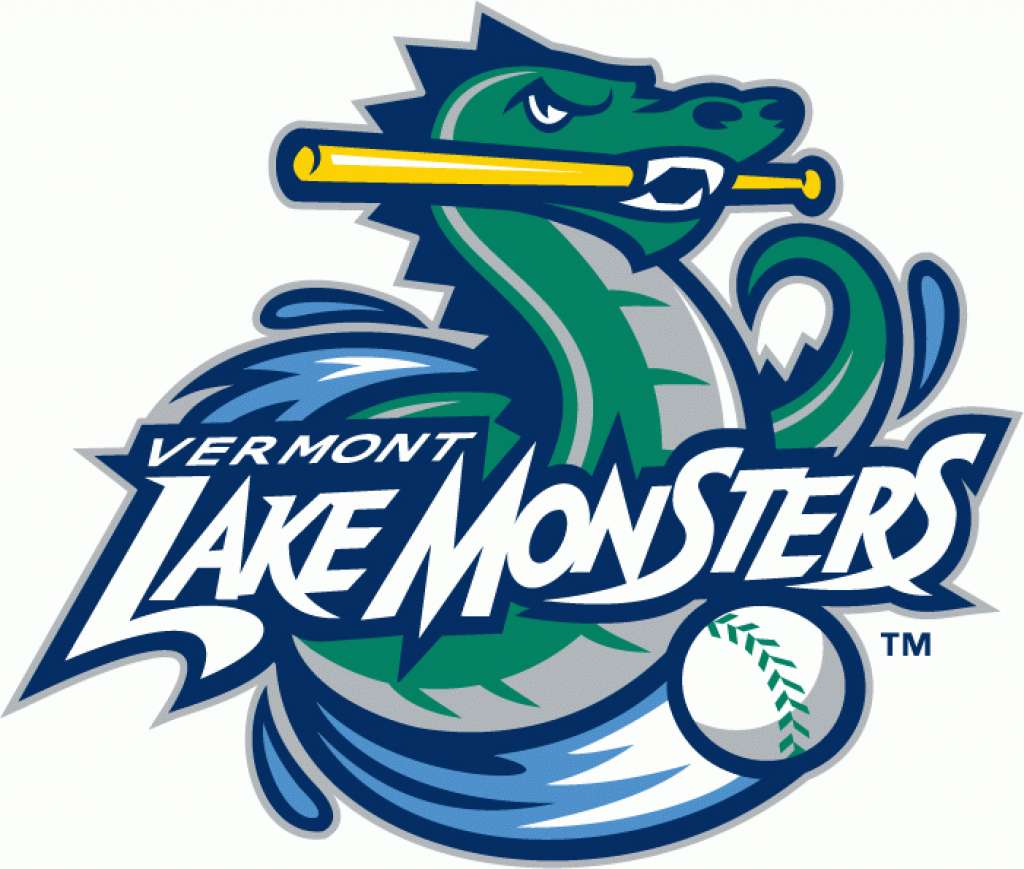 The Minor League's
Lake Monsters
logo exhibits all the best elements of logo design. The sea monster mascot is appropriately menacing, while the curves of its serpentine body and the water creates a sense of dynamic movement. On top of that, the shades of green and blue show an effective way to use a color scheme.
Expert Tip: Adding some additional color in the right spots can create a 3-D effect and make your baseball logo "pop." The small grey line going down the Lake Monster's back and the smaller white line on its chest add dimension to the otherwise flat artwork.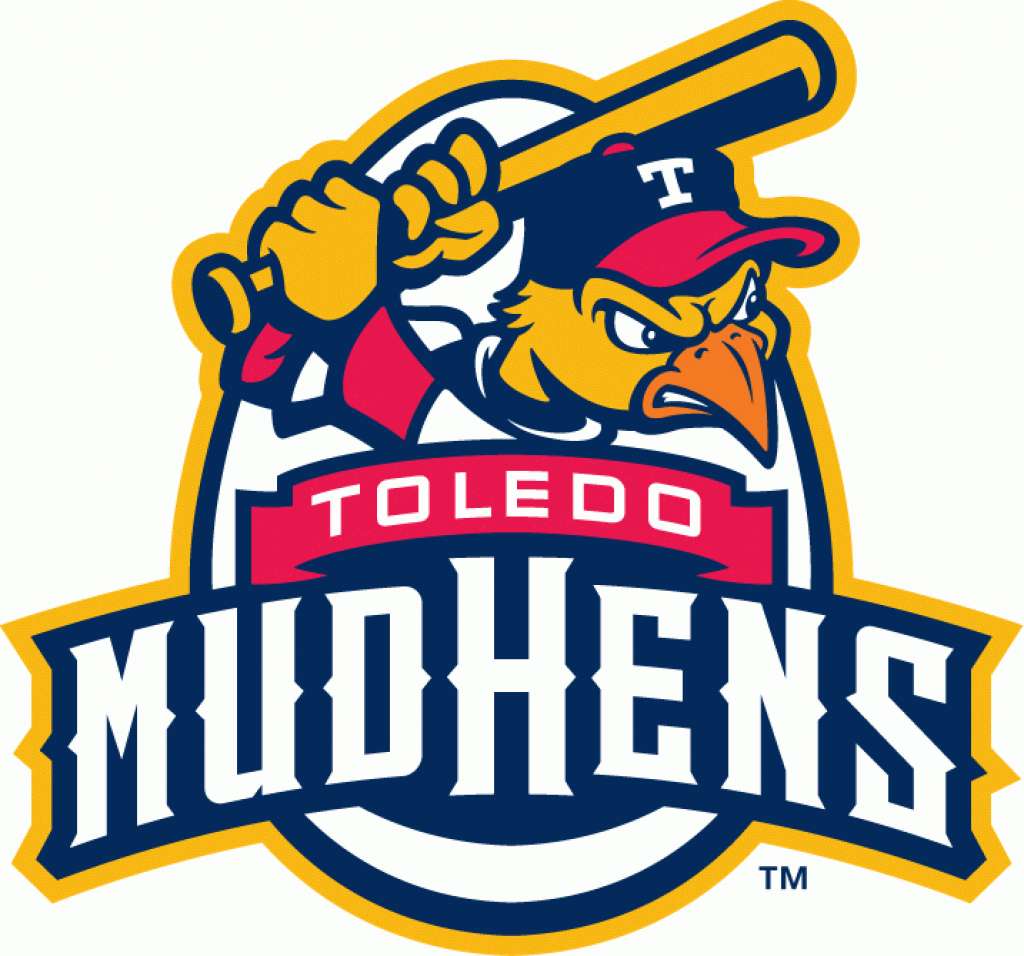 Another Minor League team, the
Mud Hens
, show off a more traditional baseball logo complete with the spiked typography and an angry animal. A good sports logo can make any animal terrifying, even a chicken.
Moving on to more recognizable Major League baseball logos, the
Cardinals
logo may not terrify opponents, but from a graphic design perspective, it's an apex predator. Notice how all elements are interconnected – the birds on the bat, the bat through the letters, and the letters to each other.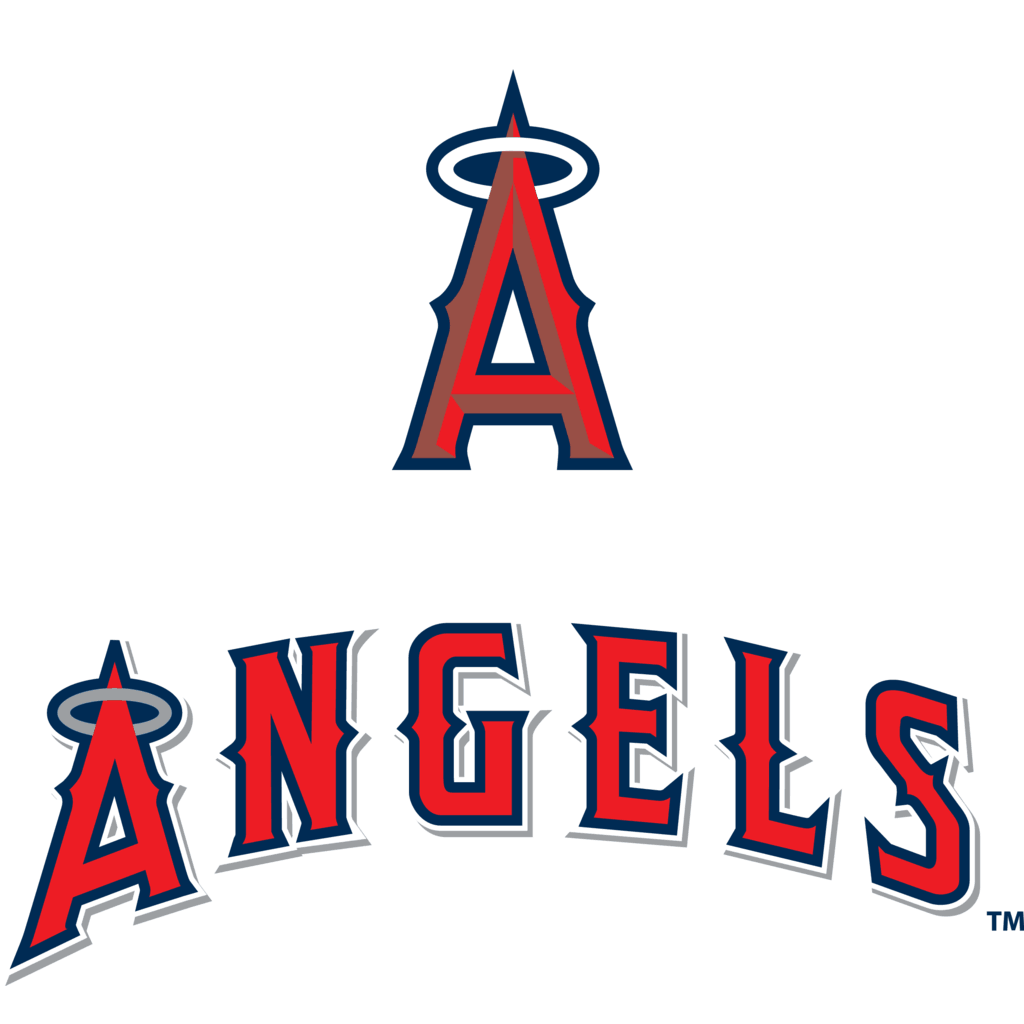 Visual puns are a favorite of logo designers because they're not only fun, they also aid in communication. Even if you've never heard of the
Angels
before, one look at the letter A with a halo and you'd probably guess the team's name. Moreover, notice the spiked typography again, as well as the two-toned shading on the A to make it more 3-D.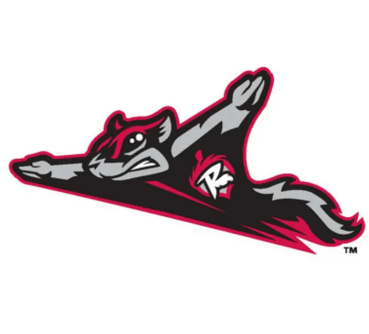 The Minor League's
Flying Squirrels
logo uses colors to turn an otherwise silly animal into something formidable. Red and black are the two most aggressive colors, so combining them – with unobtrusive grey for accent – is a shortcut to a strong logo.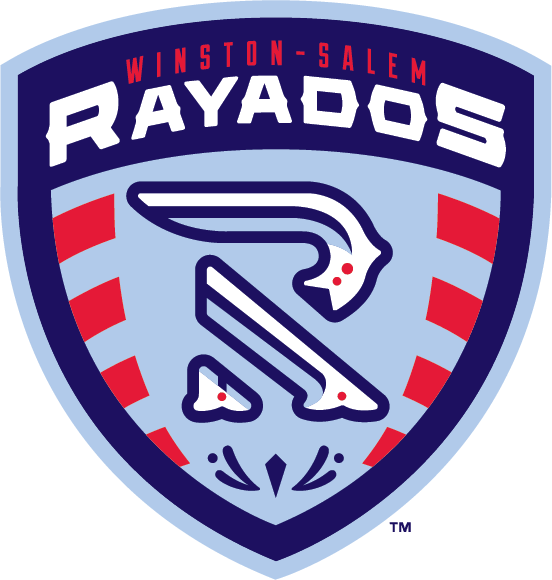 We saw some creative baseball logos for the Minor League's
Copa de la Diversión
, including that of the
Rayados
. For starters, the shield emblem, which is common in sports logos, is a good shape for denoting strength and endurance. This logo also demonstrates design elements like an exemplary use of colors, empty space for the central
R
, and flourishes to fill space to create a cohesive logo.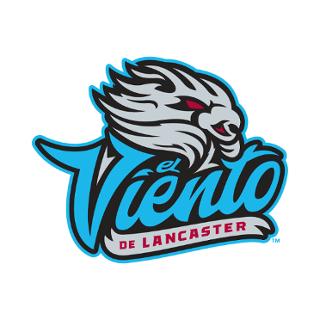 Another
Copa de la Diversión
baseball logo, the
El Viento
logo manages to make wind seem scary. This baseball logo makes good use of parallel lines, curves, and spikes, all of which use the viewer's eye to speedily move around the logo, adding an extra vigor.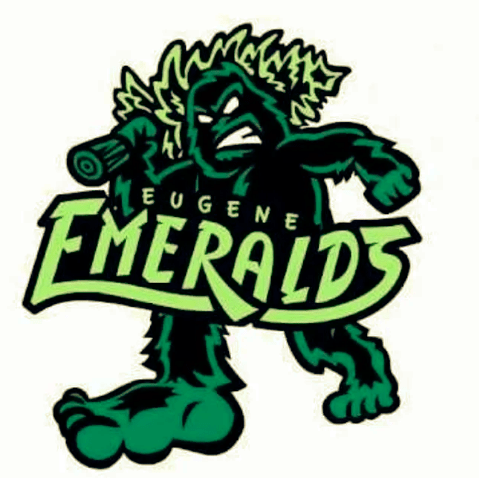 As the most neutral and balanced color, green is difficult to apply to sports teams, which tend to prefer more extreme colors. The Minor League's
Emeralds
, however, circumvented this problem with a heavy use of black.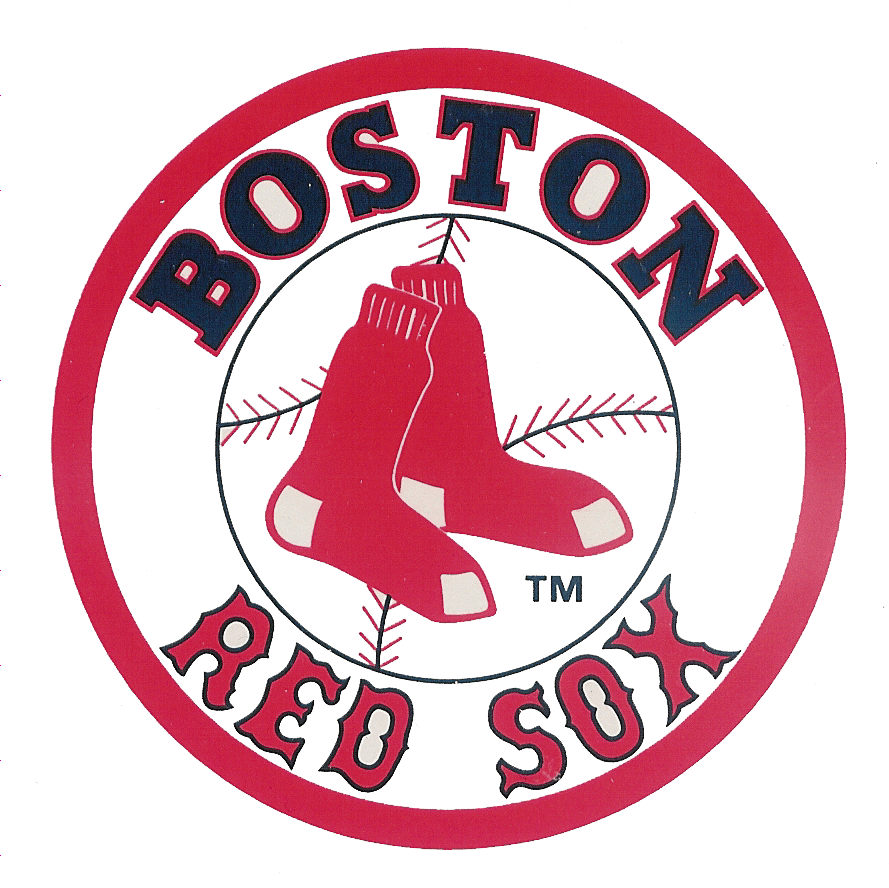 If someone in modern times pitched naming a sports team after colored socks, they'd be laughed out of the room. But thanks to its illustrious history and dedicated fan-base, the
Red Sox
logo is now one of the most recognizable in all of sports-dom. We mention them here as the best-known example of many trends: the circular emblem, using an actual baseball as a background, and of course the spiked typography.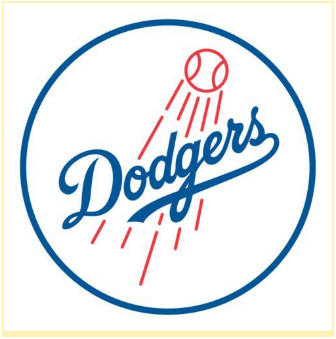 Another trend-setting logo with a long history, the
Dodgers
baseball logo is perhaps the most famous to use the wavy underscore (underline), connected to the cursive letters. This particular underscore, with its slight curves and varying width, has become synonymous with the sport of baseball and is a favorite trend of teams and baseball establishments.
Hitting a Home Run
Creating baseball logos can be highly enjoyable, but it's important not to become overly enthusiastic and overlook the fundamental principles of designing sports logos. It's advisable to adhere to the designated theme, restrict your choice of colors, and, if feasible, incorporate an element that distinctly represents baseball, distinguishing it from other sports. You should also consider where the logo will be displayed. Images can get distorted when printed on T-shirt cloth or curved hats, so avoid overly intricate details. If you want to make your own baseball logo for fun, like a local club or a group of friends playing casually, a DIY logo maker like
Looka
does just fine. If you want to create a baseball logo for something more official like a league, you'll receive a better-quality result if you hire a professional designer on a site like
DesignCrowd
.
FAQ
What makes a good logo for baseball?
You'll want your baseball logo to be memorable, but that doesn't mean you need to go overboard with details. Choose up to two colors that will be synonymous with your team, and use an attractive font to make an impression. If you want to let your creativity run free, a DIY logo maker like Looka is worth trying out.
Is Looka really free? 
Looka is free to try, so you can design your logo for free and only pay if you like it. Looka's paid plans are quite affordable, and you can use our coupons to get the best deals. Read more about what each plan offers in our in-depth Looka review. 
What is the best logo maker for baseball logos?
It depends on your needs and preferences. If you like Looka's AI logo generator but wish there were more suggestions, try out Tailor Brands. Or, if you want a wider choice of customization options, you'll benefit from  Wix Logo Maker's intuitive interface. Check out the best logo design services for 2023 to review more options.
How do I design a baseball logo? 
If you have the time and will to create a logo by yourself, you can do it with the help of an online logo maker. However, if you'd rather have a professional do the job for you, consider using a platform like DesignCrowd. They offer a pretty good balance between affordable prices and design quality.
Or, if you want a quality custom logo, the cheapest and fastest way to get one is to hire a designer on Fiverr.