Jump down to find out how to hire a pro designer for just $5.
If you're great at building things and want to turn that skill to graphic design, I'll share which tool is best for DIY. But first, get ideas from some of my favorite construction logos.
9 Best Construction Logos
How to Hire a Great Designer for $5
Hiring a professional doesn't mean handing over cash to a fancy design agency. Thanks to Fiverr, you can hire an amazing freelance graphic designer and get a bespoke construction logo for as little as $5. Fiverr is the go-to platform if you want to hire trusted and skilled freelancers, from logo design specialists to website developers, and all for a starting price of $5.
When we were looking for a new logo for Website Planet, my colleague carried out an extensive search and tested lots of popular design services. His results were really interesting. Check out all of the logo examples and see who came out on top in his
full comparison of logo design services.
Finding a Logo Designer on Fiverr
The Fiverr website makes it easy to find and hire the right designer for you in a matter of minutes. I'll walk you through the process.
Go to the Fiverr homepage
, hover over
Graphics & Design
, then click on
Logo Design
under
Logo & Brand Identity
.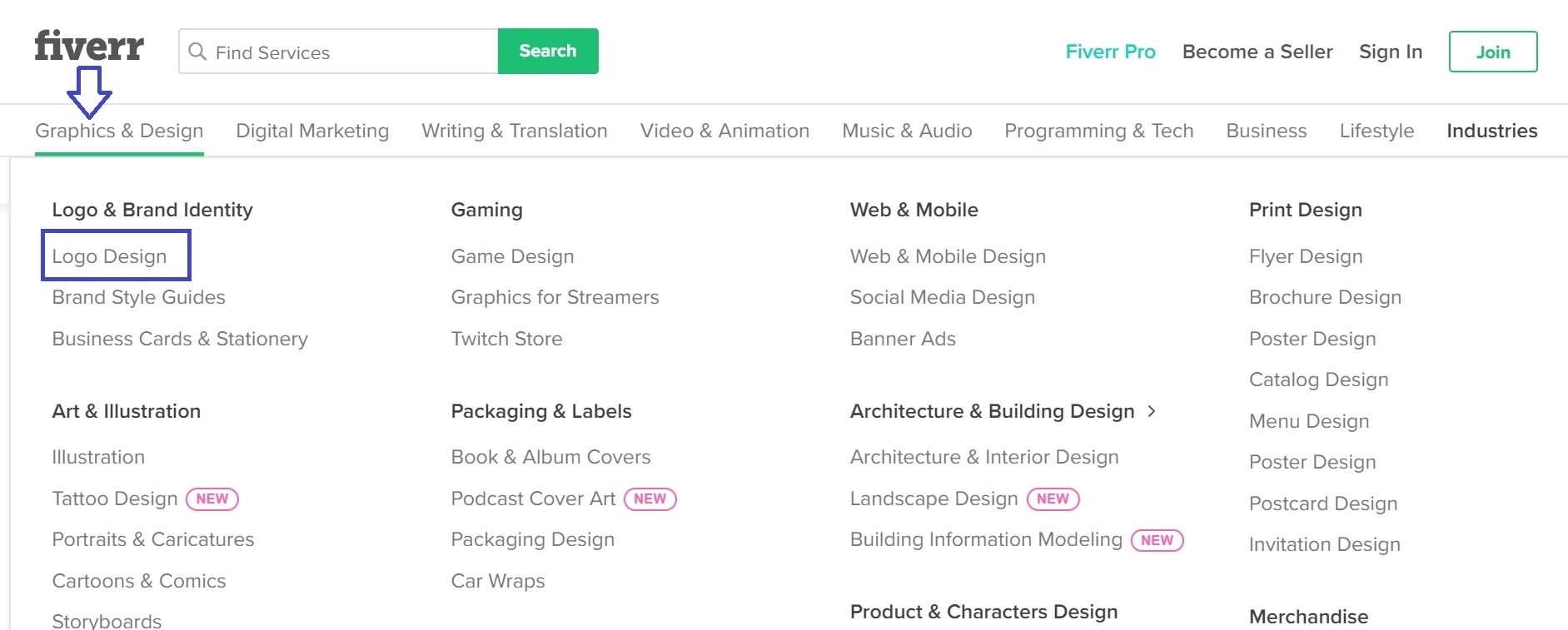 Start by searching for a keyword (e.g., construction logo) in the search bar.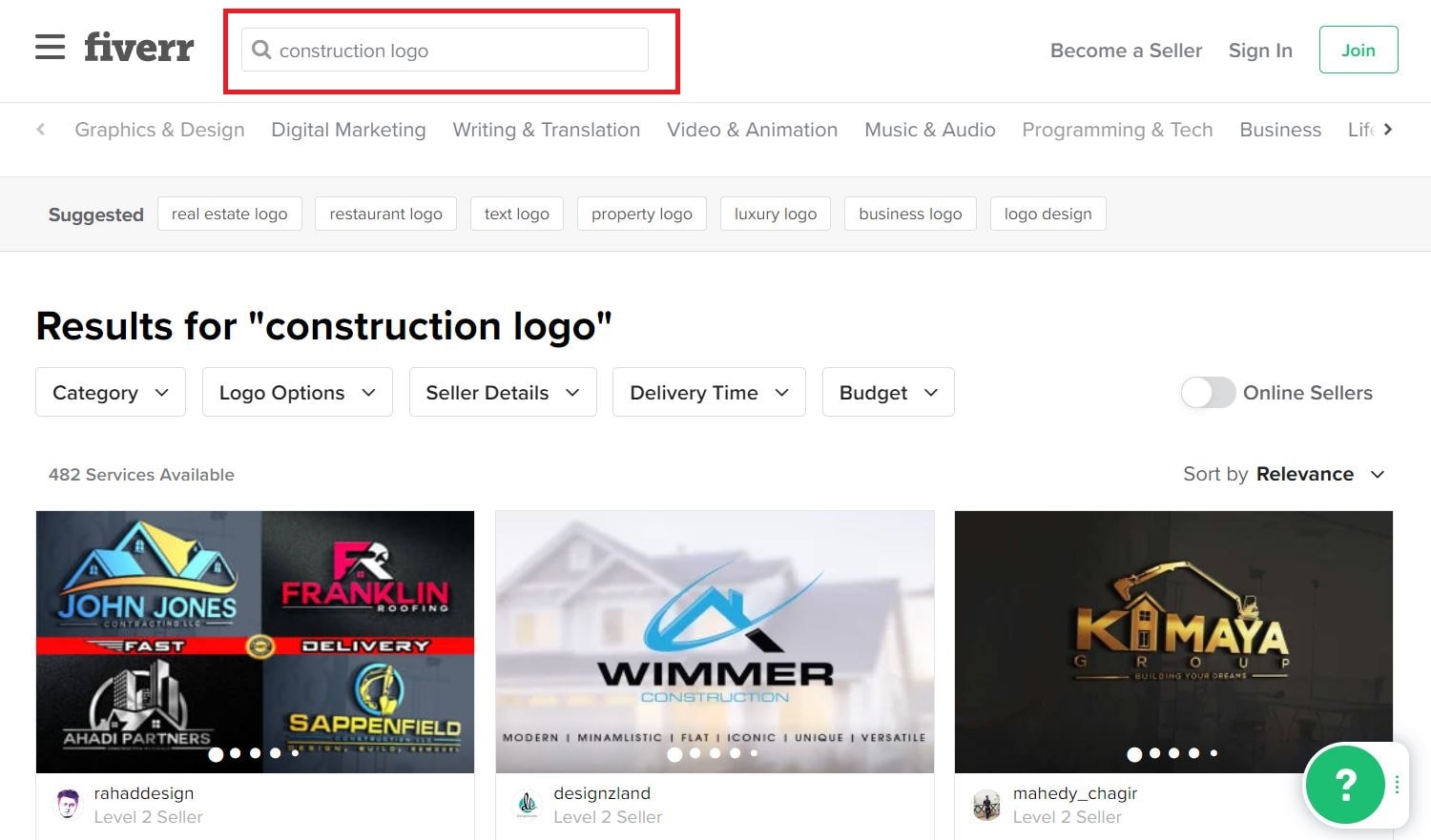 Get more specific search results by using Fiverr's advanced search filters. You can choose the type of logo style you want, set a price range and delivery time, and even specify seller details including location, language, and experience level.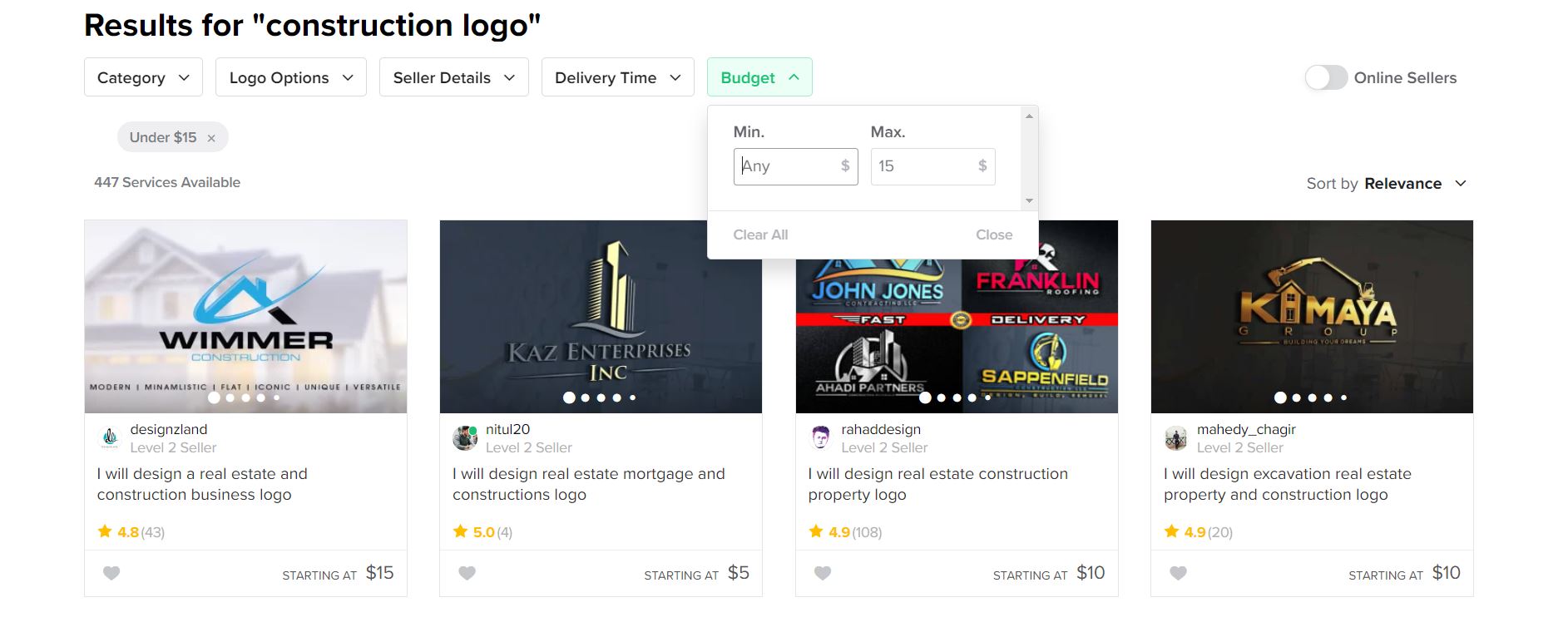 Get more specific search results by using Fiverr's advanced search filters. You can choose the type of logo style you want, set a price range and delivery time, and even specify seller details including location, language, and experience level.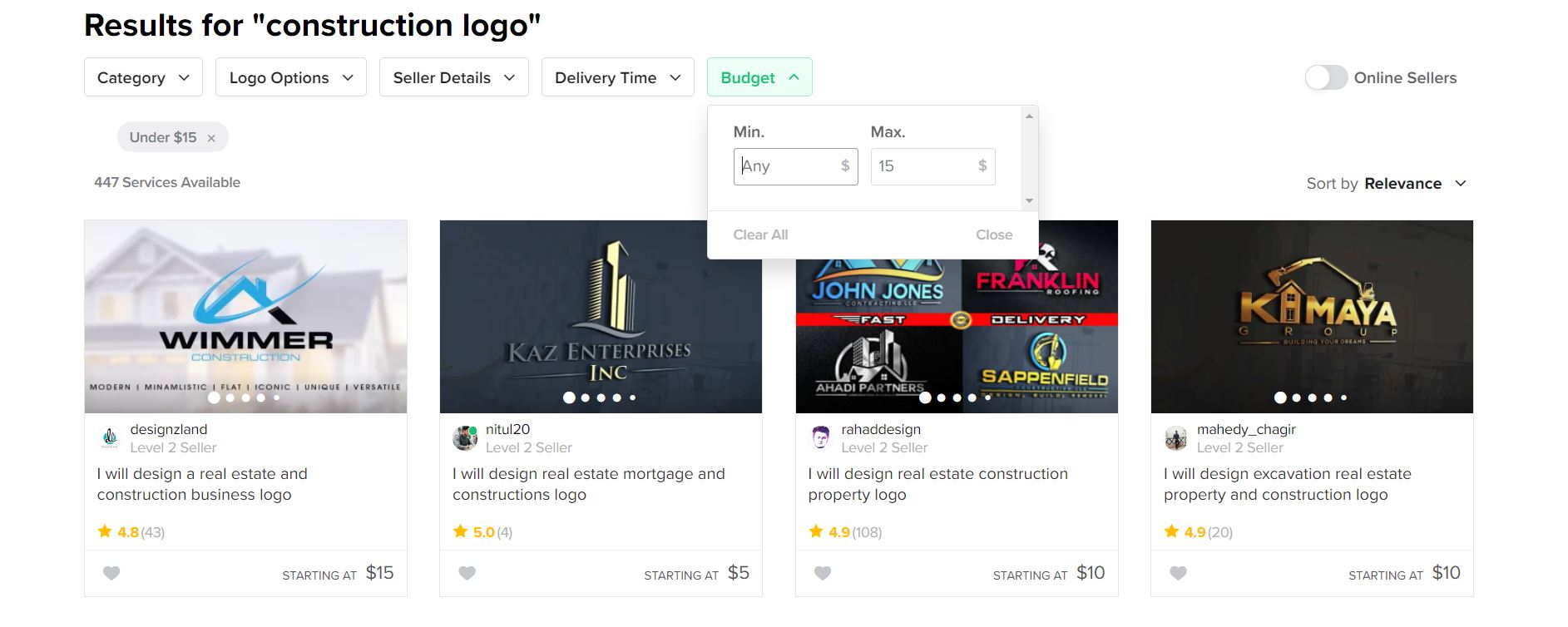 Ready to hire a freelancer? Learn more about hiring the right designer in our
in-depth Fiverr review
.
More Notable Fiverr Features
Huge variety – There are tens of thousands of designers from around the world offering different logo packages to meet all budgets and tastes.
Research your designer – Before hiring them, you can browse a designer's portfolio to see their style and read other users' ratings and feedback.
Get your logo fast – If you don't want to wait for a couple of days, some sellers offer a 24-hour service for an added charge.
Fiverr Pro – Sign up for this service to hire exceptional designers carefully selected by Fiverr. You'll also get access to VIP customer support.
Safe transactions – You pay upfront for every gig, but Fiverr holds your money securely in escrow until your project is completed and you approve of the design.
How to Make Your Own Construction Logo
Being in the construction business, you're likely to have an eye for detail, but you may be lacking the graphic design skills needed to make a logo from scratch. Luckily, there are tons of online DIY logo makers out there, but which one will help channel your creativity into something that looks professional and unique?
Wix Logo Maker
Wix Logo Maker is an easy-to-use DIY tool. You can create a professional design in just a few clicks, thanks to its advanced artificial intelligence (AI) system. You can also fully customize your chosen logo and get full commercial rights for it, too. To begin,
go to the Wix Logo Maker homepage
 and click on
Start Now
to create a free account.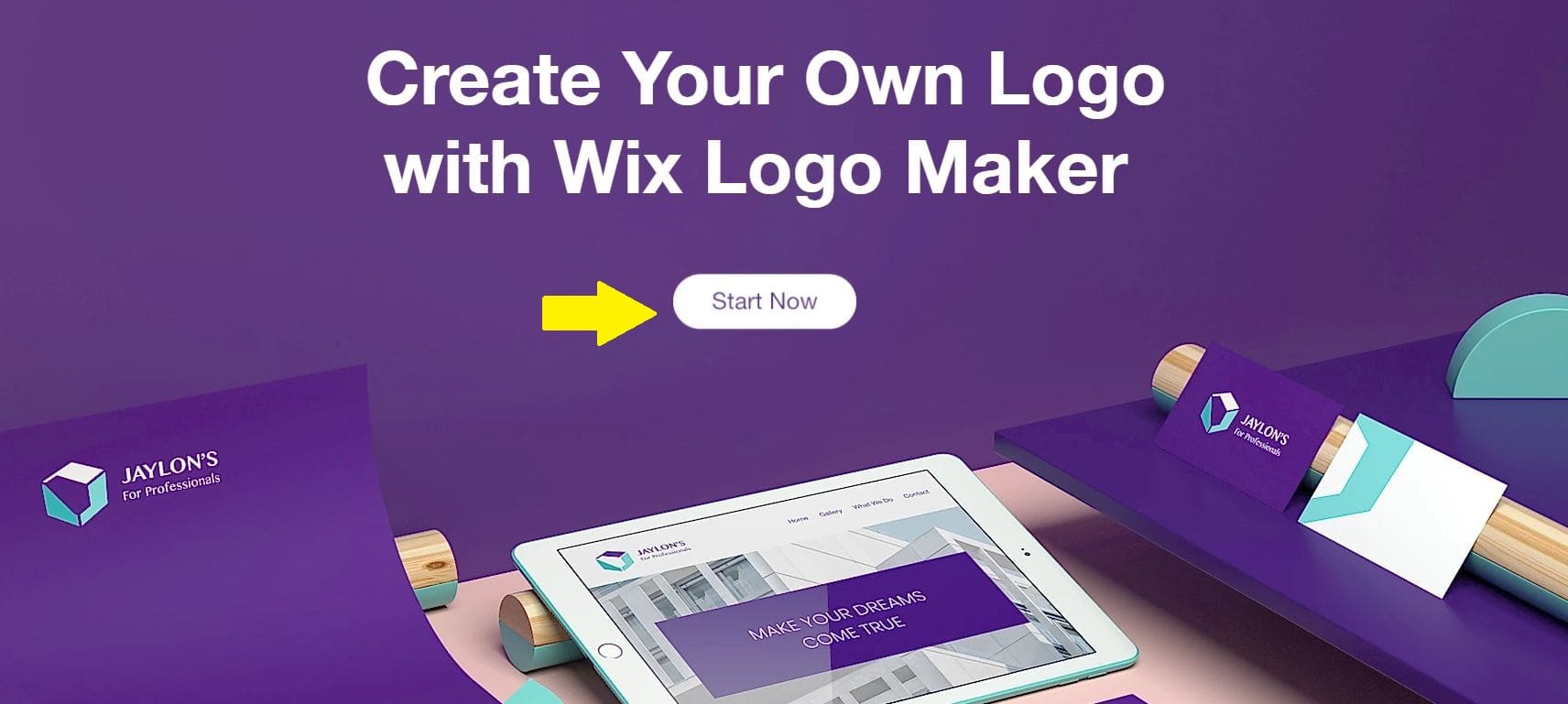 Next, the AI wizard will ask you several simple questions about your brand and favorite logo styles.

The wizard will then pull together a list of logo templates based on your answers. You can refine the templates and add more relevant icons by clicking
Replace Icon
and searching for "construction".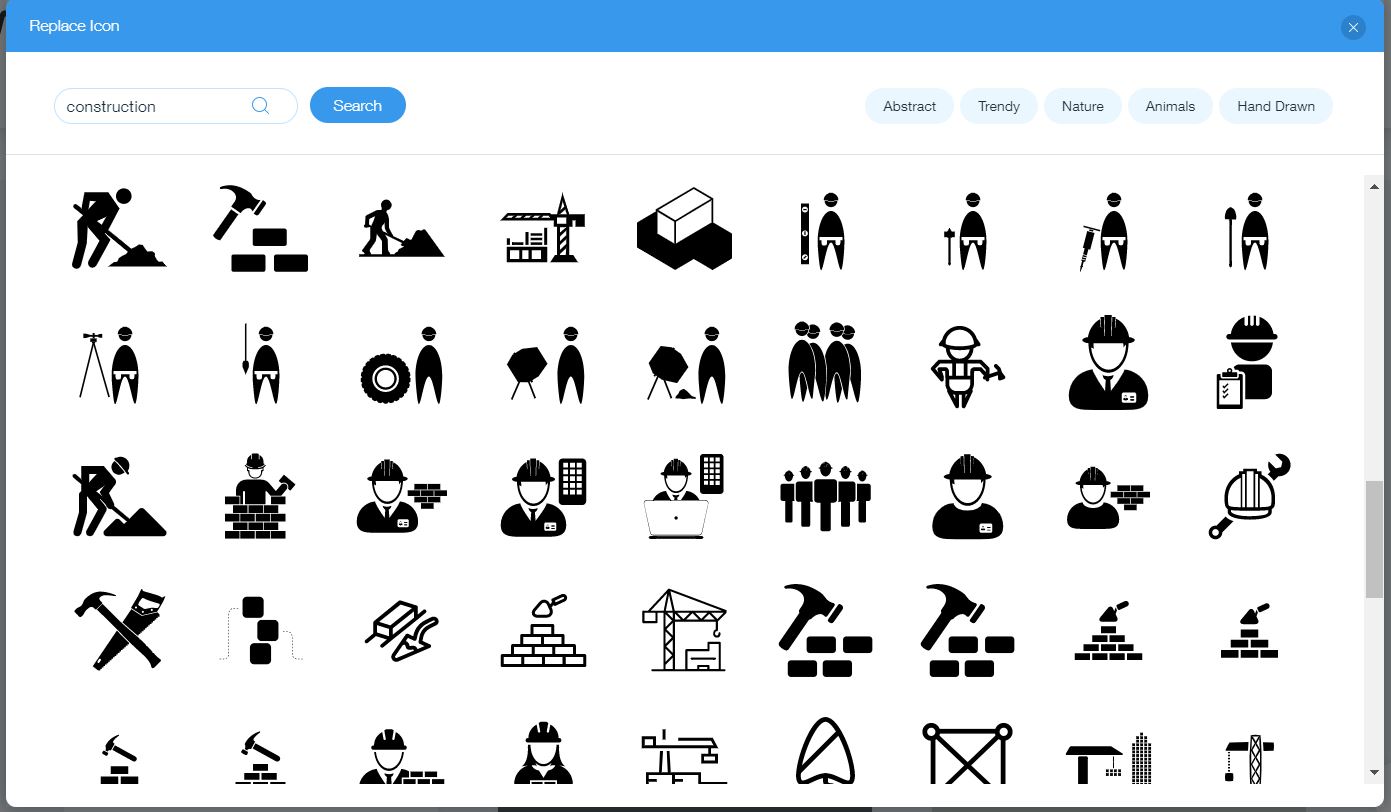 Next, it's time to add your own personal touch in the logo editor. Wix Logo Maker has loads of customization tools so you can change almost everything, from the color scheme to the positioning of each element.

If you're finished customizing and are happy with the finished look, your logo is now ready to go out into the world. Click
Next
to head over to the payment page to download high-res formats or a free low-res sample image. Want to know more? 
Read our expert Wix Logo Maker review
 to see some logo samples.
Alternatives to Wix Logo Maker
DesignEvo combines an intuitive AI tool with more than 5,000 design templates to create attractive logos. Like Wix Logo Maker, the editor lets you tailor your logo design to make it unique to your brand. See some logo examples in our full DesignEvo review.
Also powered by a smart AI engine, Tailor Brands is a great choice for beginners. It has plenty of customization options, as well as a range of abstract icons for more offbeat designs. Learn more in our in-depth Tailor Brands review.
The Bottom Line
When it comes to bringing a new logo to life,
Fiverr
 is an ideal place to start. Hiring a pro is the easiest option and you're guaranteed to get a design that sets you apart from your competitors. When it costs just $5, you really have nothing to lose. Designing your own logo can be a fun project if you choose the right DIY tool.
Wix Logo Maker
 is my top recommendation to save time and stress and to create a crowd-pleasing construction logo in minutes. It's totally free to try, you'll only have to pay when you download the usable logo files. Still on the hunt for the right design service for you? Browse our extensive list of the
best logo design services
available.