If you've been looking for the best email marketing service for your business, there's no doubt that Constant Contact and Mailchimp have come to mind as top contenders.
But which one is better for e-commerce businesses? Or for B2B? And which is easier and faster to learn?
I've tested dozens of email marketing tools over the years, and have lots of experience with Mailchimp and Constant Contact. I'm here to share my experience with you, to help you figure out which one of these two email marketing giants is best for you.
It's a big time investment to set up your email lists and campaigns on a new platform, so before your choose one of these tools, take a good look at this review to see how they compare.
Constant Contact Has Over Twice As Many Email Templates
With a good variety of email templates, both tools can save you a lot of time. The less time you have to spend editing and customizing templates, the better!
Constant Contact Has Over 200 Modern Email Templates
When you start to create an email on Constant Contact, you'll be asked to pick a design template.
You can pick from over 200 email templates, all of which are responsive. That's a huge library, with a template for almost every possible situation. You can also use a template to create a landing page.
They're not divided into categories, but the search function at the top of the page lets you quickly search keywords to find relevant templates (e.g., "welcome", "discount", etc.).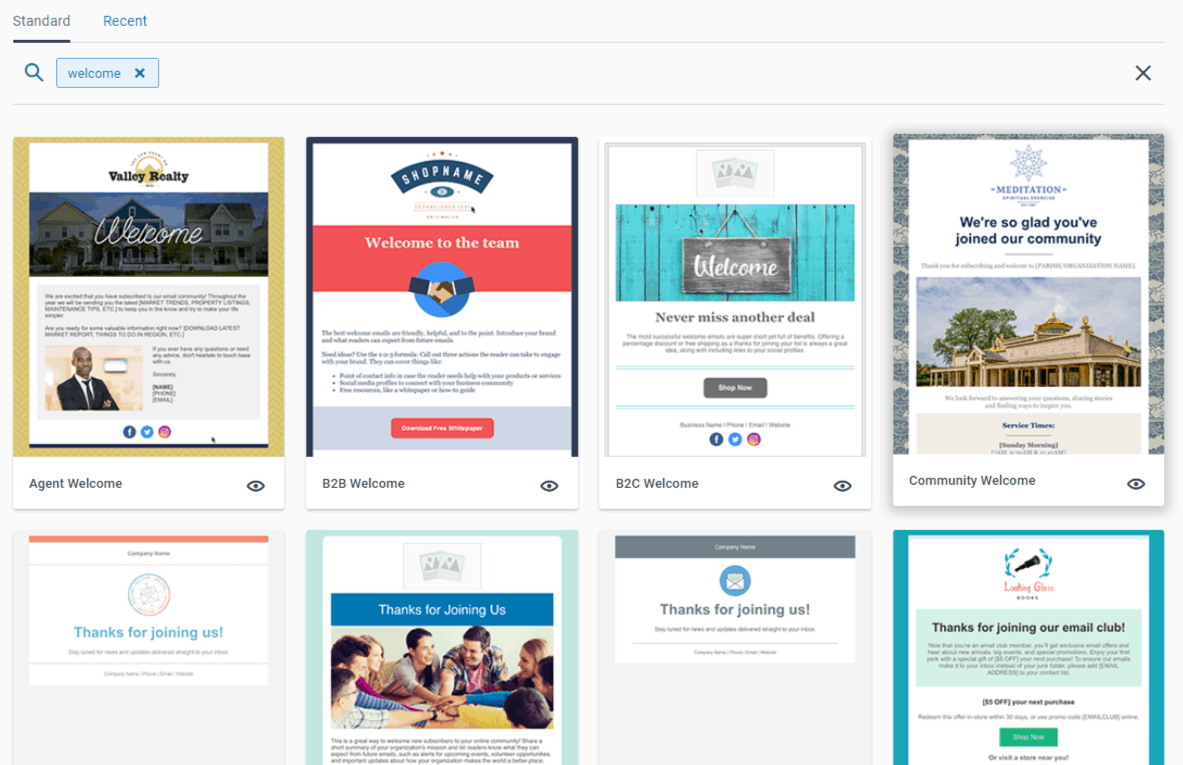 As far as quality goes, the designs are modern and professional. In many cases, you can just change some text and you'll be done!
Mailchimp Has Almost 100 Categorized Email Templates and Layouts
The process of picking an email design on Mailchimp can be a little confusing. The designs are divided into two sections: layouts and themes.
The layouts are general "plain" email templates that can save you time even if you wanted to design from scratch.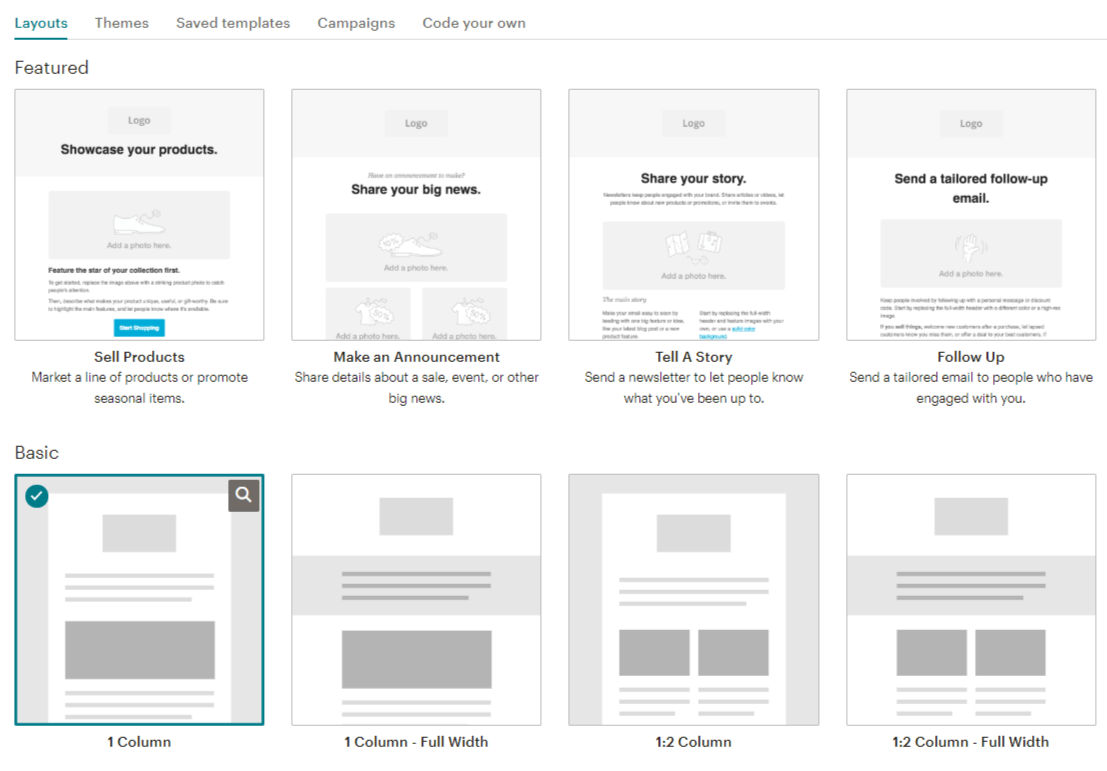 But if you own a business, you'll probably be more interested in Mailchimp's "themes," which are more similar to what Constant Contact offers.
The themes are categorized, with the most popular categories being e-commerce and newsletters.
There are about 90 themes in total — all responsive and well-designed.
And the Winner Is…Constant Contact
The quality of themes is similar, but Constant Contact offers more themes, which means you're more likely to find one that needs very little editing.
However, if you run an e-commerce business, you'll find that Mailchimp has a great selection specifically for you that's easy to filter out from the rest
Both Have Drag-and-Drop Email Editors — But One Is Clunkier
Both Constant Contact and Mailchimp offer drag-and-drop editors that are fairly easy to use, but of course, each one has its own strengths and weaknesses.
Constant Contact's Email Editor is Intuitive
I really enjoy how simple the email editor is on Constant Contact. It's probably one of the reasons it gets such great reviews.
The sidebar on the left gives you all the elements you may want to add to your emails. See something you like? Just drag it to the email preview on the right side.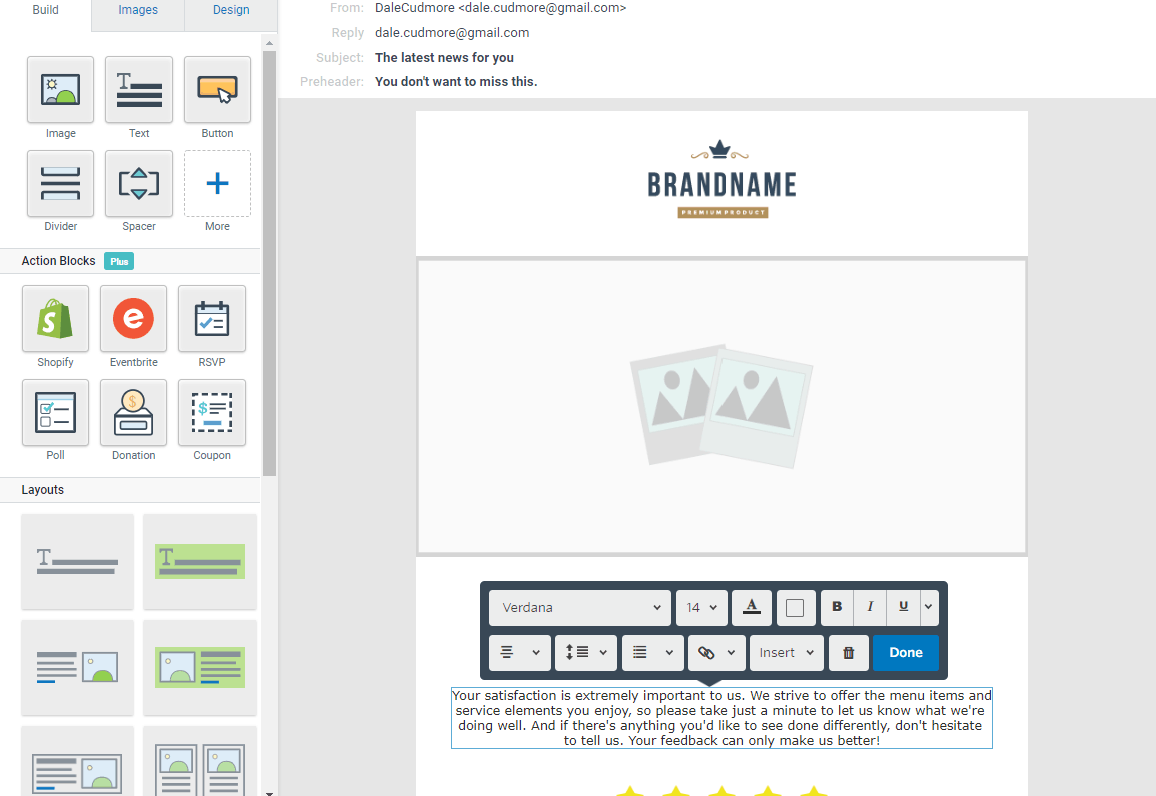 Then, if you click an element on the email preview, you can edit it directly — simple and quick.
There's a good mix of basic email elements (text and images) and more advanced elements like polls, coupons, and integrations.
For a typical small business, this is an almost perfect editor. The only potential issue is that it's not the best for writing long emails (500+ words), but you probably won't need to do that very often.
Mailchimp's Email Editor Looks Nice, but It's Slow
Mailchimp's editor is similar (just a sidebar on the right-hand side of the screen). Compared with Constant Contact's editor, though, there are two big differences.
First, when you want to edit a content block that's already been added, you don't edit it on the preview itself. Instead, an editor panel will show up over the original sidebar: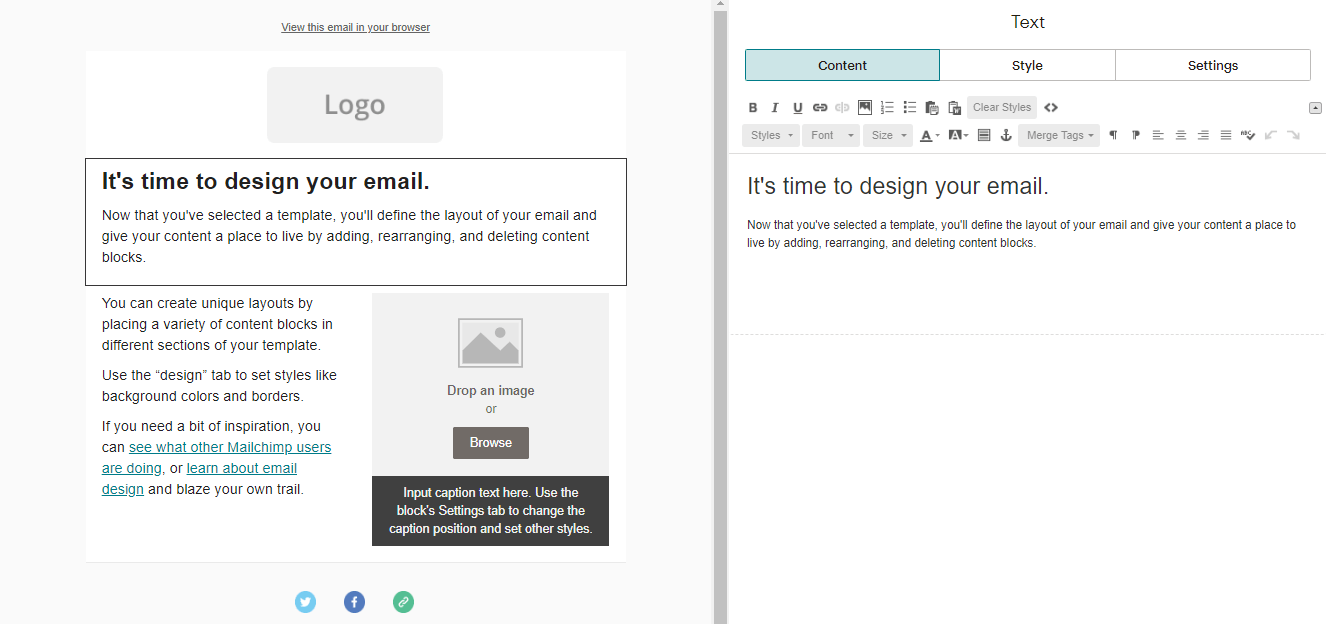 This gives you a full-featured text editor to use, which is nice if you're writing emails hundreds of words long. But that's pretty rare, so all it really does is add a bit of extra loading time — it's noticeable — and a few extra clicks.
The second main difference is that you have more advanced control over the style of your email. Sure, this might be handy in some situations, but in most cases it can be overwhelming and unnecessary. Click here to find out what real users think of it.
And the Winner Is…Constant Contact
While both editors are good, Constant Contact requires fewer clicks (and time) to edit most content.
Mailchimp does have more advanced options, but those are likely overkill for what you'll need. If you plan on writing lengthy sales emails, though, Mailchimp's editor might be more enjoyable to write in.
Do You Need Powerful Automation or a Basic Email Sequence?
Both platforms offer email automation to let you automatically send certain emails when a subscriber triggers them (e.g., by joining an email list, clicking a link in your email, etc.).
Constant Contact offers basic email sequences, and not much else.
Mailchimp, on the other hand, offers many advanced user triggers, which is really useful specifically for e-commerce businesses.
Let's take a closer look.
The Basics of Email Automation on Constant Contact
When you create a new campaign on Constant Contact, you have a limited number of options.
The main one is to create an automated email series.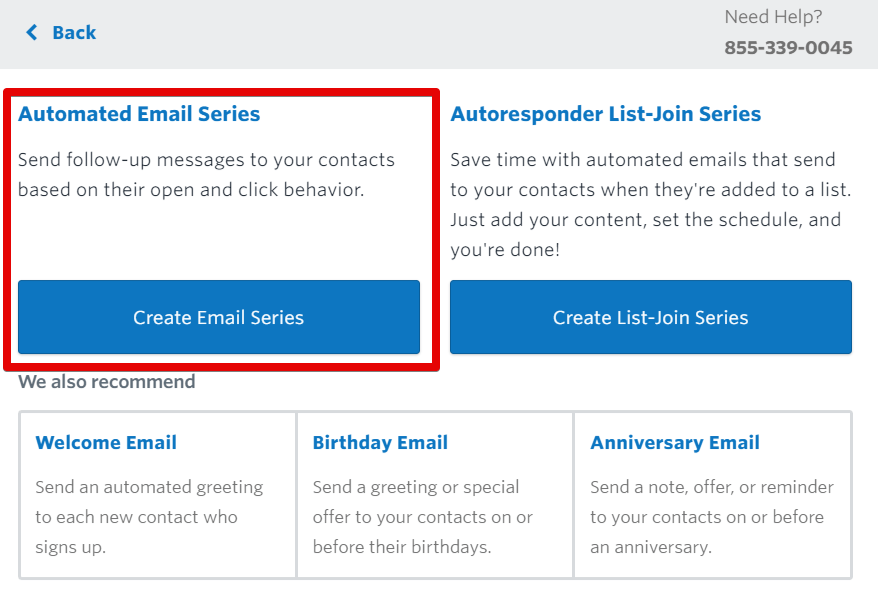 If you pick that option, you'll be redirected to a webpage where you can add or remove emails from that series, and change the intervals they're sent at.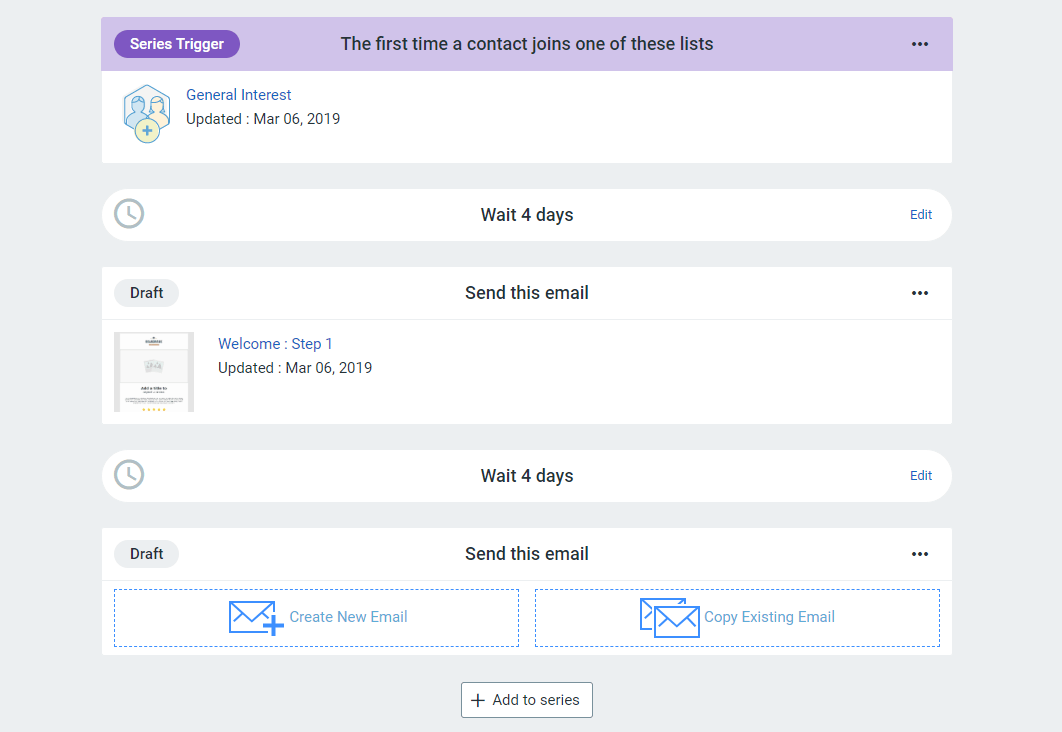 Most email marketing tools have this sort of workflow editor for email sequences, but Constant Contact's is probably the cleanest and simplest I've ever used.
If you're new to email automation, this will make it easier to get started.
Advanced Email Automation Options on Mailchimp
When you create a new email campaign on Mailchimp, you have several options to choose from in the Automated section: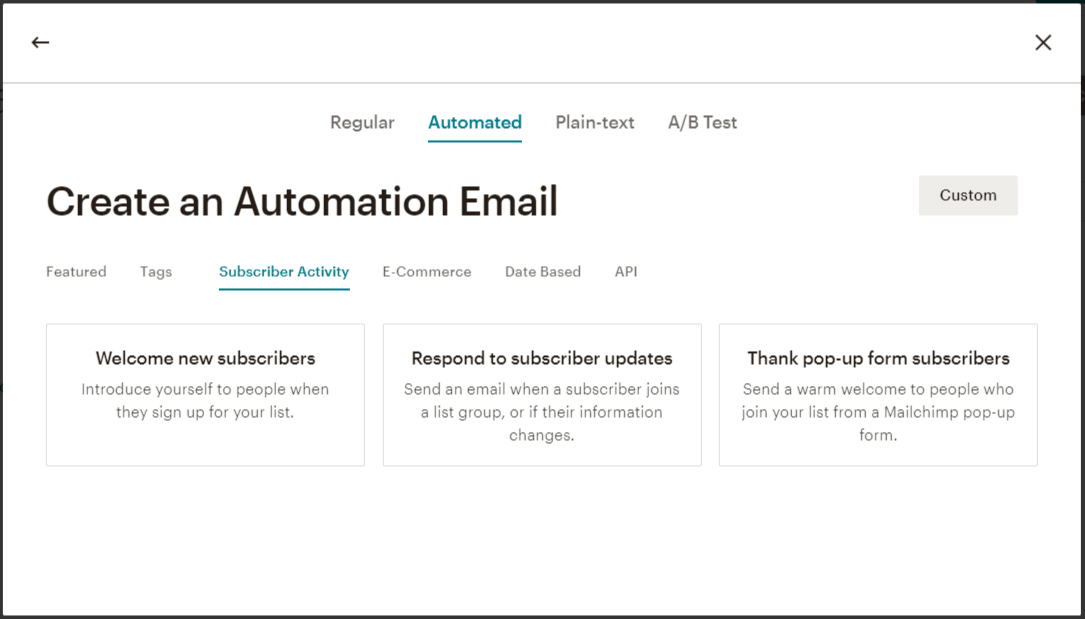 The different types of automation emails are divided into a few different categories, such as "Tags," "Subscriber Activity," and "E-Commerce." These are based on the type of trigger that starts the email sequence.
Having these additional advanced triggers can be useful if you're an experienced email marketer, but if you're new to the scene, it may seem overwhelming.
Most of the advanced triggers fall under the e-commerce category. Here are some examples of what you can do with them:
Send order notifications
Thank new customers
Follow up to ask for reviews
Send emails to logged-in site visitors
As in Constant Contact, picking an automation type will bring you to a page where you can add emails and edit triggers between them: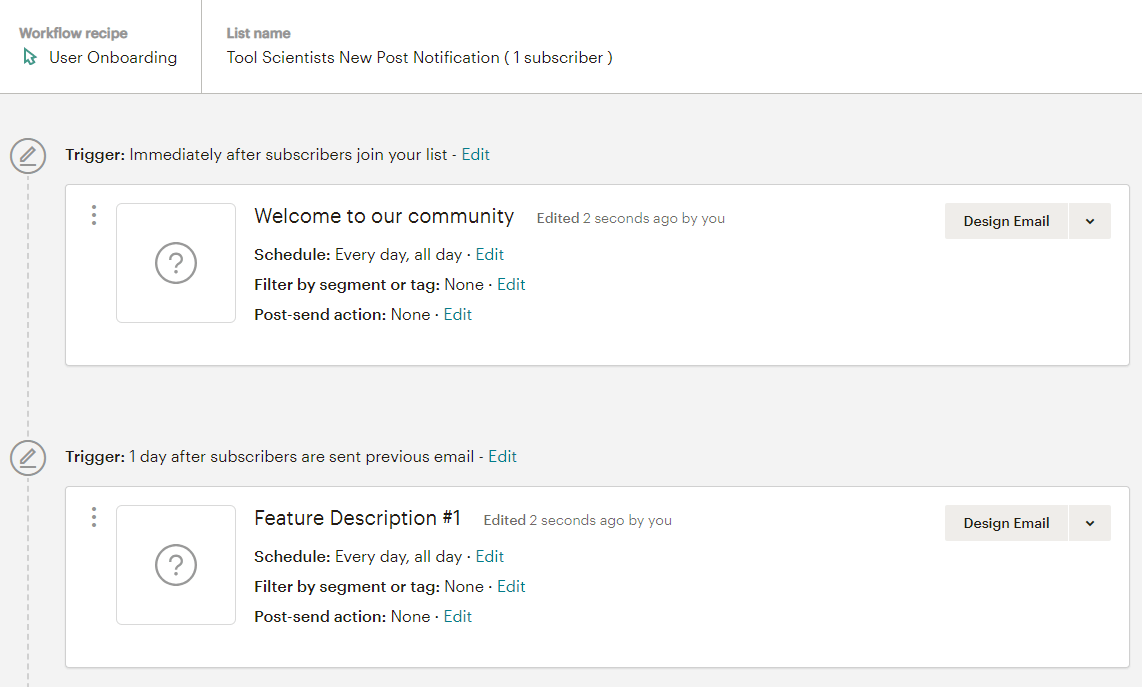 It's not quite as clean and simple, but still reasonably intuitive.
And the Winner Is…Mailchimp (by a small margin)
Mailchimp offers more advanced automation, particularly for e-commerce businesses. However, if you're a beginner and you need just basic email automation, you might be better off with Constant Contact.
E-Commerce Integrations, or a Wider Variety of Integrations?
Both Constant Contact and Mailchimp offer over a dozen integrations that allow you to connect your email lists with your website or existing email service — no coding needed.
But before you choose one of the platforms, it's important to understand the difference between the specific integrations.
Constant Contact Integrates With All Popular Business Software
Constant Contact has integrations for all the major content management systems, such as WordPress, Shopify, and BigCommerce.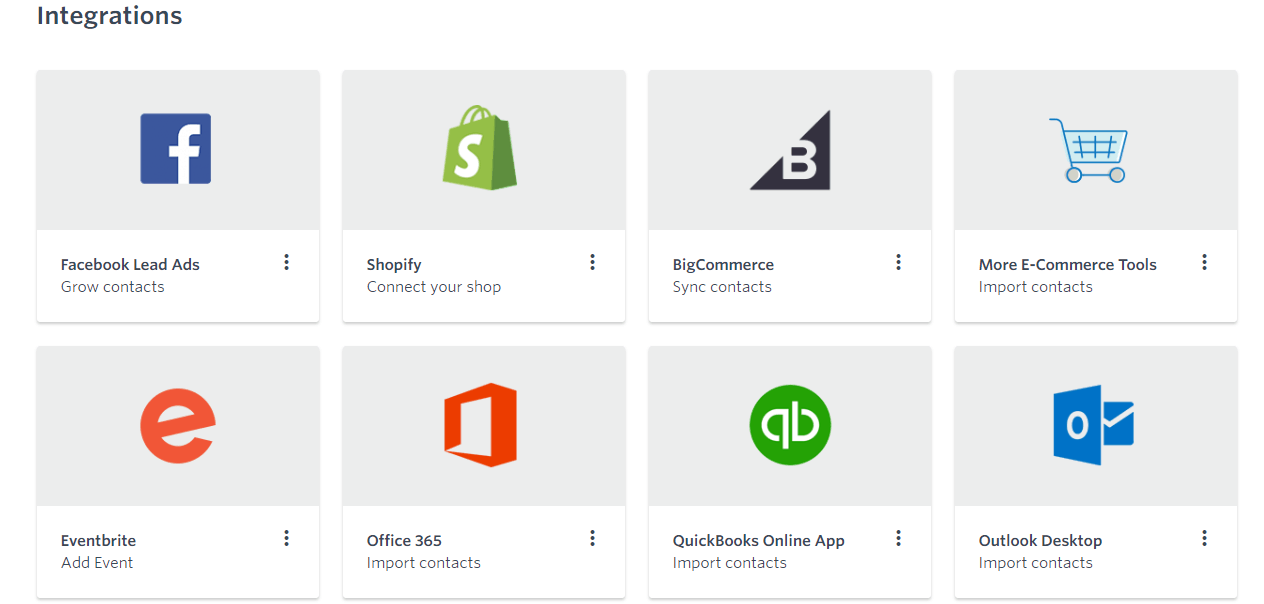 There are a few on the list that Mailchimp doesn't have, like Office 365, QuickBooks, and Outlook.
Aside from these core official integrations that Constant Contact supports and maintains, there's also an app marketplace with other integrations.
These are published by third-party companies, and there's a lot of them (over 400). Some work great, and others don't — the quality varies, so be sure to read the reviews.
Mailchimp Integrations Focus on E-Commerce Tools
Mailchimp has 16 official integrations in total right now. It has the basics like WordPress and Shopify, and the rest are mostly other e-commerce integrations.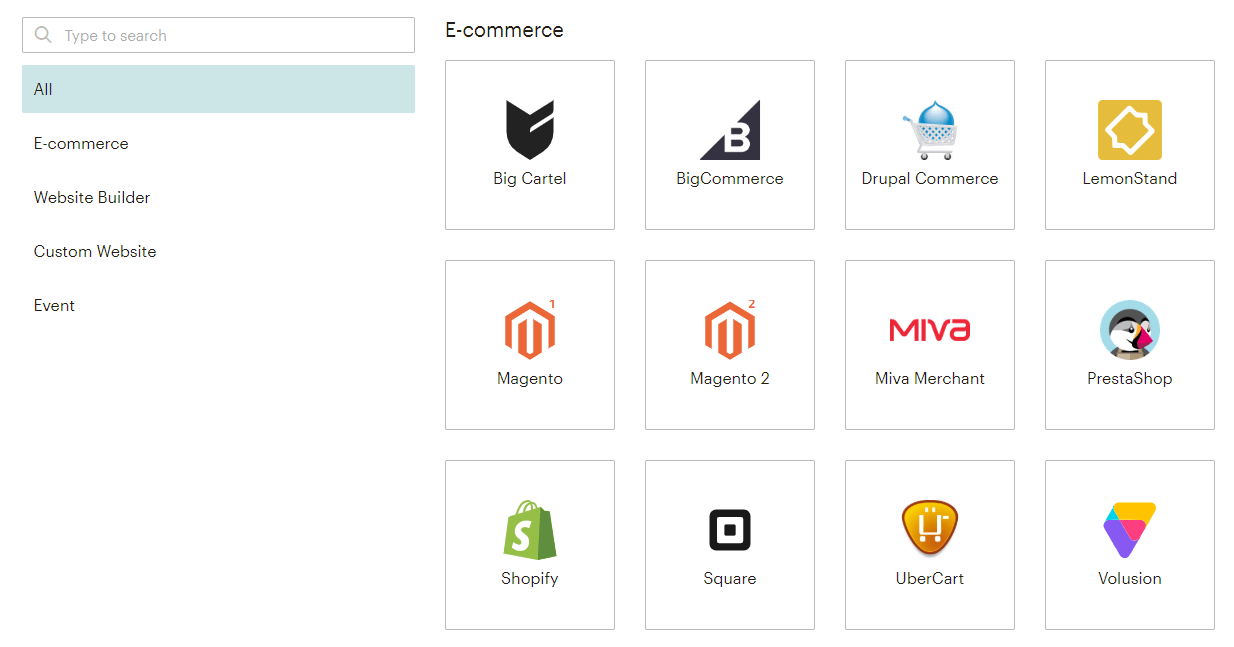 It supports many of the well-known, but less popular e-commerce platforms like PrestaShop and Magento.
Again, there are hundreds of unofficial third-party integrations where the quality varies. Some are great, others are outdated. It depends on the specific company maintaining the integration.
And the Winner Is…It's a Tie!
While Mailchimp supports e-commerce software, Constant Contact supports a wider variety of popular tools.
Constant Contact Has Better Embeddable Sign-Up Forms
The most important way to add new subscribers to your list is through an embedded form on your website.
Creating Modern Looking Sign-Up Forms on Constant Contact
This is the only core feature where there's a clear winner to me.
Not only do Constant Contact's forms look better than Mailchimp's, but the process of creating them is more straightforward as well.
First, you go to the Sign-Up Forms section of your account, where you can pick from three types of forms. Most of the time you'll want an inline (i.e., embeddable) form:

That brings up a form editor that couldn't be simpler to use.
Pick the fields you want, customize the text and colors, and you'll be ready to publish your form.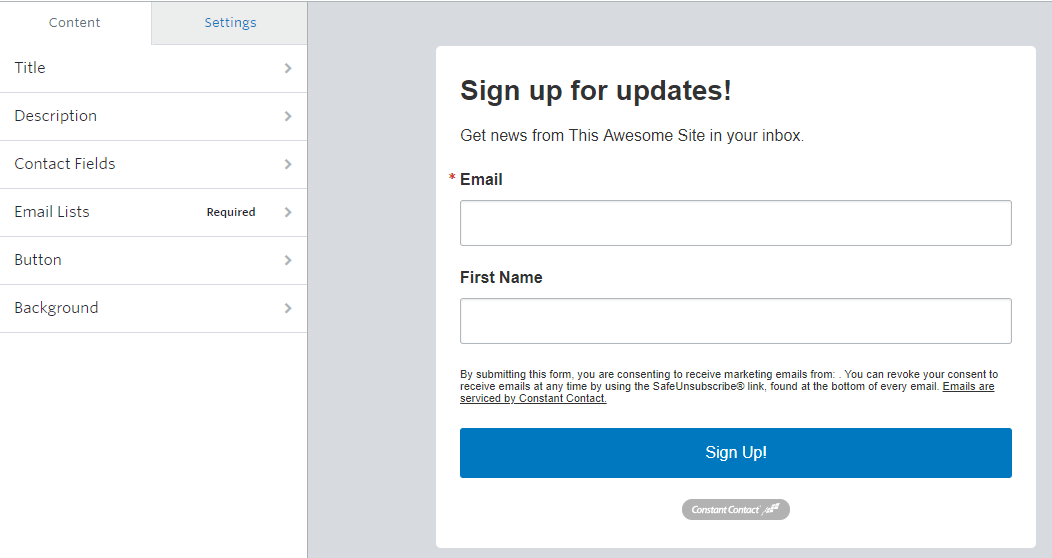 While the forms aren't exactly beautiful, they still look pretty good, and they're better than what many other email marketing platforms offer.
Creating Simple (But Plain) Sign-Up Forms on Mailchimp
Your first challenge on Mailchimp is finding where you create forms. The link is hidden in the settings drop down for each email list you've created.
Again, you have the same three options for forms, but most of the time you'll be choosing "embedded."
That will bring you to the form editor:

The form editor itself is fairly easy to use, but doesn't have many options.
While you can add or remove fields, there are no basic styling options, and the default version isn't very attractive.
Sure, if you have web development experience, you can write custom CSS on your site. But if you don't have a technical background, that could be complicated and frustrating.
And the Winner Is…Constant Contact
Both platforms offer the ability to create the same types of sign-up forms, but Constant Contact makes it easier to create forms, and gives you more control over their appearance
Are More Features and Lower Cost Worth Less Support?
It's hard to compare the value of each tool, because they offer different sets of features in each plan, and also charge differently based on your list size.
But let's try.
Which Constant Contact Plan Do You Need?
You can sign up for a 60-day free trial on Constant Contact and have access to many features. But the platform's website doesn't outline exactly what you get on a free plan. Instead, it focuses on getting users to sign up for the two main paid plans.
The cost of each goes up as your list size grows. But at the lowest level for each plan, the "Email" plan is about half as expensive as the "Email Plus" plan.
Here's a summary of the main differences and similarities between the two plans:
| | | |
| --- | --- | --- |
| | Email | Email Plus |
| Cost | Depends on number of subscribers | Depends on number of subscribers |
| Emails per month | Unlimited | Unlimited |
| Automated email sequences (i.e., autoresponders) | No | Yes |
| Multiple Users | No | Yes |
| A/B Testing | Yes | Yes |
| Support | Full support (phone and live chat) | Full support + New customer consultation |
I think it's a reasonable cost, but a bit on the high side.
The biggest feature that Constant Contact offers on both plans is full customer support. This is great if you're relatively new to email marketing.
When you create an account for the Email Plus plan (even on a free trial), an account manager will get in touch with you for a new customer consultation and walk you through anything you need help with.
Is Mailchimp's Free Plan Good Enough for You?
Mailchimp is famous for its free plan.
It's a good plan if you're new to email marketing or have a very low budget. Its big weaknesses are that support is limited, and that all your emails will be sent out with Mailchimp branding.
Realistically, a business should be on one of Mailchimp's two paid plans.
Here's a summary of what all plans offer:
| | | | |
| --- | --- | --- | --- |
| | Free | Grow (Low-Cost) | Pro (Expensive) |
| Subscribers | 2,000 | Unlimited | Unlimited |
| Emails per month | 12,000 | Unlimited | Unlimited |
| Mailchimp branding in emails | Yes | No | No |
| Optimization features | Basic (e.g., A/B testing) | Basic and a few more (e.g., send time optimization) | All (advanced segmentation and multivariate testing) |
| Automated email sequences (i.e., autoresponders) | Yes | Yes | Yes |
| Support | For 30 days | Basic support | Premium support |
The price goes up several dollars per month per 500 subscribers you have, which is still pretty cheap.
If you own a small business, you'll probably want to sign up for the "Grow" plan. You still get basic support and most optimization features.
Most businesses don't need the advanced optimization features that the "Pro" plan offers, although the premium support is nice to have.
And the Winner Is…Mailchimp
If budget is your primary concern, Mailchimp is cheaper, and offers more advanced features (which may or may not be needed). However, to get the cheap prices, you have to sacrifice support.
So, Which Email Marketing Service Reigns Supreme?
One last thing to consider is that if you go on any marketing forum, and you'll find stories of Mailchimp banning affiliate marketers' accounts. If you need to add affiliate links to your emails, Mailchimp isn't an option for you.
This is a clear rule in Mailchimp's legal policies: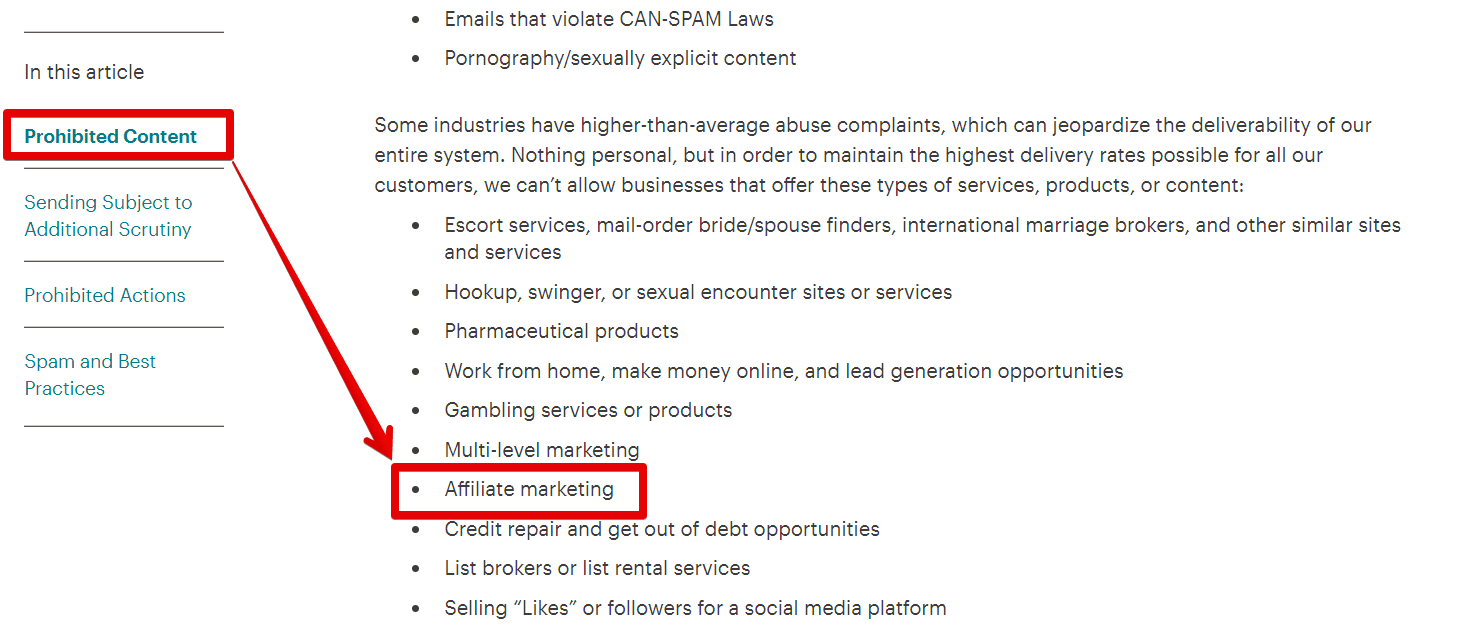 That doesn't mean that you can't be an affiliate marketer and use Mailchimp. You'll just need to be sure your emails don't contain any affiliate links. Instead, you can include links to your website, which then contains affiliate links.
So, between Mailchimp and Constant Contact, which is the one for you? That will depend on your expertise and business needs. But for most small and medium businesses, I think Constant Contact is the better choice.
It's incredibly simple and intuitive to use, has all the core features that most businesses need, and comes with a all the support you need.
If you're ready to try it out, click the button below.
Here's a quick summary of everything we've looked at:
| | |
| --- | --- |
| Feature | Conclusion |
| Email templates | Constant Contact has over twice as many email templates, which are easier to search. |
| Email editor | Constant Contact's is quicker and easier to use, but Mailchimp's editor has advanced functionality you may need. |
| Email automation | Constant Contact's email automation is simpler to use, but Mailchimp offers many advanced triggers. |
| Integrations | Both offer a similar amount of integrations. Constant Contact has a general focus, while Mailchimp focuses on e-commerce tools. |
| Sign-up form creation | Constant Contact has a better editor for embeddable forms and more options. |
| Pricing | Mailchimp is usually cheaper, and has more features, but lacks the support that Constant Contact has. |
If you're looking for the simplest tool that won't take too much time to learn or use, and that has higher-quality support, go with Constant Contact. If you want to learn more about the platform, read our Constant Contact expert review .
If you're an experienced email marketer, or specifically own an e-commerce business that could use Mailchimp's advanced features, go with Mailchimp. Check out our Mailchimp expert review to find out more.
And if you're not sure whether you'll be able to generate enough leads through email marketing, consider a different lead generation strategy instead.
---
Source:
https://knowledgebase.constantcontact.com/articles/KnowledgeBase/18265-Create-a-Sign-Up-Form-with-the-new-sign-up-form-experience?lang=en_US