Ask anyone to name an email marketing service (EMS), and there's a good chance they'll mention Mailchimp.
Unfortunately, when I tested Mailchimp, I quickly learned that this EMS offers more style than substance.
Mailchimp isn't a
terrible
service. It's decent enough if you're new to email marketing and don't want to spend a fortune learning how to create email campaigns. However,
once you outgrow its free plan, you need to start looking at its competitors –
and that's exactly what I did. I headed straight for Constant Contact, which is often lauded as another great EMS all-rounder.
Unfortunately, while Constant Contact is the better EMS of the two, it only narrowly stole the top spot.
Sure, it offers more than Mailchimp, but there are still tons of missing features that you'd usually expect as standard from an EMS. So, settle in as I compare both of these email marketing services, what features you can look forward to, how good their customer service is, and – most importantly –
whether either Mailchimp or Constant Contact offers good value for your money.
Features
Why Are There So Many Missing Features?
When you're comparing Mailchimp vs. Constant Contact, you're more likely to be excited about signing up to Mailchimp. After all, it looks so
gosh darn good.
And you can't help but feel more professional with a service that looks the part.
However, once you start actually using the two platforms, it quickly becomes clear that while Mailchimp's user interface (UI) looks sleeker and more modern, Constant Contact offers (slightly) more substantial features.
Email Templates
Mailchimp boasts over 100 pre-built email templates
, with options for appointment reminders, GDPR announcements, birthday emails, and more.
Unfortunately, they're locked behind a paywall and not available on Mailchimp's Free plan
. You can only use seven different themes and five layouts with the Free plan, and these have limited customization options.

If you want to unlock the full range of templates or code your own email designs, then
you'll have to sign up for the Essentials plan or above.
The Essentials plan starts at
$
20.00
/month for 500 contacts and also unlocks 24/7 email and live chat support, A/B testing, and some other features you'll probably find useful. So, with that in mind, is a paid plan worth it for these extra features? Honestly, no. The layouts you can access with the Free plan are versatile enough to tide you over while your email list is small. But
once you get to the point where you need more impressively designed emails, you can find better-paid plans than Mailchimp's.
Constant Contact offers over 240 different email templates
. While some look a little dated, particularly when you compare them to templates offered by competitors like
ActiveCampaign
, there's a big enough range that you can easily avoid some of the older designs. Even if you don't have much time to spend tweaking your templates, there are plenty of choices and a great filtering system that makes it easy to find templates that suit your campaign.
Plus the drag-and-drop editor offers enough flexibility that it's easy to make them look more modern.
You also get the option to design your email with custom code – something that Mailchimp limits to its most expensive plan.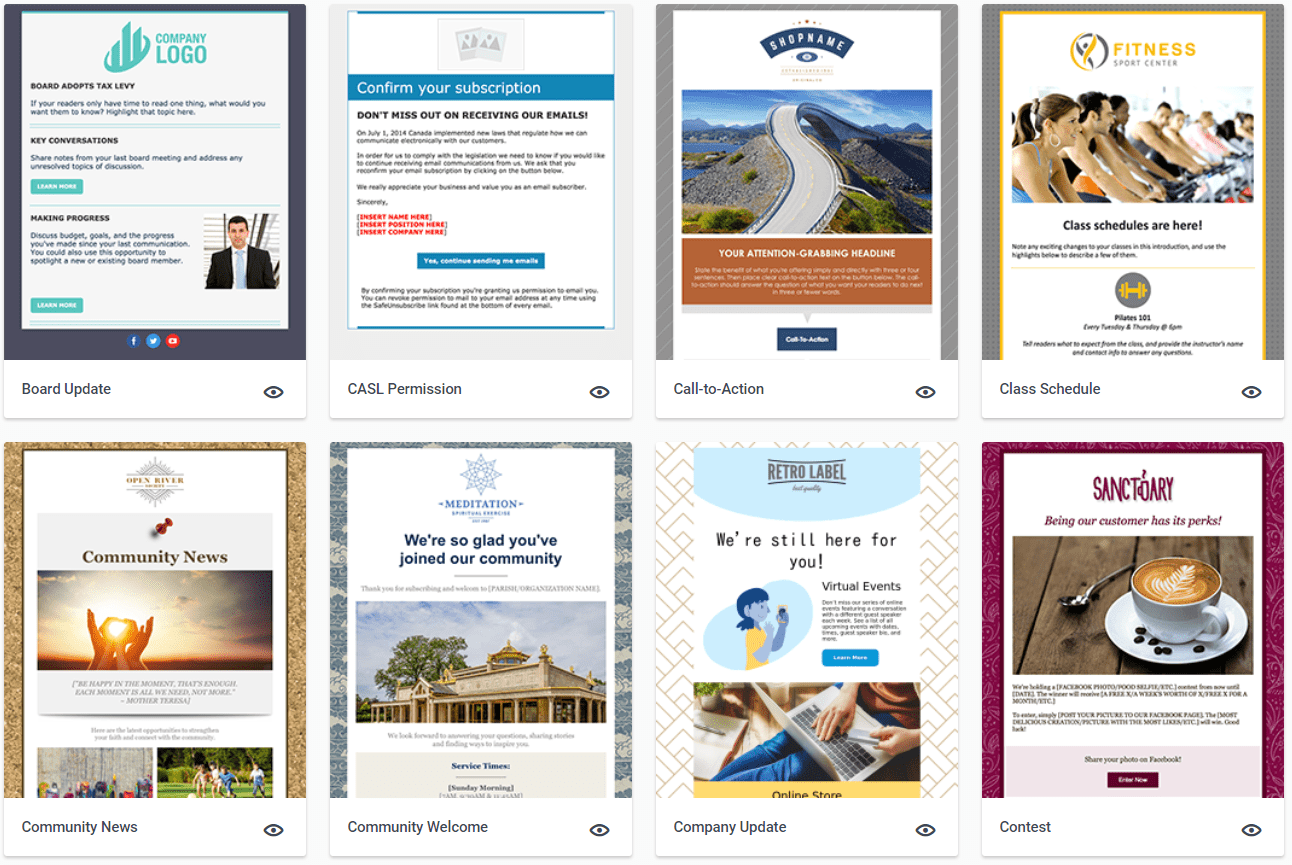 Segmentation
It's always useful to learn more about how different contacts engage with your emails. Whether that's how many times a contact opens your emails, which links they click on, or how they signed up for your newsletter in the first place, all of these analytics can help you get the right communications to the right people. Dividing your audience based on these traits is called segmentation, and it's always worth knowing what segmentation options you get with your chosen EMS.
Both Constant Contact and Mailchimp offer decent enough segmentation options, but they're not the most impressive out there.
With Mailchimp, you can manually add tags to your contacts – like "Customer", "Event Attendee", or "VIP" – to make sure you're targeting the right people. You can also
create segments based on a wide range of other criteria, like birthdays, how engaged a contact is, or even their location.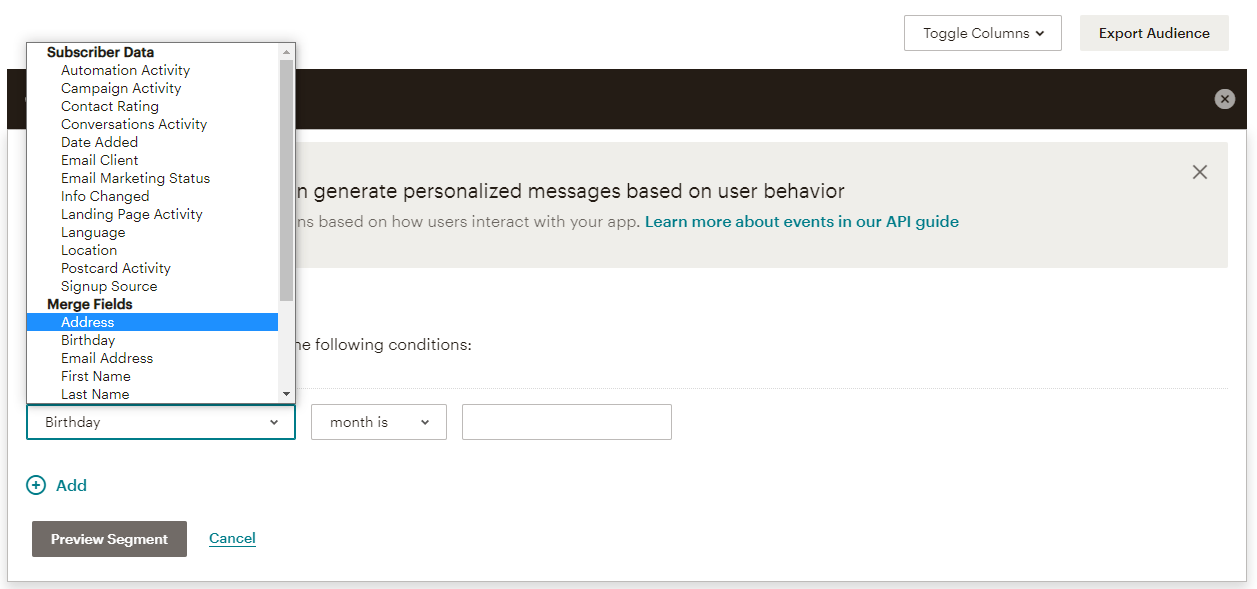 It's a shame that, in spite of this flexibility, Mailchimp's segmentation is seriously limited. In an all-too-familiar pattern,
you have to sign up for the Essentials plan and above to automate segmentation
– that is, assigning tags and traits as a customer moves through an automated journey. You'll be similarly limited if you want to create highly specific segments.
Outside of the Premium plan, you're limited to segments with only five conditions.
This isn't necessarily a deal-breaker if you've got a relatively small email list, as you're not likely to need to segment contacts based on things like their birthday
and
their location
and
their engagement.
But once your email list gets bigger, chances are you'll find this can hamstring your campaigns.
While you can segment your audience in pretty much the same way
with Constant Contact, you'll also get e-commerce segmentation on the Email Plus plan.
That means you can create segments based on what products your contacts have purchased, whether they've abandoned their cart, or even if they've taken part in a certain promotion. In my opinion, that's a significant plus point in Constant Contact's favor.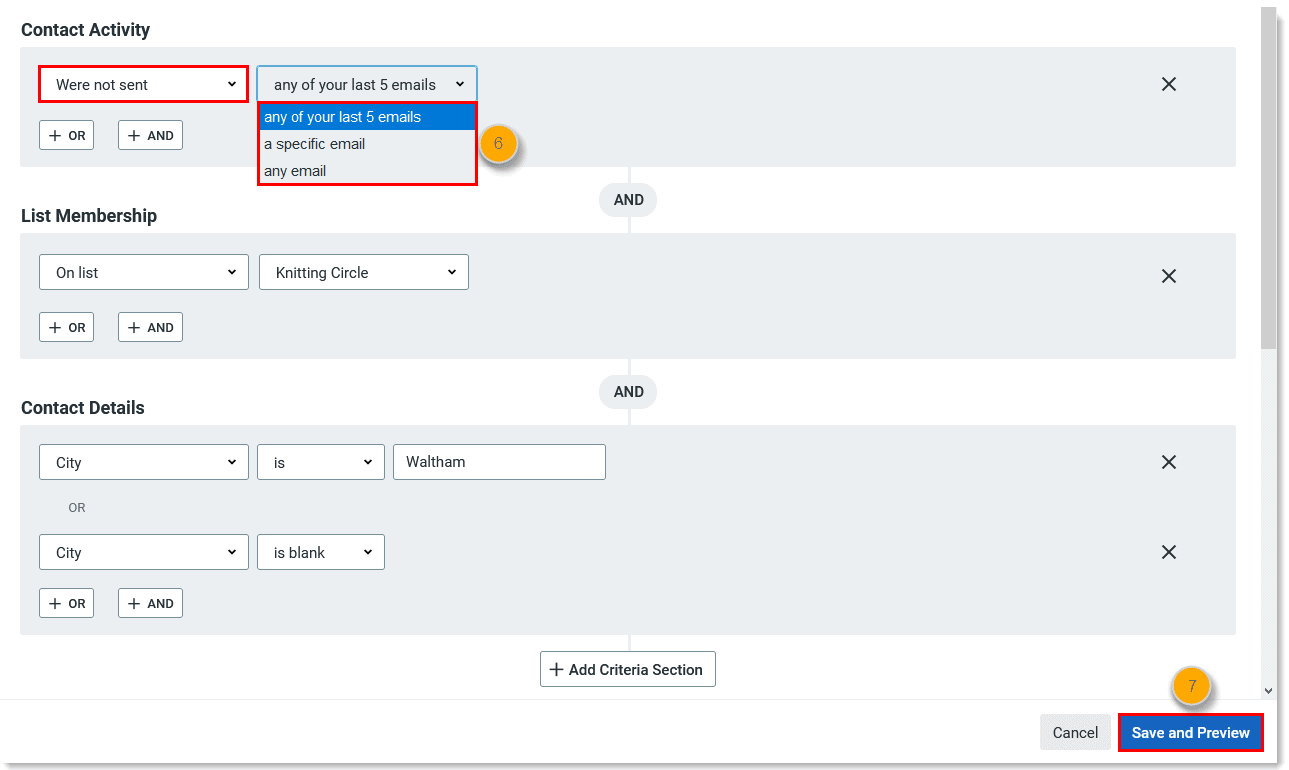 The only downside with
Constant Contact is that you're still limited to five conditions, or four if you're on the basic Email plan
. There's a good range of criteria, but nothing that stands out as exemplary.
Automation
Unless you've got hours of spare time on your hands – which, let's face it, isn't likely if you're running your own business – then
you'll need email automation
. We're all used to signing up for an email newsletter and, a few minutes later, finding a welcome email with a coupon in our inbox. Or, if we've not opened emails from a company in a while, getting an email with the subject line "Hey, we miss you!". All of that's done with email automation tools
,
simple workflows that say "when a new contact does x, send y", or "when a contact in this segment does x and y, send z". So rather than having to email every new contact with a welcome coupon yourself, an email will be sent out automatically. If you really want to level up your email marketing, you can also set up more advanced automations – so that if a contact abandons their cart in your online store, and then ignores your "Did you forget something?" email, they will
then
get an email that says something like "Can we tempt you back to our store with 25% off and a free gift?". Unfortunately, I have to say that
if you want anything that goes beyond basic automation, I don't recommend either Mailchimp or Constant Contact.
If you're using Mailchimp's Free plan, you're stuck with one-step automation for simple things like birthday coupons or welcome emails.
For anything more advanced, you'll have to pay for the Essentials plan or above.
For full customer journey workflows, you'll have to fork out for the Premium plan, which – spoiler alert for later – is far too expensive for the features you get.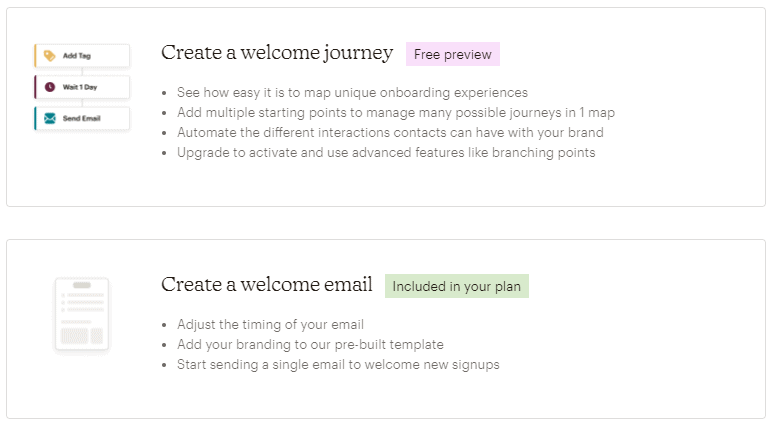 Similarly,
Constant Contact's automation builder is extremely basic (something we discovered in our Constant Contact review too).
It surprised me that it was comparable to what you get with Mailchimp's Free plan, particularly because they're charging $20/month for access to this feature. When you start building an email automation flow,
you can only choose between three options.
While this is probably enough when you're getting started, it's likely that you'll outgrow these limitations before long. And if you want more advanced automation, then – you've guessed it – you'll have to upgrade to the next pricing tier.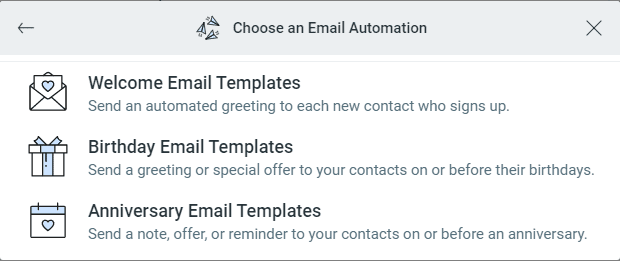 If automation matters to you – and, honestly, unless you've got a tiny email list, it should – then I recommend looking at ActiveCampaign.
It offers one of the best automation tools on the current EMS market. ActiveCampaign's automation builder can easily handle lengthy workflows, but if you don't have the time to design something from scratch,
you have over 400 automation templates to choose from
. Workflows for follow-up emails, abandoned cart notifications, or even stock notifications, are pre-made and fully customizable. With ActiveCampaign starting at
$
29.00
/month for 500 contacts,
it's also
considerably cheaper than both Mailchimp and Constant Contact.
I'm sorry to say that both Constant Contact and Mailchimp are really lagging behind the competition.
Integrations
When your EMS is designed to seamlessly integrate with other software, like your productivity or even other design tools, it can save you a ton of time.
Both Mailchimp and Constant Contact offer integration libraries,
but Mailchimp's is, unsurprisingly, very basic. That said,
you can connect Mailchimp to all the major players in the tech world like Google, Facebook, WordPress, WooCommerce, Eventbrite, and even Photoshop
. If you want to do more with Mailchimp, you can use Zapier, a third-party tool. This isn't necessarily a deal-breaker, but it is an extra step to set up, and it can be a steep learning curve if you're new to integrations.
Constant Contact's library is more extensive, with over 3,000 integrations built-in.
There's also a filtering system that makes it easy to set up integrations for event management software, e-commerce, WordPress, and even your HR software.
Having an extensive integration library is a good sign that the team behind Constant Contact have thought about user experience,
even if some of the features leave a lot to be desired. It's too easy for an EMS to just leave all their integrations down to Zapier, so I have to give Constant Contact kudos for coding so many integrations into their service.
Landing Pages
Landing pages are one of the best tools in your marketing arsenal, particularly when it comes to encouraging new contacts to sign up for your emails.
While both Mailchimp and Constant Contact offer landing page builders, they're very basic.
With Mailchimp, you get seven templates and three wireframe layouts to choose from
–
and that's it. It's not like there's more you can unlock with a paid plan, either
. You can add custom code if you pay for the Standard plan or above, but once you reach the point where you need to pay for those plans, you're better off elsewhere.

A key feature of EMS landing pages is being able to
automatically assign tags to or segment contacts that sign up through that landing page.
It saves a ton of time having to manually move contacts around as they sign up.
However, you can't segment contacts signing up through your landing page with Mailchimp.
Your only choice is to manually segment them, or set up an advanced automation, which isn't possible outside of the highest tier plan. Unfortunately, Constant Contact isn't much better.
You can start from scratch or use one of their five – yes, FIVE – templates.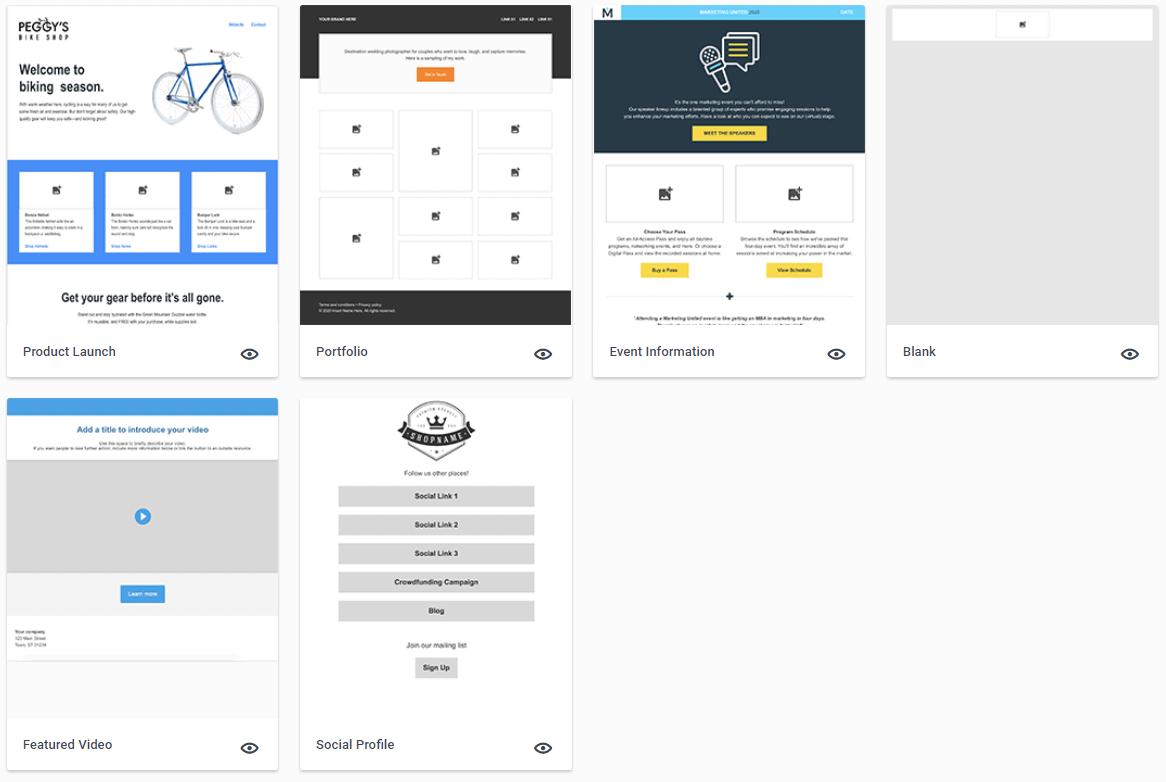 The biggest kick in the teeth was that, again,
you have to pay to access Constant Contact's extremely limited offering.
Yep, you have to pay
$
12.00
/month minimum to get access to these five very basic templates. You can at least segment new contacts with third-party integrations, but this still isn't great, particularly coming from a company that offers over 240 email templates.
You also can't use custom domains with these landing pages.
Even Mailchimp offers this with their Free plan, so there's really no excuse for Constant Contact to neglect this feature. Landing pages are pretty vital for any digital marketing campaign, so I can't help but feel let down when I see EMS providers fail to give me the options I need.
If you're looking for an EMS that offers decent landing pages, then GetResponse offers a better landing page builder at a similar price point.
GetResponse offers dozens of fully customizable landing page templates, all of which are mobile-responsive. Plus, these landing pages will tag and move incoming contacts to your preferred mailing list, which is a feature neither Mailchimp or Constant Contact offers.
Suppression Lists
If you live in the US, then the CAN-SPAM act requires you to maintain a suppression list.
This is a list of contacts that have unsubscribed from your email marketing, and prevents them from receiving any emails from you in the future. Suppression lists also collect email addresses that are blocked, invalid, or bounce, so you don't waste time or money continually emailing contacts that either don't exist or can't accept your email. When you unsubscribe from receiving marketing emails, that should kick off an opt-out automation that moves users from an active contact list and any associated segments to a suppression list. If this doesn't happen, unsubscribed users will still get your emails. At best, you'll lose your reputation with your customers. At worst, your emails will get marked as spam, which severely harms your deliverability.
Neither Mailchimp nor Constant Contact offers an in-built suppression list.
The good news is that Constant Contact has a manual block list
, which you can use as a makeshift suppression list when your contacts opt-out of your emails. If contacts opt back in, this makes it easy for you to move them back onto your contact list without them having to sign up again, so you don't lose any data. With Mailchimp, you have to delete contacts who have opted out manually, so you'll lose all of the information you have about them. If they sign up again, you effectively have to start from scratch.
If the lack of a suppression list is a dealbreaker for you, then again I'd recommend checking out GetResponse.
This EMS automatically adds unsubscribers to a suppression list and labels them as "inactive contacts".
Depending on your goals, your ability to scale with these services might also be limited.
Mailchimp's best features are only available with the wildly expensive Premium plan, and many of Constant Contact's features are so bare-boned that you'll likely outgrow even the Email Plus plan.
Benchmark is another fantastic beginner-friendly EMS that offers more scaling potential
, and it even has a
free plan
 with 24/7 customer support, a variety of reporting options, and over 1,500 integrations. Unlike Mailchimp, Benchmark offers only two paid plans, and their plans are easily customizable.
Benchmark Pro users can pay for additional features like access to a dedicated IP address without having to upgrade to the Enterprise plan.
This makes it a lot easier to scale your email marketing without breaking your budget. In summary, when it comes to features,
I can only recommend Constant Contact or Mailchimp to those of you who are just getting started with email marketing.
The features each EMS offers are extremely basic, and many of them feel incomplete.
Ease of Use
Simple, Beginner-Friendly Email Marketing
When you're reading reviews of Constant Contact vs. Mailchimp's plans, the thing you need to bear in mind is that
both of these EMS providers are catering to beginners.
Mailchimp's drag-and-drop builders are some of the easiest I've used.
As long as you're not expecting anything fancy, you'll get on with the builders fine.

Constant Contact's drag-and-drop editor is similarly beginner-friendly and offers a ton of different options.
You can even edit the overall style, so you don't have to change your brand colors or fonts manually across each editing block.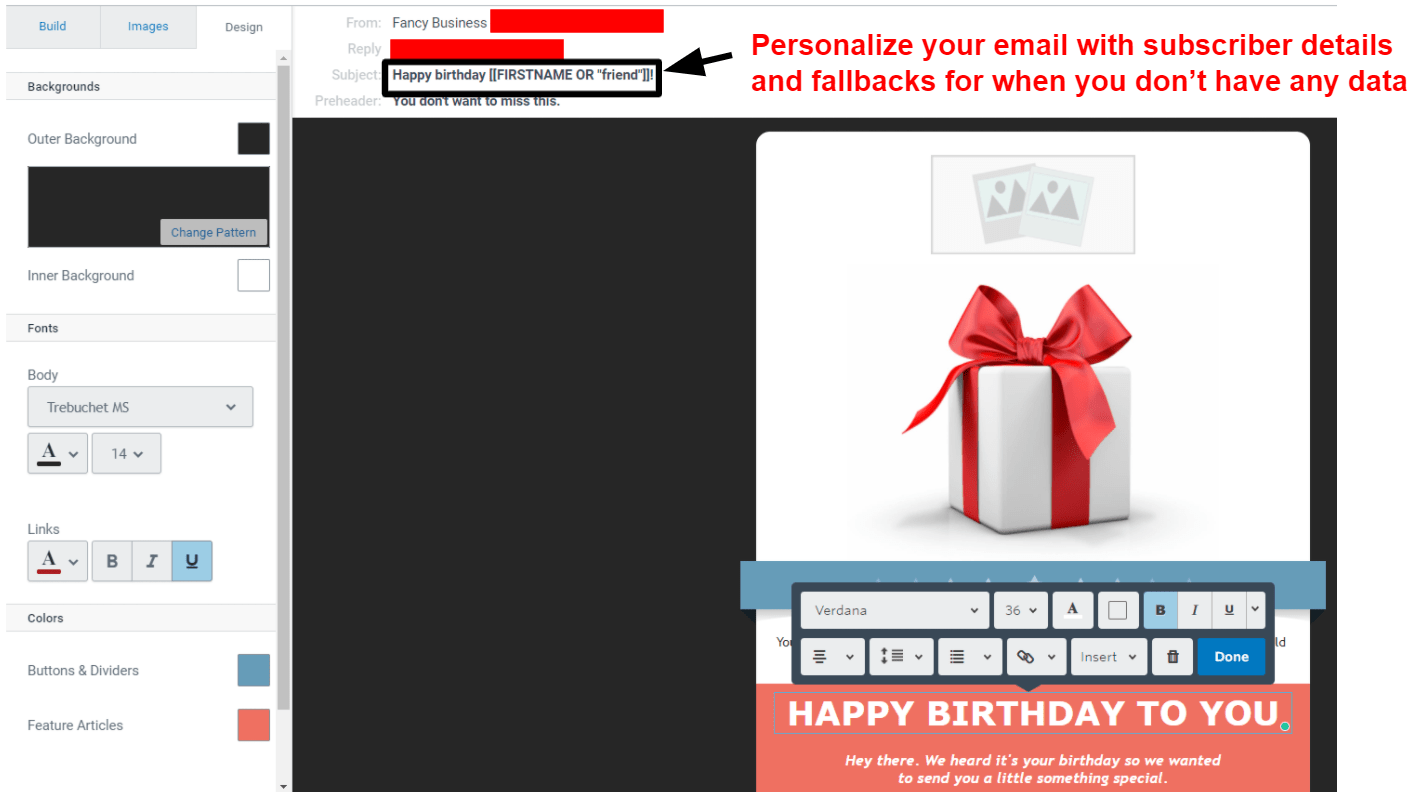 When I review EMS providers, the main way I try them out is by sending a test email campaign. And the first thing I do is manually upload a few contacts.
Constant Contact's manual contact creation process is impressively in-depth compared to Mailchimp.
You get plenty of space to fill out any details about your contacts, and it's easy to add them to lists or assign tags.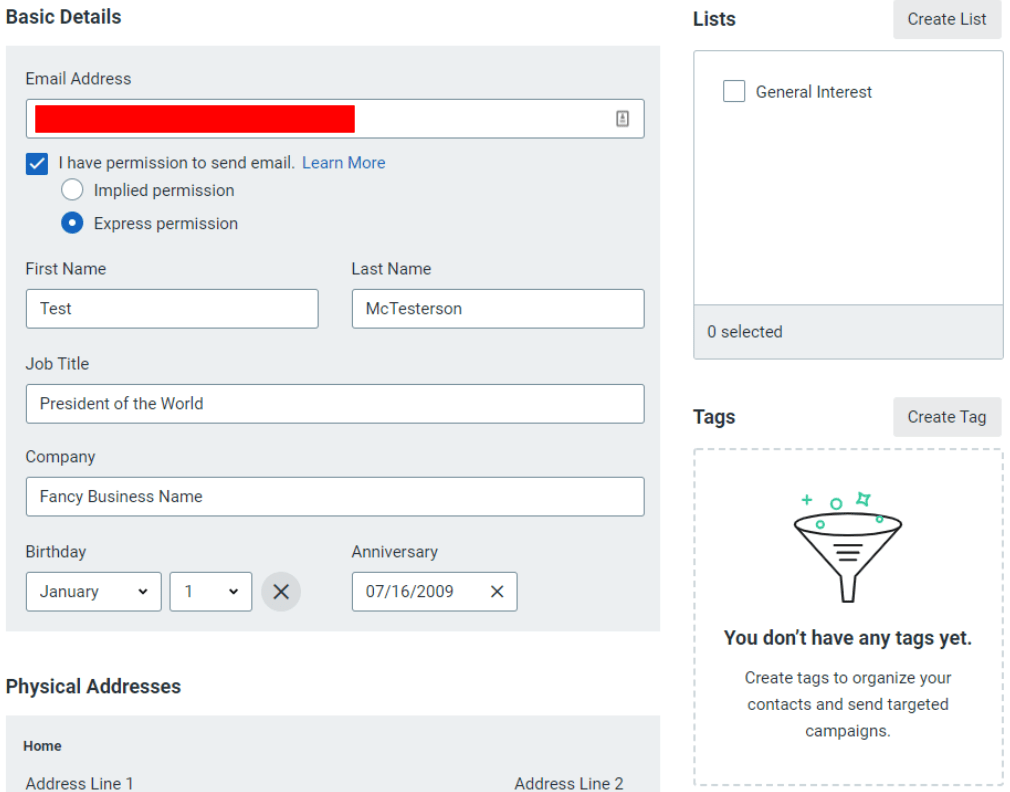 I was also pleased to discover that Constant Contact allowed me to pull my contact list straight from Office 365.
You're able to import contacts from a spreadsheet, .csv, or .txt file, or to paste contacts from a Word document into a customizable table. Plus there's the option to set up Zapier integrations to work with other email providers like Gmail or Outlook.
By comparison, Mailchimp's contact importing is more limited
. You can manually add contacts, upload a .csv or .txt file, or copy and paste them into a table.
There's no option to import existing contacts from another email provider.
Despite the fact that the features offered by these two services are basic at best, it's worth saying that
both Mailchimp and Constant Contact provide interfaces that are intuitive, slick, and have only a very small learning curve attached to them.
When I was testing these EMS providers for this Constant Contact vs. Mailchimp comparison,
I never once needed to use a help guide for either service.
That's not to say there's no help available if you do find you need it, though. I'll delve into support later on in this article, but for now, it's worth knowing that both Constant Contact and Mailchimp have articles to walk you through their features. In any case,
Mailchimp and Constant Contact are really easy to use, with both designed for people new to email marketing
.
Deliverability
Both Offer Good Anti-Spam Policies and Authentication Support…but Not Much Else
Whenever people ask me about deliverability, it's always tricky to give a solid answer. Everyone wants a guarantee that almost all of their emails will get through, but, unfortunately, it doesn't quite work that way.
There are so many factors that contribute to email deliverability, and you can't control a lot of them.
A fair few providers will quote deliverability as a percentage of emails that successfully make it through to your subscribers' inboxes.
But the truth is that these figures often aren't as reliable as they're made out to be.
Wherever you are with your email marketing, I recommend reading this
in-depth guide to deliverability
. So, bear in mind that when I'm talking about Constant Contact vs. Mailchimp's deliverability, we can only test what we have access to – the tools and features each of these platforms offer.
For this Constant Contact vs. Mailchimp review, the first thing I looked at was DKIM authentication
. This is a chunk of code that gets inserted into your email headers. It tells email providers that you own the sending domain and that the email hasn't been tampered with along the way. Think of it this way – it's like receiving snail mail with the envelope seal still intact. You know that it's come straight from the sender and hasn't been opened in transit.
This makes email providers trust that what's being sent isn't spam.
Authenticated emails are, therefore, less likely to end up in someone's spam folder.
It took me a while to figure out how to do this through Mailchimp
, but a quick search for "DKIM" in the help center showed me where to go. They also have a full guide for setting up authentication with links to help pages for different Domain Name Server (DNS) providers.
Constant Contact also offers a comprehensive guide to help you set up DKIM authentication
. I actually found that Constant Contact went into a lot more detail about when and why you need this authentication, and what other authentication they offer.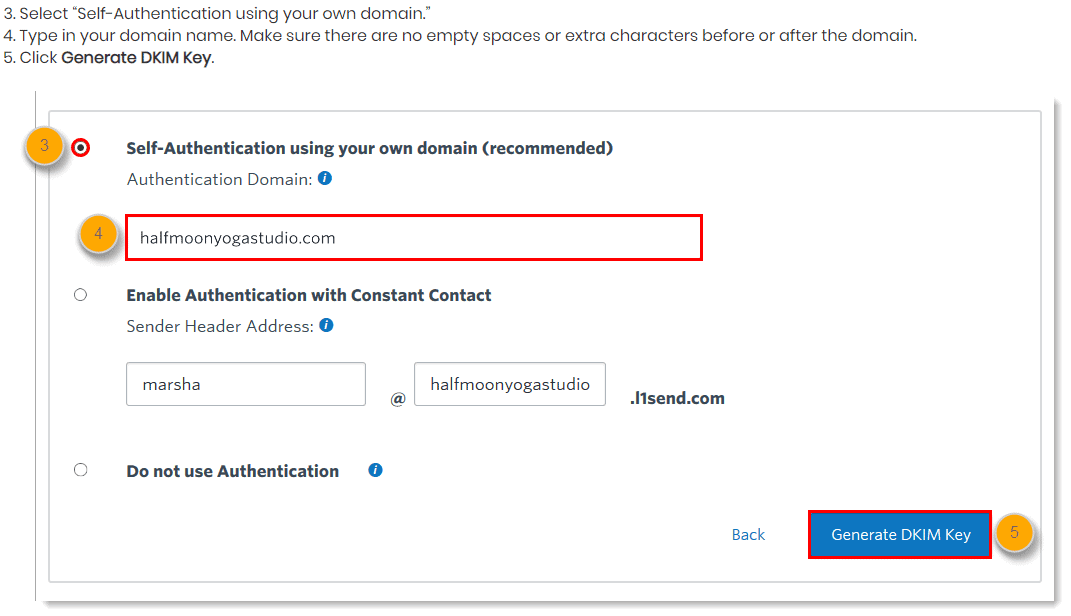 Next, I looked at each EMS' anti-spam policies. When you send emails, email servers will look at the IP address of the sender to determine whether they're legitimate. This is a big problem when you're using shared IP addresses to send emails, because one bad apple really does spoil the bunch. Blocking IP addresses from scammers is the easiest way to keep users safe, so it matters to an email server if an email from
[email protected]
comes from the same IP address as
[email protected]
. The IP address is associated with spam, so into the spam bin your email will go.
EMS providers that don't take a hard stance against spam will usually end up with lower deliverability rates.
By actively allowing spammers to use trusted IP addresses, legitimate businesses will be penalized as much as the untrustworthy Scammer McGee.
The main way EMS providers can protect against spam on their IP addresses is to explicitly prohibit it,
and take strict action against anyone who uses their account for spam. That's why it's important to read each EMS provider's anti-spam policy to see what they class as spam and what action they take against illegitimate accounts. Both of these providers' policies have similar prohibited content.
Mailchimp makes it clear that certain industries might be subject to more scrutiny than others.
This is because some industries can have a higher than average rate of abuse complaints, but they recognize these industries are still legitimate. By comparison,
Constant Contact only alludes to some industries coming under more scrutiny than others
. There's no way of telling if the "gray area" industries that Mailchimp discusses are the same on this platform without contacting support. That said, their anti-spam policy is extremely descriptive.
They make it clear that spam isn't (necessarily) about your content, but whether the receiver has consented to that email.
Constant Contact also outlines how to be responsible with your email list as part of this policy and your legal obligations.

Another thing I always look for is whether an EMS allows affiliate marketing. While many responsible content creators use this as a means of passive income,
affiliate marketing emails have a higher-than-average chance of being reported for spam.
Both Mailchimp and Constant Contact explicitly forbid using their service for affiliate marketing.
This is with regard to using affiliate marketing links in your emails and recruiting people for any affiliate campaigns. Not many EMS providers are willing to prohibit affiliate marketing because it can lead to potential customers using a competing service. So, I take it as a good sign that
both services are putting deliverability and customer protection ahead of customer recruitment
. Unfortunately,
neither Mailchimp nor Constant Contact offer dedicated IP addresses.
It's up to you whether you consider this a deal-breaker or not. After all, dedicated IP addresses for email marketing can be a big drain on your marketing budget. However, it's a shame that they don't offer this option when
other email marketing services (like GetResponse) offer this with their premium plans.
Finally, I want to bring up something interesting that happened when I was testing Constant Contact.
When you sign up for a trial, you need a credit card
. I'm not against this because, in my opinion, it's a pretty good spammer deterrent – even if it does mean reminding myself to cancel my trial before I get charged. So, I decided to put this to the test with a card number generator I found online, which was built to get past this requirement.
The good news is that Constant Contact recognized the fake credit card and wouldn't let me sign up.
So, bad news for my to-do list, but good news for protecting users from spammers and scammers.
Reporting and Analytics
Don't Expect More Than a Brief Overview
Understanding how your contacts interact with your emails is vital. Not only does this help you grow and improve your marketing, but it also allows you to test new ideas to optimize your campaigns. Any EMS that's worth its salt will collect this information for you and make it easy to understand how each campaign has performed. Ideally, you'll also get advice on how to make your campaign even better next time or, at the very least, to understand what these analytics mean.
Mailchimp and Constant Contact both have reporting and analytics features. Unfortunately, that's all I can really say about them
. Those features are… Well. They're nothing special. Don't get me wrong. If you're a beginner and you want to read your analytics reports without getting overwhelmed by reams of data, then these basic reports will be enough for you.
But, as with many other aspects of these EMS providers, you'll outgrow them quickly.
Mailchimp offers some basic analytics, but I really do mean basic – you'll get clicks, opens, and bounces. But
opens and bounces aren't broken down by device or email provider,
so your ability to use this information to optimize your future campaigns is extremely limited.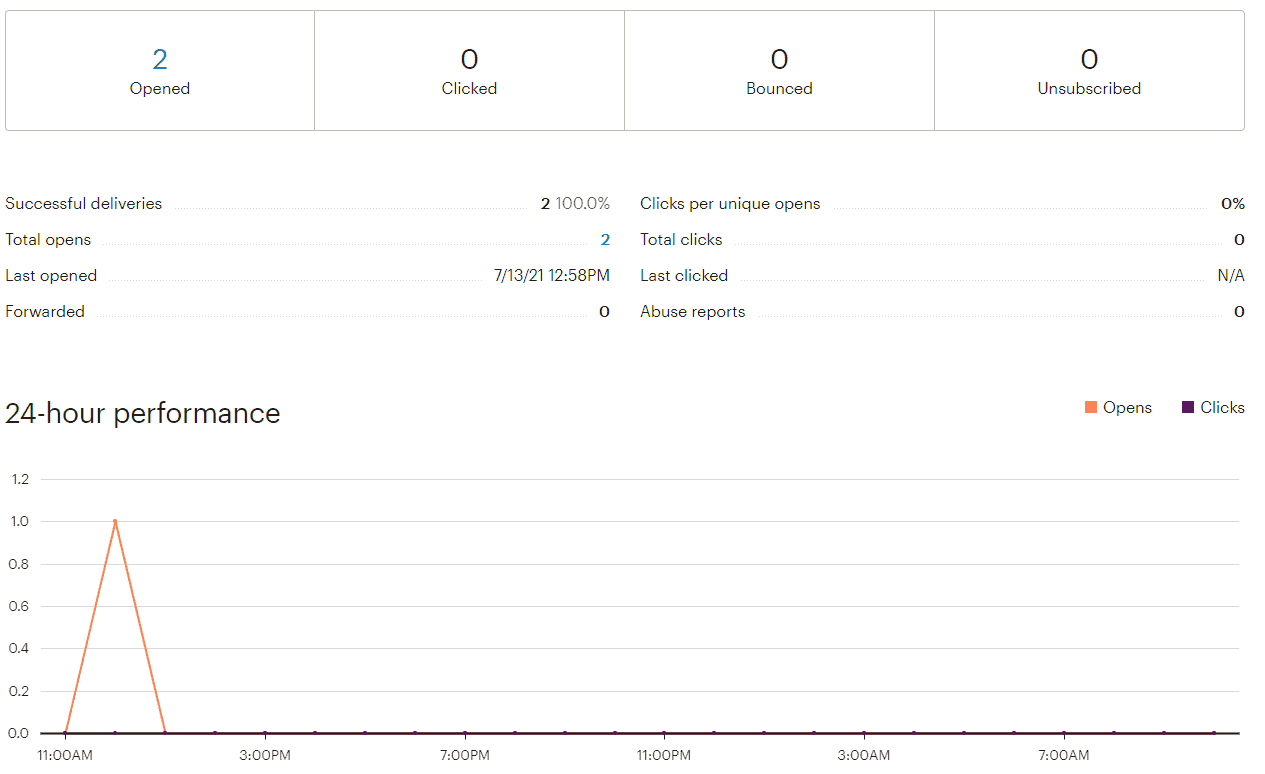 One of Mailchimp's better features is the Click Map, which shows you which links your subscribers clicked.
This is divided between desktop and mobile, so you can also get a better understanding of how your layout is performing.
Constant Contact's campaign reporting was simple enough to read, but it wasn't much more in-depth than Mailchimp's
. Still, it at least divides your open rate by desktop and mobile, even if you don't get a breakdown by an email provider or device. Both services let you check your analytics against averages for your industry, which could be helpful.

One area where Constant Contact pulls just ahead of Mailchimp is through the support they offer with your reporting.
On the Reporting page, you'll see tooltips that link you to advice articles to help you improve your open and click rates.
The biggest issue here is that neither Mailchimp nor Constant Contact offers really in-depth reporting.
Other EMS providers, like
ActiveCampaign, will show you advanced reports
 with information such as what time your contacts were most likely to open your email or click a link.
The ability to set analytics goals that show up on your reporting dashboard is extremely useful, too, but it's missing here.
Both of these EMS providers are evenly matched when it comes to reporting, but not in the best way.
They're detailed enough for beginners to understand, but lacking the depth that experienced marketers need.
It's understandable that Mailchimp's analytics would be limited on the Free plan, but there's no excuse for Constant Contact's reporting to be as limited as it is.
Pricing
Expensive Plans for Limited Features
Mailchimp is well known for its free email marketing plan.
If you're working with a limited budget or you're a complete beginner, then the Free plan is probably what drew you to Mailchimp in the first place. However,
unless your business is extremely small and you're only emailing a handful of people every now and then, you'll quickly outgrow Mailchimp's Free plan.
Not only does the Free plan limit how many emails you can send and what features you can access, but your emails will also be sent with Mailchimp's branding.
To access features that any serious business will need for their email marketing, you need to be on one of Mailchimp's three paid plans.
Constant Contact doesn't offer a free plan, but you can opt for a free trial of their basic Email plan
.
Your free trial lasts for 60 days
 in the US or 30 days elsewhere. This 60-day trial is the longest free trial around, so it's pretty generous.
Here's What You Get for Free
Mailchimp's Free plan is, as you might expect, very limited.
But since not many EMS providers offer a "free forever" plan, it can be tempting to say "well, beggars can't be choosers" and put up with the limitations. But compared with other "free forever" plans, like those offered by Sendinblue, AWeber, and Benchmark, it quickly becomes clear that there are better free plans on the market.
With Mailchimp's Free plan, you can send up to 10,000 emails to 2,000 contacts each month
. You also get limited reporting, 12 different email templates and wireframes, and (extremely basic) contact segmentation. That's not bad by any stretch of the imagination.
You don't even have to use a credit card to sign up.
And while the email limit might seem low,
it's actually one of the most generous free plans out there.
Sendinblue
allows you an unlimited number of contacts but limits you to 300 emails a day.
AWeber
gives you 3,000 a month, and
Benchmark
an astoundingly low 250 a month.
However, other free plans excel in other areas.
Benchmark's free plan
, for example, offers opens-by-hour and live engagement reporting, while
AWeber allows you to use its entire email template library on the free plan.
In short, Mailchimp's Free plan isn't all that bad compared to other free plans. But it really depends on what you want to get out of your EMS. Mailchimp's Free plan is great if you've got a bigger contact list and you're happy to sacrifice customer service and some more advanced features.
If more in-depth reporting, better email automation, or even e-commerce emails are important to you, however, then another provider will likely serve you better.
As I've mentioned, Constant Contact, on the other hand, offers no free plan at all. However, it does have a generous 60-day free trial if you're in the US
, which is one of the longest I've seen. This free trial gives you access to every feature in the Email plan, which will help you get to grips with the features and see if Constant Contact is suitable for you.
Here's What You Get If You Pay
On the surface, Mailchimp looks like the cheaper EMS of the two.
The Essentials plan starts at

$

20.00

/month for 500 contacts
, and if you want more features, you can upgrade to the Standard plan for an extra $5/month. What Mailchimp doesn't tell you is that this is before tax.
If you're in the US, depending on your state you may have to pay sales tax on top of this.
You also may have to pay Value Added Tax (VAT) or Goods and Services Tax (GST), but you'll only find out if you need to pay this once you've been billed.
Even when you upgrade to one of the paid plans, the number of emails you can send is still limited.
It's pretty normal with most EMS providers that you're charged based on how many contacts you have, but limiting emails as well isn't a standard industry move. Even if you pay for the expensive Premium plan, you're still limited. Not only that, but Mailchimp
will charge you automatically if you exceed your plan's contact or email limits.
If you're close to your limit, having a good marketing week can drain your budget. There's no money-back guarantee, either. It's also important to be aware that
the jump in cost from the Standard to the Premium plan is huge.
The Premium plan starts at 10,000 contacts, which costs
$
0
/month. For the same contact cap on the Standard plan, you're looking at $105 a month.
Quite honestly, the Premium plan doesn't offer enough features for it to be worth nearly triple the price.
If you end up growing your list to the point where you need Mailchimp's Premium plan, my recommendation is that you jump ship and move to another service. There's a comparison table below, and
a full Mailchimp pricing breakdown here
, but, in short,
it'll be a lot cheaper to go with another EMS when you get to this point.
While some of Mailchimp's plans might look cheap on the surface, when you start comparing them with ones offered by Constant Contact, it becomes clear you're paying more for the same level of service. Constant Contact offers two EMS plans – Email and Email Plus. Each plan starts with a cap of 500 contacts and costs
$
12.00
/month and
$
35.00
/month respectively.
Like Mailchimp, each plan increases in price based on how many contacts you have.
Upgrading to Email Plus allows you to access a ton of powerful features like fully customizable pop-up forms, coupons, and email donations.
You can also segment your contact list based on their e-commerce activity
.
The Email Plus plan also promises the ability to build automation flows based on behavioral triggers.
Neither plan limits how many emails you can send each month.
There's also a 30-day money-back guarantee if you're not happy.
Once you have 10,000 contacts, Constant Contact will automatically upgrade you to Email Plus, which comes with extra features you'll probably find useful with an email list of that size. If you want more detail,
we've put together a Constant Contact pricing breakdown here
. As a quick comparison, let's take a look at the highest tier plans from both of these companies and what they offer.
| | | |
| --- | --- | --- |
| | Mailchimp Premium | Constant Contact Email Plus |
| Price/month for 10,000 contacts* | $299/month | $125/month |
| Monthly email sends | 150,000 (15x contact list) | Unlimited |
| Segmentation | Advanced, but not available for use with automated campaigns | Advanced for marketing and e-commerce, available with automated campaigns |
| Automation | Customer journey builder with behavioral conditions | Automated workflows with behavioral conditions, plus automated email resend to non-openers |
| Transactional emails | Additional add-on purchase required | Yes |
| | | |
*
Mailchimp's Premium plan starts with a cap of 10,000 contacts, so I'm using this figure for comparison.
When you get to the point where you need more advanced segmentation and automation, then
Constant Contact offers far better value for money. It's less than half the price of Mailchimp Premium and offers almost exactly the same features.
That said, you also have to consider the fact that
a lot of Constant Contact's features feel very incomplete.
A/B testing, for example, is limited to subject lines, which can be a major drawback when you're trying to optimize your campaigns. Like I mentioned earlier, there are also a few features that are comparable to what Mailchimp offers for free. In short,
I don't recommend signing up for Constant Contact's Email Plus plan or Mailchimp's Premium plan.
Sure, the Email Plus plan is considerably cheaper than Mailchimp's Premium plan, but
there are other EMS providers on the market that offer more – and better – features at a similar price point
. If I was in a hostage situation, though, and my kidnapper would only release me if I chose one of them… Well, first of all I'd be questioning how I was captured by someone with a very specific fascination with email marketing. But, in all seriousness,
if I had to choose one, I'd say Constant Contact is the clear winner when you're looking for value for money.
But it
doesn't
win out when you compare it to other EMS providers, like
ActiveCampaign for example, which offers better features for a similar monthly price
. For 10,000 contacts, you'll be paying
$
29.00
/month on their
Lite plan
, and it's better value for money based on their in-depth reporting alone.
Support
Need to Speak to a Human? Constant Contact Has You Covered
When I was weighing up the pros and cons of Mailchimp vs. Constant Contact, it quickly became clear that Constant Contact was going to win in the customer support department. It's no secret that my biggest problem with Mailchimp is how stingy they are with customer support.
With the free Mailchimp plan, you can only access customer support via email for 30 days.
After that, you're on your own. To be fair, there's a library of articles to cover things that you're most likely to need help with. And there's a chatbot to guide you to the right article.
However, if you need that customer support lifeline, you'll have to pay for it.
The Essentials plan comes with 24/7 email and chat support, and for Standard and Premium plans, you'll also get phone support. By comparison,
Constant Contact offers six different avenues of support, plus videos, articles, and a support center.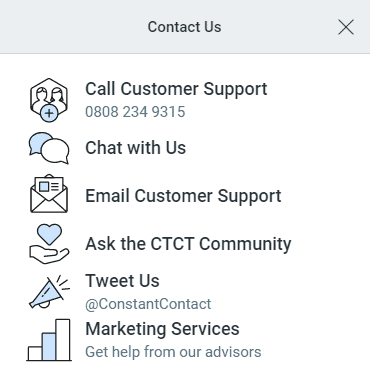 Of course, this doesn't actually tell you whether any of this support is actually helpful, so I tested it out myself. First up, Mailchimp. Mailchimp's helpbot is a simple chatbot with pre-programmed responses. Even though this will be your main line of support if you have a free Mailchimp account,
you won't get anything as sophisticated as a modern AI chat assistant.
All this bot can do is either give you canned responses or send you to articles on the support page.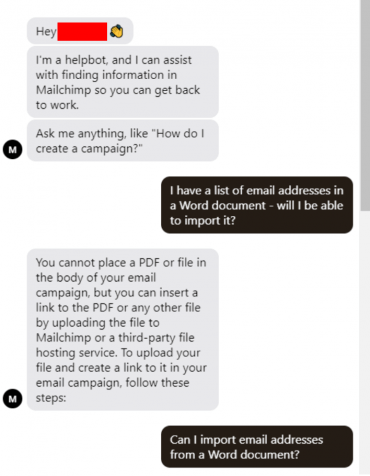 When I asked the helpbot whether I could import a list of contacts from a Word document, it took a few attempts of rewording my question for it to understand what I was trying to ask. The helpbot isn't completely terrible. You just have to talk to it like you're talking to a toddler who has a surprising understanding of modern technology.
The issue is that if you have a problem that needs solving ASAP, this is your main support line on the Free plan.
I figured that the helpbot wouldn't be able to understand my second question, so I emailed support instead.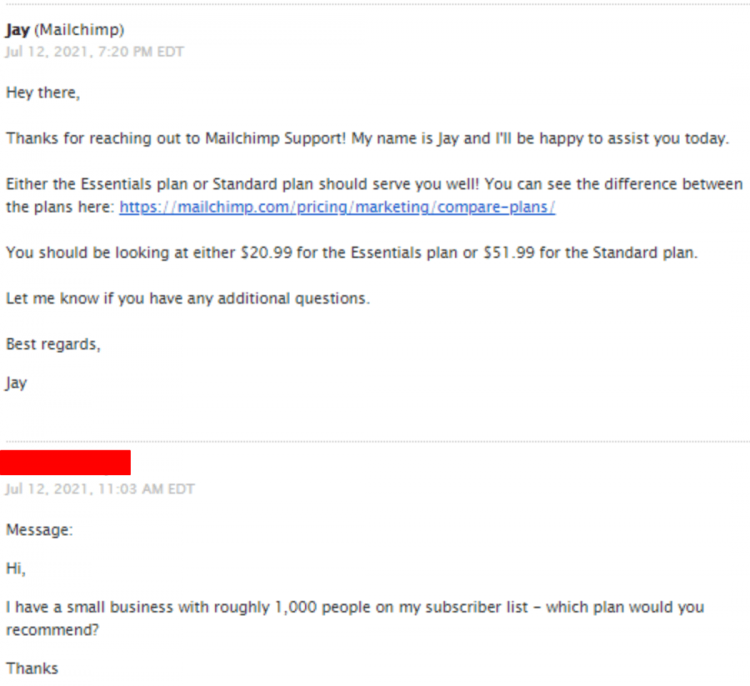 The email response I got came through a lot quicker than I expected. It's a real shame that you don't get access to email support after 30 days if you've got a free account because
I was genuinely impressed with how helpful the response was.
That said, my colleague had a very different experience in his
Mailchimp review, so don't just take my word for it, read his thoughts too…
So, how does Constant Contact compare? I fired up the live chat option and entered the same question I'd put to Mailchimp's helpbot. I was expecting to be sent to live chat right away, but they have an intermediary bot that offers help articles that might answer your question. Even though I phrased my question the same way with both chatbot support options
, Constant Contact was the only one that recognized what I was asking.
With my first question solved, I moved onto the second question, still putting it to the chatbot.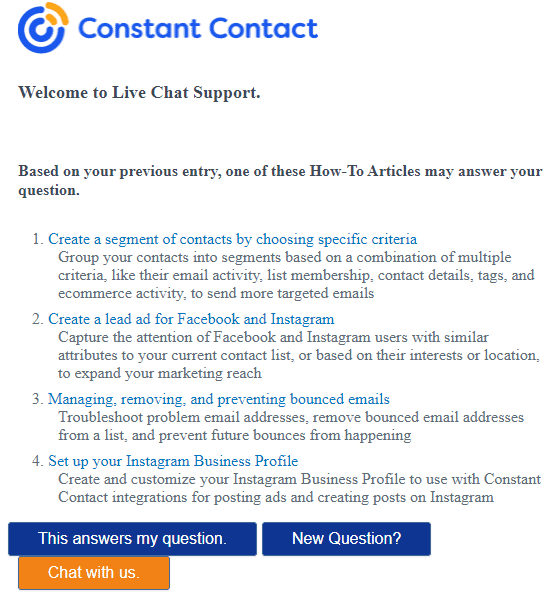 It didn't surprise me that the bot struggled with this, so
I hit "Chat with us" and connected to an agent straight away.
The agent was really helpful,
and started the conversation by asking why I wanted to use an email marketing service in the first place. They then told me how much I could expect to pay for 1,000 contacts with each plan, and, as I expected, recommended the
Email Plus plan
 for the more advanced automation options.
Because I had to use a credit card to sign up to Constant Contact, I also had to get in touch with their customer service to cancel my account before I was charged.
There's no easy way to do this in your account settings, which is annoying. You can't even remove your payment option before you get billed, giving you no choice but to call up their billing department. Thankfully, they have a handy list of numbers for their support teams. But here's the catch – to get in touch with Billing Support to cancel your account, you have to call between 8 a.m–8 p.m ET. So, that's from noon until midnight if you're in the UK, like me.
This support's only available during the week, too.
Regrettably, services frequently complicate the cancellation process intentionally. Do I personally hold a lower opinion of companies when they attempt to exploit people's tendency to procrastinate? Absolutely. However, this does not alter the reality that I had to contact them myself in order to initiate the cancellation of my account. I tried to use live chat to figure out if I could still use my account until the trial expired if I canceled now. No luck. I just got told to phone Billing Support. Thankfully,
calling Constant Contact was quick and painless. Within 10 minutes my account was canceled and I had a confirmation email
sitting in my inbox saying I wouldn't be charged. The kind person on the phone also reassured me that if I needed to get anything from my account, I had 120 days to do so. In short, while it's annoying that you have to call to cancel your account,
Constant Contact offers far more, and better, customer service than Mailchimp.
Constant Contact vs. Mailchimp: Winning By a Whisker
In short,
Constant Contact nudges just ahead of Mailchimp.
While both are good services that offer decent email marketing features, Constant Contact pulled ahead in this comparison for its customer service, value for money, and advanced features. Unfortunately, that's not to say that I would consider Constant Contact or Mailchimp as the best of the best.
They're not in my top 5 email marketing services for 2021 because there are much stronger contenders on the market. ActiveCampaign offers better value for money
, and
Benchmark's free plan
 offers a lot more for beginners than Mailchimp. With that being said, if you're looking for a budget-friendly email marketing service with a good range of features, a simple interface, and a library of learning resources to help you with your marketing, then
I recommend Constant Contact.
| | | |
| --- | --- | --- |
| | Mailchimp | Constant Contact |
| Features | Basic, but functional. Don't expect advanced features outside of the Premium plan | A good level of advanced features on the base plan, but some features are incomplete or missing |
| Ease of use | Slick, modern UI with intuitive drag-and-drop email editor | Not as stylish, but easier to navigate |
| Deliverability | Clear anti-spam policy, DKIM authentication guide, prohibits affiliate marketing | Good anti-spam policy, DKIM authentication walkthrough, prohibits affiliate marketing, and requires a credit card to sign up |
| Price | Free–$1,190/month, plus paid add-ons | Free trial, then up to $335/month |
| Support | 24/7 Email and live chat for Essential plan and above, Phone support on Premium plan | Live chat, phone, and email support for all plans, plus marketing advisors available as add-ons |
FAQ
Is Constant Contact easier to use than Mailchimp?
When I was testing Constant Contact vs. Mailchimp for this comparison, I found Constant Contact easier to navigate. While it's not as stylish as Mailchimp's UI, I didn't have to spend as long trying to find out how to access my analytics, add contacts, or manage my integrations. If you're in the US too, they offer a very generous 60-day free trial (30-day everywhere else).
Is Mailchimp cheaper than Constant Contact?
On the surface, Mailchimp is cheaper than Constant Contact. However, you don't get access to as many features as Constant Contact offers unless you pay for the higher tiers. If you want to use advanced features with Mailchimp, you'll usually end up paying more for the same service you could get from Constant Contact.
Is Constant Contact free?
Constant Contact has a free 30 or 60 day trial of their Email plan, and we can help you save money on Constant Contact with our coupons list. If you're looking for an EMS provider that's free forever, I recommend Sendinblue.
Is Constant Contact outdated?
Constant Contact's UI might look outdated, but it still offers a good level of service. Saying that, it doesn't always offer the same advanced features you might expect from other providers. If you're looking for Mailchimp and Constant Contact alternatives, check out our top email marketing services for 2021.