Since automation differs from EMS to EMS, it makes sense to go with a platform that offers easy-to-set-up autoresponders at an affordable price.
Of course, automation can get much more complicated than that, with long series of well-timed emails, advanced triggers, and dynamic segments that update themselves when specific conditions are met. Although that sounds complicated, the best email marketing services offer ready-made automations you can easily edit to set up complex workflows in minutes. Unfortunately, many email platforms lack an intuitive interface, while others just aren't powerful enough to handle complex sequences.
Luckily, I did the research and know which ones tick all the right boxes.
There are a few I like, but you really can't go wrong with ActiveCampaign.
Its robust automation tool, which is available on the cheapest plan, can help you run whole campaigns on autopilot. Keep reading to learn more about ActiveCampaign and my other top picks.
Short on Time? These Are the Best Email Autoresponders in 2023
ActiveCampaign – Robust automation tool that won't break the bank
Brevo – Decent autoresponder options even on the free plan
AWeber – Advanced behavioral automation and great email list management
What We Look For in the Best Email Autoresponder Tools
During my tests, I focused on specific elements that helped me determine whether an autoresponder deserved a place on my list. The best automation systems:
Aren't locked behind expensive plans. Basic autoresponders should be available on the cheapest plan as they're core to all email strategies. I awarded extra points to email marketing services with great automation on their free plan.
Are easy to use. Automation might seem complicated initially, but it all boils down to the tool you use. All my recommendations allow you to set up automated campaigns with intuitive branching workflows, including multiple steps.
Offer more advanced sequences. Almost all platforms offer welcome, birthday, and abandoned cart autoresponders – the bare minimum. The services on this list go beyond that, offering various triggers and more complex automations based on contact behavior
Feature various pre-built automation recipes. Even if you have a clear idea of what you want your sequence to do, you may be unsure where to begin – that's where recipes come into play. My top picks offer editable automation templates that simplify processes.
Come with automation tips and guides. Both in-depth articles and helpful tips that pop up on the screen are invaluable. My recommendations offer guidance and actionable advice every step of the way.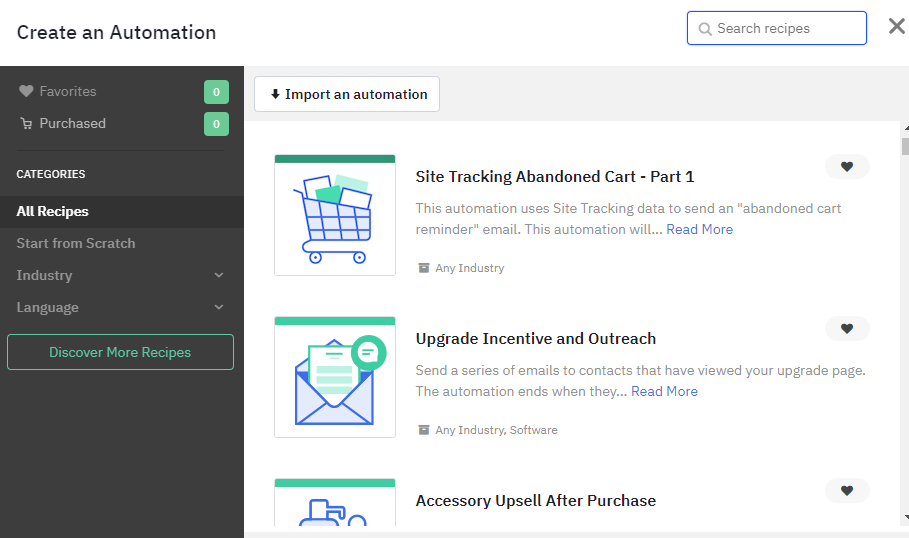 ActiveCampaign is one of the most robust email marketing platforms on the market. Its feature set is a force to be reckoned with, including an easy-to-use drag-and-drop editor, detailed analytics, and top-of-the-line automation.
If you spend a lot of time setting up advanced, multi-step campaigns, ActiveCampaign can help you get things done faster.
All the basic autoresponders are here, but you'll also find a massive collection of more
advanced automation recipes
 for all situations.
Depending on the information you give ActiveCampaign during the account setup, it will come up with several templates relevant to your industry.
My builder interface, for example, recommended workflows for writing workshop series, book pre-order series, and social media book club invite series. That's because I'd specified my niche as writing and blogging during setup. You can learn more about ActiveCampaign's automation tools in our
in-depth review.
If you're unsure which recipes to use, you can head to ActiveCampaign's forum. Its community is very active, and you can easily import automations that other people have created with a simple URL.
Features
SMS automation. ActiveCampaign can help you set up SMS marketing, and there are even ready-made templates you can use. SMS is a great way to reach your contacts with short promotional messages, quick appointment reminders, and event details.
Advanced analytics. All plans allow you to track the performance of your automations through the reports tab. You can check how each email in your series has performed with a single click.
Sales automations. Although the CRM plan is separate from email, there are bundles you can purchase to access the contact management tools and sales automation recipes.
Site messages. If you're subscribed to the Plus plan, you can set up automated site messages based on a contact's interaction with your business (e.g., a "welcome back" message). These are fully customizable and can be edited with your own colors, icons, and branded imagery.
Basic autoresponders

✔

Branching build-your-own automations

✔

Automation recipes
850+ in multiple languages
Free plan

✘

Starting price

$

29.00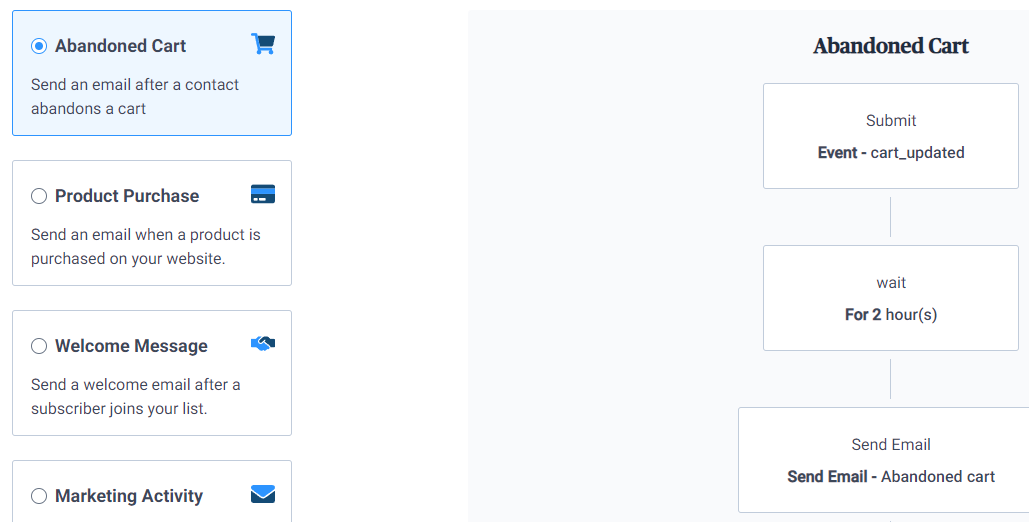 Brevo (formerly Sendinblue) is an EMS best known for its wide range of features and generous free plan. It has everything you could ask for from an email marketing platform, including modern templates, an easy-to-use email editor, and advanced automation. Check out our
Brevo expert review
for more information about the platform.
The best part about Brevo's automation is that it's free.
That's right. Brevo lets you
access basic autoresponders
 (e.g., abandoned cart, product purchase, welcome message, anniversary) even if you're not a paying customer. Custom workflows with branching triggers are also available on the free plan. If you're just starting out and are looking for an affordable way to automate email campaigns, Brevo is an excellent choice.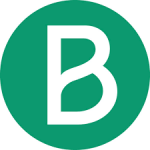 Save up to 10 % on your Brevo (formerly Sendinblue) plan!
Limited-time offer - Don't miss it!
2179 users used this coupon!
Features
Free email sends. With Brevo's free-forever plan, you can have unlimited contacts and send up to 300 emails every day. That's a lot more than what the competition offers.
SMS marketing. You can schedule to send SMS promotions, updates about orders, and appointments on Brevo's free plan. Keep in mind that you need to pay extra for pre-paid SMS credits – the prices vary from country to country.
WhatsApp campaigns. Similar to SMS marketing, users can use Brevo to schedule all kinds of messages on WhatsApp. The first 1,000 messages are free but after that, keep in mind that the actual number of messages you can send via WhatsApp varies by country and volume. If you're sending messages in North America, for example, it uses less credits than sending messages in Indonesia.
Advanced segmentation. Brevo can segment your lists based on contact behavior (e.g., email received, email opened, link clicked). If you need to create complex automation workflows, this will help minimize manual input.
Basic autoresponders

✔

Branching build-your-own automations

✔

Automation recipes
8
Free plan

✔

Starting price (after free plan)

$

25.00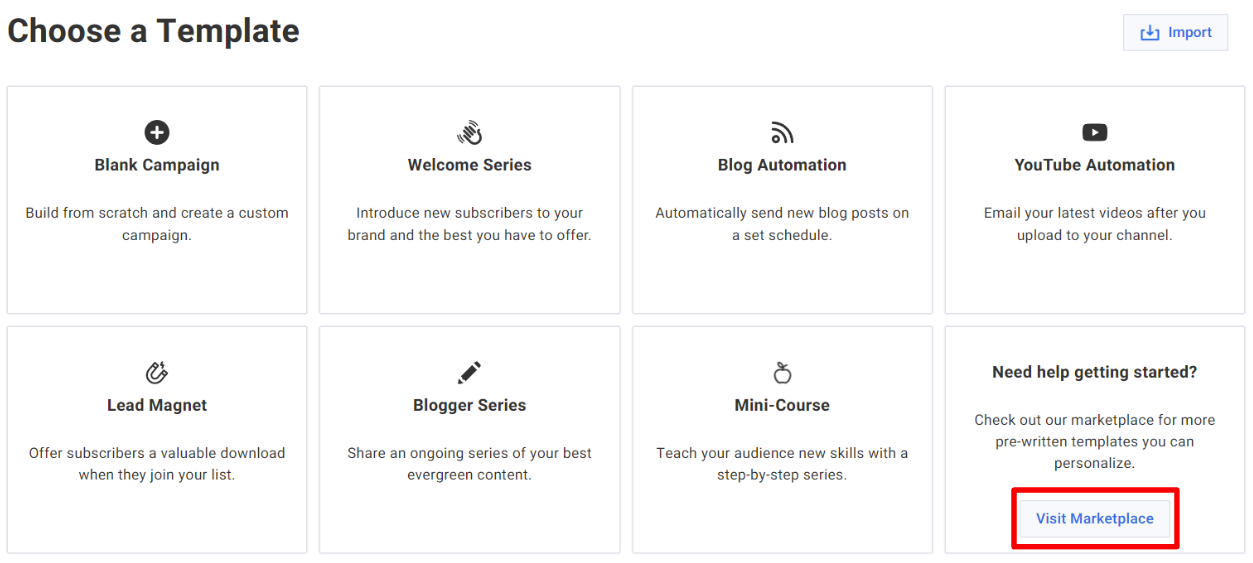 Despite its age, AWeber is still a top performer with some of the most advanced email marketing tools around. Like Brevo,
AWeber offers a generous free plan
that allows you to access features such as email templates, landing pages, and automation. Learn more about everything AWeber offers in our
updated review
. My favorite AWeber feature is that
you can build your automation from scratch or choose from one of the pre-built email autoresponders to get started.
These include welcome series, mini-courses, a simple lead magnet, a series of YouTube links, and more. AWeber's marketplace comes with many free
pre-written automated email campaigns
 to help you get things done quickly. For example, there's a 5-step mini-course email series inspired by Thinkific. It welcomes users when they sign up and delivers easy-to-digest content every two days for a full week before offering a special deal. AWeber has been around for a long time, and it's the perfect choice for marketers who want a consistently high deliverability rate.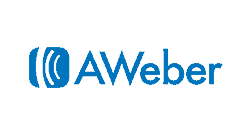 Save up to 19.2 % on your AWeber plan!
Limited-time offer - Don't miss it!
78 users used this coupon!
Features
Advanced email design tools. AWeber has hundreds of fully customizable templates, and its email editor is one of the best. You can create beautiful emails in just a few minutes, and there's even an option to help you create a unique branded email template by inserting your website URL.
Excellent deliverability. Unlike its competitors, AWeber handles its own infrastructure and has personal contacts at major ISPs. Combine that with its strict spam policy, and you end up with a platform with extraordinary deliverability rates.
Free monthly sends. You can send 3,000 monthly emails to 500 contacts as a free user. The free plan is serviceable for smaller businesses and creators, allowing limited access to most of the platform's features.
AWeber AI. This new integrated AI is one of the most robust AI tools I've seen so far on an email marketing platform. It can help you generate ideas, write drafts, and even include personalization tags between paragraphs.
Basic autoresponders

✔

Branching build-your-own automations

✔

Automation recipes
20+
Free plan

✔

Starting price (after free plan)

$

12.50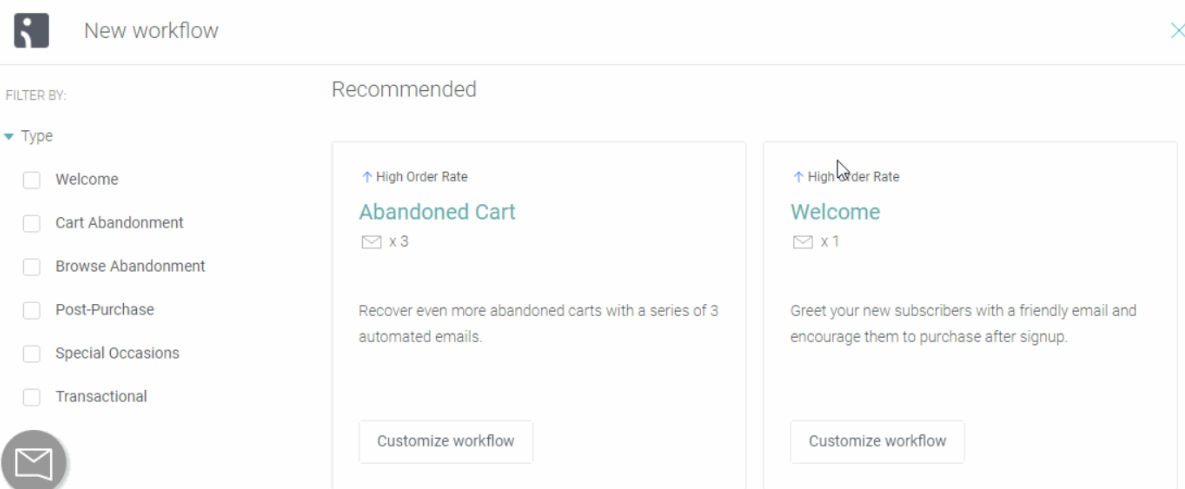 If you run an ecommerce store, I recommend checking Omnisend out. If you don't have an ecommerce store, you can safely skip this section –
Omnisend doesn't work properly without a web store
. Our
expert review
dives deeper into the platform's unique features. Omnisend's all about data.
It connects with all major ecommerce platforms,
pulling all kinds of useful information about your customers and using it to build engagement and push sales at the right moment. As you've probably already guessed, its automation tool zeroes in on sales-related automations, such as product abandonment, cart abandonment, cross-selling series, and order confirmation emails. It's easy to use, and it integrates smoothly with the rest of the software's ecosystem.
Features
Sales-focused email design. Omnisend's email editor has tools that can help you quickly display products from your store with the click of a button. There's even a product recommender block element that pulls up to 8 personalized products based on your shoppers' order history.
Automation reports. From Omnisend's reporting dashboard, you can quickly see how your automation workflows have performed. For example, you can view how many people opened your abandoned cart email and track how much money the automation has made you so far.
SMS automation. SMS marketing and push notifications are fully integrated into Omnisend's workflows, which means you can weave SMS messages in most automated sequences. The prices are reasonable, and Pro users get free SMS credits to test the service.
Great free plan. I like how Omnisend doesn't block any of the features behind paid plans. As a free user, you're limited to 500 emails and 60 SMS, but you can get a good feel for the platform without spending a dime.
Basic autoresponders

✔

Branching build-your-own automations

✔

Automation recipes
17
Free plan

✔

Starting price

$

18.00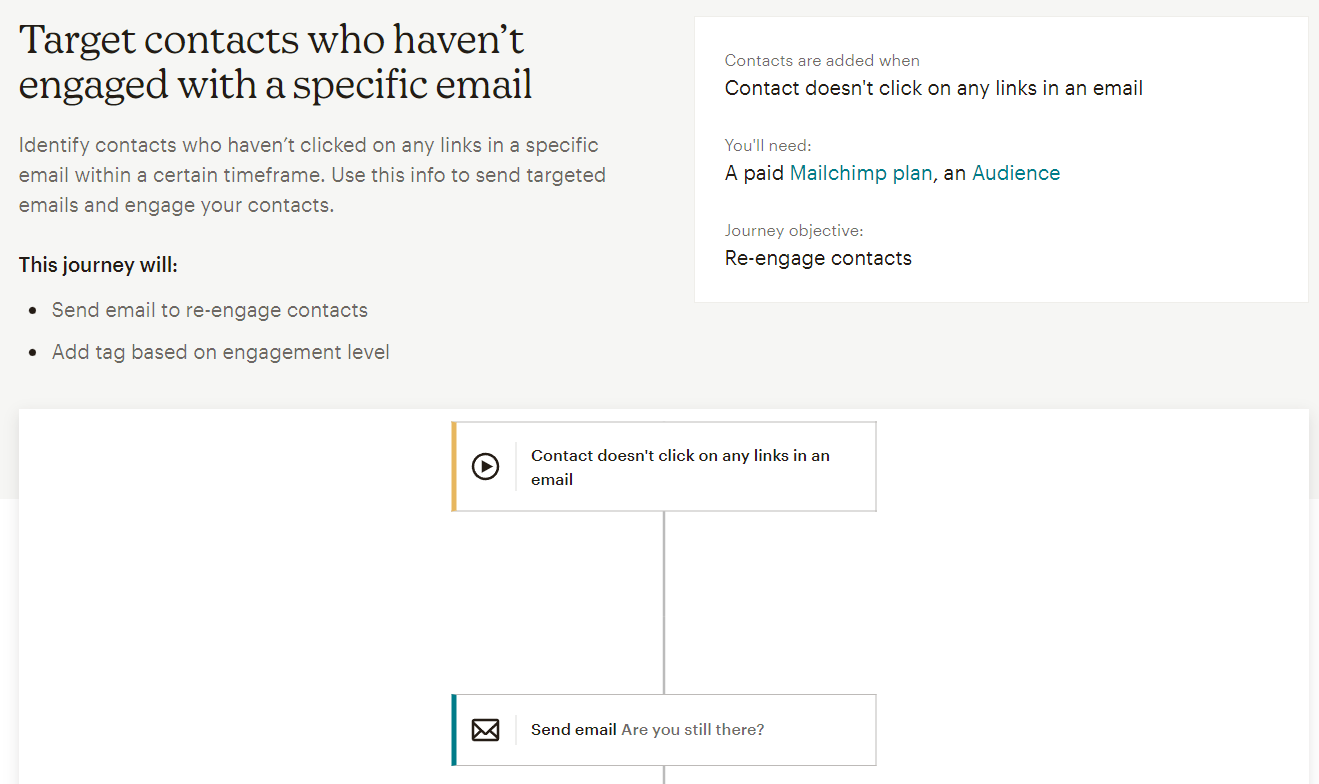 The user experience on Mailchimp is highly polished, with the platform offering helpful tips across its interfaces
– including its
automation "journey" builder
. You can create your first email and set up your first automations in just a few minutes. I've found that since Mailchimp integrates natively with almost any website and digital software you can think of, it's a very attractive choice for marketers.
Mailchimp's automation capabilities aren't as impressive as I'd like, but the platform's ease of use makes up for that.
You can learn more about my experience with the EMS in my updated
Mailchimp review
. If you're managing a single list and don't mind the somewhat limited segmentation options, you should give this email marketing platform a go.
Features
85+ automated customer journeys. I find Mailchimp's automation interface very easy to use, and I love how you can quickly see how many contacts have reached certain parts of your journey. Unfortunately, these aren't available on the free plan, and Mailchimp doesn't do trials, so you can't test them yourself before committing.
Great help center and support. Mailchimp's help center is quite expansive, and there are plenty of articles on how to set up both basic autoresponders and more advanced automations. Its support team is also available via email and chat 24/7 for paying customers.
320+ native integrations. From ecommerce stores to analytics and event tools, Mailchimp integrates natively with more apps than any other EMS I've come across. That can save you a lot of time as you grow and introduce more tools to your workflow.
Great deliverability. Automation doesn't mean a lot if your emails never reach their destination. Fortunately, Maichimp's strict spam and affiliate marketing policies help boost its deliverability rate.
Basic autoresponders

✔

Branching build-your-own automations

✔

Automation recipes
85+
Free plan

✔

Starting price

$

13.00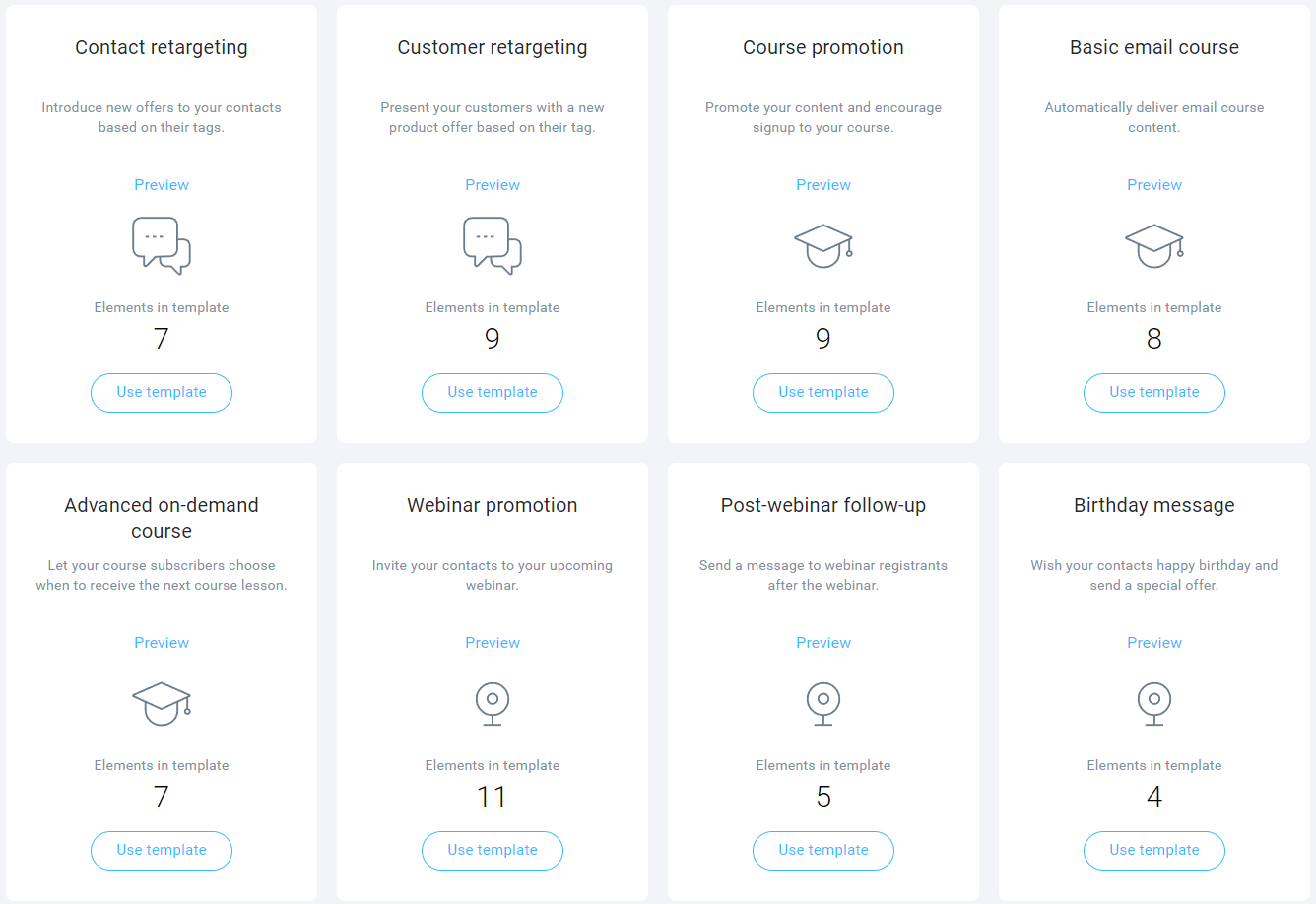 Like ActiveCampaign, GetResponse is a versatile, all-in-one EMS. I set up a few basic autoresponders in less than 5 minutes, and the visual interface helped me create complex sequences almost as quickly. You can drag and drop elements directly into your workflow and move others around to get your tool to do exactly what you want.
GetResponses earns extra points for not leaving anything to chance.
I like how it lets you set wait periods with the ability to control the exact time the email's sent. Let's say I know my audience is more active in the morning. Without this feature, I can't guarantee my messages will be delivered at the desired time. Now that I've used controlled delays, I'm not sure I could go back to traditional "wait for" actions. GetResponse allows you to create websites, sales funnels, landing pages, and more. If you just email marketing, you might feel a bit overwhelmed by all these extra features, but it's useful to know they're there. You can read more about GetResponse's full feature set in our
expert review
.
Features
70+ pre-built automation workflows. GetResponse has simple pre-built workflows for nurturing new contacts, recommending popular products, and recovering lost sales. More advanced templates designed to target your subscribers based on their actions and behavior are also available.
Sales tools. Besides its email marketing and CRM capabilities, GetResponse also features sales funnels, webinars, and even transactional emails if you're on the ecommerce plan.
SMS marketing. Mid/large companies can also use GetResponse's built-in SMS marketing tool. Although this isn't currently available with cheaper plans, it's free to try with the 30-day trial.
Free-forever plan & trial. GetResponse's free plan is rather limited and doesn't include autoresponders. Luckily, you can utilize the fully-featured 30-day trial to test everything the platform offers before committing to a paid plan.
Basic autoresponders

✔

Branching build-your-own automations

✔

Automation recipes
70+
Free plan

✔

Starting price (after free plan)

$

15.58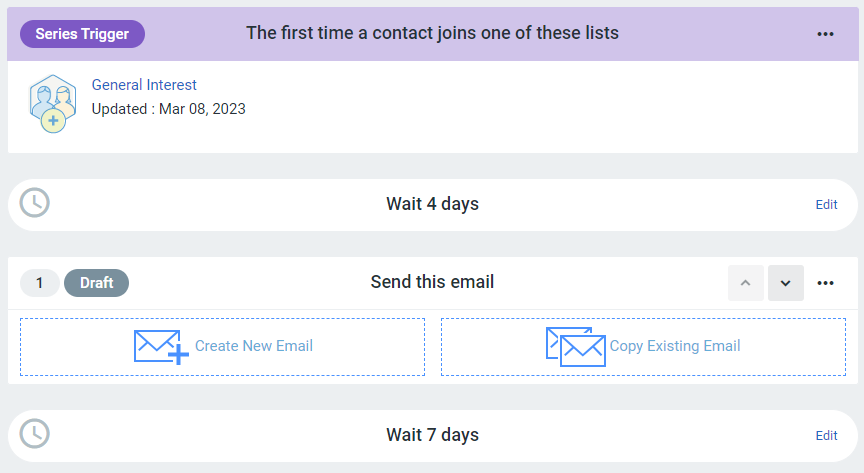 ConstantContact is one of the easiest email marketing platforms I tested.
The dashboard is accessible and easy to understand, the drag-and-drop editor works like a charm, and the tracking tools are customizable and well laid out. Read our
expert review
to learn more about ConstantContact's beginner-friendly tools. The autoresponders are easy to set up too. If you're new to email marketing automation and would rather stick to the basics like welcome series and abandoned carts, ConstantContact will probably do just fine. Unfortunately,
there's currently no option to design your own automation workflows
, which might be a problem for more advanced marketers.
Features
Autoresponder reports. After setting up your automated series, ConstantContact will tell you exactly how each email has performed. You can quickly see how many people have received your email and the total number of opens and clicks for each step.
Helpful guides and video tutorials. The autoresponder tool is intuitive, but if you need extra help, video tutorials will help you avoid mistakes.
Great deliverability. ConstantContact passed our spam filter test, and it's pretty strict about affiliate marketing too. Essentially, this means there's a high chance your emails will get through.
60-day trial. Although there's no free plan, ConstantContact's 60-day trial allows you to test most of the platform's premium features for free. Autoresponders are accessible, but you need to pay before activating them.
Basic autoresponders

✔

Branching build-your-own automations

✘

Automation recipes

✘

Free plan

✘

Starting price

$

12.00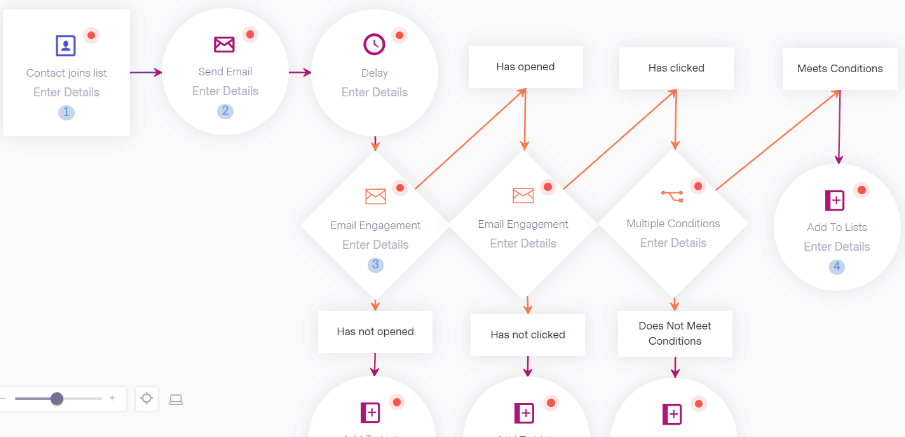 Benchmark is a powerful email marketing platform with a wide range of features.
Its templates look great and are highly customizable – not to mention the fact that they support RTL languages like Hebrew and Arabic. Personalization and segmentation are also pretty decent, with tags for names, detailed contact info, and any custom fields you've manually added. There are two types of automation on Benchmark. The Lite version
is available to everyone (even free users) and contains basic autoresponders
all platforms should have (e.g., welcome emails, anniversary series, and purchase follow-ups). If you upgrade, you'll access more advanced automations, but I'm actually surprised I could do this much without having to pay for a premium plan. If it had more templates and a more robust email editor, Benchmark would've scored a few more points with us. Read our
in-depth review
to discover more about Benchmark.
Features
Pro automation. If you're a paid user, you'll unlock more complex automation tools, including the ability to target contacts based on their behavior (e.g., browsing and purchase habits). You'll also be able to target contacts from different lists and segments in one single automation.
10 pre-built automation workflows. You can build automation recipes from scratch, but why not save time by using one of the pre-built recipes as a starting point? You can always edit these later if you like.
Automation analytics. Benchmark tells you how your automation is performing (i.e., whether contacts open your emails and click on your links) making it easy to adjust your marketing strategy as you go.
Multi-language support. I love how Benchmark supports various languages. You can write your emails in almost every language and get help in 9 languages
Basic autoresponders

✔

Branching build-your-own automations

✔

Automation recipes
10
Free plan

✔

Starting price (after free plan)

$

8.00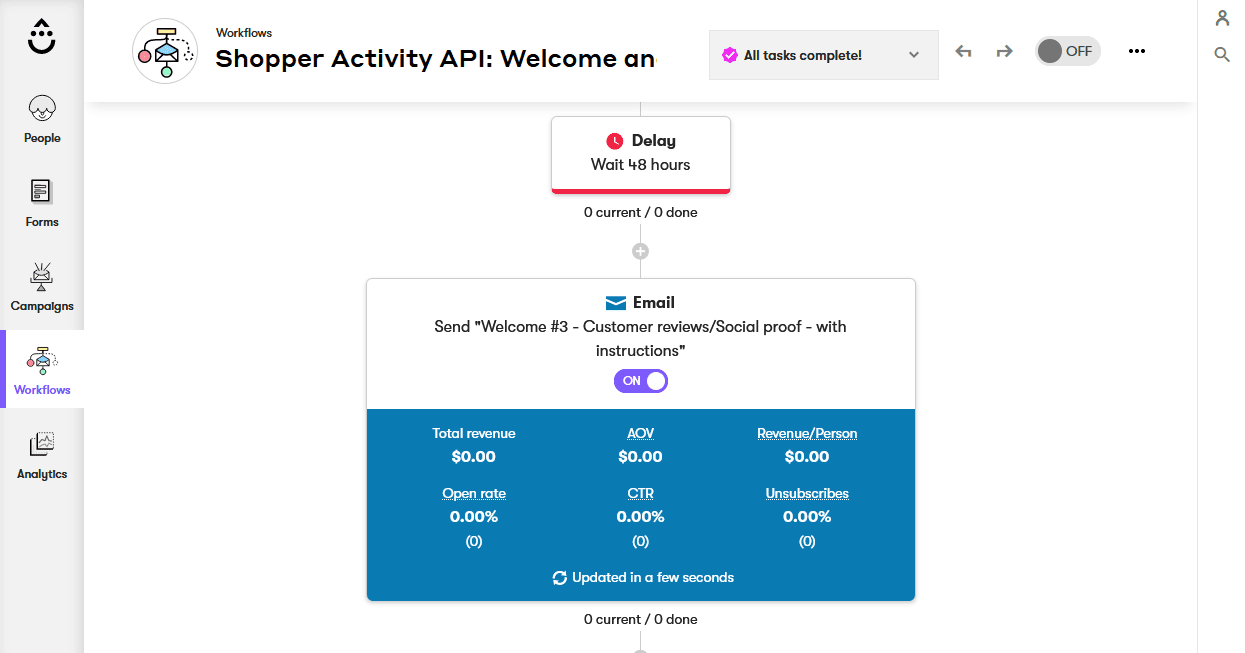 Much like Omnisend,
Drip's true potential lies in ecommerce
. Unlike Omnisend, however,
it can be used even if you don't have an online store
. Although it does several things well, including its email editor, segmentation, and contact management, Drip loses some points for offering only a handful of email templates.
Other features like landing pages are also missing, but the autoresponders make up for it.
If you don't mind Drip's DIY approach to email marketing and slightly frustrating pricing system, you can actually do quite a bit with its automation workflows. You can learn more about Drip's advanced automation system in our
in-depth review
.
Features
40+ automation templates. Like other top competitors, Drip offers plenty of editable autoresponders to help you get started with automation. The workflow editor is intuitive and looks good, and you can learn its ins and outs fairly quickly.
Real-time automation reports. Branches that include emails generate a report with real-time statistics (e.g., open rate, CTR, total revenue). I like how you can visually assess your workflow's performance without navigating to the analytics tab.
Large help center and great customer support. Setting up more advanced automations can be challenging, even with an easy-to-use EMS like Drip. Luckily, there are plenty of guides to help if you get stuck, and the support team is more than attentive.
Basic autoresponders

✔

Branching build-your-own automations

✔

Automation recipes
40+
Free plan

✘

Starting price

$

39.00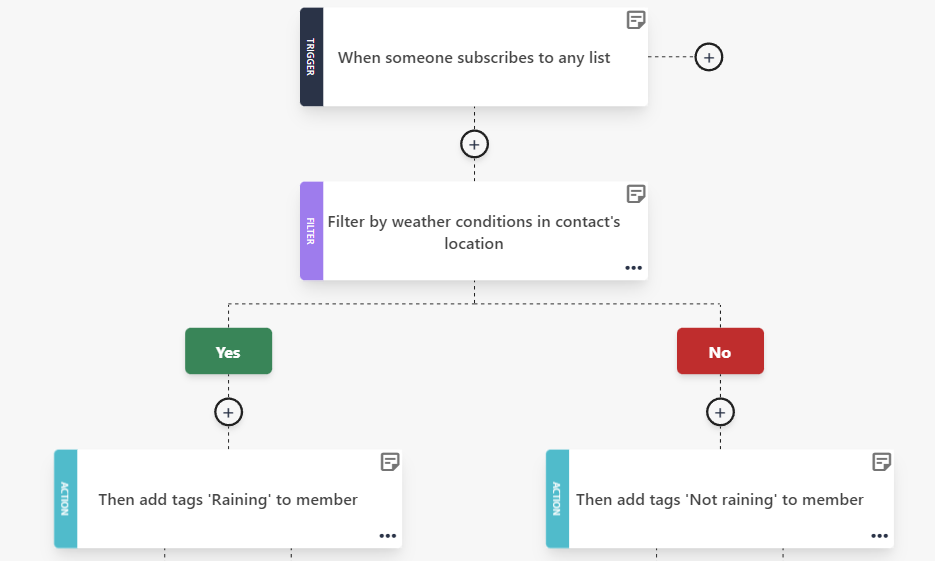 Moosend gets many things right. Where do I start? The modern email templates, the advanced segmentation, the excellent deliverability, the great analytics? If that wasn't enough, Moosend is seriously good at automation, too. And no, it has nothing to do with cows – although it does attempt to "moo-ve" your email marketing to the next level. So why did it barely make this list? Well, let's just say that
Moosend's customer support is less than stellar
. In his
expert review
, my colleague had trouble getting answers to simple questions, and I had a similar experience when I tried to reach Moosend's representatives myself. Considering its competitors offer many of the same features and have very good customer service, it's hard to recommend Moosend over them.
Features
20+ autoresponders. Moosend's branching workflows are easy on the eye, and the automation recipes speed things up even more. Pre-built automation recipes include offer reminders, complex loyalty sequences, and a few weather-based series.
Weather control step. Yup, you heard that right. Moosend's workflows can include conditions that filter contacts based on their local weather conditions. I don't think any other platform does this, and it could be huge for businesses that rely on seasonal offers.
Excellent deliverability. Moosend is one of the few platforms that has passed our spam filter test. Combine that with its strict affiliate marketing policy, and you have an EMS that enjoys surprisingly high deliverability rates.
30-day trial. Moosend might not have a free plan, but the 30-day trial allows you to test most of the platform's features completely risk-free. When you're ready to upgrade, you'll discover that its paid plans are reasonably priced.
Basic autoresponders

✔

Branching build-your-own automations

✔

Automation recipes
20+
Free plan

✘

Starting price

$

9.00
Here Are the Best Autoresponders in 2023
Although the market is flooded with email marketing platforms, not all automation tools are worth your time. Some are simple but lack depth, and others are more advanced but give users a headache. Only a select few strike a perfect balance.
The whole point behind email marketing is to make our lives easier, so choosing the right autoresponder is crucial to success.
If you're looking for the most advanced autoresponder,
I recommend ActiveCampaign
. Although it comes with a learning curve, no one can compete with the platform's sheer number of automation recipes (820 and counting). If you're on a budget but still want control over your automation options, you should
check out Brevo
. Basic autoresponders are available to all users, and you can also access SMS marketing and WhatsApp campaigns for free. If you're concerned about deliverability,
go with AWeber
. Its automation tool is robust, but this EMS also handles its own infrastructure, which basically means there's a higher chance for your emails to reach their destination.
Let's go over everything one last time:
| | | | | |
| --- | --- | --- | --- | --- |
| | Free Plan | Best Feature | Best For | |
| ActiveCampaign | ✘ | State-of-the-art automation | Experienced marketers looking for a robust automation tool | |
| Brevo | ✔ | Robust autoresponders even as a free user | Marketers on a budget who still want to get things done | |
| AWeber | ✔ | Excellent deliverability and email design | Marketers who value excellent deliverability rates | |
| Omnisend | ✔ | Automation workflows for ecommerce | Ecommerce store owners looking for sales-focused autoresponders | |
| Mailchimp | ✔ | Intuitive autoresponders and great customer support | Beginners who need help and tips to get started with automation | |
| GetResponse | ✔ | Advanced automation and CRM | Marketers looking for a robust all-in-one marketing solution | |
| ConstantContact | ✘ | Long 60-day trial | Beginners who want to try automation before committing to paid plans | |
| Benchmark | ✔ | Complex automation and multi-language support | Marketers creating emails and automations in multiple languages | |
| Drip | ✘ | Real-time automation reports | Ecommerce store owners who value great reporting | |
| Moosend | ✘ | Weather control conditions | Experienced marketers looking for a robust EMS with unique automation filters | |
FAQ
What is the best free autoresponder?
In terms of sheer power, ActiveCampaign comes ahead relatively comfortably. Its advanced segmentation options combined with the numerous triggers and actions available via the automation workflow builder make all the difference. And if you don't know where to start, you have hundreds of pre-built automation workflows to choose from.
What's the easiest autoresponder to use?
This one's not as clear-cut, but I have to go with Mailchimp. It's a pleasure to use overall, and the automation tool is no exception. It's not just about the intuitive interface – Mailchimp leads you by the hand, simplifying otherwise complicated processes.
How much does an autoresponder cost?
It all depends. The best autoresponders will set you back a few dollars a month, but there are excellent free options as well. One of my favorites – and the one I recommend to budget-conscious marketers – is Brevo. As a free user, you can access and edit
a few basic autoresponders
.
What makes a good email autoresponder?
The best email autoresponders are easy to use while also offering many automation options. The number and quality of the platform's pre-built automation templates are also essential – and so is the autoresponder's price. Check out our updated
list of the best email marketing services
for more information.