Email marketing services give you the power to send personalized, well-designed content at scale, with automation, analytics, and extra tools to boost your email marketing success. The difficulty is choosing the best email marketing service for your business. MailChimp is one of the leading email marketing services providers, but do you get what you pay for? Here's an in-depth look at what MailChimp delivers at each price plan.
Which MailChimp Plan Is the Best Value for Money?
First off, MailChimp's delivery rate is equal to its competitors in the email marketing services field. It uses advanced practices to ensure that your emails get through and has a 96-99% delivery rate, which is standard. The real question, though, is whether MailChimp offers the features you need in an email marketing service.
MailChimp's features essentially come in two versions:
"Free" and "Essentials" plans, which have almost the same basic features.
"Premium" plan, which has MailChimp's most advanced features bundled as an add-on
The most advanced features in the Premium package are worth the cost for larger companies, but smaller businesses will be happy to skip the features and the fee. Here's how they all stack up:
Free
The Free plan gives access to MailChimp's standard email marketing features, including:
Advanced email design templates
Drag-and-drop email editor
Highly effective Facebook and Instagram marketing-campaign integrations
Google remarketing ads
Limited landing page editor
Basic customer segmentation
Marketing automation
Geolocation
Personalization using merge tags
Limited A/B testing
Multi-user accounts
Limited marketing automation workflows like Abandoned Cart emails and Order Notifications
RSS to email
Mobile app
Embedded sign-up forms
Interactive reports
Some other email marketing services offer similar features only in their premium-level plans. However, it's important to note that in MailChimp some of these features are offered in a limited version. For example, basic segmentation is clumsy and doesn't allow you to send to multiple lists at once; basic split-testing permits only up to three variations; default embedded sign-up forms are not very attractive; and the landing page editor has just two templates.
And importantly, there are daily, weekly, and monthly limits to the number of emails you can send, which is understandable in a free plan. When you reach 2,000 contacts, you'll have to upgrade to the paid Essentials plan. But for small businesses still discovering the best way to use emails to drive engagement, the Free plan is an excellent value for money.
Essentials
When you upgrade to the paid Essentials plan, the main difference is the size of your email list. It starts at a reasonable monthly price which incrementally goes up only after your list exceed 50,000 subscribers. Until then, you get unlimited emails and are charged according to your list size. The knowledge you can send as many emails and campaigns as you like without worrying about hitting your limit is a value in itself for small- and medium-sized businesses (SMBs). MailChimp's pricing automatically fluctuates as your list grows and shrinks, so you'll never pay more than necessary.
MailChimp's pricing levels change once your list exceeds 50,000 subscribers, which is a neat way that MailChimp crosses the divide between serving SMBs and entrepreneurs, and offering powerful, enterprise-level email marketing services to large corporations, such as:
Inbox preview, which lets you see how your email will look in 25 different email clients
In-app conversations, for communication with contacts
Advanced forms, so that you can change the look of your embedded sign-up forms
Timewarp, which coordinates emails to recipients in different time zones
Predicted demographics, which uses advanced algorithms to predict the age and gender of contacts
Social profiles, to gather and organize more social information about your contacts
You also get one-on-one live chat customer support, which is a serious lack in MailChimp's Free account.
What's disappointing in MailChimp's pricing system is that there are other email marketing services like Constant Contact that offer unlimited emails even for high-volume users. That said, businesses that are large enough to have lists of over 50,000 usually know exactly how many emails they need to send every month. Unlimited emails doesn't hold the same appeal as it does for smaller businesses.
Premium
If you want full flexibility and power, you'll need to pay for Premium which, as a feature-rich add-on of nearly a $300 per month, can make MailChimp far more expensive than competing email marketing services. However, this fee is flat and doesn't change according to your list size. This means that MailChimp users with small list sizes can get highly advanced features that are designed for higher-volume users.
Premium features include advanced segmentation for targeted sending, comprehensive multivariate testing, and deep comparative reports, among other features, to gain serious insights into success rates and power highly personalized email campaigns. Pro users also access priority customer support.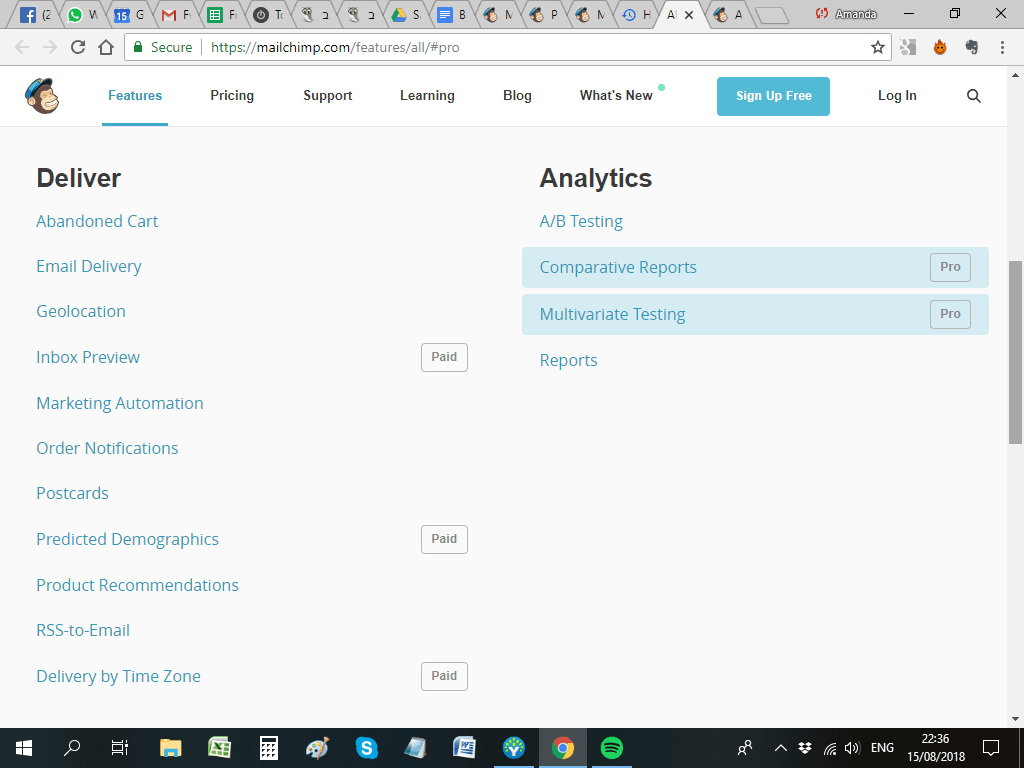 How Does MailChimp Compare With Other Top Email Marketing Services?
MailChimp isn't the only great email marketing service out there. Here's an at-a-glance comparison of MailChimp's value, compared with other market leaders like Constant Contact, AWeber, and Active Campaign.
| | | | | |
| --- | --- | --- | --- | --- |
| | MailChimp | Constant Contact | AWeber | Active Campaign |
| Free plan | Yes, up to 2,000 contacts | No | No | No |
| Free trial | No | 60 days | 30 days | 14 days |
| Price (beginning at 500 contacts) | From $0/month | From $20/month | From $19/month | From $9/month |
| Number of emails | Unlimited up to 50,000 contacts | Unlimited | Unlimited | Unlimited |
| Delivery rate | 96-99% | 97%+ | 99% | Not available |
| Main features included in the lowest-tier plan | Email editor, signup forms, mobile app, social media integration, three-way split testing, landing page templates,  multiple integrations, marketing automation, basic segmentation | Email editor, signup forms, mobile app, social media integration, subject line A/B testing, image library, multiple integrations, email tracking | Email editor, signup forms, mobile app, email automation, autoresponder, multiple integrations, advanced segmentation, email tracking | Email editor, signup forms, mobile app, social media integration, three-way split testing, image hosting, multiple integrations, email tracking, advanced marketing automation, advanced segmentation |
| Advanced features | Eight-way split testing, social profiling, advanced segmentation, comparative reports, inbox preview | Marketing automation, event marketing, donations | All tools are included in every tier plan | CRM, social profiling, sales automation |
| Customer support | Email only for basic users | Email and telephone support | Live chat, telephone, and email support | |
Here are the top pros and cons of each MailChimp competitor:
Constant Contact
In my opinion, most small businesses will find better value for money with MailChimp than with Constant Contact. There's nothing to rival MailChimp's Free plan, and most small businesses will get all the features they need for a lower price with MailChimp.
The only difference would be for high-volume users who want Constant Contact's unlimited email offer, instead of being limited to a certain number of emails per month as would be the case with MailChimp. Constant Contact also has better customer segmentation options for lower prices than MailChimp, so if that's the most important feature for you then Constant Contact might be a better choice.
AWeber
AWeber offers all users access to all of its most advanced email marketing features, right from the lowest tier of its pricing plan. Some features which MailChimp offers in the Pro package are available to AWeber users as part of their basic package. That said, AWeber still doesn't offer split-testing at all, which is a major drawback on the features side of things. MailChimp has three-way multivariate testing for its regular users and eight-way testing for Pro users.
Therefore, low-volume users who need advanced email marketing tools might do better with AWeber. The cost per email is higher, but the cost per feature is lower. But for basic email marketing services that are easy to use and low cost, MailChimp trumps AWeber every time. However, users with around 5,000 contacts will find very little difference in the cost per email between the two services, and AWeber's lack of split-testing might be the breaking point for you.
ActiveCampaign
Active Campaign has some very attractive features which MailChimp doesn't offer at all, such as sales automation, advanced segmentation, and more sophisticated email marketing automation. There's no question that ActiveCampaign is a more expensive email marketing service, but if those extra features matter to your business, then it's worth the cost. However, if you're just looking for a simple email marketing service that has the standard features for the lowest price, MailChimp is your monkey.
MailChimp wins on price but not always on features
When it comes to cost per email, MailChimp offers the best value every time. But in terms of features, there are some email marketing services like ActiveCampaign and AWeber which provide more features for a comparatively lower price, and sometimes offer features which MailChimp doesn't host at all. If you need specific advanced features, you might prefer one of MailChimp's competitors. But MailChimp is my favorite for small- and medium-sized businesses, and anyone needing something versatile, easy to use, and hard-working.