Mailchimp has a bright reputation as one of the top-performing email marketing services (EMS), but how do its prices compare to other platforms out there? If you purchase an email plan beyond your needs, you could easily end up overspending! 
The good news is
Mailchimp has a fairly extensive free plan
with features like one-step automation and landing pages. But, like many business owners, you may need a plan – or an alternative EMS – with a more robust toolkit.
Paying for one of Mailchimp's 3 payment plans gets you features like multi-step automation journeys, split testing, personalized content, and multivariate testing.
Mailchimp's prices are based on the number of contacts you have (starting from 500)
.
Regardless of the size of your email list, it's important to choose an email marketing service you get the most value from. That's why I analyzed Mailchimp's pricing across its different plans and tested the platform to help you make the right choice for your email marketing needs.
Short on Time? These Are Mailchimp's Best Plans in 2023
Free (

$

0

)

– Basic email marketing features like autoresponders and a landing page builder – perfect for startups and blogs. 

Essentials (

$

13.00

)

– A more robust option with easy-to-use visual automation builder, A/B split testing, and 24/7 email and live chat support.

Standard (

$

20.00

)

– Best Mailchimp plan for big businesses with its advanced mailing list segmentation and multi-step automation builder.
Mailchimp Features & Pricing Overview
Good Value for the Money – If You Calculate Carefully
How much does Mailchimp cost, really?
Mailchimp pricing tiers include four plans: Free, Essentials, Standard, and Premium.
If you're part of a nonprofit or charity, you can get a 15% discount. You can also
save 10% for up to three months
 if you set up two-factor authentication. Mailchimp's paid plans are contact-based, meaning you pay based on how many contacts you have. The more contacts you have, the higher the price. So who counts as a contact?
Subscribers: Those who have opted into your list.
Unsubscribers: Contacts who have opted out of your list but can still receive ads or transactional emails.
Nonsubscribers: Those who have interacted with your business – via an app integration or a purchase from a linked e-commerce site – but who haven't opted into your list.
What does this mean for your list?
If you have more unsubscribers or nonsubscribers than subscribers, you could end up overpaying
for an email marketing service where you only email a fraction of your contacts.
To avoid this and get the best price with Mailchimp,
you'll have to clean your mailing list regularly by removing inactive subscribers.
Pay-as-you-go pricing – which is available with the Essentials plan – may offer better value, but it comes with limited features. Let's take a closer look at Mailchimp's pricing plans to see how they stack up.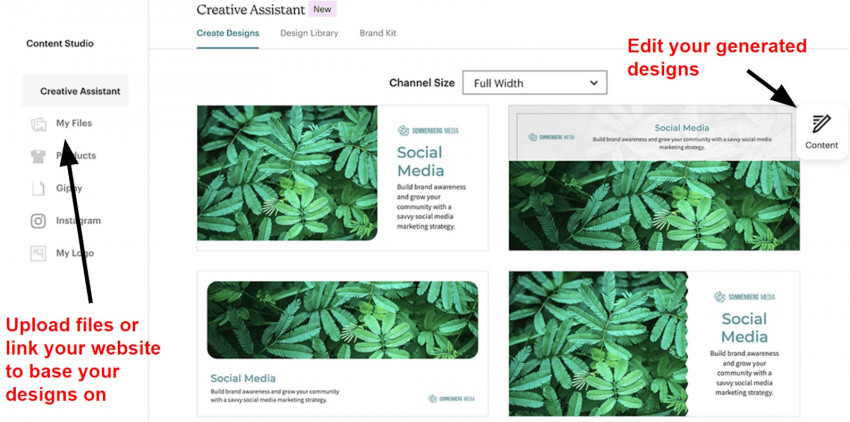 Mailchimp's Free plan includes basic email marketing features: one list (or audience, as Mailchimp calls it), up to 500 contacts, and a customer relationship management tool (CRM) to track your contacts. It also includes behavioral targeting to help you send relevant campaigns to the right people.
With the Free plan, you can send up to 2,500 emails per month at no cost, making it a reasonable option for marketers with smaller lists and simpler email needs.
The Free plan includes about 10 templates (with more available for purchase) that you can use for email campaigns and single-step automations. You can also access the Creative Assistant, which uses your logo and brand colors to create designs for your campaigns. Mailchimp's Free plan goes beyond email marketing, with tools to reach your audience across different channels.
You can build a simple website, design shoppable landing pages, and create social media ads and posts
, all of which we tried and tested in our
Mailchimp review
. And
you can add more functionality with Mailchimp's list of 300+ native app integrations, as well as connect apps like Square, Canva, and Zapier.
Mailchimp's Free plan is fairly generous – you get enough automation to make things like cart abandonment autoresponders.
The limitations of the Free plan make it more suitable for startups and bloggers than more established businesses, but it's still a pretty good option.
A couple of things to be aware of:
Mailchimp's Free plan only has 30 days of email support and only offers very basic analytics
to track
how your audience is responding to your email campaigns. And if you want to use dynamic content, create funnels to nurture leads, or leverage A/B testing to find what works for your audience, you'll need to pay for Mailchimp's Essentials plan.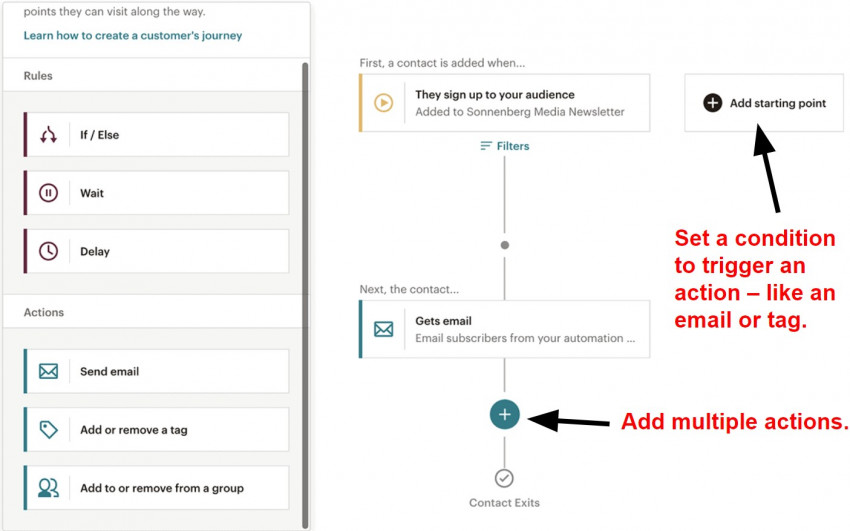 The Essentials plan removes Mailchimp branding and includes three audiences and up to three users
. For a starting price of
$
13.00
, you can add up to 50,000 contacts
and send a number of emails per month that scales with your number of contacts, ranging from 5,000 emails for 500 contacts to 500,000 emails for 50,000 contacts.
Mailchimp's Essentials plan is the cheapest option to come with the customer journey builder, which lets you create and visualize marketing automations.
 This plan also comes with prebuilt marketing funnels, which is helpful for setting up automations efficiently. In addition, you can use A/B testing to experiment with different subject lines, sender names, and send times to see what works best for your audience.
Although the Essentials plan has contact-based pricing, you can choose to pay as you go.
Essentially, you purchase credits in bulk. Each email costs one credit.
This option can be good for low-volume senders, but won't be cost-effective as you grow your subscriber count.
Mailchimp doesn't publish its pay-as-you-go rates, so you'd need to check your account for more details. No matter which pricing strategy you choose,
the Essentials plan includes 24/7 email and chat support
. If you prefer phone support, you'll need Mailchimp's Premium plan, which is significantly more expensive. Is it worth spending the extra money? Access to more support options can be useful, especially when you're new to the platform and have lots of questions.
But Mailchimp's email and live chat support are pretty reliable – so I'd say you don't have to pay for Premium to get good support.
| | | |
| --- | --- | --- |
| Contacts | Monthly Price | Total Price Per Year |
| 500 | $9.99 | $119.88 |
| 1,500 | $20.99 | $251.88 |
| 2,500 | $30.99 | $371.88 |
| 5,000 | $52.99 | $635.88 |
| 10,000 | $78.99 | $947.88 |
| 15,000 | $135 | $1,620 |
| 20,000 | $170 | $2,040 |
| 25,000 | $200 | $2,400 |
| 30,000 | $230 | $2,760 |
| 40,000 | $260 | $3,120 |
| 50,000 | $270 | $3,240 |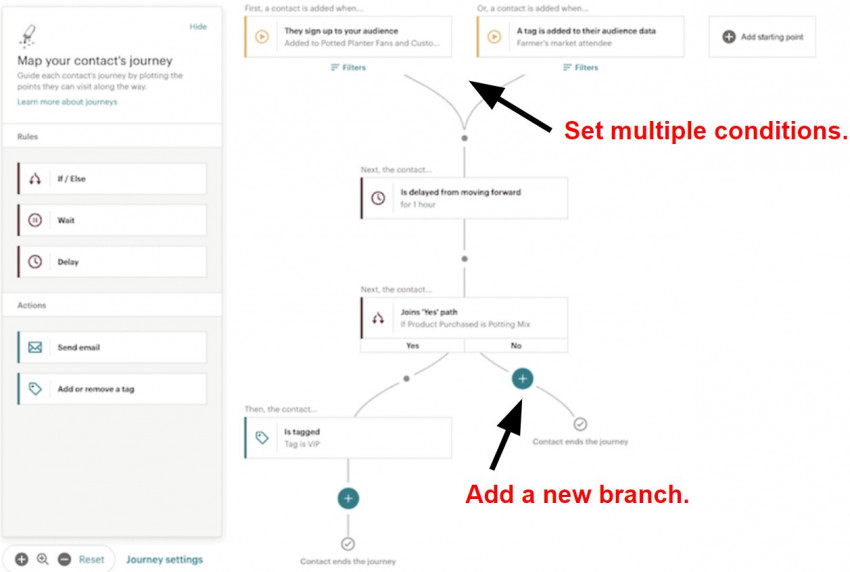 Mailchimp's Standard plan starts at
$
20.00
and lets you add up to 100,000 contacts, so
it's a better option for marketers with larger lists.
 You can create up to five audiences, which means you can customize lists for different aspects of your business. For example, this is a great way to keep your direct-to-consumer (DTC) and business-to-business (B2B) lists separate. You can also take advantage of dynamic content and send time optimization to reach your audience at the right time. If you want to automate your email marketing efforts, the Standard plan is the cheapest option you should consider. With this plan, you can see the entire customer journey builder and create automations with multiple paths or starting points.
Mailchimp's customer journey builder is helpful for visualizing your funnels and setting up automations based on your contacts' behavior
, such as personalized ads and loyalty rewards. Behavior-based automations are great for e-commerce brands and can increase sales by sending highly targeted messages based on contact activity.
Mailchimp's Standard plan gives you everything you need to market to a larger list.
Its features can handle most needs, and it offers plenty of room to grow. But it may not be enough if you need more advanced features like multivariate testing or have a big marketing team (this plan only supports up to five users).
If you're a bigger business that needs more users and advanced analytics and testing, then the Standard plan isn't going to cut it. You'd need Mailchimp's Premium plan, which is significantly more expensive and mainly worth paying for if you're a large enterprise.
| | | |
| --- | --- | --- |
| Contacts | Monthly Price | Total Price Per Year |
| 500 | $14.99 | $179.88 |
| 2,500 | $51.99 | $623.88 |
| 5,000 | $79.99 | $959.88 |
| 10,000 | $105 | $1,260 |
| 15,000 | $170 | $2,040 |
| 20,000 | $200 | $2,400 |
| 25,000 | $230 | $2,760 |
| 30,000 | $270 | $3,240 |
| 40,000 | $290 | $3,480 |
| 50,000 | $320 | $3,840 |
| 75,000 | $430 | $5,160 |
| 100,000 | $540 | $6,480 |
If you're in e-commerce, you'll need to purchase some add-ons with the Standard plan or higher. For example, to send transactional emails about purchases or abandoned shopping carts, you have to purchase blocks of credits for 25,000 emails each, depending on the number of emails you want to send. For $29.95 per month
(which is incredibly good value compared to what other EMS charge for this)
, you can also purchase a dedicated IP to improve deliverability.
| | | |
| --- | --- | --- |
| # Blocks | Email Sends Per Month | Price Per Block |
| 1 to 20 | 1 to 500,000 | $20 |
| 21 to 40 | 500,000 to 1 million | $18 |
| 41 to 80 | 1 million to 2 million | $16 |
| 81 to 120 | 2 million to 3 million | $14 |
| 121 to 160 | 3 million to 4 million | $12 |
| 161 + | 4 million + | $10 |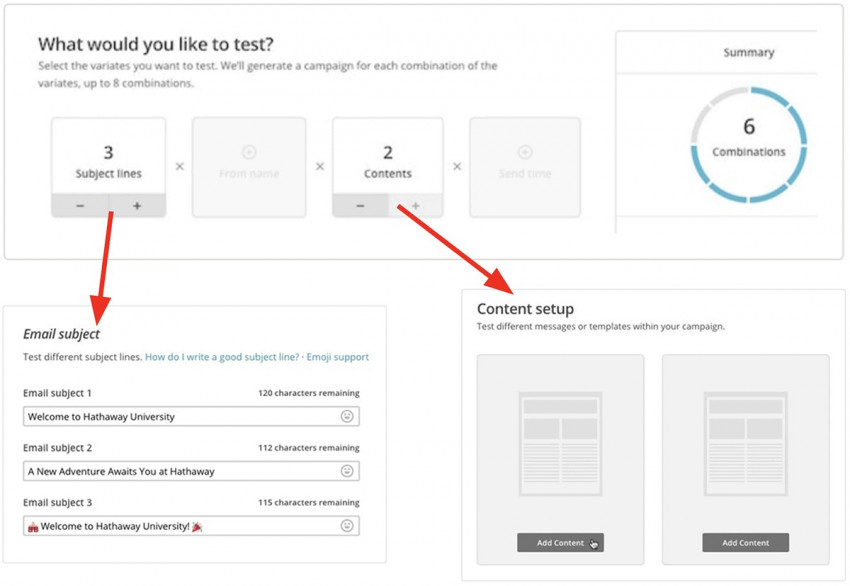 If you're looking for Mailchimp professional pricing and features, you'll find them in the platform's Premium plan.
This enterprise-level plan is designed for marketers with big lists – you can add up to 200,000 contacts and create unlimited audiences, with the price starting at $299. The Premium plan comes with advanced segmentation, where you can include unlimited conditions and complex audience filtering. Since you can segment contacts based on e-commerce purchases, email campaign activity, website engagement, predicted demographics, and other factors, you can send highly targeted emails and thus get better results. Let's look at another feature of Mailchimp's Premium plan: multivariate testing – a step up from A/B testing where you can compare your campaign's performance for up to three variables. This ensures you get better results from your email marketing efforts. However, Mailchimp doesn't let you test automated workflows.
If you've got the budget for an enterprise-level plan, Mailchimp's Premium plan gets you some pretty useful tools.

However, the plan isn't cheap – you can find comparably advanced features for a better value elsewhere. I'd only recommend the Premium plan if you really like Mailchimp and can't live without the additional features on this plan
| | | |
| --- | --- | --- |
| Contacts | Monthly Price | Total Price Per Year |
| 10,000 | $299 | $3,588 |
| 15,000 | $370 | $4,440 |
| 20,000 | $420 | $5,040 |
| 25,000 | $480 | $5,760 |
| 30,000 | $530 | $6,360 |
| 40,000 | $580 | $6,960 |
| 50,000 | $640 | $7,680 |
| 75,000 | $700 | $8,400 |
| 100,000 | $750 | $9,000 |
| 130,000 | $850 | $10,200 |
| 150,000 | $950 | $11,400 |
| 200,000 | $1,190 | $14,280 |
If you have over 200,000 contacts and send frequent emails, then Mailchimp's high-volume plan may be a better deal. It includes Premium plan features, but with greater sending capacity and a custom pricing structure. There isn't a ton of information available about this option, so contact Mailchimp directly for pricing.
Mailchimp Pricing Comparison Table
Plan
Starting Price
Monthly Email Sends
Customer Journeys
Support
Best Feature
Free

$

13.00

10,000
No
30 days of email support
Free website builder
Essentials

$

20.00

10x maximum contact count
Basic
24/7 email & chat support
A/B testing
Standard

$

20.00

12x maximum contact count
Advanced
24/7 email & chat support
Behavior-based automations
Premium
$299
15x maximum contact count
Advanced
24/7 email & chat support and phone support
Multivariate testing
Mailchimp Cancellation & Refund Policy
Beware of Mailchimp's Strict Account Closure Policies
Like many email marketing services, Mailchimp has a no-refund policy on most cancellations. You can only get a refund in rare cases, such as a system error.
But you can't get your money back if the platform closes your account for a compliance issue. Fair warning: there are a lot of potential compliance issues when you use Mailchimp.
 The platform's acceptable use policy is lengthy and warrants a full read before considering a commitment. Mailchimp prohibits you from using its services for affiliate marketing or multi-level marketing. In addition, you cannot promote the following products and services:
Cryptocurrencies
Pharmaceutical products
Gambling services
Credit repair services
Although Mailchimp allows you to promote plenty of other products and services, some are subject to strict reviews.
 You can expect your account to be scrutinized closely if you market products and services like:
Horoscopes
Online dating
Trading and stock market content
Real estate, mortgages, and loans
Vitamins and nutritional supplements
If you opt to cancel your Mailchimp plan, you can do so relatively easily.
Simply navigate to your account settings and click Permanently delete this account.
 Be sure to export your contacts and unsubscriber lists first so you can upload them to your next email marketing service. Because most Mailchimp plans require prepayment for the month rather than for the entire year, you only lose up to a month's worth of subscription costs. If you opt for a pay-as-you-go plan, you'll lose all the credits you purchased – so keep the no-refund policy in mind when you stock up on credits.
To keep costs low, you can also consider pausing your Mailchimp account up to two times per year.
 During this time, you can't send campaigns, and payments are frozen until you resume your account.
Alternatives to Mailchimp
I've decided that Mailchimp's Free plan works best for budget-conscious marketers with specific sending and automation needs. Moreover, companies that can afford to pay for extra features like a customer journey builder, A/B testing, and behavioral targeting may find Mailchimp's moderately priced mid-tier plans to be of great value.
But if you want to take your business to the next level
with advanced segmentation, comparative reporting, and phone support,
you'll need to pay a significantly higher price for Mailchimp's services
.
However, Mailchimp's pricing might be too steep for you at this stage – and that's totally reasonable!
To find a platform that's better suited to your needs, I'd recommend looking at our 
list of the best email marketing services in 2023
 or consider these alternatives:
ActiveCampaign's Plus plan: If you want the most robust features on the market, I suggest ActiveCampaign's Plus plan. It gets you advanced automation plus in-depth reports and analytics that are much stronger than Mailchimp's list of features

. Plus, ActiveCampaign is a CRM with bonuses like lead-scoring and native SMS marketing.

Sendinblue's Free plan: If you want a no-cost plan with fewer restrictions, consider Sendinblue. You can send up to 300 emails per day to unlimited contacts and take advantage of transactional emails, SMS marketing, and a marketing workflow editor.
AWeber's Pro plan:

If you want

powerful behavioral email automations and sales tracking,

check out AWeber's Pro plan. It includes online product selling and subscription service capabilities, making it great for e-commerce. And you get 24/7 priority phone, email, and live chat support.
Mailchimp Has Affordable Options – but Can Get Pricey Fast
While I appreciate that Mailchimp offers a free plan, it's
best for small business owners and bloggers, not for long-term enterprises. You'll have to
upgrade to Mailchimp's Essentials or Standard plan
 if your mailing list grows or you want more features. 
In my opinion, upgrading to Mailchimp's Premium plan is too expensive and only viable if you run a really big business – but it's the only way to get comparative reports and multivariate testing.
If you plan carefully, however,
Mailchimp's cheaper plans can get you everything you need to run an email marketing campaign at a good price. Just track your monthly email sends and remember to practice good email list
hygiene
.
FAQ
How does Mailchimp pricing work?
Mailchimp has a free plan as well as three contact-based pricing plans. That means you pay based on the number of contacts you have, including subscribers, unsubscribers, and nonsubscribers. I've explained more about how this works in the article above

.
Is Mailchimp really free?
Mailchimp has a pretty generous free plan,

which offers all you'll need to get started with email marketing. As you build your list, i

f you want to build customer journeys, split-test your campaigns, or get better support, you'll need a paid Mailchimp plan.
How many emails can I send with Mailchimp for free?
With Mailchimp's free plan, you can add up to 500 contacts and send up to 2,500 emails per month.

This plan will also get you

a customer relationship management tool (CRM) to track your contacts and behavioral targeting to help you send relevant campaigns to the right people.