On the surface, MailerLite and ConvertKit share many similarities – like a free plan – but based on my testing, only one of them can sustain the growth of your business. To choose between ConvertKit vs MailerLite, I examined each platform's features, user interface, and value. And to be honest,
I finished my tests liking both services.
Their free versions are both great options to get started with email marketing. But
overall, I prefer MailerLite to ConvertKit.
You get a few neat things with ConvertKit, and it will deliver your mail reliably enough, but you'll outgrow its plans very quickly and end up paying way too much. By comparison,
MailerLite can support a growing audience and offers you far better value
throughout your email marketing's lifespan.
There were a few areas where ConvertKit came first
, like for automation and deliverability. But MailerLite offers premium plans at tempting prices and is a
lot
easier to use.
Try MailerLite for free
or keep reading for the full rundown of each platform's strengths and weaknesses.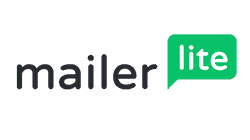 MailerLite is now only $10.00 per month!
Start an email marketing campaign that won't break the bank.
74 users used this coupon!
Features
A Tight Race, but MailerLite Offers a Touch More
In my opinion, the most important part of any EMS is its email design – how attractive you can make your emails. So, to start up,
ConvertKit only offers 9 templates
(and the designs are pretty average), whereas
MailerLite has 80+ email templates
to choose from. Neither of these numbers blew me away – for comparison, AWeber offers 600+ templates. But ConvertKit suffers here because it only offers simple, text-based designs that I feel are too basic to stand out.
MailerLite offers professional templates for blogs, product listings, real estate, and newsletters
. I'd like to see more options, but there's still some nice designs in there. You don't have to edit them a ton, and MailerLite's drag-and-drop editor allows you to customize each template to match your brand.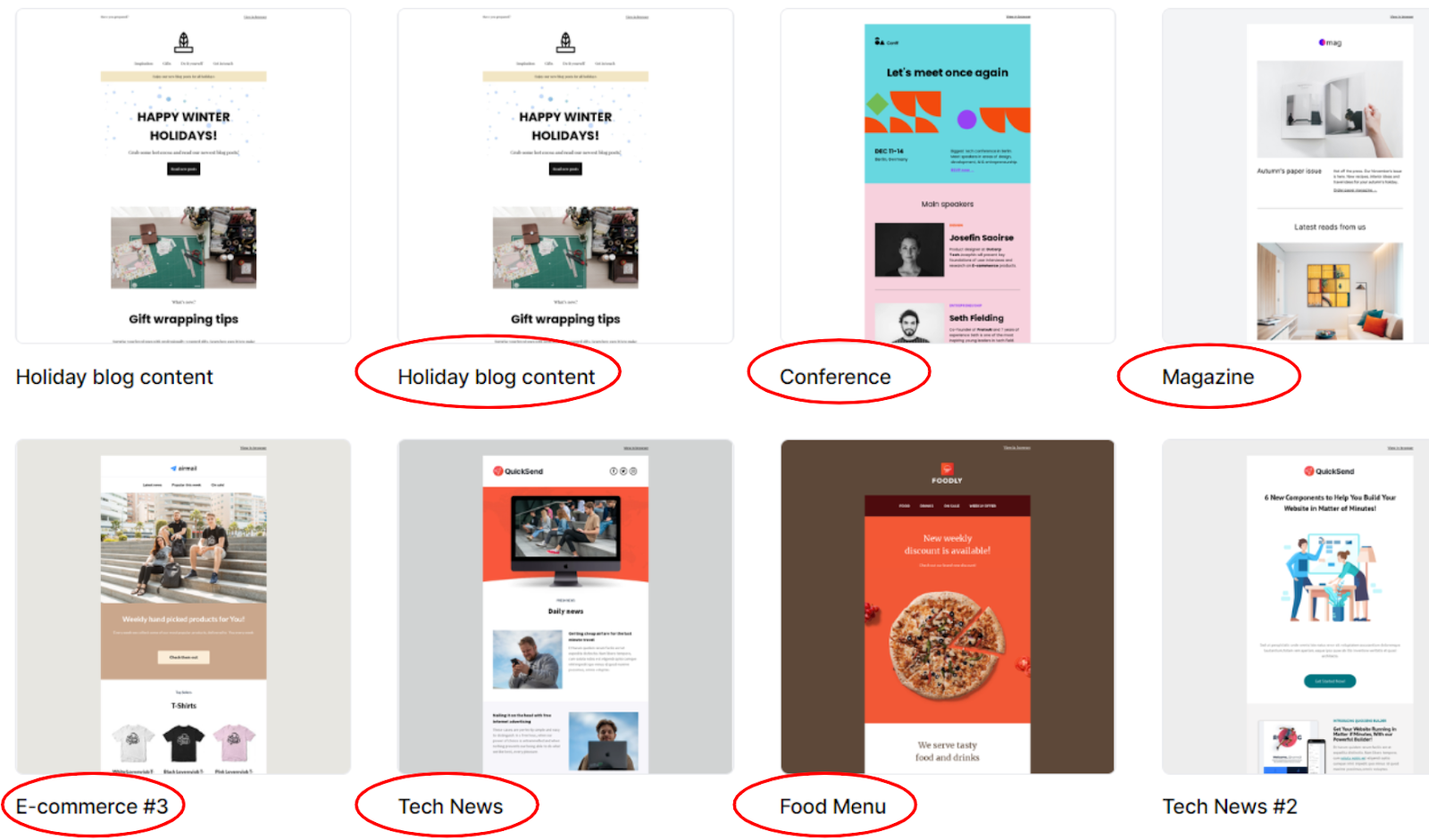 I also created some test emails to see what each service could do. First, I looked at A/B testing – where you send two versions of your email to a small part of your list, before emailing the version that does best to the rest of your subscribers. Unfortunately,
ConvertKit only lets you split test the subject line between two emails.
MailerLite lets you split test both the subject line and actual content of your emails
. This allows you to test things like layout, buttons, and the wording of your emails. It's far more versatile and useful for perfecting your email content I then tested my second favorite thing about email marketing services – automation. Automation is great, automatically sending emails when set conditions are met. For example, you can confirm new subscribers when they join your list, advertise related products based on browsing history, or wish your audience a happy birthday.
ConvertKit uses intuitive mind-mapping software to build automation campaigns
. You can make your basic if/then conditional emails, automated funnels (great for coupons and promos), and automate emails based on your RSS feed. You can even set up automations for subscribers using custom tags.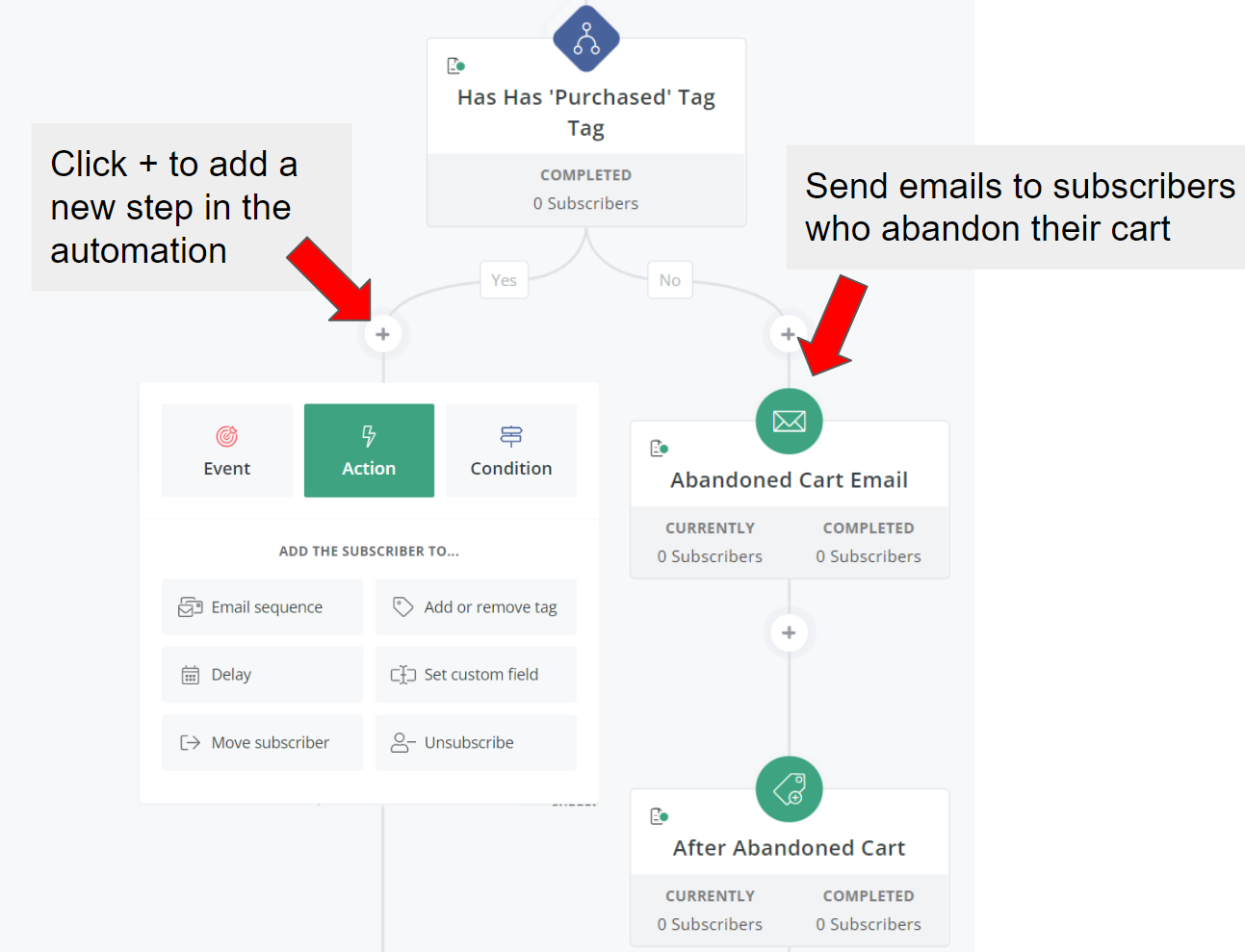 When it comes to Mailerlite, you can make simple automations with up to 3 triggers based on subscriber activity and connect with Shopify or WooCommerce to set up cart abandonment reminders.
While MailerLite has solid automation, I found it harder to use than ConvertKit
. Since there are no templates, you have to build automations from scratch. While technically doable, this isn't easy, and it's definitely NOT for beginners! So, if you want to make the most of automation, ConvertKit will be the better option for you. But if you want to be able to customize your email design fully – or just have more templates to choose from –
MailerLite will suit your needs better with its superior email templates and editing flexibility
.
Ease of Use
MailerLite Is the More Intuitive, Beginner-Friendly Email Marketing Service
Email editors are what let you actually build your emails, so they
have
to be great.
ConvertKit's editor disappointed me with its limitations
. You can't resize images, add videos or product listings, or use right-to-left (RTL) languages like Hebrew.
MailerLite's email editor supports RTL languages and has more elements you can add,
like social media posts, logos, product embeds, videos, articles, and an RSS feed.

I really liked navigating MailerLite and had an easy time finding everything
from the dashboard. With ConvertKit, you have to click through a
lot
to get anywhere. For example, email templates are hidden behind the "New email template" button, and you can't send an email from the editor. When it comes to clicking through pages, less is always more!
Importing your mailing list to MailerLite is also easier
. You can import from a word doc, a .csv file, a .txt file, and an .xlsx file. You can also import your mailing list from Mailchimp, which while admittedly is only useful if you're migrating from that platform, is still a nice touch. With Convertkit, you can ONLY import from a .csv file.
I have to declare MailerLite the winner when it comes to ease of use.
Deliverability
ConvertKit Pulls Ahead in Email Delivery Tests
Before I dive in, it's important I tell you how the kind of "99% deliverability" guarantees most email marketing services sing to you are utter baloney.
There's no real way to guarantee email deliverability – but there are things you can do to boost it
, and that's what I base my deliverability tests on. Read more about
how to improve email deliverability in our in-depth guide
.
ConvertKit and MailerLite both use DKIM authentication to help with deliverability
(ConvertKit even gives you a how-to guide!). DKIM adds an email signature to outgoing mail, proving to clients like Gmail that you're a real person. Both platforms also have an anti-spam policy, though
MailerLite has stricter requirements
– you actually have to apply during sign up and get approved before you can start sending emails.

But does its policy work in practice? After signing up for MailerLite, I couldn't find my confirmation email…because it had gone straight to my spam folder. Not only is this a
massive
red flag, but
about half the test emails I sent to major email clients went to spam
. Unless you purchase a dedicated IP address for $50 per month, there's a good chance your MailerLite emails will never see your subscribers' inboxes. Not cool.
ConvertKit performed much better in my tests
. I sent messages to Gmail, Outlook, and Yahoo addresses, and my emails all made it safely to the intended inboxes.
Whew
. If you want to improve your deliverability further,
you can purchase a dedicated IP address from ConvertKit at $250 per month
– although you have to send more than 50,000 messages 3 times a week. So…not for small businesses. So,
ConvertKit wins hands down on deliverability.
Reporting and Analytics
MailerLite Offers Deeper Insights Into Subscriber Behavior
Detailed reports & analytics show you what is and isn't working, helping you perfect your email marketing strategy. So, how does MailerLite vs ConvertKit compare?
MailerLite gives you a comprehensive report
on essential information, though it could be organized better. On the main dashboard, you can
see analytics for subscriber growth, email opens, automation opens, click through rates, and sign ups and conversion rates
for your forms and websites. You also get ecommerce tracking for Shopify and WooCommerce stores. The only thing it's missing is social media tracking.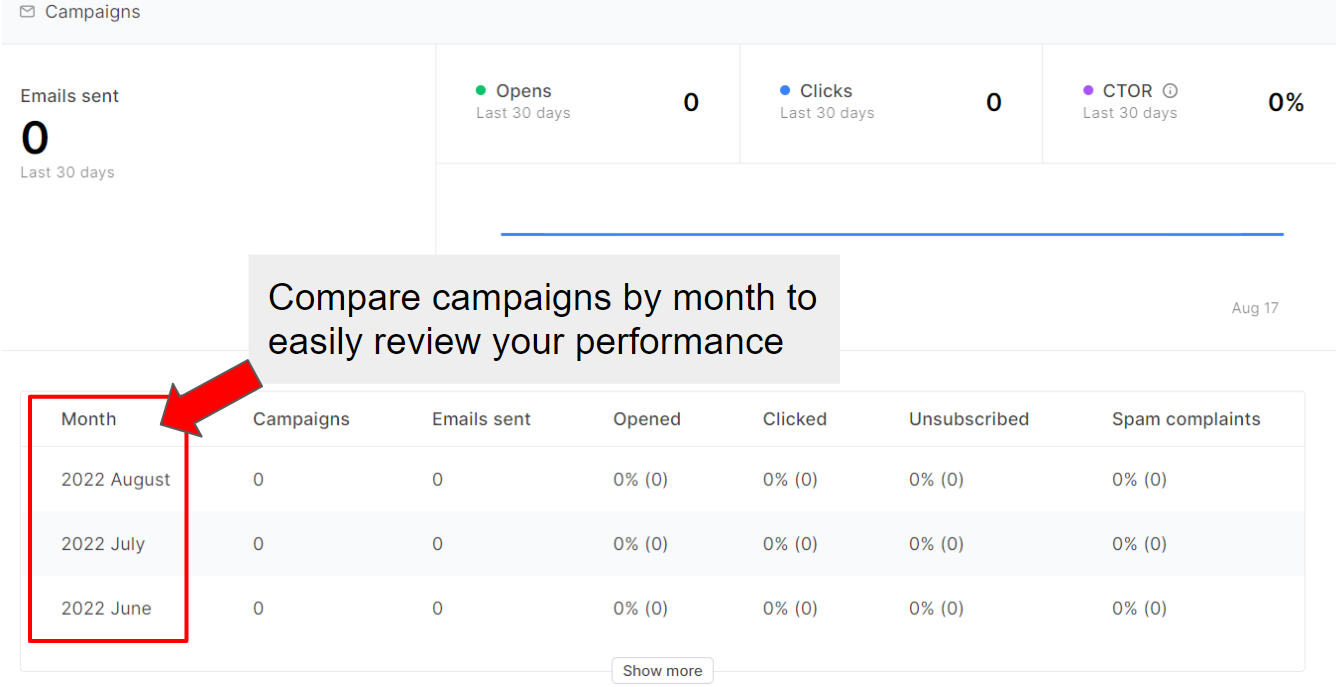 Moving on to ConvertKit, the results aren't great.
I don't think I've ever felt so underwhelmed by an email marketing service's analytics – ConvertKit only offers barebones reports
that tell you nothing about what you
really
need to know. You can view email opens, clicks, and whether or not your email was delivered. You get reports on purchases if you have an online store linked, but nothing on browsing trends or visits. The most annoying part is that
you have to buy ConvertKit's most expensive plan, Creator Pro, for "advanced reporting", and it nowhere near deserves to be called "advanced"
. All you get is data on open and click rates for your email campaigns. Yeah… I was disappointed, too.
MailerLite has better reporting and analytics by far
.
Pricing
You Get Overall Better Value With MailerLite
I was able to tell
MailerLite has better pricing options than ConvertKit
with one cursory glance. MailerLite has three paid plans. Its Growing Business plan starts at
$
10.00
per month for 1,000 subscribers, its Advanced plan starts at
$
21.00
per month for 1,000 subscribers, and its Enterprise plan uses custom pricing for big businesses. All these rates start climbing the more subscribers you gain. ConvertKit has two paid plans: the Creator plan, starting at
$
29.00
per month for 300 subscribers; and the Creator Pro plan, starting at
$
59.00
per month for 300 subscribers. The more subscribers you have, the more expensive those monthly rates become.
Businesses with lots of subscribers will end up paying a lot more with ConvertKit than MailerLite.
Here's What You Get for Free
If you don't want to pay for an EMS,
both MailerLite and ConvertKit have a free plan available plus a 14-day trial
to test out premium features. Keep in mind that, as with most free things in life, these plans are pretty limited. They can get you started, but I suggest looking into paid options if you're looking to grow your business.
With MailerLite's free plan, you can have up to 1,000 subscribers
and 1 active user on the account. You're capped at 12,000 emails per month (plenty for simple newsletters and small businesses).
You get sign-up forms, pop-ups, 10 landing pages, and even automation
, albeit lighter than on the paid plan. I rarely see automation given away for free, so that's pretty cool.
With ConvertKit's free plan, you can only have up to 300 subscribers
, as well as 1 active user. However, you get unlimited email sends, making it a pretty good option if you have a high volume of outgoing mail. You also get segmentation and custom tags, unlimited landing pages, and digital product selling.
Here's What You Get If You Pay
With MailerLite's Growing Business plan, you can
send an unlimited number of emails per month
, but you're still restricted to 1 user. The features you get include basic automation, resend campaigns for when emails go unopened, segmentation and dynamic emails (showing targeted content only for people with the right tags), and stores for selling digital products like PDFs and services. You also get 24/7 email support.
You have to purchase MailerLite's Advanced plan to unlock better automation
with multiple triggers. It's a lot of money to unlock this, which I'm not super stoked about. But you now have unlimited users, which is essential if you have a team (sharing 1 user account is plain annoying). You also get Facebook integration and HTML editing to further perfect your emails – and 24/7 live chat opens up, at last! If you want things like a dedicated IP address and custom designs for your newsletter and landing page, you'll need to get the Enterprise plan. You have to contact MailerLite directly for this. Moving on to ConvertKit, its Creator plan comes with email and live chat support plus 1 additional user.
You also get full automation and the visual automation builder
, which I'm
very
happy about. Automation is ConvertKit's strongest feature, after all! When you purchase ConvertKit's Creator Pro plan, you get unlimited team members.
This is also where you unlock the so-called "advanced reporting", which is, as I mentioned before, effectively useless
. But subscriber scoring is a neat tool that allows you to rank your audience's engagement from 1-5 stars, which is handy for lead chasing. I like ConvertKit, I really do, but I just don't feel you're getting your money's worth with the Creator Plus plan.
It simply doesn't offer as good value as MailerLite's comparable Growing Business plan.
Here's a chart comparing the two entry plans:
MailerLite Growing Business Plan
ConvertKit Creator Plan
Starting Price

$

10.00

$

29.00

Users / Team Members
3
2
Automation
Basic automation.
Full automation.
Mailing List Segmentation
Custom tags.
Custom tags and tagged email content.
Reporting & Analytics
Solid reporting and e-commerce tracking.
Very basic.
Landing Pages
Unlimited pages and blogs.
Unlimited pages.
Support
24/7 email support.
24/7 email and live chat support.
Support
ConvertKit Has a Slower Response Time but More Helpful Support Agents
Before embarrassing myself by asking support an obvious question, I like to start with a service's knowledge base and community forum.
MailerLite has a fairly extensive knowledge base
with guides on how to use its services. In addition to its knowledge base,
ConvertKit takes it even further with video tutorials, blog posts, and a bustling community forum
. But some questions need the expertise of a helpful support agent. I tested each service to see which was more helpful: MailerLite vs ConvertKit.
MailerLite has 24/7 email and live chat support
, but you have to pay to access its live chat support. At first I was disappointed by this, but
its support agents do respond very quickly
. Although I guess this could be attributed to focusing only on paying customers… I sent MailerLite support an email asking a few questions, and
someone emailed me back in 6 hours
. However, while the agent answered my first question about importing a Word doc (you can if you convert it!), I didn't feel wholly satisfied by their response. And
the support agent didn't answer my second question
at all
!

Next up is ConvertKit, which offers live chat and email support to premium customers. Honestly, it's a little icky that those on the free plan can't even send an email if they need help. But, like with MailerLite, if you do pay for it,
live chat responds quickly, and I found the agents helpful.
The response was pretty slow – I sent out an email at 7 p.m., and
it took ConvertKit 17 hours to email me back
. Here's how it went: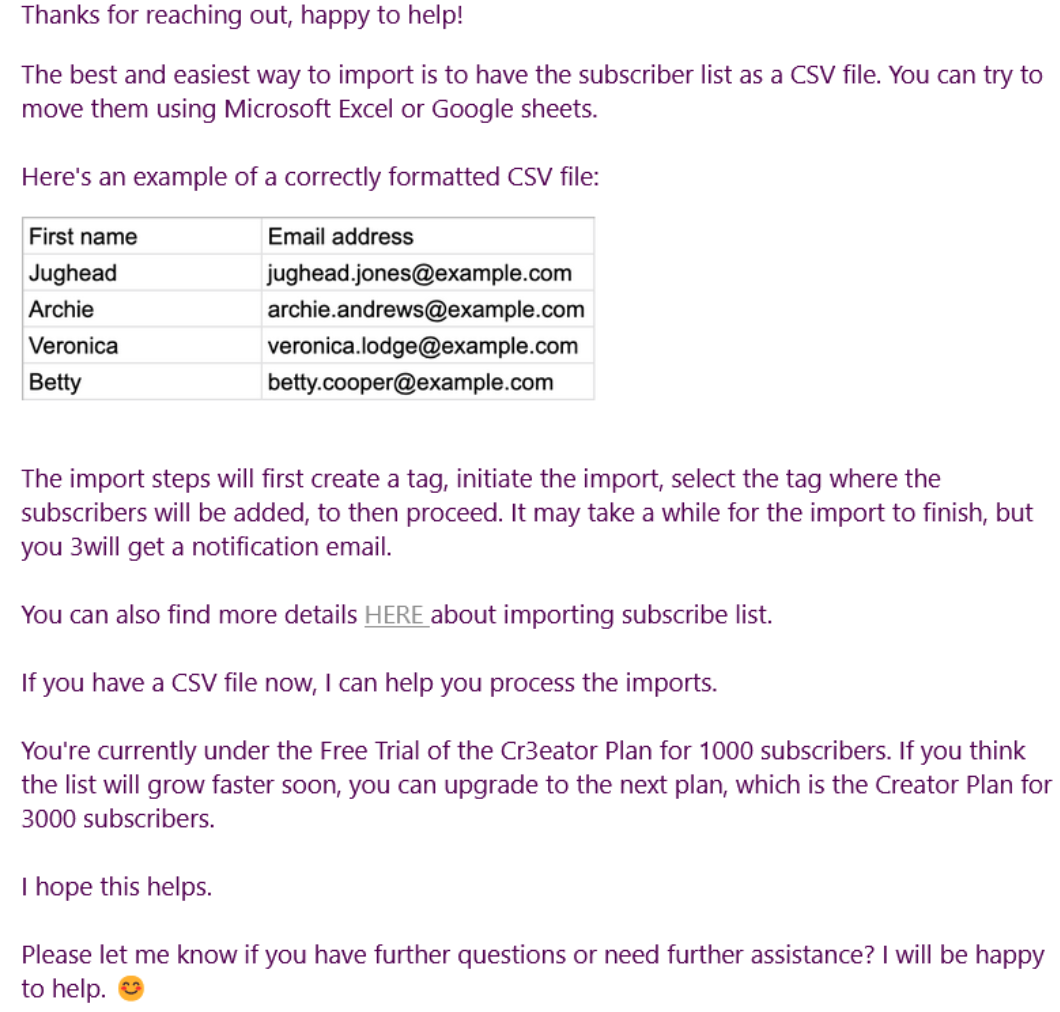 Okay ConvertKit – when it comes to your actual response, you get a gold star for overachieving. All my questions were answered, and I even got a little Archie-themed visual aid on how to import contacts. In my experience, the
ConvertKit support agents were more helpful than the MailerLite team
.
MailerLite Ekes Out a Win by a Slim Margin
I want to emphasize that the comparison between Mailerlite and ConvertKit was a close call. ConvertKit offers a dependable email marketing service with excellent support and deliverability. Its free plan is quite impressive, providing users with unlimited emails and the option to create custom tags. However, when it comes to paid plans,
ConvertKit's limited automation, email editing options, and bottom-line reports can't justify its staggering price tag
. In the end
I prefer MailerLite because it's so much easier to use
. Plus,
MailerLite plan
s
are priced much more reasonably than Convertkit – and you get automation and far better reporting and analytics. Just be aware its deliverability test left a lot to be desired and is something you'll need to fix on your own. Each email marketing service has its pros and cons, and which you should pick depends on what elements are most important to you. To help you decide between MailerLite and ConvertKit, take a look at this final comparison table:
Automation
Yes, but additional triggers are only included with the pricier plan.
Yes, it's easy to use and fairly robust.
Native SMS Automation
No
No
Apps and Integrations
Over 3,000 apps through Zapier. Offers add-ons as upsells.
Over 3,000 3rd-party apps through Zapier. Also partnered with Unsplash and Instagram to provide millions of stock photos for your emails.
Landing Page Builder
Yes, with a fairly robust image editor.
Yes, but editing capabilities are limited.
A/B Testing
Yes
Yes, but only for email subject lines.
Native RTL Language Support
Yes
No
Ease of Use
Beginner-friendly email editor and intuitive dashboard.
Hard to navigate and find settings you might want.
Deliverability
Often marked as spam by major email clients. DKIM authentication. Upfront anti-spam policy.
Hit-or-miss, but often makes it to the inbox. DKIM authentication. Anti-spam policy.
Reporting and Analytics
Basic reports on emails opens, clicks, automations, and CTR, but missing some in-depth insights.
Very limited with basic options locked behind its pricier plan.
Pricing
Free version with email sends capped at 12,000 emails/month. Paid plan starts at

$

10.00
.
Free version with unlimited email sends. Paid plan starts at

$

29.00
.
Support
24/7 email and live chat blocked behind premium plan.
24/7 email and live chat with slow response time.
FAQ
Is MailerLite better than ConvertKit?
It depends on what you need. Overall, I found MailerLite better than ConvertKit due to its more reasonable prices, ease of use, and flexible email creator for custom designs. But if you want more robust automation and reliable customer support, ConvertKit could be a better choice for you.
Which one is better: Mailchimp or ConvertKit?
Mailchimp is a good service with a pretty generous free plan, but ConvertKit's premium plans push it ahead. For example, you get better automation flexibility (more triggers and uses) and custom tag content in emails.
Can I use Gmail with MailerLite?
You can use any email client with MailerLite, including Gmail, but I recommend using your own domain. Not only does this look more professional to your audience, it also makes it less likely for people to toss your email in the spam folder (as lots of spammers and scammers use Gmail). Read more about deliverability here to get a better idea of how spam flagging works.
What is MailerLite used for?
MailerLite is an email marketing service for sending email campaigns to promote products, services, and websites. You can also integrate it with online shops to advertise listings and hand out coupons.