Mailchimp is great for startups and bloggers, while Drip is better for ecommerce or businesses with an established customer base
. In fact, there are a ton of differences between Mailchimp and Drip's features you'll want to know about before making a decision I thoroughly tested both Mailchimp and Drip to determine which offers the best tools and overall value. I was impressed by
Drip's attractive UI, advanced automation, and streamlined ecommerce integration.
But
if you're on a budget, Mailchimp's free plan and cheaper subscriptions might offer all you need
from an EMS. Keep reading for my full breakdown of the differences between the two.
Features
Drip's Toolkit Trumps Mailchimp's
Good email design is key to engaging your audience. It makes you look more professional and encourages people to actually read your content and click your links. I always look at email templates first, because design will determine a lot for your business.
Drip offers 50+ email templates, while Mailchimp gives you 100+
. Both are on the low side (for comparison, AWeber gives you over 600!), but how do they compare? Honestly, I think Mailchimp's age is showing here – its designs feel a bit outdated.
Drip might not give you loads of options, but its templates are well designed and sleek.
It's also worth noting that
Drip supports right-to-left (RTL) languages like Hebrew and offers SMS marketing
, which Mailchimp doesn't. On the other hand,
the key feature Mailchimp offers that Drip doesn't is a landing page editor
, which matters if you want that tied to your EMS.

Next up is email segmentation, which is how you divide and categorize your mailing list by traits like location, gender, age, and shopping habits. This makes it much easier to send targeted ads and personalize emails to increase engagement. So, yeah, it's kind of a big deal.
Drip has a powerful segmentation tool
called "Liquid" that lets you personalize email content to whoever's viewing them by using tags. What does that mean, you ask?
Two people can open the same email and see different content
– someone with the tag "Vase" may see pottery-related content, while everyone else sees a broader snippet about home decor items. By comparison,
Mailchimp's segmentation is there, but it doesn't go as deep on the cheaper plans
. You need Mailchimp's Premium plan at $299 per month to get unlimited segmentation options (on par with Drip's). The last – but certainly not least – feature I always look at is automation. Good automation can save you
a lot
of time and effort. It can chase leads for
you by rewarding paying customers with coupons, advertising products based on browsing habits, and sending reminders when someone abandons their cart.
Drip's automation is seriously impressive
and probably its biggest draw in my eyes. Its visual workflow makes it easy to
create automations from scratch or by using templates.
You get a ton of trigger options, too, like visiting a specific page and first-time purchases.
The control you get over branching paths and conditions also allows for powerful lead chasing,
which you only have to set up once to reap the benefits over and over again.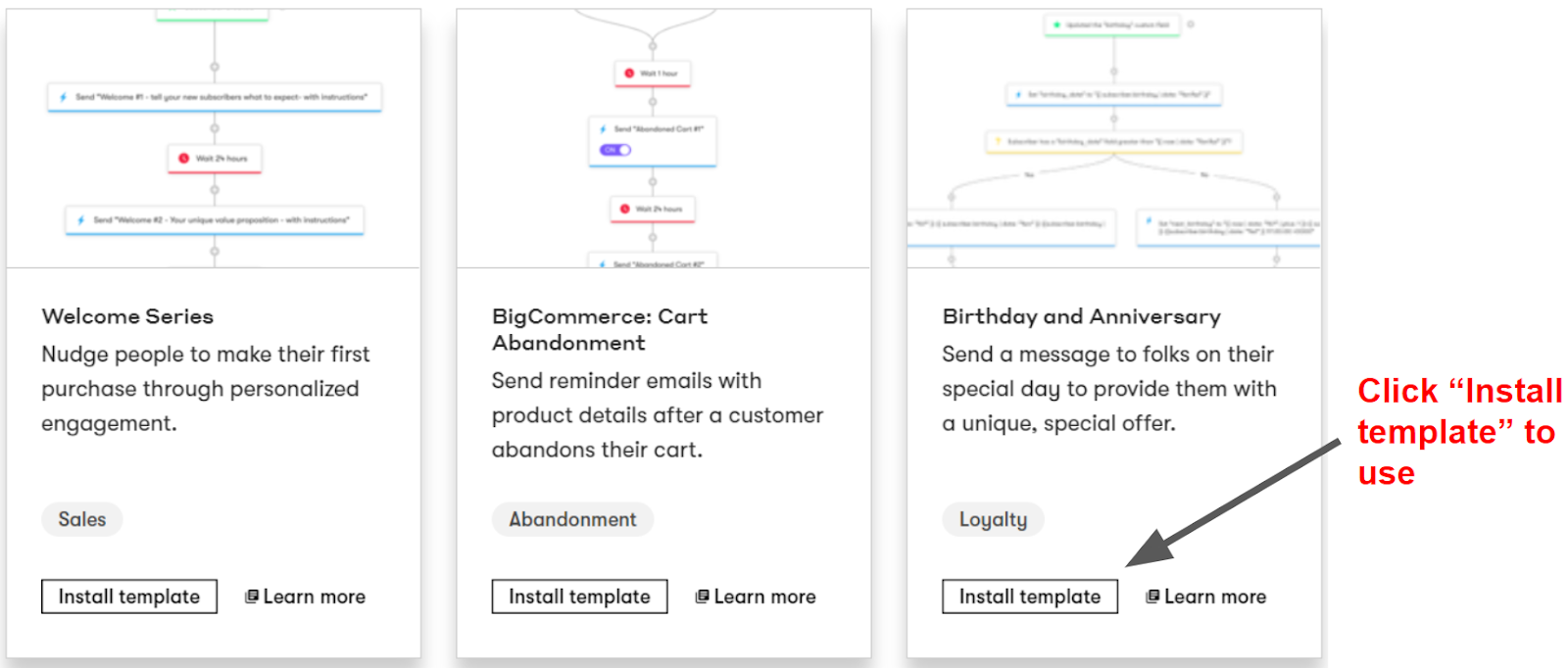 With Mailchimp, you do get basic automation
(called "Customer Journeys"), and it gets the job done. You can use these automations to set up drip campaigns (an email series sent over time), welcome emails, cart abandonment reminders, and date celebrations (like birthdays).
However, it lacks branching paths, and you can't automate segmentation or clean up inactive subscribers.
Overall, I have to give Drip the win here. If you need a more powerful EMS, then
Drip's advanced automation and segmentation
 will take you further than Mailchimp's.
Ease of Use
Mailchimp Has a Few More User-Friendly Tools
A clunky email editor can waste hours of your time, while an intuitive one will make your life a whole lot easier. Plus, it's important to have lots of customization options to create the exact look for your brand.
Drip's email editor is powerful, but frequently lagged
during my tests
. Previewing between desktop, tablet, and mobile took a long time to load, which was pretty annoying. Still, at least designing emails in Drip is fairly easy. All you have to do is drag and drop content blocks in the layout you want. From there, you can customize your background image or color, text (font, size, format, and spacing), and image scale.
Mailchimp's email editor is super easy to use, and I had no issue learning how it worked
. Its drag-and-drop editor is straightforward, and you can arrange content blocks to your liking. Simply click on a content block to edit it.
I also really like Mailchimp's "Merge Tags" tool
. Merge Tags are shortcodes you can paste into your emails, which are automatically filled by information you already have stored. You can have Merge Tags for your logo, translations into different languages, the current date, or promo codes.
One thing I
don't
like about Mailchimp is that
you can't edit images once you place them
– they're stuck at whatever size the file is. I can see this being
very
annoying. While both Drip and Mailchimp have signup forms and popup editors,
only Mailchimp has a native landing page builder
. If you want to consolidate your editors in one platform, that might make Mailchimp a more convenient option for you. This was a close one, and I still think
Drip has better customization options for creating emails
. However, thanks to its simple editor, landing page builder, and Merge Tags,
Mailchimp is definitely much easier to use
.
Deliverability
Drip Goes the Extra Mile To Boost Email Delivery Rates
There's only so much an email marketing service can do to ensure your emails reach their intended inboxes. Any claim you see about "98% deliverability rates!" simply isn't true. Raising your deliverability rates depends on
you
– if you're interested (which you should be!), you can
read more about how to maximize deliverability in our handy guide
. That being said, there are things an EMS can and should
do to improve the deliverability of your emails. To start with, you want to make sure they're using DKIM authentication. DKIM uses key signing to confirm your emails are really coming from you – think of it like a signature.
Mailchimp uses DKIM authentication and has an easy-to-follow guide for verifying custom domains
. This is a surefire way to boost your deliverability.
Drip uses DMARC instead of DKIM authentication
. DMARC (domain-based message authentication, reporting, and conformance) offers just as adequate protection as DKIM, so I see no issue here. Catching spam also ensures an EMS's servers won't get flagged by email clients, which would result in any emails you send going straight to the spam folder, too. So, I always look for EMS that have a strong anti-spam policy to keep their servers in good standing.
Mailchimp has a strict anti-spam policy
and punishes violators with an account ban.
Drip has an equally rigid anti-spam police, but it goes a step further by reviewing new accounts before they can send any emails
. I really like this, as it helps prevent violators from making multiple accounts to facilitate any spam and phishing scams.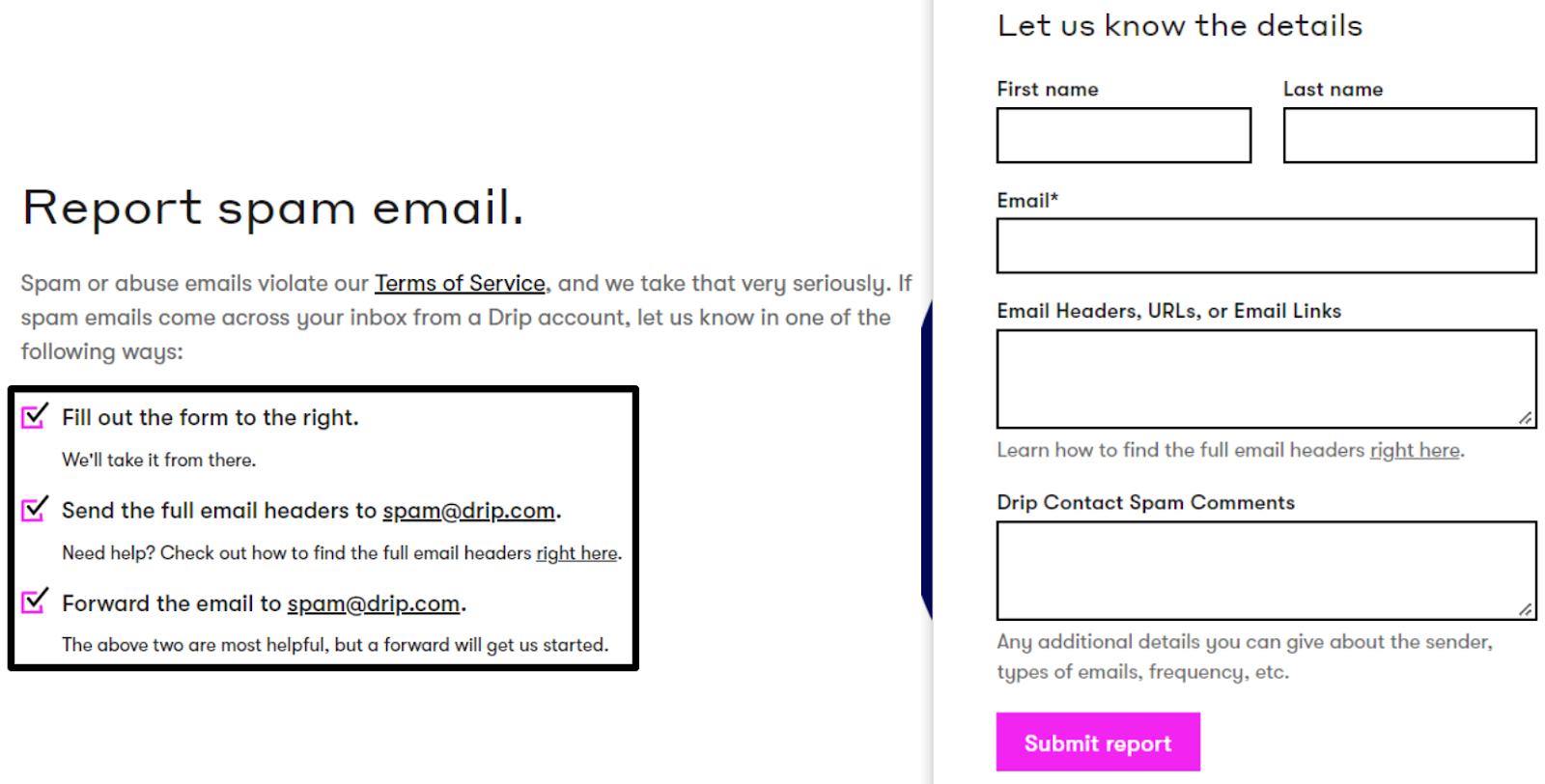 Finally, an email marketing service can offer a dedicated IP address to separate your sending reputation from other users on its servers. It's a great way to protect your deliverability, but it's usually only worth it if you have a huge mailing list.
Mailchimp allows you to purchase a private IP address as an add-on alongside any plan for $29.95.
Yes, that's an extra monthly fee, but that's actually a very reasonable price. Most competitors, Drip included, require you to send thousands upon thousands of emails a day to qualify, and will charge you hundreds a month. This might not be an issue if you're not sending hundreds of thousands of emails, but if you're a big enough operation, and one day you might be,
you
should
have the option of a dedicated IP
.
You can get a dedicated IP address with Drip
, but you have to be sending a lot of emails per month to qualify. And by a lot, I mean Drip recommends you send at least 12,500,000 emails every month. Yeah… A dedicated IP is only relevant if you run a big business, but it's always reassuring to see that the option is there. For that reason, I give this round to Mailchimp.
Reporting and Analytics
Drip Gives You the Ecommerce Insights You Need To Run Your Online Store
Good analytics are key to any marketing strategy. For your email marketing to succeed, you need to know what is and isn't working with your audience. Campaign reports give you the insight you need to improve your strategy. Let's start with Drip's analytics.
Drip reports on open and click through rates, unsubscribes, and completed automation workflows
– which includes a breakdown of completed vs abandoned checkouts. You can break all this down by location, too. You also can turn on cross-domain tracking to get analytics on how your customers interact with a separate site, such as your store.

By comparison,
Mailchimp gives you data on open and click rates, bounces, email trends over time, and locational data
. You also get reports on your website, such as metrics on unique visits, pageviews, and signups. All in all? Pretty decent reporting. Both Mailchimp and Drip cover the basics in their reports, but you
get more data on sales and ecommerce trends with Drip
. So, if you're selling a product or service, Drip's analytics will be way more useful to you.
Pricing
Drip Can't Compete with Mailchimp's Free Plan
When you compare Drip vs Mailchimp, I really think Drip is better for online stores and big businesses. However,
Drip has a moderately expensive entry price of

$

39.00
and lacks the same budget options that Mailchimp offers.
Mailchimp has a free plan, and its lowest priced plan only costs

$

20.00
, which is quite a bit cheaper.
Here's What You Get for Free
Drip lacks a free plan.
That's a shame, but it's understandable. Since Drip focuses on ecommerce, it offers more advanced features like sales reporting and store integration you rarely see with free plans.
You do get a 2-week free trial to test Drip out
, which is maybe a little short, but enough to get an idea of whether you like the platform. On the other hand, Mailchimp does have a free plan – heck, it's practically famous for it. And
as far as free plans go, I rather like Mailchimp's
. You get 500 contacts and 2,500 email sends per month, along with sign-up forms and landing pages. It's lacking in advanced features like A/B testing and automation, so eventually, you'll want to go premium. But
if you're just starting out or running a small blog, Mailchimp's free plan will (mostly) give you what you need
.
Here's What You Get If You Pay
Drip only has one payment plan starting at

$

39.00
per month for 2,500 contacts
. There are no budget choices. But you might like that there are no subscriptions or extra charges for more services – everyone gets access to everything. What causes the price to increase is how many subscribers you have. The important thing to be aware of is that
once you gain more than 2,500 subscribers, your price will incrementally increase. And it gets high
fast
.
Mailchimp's Essentials plan starts at

$

20.00

 per month for 500 contacts
. This offers basic automation ("Customer Journeys"), split testing, and 24/7 email and chat support. If you increase your contacts to 2,500, the price is comparable to Drip's – except that you don't get nearly as many features.
Mailchimp's Standard plan starts at per month for 500 contacts
. This tier unlocks full automation (branching paths), behavioral targeting, and dynamic content. And finally,
we have Mailchimp's Premium plan for a whopping $299 per month for 500 contacts
. The premium plan offers unlimited segmentation conditions, unlimited users, the ability to run tests on up to 8 campaigns, and priority support—all for its steep price. So, what does it include? In short,
if you're on a budget, Mailchimp wins this round hands down
. You get
most
of what you need for a pretty decent price. But if you're looking at spending more, then I have to recommend you go with Drip instead –
if you can afford Drip's high entry price, you get way more for your money
. Overall, thanks to its decent budget options – including the
pretty generous free plan Mailchimp is famous for
 – I have to recommend Mailchimp when it comes to pricing.
Drip at 2,500 contacts
Mailchimp's Standard plan
Starting Price

$

39.00

$

20.00

Users
Unlimited
5
A/B testing
Yes
Yes
Segmentation
Full
Light
Automation
Full
Full
Reporting & Analytics
Full
Basic
Support
24/7 email
24/7 email and live chat
Support
Two Excellent Customer Services, but Drip's Isn't Broken
Before I pester the support team with random questions, I like to check out a service's knowledgebase to see what I can learn.
Drip has both a help center and a blog where you can find step-by-step guides and email marketing tips
. It also has a library chock full of workflow templates you can view for inspiration or download and start using in your campaigns. On the other hand,
Mailchimp offers articles and even a podcast about marketing insights
, which is honestly pretty cool. Its help center is a bit trickier to find (it's hiding in the footer), but it has
step-by-step guides on how to use all Mailchimp's features
, from merge tags to customer journeys. I then went ahead and got in touch with support to test how helpful and fast their responses were.
Drip has 24/7 email support
and responded to my message in 2 hours. That's awesome if you have a time-sensitive issue or can't continue until your problem is resolved. Drip's support agent, Joe, gave a solid response. He answered my question (no, you sadly cannot import a mailing list from a Word doc) and linked me to an article from the help center about creating and importing a CSV file.
The response was everything it needed to be. No complaints here.

Now, onto Mailchimp.
Mailchimp has 24/7 email and live chat support in its Essentials plan,
but the free plan only has a virtual assistant. It's more of a glorified search engine than anything.
I couldn't even use the live chat
– every time I tried it was offline.
Still, email support responded to my message in 6 hours, which is pretty good.

I really appreciated the Mailchimp support agent's detailed and thorough response
. It went over exactly what I needed to do to import a mailing list, and I also got a full breakdown on Mailchimp's plans and which would be best for my needs. It was close, but since Drip responded more quickly to my email, I was overall more satisfied by its support.
Mailchimp is Best for Those on a Budget, While Drip Offers More If You Can Afford to Spend More
Mailchimp has its place, and its free plan could work very well for you if you're running a blog or just starting out.
Its more affordable plans offer a lot if you're on a tight budget.
But
Mailchimp's most expensive plan doesn't do enough to justify its price
– especially not when you compare it to Drip.
If you have the money to spend, Drip comes with everything you need to run an email marketing campaign for an online store.
Just keep in mind that its powerful features are really designed for ecommerce and might be overkill if you're a small-scale organization or a blogger. In the end, it's up to your budget. If you're still not sure which is better between Drip vs Mailchimp, here's a final table comparing their features:
Templates
50+ sleek template designs.
100+ designs, some a little outdated.
Automation
Visual automation workflow, templates multiple triggers, branching paths, and end conditions.
"Customer Journeys" automation workflow with triggers and branches.
Native SMS Automation
Yes
No
Apps and Integrations
E-commerce platforms like Shopify and WooCommerce, plus 100s of others and 5,000+ through Zapier.
5,000+ apps through Zapier.
Landing Page Builder
No
Yes
Native RTL Language Support
Yes
No
Ease of Use
Easy-to-use visual dashboard.
Beginner friendly and intuitive, merge tags.
Deliverability
DMARC protocol, anti-spam policy, dedicated IP address available.
DKIM authentication, anti-spam policy, dedicated IP address availabe as an add-on
Reporting and Analytics
The basics + ecommerce insights.
Pricing
No free plan and high starting price. One subscription price based on your number of contacts, all features included.
Free plan and decent budget option, but the most expensive plan is
very
pricey.
Support
24/7 email and live chat.
FAQ
What is the best Mailchimp alternative?
There are tons of really good email marketing services to pick over Mailchimp. If you want a robust toolkit of features and advanced automation, I recommend ActiveCampaign. Or if you want a free plan that also has automation, you can't go wrong with AWeber, which has one of the most generous free plans out there.
Is Drip an email marketing platform?
Yes, Drip is an email marketing service (EMS) with a focus on ecommerce. Drip has a number of features that make email marketing easier, such as a drag-and-drop email editor and automation creator.
How much does Drip cost?
If you have up to 2,500 contacts, Drip costs

$

19.00

per month. Once your subscriber list grows, that monthly price will go up. View the Pricing section of this article to get a full breakdown of what you get for the price.
Is Mailchimp expensive?
That depends on what plan you're looking at. Mailchimp has 3 premium plans and a free plan available, and its Essentials plan has a fairly low price starting at

$

20.00

per month. But if you want more features or have more subscribers, Mailchimp's upper-priced plans can get very pricey.