But after carefully testing and evaluating its two pricing plans, I've concluded that it's a worthy investment for some.
And if you take a look at our
Constant Contact coupons
, we'll help make it a slightly smaller investment. That said, Constant Contact isn't right for everyone. If you're not careful,
you could end up paying way more than necessary
 for features you don't actually need – especially if you have a large contact list. If you're located in the US, Constant Contact gives you a
60-day free trial
 with no credit card required. Everywhere else in the world, you can get a free month if you provide payment details upfront. But either way, there's no forever-free plan, so you'll want to understand the pricing structure before you invest your time in trying out this platform. Keep reading to find out if it's right for you!
Constant Contact Features & Pricing Overview
Choose Between Two Solid – But Expensive – Pricing Plans
Constant Contact offers two pricing plans, both based on the number of contacts.
It only counts active subscribers toward this total, which means unsubscribers won't make your plan more expensive
. The main differences between the two plans involve advanced email marketing and automation features, which I'll describe below. While there's no free plan, you can get a generous
60-day free trial
(if you're located in the US), which is double the length of trials with other email marketing services like
GetResponse
. The only restriction is that you're limited to 100 contacts during the trial, so while it's great for testing out features and getting used to the platform, you'll probably want to add more subscribers fairly quickly.
There's also a money-back guarantee that applies to your first paid month
, which basically means you can test out the service for three months without fully committing (again, only in the US). Keep in mind that
outside of the US, there's no free trial offer
. However, you can get your
first month for free
, as long as you're okay with providing payment information in advance. You can always cancel before you're charged for the first month if you decide that you don't want to pay. I go into both the money-back guarantee and cancellation process in detail below in the
Refund Policy section
.
This is the basic version of Constant Contact, suitable for those who are just starting out in the world of email marketing. It includes basic features like customizable templates, tracking and reporting, and automated resending which I analyzed in detail in
my Constant Contact review
. Unlike some other services' starter plans, it also includes
built-in A/B testing – but only for subject lines
.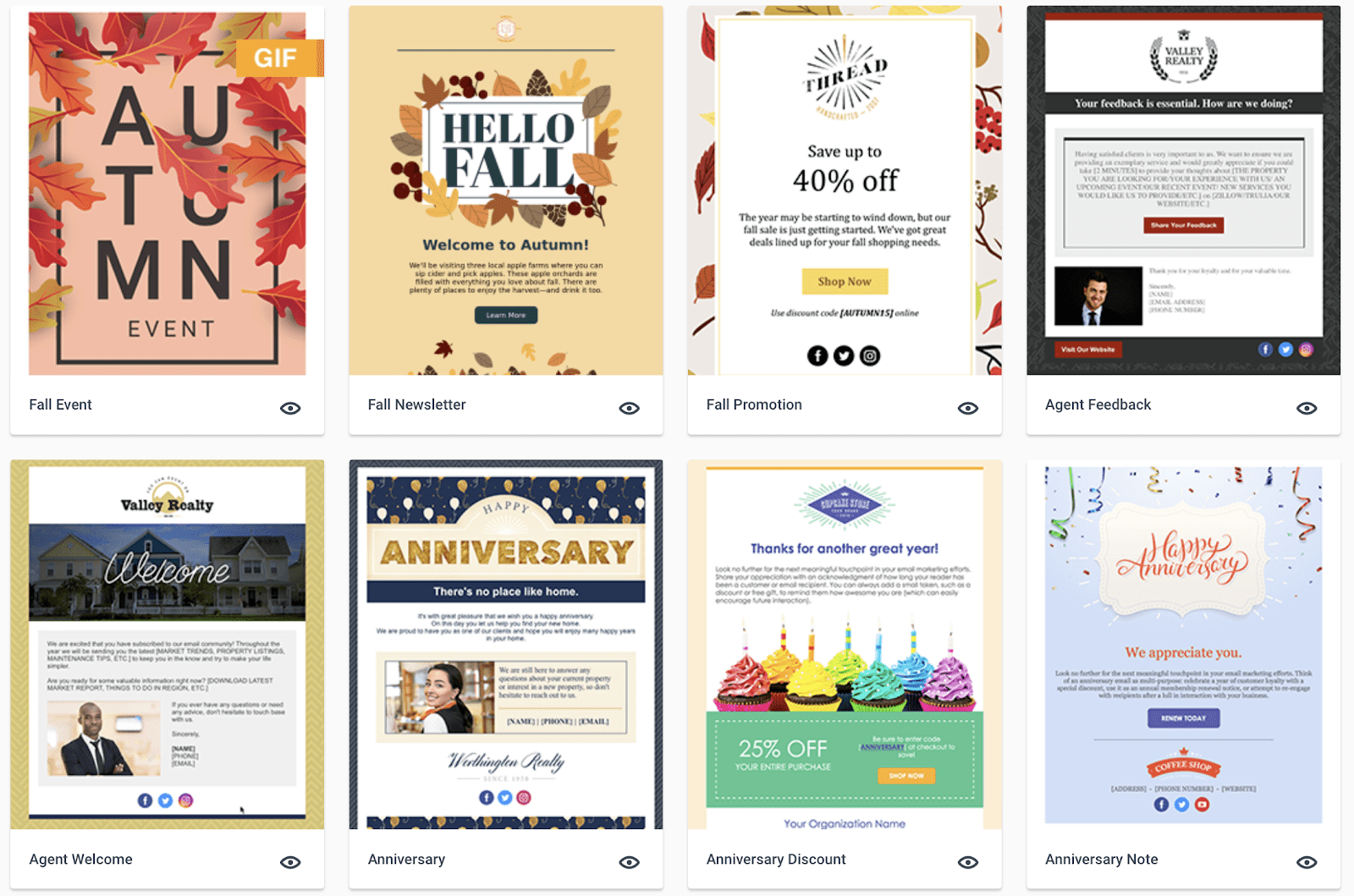 Monthly prices start at
$
9.99
 for 500 subscribers or less. For each subsequent pricing tier, the cost increases quite a bit. Overall,
even the cheaper plan is a fairly expensive option
. There's a 10% discount if you pay for the first 6 months upfront, or a 15% discount if you pay for the first 12 months upfront. Constant Contact pricing for nonprofits is especially noteworthy, as those discounts increase to 20% and 30%, respectively, for qualifying organizations. And unlike many other companies, it offers this deal to organizations all over the world – not just in the US. All you have to do is provide a document issued by your country's government to prove that you're a nonprofit. I would only recommend the Email plan for
business owners with
small contact lists
who just want basic capabilities, as it's missing some valuable features like automated email series and surveys. However, even the basic version is on the pricier side, so
in most cases I would suggest upgrading to Email Plus anyway
.
Constant Contact Email Plan Pricing
| | | | |
| --- | --- | --- | --- |
| Contacts | Monthly price | Price for 6 months paid upfront | Price for 12 months paid upfront |
| 0–500 | $20 | $90 | $187 |
| 501–2,500 | $45 | $202.50 | $420.75 |
| 2,501–5,000 | $65 | $292.50 | $607.75 |
| 5,001–10,000 | $95 | $427.50 | $888.25 |
| 10,001–15,000 | $195 | $877.50 | $1,823.25 |
| 15,001–25,000 | $225 | $1,012.50 | $2,103.75 |
| 25,001–30,000 | $295 | $1,327.50 | $2,758.25 |
| 30,001–35,000 | $315 | $1,417.50 | $2,945.25 |
| 35,001–50,000 | $335 | $1,507.50 | $3,132.25 |
Note: If you have more than 50,000 subscribers, you'll need to get in touch with Constant Contact for a custom price quote.
The Email Plus plan includes all the features of the Email plan, plus some important additions: advanced e-commerce marketing, automated email series, polls, coupons, event RSVPs, and several other useful features. People often ask me about Constant Contact survey pricing – I'm happy to report that you don't have to pay extra. Surveys are included in the Email Plus plan (but not with the Email plan).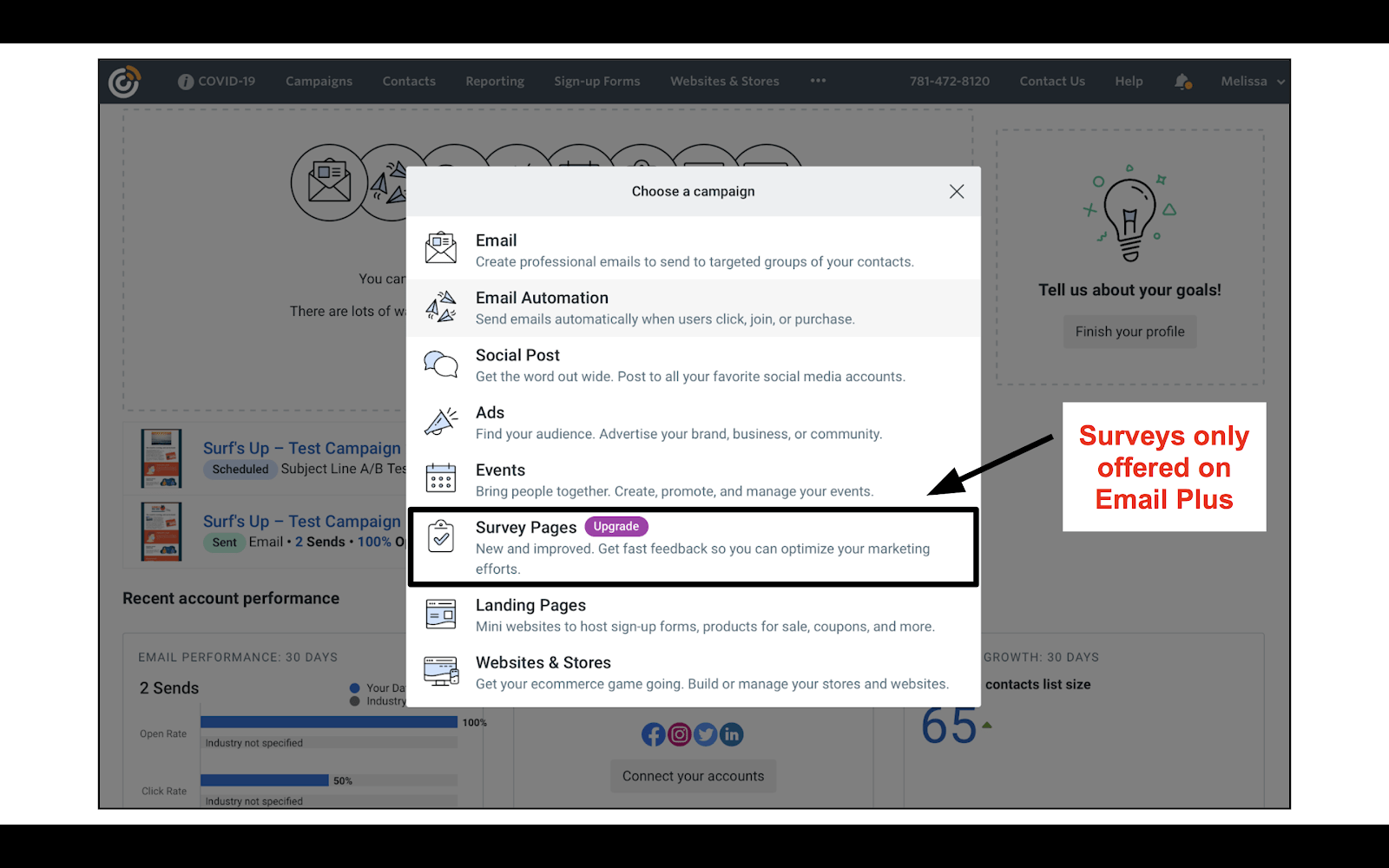 For small business owners who want full automation and advanced capabilities, there's no question about it: go with Email Plus.
If you're working with a team, Email Plus offers 10 users, rather than the three included on the Email plan. There are no major differences when it comes to e-commerce, websites, or customer support. One interesting feature is the free new customer consultation, included with the purchase of an Email Plus plan, where Constant Contact will walk you through the product.
Nonprofits will also appreciate the online donations feature
, which allows people to donate through a secure, mobile-responsive page. That said, the price difference between the two plans is considerable, so make sure you're really serious about Constant Contact before committing to Email Plus. The same discounts described above also apply here, including the option to try either 60 days or one month for free (depending on your location) and the money-back guarantee.
Constant Contact Email Plus Plan Pricing
| | | | |
| --- | --- | --- | --- |
| Contacts | Monthly price | Price for 6 months paid upfront | Price for 12 months paid upfront |
| 0–500 | $45 | $202.50 | $420.75 |
| 501–2,500 | $70 | $315 | $654.50 |
| 2,501–5,000 | $95 | $427.50 | $888.25 |
| 5,001–10,000 | $125 | $562.50 | $1,168.75 |
| 10,001–15,000 | $195 | $877.50 | $1,823.25 |
| 15,001–25,000 | $225 | $1,012.50 | $2,103.75 |
| 25,001–30,000 | $295 | $1,327.50 | $2,758.25 |
| 30,001–35,000 | $315 | $1,417.50 | $2,945.25 |
| 35,001–50,000 | $335 | $1,507.50 | $3,132.25 |
Constant Contact Pricing Plans Comparison Table
Website Builder Plan
I already mentioned that both Constant Contact pricing plans include website building, but you can also access this feature as a standalone, even if you don't need email marketing.
The Website Builder plan costs $10 per month
 and includes free hosting, unlimited storage, website analytics, e-commerce capabilities, and various marketing features.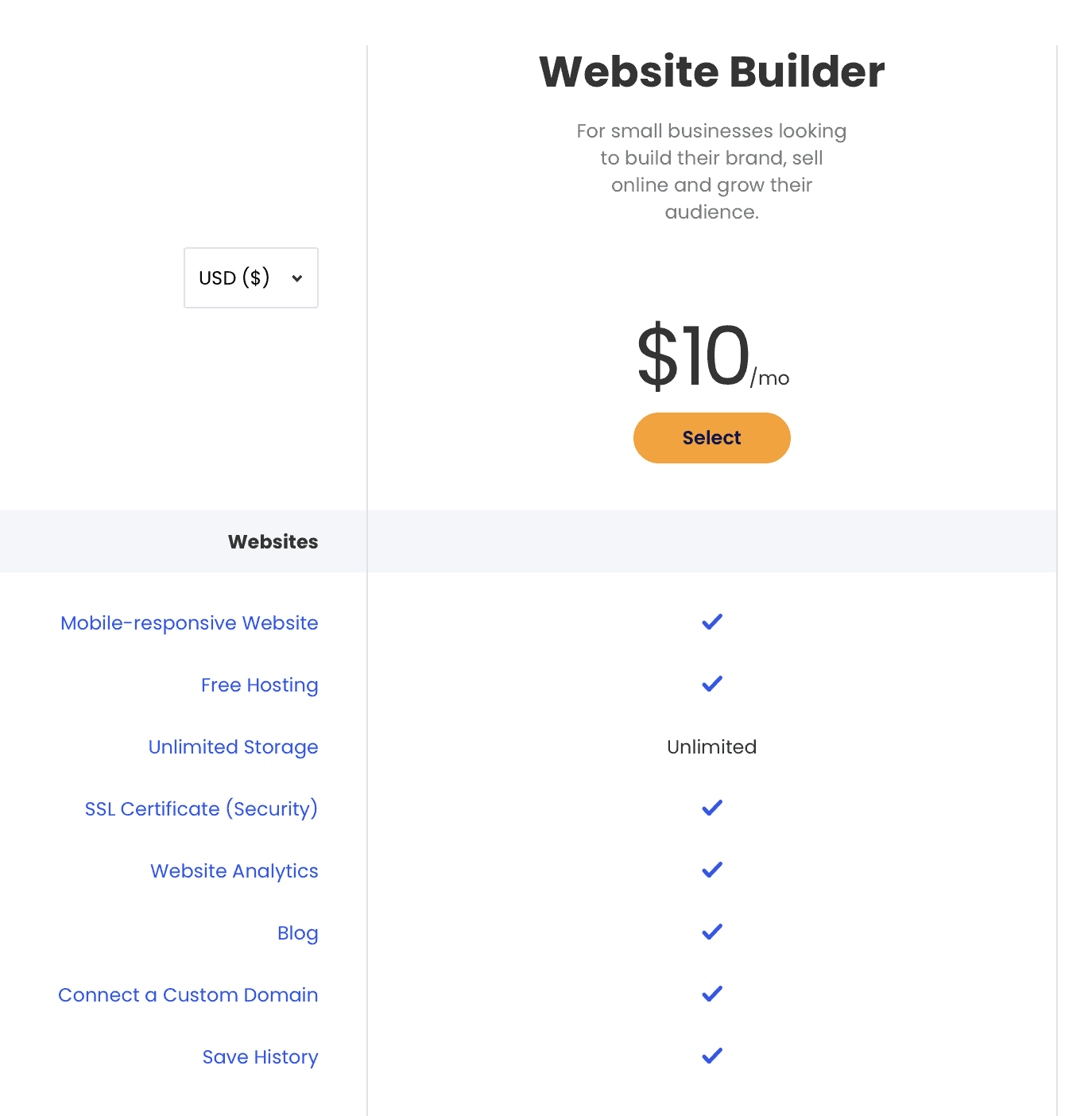 This plan comes with a 30-day money-back guarantee
, so you've got time to test it out and see if it's worth the money. That said, there are plenty of other
specialist website building tools out there
 – such as
Wix, that offers more in-depth customization options
 – that may be more appropriate. And if you prefer the Wix platform, it offers its own email marketing plan too: Wix Ascend. All things considered,
I wouldn't recommend subscribing to this plan on its own
. You might as well pay a bit more to get the full suite of email marketing features, unless you have extremely specific website goals and love Constant Contact's platform.
Constant Contact Cancellation & Refund Policy
If You Want to Cancel, Prepare to Be Put on Hold
Canceling Constant Contact isn't as easy as it could be. It took me a while to figure out how to do it: you have to go to the
My Account
 page, then click
Edit
 next to
Payment Plan
. This takes you to a page where
you can easily upgrade your plan online – but not cancel
.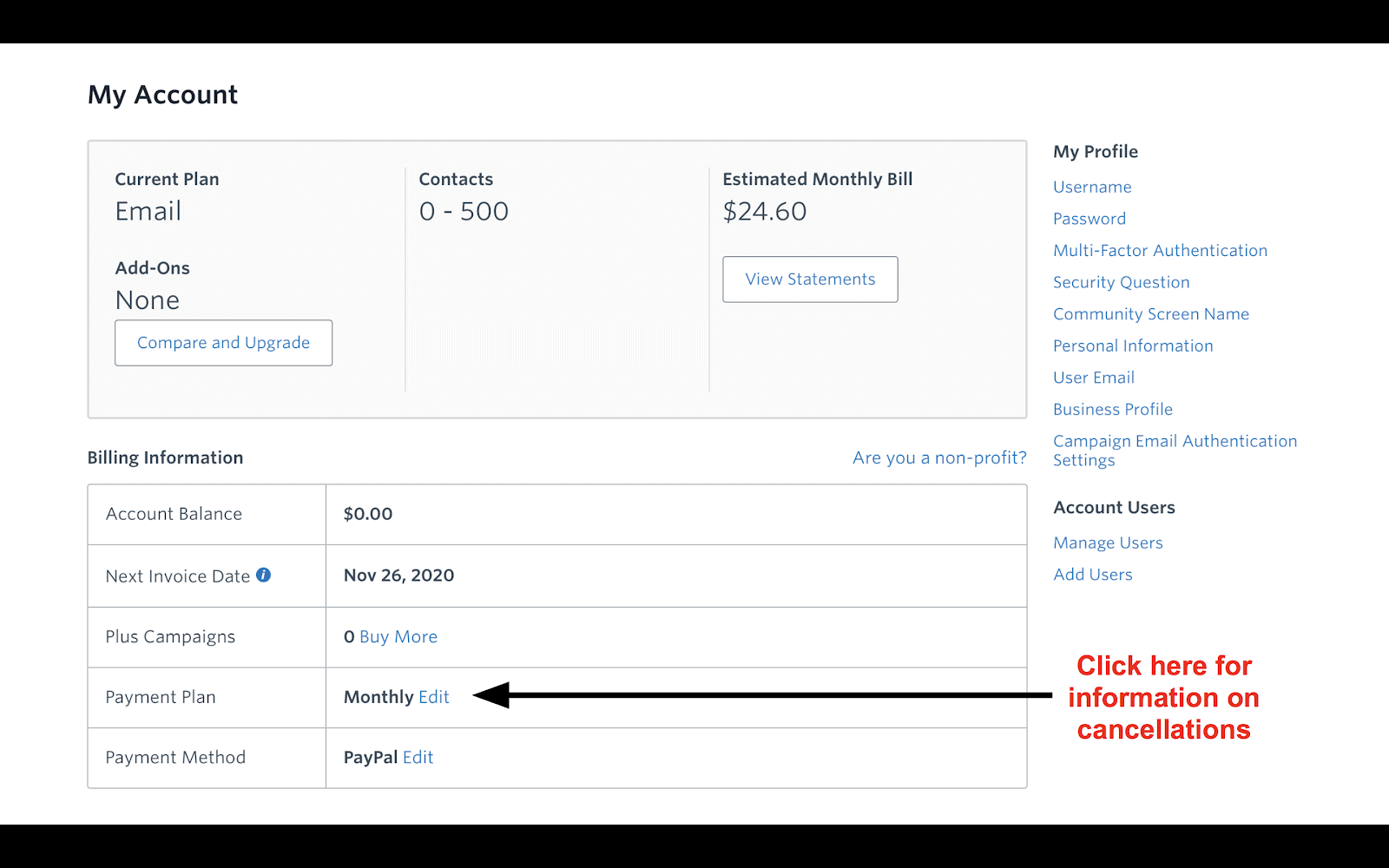 Scroll down to the bottom of the page and read the fine print:
in order to cancel, you have to contact the Billing Team by phone
.

I did exactly that, and it was easy enough, but pretty time-consuming. Since I'm located outside the US, I called the international number and was immediately put on hold. The first time I tried, the wait time was up to 20 minutes. I called back later and waited less than five minutes, then spoke to two people who put me on hold a few more times.
They asked me why I was leaving and offered a generous discount before finally canceling my account.
 I received a confirmation email immediately afterward.
Cancellation Details to Keep in Mind
If you're outside of the US, you can get your first month for free by entering your payment info upfront – but remember that
you'll be automatically charged for the second month
 unless you cancel before your next billing date. And to make things even more confusing,
your payment method may be charged up to five days before the billing date on your account page
. In other words, you have to decide within about three weeks if you want to continue with a paid plan or not. If you do decide to cancel your account, you'll still have access up until your next scheduled billing date. If you think you might want to reactivate your account in the future, you can
temporarily suspend it instead
. You'll pay a small monthly fee to maintain access to your reports and images, create emails, and keep sign-up forms active. You'll also have access to all your contacts and lists, in case you want to export them to use with a different platform. But you won't be able to send any emails or receive survey results or event registrations during the suspension. That said, if you're located in the US you don't need to worry about canceling during your
60-day free trial
, since you won't be required to provide payment details in advance.
Constant Contact Refund Policy
In addition to the 60-day free trial or free first month, Constant Contact has a
money-back guarantee
that applies to the 30 days after your first payment (no matter where in the world you're located). Let's say you're outside the US and decide to sign up for a free month, and are automatically charged for the second month – but then you change your mind. You can
cancel any time before the second month ends for a full refund
, essentially meaning that you can get the first two months for free. This money-back guarantee also applies to customers in the US. If you finish your 60-day free trial and then decide to start paying, you can cancel within the first 30 days of your paid plan and receive a full refund. In other words,
you can get three full months for free with a little extra effort
. In either case, you'll have to call the Billing Team on the phone to get your refund – and again, expect to be put on hold for a while.
Alternatives to Constant Contact
Constant Contact is a solid tool, but it's pretty expensive considering the lack of certain useful features – like advanced A/B testing and automation – that other
top email marketing services
 offer. In fact,
some alternatives include extra capabilities at lower prices,
 which makes it hard to justify spending more on a Constant Contact plan. Here are some of the top Constant Contact competitors:
GetResponse's Basic Plan: This is the perfect tool for bigger businesses, or small businesses hoping to scale up. It offers several advanced features like built-in send-time optimization and four types of A/B testing, starting at just

$

0

 per month for up to 1,000 contacts. In other words, GetResponse has several extra perks that Constant Contact doesn't offer – and at lower prices.
ActiveCampaign's Lite Plan: If you're looking for an all-around email marketing tool with amazing automation capabilities, ActiveCampaign is a solid choice. Its Lite plan starts at

$

9.00

 per month and offers more advanced features than Constant Contact, including over 100 premade automations and complex customization options. You have 14 days to try it out for free without providing any payment information upfront.
Sendinblue's Free Plan: This service has a solid free plan, perfect for those on a super-tight budget. It also includes unlimited contacts, making it a better choice than Constant Contact if you've got a long subscriber list. That said, there's a limit on the number of emails you can send, but as long as you don't exceed 300 per day, the free plan is hard to beat.
Constant Contact Competitor Comparison Table
Email marketing service
Starting monthly price
Pricing structure
Standout feature
Constant Contact

$

9.99

Based on number of contacts
All-in-one tool for e-commerce, websites, events, and more
GetResponse

$

0

Based on number of contacts
Four types of built-in A/B testing
ActiveCampaign

$

9.00

Based on number of contacts
Advanced automation features
Sendinblue

$

0

Based on number of emails sent
SMS marketing, even on the free plan
Constant Contact Is Pricey, but It Might Be Worth It for You
There's no question that Constant Contact has a lot to offer, but it's a considerable investment.
Several other services offer similar – or better – features for lower prices, or even for free.
However, if you want a service that combines email marketing with website building, e-commerce, event management, and more, it might be worth your money. It's also a
good choice for nonprofits
, as it offers some of the best discounts on the market. If you think Constant Contact is right for you,
I recommend choosing the Email Plus plan
. Even the Email plan isn't the most budget-friendly choice, so it's definitely worth it to invest a bit more and gain access to advanced automation, e-commerce marketing, surveys, and the rest of the features available. If price is a significant concern for you, I would suggest a cheaper service like
ActiveCampaign
or a free one like
Sendinblue
.
FAQ
How much is Constant Contact monthly?
Constant Contact pricing starts at

$

9.99

per month for the Email plan and

$

45.00

 per month for the Email Plus plan, with prices increasing depending on the number of contacts. There's also a Website Building plan which you can sign up to for free, and you can save money using our Constant Contact coupons.
Does Constant Contact have a free plan?
No. However, you can try out the first 60 days for free (if you're in the US) or get the first month for free (if you're anywhere else) and then cancel if you decide it's not the right tool for you. If you're looking for a free option, I would suggest looking at Sendinblue's generous free plan, which offers you up to 300 email sends a day and unlimited contacts.
Is Mailchimp better than Constant Contact?
In my opinion, no. Mailchimp has a lot of similar characteristics, but Constant Contact outshines it in terms of usability as you'll see in my Constant Contact review. If you want a beginner-friendly tool, it doesn't get any easier than Constant Contact. I'd also recommend checking out our list of the best email marketing services in 2023 if you're looking for alternatives.
What are the different Constant Contact pricing tiers?
The two pricing tiers are Email and Email Plus. Prices are based on the number of subscribers on your list, starting at 0 to 500. There are nine different pricing levels listed for each plan, going all the way up to 50,000 contacts.