Researching email marketing solutions to see which one offers the best value for your money is a daunting task. Yet even with so many options available, Constant Contact is one that usually finds its way onto the shortlist of candidates. But does it deserve to be? Does Constant Contact really give you the best value for your money?
If you're currently asking yourself that question, read on for a discussion of whether Constant Contact's feature list is worth what you'll pay for it. After that, I'll explore how those features compare with some of the competitions'.
Constant Contact Features and Pricing
Constant Contact is popular for one reason: It has a lot of features. However, that doesn't mean it is one-size-fits-all. There are two plans,"Email" and "Email Plus," which you can choose between depending on your budget and needs.
"Email" Plan
Constant Contact's more affordable plan gives you what you need to run an effective email marketing campaign. That said, the scope and functionality included are definitely limited.
Here are the features that are included:
Contact Management
List-Building Tools
Tracking and Reporting
Customizable Templates
Image Library
Marketing Calendar
Email Scheduling
Apps and Integrations
Mobile App
Live Support
I've used the Email Plan with individuals and small businesses to help them create professional-looking emails, send an unlimited number of those emails to either their entire contact list or a specific segment of it, schedule emails to be sent whenever they want, and then keep track of the results. I've definitely found that it's an impressive list that is more than adequate for smaller-scale operations and can compete with any other email marketing service out there.
Where it falls short is scalability. For starters, I don't like the fact that the file storage is capped at just 1GB — I've found that it is almost always far too little for a large company or organization sending out a large volume of emails that use large, highly detailed images. Unless you want to be limiting the quality of your pictures, cutting back on the variety of your campaigns, or constantly deleting images, you will need more memory.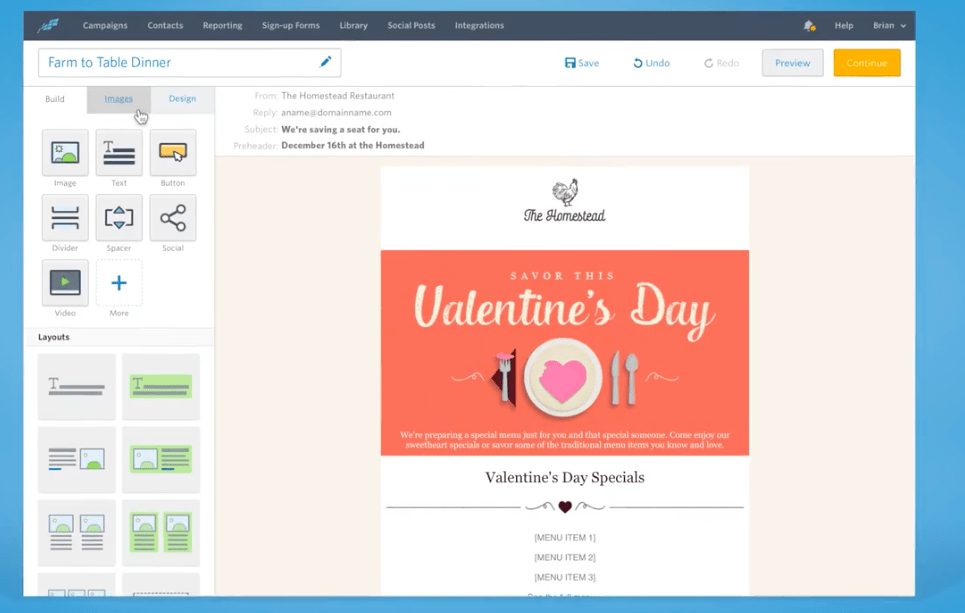 On top of that, only one user account can be created. Although it's possible for multiple team members to work off a single account, they will not be able to customize roles and tasks. Complex organizations running multiple marketing promotions at the same time will probably find this too limiting.
"Email Plus" Plan
Constant Contact's higher tier "Plus" plan offers you all the functionality of the lower tier plan. It also provides additional features that are centered on scalability and task-specific emails.
This is the list of the additional features:
2 GB File Storage
10 Users
Email Automation
Event Marketing
Online Donations
Surveys and Polls
Coupons
Subject-Line A/B Testing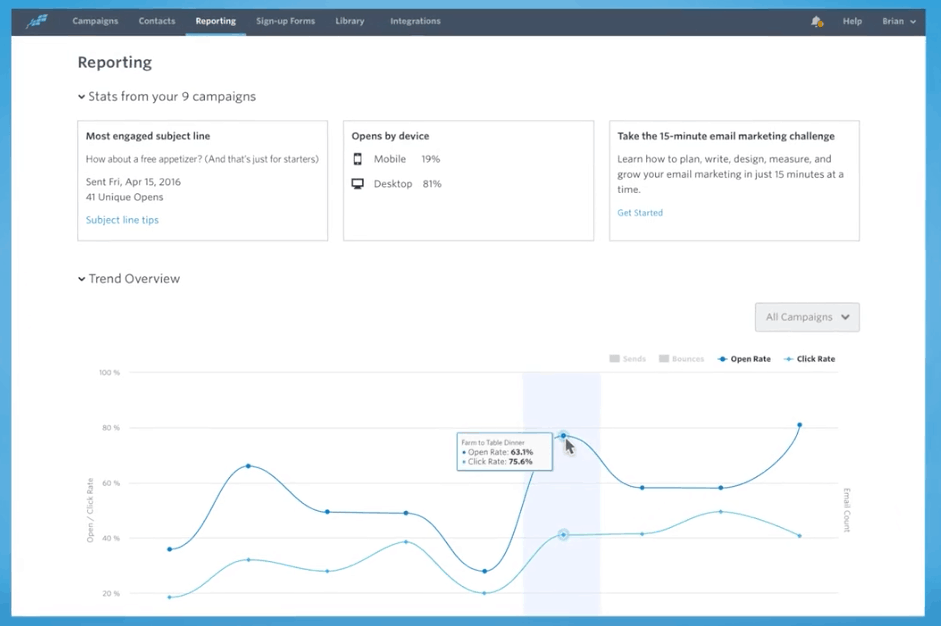 Larger organizations will benefit a lot from the additional scalability capacity. For starters, doubling the amount of storage offers a lot more breathing room for running multiple campaigns using large design assets. But the ten-fold increase in the number of user accounts is what really stands out. I've found that managing large marketing teams is much easier when they can easily share their workload, which enables specialization, and by extension, increases organization and ROI.
There is one major drawback: No plan offers unlimited capacity for either storage of users. Most individuals, as well as small and even medium-sized businesses, will find 2GB/10 users adequate. However, large organizations will most likely need to look elsewhere.
Beyond scalability, the additional email templating options provide good specialization options. I really like using the email automation to set triggers for personalized messaging (such as a birthday) to contacts. There are also event marketing and online donations which combine CTAs with payment processing in order to create effective donation, registration, or purchasing pipelines. Surveys and polls provide both interactive marketing opportunities as well as market research, while A/B testing lets you tailor specific messaging.
However, my overall enthusiasm for these features is tempered because there's still a lot missing. Conversion functionality like landing page attachments, e-commerce essentials like in-email product recommendation, and cart abandonment follow-ups are all absent. There is no deep dive into the kind of specialization that really drives ROI.
Overall, if you're looking to use email as a purely "messaging" tool, then Constant Contact's "Email Plus" plan offers everything you need. But if you're looking to use more advanced email techniques to get the most ROI out of your contact list, I think you'll find it a bit lacking.
How Does Constant Contact Stack Up Against the Competition?
If you aren't totally convinced that Constant Contact has everything you need, there are a lot of competitors out there to choose from. Here are three of the ones you should definitely be considering:
#1. MailChimp
MailChimp's biggest advantage over Constant Contact is its "Free" pricing model. The price is self-explanatory and the feature list is fairly comprehensive: A/B testing, email templates, abandoned cart e-commerce functionality, and subscriber segmentation are all here. That's pretty much everything that Constant Contact does, and you don't have to pay a penny.
There is a huge caveat, however: MailChimp ceases to be "free" if you send over 12,000 emails in a month, or if you have more than 2,000 contacts. In my opinion, the email cap is workable for a small or medium-sized business, but the contact limit severely undercuts the idea that this is a viable "free" option. It's a high-enough limit to begin building a list, so I wouldn't say it's a total bait-and-switch. But in practice it feels a bit manipulative — setting a limit high enough to create dependency on the software, but low enough to require an upgrade once you're locked in. Couple that with the fact that MailChimp's highest tier plan is five times more expensive than Constant Contact and yet still caps the number of emails you can send, and you have a weakness that can't be ignored.
If you are a small business, MailChimp gives you everything you need for free. But if you're a company with ambition, you will eventually be paying for a service with a cap on the number of emails you can send. For that reason, I think Constant Contact ultimately gives you more value for your money.
#2. AWeber
AWeber does something very unusual: It offers the same feature list for all of its pricing tiers. That's definitely an idea I can get behind, and one that certainly gives it an advantage over Constant Contact charging more than double for its "Email Plus" functionality.
However, AWeber's seemingly superior pricing model is tempered by the fact that its pricing tiers are tied to the number of subscribers in your database. The cost of having 5,000+ subscribers — which is a fairly low number for larger companies — is significantly more expensive than for Constant Contact. And the more your MailChimp email list grows, the more you pay — all the way up to nearly four times or more the cost of Constant Contact.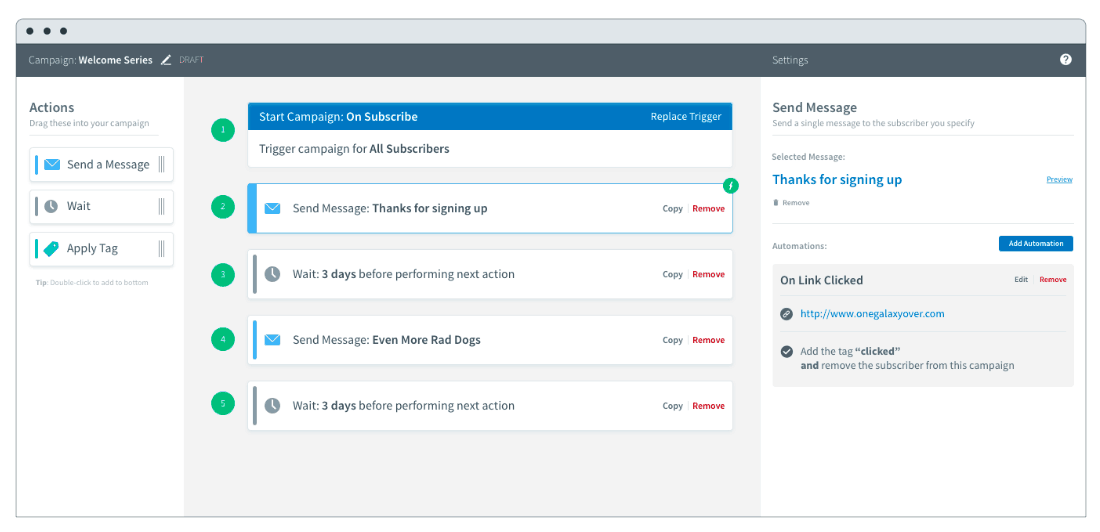 If you're looking to send 2,500 or fewer emails per month with the full suite of functionality tools, AWeber is a much better value for your money than Constant Contact. But for larger lists, it's hard to ignore the huge increase in costs for AWeber users. Therefore, I feel that bigger businesses will be better off with Constant Contact.
#3. ActiveCampaign
ActiveCampaign is a very powerful email marketing solution. Its feature list is very detailed, and it includes a lot of functionality that Constant Contact doesn't offer at all. You can use ActiveCampaign to do heavy-hitting marketing tasks like sending SMS, automating sales, and scoring leads. It's also possible to have as many users as you need. Although access to the full suite of tools is almost six times as expensive as Constant Contact's "Email Plus" plan, I believe it's definitely worth the money for large organizations that will benefit from the ability to control every aspect of their email marketing campaigns.
On the other hand, even half of ActiveCampaign's total available toolset is overkill for smaller organizations looking to do basic email marketing. But because its communication functionality is wrapped up with the analytics and pipeline tools you don't need, getting what you need costs 20% more than it would with Constant Contact. For that reason, my experience has been that ActiveCampaign is definitely not worth the money for smaller organizations, or those happy to simply send out a monthly newsletter.
Constant Contact Is Worth the Money for Small Businesses, But Inadequate for Big Ones
There is a recurring theme when you compare Constant Contact with other email marketing services. Smaller organizations that I've worked with benefit from a good balance of functionality and cost. It's worth the money if you want to use your mailing list to communicate effectively without breaking the bank. But if you're a larger organization, or any sized organization looking to do the kinds of analytics and redirects that take your email marketing to the next level, it's not worth the money.
In these cases, I've found that you're better off paying a little more for a service that will get you the functionality you want, rather than paying less for a service that won't offer you everything you need.