Constant Contact's competitors all have their own strengths and weaknesses. Yet for all the benefits they promise, many repeat the drawbacks that pushed you to look for an alternative to Constant Contact in the first place.
This is the last thing you need when looking for the right email marketing service. You can't afford to waste time signing up, importing your contact list, and starting on your first campaign before you realize you're facing the same issues you had with Constant Contact.
The key is finding out which services deliver where Constant Contact failed. Perhaps you're looking for better value, more in-depth features, or more powerful automation tools. Maybe you need more options for customizing email templates, or just want something that's easier to use.
If you want to save time and get straight to the right Constant Contact alternative for you, read on. I've tested the competition to find out which services deliver where Constant Contact falls short. Here, I pick out my top five, explaining where each outperforms Constant Contact, and who would get the most out of it.
Short on Time? These Are the Best Alternatives to Constant Contact in October 2020:
Sendinblue – Fantastic if you want to try out email marketing for the first time, with no limits on the number of contacts even on the free plan
AWeber – The best option if you want to design your own email templates from scratch, without needing advanced coding skills
Benchmark – Offers a balance of simplicity and sophistication, with easy-to-use yet powerful automation workflows
What We Look For in the Best Alternatives to Constant Contact
Here's what I was looking out for while testing Constant Contact alternatives:
Value for money – Growing businesses complain that Constant Contact gets expensive when they want to scale up their email marketing. I wanted to find out which services let you do more for less.
Powerful automation – Constant Contact's limited autoresponder falls short of modern expectations around automation. So which platforms have the tech tools to make email marketing faster and more efficient?
Ease of creating pro-quality content – While Constant Contact offers plenty of email templates and a decent editor, some users complain that the designs look out of date and there isn't enough leeway to customize them. I was interested in which platforms offer the most user-friendly content builders for effective template customization.
If you're looking for a value-for-money email marketing solution that won't put a cap on growing your reach, it's hard to look past Sendinblue.
Unlike most of its competitors, Sendinblue doesn't put any limit on contact numbers, even on its free plan. With Constant Contact, the fact that you pay per contact rather than per email can soon feel like poor value if you have a big subscriber list but don't send out communications too often.
For no charge at all, Sendinblue offers mobile-friendly, customizable templates, an easy-to-use editor, message personalization and segmentation, and much more – you can see what happened when we tried out all the features in our in-depth Sendinblue review. The main reason to pay is to get past the 300 emails per day limit.
Sendinblue is great if you're just getting started with email marketing. It's ideal if you have a big contact list but are more interested in sending out a monthly newsletter than firing out daily promotions.
Paid plans start at $25 a month with a cap of 40,000 emails per month. Higher tier plans offer many advanced features large companies and pro marketers look for, such as full workflow automation, in-depth reporting, and integrations (e.g., with Facebook ads and dedicated landing pages).
Features
Great-looking emails: Sendinblue has fewer pre-made templates to choose from than Constant Contact, but its drag-and-drop editor is easier to use and offers more flexibility for customization. This includes the option to build your own templates from scratch.
Contact management: Sendinblue lets you create an unlimited contact directory with as many attributes as you like, for free. Constant Contact limits the number of contacts you can have and doesn't have as many list management tools for segmentation and interaction tracking as Sendinblue.
Automation: Built-in APIs within Sendinblue allow you to automatically trigger emails and SMS messages from your website – a step up from Constant Contact's limited autoresponder system. You can also build your own automation workflows by customizing one of six different templates for common scenarios such as sending a welcome message to new customers, following up a product purchase, or cart abandonment.
Pay-as-you-go: If you ever want to exceed your monthly plan limits, you can purchase additional credits to send extra emails or SMS messages. Great for one-off campaigns, these credits have no time limit for added flexibility. They are, however, noticeably more expensive than the normal plans.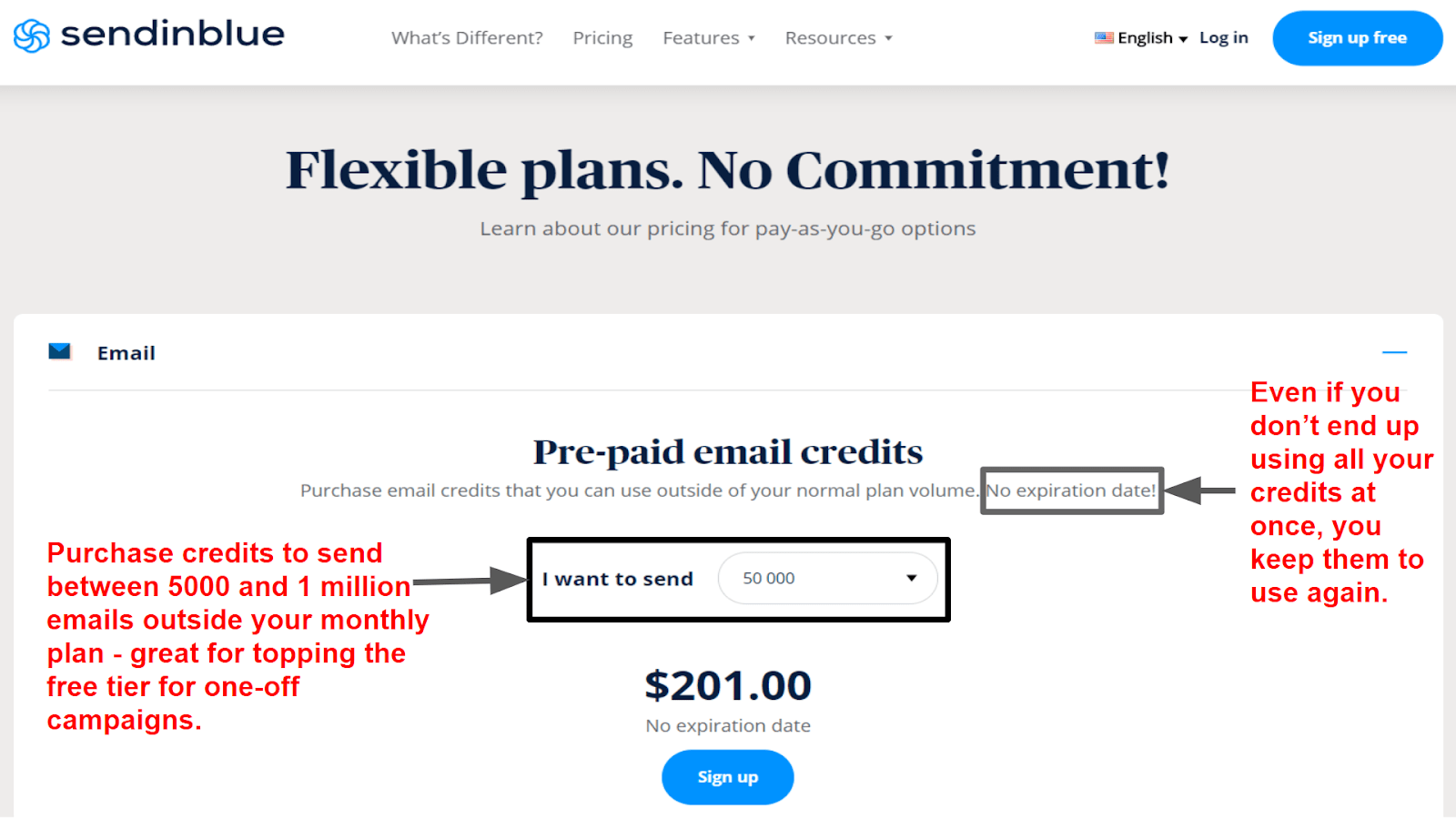 Free Plan/Trial
Yes – one of the most comprehensive free plans available in terms of features, but with a cap of 300 emails per day.
Integrations
50+ available, including contacts plug-ins for Mailchimp, HubSpot, and SurveyMonkey, and integrations with the likes of Shopify, WordPress, and Wix.
Templates
60+ available, with a choice of a drag-and-drop email builder or WYSIWYG HTML editor for customizing them.
Analytics & Reporting
Basic campaign results available in real-time on all plans; advanced open and click stats, including in-email "heat map", geographical, and device reporting, on Essential tier upward (

$

25.00

per month).
Customer Support
Email support on all plans; phone support available on Essential plans upwards.
Most email marketing platforms, Constant Contact included, offer ready-made customizable templates, but it's usually difficult to build your own branded templates from scratch. You often need to know how to code HTML to get that level of customization.
AWeber stands out with its Smart Designer, an AI-powered tool that uses content from your own website to automatically create branded templates. All you have to do is type in a page URL.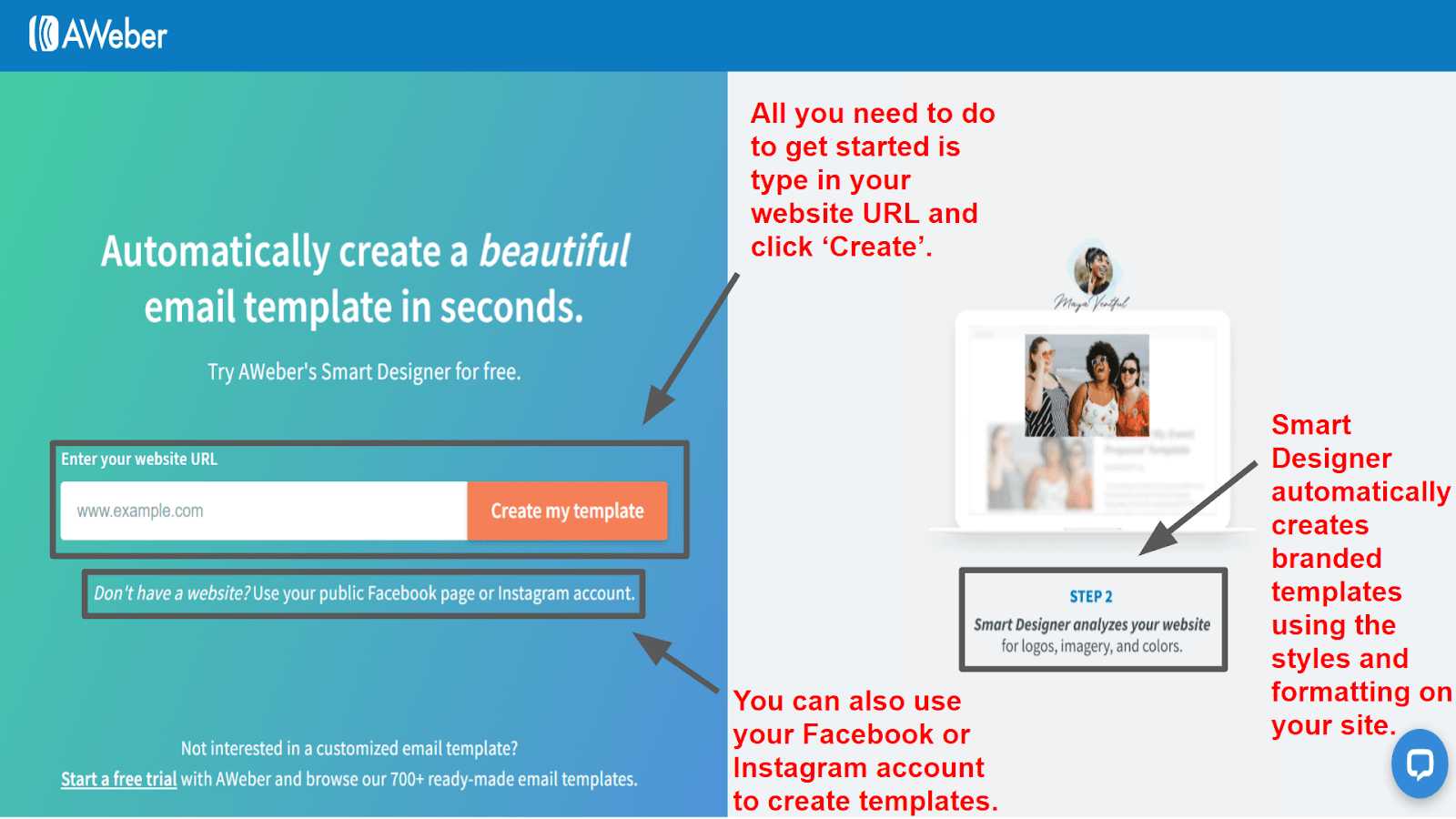 In addition, AWeber offers more than 700 high-quality, pre-made templates and a drag-and-drop editor that I found both easier to use and more feature-rich than Constant Contact. All in all, if you want plenty of flexibility and choice for designing emails your way, AWeber is hard to beat.
Like Constant Contact, AWeber sets its prices according to the number of contacts/subscribers. It offers better value the more subscribers you have and AWeber even offers a free plan for up to 500 subscribers and 3,000 emails a month. AWeber's paid plans, which include all premium features, start at $19.00 a month for up to 500 contacts, a close comparison to $20.00 per month on Constant Contact. But by the time you get to 5,000 subscribers, AWeber costs $49 per month, compared to Constant Contact's $65.
Also, all AWeber paid plans offer full access to all available features, with price only varying by the number of contacts. With Constant Contact, certain advanced features such as the full set of automation tools, surveys, and polls are only available on more expensive plans.
Features
Advanced list-building tools: AWeber offers some of the best contact management and segmentation tools going, a major step up from Constant Contact's pretty basic offerings. In AWeber, you can organize contacts into as many different lists as you want, and use manual or automated tags to personalize content and track interactions.
Dynamic and automated content: With Constant Contact, only higher-tier Email Plus subscribers get the benefit of automated content personalization based on captured subscriber data. With AWeber, dynamic personalization is available to all users and it links more closely with segmentation. You can also automatically generate email content from your blog via an RSS feed plug-in.
Mobile marketing: AWeber offers three dedicated mobile apps for taking your email marketing everywhere you go. One lets you quickly build and send emails from pre-existing web or blog content, one lets you craft signup forms on the move, the other is a reporting platform. Combined, these three tools provide much deeper and more powerful functionality than Constant Contact's single mobile app.
Customer service: AWeber takes customer service more seriously than most of its rivals (it achieved an impressive score in our expert review) – and it has a whole heap of awards to prove it. While Constant Contact offers live-chat support during office hours Monday through Friday, AWeber has a 24/7 help desk answering IMs and emails around the clock.
| | |
| --- | --- |
| Free Plan/Trial | Yes – the free plan allows for up to 500 subscribers and 3,000 emails a month. |
| Integrations | 850+ available, the most comprehensive list of third-party plug-ins of all the services tested. |
| Templates | 700+ available, plus the Smart Designer custom template builder. |
| Analytics & Reporting | Pre-built reports and data visualizations available on all tiers, with customizable metrics/tracking and a dedicated mobile app for campaign reporting. |
| Customer Support | 24/7 live chat and email support, plus a customer helpline open 8am to 8pm ET and an extensive online self-serve knowledge base. |
Benchmark strikes a great balance between simplicity and sophistication, which makes it appealing to novice email marketers and experienced pros alike.
With a clean, user-friendly interface, I had no issues figuring out how Benchmark's tools work. Even if you've never designed a marketing email before, you'll have no problems putting together professional-looking emails in minutes.
There's a good selection of quality templates and the editor is intuitive and enjoyable to use. Features like the in-built image editor make it easy to resize and position pictures where you want them, which can sometimes be difficult in Constant Contact. In fact, Benchmark scored an almost perfect 'ease of use' score in our expert review.
Where Benchmark really stands out for me is its marketing automation tools. These go way beyond the basic autoresponders offered by Constant Contact, offering behavior-based automation of interaction follow-ups and list management/segmentation.
But the best thing about Benchmark automation is its simple-to-follow editor for creating workflows, with ready-made templates covering 10 scenarios (e.g., following up cart abandonments or segmenting new contacts based on website activity). To customize conditions and actions to suit your needs, simply drag and drop instructions into the flow chart.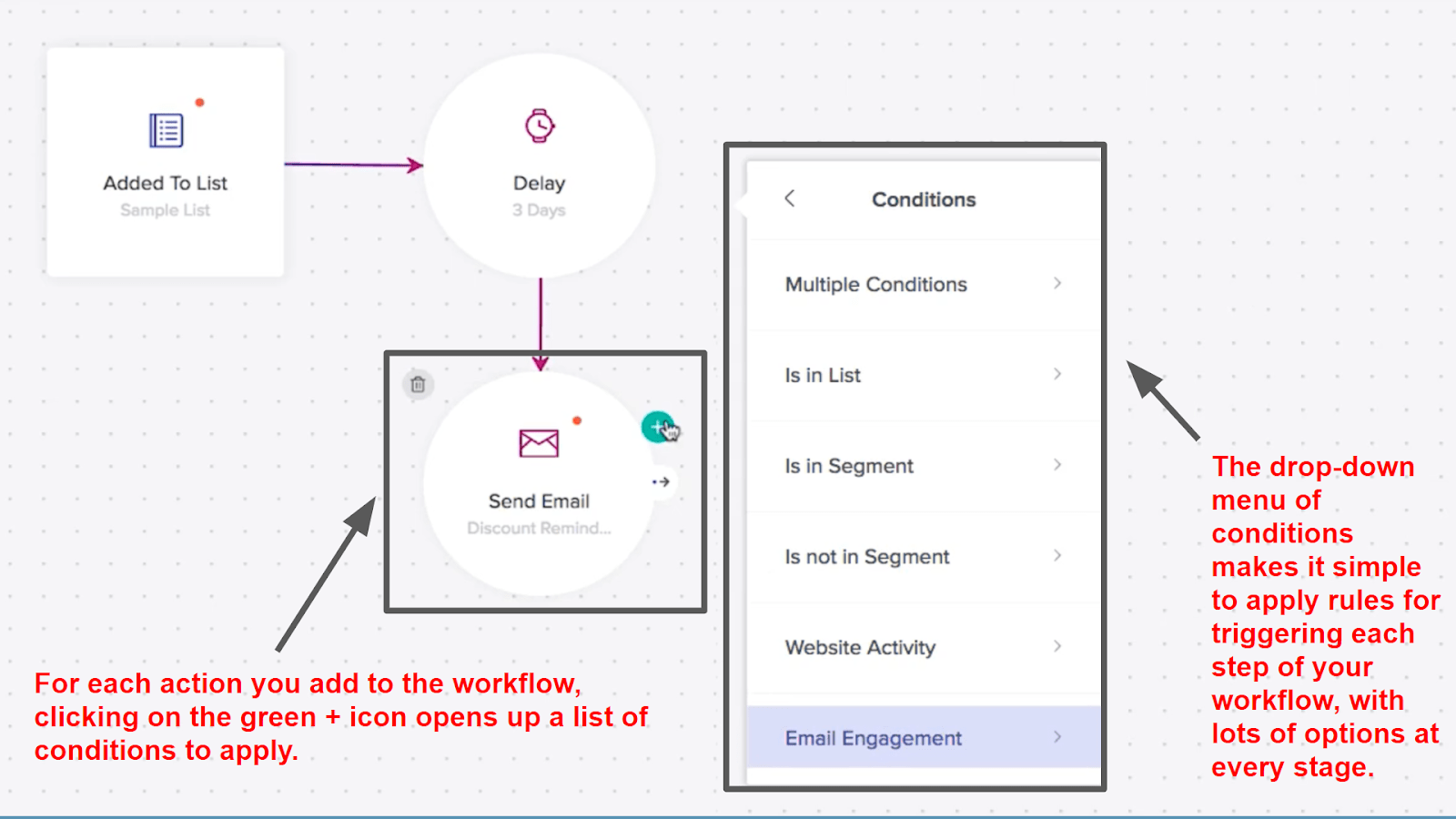 In terms of pricing, Benchmark offers a pretty generous free plan that allows you to have up to 2,000 subscribers. However, you only get a limited number of features and a maximum of just 250 emails per month. The pro plan gets you 10,000 emails and starts at $15.00 per user, per month with up to 500 subscribers (vs Constant Contact's starter fee of $20.00 a month for 500 contacts).
Features
Sign-up forms: As with most things in Benchmark, registration forms are easy to build and user-friendly. But simplicity aside, Benchmark forms are also much more flexible than Constant Contact. For example, you can add an unlimited number of your own fields, whereas CC forms cannot be customized.
Optimization: Benchmark allows you to preview how your design will look on all devices, mobile included, from within the editor. All templates are built to be 100% responsive.
Testing: Benchmark also includes a spam testing tool to check your emails will make it through spam filters, something Constant Contact doesn't offer.
List cleaning: As a paid-for extra service ($3 per 1,000 contacts), Benchmark will go through your contact list to check all emails are active, lowering bounce rates and avoiding wasting your money on non-responsive contacts.
| | |
| --- | --- |
| Free Plan/Trial | Yes – the free plan allows for up to 2,000 subscribers and 250 emails per month. |
| Integrations | More than 1,500, including WordPress, Shopify, PayPal, and Facebook. |
| Templates | More than 200 to choose from, attractive contemporary designs, all mobile optimized. |
| Analytics & Reporting | Campaign tracking is based on a standard set of behavioral metrics, with close-to-real-time (hourly) reporting and some advanced features like email heat-maps, location, and social tracking. |
| Customer Support | Live chat, phone, and email support available 6:00am to 5:00pm PST Monday through Friday; comprehensive online resources including guides, FAQs, and downloads. |
GetResponse has evolved into something more than just an email marketing tool. With a built-in CRM, advanced marketing automation workflows, sophisticated reporting, and even a webinar hosting platform, GetResponse is more of an end-to-end marketing solution these days.
Yes, email marketing sits at the center of what it does. But with such a broad range of advanced features, GetResponse appeals to larger businesses and professional marketing agencies looking to get more from their support tools.
Like Constant Contact, GetResponse sets prices both by the number of contacts and features. But where Constant Contact has two tiers for features (Email and Email Plus), GetResponse has four.
Its Basic and Plus plans are broadly comparable to Constant Contact's two tiers but offer more features and better value per contact. The Professional and Max plans are aimed at larger clients, offering unlimited access to the most advanced features.
Prices start at $15.00 a month on the Basic Plan for up to 1,000 subscribers, and even at this level, the range and depth of features is impressive. As well as the usual templates, editors, and list builders, you get access to quality automation tools, templates for building sales and lead funnels, the option to build as many landing pages as you like, and plug-ins that allow you to sell via your emails.
I found the email editor straightforward and engaging to use, the templates are stylish and professional, and I particularly liked the option to turn your blog posts straight into newsletters.
Overall, however, navigating around the GetResponse interface does take some getting used to – there's so much to discover and learn, but if you're stuck, our GetResponse review talks you through it all. And as you ramp up the features with higher-tier plans, not only does the learning curve get steeper, the costs climb, too.
While the depth and range of features might suit larger commercial businesses or professional marketers, you might not get much value out of them if you're a freelancer or run a small home business.
Features
Marketing automation: GetResponse's automation workflows are some of the most detailed and powerful I've used. The flexibility and depth of the email autoresponder options go way beyond what Constant Contact offers, with the ability to create extensive action-condition workflows from scratch using templates. The workflow editor is easy to get to grips with, and you can also apply filters to better target communications. You can personalize further with an integrated lead scoring system, which automatically segments your contacts based on your choice of behaviors.
Conversion funnels: GetResponse provides a set of templates to help you map out how various elements of your digital marketing – social ads, website landing pages, e-commerce, emails, etc. – can best be combined to drive up engagement and sales. Once you've mapped out the customer journey like this, you can action each touchpoint within GetResponse, supported by extensive automation. While Constant Contact does offer social ad integrations, landing pages, and so on, it doesn't provide the tools to join them all together like this.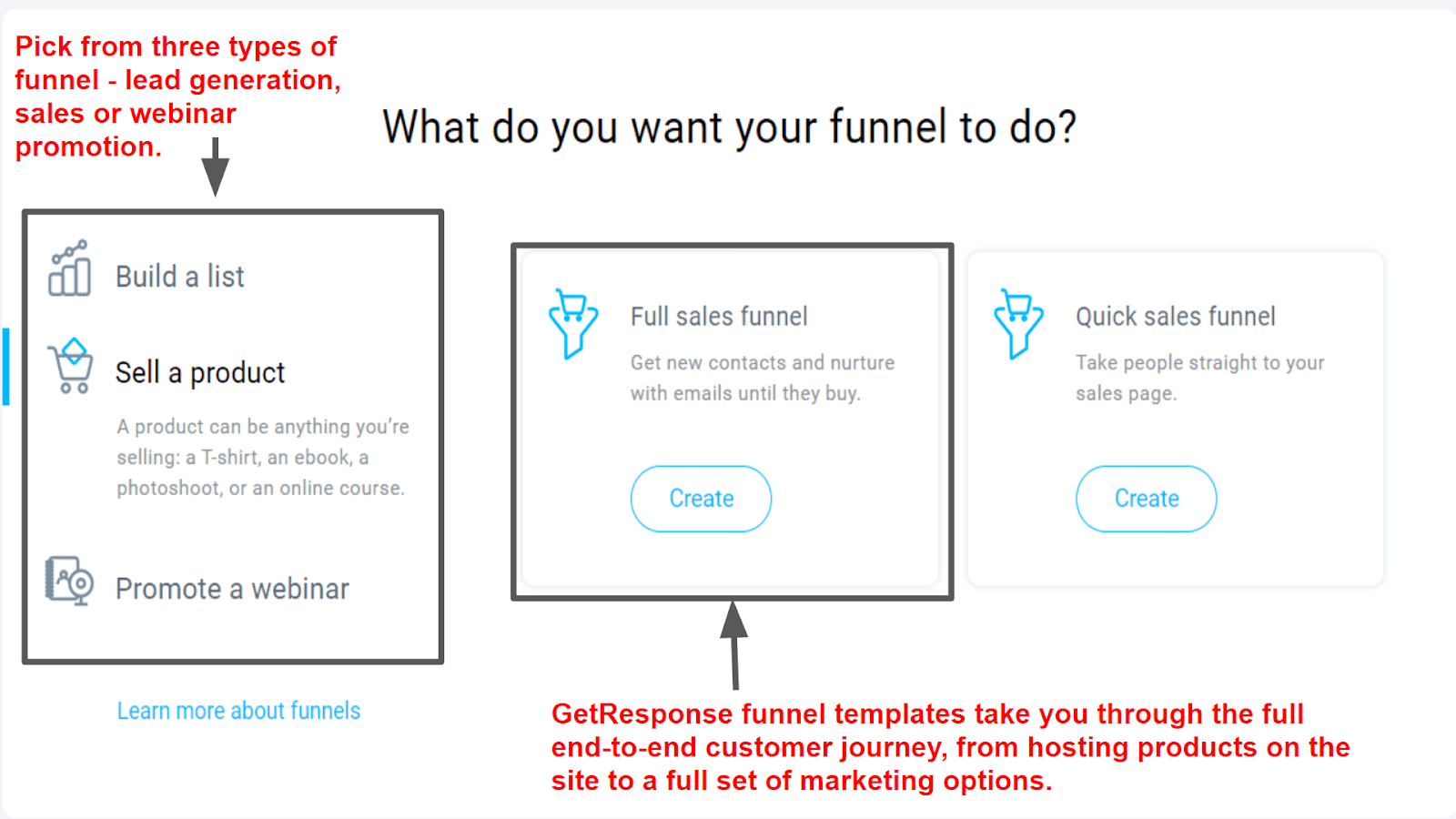 Landing pages: GetResponse is one of the best platforms out there for building dedicated landing pages to complement your email promotions. It offers far more professional-quality templates to get you started than Constant Contact, and the editor/page builder is simple to use. You can also build as many pages as you like, even on the Basic plan.
Testing and dispatch: GetResponse helps maximize the impact of your emails. Its A/B split testing tool lets you check what type of content works for your audiences at a much greater depth than most rival platforms. While Constant Contact only lets you test responses by subject line, GetResponse lets you analyze by body content, form fields, even when you send your emails. The Perfect Timing tool also helps analyze the optimum time of day to send each communication.
| | |
| --- | --- |
| Free Plan/Trial | 30-day free trial; no free plan. |
| Integrations | 130 integrations, most third-party supported. |
| Templates | Extensive choice for emails and landing pages, plus automation workflows and conversion funnels. |
| Analytics & Reporting | Real-time activity tracking on all campaigns; open and click-through rates compared by platform (mobile vs desktop), email provider, browser, etc. |
| Customer Support | 24/7 live chat, email support in eight languages, extensive knowledge base including a well-stocked video and webinar library. |
On the whole, VerticalResponse is a more straightforward, "lighter" email marketing solution than Constant Contact. It doesn't offer the same range of features, but that makes it all the easier and faster to get started designing emails and building campaigns straight out of the box.
If you're a freelancer or small business owner and you don't have a lot of time to learn a new platform, that's a real benefit.
I found the email builder/editor among the easiest to use of all the platforms I tried out. The layout is clear and straightforward, there's no clutter and you can pretty much see all the tools available. There are dozens of excellent quality, fully responsive templates to get you started. There's also a useful "wizard" to help you through the editing process.
Speed and simplicity are a big part of the VerticalResponse experience. From list building to automation to reports, VerticalResponse does the basics well and makes it easy to get things working the way you want them to. It claims you can get up and running sending out emails in a matter of minutes, and I'd say that's pretty accurate.
Other reasons VerticalResponse appeals to smaller businesses, freelancers, and bloggers are its competitive pricing and excellent customer support – it scored highly when we put it to the test in our VerticalResponse review. It offers two tiers, Basic and Pro. Pro plan prices starting at just $16.00 a month for up to 500 subscribers, including unlimited emails. That's roughly a third of Constant Contact prices, although the gap narrows the more subscribers you have.
Features
Email editor: Vertical Response's email editor is full of features that make it easier to use than Constant Contact. The fact that you can use pre-formatted content blocks to build emails from scratch or edit templates is a major bonus. Compared to Constant Contact's templates, there's much more flexibility with layouts. The wizard is great for getting started, offering hints and tips as you work. For more experienced digital designers, there are HTML editing tools for even more control and precision.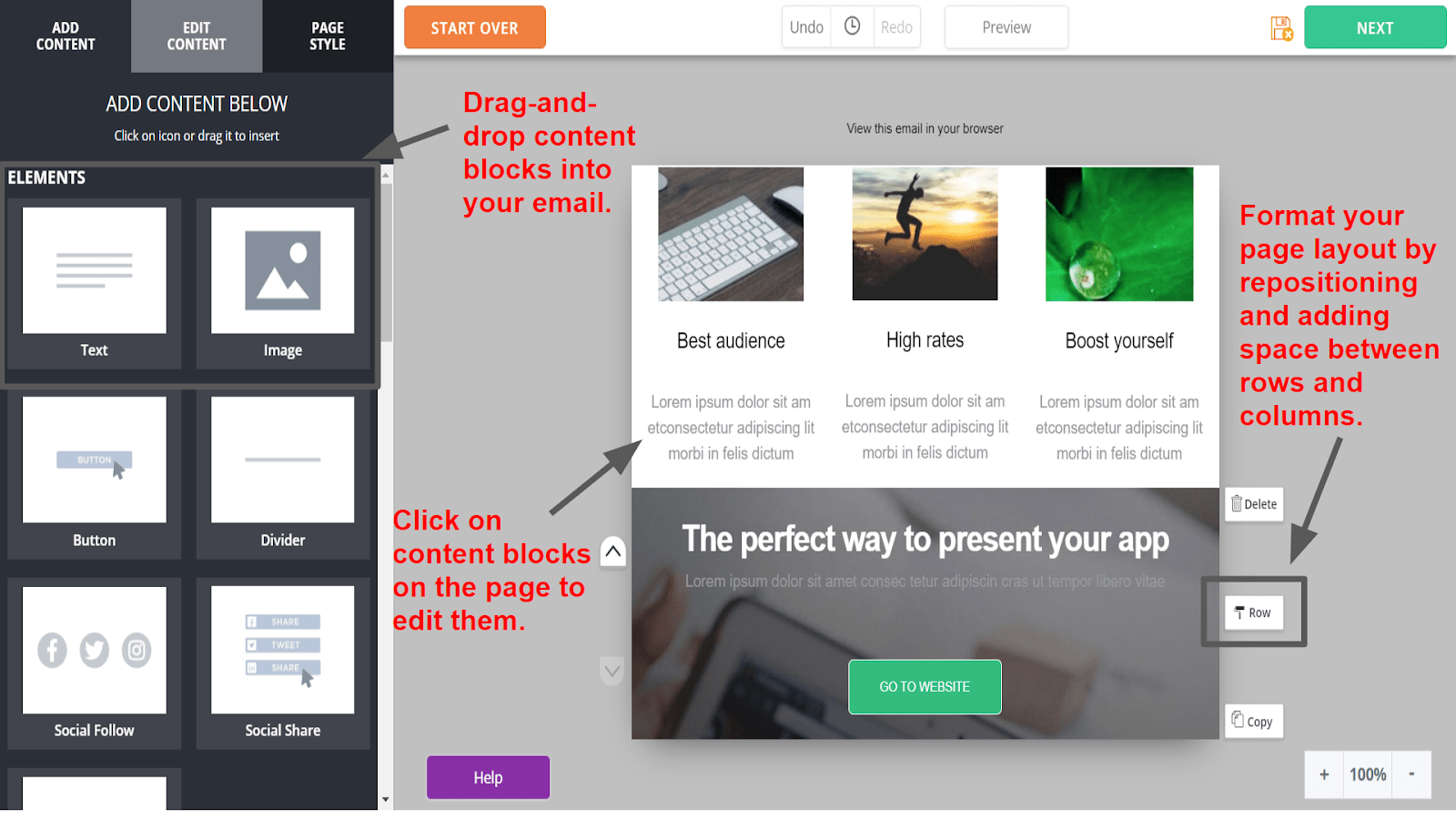 Free surveys: VerticalResponse has recently launched a survey engine that you can use for free (while Constant Contact only offers surveys as part of its higher-tier package). The free survey plan lets you create and send an unlimited number of surveys with up to 10 questions to up to 100 respondents. The templates and editor are just as easy to use as the email builder, making it straightforward to create a survey in minutes. For an extra fee per month, you can get unlimited questions and contacts, with additional statistical tools like skip logic and randomization.
Test Kit: Test Kit is an optimization tool that lets you preview your emails in different browsers and inboxes, check the length of your subject line text, scrape for broken links, and more. While you can do all of these things in Constant Contact, the fact that they're drawn together in one place is very user-friendly. Test Kit is effectively a paid-for extra. You pay in credits, with 10 credits costing $10, and each test you want to run costing one credit. Pro plans come with 10 free credits a month.
Full service: VerticalResponse also offers a Pro+ plan, which is a fully managed service – pretty unique for an email marketing platform. In other words, if you don't feel you have the time or know-how to run your own email campaigns, you can outsource the whole process to VerticalResponse. The Pro+ service is available for up to two campaigns per month, including campaign planning, content development, launch, management, and reporting.
| | |
| --- | --- |
| Free Plan/Trial | 60-day free trial; no free tier for email marketing, but there's a free service for surveys. |
| Integrations | 30+ integrations, including Salesforce, Joomla, WordPress, and Magento. REST API available for connecting VerticalResponse to your chosen platform. |
| Templates | Good selection of fully customizable, responsive templates. |
| Analytics & Reporting | Detailed reporting on a solid set of metrics, including comparisons across campaigns and lists, available as part of the Pro plan. |
| Customer Support | Email and Twitter support 24/7; phone and live chat available Monday to Friday 6am to 5pm PST. Support tickets available, plus an extensive online knowledge base. |
Which Constant Contact Alternative is Right for You?
As you can see, there are plenty of alternatives to Constant Contact to choose from. But which will suit you best? The key is to focus on what you really want from an email marketing service. Make your choice based on what is most important to you and your business. For example:
If you want to try out an email marketing platform without tying yourself down to monthly costs, Sendinblue is hard to beat. The free option is full of features and with unlimited contacts and up to 300 emails per day included, it gives you plenty of reach. Sendinblue's free plan also gives you longer to build confidence than even Constant Contact's generous 60-day free trial. Plus, when you're ready to upgrade, you can save money with these coupons.
If you're looking for maximum flexibility, with your email designs, give AWeber a try. Aweber's template creator goes a step beyond the editing capabilities you get with Constant Contact. While you can build designs from scratch in Constant Contact, you need to know how to code HTML. AWeber's platform combines drag-and-drop simplicity with complete freedom to create templates as you please.
If you want to balance advanced functionality with ease of use, Benchmark's intuitive automation workflows are among the best around. While Constant Contact offers a handful of pre-built autoresponder options that can't be customized, Benchmark lets you create your own if/then conditions to automatically trigger actions. The drag-and-drop workflow engine and customizable templates are as easy to use as any content editor.
| | | | | | |
| --- | --- | --- | --- | --- | --- |
| | Free Plan | | Standout Feature | Best for | |
| Sendinblue | ✔ | | Feature-packed free plan and unlimited contacts. | Beginners and individual users looking for a freemium email marketing service. | |
| AWeber | ✔ | | AI-powered template creator. | Businesses who want complete control over mailout design without the need for advanced coding skills. | |
| Benchmark | ✔ | | Simple-to-use automation workflow templates. | Small businesses looking to maximize the impact of their email campaigns without the need for more advanced or expensive tools. | |
| GetResponse | ✘ | | Conversion funnel templates for end-to-end marketing management. | Larger organizations and pro marketers looking for more in-depth features beyond basic email campaigns. | |
| VerticalResponse | ✘ | | Flexible and intuitive email editor | Beginners looking for the easiest option for creating pro-looking emails. | |
FAQ
1. Is there a free version of Constant Contact?
Constant Contact offers a
one-month free trial
 but no 'freemium' plan. If you want to test out Constant Contact before buying, the trial period is great because it gives you access to all the features in the standard Email plan. After a month, however, you either have to pay or quit. If you want a free-to-use email marketing service without a time limit,
Sendinblue's free plan
offers unlimited contacts and a great selection of features which I would recommend trying out. Plus, don't forget you can save money with both services – just take a look at our
Sendinblue and Constant Contact coupons here
.
2. Which is better: Constant Contact or MailChimp?
In my opinion, Constant Contact beats MailChimp in most areas. While MailChimp is generally cheaper and offers better eCommerce integrations, Constant Contact's email and sign-up form creators/editors are quicker and easier to use, it has more than twice the number of templates available, and customer support is better. You can read the details about why we think
Constant Contact
 is a better option than MailChimp
in this review
.
3. Can you cancel Constant Contact?
Yes. To cancel your Constant Contact account, get in touch with the Billing Team by telephone. They will ask you to confirm your reasons for wanting to leave, but will then send you a link by email to confirm your cancellation. If you do this before your next billing period, you won't be charged anything more and you will be free to sign up to one of the alternatives I have recommended, like
Sendinblue
 or
Benchmark
. Just
take your pick from this article
, or take a look at
our list of the best email marketing services in 2020
.
4. Why should I look for alternatives to Constant Contact?
There are generally two main reasons to look for a new email marketing service – you don't feel you are getting value for money or you don't feel the tools or features suit your needs. With Constant Contact, the most common complaints are that it is too expensive, it lacks in-depth features (especially with automation and customizing templates) and that it is not always the easiest to use. If you agree with any of these,
take a look at the alternatives in this article
.
5. Which is better: Sendinblue vs Constant Contact?
For me, Sendinblue is one of the best email marketing services out there. It beats Constant Contact on the quality of its templates and editing options, its automation and list management features. Plus, it is still easier overall for complete beginners to get started with. You can read why we think Sendinblue is so good in this
in-depth review
. Best of all, Sendinblue offers great value for money. If you are just getting started with email marketing,
Sendinblue's free plan
is the best option available, offering great access to features and unlimited contacts.