Skip ahead to find out the secret to hiring a designer for the same price as a cup of coffee
. Fancy making your own logo instead? Swap the caffeine kick for an inspiration buzz with some of my favorite coffee-inspired logos, before scrolling down to see which free logo maker I always recommend.
9 Best Coffee Logos
Can You Really Get an Original Coffee Logo for $5?
A professional graphic designer can turn a boring logo idea into memorable artwork that instantly entices your customers. On Fiverr, you can recruit the services of an expert logo designer for as little as $5. Fiverr is a popular online marketplace connecting thousands of freelance professionals with customers like you. They offer a variety of services (called gigs) for budget-friendly prices. When you can find a pro for $5, there's no excuse not to give it a try!
I first found about Fiverr when my teammate was testing popular design services to find a new logo for Website Planet. It was impressive to see which high-quality logo options came with a small price tag. Read all about it in his
full comparison of logo design services.
Finding a Designer on Fiverr
Fiverr's user-friendly website makes it super-easy to find your perfect designer.
Go to the Fiverr homepage
 to get started. Hover over
Graphics & Design
, then select
Logo Design
under
Logo & Brand Identity
.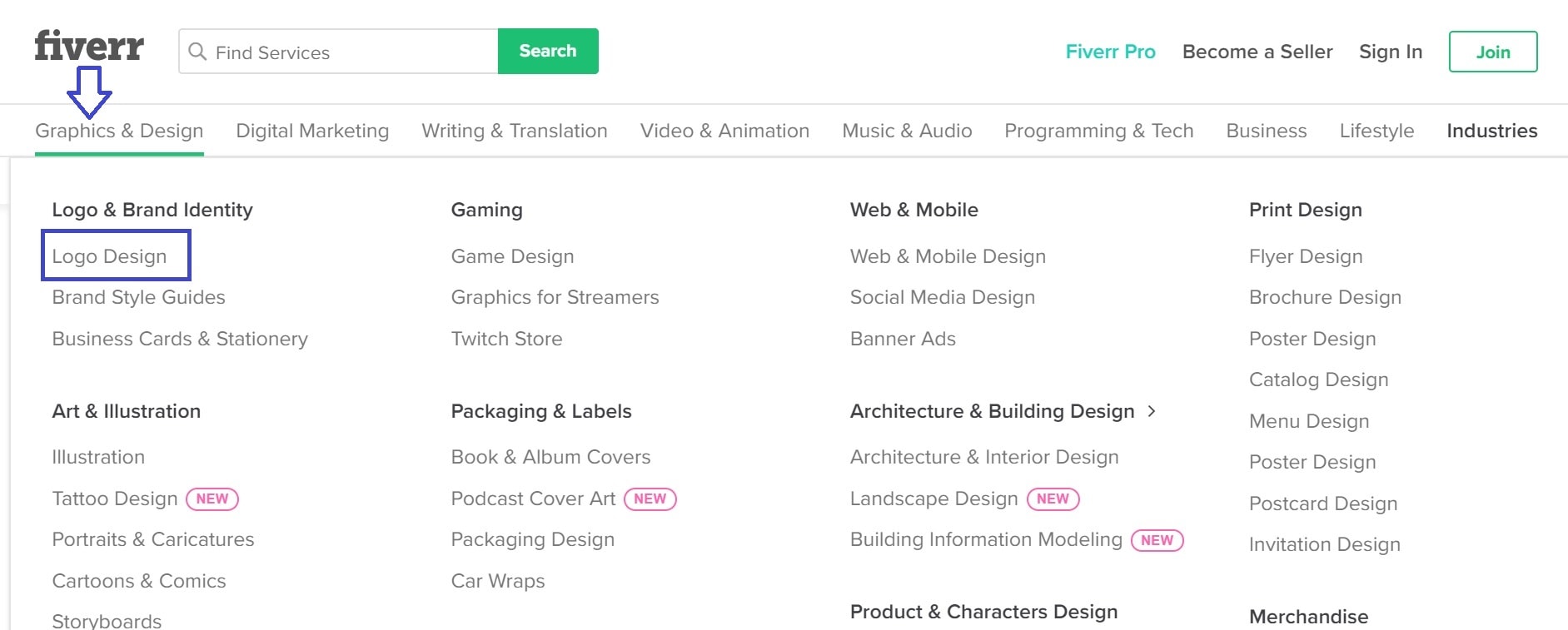 At this point, you can either let the Fiverr wizard help you search by answering a few questions or jump straight in and use the search box to look for a keyword (e.g., coffee logo).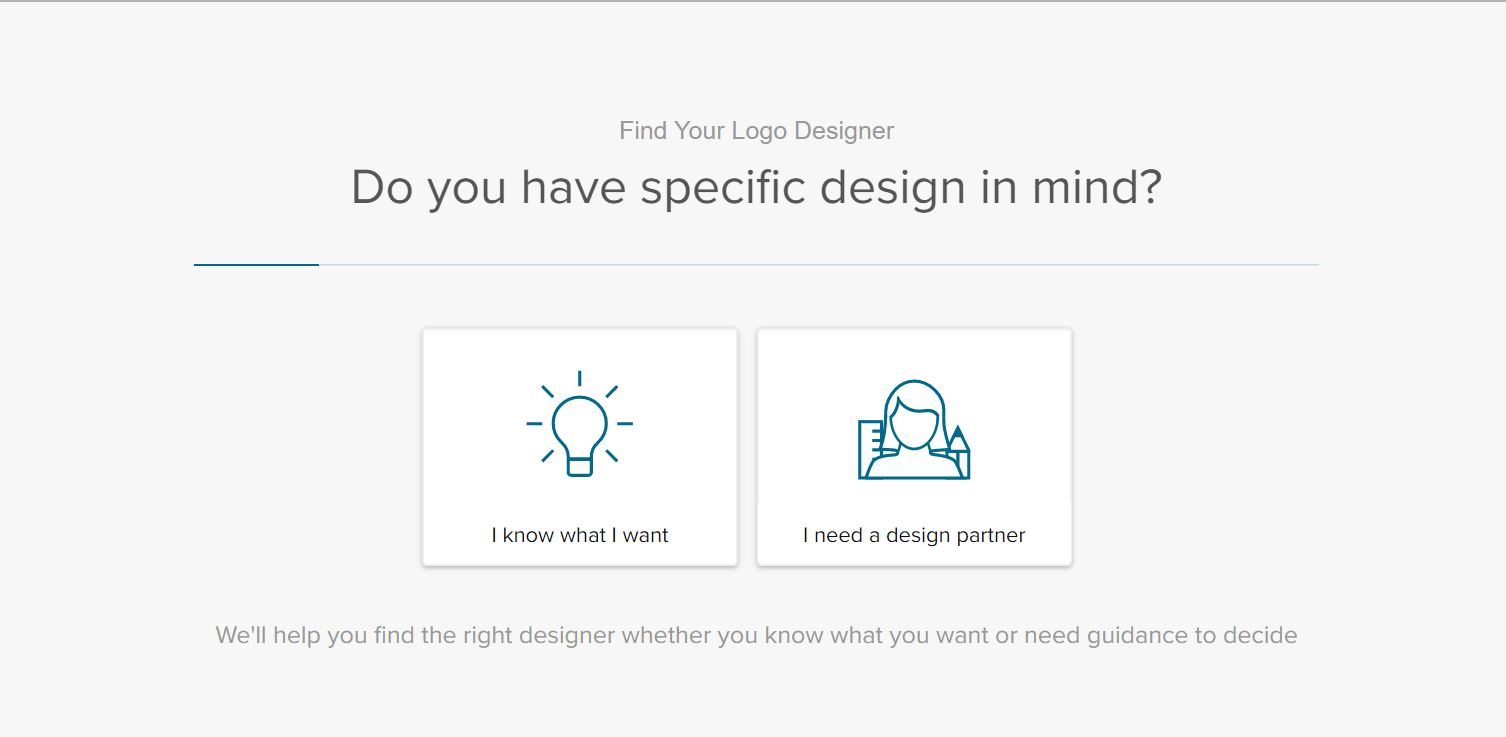 Save even more time browsing by narrowing your results with search filters – you can specify logo style, delivery options, price range, and seller details.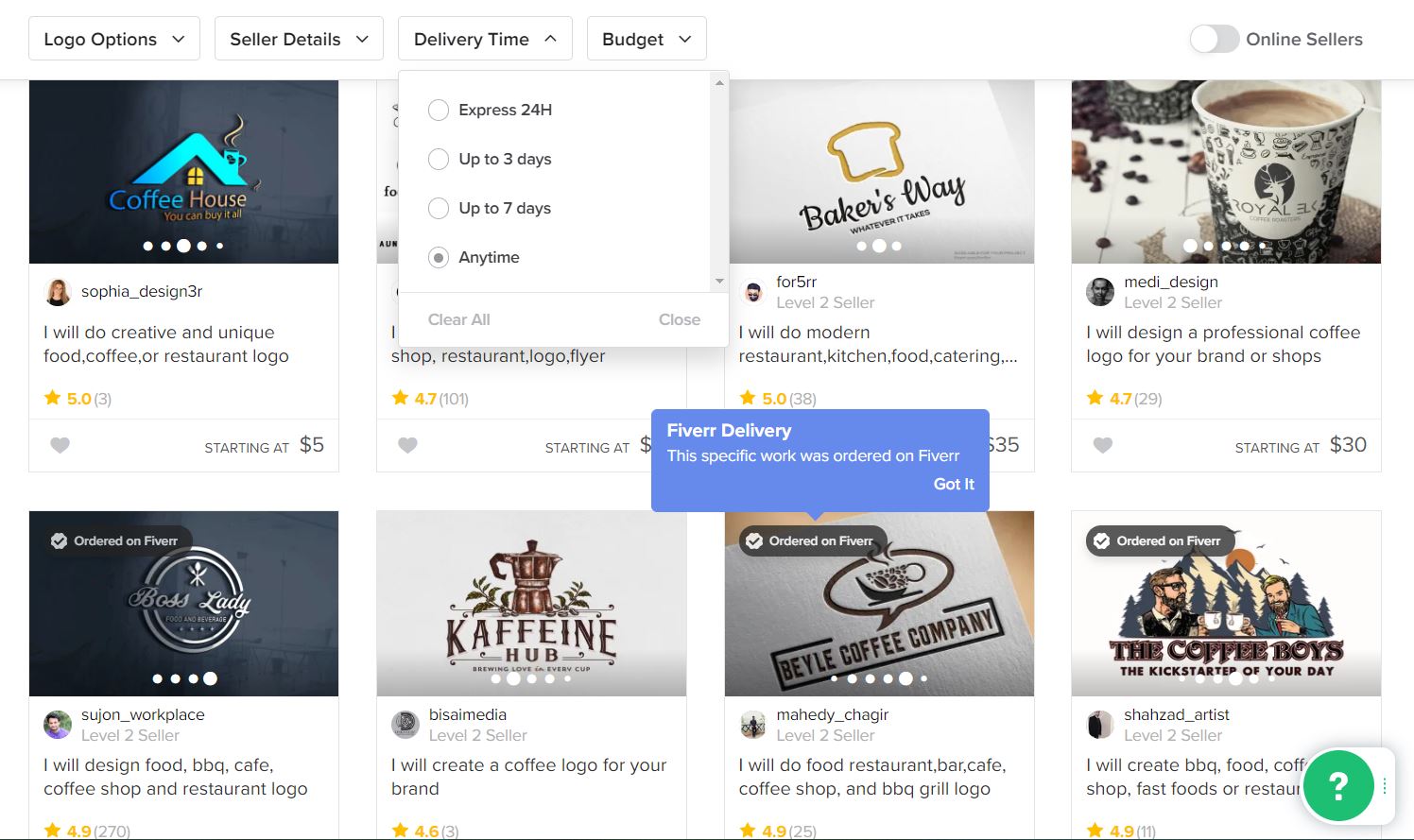 Get more tips from our experts on hiring the right designer in our
in-depth Fiverr review
.
Key Fiverr Features
Safe payments – Fiverr keeps your payment secure in escrow and it won't be released until you approve the final design.
Quick delivery – Most designers on Fiverr can provide your logo within 48-72 hours, but some offer 24-hour delivery for an added charge.
Free to browse – It's free to look through seller portfolios to check their ratings and customer feedback.
Different packages – Sellers offer multiple gig packages to suit a variety of budget needs.
Free mobile app – Fiverr has its own app with a messenger so you can easily keep in touch with your designer.
How to Make Your Own Coffee Logo
Good coffee takes a little time to brew and the same goes for logo ideas. Using "Free" logo makers can work out more expensive than hiring a cheap professional (when you take into account the cost of file downloads), but if you have time, motivation, and creative vision, they're often simple to use and require zero technical expertise.
What's Good about Wix Logo Maker?
Wix Logo Maker is my preferred tool. Its user-friendly interface and artificial intelligence (AI) driven system makes it quick and easy to create an attractive logo. To get started,
go to the Wix Logo Maker homepage
 and create a free account by clicking
Start Now
.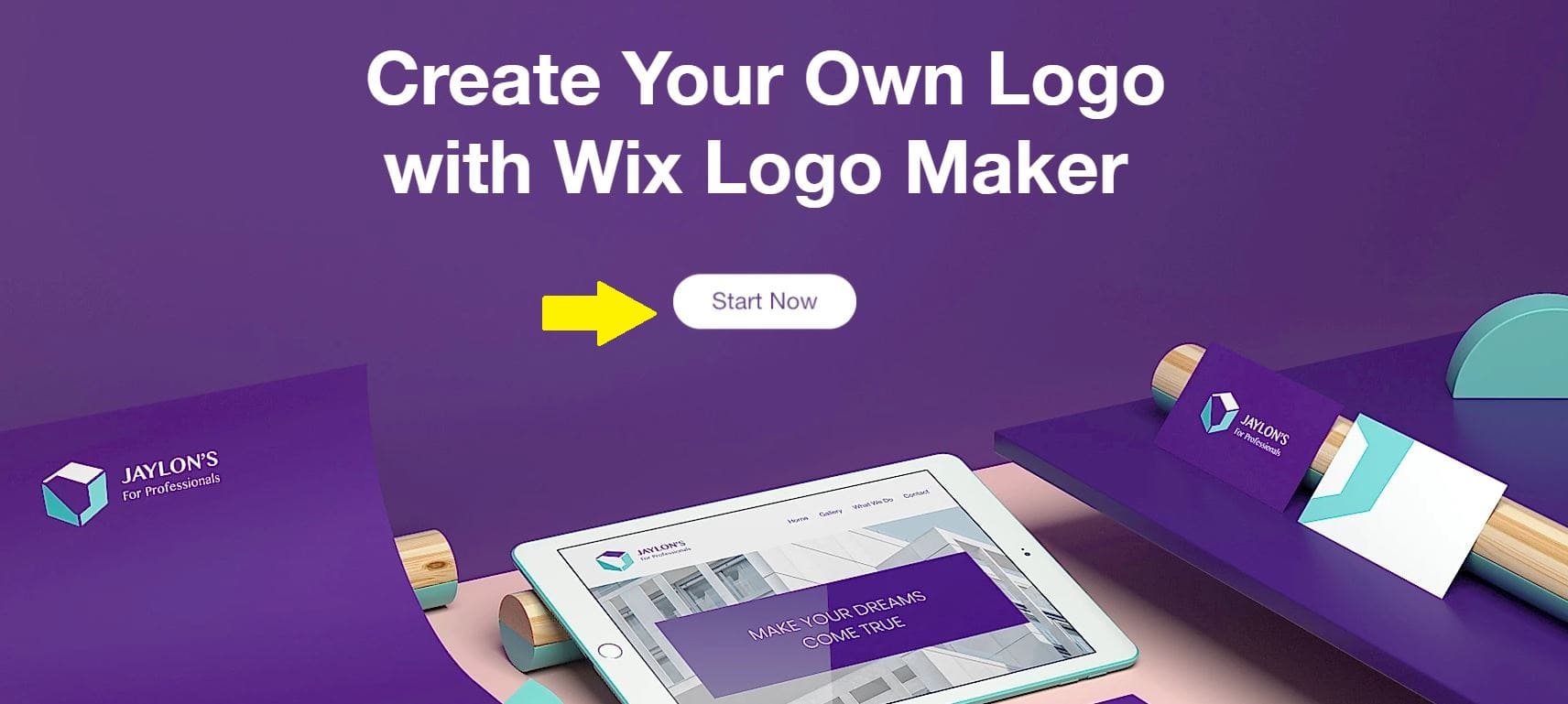 The wizard will help you with the design process by asking you simple questions about your business and preferred design style. Then it generates a list of logo templates it thinks you might like. Get more coffee-related icons by clicking on
Replace Icon
and searching for a keyword (e.g., coffee or mug), then choose the one you like best to apply it to all the results.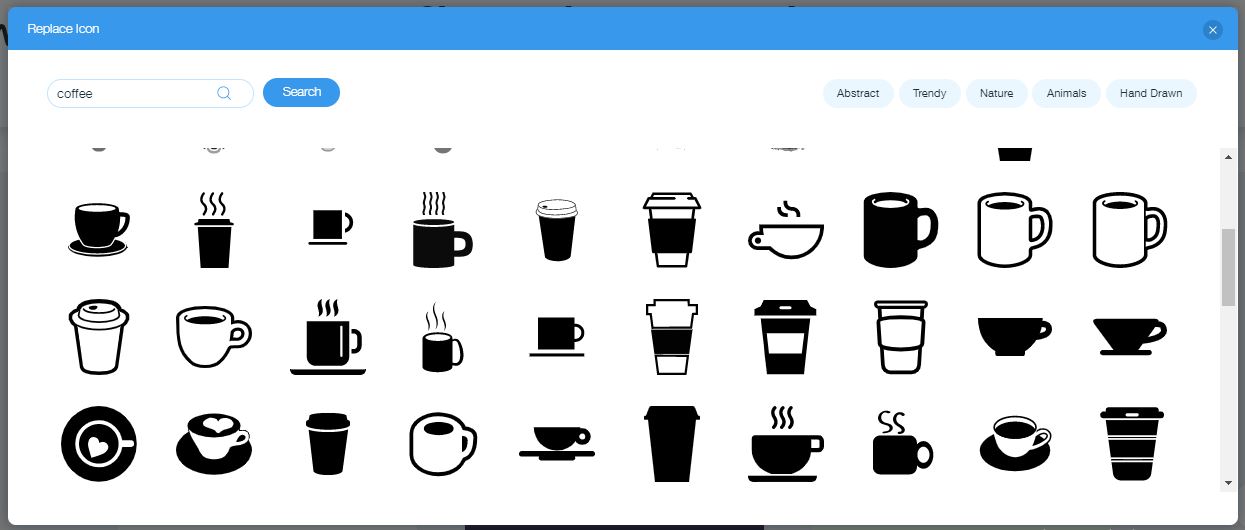 Utilize Wix Logo Maker's comprehensive customization tools to infuse more vibrancy into your logo design. You can adjust positions, change colors, and modify font styles, opening up a realm of virtually limitless possibilities.

Ding! Your coffee logo is ready to go. Hit
Next
to go to the payment section and download your logo in multiple high-quality formats or get a free sample in a low resolution. Want to learn more about the platform? Read our
full Wix Logo Maker review
 for more example logos.
Alternatives to Wix Logo Maker
Tailor Brands has a seasonal logo generator to create themed versions of your coffee logo relating to all the special holidays. Learn more about its features in our expert Tailor Brands review.
DesignEvo has its own desktop and smartphone app, so you don't have to rely on your browser and you can create your logo on the move. See logo examples in our in-depth DesignEvo review.
Create a Buzz with a Stunning Coffee Logo
Your coffee logo should bring a lot of energy and be unique enough to help you stand out. For the best possible design, you can't beat hiring a designer on
Fiverr
. Not only are they budget-friendly, but you can also save yourself heaps of time and effort by delegating to a pro. If you want to put in some creative elbow grease with a DIY coffee logo,
Wix Logo Maker
is your best bet. Before you start, grab a good cup of coffee yourself and browse some famous coffee logos from the big chains to see what works well in the industry. Coffee imagery not quite right for your brand? Check out our round-ups of the
best food logos
for more tasty inspiration. For more logo maker options, don't miss our list of the
best logo design services
.