you need to make sure your own brand is looking its very best
—starting with your clothing line logo! Read on to explore 9 awesome logo examples or
jump down to learn how to get your own logo for a great price
. Need more creative inspiration?
See some famous fashion logos below.
9 Best Clothing Logos
How to Find a Logo Designer for a Great Price
Although there are now
more tools than ever for DIY logo design
, not all of us want to do it ourselves! If you'd rather hire a pro to do the heavy lifting and create a clothing line logo for you, one great solution is to
hire a logo designer on Fiverr
.
How Fiverr Works for Logo Design
Fiverr is an easy way to find freelance logo designers online
. Although $5 is the kicking-off point, you'll find a wide variety of prices and experience levels on offer. We tested designers from very different prices ranges to see what kind of quality you can expect.
Click here to read the full review
 or watch the video below.
Before starting your "Gig" (Fiverr's words, not ours!), you can browse thousands of designer profiles, including:
Design portfolios
Package/pricing options
Average response time
Customer reviews
Once you're ready to move forward,
you'll have two main options for hiring
: you can post a request for freelancers (or "Sellers") to apply to, or you can find and hire a Seller directly. Fiverr also offers a helpful logo design wizard to narrow down your requirements and filter your Seller results. After reviewing and/or messaging your favorite Sellers, you'll choose who to hire and get the Gig started! All of the details regarding your logo, including file formats and return date, must be worked out between you and your chosen Seller.
What's Great About Fiverr?
Thousands of logo designers from around the world
Wide variety of price points, deadlines, deliverables, and experience levels (with convenient search filters)
Built-in messaging system to easily interview designers before hiring
Optional choice for "Fiverr Pro," which connects you with vetted logo design professionals
How to Make Your Own Clothing Logo
Prefer to create your own logo? Excellent! Now it's time to take your own ideas about color, type, and layout and put them to use. To create a clothing line logo for yourself, try out
Tailor Brands (click here to read the full review)
. This user-friendly, AI-driven platform generates custom (and customizable!) logos based on the information you share. To see how it works, watch the video or continue reading below.
1. Enter your business name.
To get started,
go to the Tailor Brands homepage
. Then, type in your business name and click "Design." If you have a tagline to display with your logo, enter that here, too.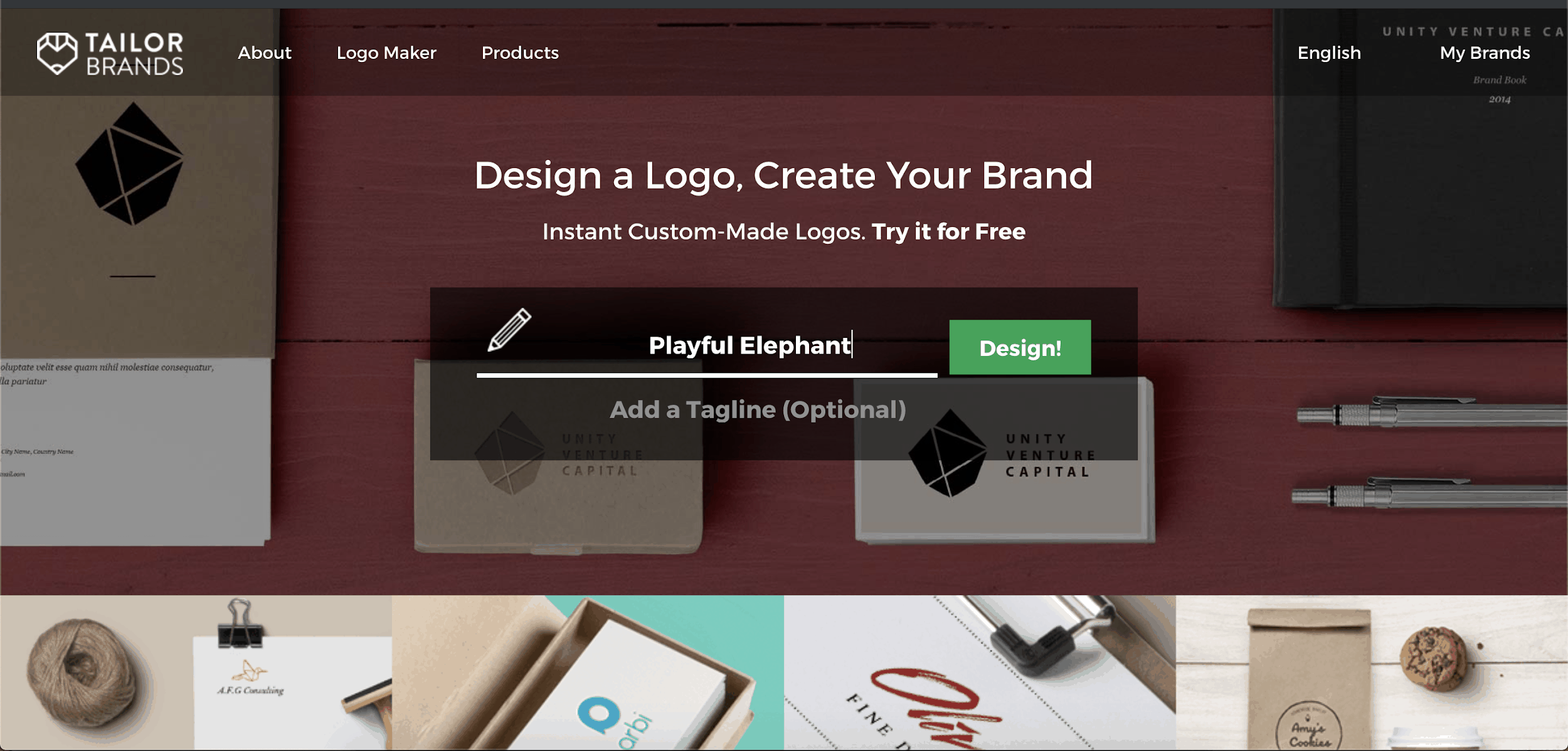 2. Share some details.
Under "Enter Your Industry," start typing and then choose the most appropriate match from the drop-down menu that appears. In the textbox below, write more about your business and target audience.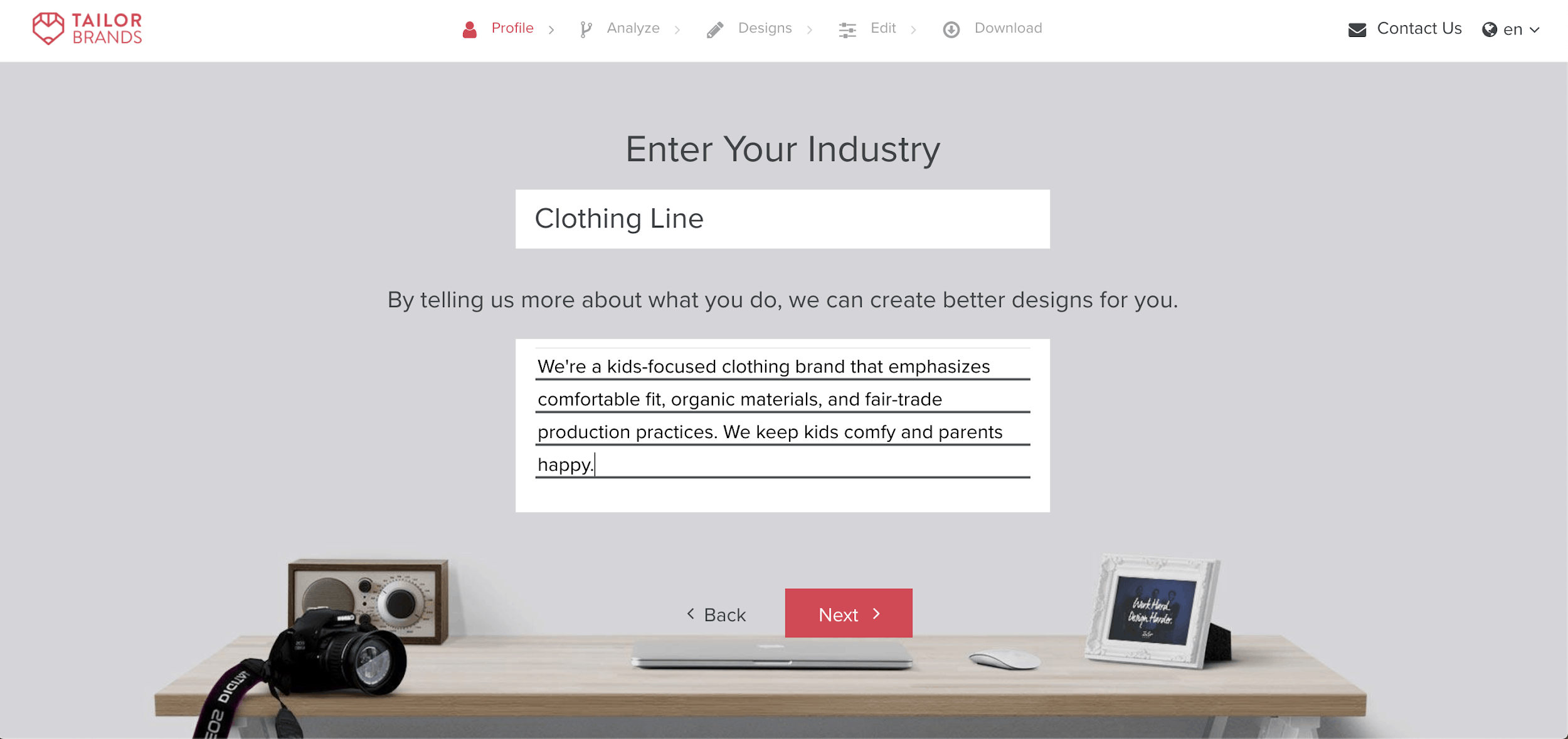 3. Choose your logo type.
Next, you'll be presented with three types of logos: name-based, icon-based, and initial-based. Simply click on the style you prefer.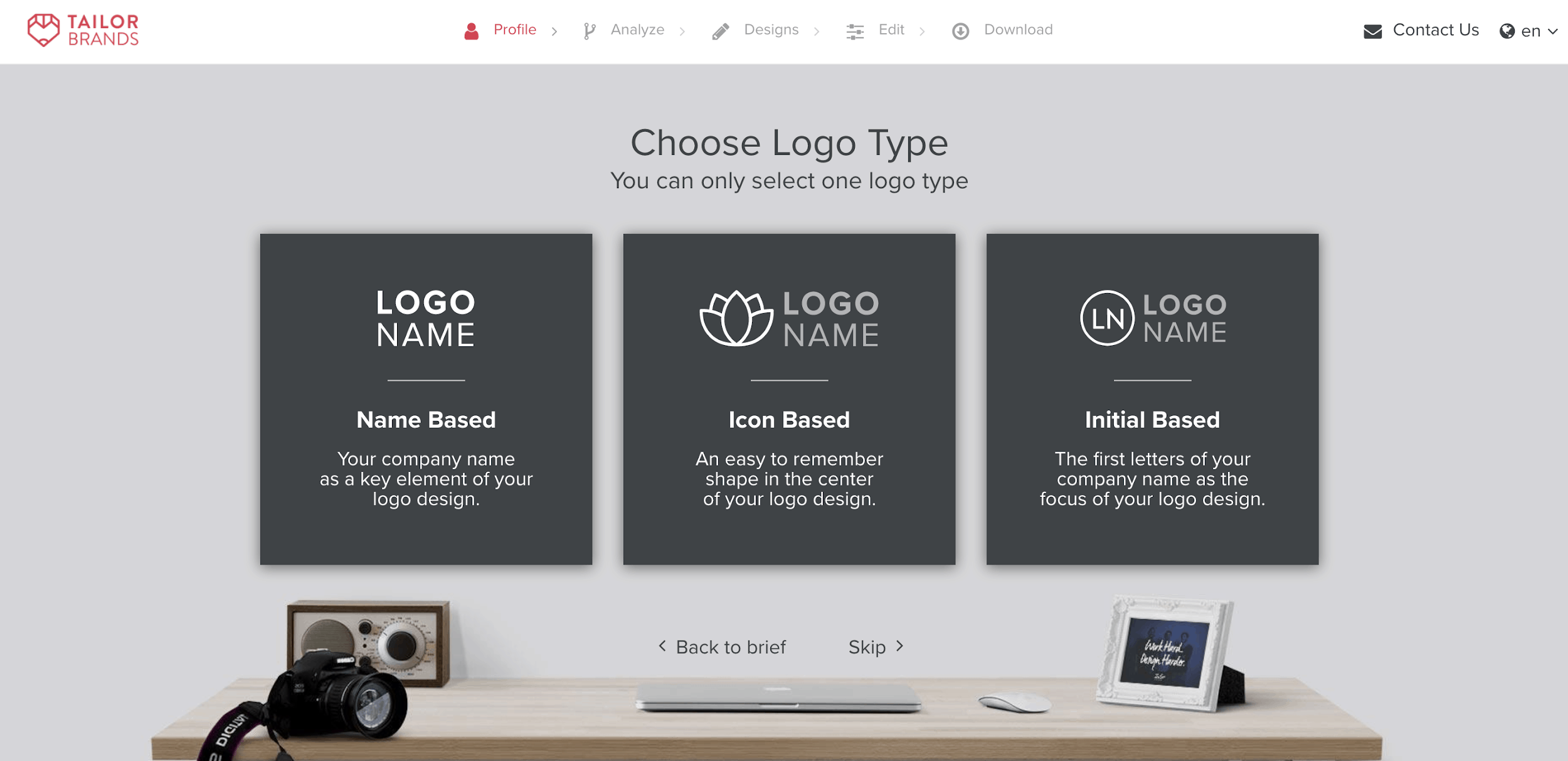 Expert Tip: Although simple name-based logos can be effective (Madewell, anyone?), many clothing brands prefer logos with both text and an icon. That's because this type of design provides three different choices for display: as the wordmark and icon together, as the wordmark alone, or as the icon alone. With that versatility in mind, we typically like the icon-based logo option here.
If you do choose an icon-based logo, you'll be prompted to select the type of icon you prefer: one you've chosen yourself or an abstract shape generated by AI.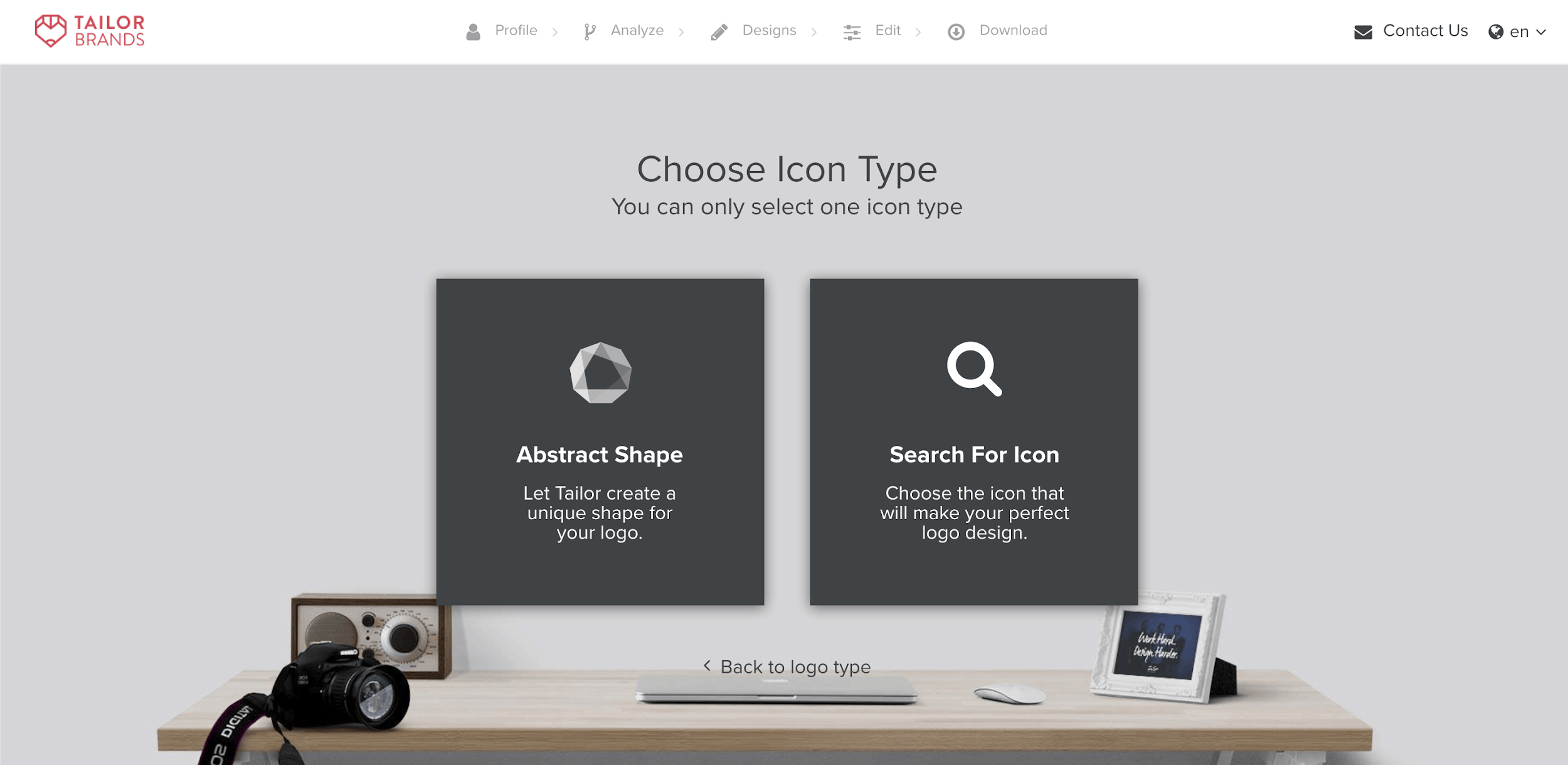 To choose your own icon, search for any keyword and then click your favorite from the selection below. Don't worry too much; you can always change your selected icon in the editor later.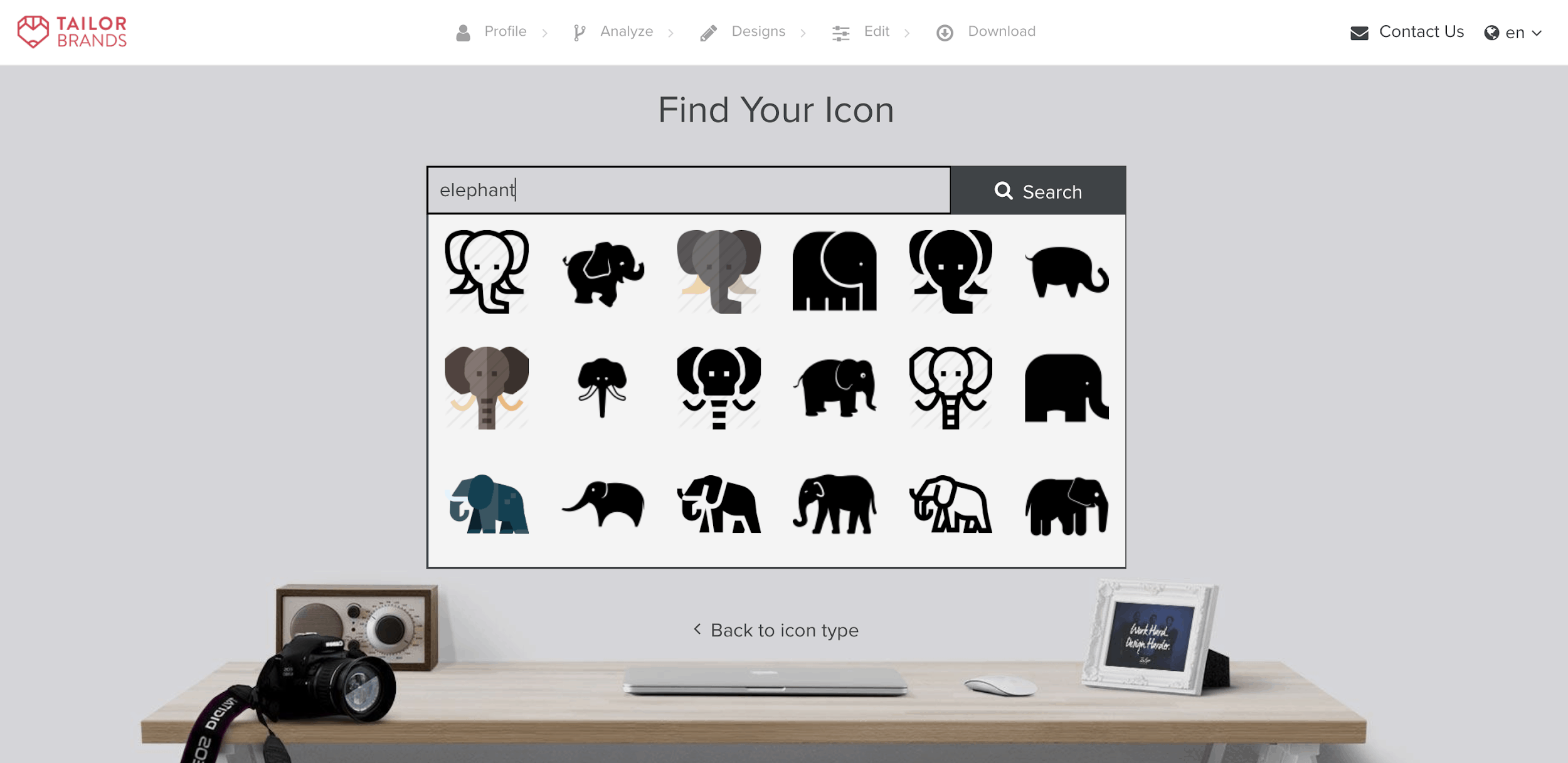 4. Vote for your favorite fonts.
Next, you'll be presented with a number of font sets to choose from. Click to vote on which font you prefer between each set of two. (If you don't like either, you can say that, too.)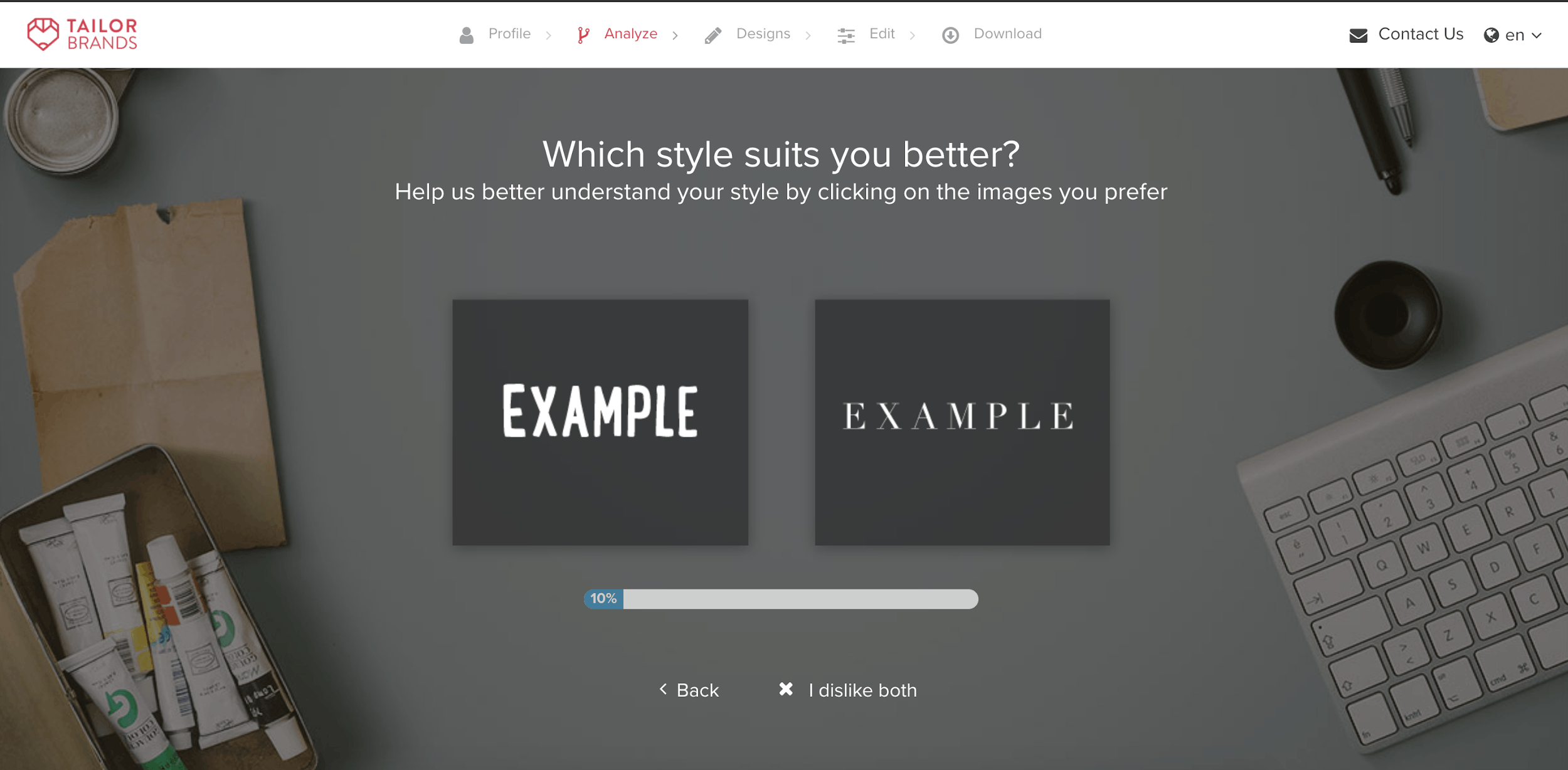 Expert Tip: Fonts are incredibly important in terms of capturing your brand identity and connecting with the right audience of wearers. For instance, our made-up kids' clothing brand Playful Elephant probably shouldn't use a very elegant and serious-looking script font.
5. Sign in to view your generated logos.
After you've voted on fonts, the AI will generate several logos for you in less than a minute. In order to move forward from here, you'll need to
create a free account
and sign in.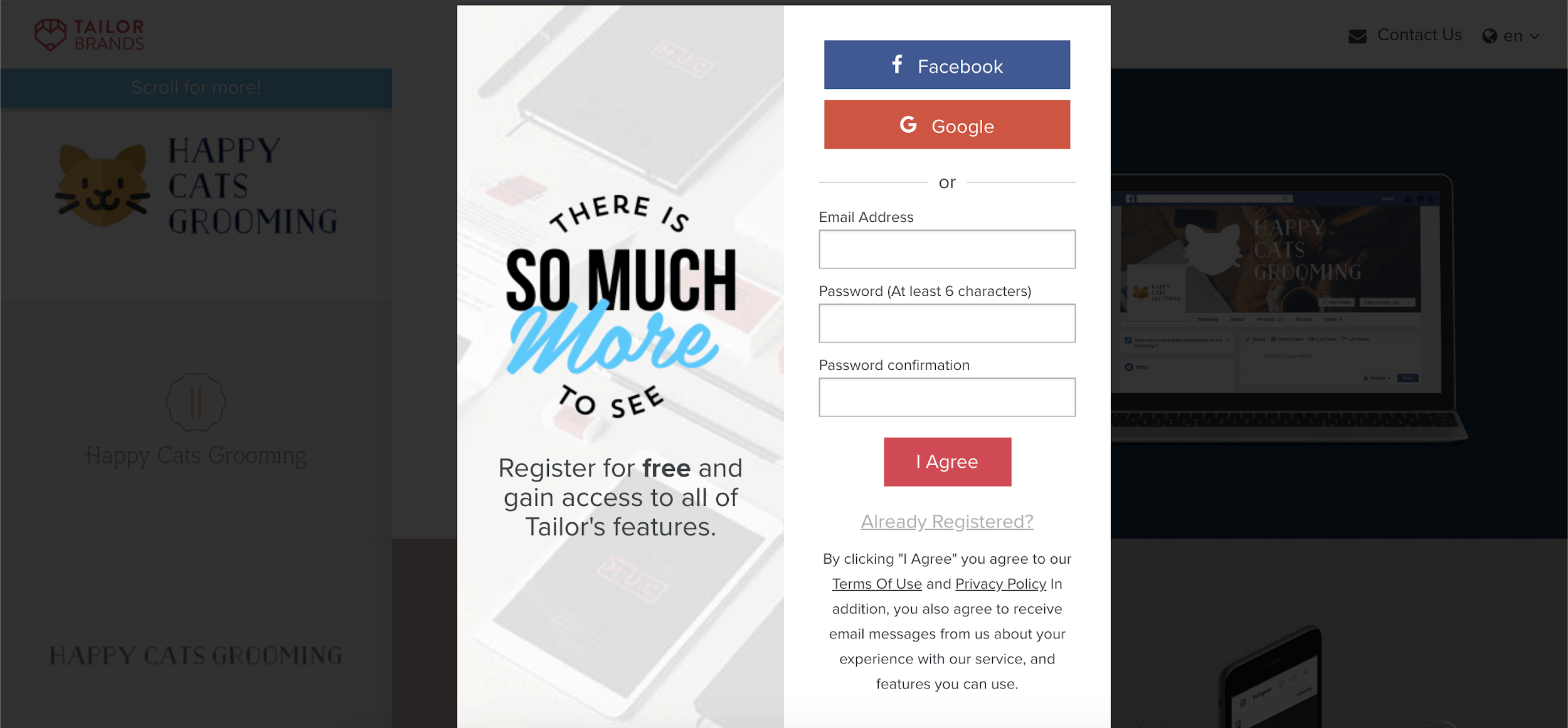 6. Review your logos and customize.
After signing in, you can scroll through the generated logos on the left and choose the one you like best. Then click
Love it
! to immediately use the design as is or
Customize
to make your own design changes.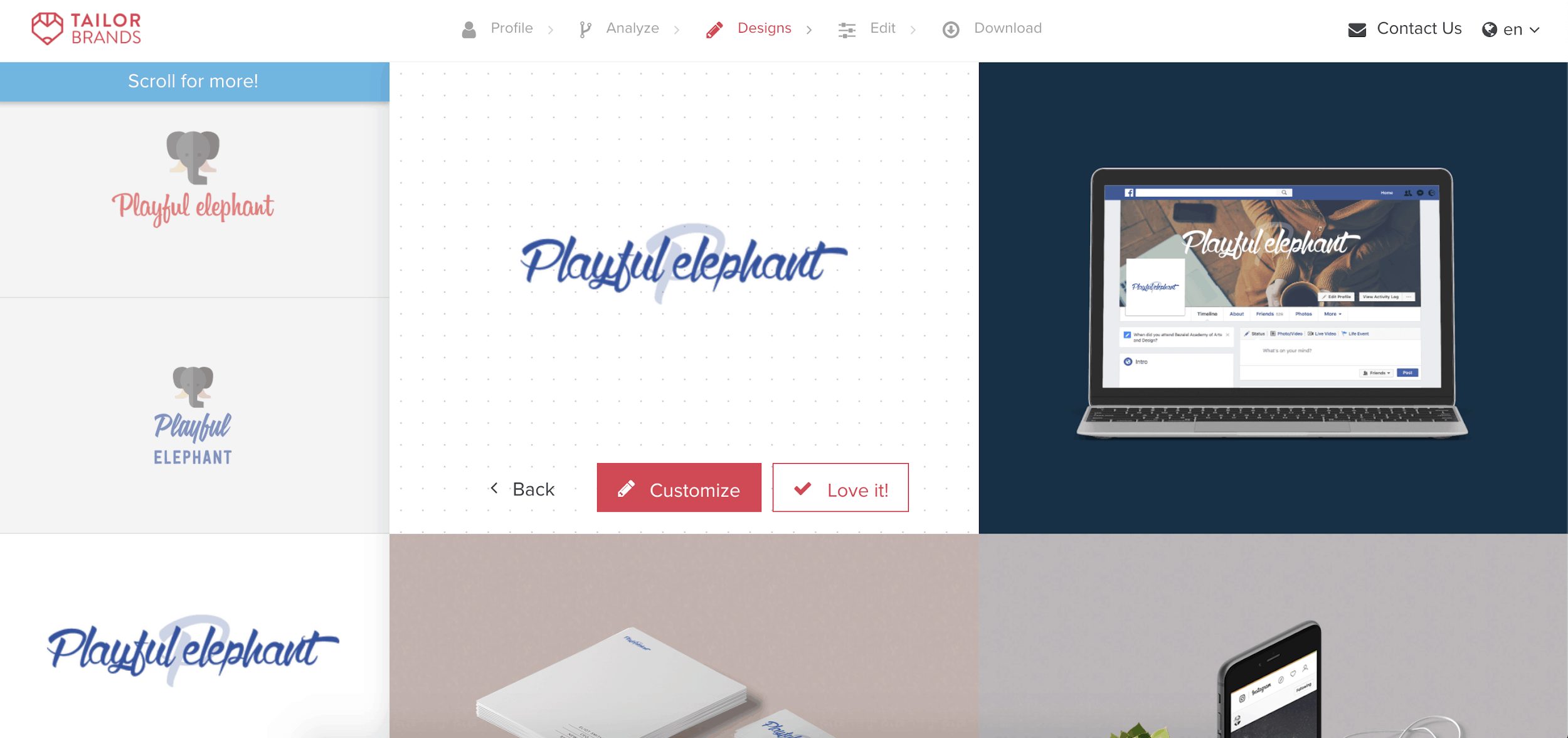 By clicking "Customize," you'll be presented with a variety of editing options, including font, letter spacing, color palette, and alignment. You can even search for a new icon altogether.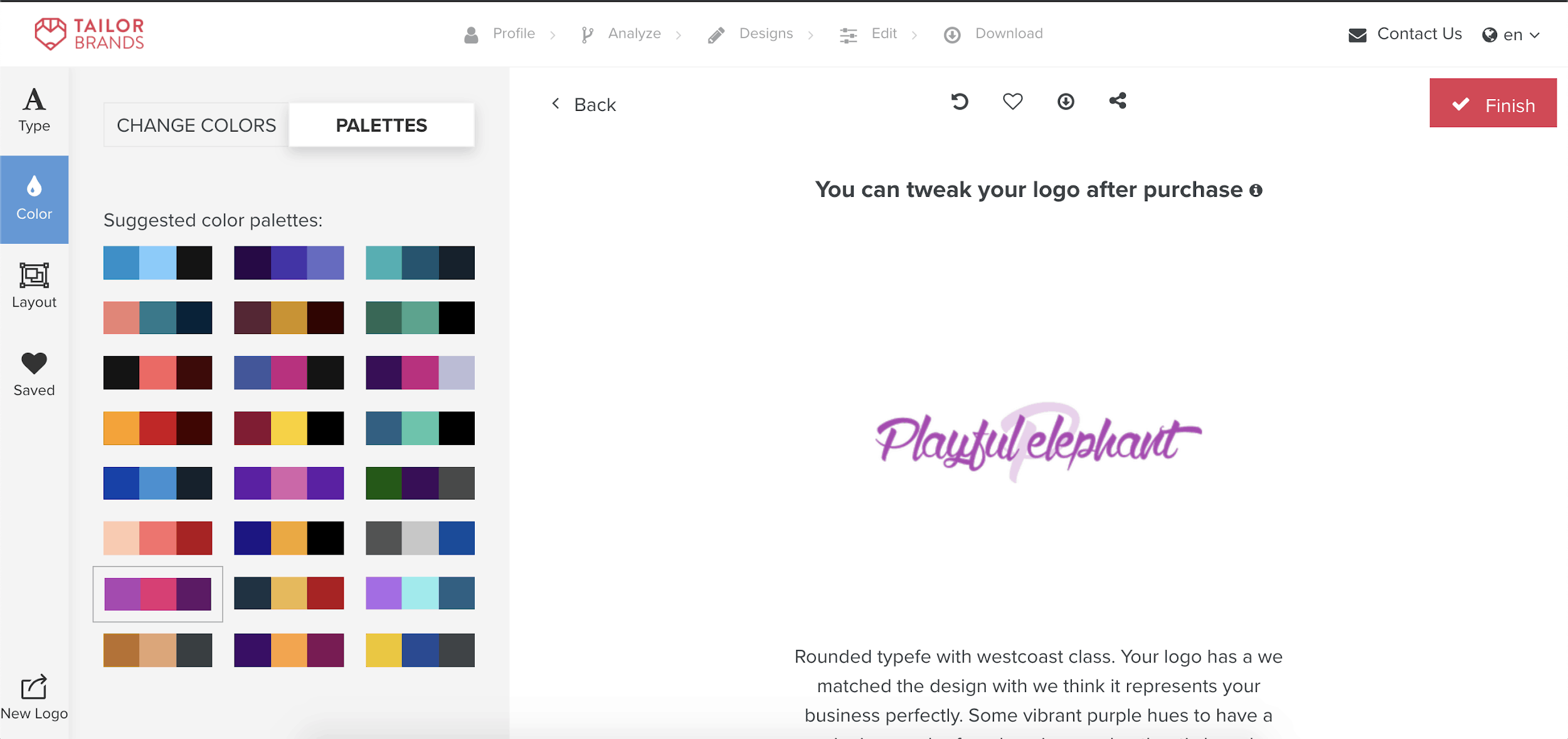 Expert Tip: As you play around with customizations, consider how your logo will size up or down. If the image is too complex, the lines too close, or the colors too similar, the logo may not translate well on finer applications (like chest logos or handbag details). Keep this in mind to create a fashion logo that's versatile!
7. Download and go!
Once you're happy with your new logo, click "Finish" to finalize the process and download a vector file. Note that before receiving your logo, you'll have to choose and purchase a subscription plan.
And that's it
! That's all it takes to use Tailor Brands to create a clothing logo of your own. Now you're ready to download your new logo and use it on business cards, website branding, clothing tags, and more.
Curious just how different Tailor Brands' logos can look
? After no more than 15 minutes in the customization editor, we generated several very different looks for our kids' clothing line: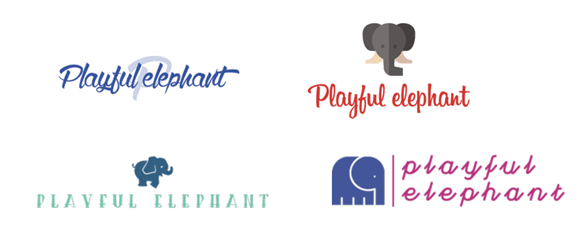 Tailor Brands Alternatives
If Tailor Brands doesn't seem like the best choice for you, try one of these logo design alternatives instead:
With Wix Logo Maker, you can create and customize your logo for free and then choose how to pay: through an ongoing subscription or a one-time fee—both of which are quite affordable.
Looka offers a number of attractive one-time payment options based on the type of logo files you need. You can choose a basic PNG, multiple editable files, or even a fully branded social media kit.
Canva's logo design tool offers the added benefit of online collaboration. You can get a link to share your design for feedback or even direct editing from collaborators.
Get Inspired by Famous Clothing and Fashion Logos
These 10 brands have mastered their logo design and earned a spot in the hearts (and closets!) of wearers around the world.
1. Nike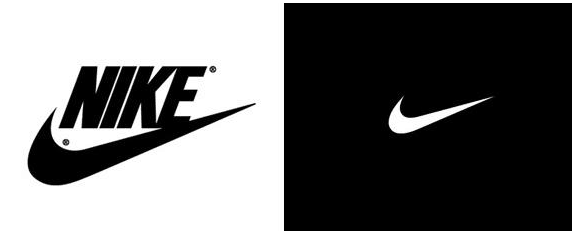 Why not start with the obvious? Nike has become
the
textbook example of how to create a clothing logo. Nike's iconic swoosh embodies many of the most desirable traits in a logo: simplicity, versatility, and consistency. The logo works in any size and color, and it's simple enough that even kids can draw it from memory!
2. Michael Kors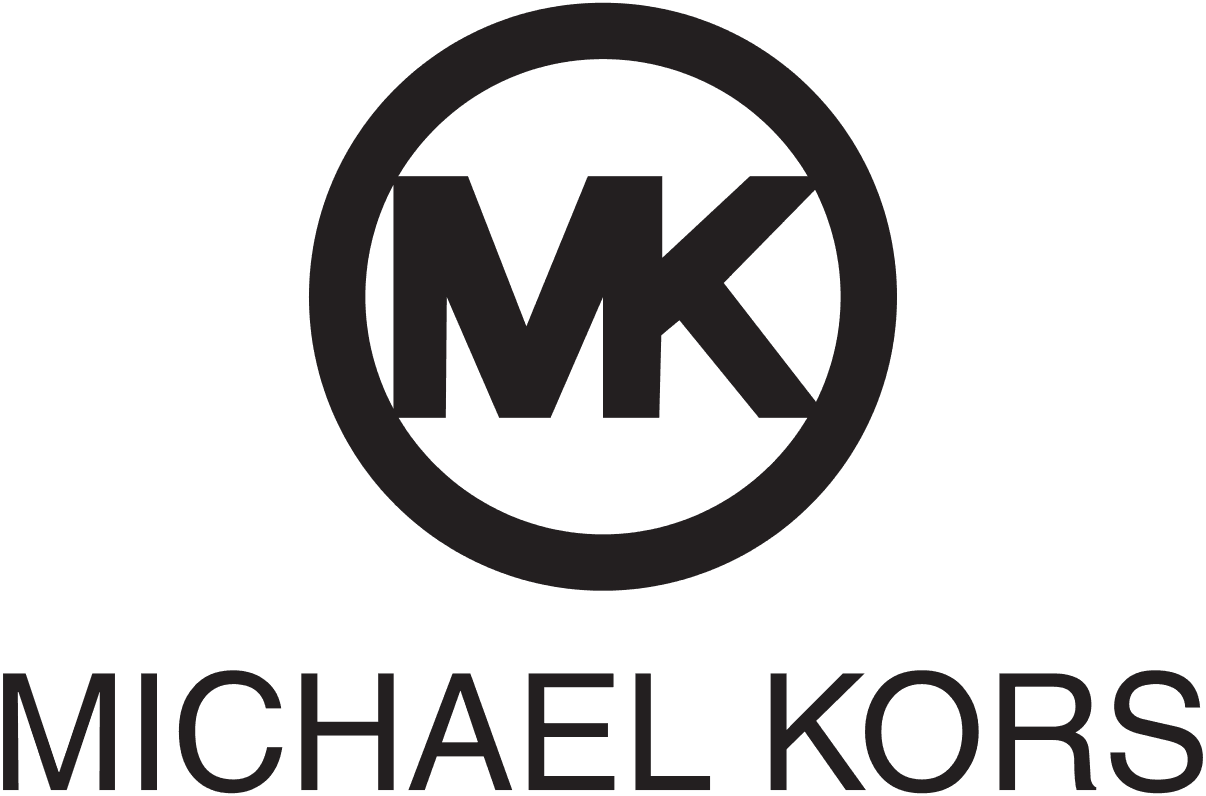 As the Michael Kors logo demonstrates, you don't have to invent a brand-new shape to be memorable! Taking a "less is more" approach, this logo joins an
M
and a
K
to create a letter-based form that's both new and immediately understandable. From a functionality standpoint, this simple logo also translates well to purses, shoes, jewelry, and clothing.
3. Dot Dot Smile
There's a lot going on in this fun logo, but it definitely works for a children's clothing brand! The logo exudes playfulness by incorporating bright colors and geometric shapes that recall kids' first play blocks. Its use of two blue dots next to the
D
further reinforces the company name.
4. Madewell

Although it has no imagery or color, Madewell's logo still manages to evoke plenty of feeling in its viewers. With handwritten lettering of uneven widths, this text-based logo gives off an old-timey, all-American vibe that reflects this brand's focus on classic staples like denim and layered tees.
5. Patagonia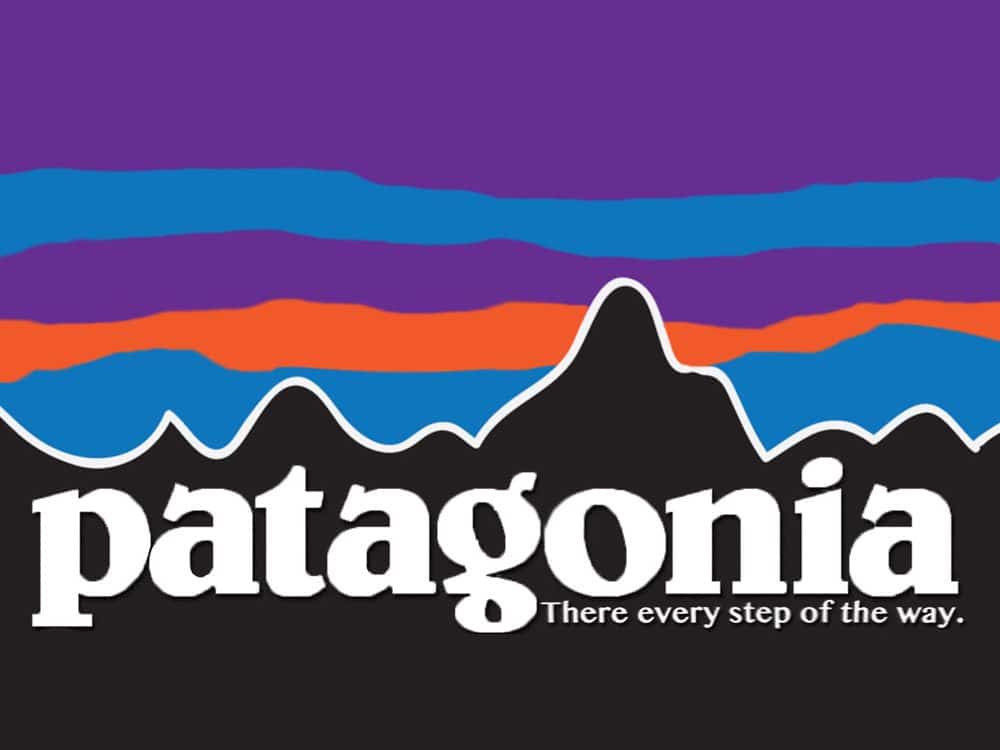 With its vibrant colors and strong lines, the Patagonia logo is highly recognizable and does a great job of reflecting the brand's outdoor focus. The logo's shape and style are evocative of traditional hikers' patches, and its retro-ish typography subtly harkens back to the adventurous spirit of the "good old days."
6. Yatay

This shoe brand's logo shows how type and shape can be cleverly combined to create an appealing design—all while reflecting the company's core values. Yatay's focus on 100% sustainable sourcing is visually represented through the T-shaped palm tree, smartly placed right in the middle of the mark. The clean symmetry also gives off a very modern vibe.
7. Under Armour
The Under Armour logo may not be quite as iconic as the Nike swoosh, but it's a real study in how to create a fashion logo that's simple yet smart. Its two symmetrical curves interact to create the
U
and the
A
, while the font below is squarish enough to feel solid and strong yet rounded enough to suggest fluidity and movement—characteristics that every athlete can appreciate!
8. Curvy Beach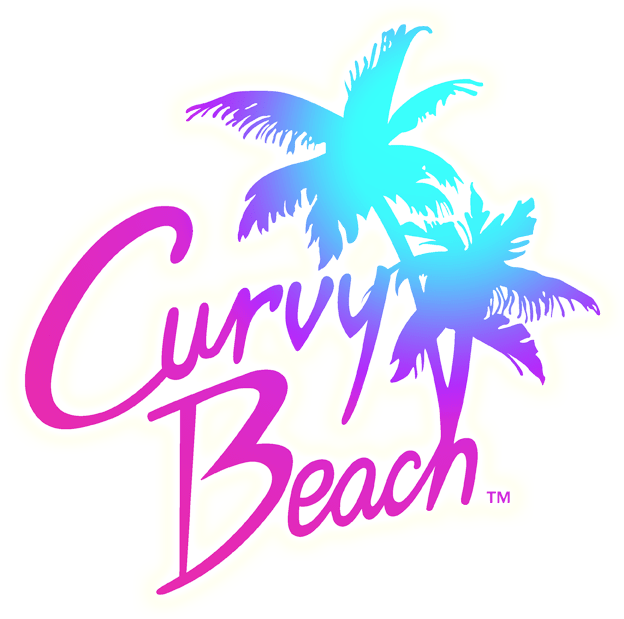 Curvy Beach's pink-blue gradient immediately recalls the height of 80s and 90s beach glamour, with a pop of Barbie and Lisa Frank vibes. In just a glance, this logo perfectly captures the unapologetically confident, bold women who would wear this brand's fashion-forward, body-positive swimsuits.
9. Rent the Runway

Rent the Runway's logo relies on well-placed geometric lines to draw the eye down from
R
to
T
to
R
. What's extra fascinating about this logo is that in digital applications, it actually moves! The lines rearrange themselves several times before landing on this static logo, mirroring how a woman's closet is constantly changing through their clothing rental service.
10. Levi's

No list of clothing logos would be complete without Levi's! Although the logo has evolved over the decades, it retains its powerful dark red color and iconic shape, which recalls the tag's original use as a sewn-in label for jeans. The logo is simple yet striking, with an unexpectedly playful addition of the lowercase e.
*Website Planet is not affiliated with any of the clothing brands above.
The Bottom Line: How to Create a Clothing Brand Logo That Sticks
Your clothing line logo resembles the clothes you sell in several aspects. Similar to clothes, you should consider your brand's logo as an expression of yourself, your identity, and your unique qualities that set you apart. Whether you primarily rely on color, shape, or typography, the fact is that there's really no "ultimate lifehack" to create a fashion logo.
All that matters is that your clothing logo tells your unique story to your target audience
. For a custom logo that really stands out,
Fiverr
is an excellent choice. So take a page from some of the top fashion brands above, check out the
best design platforms out there
, and get out there to create a clothing logo that sticks!