selfies
. Whether you're in the security industry or launching a photography business, a great camera logo design should be creative and easy to remember. Just like a photographer knows how to frame, capture, and edit the perfect photo, a professional designer will know how to make a great looking logo. And you don't have to spend an excessive amount of money for a pro. If you're feeling creative, scroll down to see my top recommended DIY logo maker. Meanwhile, enjoy my round-up of camera logos from around the web.
9 Best Camera Logos
How to Hire a Great Designer for a Great Price
There are many elements to the perfect logo design. What style best matches your brand: vintage or modern? Would bright colors or a muted pastel palette work best? What about the font? An expert designer knows how these small details can make the difference between a memorable or forgettable logo. Hiring a pro
can
be affordable if you know where to look. My go-to marketplace for the budget-conscious is Fiverr. Here, you can hire a professional freelance designer for as little as $5. Yes, really.
We put several major logo design services to the test during our search for a new Website Planet logo. The results were pretty impressive – and there were a few surprises! Read all about it in our
full comparison of logo design services.
Using Fiverr to Find a Camera Logo Designer
Navigating the Fiverr website is pretty intuitive. To start looking for a designer,
go to the Fiverr homepage
 and type in a relevant keyword (e.g., camera logo) in the search bar.

When your results appear, go into the filters at the top of the page, expand the
Category
menu and select
Logo Design
.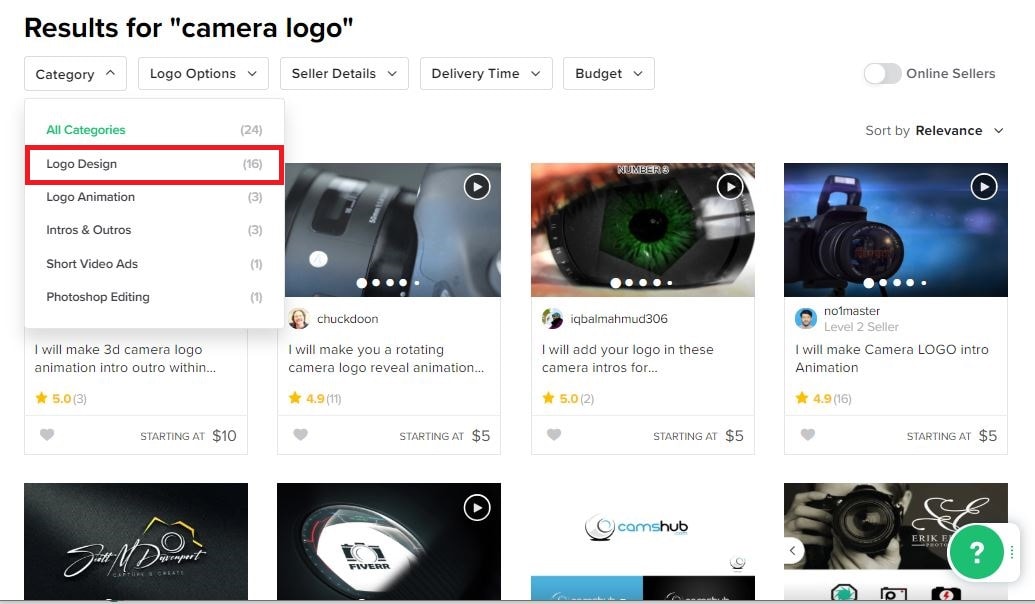 Fiverr's other advanced search filters can be used to narrow down your results. You can refine designers based on types of logo, preferred delivery time, budget, and seller details (including their location, language, and experience level).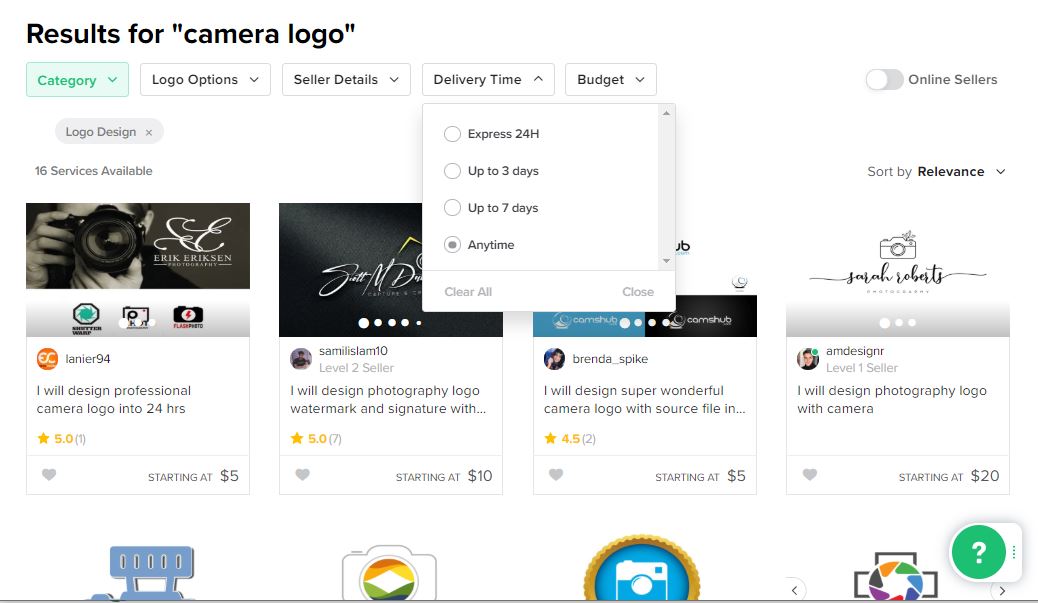 Click on a designer you like to take a closer look at their portfolio and check out their ratings by other users. You can also message the designer before committing to one of their packages.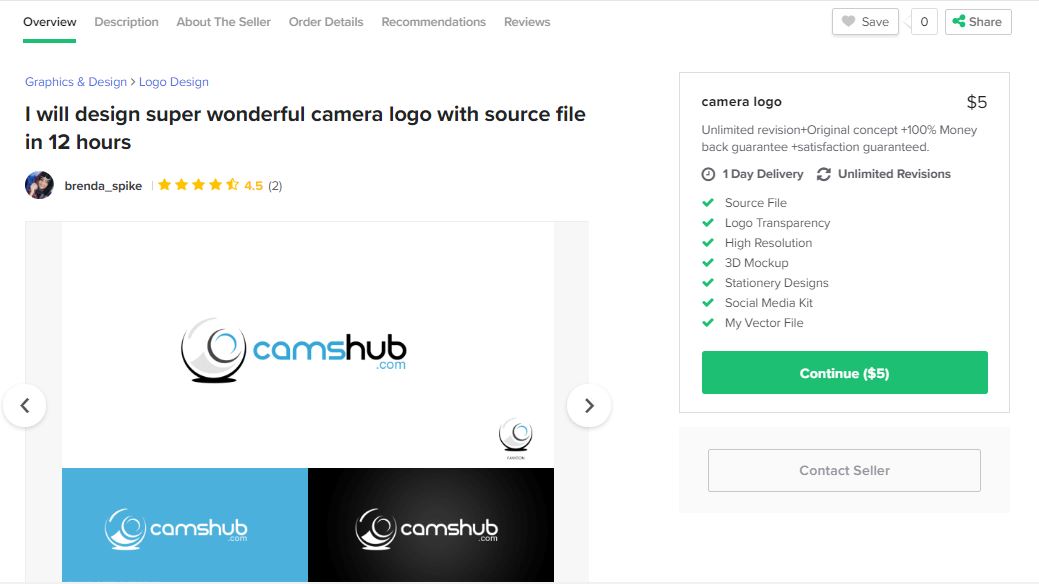 Think hiring through Fiverr could be the best option for you?
Read our expert's full Fiverr review
.
Notable Fiverr Features
Find a designer, anywhere, anytime – With Fiverr's free mobile app you can search for a suitable designer wherever you are and even chat with them through the built-in messenger.
Variety – Fiverr hosts tens of thousands of designers from around the globe. They each specialize in different logo styles and work for a range of prices.
Worry-free transactions – Fiverr holds your money securely in escrow until the logo is delivered and you're satisfied with the designer's work.
Speedy delivery – Most designers on Fiverr can design and deliver a logo within 48 to 72 hours, but some can turn it around in 24 hours for an added charge.
How to Make Your Own Camera Logo
Whether you're a photographer-type with some graphic design experience or a total beginner, a logo maker could be the best option if you want to DIY. You'll still need to know what looks good, but a logo maker can help bring your vision to life through customizable templates. It's important to note that most DIY logo makers allow you to design your logo for free, but you'll have to invest if you want to download it in a printable format.
Designing a Camera Logo with Wix Logo Maker
I always recommend Wix Logo Maker. It's quick, has loads of good-looking logo designs, and is powered by artificial intelligence (AI).
Go to the Wix Logo Maker homepage
 to begin and sign up for a free account by clicking
Start Now
.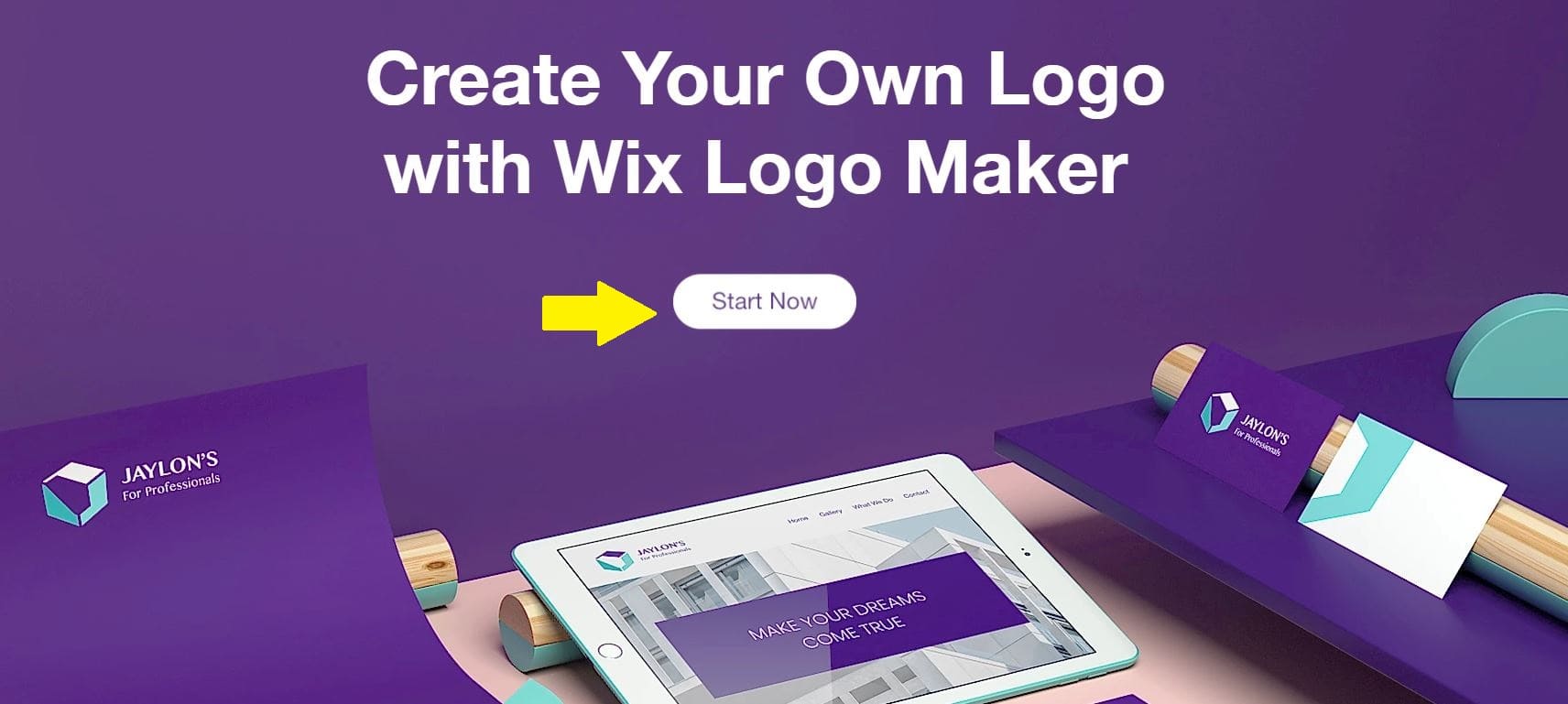 Next, fill in the required information about your business, starting with your brand name and tagline (if you want one).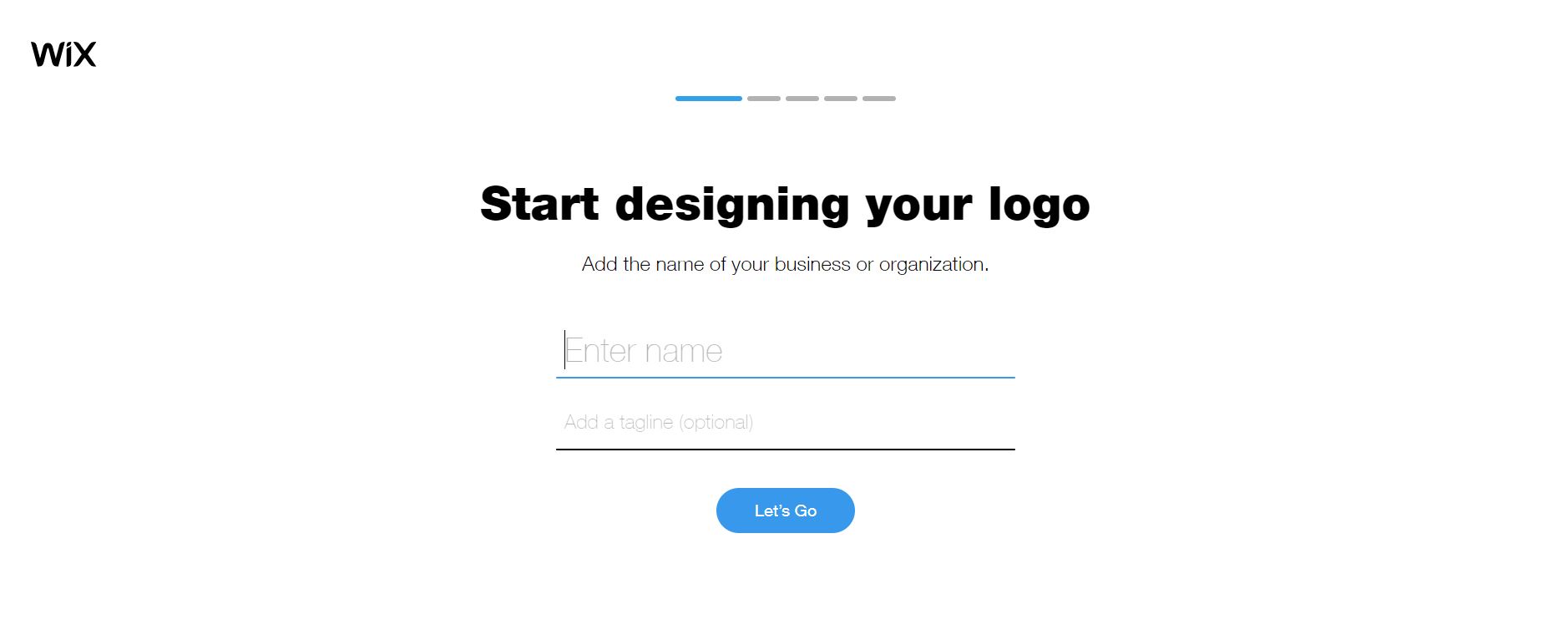 In order to get a better understanding of what you're looking for, the AI wizard will ask you a few questions about your industry and your preferred logo styles. These are an important few steps as it'll narrow down the logo templates generated afterward. Once your logos are generated, scroll through to see if any catch your eye. It might be that the icons aren't quite right. If that's the case, click on
Replace Icon
at the top of the page to switch in a new image. In the search bar, type in a relevant keyword (e.g., camera) and select the icon you like the most.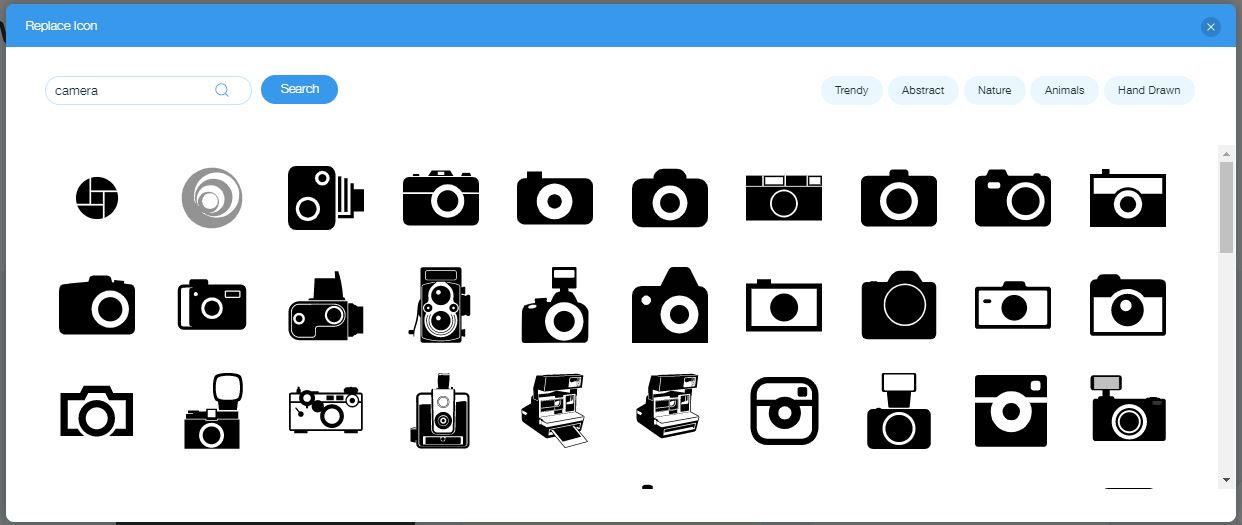 This will automatically replace all the icons in your results with the new one. Click on the logo you like the most to customize it using Wix Logo Maker's user-friendly logo editor. Here you can adjust the logo's colors, fonts, and almost everything else to make it look as unique as possible.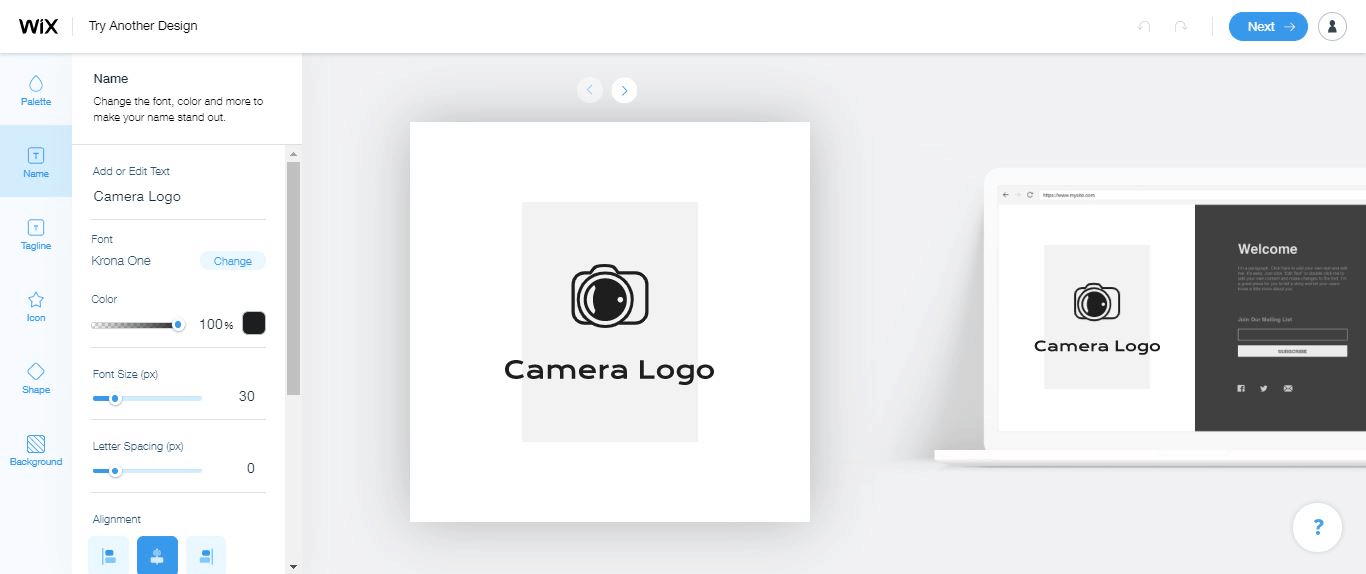 Finally, click
Next
to go to the payment page. You can pay to download a high-quality version of the logo or you can get a free, low-resolution sample. Want to learn more?
Read our full Wix Logo Maker review for more example logos
.
Alternatives to Wix Logo Maker
Bring Your New Camera Logo into Focus
Creating an effective, original logo involves paying attention to the tiniest detail to produce a design that clicks with your customers. Hiring a designer on
Fiverr gives you access to all that expertise for as little as $5
. If you want to create your own camera logo,
beginners will appreciate Wix Logo Maker's easy-to-use platform
 and library of camera icons. I've you're going the DIY route, I always advise doing your research first, so check out other hugely popular camera logos (like Instagram) and see what your competitors are doing, too. Camera imagery not quite right for your brand? Take a look at our list of the
best tech logos
around instead. And if you want to discover more logo-making tools, check out our list of the
best logo design services
.