Let me show you how you can get a professional logo for $5.
---
9 Best C Logos
Finding the right logo solution isn't easy, even for Website Planet. When we needed a new logo, my colleague set out to test various logo design services. Check out his
expert logo design service review
 to see how they performed, and which one made our new logo!
How to Get Your $5 Logo
A logo for $5 sounds too good to be true, but a professional logo really
can
 be yours for just a handful of loose change. How is this possible? Because freelancing platform Fiverr, has made it a reality. On Fiverr, packages begin from a super-affordable cost of $5. There are thousands of designers at Fiverr and many offer a range of packages, the cheapest often at this entry-level fee. These designers are talented and experienced, so you don't need to worry about sacrificing quality to save money.
Get started by going to the Fiverr homepage
. You can try searching for "C logo" to see if any designers match your search exactly. But for a wider range of results, I'd recommend searching for phrases like initial logo, minimalist logo, and monogram logo. Many designers with these types of designs in their portfolio are experienced in creating
letter-style logo designs
. Scroll through the results and keep an eye out for profile previews that stand out. If you see one that interests you, click on it to explore. A designer's profile houses their portfolio,
About This Gig
 section, package details, and all their service offerings. If you'd like more information from the designer, click
Contact Seller
to ask them any questions directly. Once you've chosen the right package for you, click
Continue
to move on.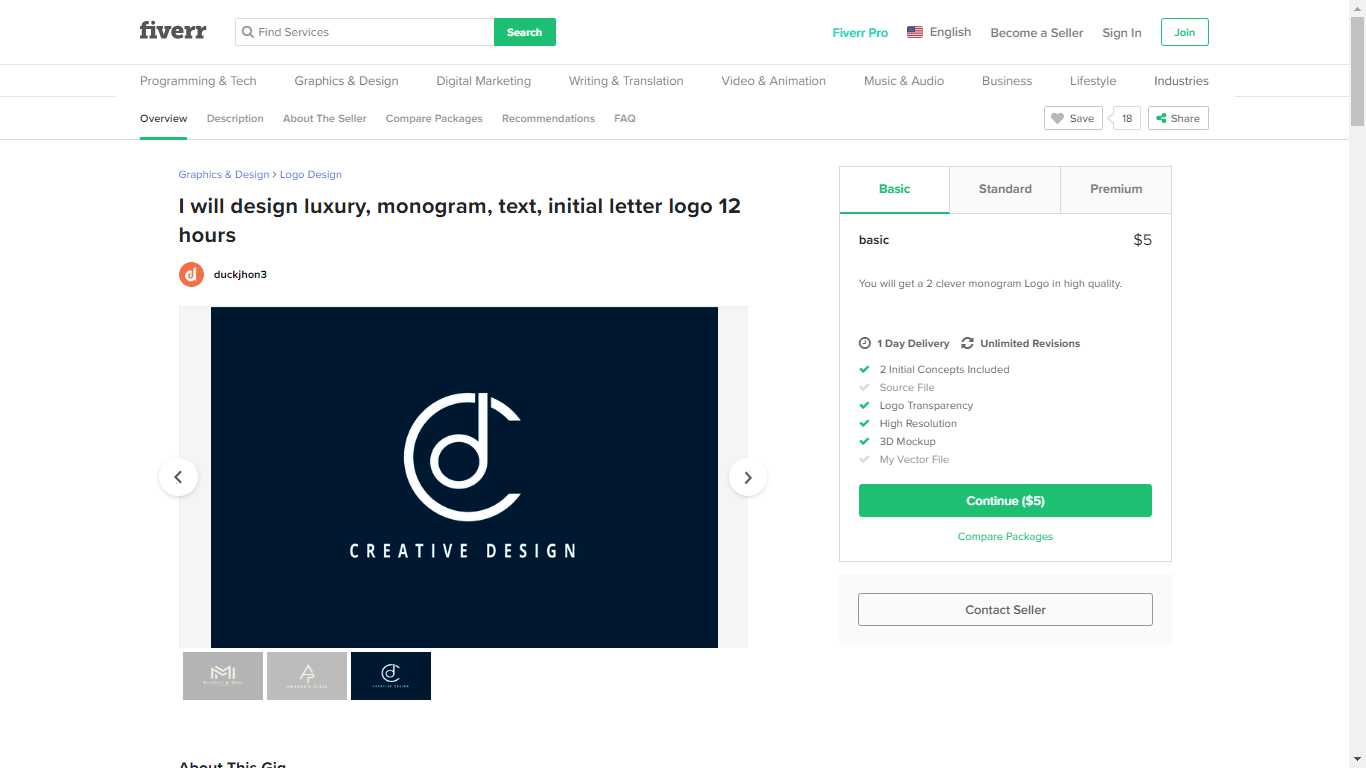 On the next page, the included services are displayed for you to check before paying. If you're happy with everything, hit
Order Now
to enter your payment information on the next page.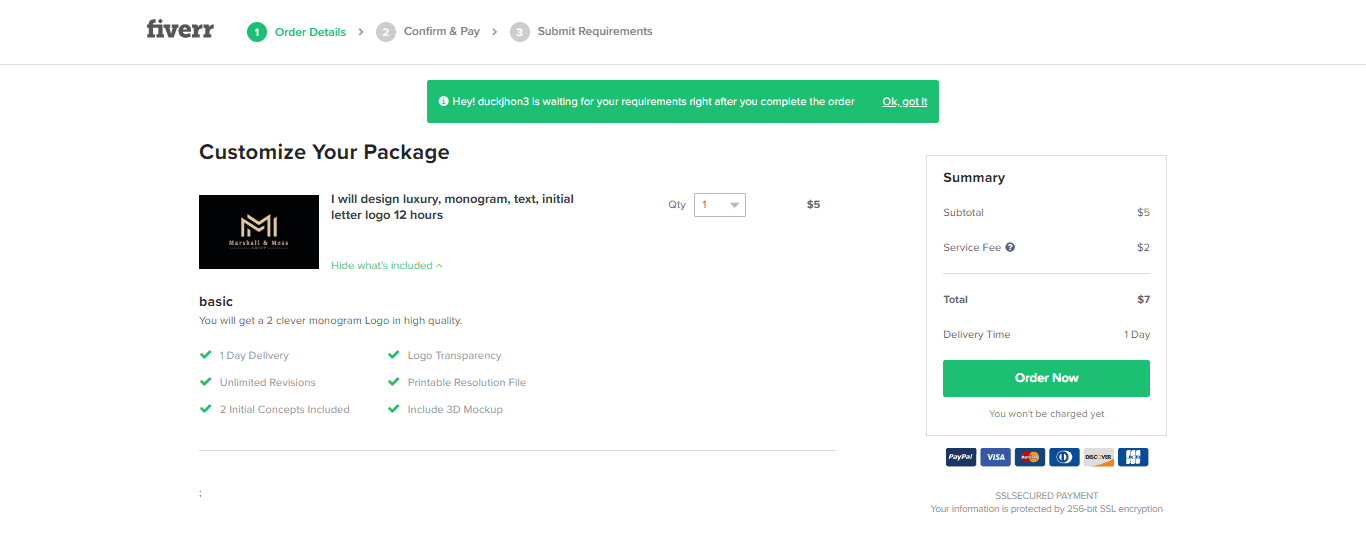 Once you've submitted your payment and design requirements to your designer, you'll get your logo delivered in a matter of days.
Get more advice from our experts on hiring the right Fiverr designer for you
. Sounds easy right? That's because it is! Here are a few other great things about Fiverr:
Payment protection – When you submit your payment to Fiverr, the money is held safely until your logo is delivered and you're 100% satisfied with the design.
Handy search filters – Use the search filters to find designers that meet all your criteria for delivery time, budget, seller level, and logo style.
Package customization – For a small extra fee, tailor your chosen package with additional services like a social media kit or 3D mock-up.
No surprise fees – All payments are made upfront before any work is delivered, so a designer can never add fees or overcharge you later on in the process.
How to Make Your Own Logo Design
Thinking of designing your own logo? Unless you already have graphic design software, using a DIY logo maker is the best choice to make your design process run smoothly. Some logo makers are more complicated than others, and the quality of the designs and editing tools varies greatly, which is why it's important to use the right one. My top recommendation is Wix Logo Maker. You start by answering a series of simple questions that allows the artificial intelligence (AI) to create personalized logo suggestions for you. This tool also has great customization features to give you even more options when you're at the editing stage. Want to check it out?
Go to the Wix Logo Maker homepage
, and create a profile. Enter your company name and tagline to get started.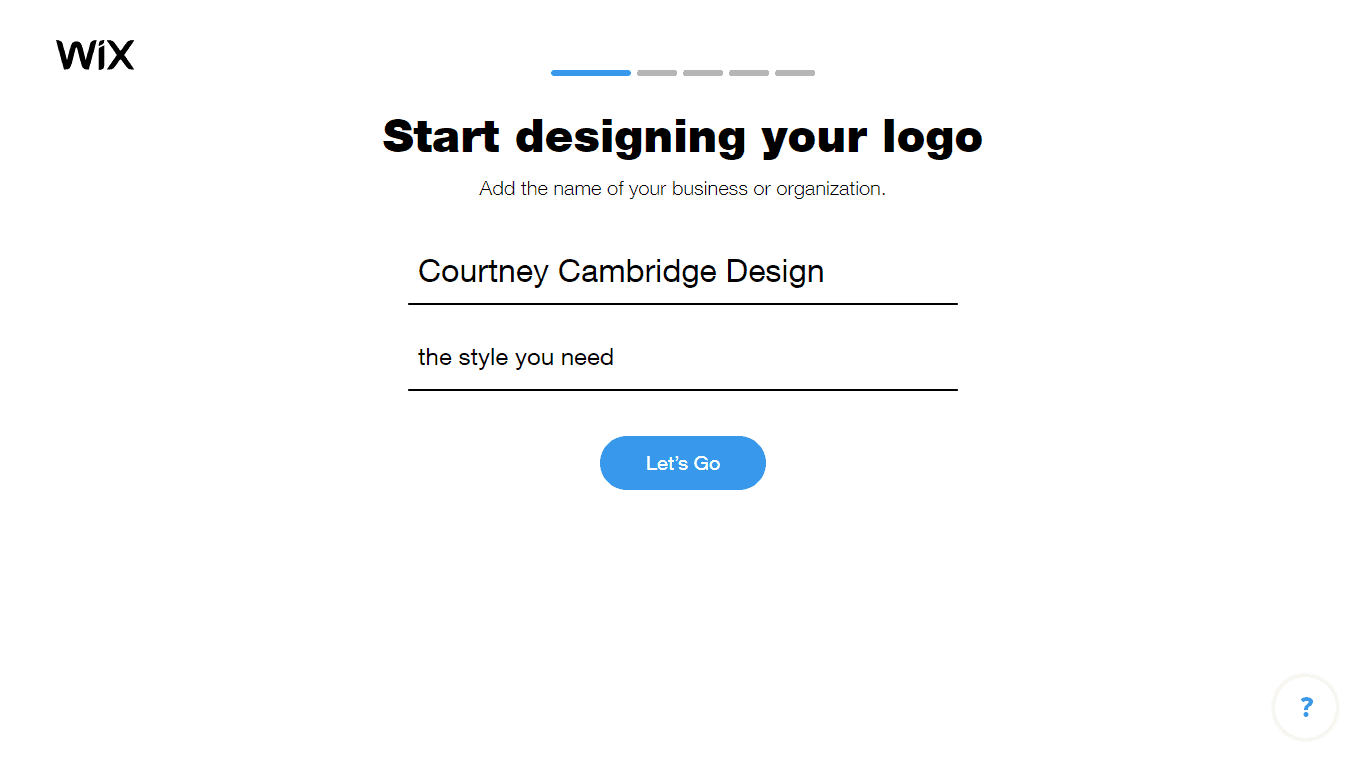 Start typing to choose your industry from the many available. As you type, relevant options will appear in the dropdown menu.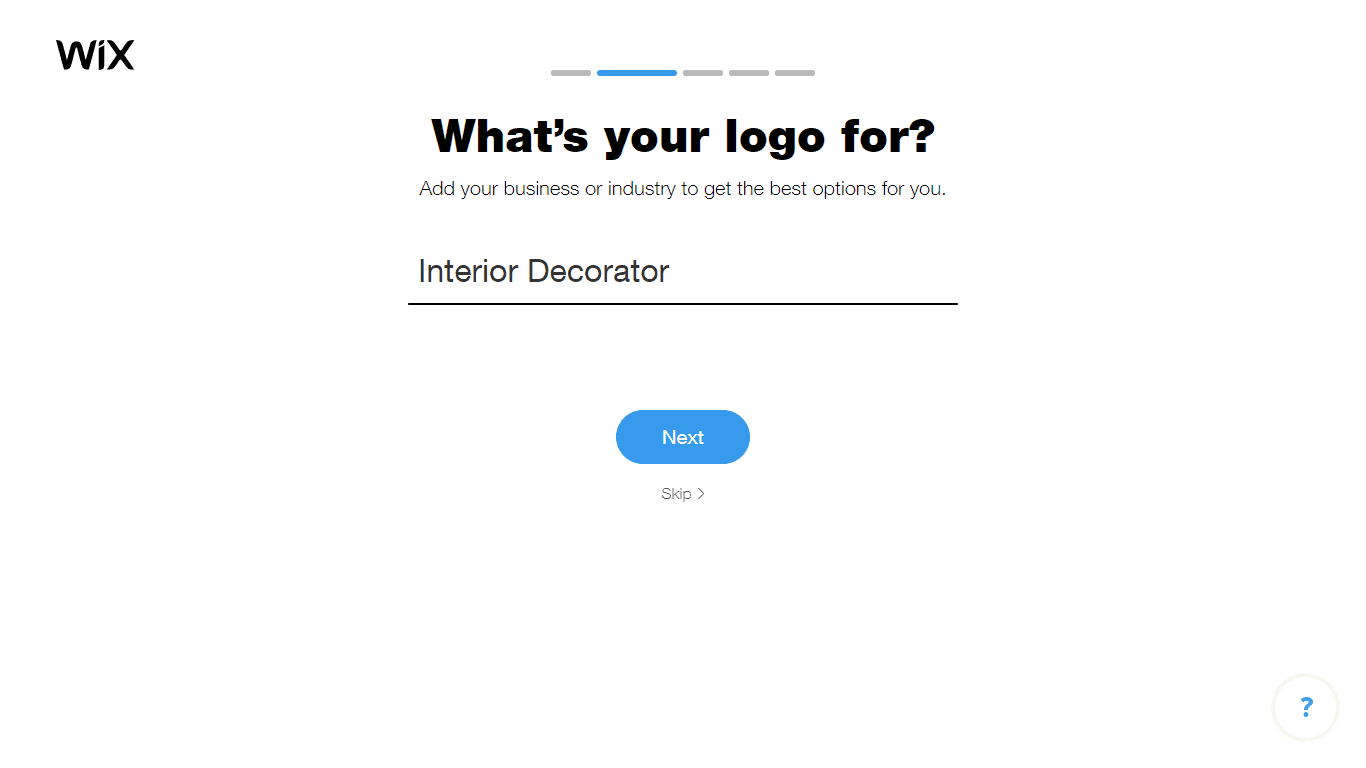 Next, select as many adjectives as you like to help define the look and feel of your ideal logo design. If you have a very specific vision, choose fewer words to narrow the focus of the style later on.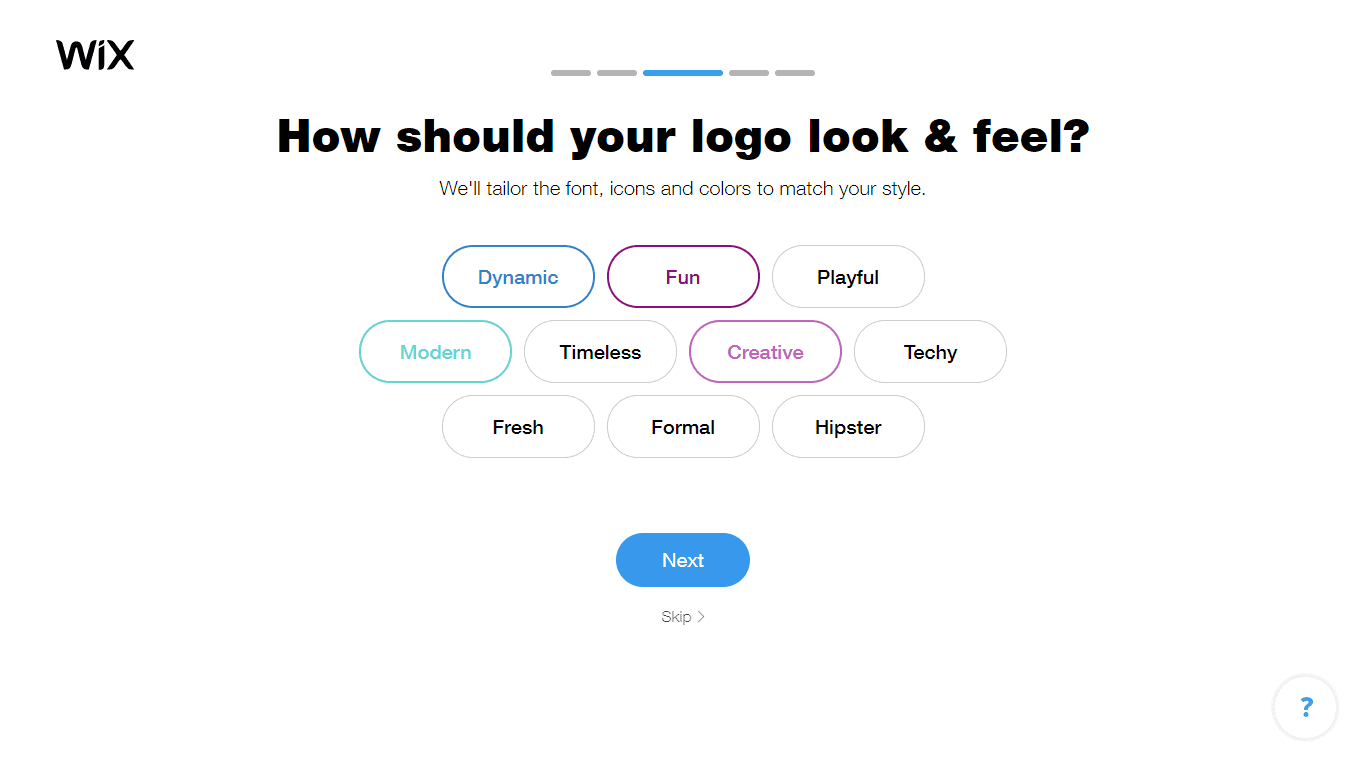 The next stage is choosing between logo pairs. This helps Wix Logo Maker learn more about what style you're looking for. Simply click on the logo in the pair that you like best.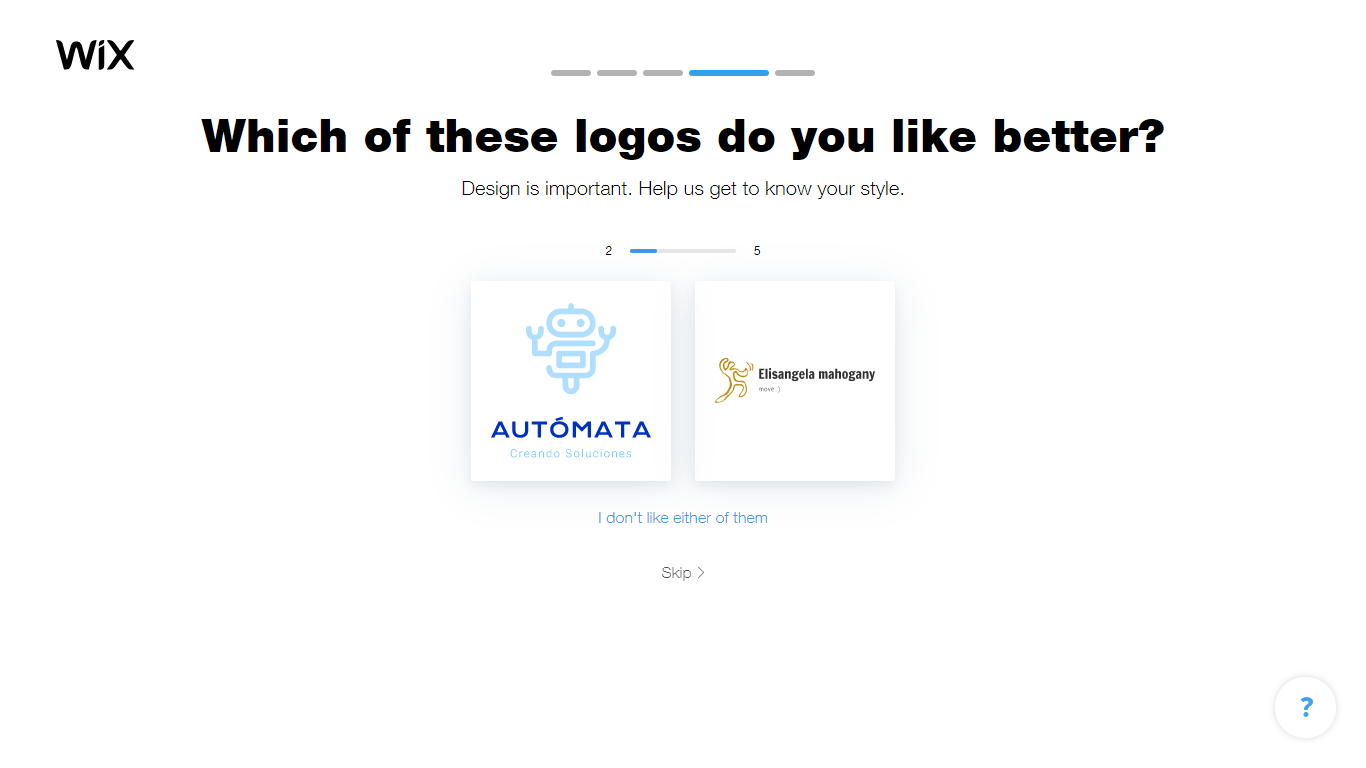 The final question is probably the easiest one: where will you be using your logo? Select any option that applies, such as social media, merchandise, and presentations.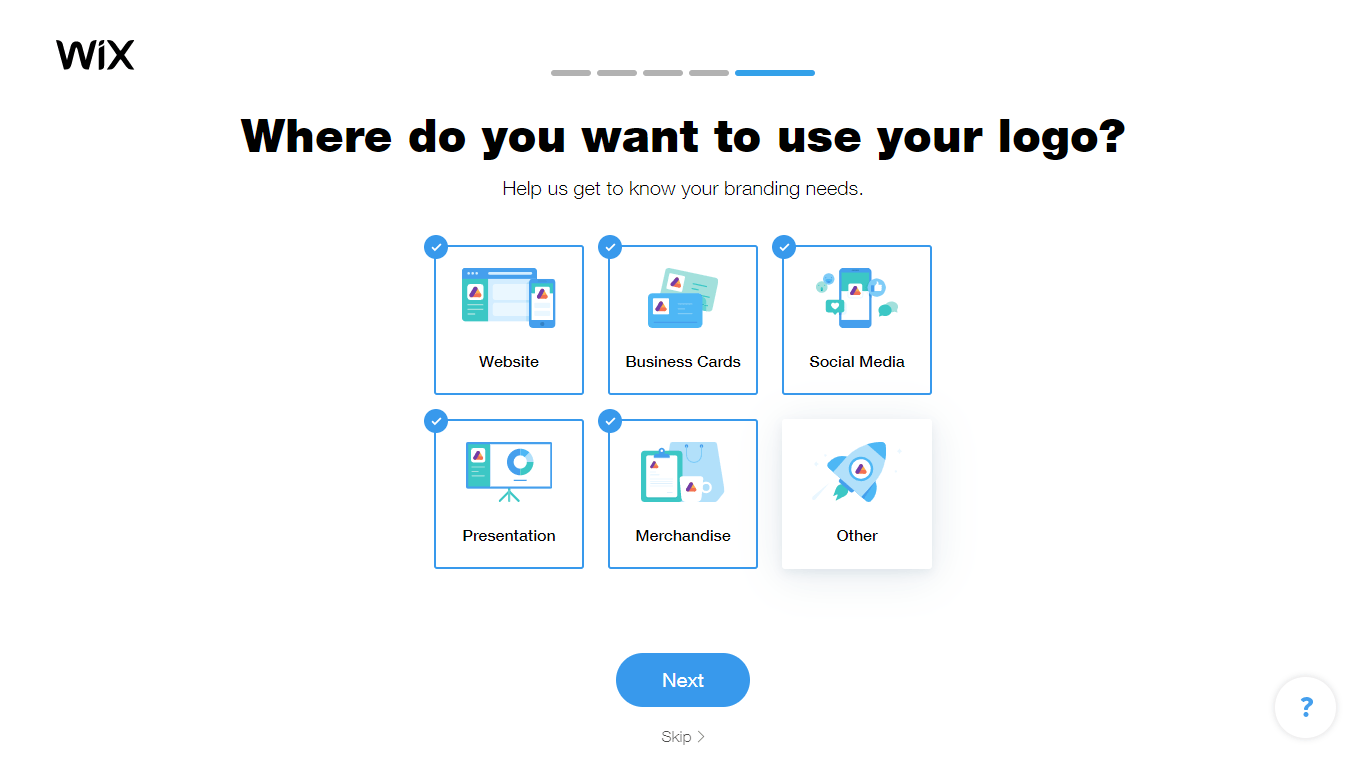 Finally, your tailored logo suggestions are here! You'll see logo designs with icons that complement the industry you selected earlier.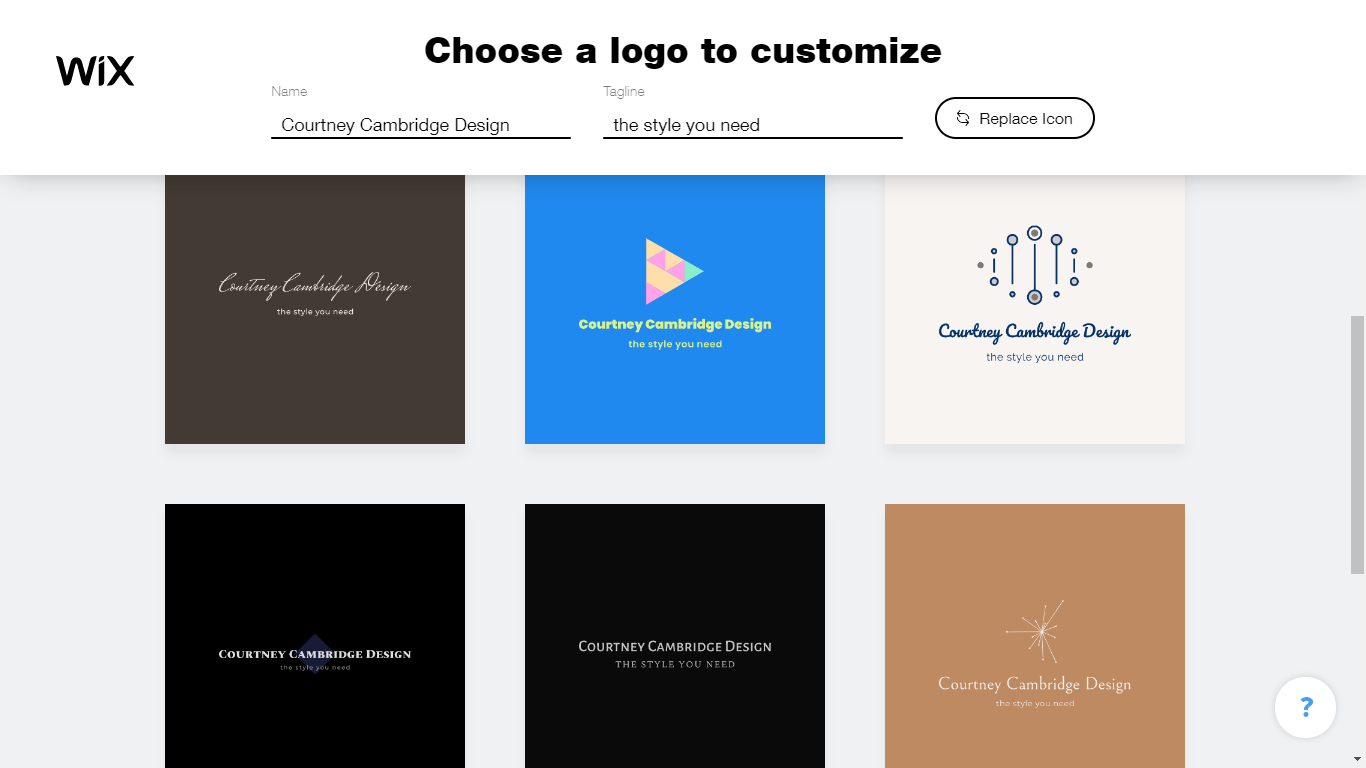 To find more icons, click
Replace Icon
and search "C". Select the image you like best to switch all the old icons with the new one.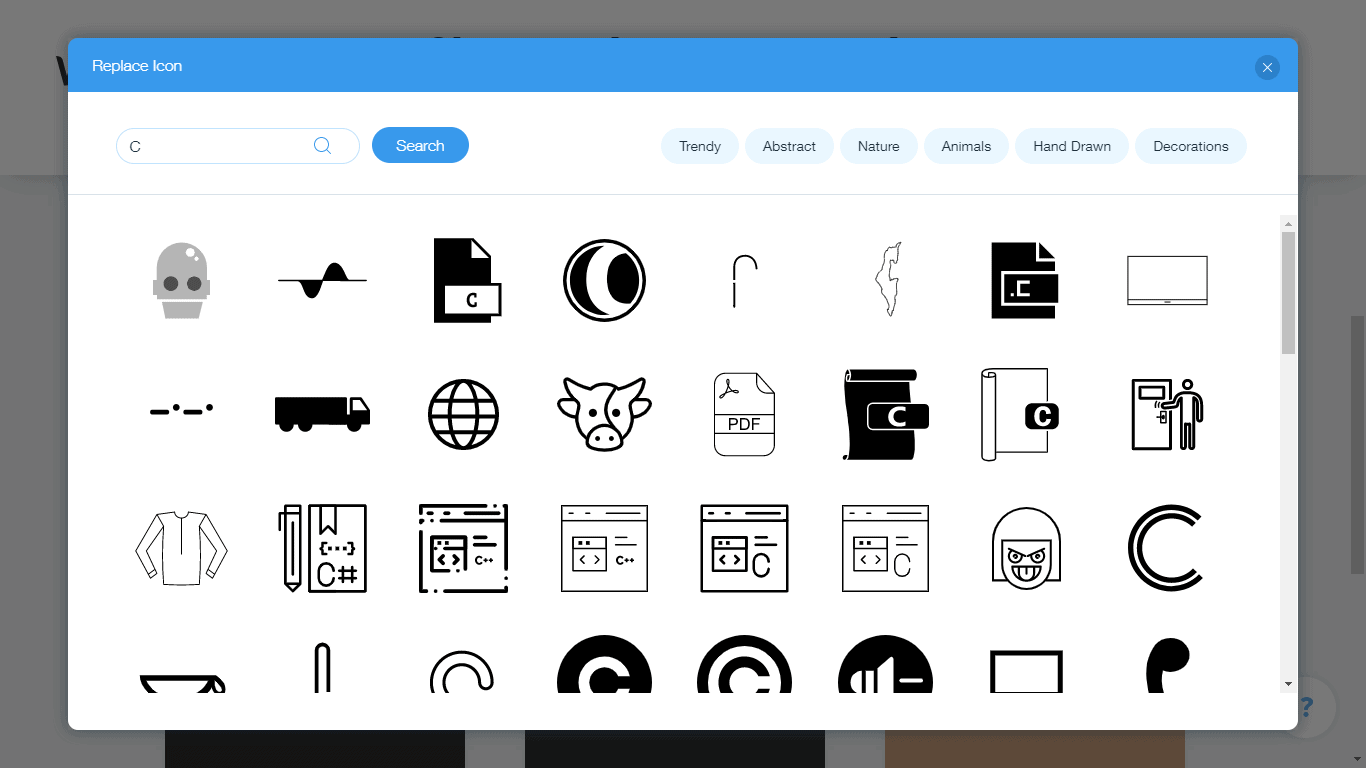 Scroll through the results until you find something you'd like to edit. Clicking
Customize
will take you to the logo editor where you can make your tweaks. New features include pre-set color palettes and the ability to add multiple icons to one logo design. If you didn't choose a "C" icon earlier, you can add it using text here. Customize the logo until you're satisfied and then click
Next
to move on.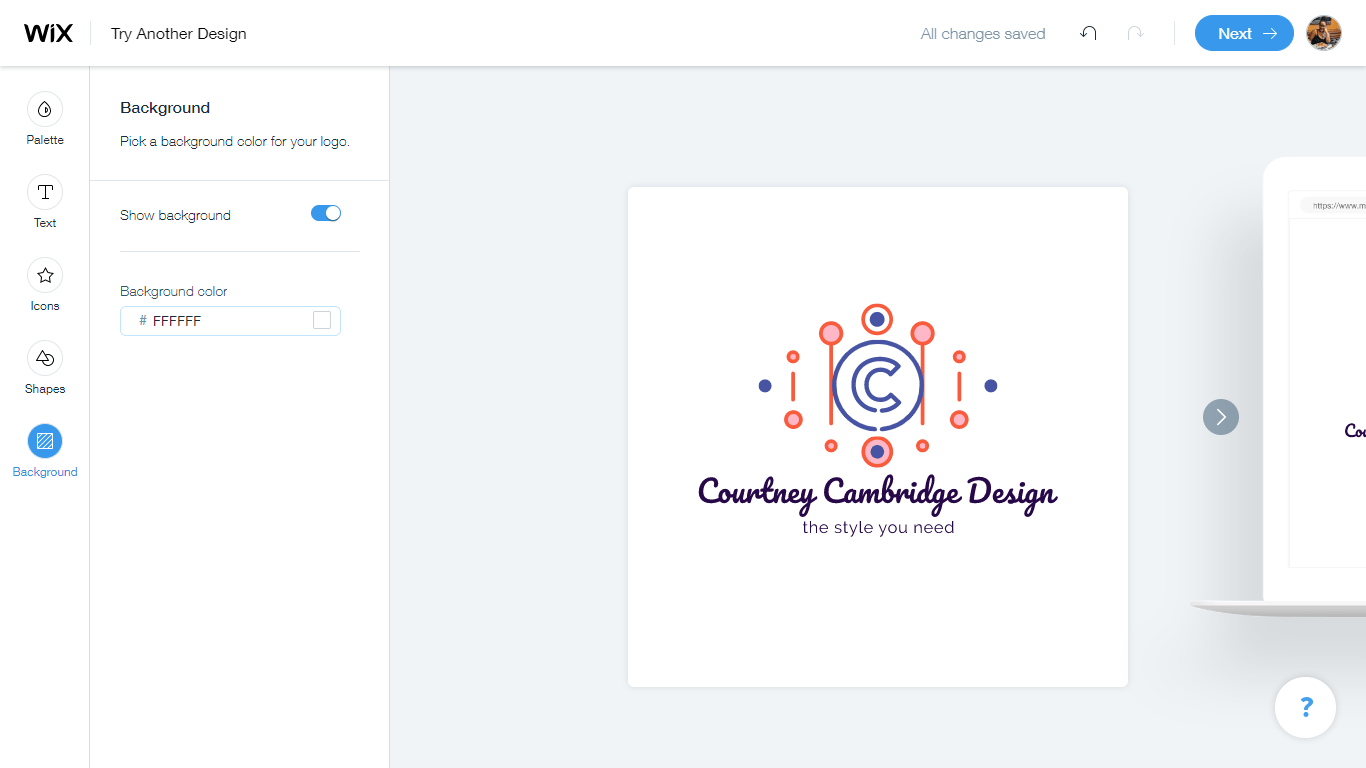 Once you complete the design process, select a package, proceed with your payment, and obtain your new logo in high-resolution. Additionally, the system will store your logo in your profile, allowing you the flexibility to revisit and implement any necessary changes at your convenience. Interested? Read our in-depth
Wix Logo Maker review
to find out more.
Wix Logo Maker Alternatives:
Looka – Looka is a great choice for a new business or one that's rebranding. Not only can you get your logo design, but you can also purchase materials such as website and business card designs featuring your new logo. See some logo examples in our full Looka review.
DesignEvo – There are 18 template categories at DesignEvo and more than 10,000 logo templates to choose from. It'll be easy for you to navigate – there's a category just for letters! Learn more in our detailed DesignEvo review.
In Conclusion
You can get a professional logo from any number of creative design agencies, but it'll cost you.
Only at Fiverr could you get a bespoke, professional logo for just $5
.
 I think hiring a pro is the best way to guarantee a beautiful, effective design.
If you'd prefer to get your hands dirty with your logo, partner with Wix Logo Maker.
 Its AI makes the entire design process foolproof. It's quick, too. My example logo was created from start to finish in less than 10 minutes! Since your logo is the key part of your company's identity, you want to get it right. If you still aren't quite sure which logo design service you'll use, check out my colleague's
comprehensive logo design service comparison
 to see how some of the most popular services performed in his experiment.