I'll show you how to get a professional design for as little as $5.
Prefer to take the helm of your new logo design? I'll share my top recommended free logo maker. But first, sail through my favorite collection of boat logo designs for inspiration.
9 Best Boat Logos
Get a Custom Boat Logo for Just $5
Should your logo feature a speed boat or a sailing boat floating on calm waters? Will you go for a classic nautical palette of blue and white, or something more in line with your brand colors? An expert designer will know the answers to these questions and more. You don't need to worry about breaking your budget either, because with Fiverr, you can hire a professional logo designer for as little as $5.The Fiverr marketplace is every budget-conscious buyer's go-to for affordable freelancers. You'll find a variety of services, including branding, logo design, website design, and e-marketing.
To get our new Website Planet logo, a colleague of mine extensively tested several popular design services, including Fiverr. Check out his
detailed comparison of logo design services
to find out how each performed.
Finding a Boat Logo Designer on Fiverr
The Fiverr website has a professional yet intuitive layout making navigation a breeze. In a few simple steps, you can find the right designer for your logo.
Go to the Fiverr homepage
 and type a relevant keyword in the search bar (e.g., boat logo).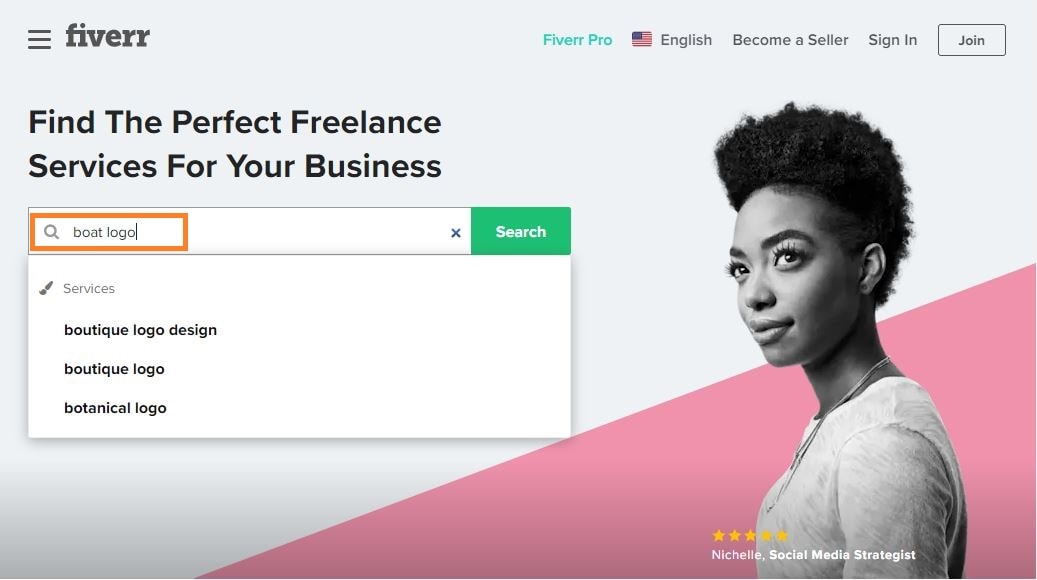 On the results page, expand Fiverr's search filter labeled
Category
and choose
Logo Design
from the dropdown menu.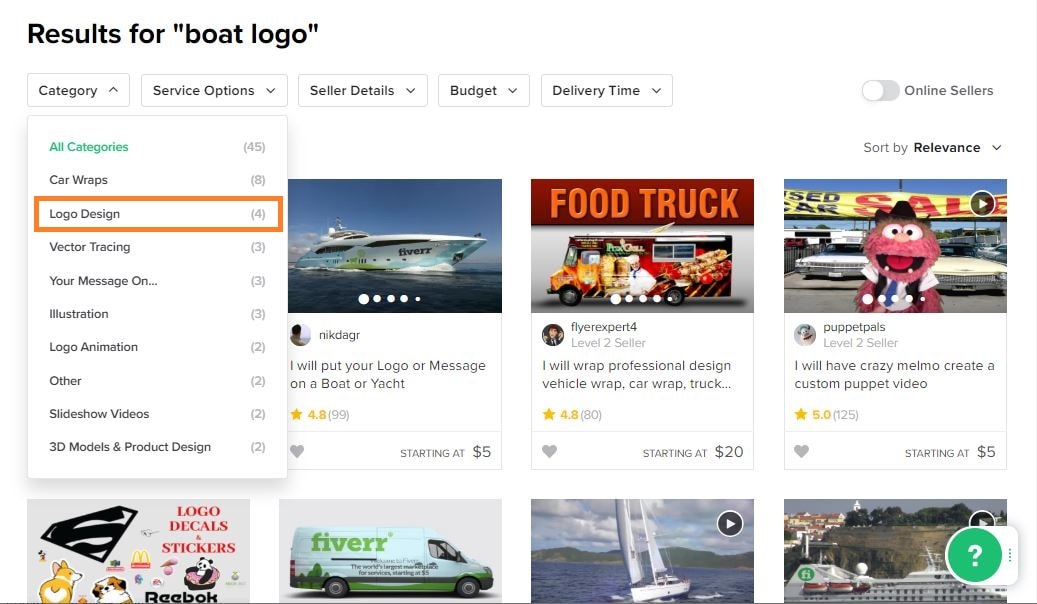 You can use the rest of the search filters to further refine your search results, such as specifying logo style, preferred seller details (location, language, experience level, etc.), your budget, and delivery time.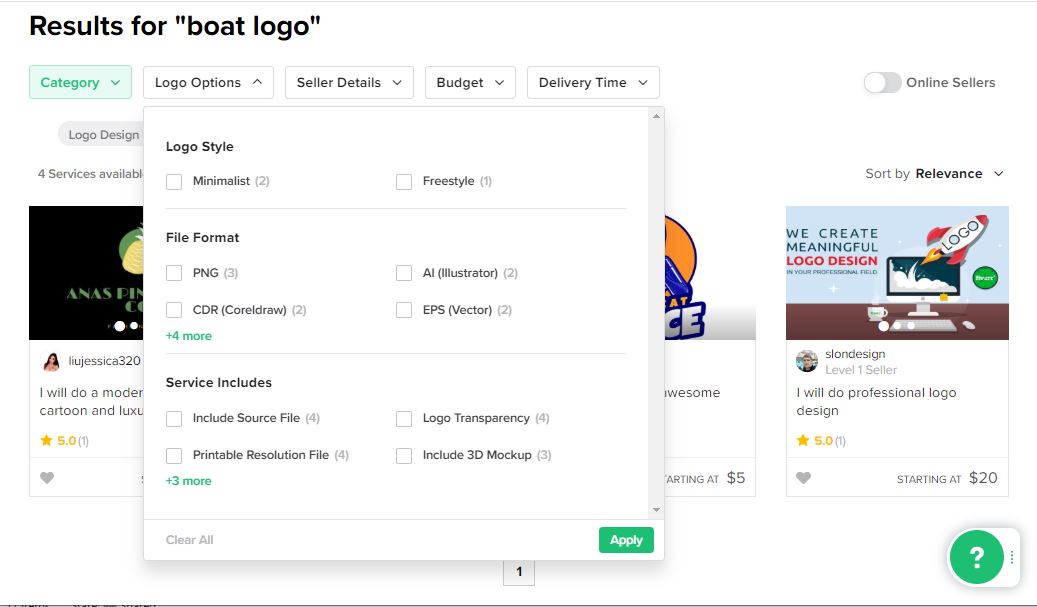 Click on any logo you like to access the designer's portfolio. Here, you can check out other users' ratings and you can also contact the designer directly with queries before committing to a purchase.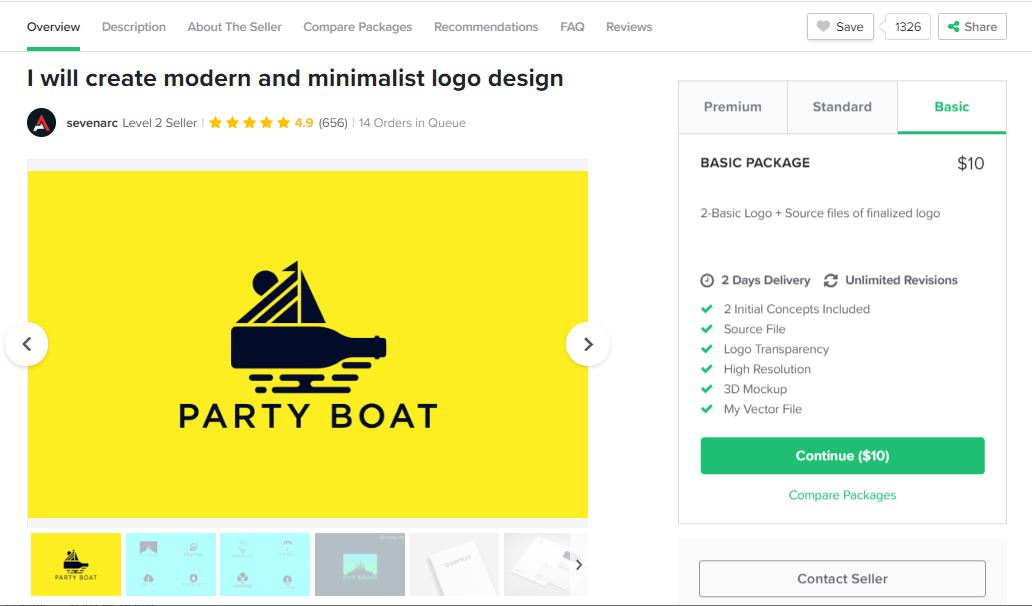 More Features from Fiverr
Fast delivery – Most designers on Fiverr can deliver your logo in a few days. Some even offer to deliver it in 24 hours for an extra charge.
Custom packages – Most designers offer fixed-price packages in a tiered system, but many have the option for a custom deal, which you can tailor to fit your needs and budget.
Chat with the seller – Contact the designer directly through the built-in messaging service before committing to a gig.
Safe transactions – Even though you'll pay for your logo in advance, your money is safe as Fiverr holds all payments securely in escrow. It'll only release the funds when the logo is delivered and you're happy with the outcome.
Have a look at what else our experts say about hiring the right designer in our
in-depth Fiverr review
.
How to Make Your Own Boat Logo
Want to put your creativity to good use by making your own boat logo design? While a lot of brilliant designs look as if they were put together in minutes, it actually takes a lot of planning and talent to create something that looks effortless. An online logo maker can help with the practicalities of putting together a boat logo by yourself. Many of these DIY tools let you design your logo for free, and you'll only need to part with your money when you want to download the file in a high-res format.
Wix Logo Maker
If you want to DIY, I recommend Wix Logo Maker. Its intuitive, feature-packed interface and powerful artificial intelligence (AI) wizard helps you create an attractive logo design in no time at all. Kick off the process by
going to the Wix Logo Maker homepage
 and creating a free account by clicking on
Start Now.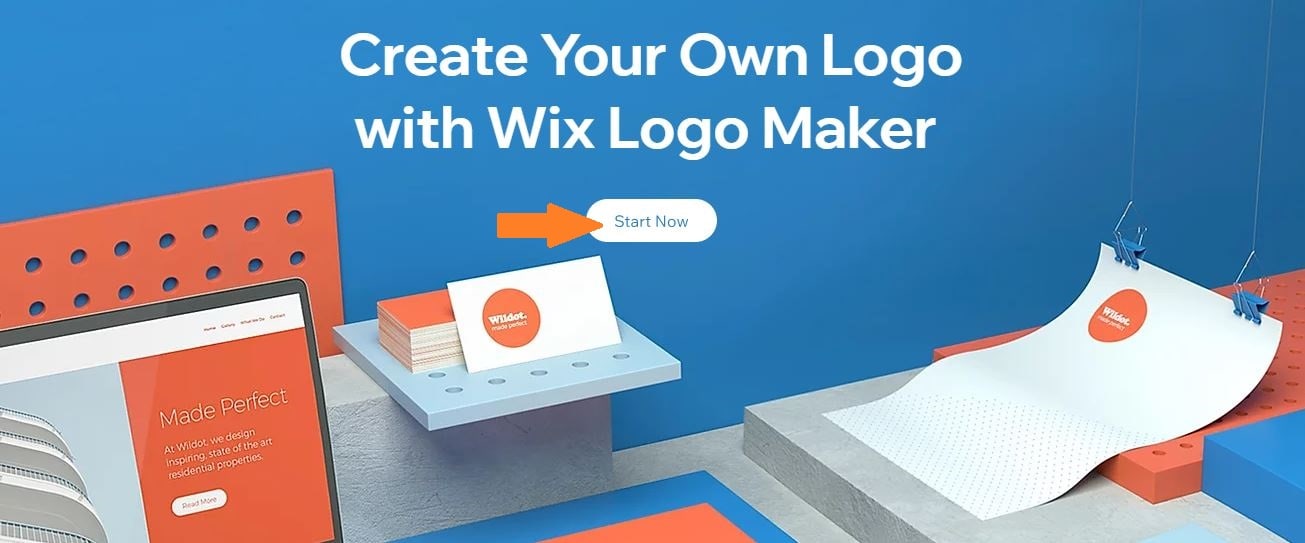 Once your account is set up and you're logged in, you'll need to fill in some key information about your business, including the brand name and industry.

In the next couple of steps, the AI wizard will ask you a few important questions regarding your preferred logo styles to get a better understanding of your tastes. Really consider your answers here, because this will help decide which logo options you get to choose from at the end of the process.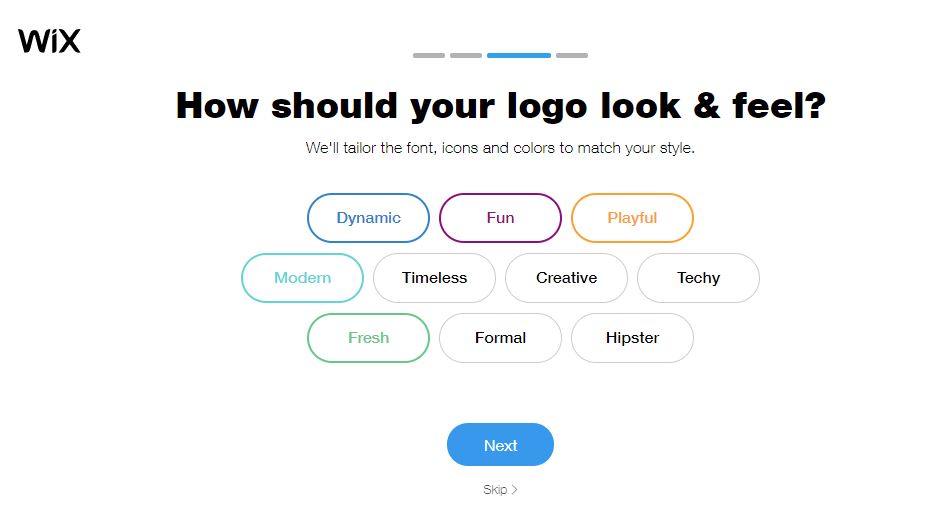 After you've finished all of the questions, the AI generates a range of logo options. If the images in the logos are too generic and don't feature boats, you can improve the generated results by clicking on
Replace Icon
and searching for a more relevant keyword (e.g., boat, ship, etc.).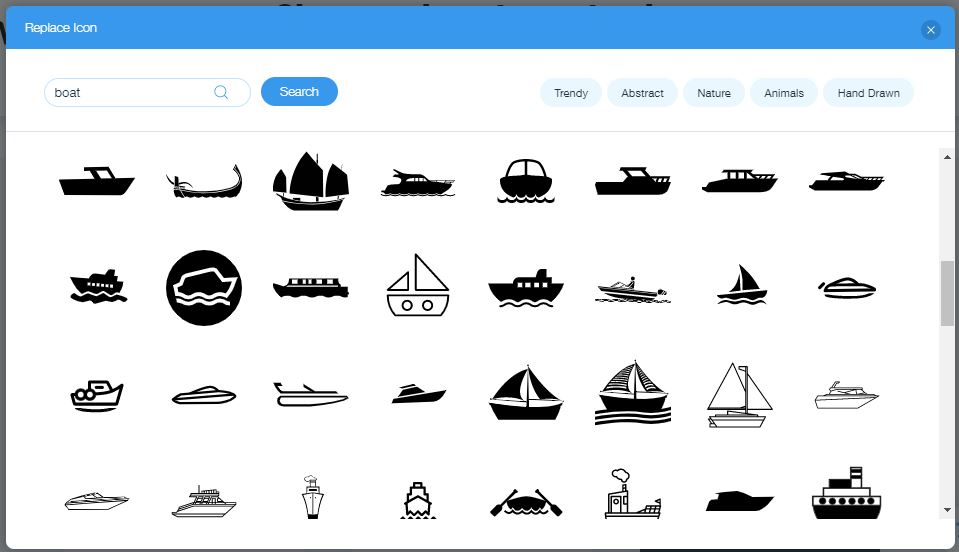 After selecting a new logo icon, the chosen icon will automatically be applied to the generated logo templates. It's now your opportunity to decide on the template you wish to proceed with to the final customization stage. Utilizing the logo editor of Wix Logo Maker, you can modify nearly everything – from colors, fonts, and icons to sizes and backgrounds, and more.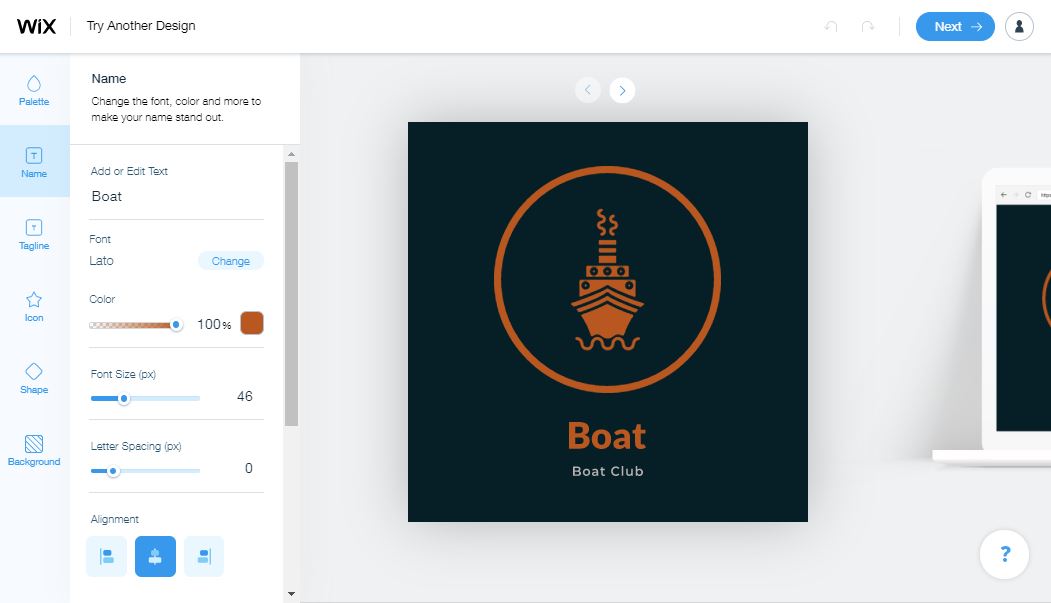 After you've made all the changes, you have two choices – you can download a free, low-quality example of the logo, or pay to download a high-quality, printable version that you can begin using immediately. Find out more about the platform, including more logo examples, in our
in-depth Wix Logo Maker review
.
Alternatives to Wix Logo Maker
DesignEvo: Building your brand while traveling or on the go? DesignEvo has its own free mobile and desktop apps, so you won't need to rely on your browser to create a logo. Learn more about its features in our full DesignEvo review.
Looka is perfect for those indecisive creatives among us. For 72 hours after paying for your new logo, you can go back and make an unlimited number of edits and revisions for free. Read our expert Looka review for more details.
Keep Your Business Afloat with a Unique Boat Logo
A professional design can add noticeable value to your brand's identity and hiring a pro saves a great deal of time. You won't have to pay loads for a quality logo either, not when you can find skilled designers from around the world on
Fiverr
 who only charge $5.
Wix Logo Maker
 is a great option if you have little or no background in graphic design and want to DIY. First, check out different boat logos on the internet to scope out the competition. It'll also give you insight into the best way to edit your design so it stands out in your chosen industry. If you want to discover even more ways to create your new logo, browse our exhaustive list of
the best logo design services
for more ideas.