Read on and I'll show you how to affordably find and hire an expert designer for your logo.
---
9 Best Blog Logos
When we needed a new logo for our website, my colleague did an experiment to find the best logo design service. His results were pretty surprising! Check out his
detailed logo design services comparison
 to see which companies he tested and how they ranked.
How to Get a Professional Logo Design for $5
When you think of a "professional" service, you probably see dollar signs dancing behind your eyes. That's not unusual, since anything labeled as professional denotes a level of expertise and quality. Before I discovered Fiverr, I also thought the only way to get a professionally designed logo would be to spend big. So, what is Fiverr? It's a freelance platform where all sorts of professionals, including designers, can sell their services from a starting price of just $5. The graphic designers on Fiverr are experienced and talented, specializing in all kinds of design styles from minimalist to watercolor to cartoon. Whatever style you need for your blog, you'll find an affordable pro to bring it to life.
Head to the Fiverr homepage
 to explore your options. You don't need a profile to search, so simply type "blog logo" into the search bar to begin. Relevant profiles will appear in the results and you can scan through until you find a designer that interests you. Click on a profile to see more.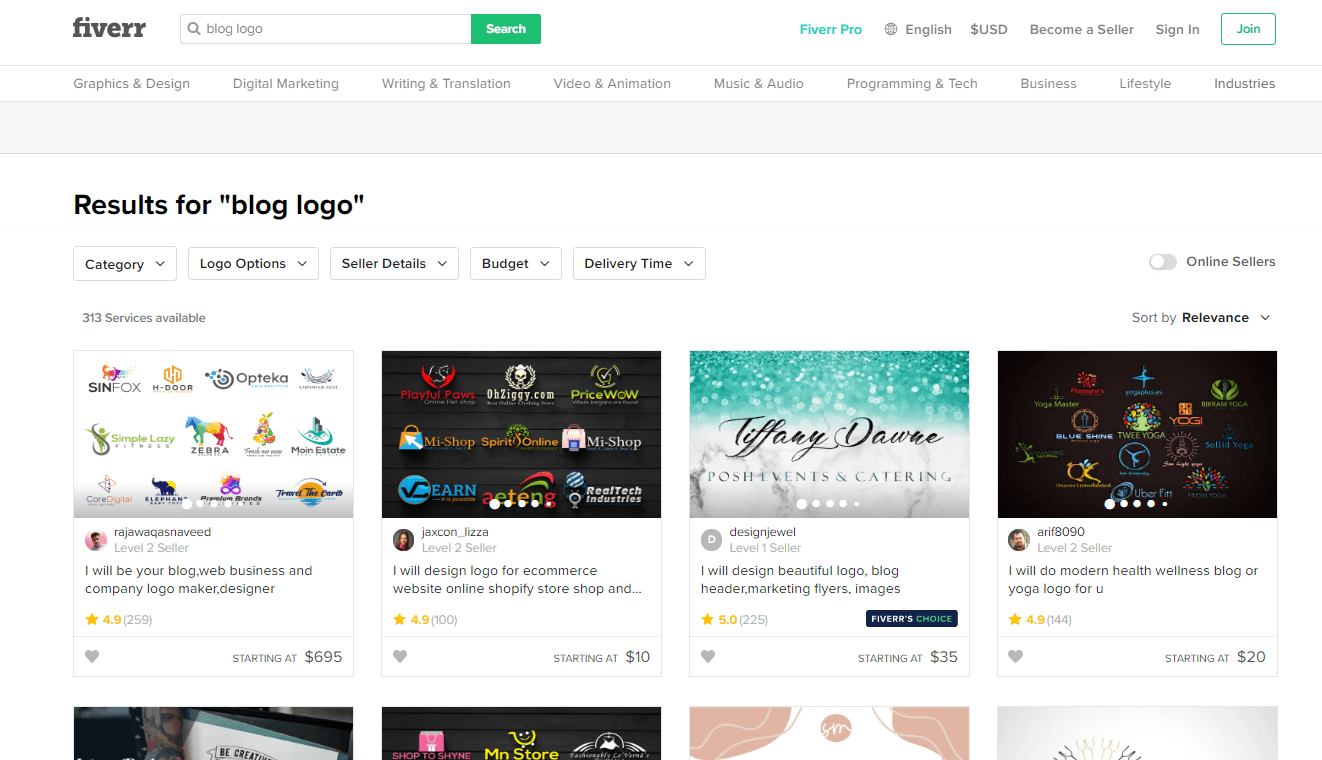 In the full profile view, you'll find a designer's portfolio, their "About This Gig" section, and past customer reviews. You can also check the designer's package offerings and the pricing for each package to see if they fit your needs and budget. Once you've decided on a package level that suits you, click
Continue
to move forward.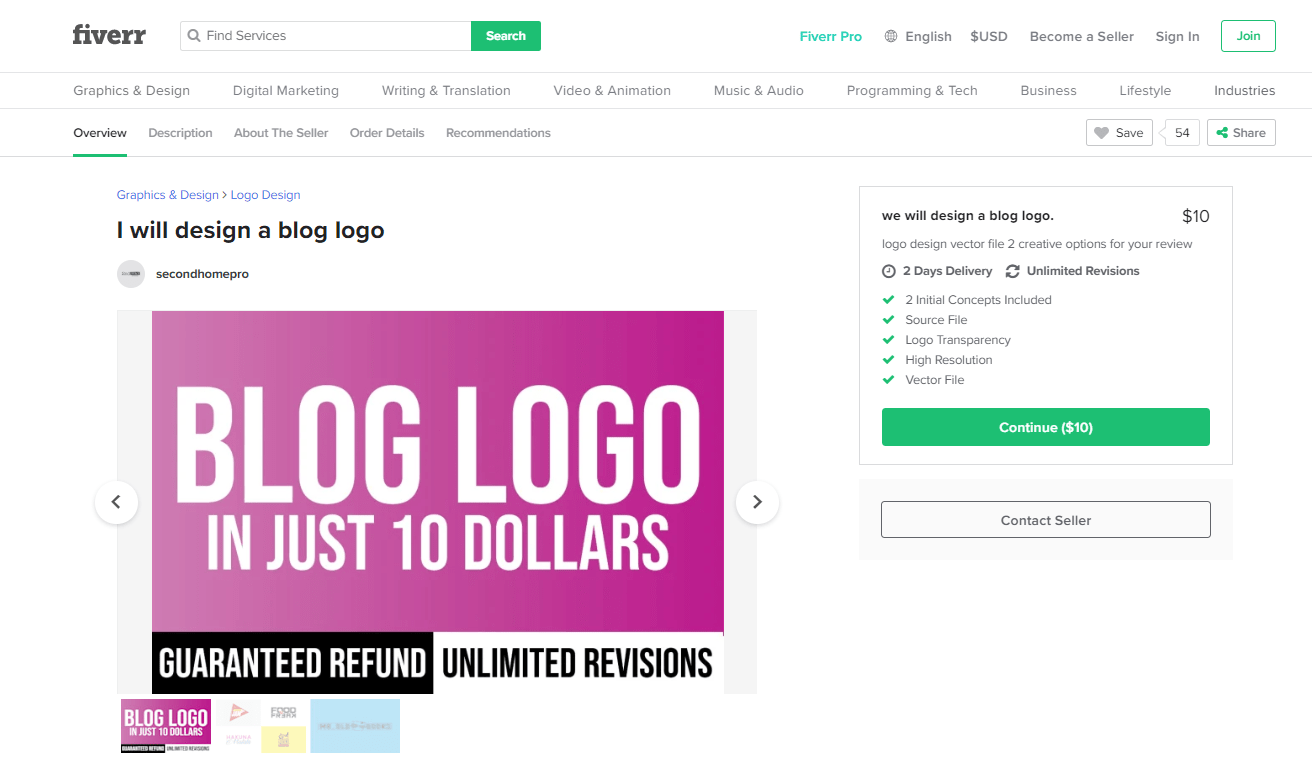 This next page outlines the final costs for your chosen package and the full list of services. If you're happy with what you see, click
Order Now
to enter your payment information and complete the process. You'll then be able to send your requirements to your designer and in just a few days, your new, bespoke logo will be delivered to you.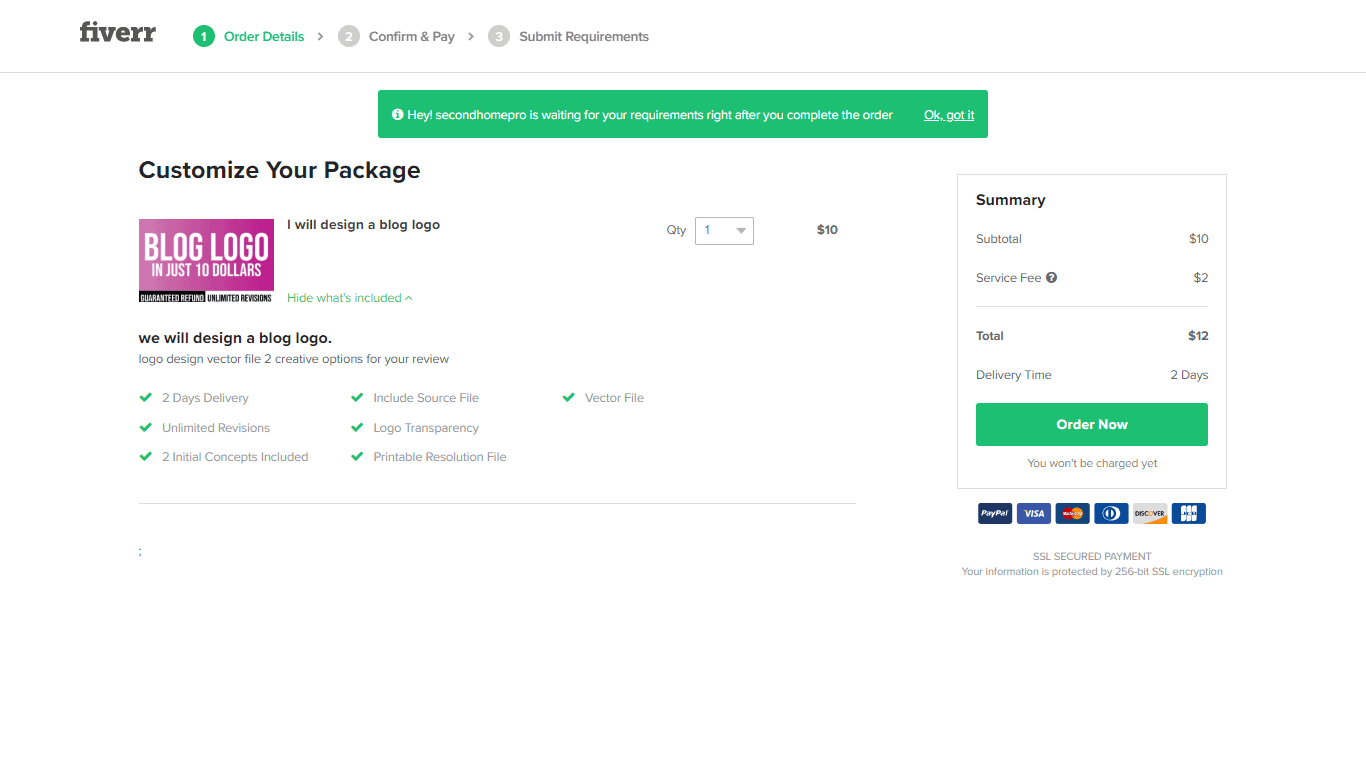 Here are a few other noteworthy Fiverr features:
Seller levels – Each designer is assigned a level based on their performance and time on the site. If experience is one of your priorities when it comes to hiring, choose a designer with a higher level.
Protected payments – As you've just seen, your payment is made upfront but it's held in escrow until you receive a completed logo you're happy with. Once you're satisfied, you can release the payment to the designer.
No unwanted surprises – A designer can never overcharge you or add fees after they've been hired, so you'll never be blindsided by extra costs.
Customizable design packages – Each package contains set services, but you can often add extras to make sure they fit your exact needs. These include things like expedited delivery, a 3D mockup, or vector files.
Interested in Fiverr? Check out
our in-depth review
for more tips and example logos.
How to Create Your Own Logo
If you're a creative blogger and have an eye for design, you may be tempted to create your own logo. This is relatively easy to do, thanks to online logo makers, but you should know it isn't necessarily more cost-effective. Most logo makers are free to use, but you'll pay to download your finished logo in a format that's usable on your blog or social media. The tool I always recommend is Wix Logo Maker. It's simply the best option for creating something attractive, whatever your skill level. Wix Logo Maker asks you a few questions, then uses artificial intelligence (AI) to generate logo suggestions that are personalized for you. Want to see the AI in action?
Head to the Wix Logo Maker homepage
 and create a profile. You have to do this to use the tool, but it's useful as it means you'll be able to save your logo here as you go along. Enter your company details to start the process.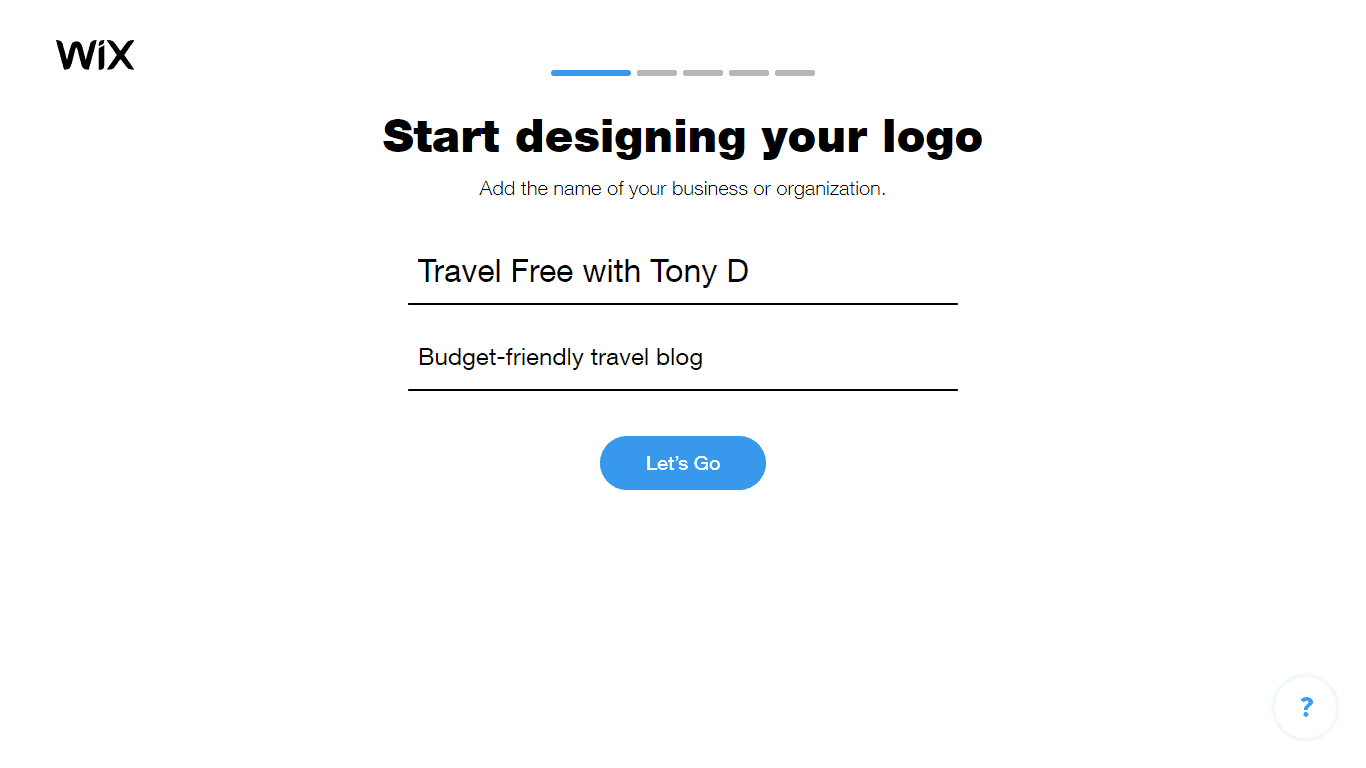 Type your industry into the search bar and select it from the dropdown menu. You can usually specify the type of blog – I went for Travel Blog in my example.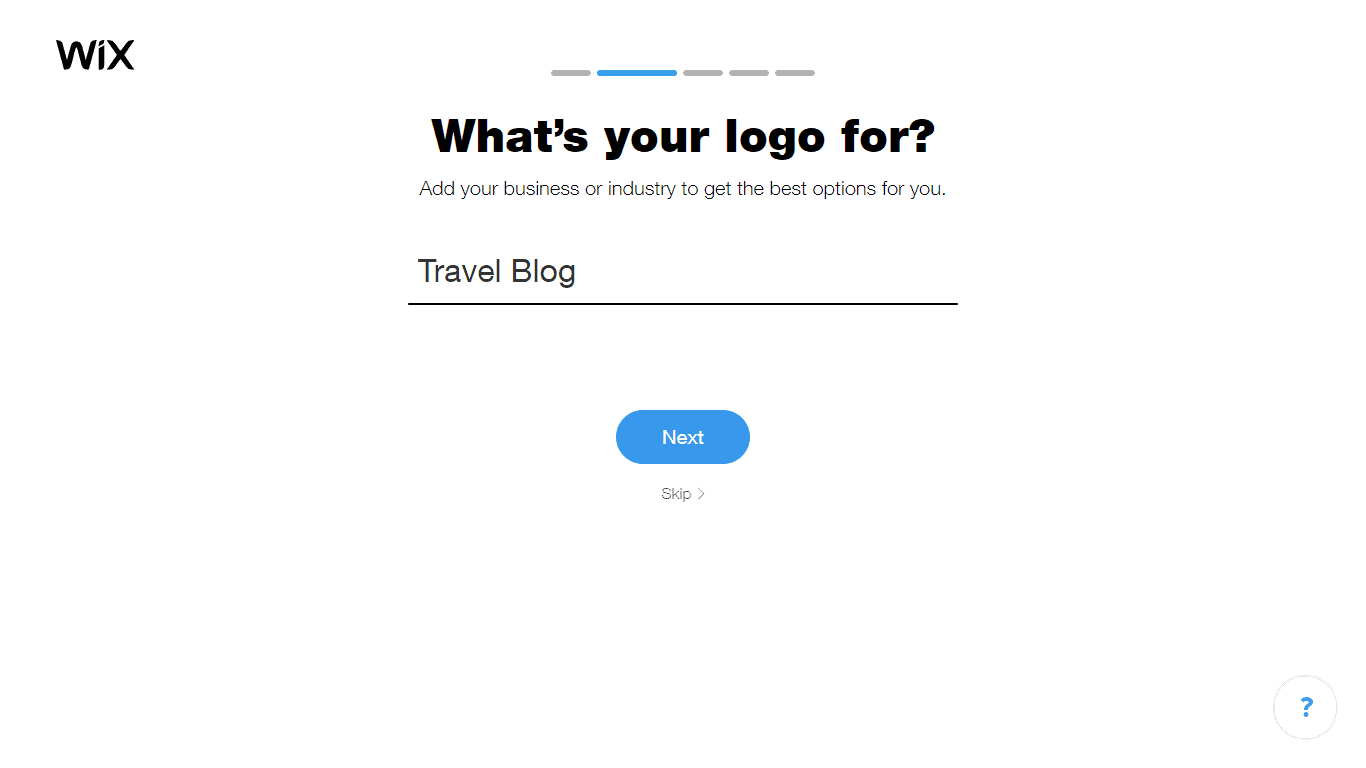 Next, you'll see a group of adjectives. These words help guide the AI toward the logo styles you prefer, so select as many as apply to your vision. If you already have a blog created, it can help to think about how you would describe its existing design.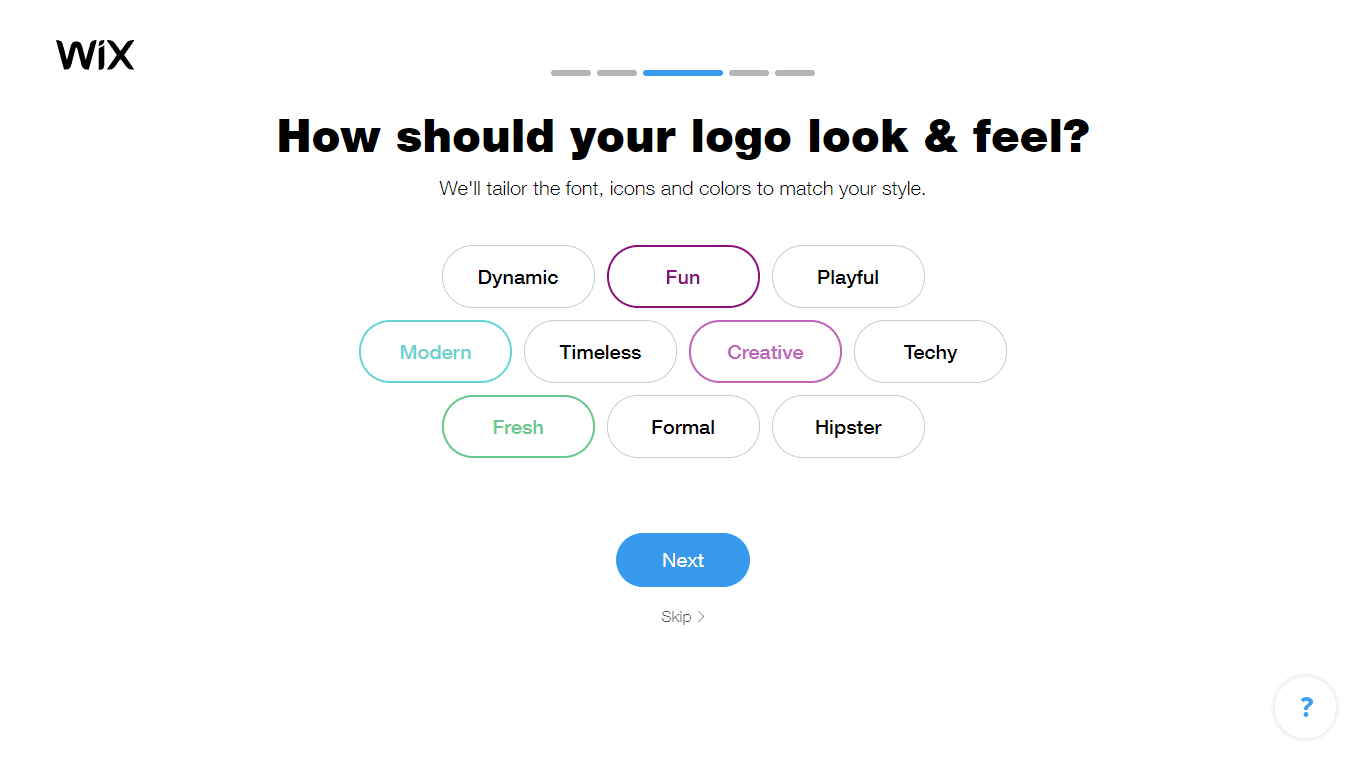 The next step is a sequence of logo pairs, and they're pretty important as they help decide on the logo styles suggested later on. There are five to go through and you need to choose the logo in each pair that you like best.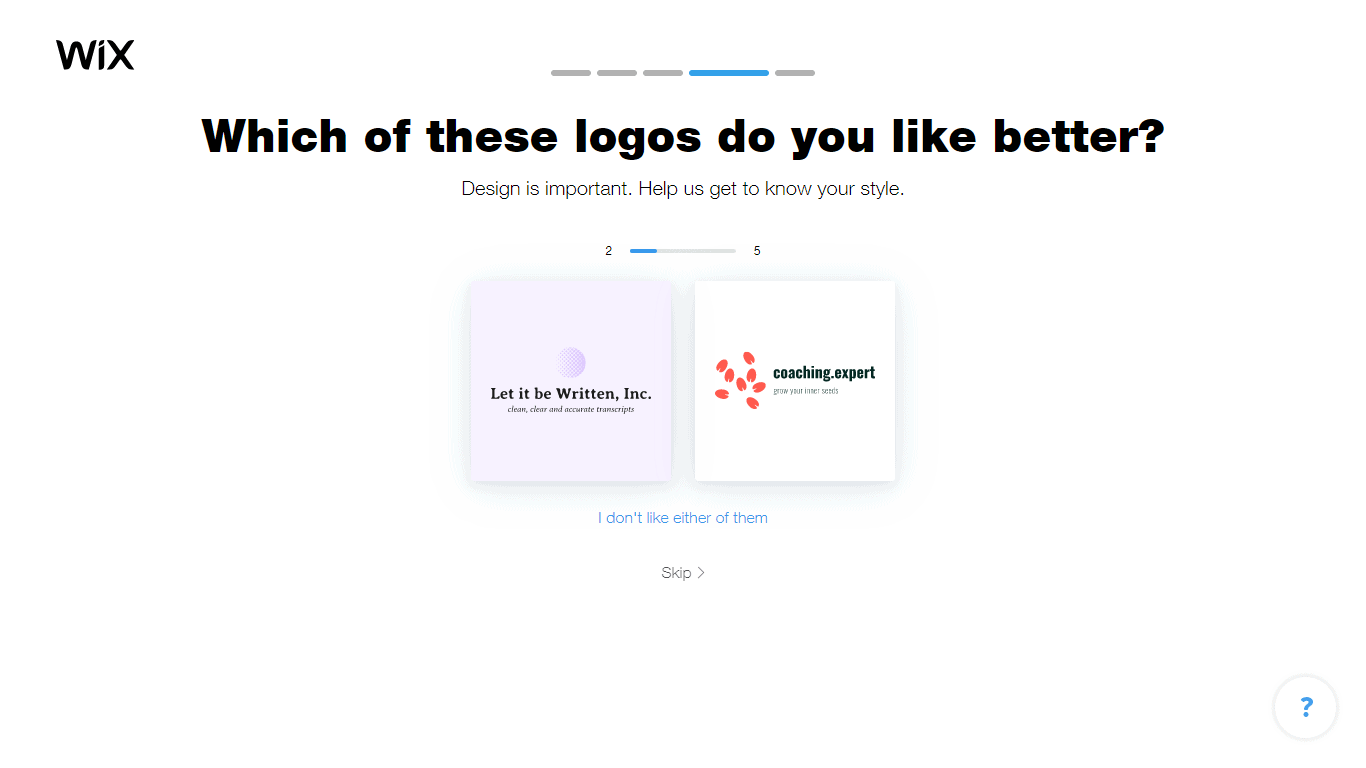 Last up, it's time to tell Wix Logo Maker where you'll be using your logo. If it's for your blog, then you'll definitely want to check the website box, and possibly social media and merch, too.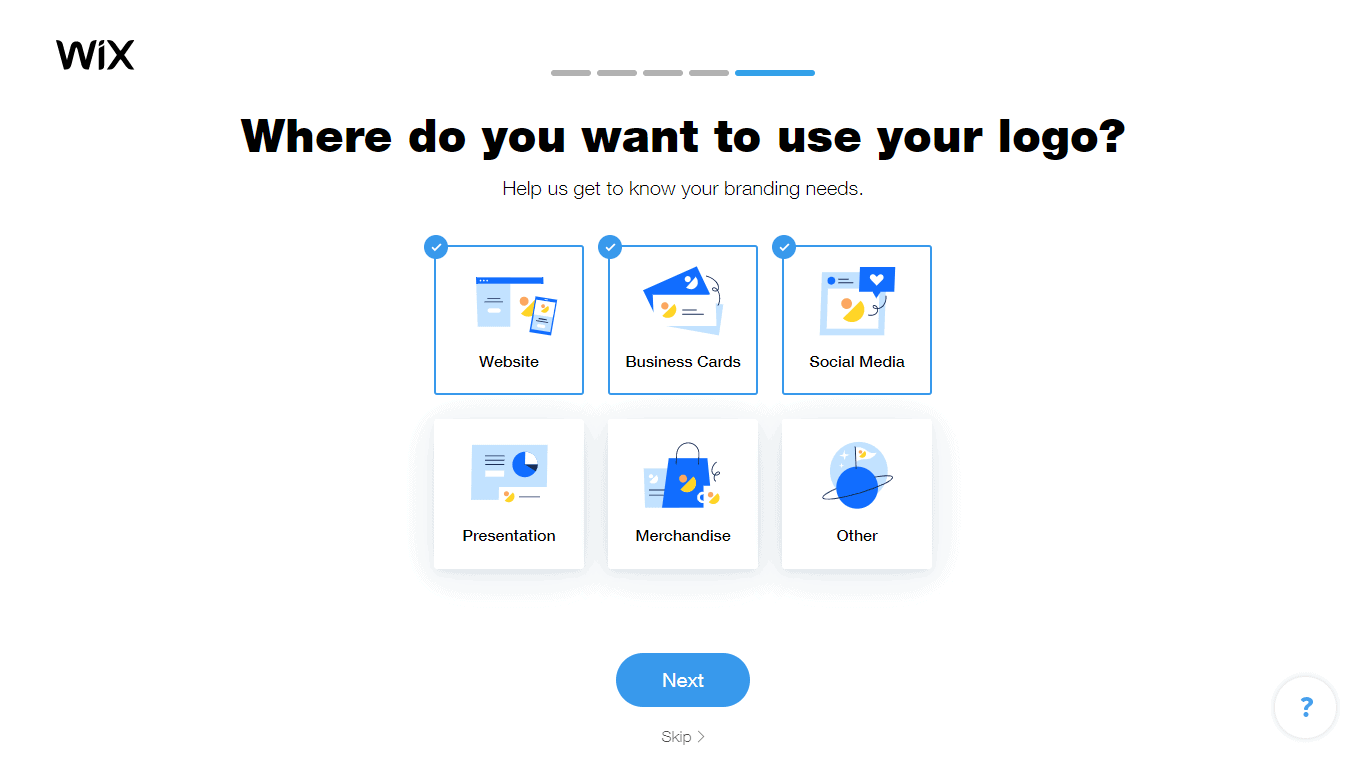 And now for your logo suggestions! Wix Logo Maker will generate a lot, so take a few minutes to scroll through all the options and see if anything piques your interest.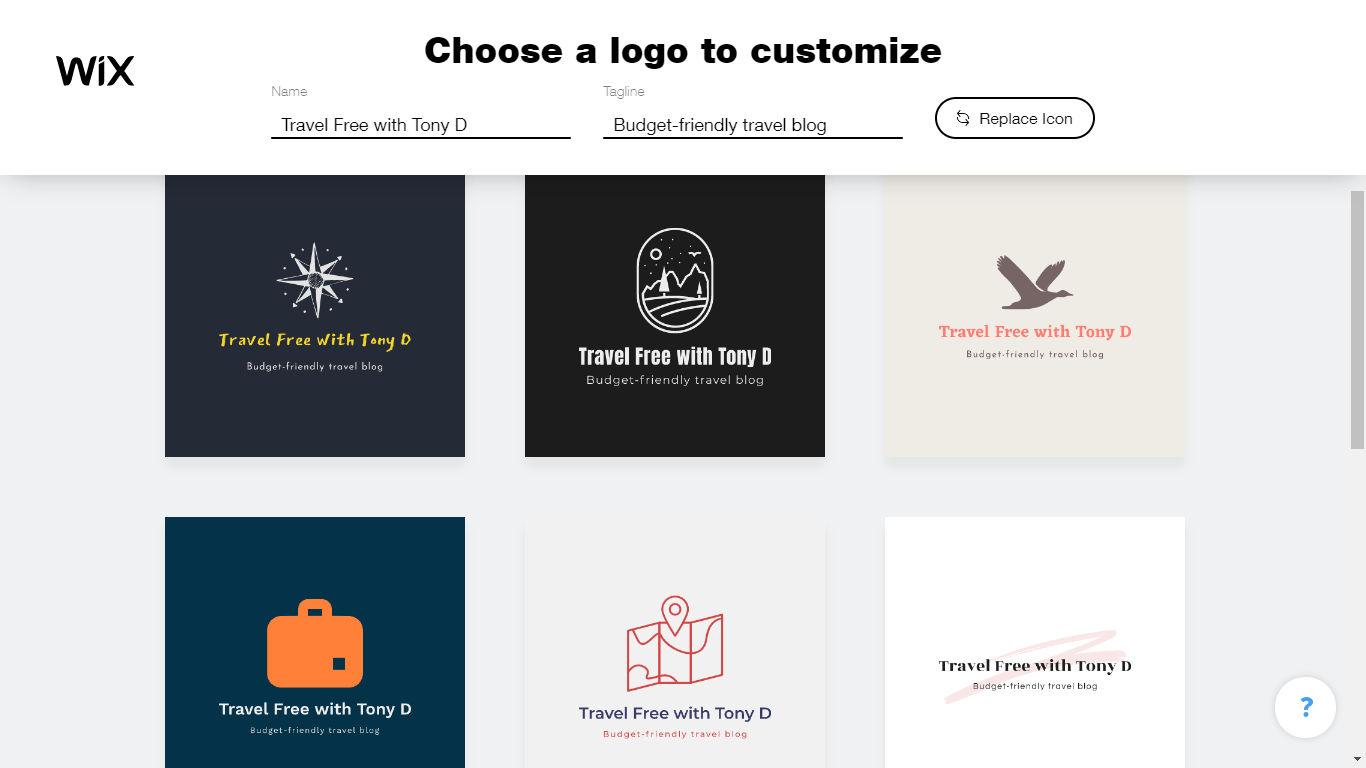 To view other icons, click
Replace Icon
and search whatever term you'd like. In this case, you can either search words specific to your blog theme or name, or try "blog" (like I did) to see what comes up.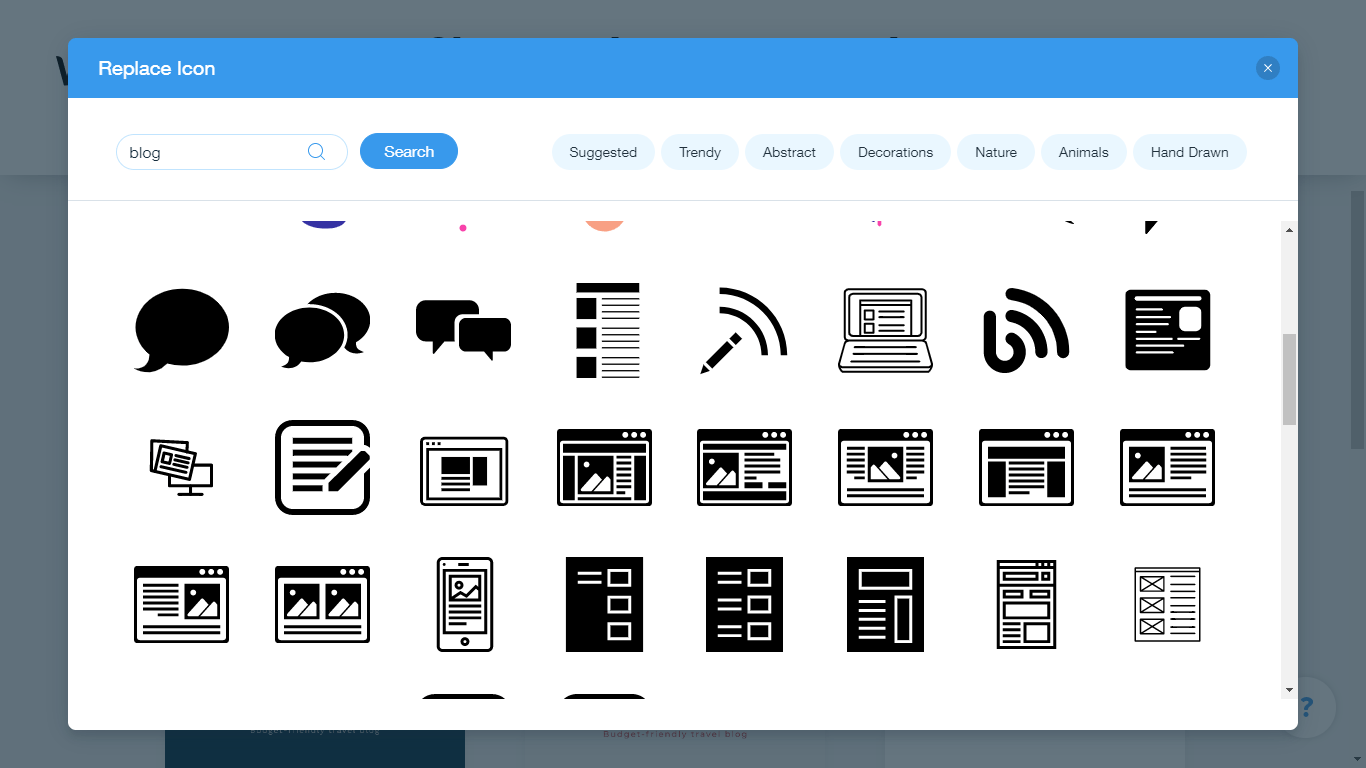 When you're ready to edit your favorite template, click on it to move on to the logo editor. There are so many editing features and Wix Logo Maker continuously updates them. Most recently, it allows you to add multiple icons to a logo design so you can now layer various images for more creative personalization. You can also choose from lots of different fonts, and play with the color scheme by choosing either a preset palette or creating your own to match your blog's colors.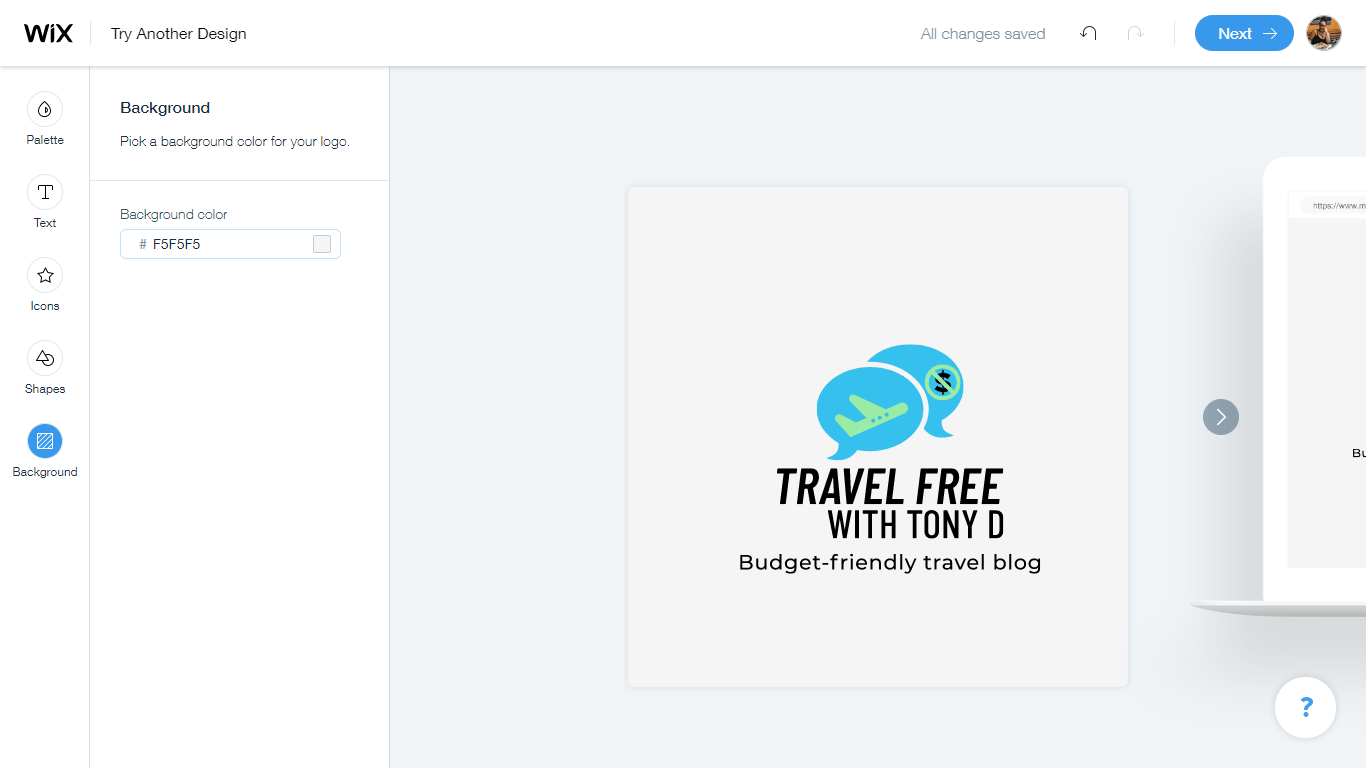 Once you're finished, click
Next
to choose your package and pay. You'll then be able to download your new logo in a high-resolution format. From here, you can upload your logo to your blog, social channels, and wherever else you may need it!
Wix Logo Maker Alternatives:
DesignEvo – If you'd rather not engage with an AI, DesignEvo offers over 10,000 design templates in various styles. You can search for "blog logo" to discover designs that are already tailored for blogs, making customization even more convenient.
LogoMaker – Need an even simpler option? Logo Maker takes you from 0-100 in just four easy steps. It's a great option if you're low on time or want a simple-looking design.
Want to know more? Read our
expert Wix Logo Maker review
to see some logo samples.
In Conclusion
You can hire an expert designer at an affordable rate that works for both amateur bloggers and those setting up a blog-based business.
Fiverr is the place to start your logo journey
, however small your budget. Where else can you get a professional blog logo, all for less than a cup of artisanal coffee? When you'd rather take creative control,
Wix Logo Maker can ensure your final product doesn't look like a home project
. With its AI tech and attractive designs, it'll do some of the heavy-lifting for you. All you have to worry about is the fun part – customization! If you're still on the fence about which logo service you need, don't worry. You can check out my co-worker's
full logo design service comparison
 to see how other popular services ranked.