Skip ahead now to find out how you can hire a skilled logo designer for as little as $5.
Here are nine of my favorite bird logos from around the web. If you'd like to try designing your own logo, read on and I'll show you how.
9 Best Bird Logos
Website Planet's Logo Project Puts Design Services to the Test
Recently, my colleague tested a bunch of online logo design platforms, in search of the best new logo for Website Planet. You can read all about the project and see who won in his
expert comparison of the top logo design services
.
How to Hire a Logo Designer for a Great Price
When I heard I could hire a logo designer on Fiverr for only $5 US, I thought, "No way." But I had to give it a try, right? When I did, I liked two things immediately:
Fiverr gives you access to tens of thousands of designers, and the site is super easy to use.
When you
go to the Fiverr homepage
, just click on
Graphics & Design
, and then click
Logo Design
under
Logo & Brand Identity.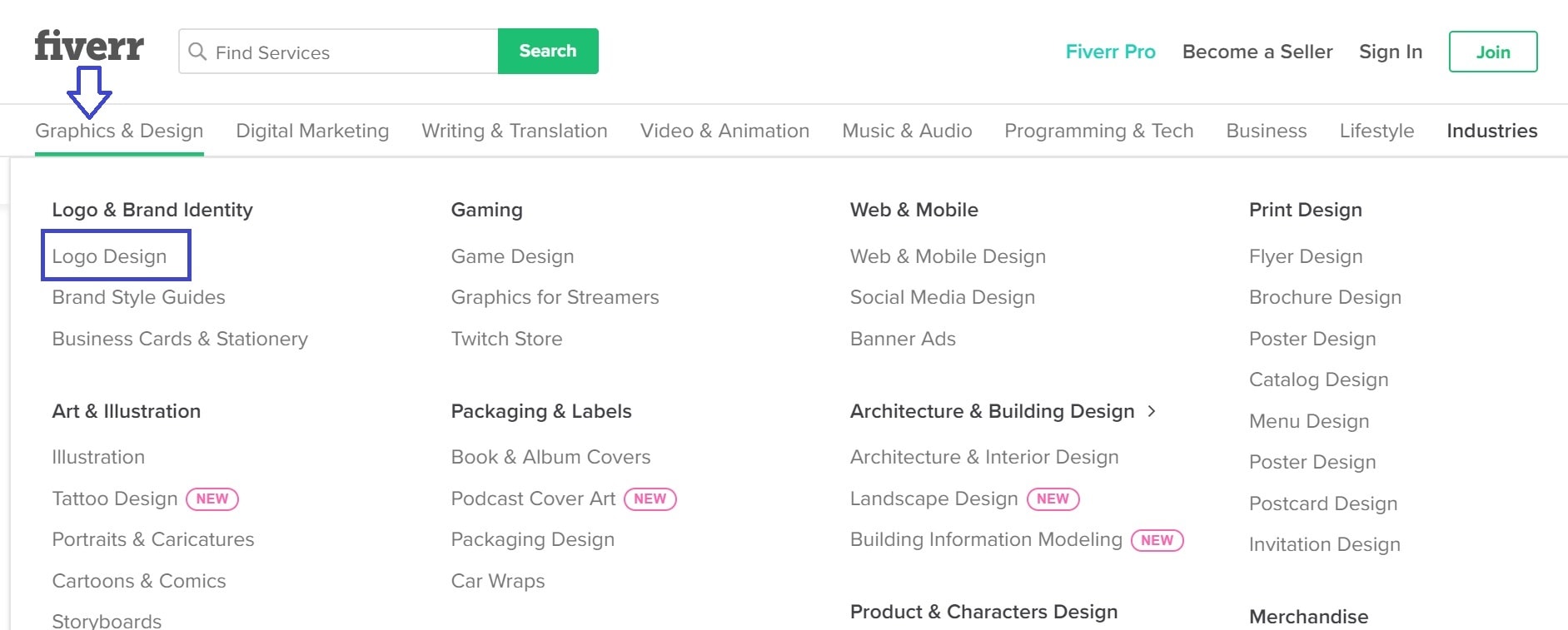 Next, you can either type keywords into the search bar at the top (I just entered "bird logo"), or get some help from the Fiverr logo designer search wizard. This handy tool asks you a few simple questions about your logo idea, then finds designers who might be a good match for your project. You can find designers who specialize in just about any type of
animal logo
.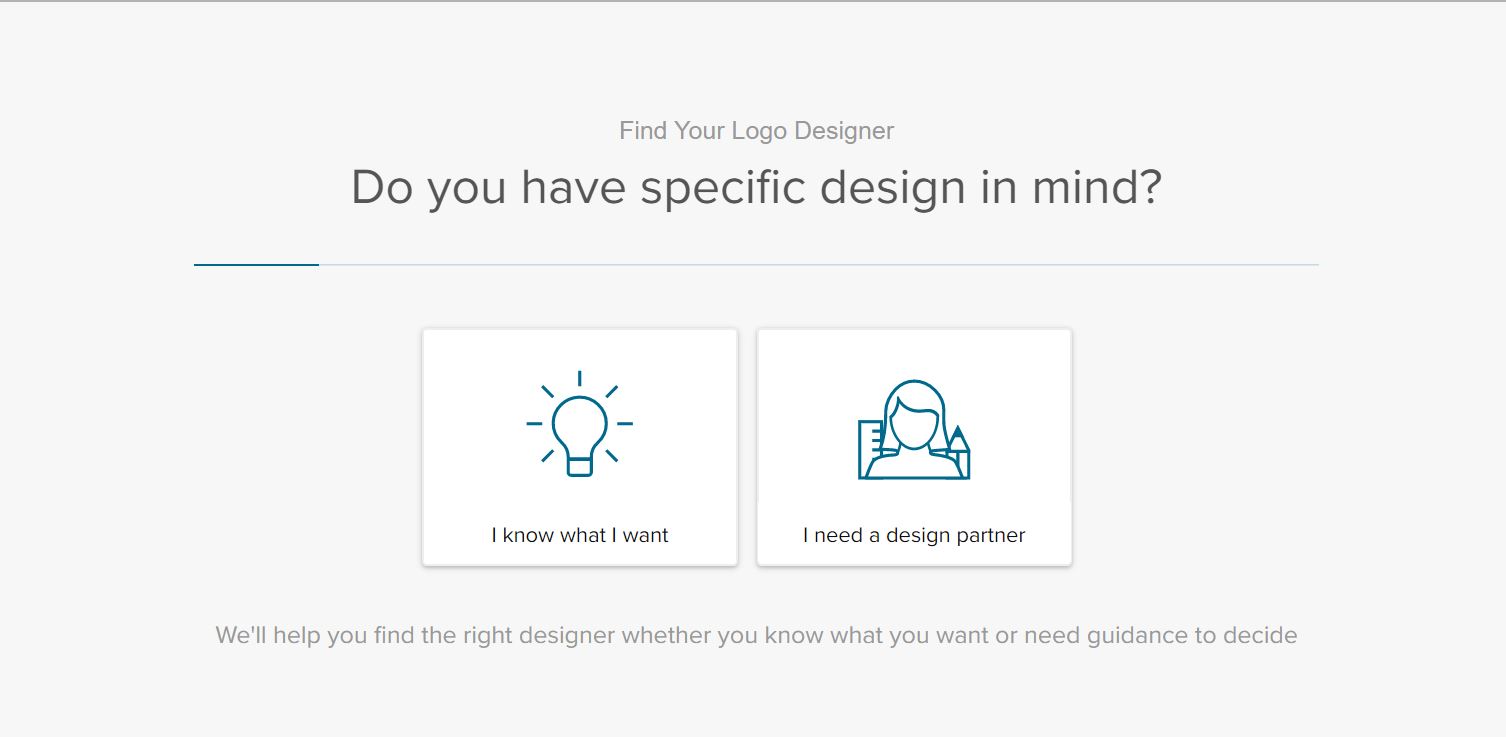 Whichever path you take, you can narrow your search further by specifying your preferred
Logo Options
(minimalist, mascot, etc.),
Seller Details
(such as location or experience level),
Delivery Time
and
Budget
.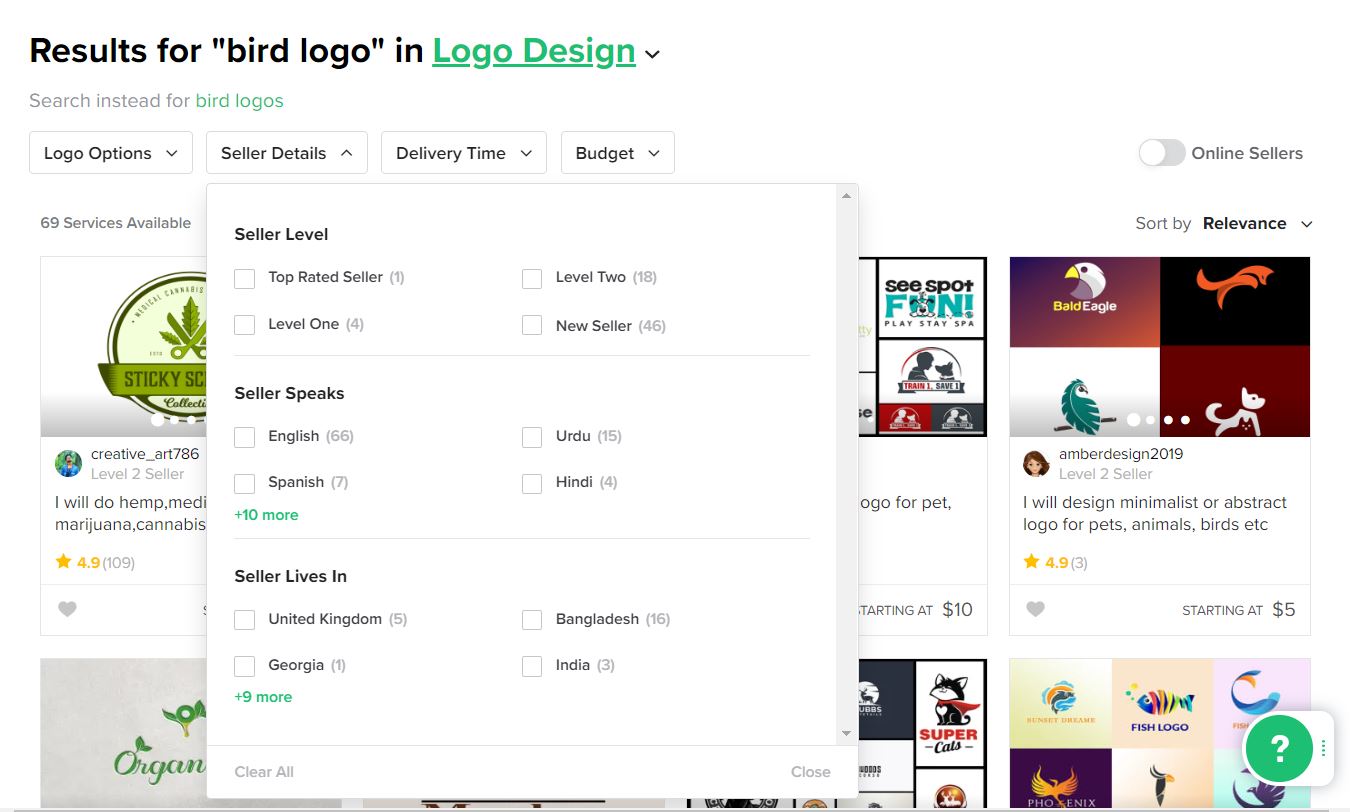 Picking Your Fiverr Designer
When you find a few designers that look promising, make sure to look over their work samples and check their client ratings and reviews. You can also use the website or the free Fiverr mobile app to send a message to designers, introducing yourself and explaining what you need. Not surprisingly, more experienced designers usually charge more than $5. However, you can also find new designers with great design concepts, but not enough customer reviews to charge higher rates. Most importantly, even
Fiverr designers who charge a little more can still be cheaper than using an online logo maker.
More Key Fiverr Features
Public designer portfolios. Fiverr makes it easy to see designers' past work and read their client reviews, taking the guesswork out of hiring your logo designer.
No hidden charges. Once you and your designer agree on a gig price, that's the amount you pay. And your funds will be safely held in escrow until the job is done.
Designer diversity. Fiverr gives you access to designers with a huge range of cultural backgrounds. That means you can choose from a huge range of design styles.
Fiverr Pro. If you have a larger budget, check out Fiverr Pro, a premium service with vetted professional designers who consistently produce top-quality designs.
Remember the Website Planet logo project I mentioned above? I was really surprised by the quality of the logos produced by Fiverr designers, including one who only charged the $5 minimum project fee Check out our
in-depth Fiverr review
 to learn more.
How to Make Your Own Bird Logo
If you would rather spread your wings and create your own logo from scratch, there are plenty of online tools for that purpose. Just keep one thing in mind:
Many online logo makers let you design a logo for free, but you can't use the logo for commercial purposes unless you buy it.
I tried out some bird logo designs with Wix Logo Maker, and I like how this online tool works. It uses artificial intelligence (AI) to generate logo concepts for you, then allows you to customize the design to fit your unique brand. If you want to know more about how it works, read our
expert Wix Logo Maker review
. To get started, just answer the AI wizard's questions about your company and your design preferences. You'll then get a bunch of suggested logos to review, some of which might be pretty cool right out of the box.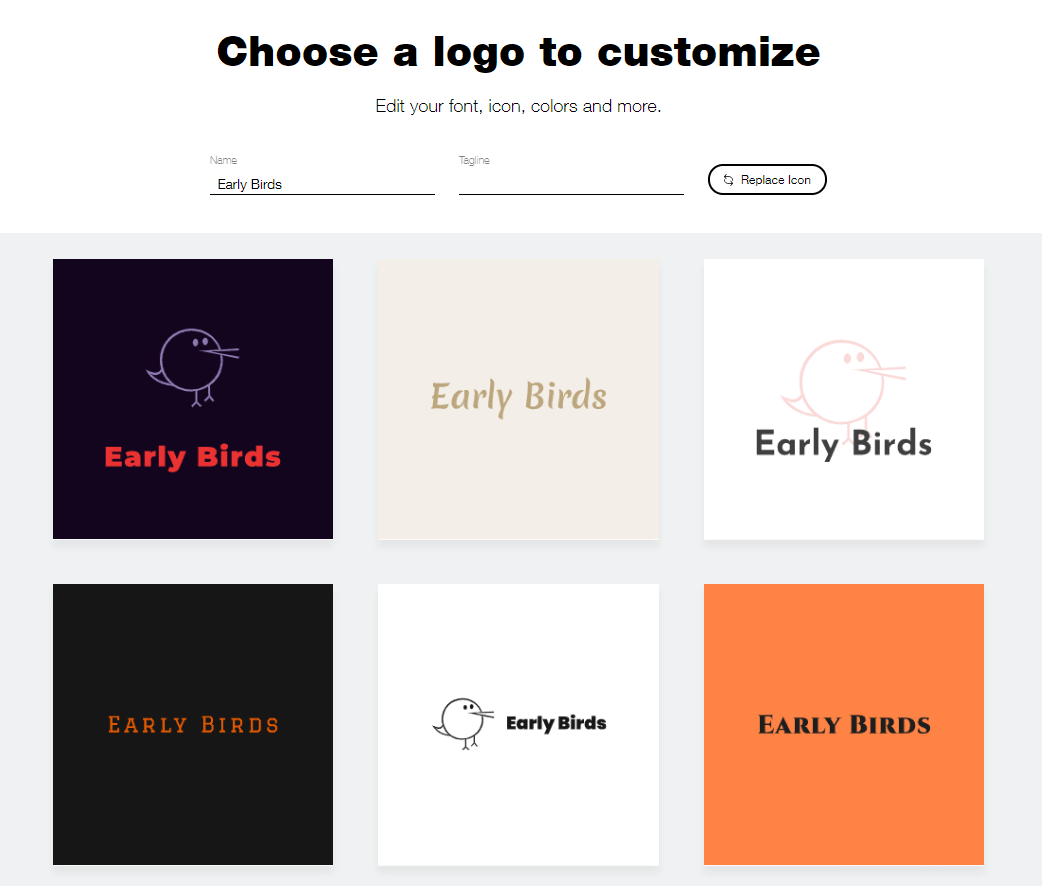 But what I really like is that once you choose a design, you can change almost every aspect of it in the editor.
The user-friendly interface makes it simple to choose a new icon, try different color schemes, switch fonts, or even alter the layout. When you're done, just choose the best price plan for you, and you get high-quality logo files with full commercial usage rights.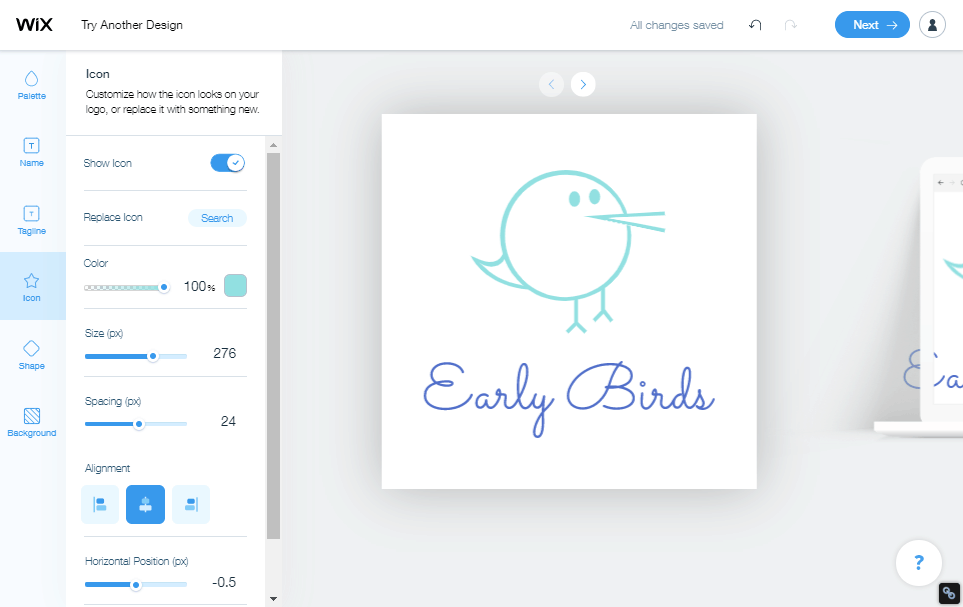 Best Alternatives to Wix Logo Maker
If Wix Logo Maker doesn't generate the right logo for you, you can try these other tools:
DesignEvo is one of the simplest logo makers, and the website features great step-by-step tutorials in case you get stuck. I like the flexibility of the logo editor. Read our expert DesignEvo review to see examples and learn more.
Tailor Brands has a seasonal logo generator, so if you're going for a Partridge in a Pear Tree thing, it might be the perfect choice. If you're not sure if it's the right tool for you, read our in-depth Tailor Brands review.
Before You Fly Away, a Few Final Thoughts
Whether you choose to
create your own logo with Wix Logo Maker
 or
hire a logo designer on Fiverr
, I suggest you keep one last point in mind. To paraphrase the great musician Miles Davis,
sometimes your best design detail is the one you leave out.
It's the simplicity of Twitter's bluebird and TripAdvisor's owl eyes that makes these bird logos so unforgettable. Before you become fixated on each individual feather, take a moment to consider whether the bird icon in your logo requires any feathers whatsoever. Recall that while logo design constitutes an art, it must not solely showcase the technical prowess of the artist. The sooner individuals can identify and commit your logo to memory, the more favorable the outcome. Want to learn more about the pros and cons of using online logo makers or hiring human logo designers? See our
detailed rundown of all the best logo design services
.