To sum it up, it's great for small businesses and individuals getting started with email marketing.
But what next? What happens when you start to grow your business, your marketing knowledge and ambitions expand?
For many users, this is where VerticalResponse no longer ticks all their boxes.
Sure, it offers automation, analytics, testing, and other so-called "advanced" marketing tools. But are they up to scratch with rival services?
There's an option to sign up for VerticalResponse's fully managed email marketing service, handing the reins of your campaigns to professionals. But that costs. If you're looking for a middle ground –
an email marketing service that lets you get to grips with more advanced marketing features yourself, at a reasonable price
 – I tested out the competition to see which rival services go further than Vertical Response. Here are my top six – read on to find out which is the best option for you.
Short on Time? These Are the Best Alternatives to VerticalResponse in 2023:
ActiveCampaign – A service stacked with advanced features, great for easing you gently into the world of end-to-end marketing automation.
Benchmark – Great for adding feature-rich sign-up forms across all your channels to grow your contact list.
Sendinblue – A stand-out solution for small businesses that combines support for transactional and promotional emails with great value.
What We Look For in the Best Alternatives to Vertical Response
While testing VerticalResponse competitors, these were the key areas I focused on:
Automation – The more features you want from your email marketing service, the more important automation becomes to save time and effort. VerticalResponse lets you set up basic autoresponders and automated follow-up emails, but I wanted to find out which services let you build more sophisticated campaign workflows.
Relationship building and conversions – Ultimately, all marketing is about building relationships with potential customers and converting leads into sales. VerticalResponse does not offer much in the way of CRM or support for sales and aftercare, so I was keen to find out which services score better in these areas.
Integrations – VerticalResponse only offers 30+ direct integrations with third-party platforms, which is very little by the standards of most modern email marketing services. For growing businesses, integrations offer a way of increasing the functionality and value you get out of an email marketing service and also help improve efficiency by ensuring all your digital services are working in tandem.
ActiveCampaign is packed full of features to help you step up your marketing skills which we unpack in depth in our ActiveCampaign review.
 This includes tools for social media and SMS marketing, Customer Relationship Management (CRM), sales, events, and much more besides. But for me, where ActiveCampaign stands out is with automation. It describes itself as a "customer experience automation" platform and follows up on this with a heavy emphasis on automation not just for email campaigns, but for engagement via social media, SMS, and on your own website – something VerticalResponse doesn't offer. VerticalResponse's autoresponder and automated follow-up email options are very basic, offering only a handful of conditions for determining how and when an email is sent. On the other hand,
ActiveCampaign
features more than 100 fully customizable email automation templates
 – way more than any other service on this list – which let you shape how, when, and why a message is sent, and to whom, down to very precise details The templates are sorted by industry and sectors, which makes it easy to track down something specific to your needs. I found the workflow editor very simple to use for customizing templates and building your own from scratch, with clear layouts and plenty of on-page support.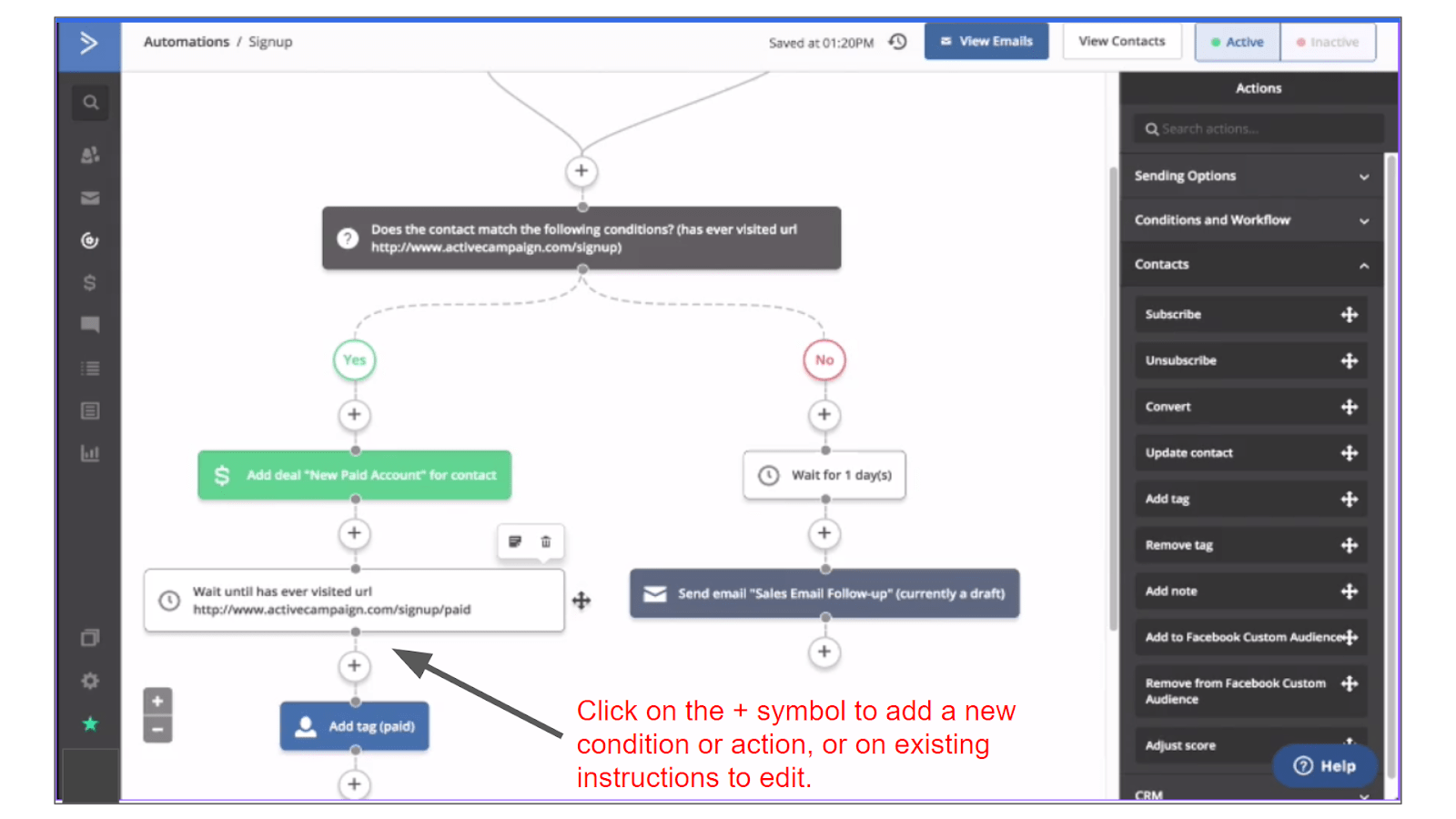 As you go higher up the tiers, you get access to a whole host of automation options beyond email marketing, covering things like on-site interactions and chat boxes, sales automation, and follow-ups for Facebook Ads.
One I really like is the Automation Map, which lets you see how all your different automations play out with one another
. ActiveCampaign lets you get started with its advanced automation tools for a very attractive price.
The Lite plan starts at

$

29.00

 a month for up to 500 contacts and unlimited emails
, with access for up to three users per account. In comparison, the VerticalResponse Pro plan costs
$
16.00
 a month for a single user and the same number of contacts.
ActiveCampaign Features
Eye-catching templates and simple editing: Like VerticalResponse, ActiveCampaign doesn't have the biggest choice of email templates out there. But those that are available are better quality and can be customized as much as you like using the simple drag-and-drop editor.
Dynamic content: As well as letting you set very specific automated rules, ActiveCampaign also lets you change the content of emails to suit the preferences and past behaviors of different contacts right down to an individual level. This level of personalization is not available on VerticalResponse.
Advanced tracking: VerticalResponse lets you track and analyze how emails perform with different recipients. ActiveCampaign takes this much deeper and way beyond emails, letting you track behavior across all touchpoints, including your website.
Lead scoring: VerticalResponse reports on how your contacts are engaging with your emails. But ActiveCampaign makes these insights easier to understand and more meaningful by lead scoring – giving each prospective customer on your contact list a rating to indicate how engaged they are with your business and how likely they are to buy from you.
| | |
| --- | --- |
| Free plan/Trial | ActiveCampaign offers a 14-day free trial but no free plan. |
| Integrations | 260+ including Facebook, WordPress, Shopify, and WooCommerce. |
| Templates | 30 easy-to-customize designs. |
| Analytics & Reporting | In-depth advanced options, including multi-channel interaction tracking and open/read trends. |
| Customer Support | Live chat, email, and (on higher plans) phone support, plus on-page Help button and searchable FAQs, blogs, and guides. |
Creating attractive email campaigns is only half the battle with email marketing. The other crucial part is growing your list of contacts. After all, each contact is a potential customer.. VerticalResponse lets you build landing pages, pop-up forms, and surveys for capturing new client details. All of these tools are okay – but for my money, Benchmark does them all better. Overall, I think
 Benchmark hits a sweet spot between being user-friendly enough for novices and offering something more for advanced users
. Its selection of list-building tools is a great example of this.
Benchmark's form builder is my favorite on this list.
The simple drag-and-drop editor is as easy to use as they come (it's why it scores so highly in
our Benchmark review
), but you get more freedom to add and customize fields than most. Forms can be embedded on your own or third-party sites (e.g., on WordPress or social media), and they can be designed to pop up when someone acts in a certain way on a site. It's a similar story with landing pages, surveys, and polls – Benchmark makes them all easy to build, flexible, and feature-rich.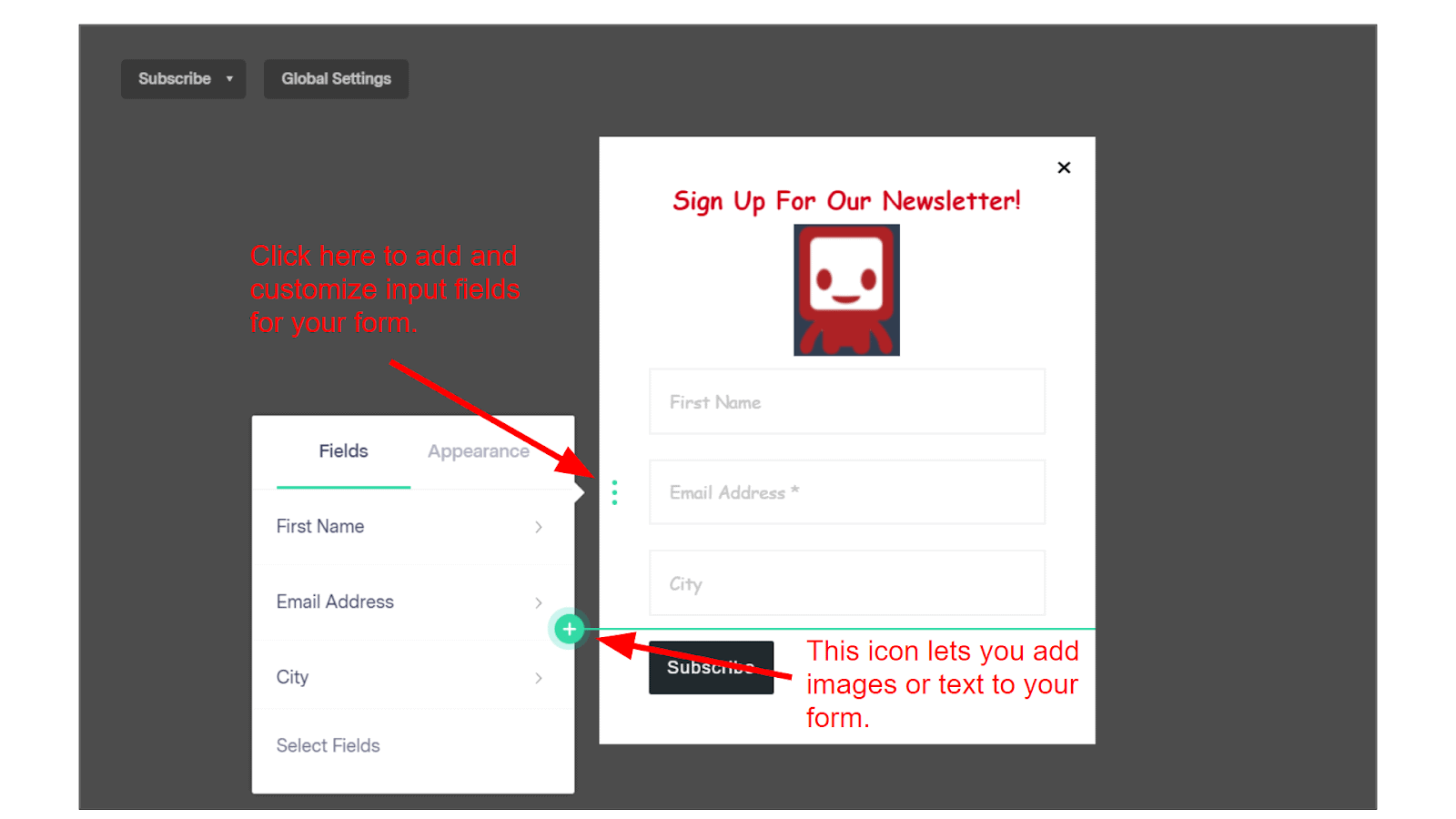 Also, Benchmark's extensive list of integrations – 300+ compared to VerticalResponse's 30+ –
makes it straightforward to import existing accounts from other services such as Salesforce.
 There's also a list-cleaning option that sorts out any non-functioning emails you might add, although this is a paid-for extra – $3 per 1,000 contacts. Overall, Benchmark's superior list-building capabilities are available at a competitive price. The Pro tier, which includes full lead generation options, starts at
$
8.00
a month for up to 500 contacts and unlimited emails.
There's also a free plan offering some simple list building tools.
Benchmark Features
User-friendly automation workflows: I'm a big fan of Benchmark's automation workflow editor, which strikes a great balance between simplicity and sophistication. These workflows let you automate sending based on contact-list segmentation or actions taken by a contact. You can choose to start with one of 10 templates or build your own from scratch.
Big choice of email templates: Benchmark beats VerticalResponse hands down for the number of email templates it offers – more than 220 in total. The templates are of a good professional standard and are easy to customize in the drag-and-drop editor.
Flexible content creation: Benchmark's drag-and-drop editor holds its own against any other email builder for ease of use and the level of customization it allows. It lets you swap pre-formatted blocks of content in and out, rather than individual page elements.
Clear reporting: On its Pro plan, VerticalResponse offers advanced campaign analytics such as link, subject line, geolocation, and device performance tracking. Benchmark offers these on all of its paid-for plan
| | |
| --- | --- |
| Free plan/trial | Yes – the free plan allows you to send 250 emails per month. |
| Integrations | 300+, including WordPress, PayPal, Facebook, and Shopify. |
| Templates | 220, including designs for newsletters, announcements, greetings and promotion.s |
| Analytics & reporting | Easy-to-read visual reports covering core campaign metrics, plus more advanced options such as social sharing and geotracking |
| Customer Support | 24/7 live chat and email/ticket support, phone support, and online knowledgebase including 40+ video tutorials; support available in nine languages. |
Like VerticalResponse, Sendinblue is a popular option for freelancers, bloggers, and anyone getting started with email marketing. It shares VerticalResponse's focus on ease of use and also
boasts one of the most generous free plans going, allowing up to 300 emails to be sent per day to an unlimited number of contacts.
However, while VerticalResponse focuses exclusively on email marketing,
Sendinblue covers a broader range of digital marketing services, including CRM, live chat, social media advertising, and more
. If you're a small e-commerce business or an independent store that sells goods online, Sendinblue has some really useful features for boosting your customer-facing communications. For me,
a stand-out feature of Sendinblue is its support for transactional emails.
 These are the sort of non-promotional emails that businesses often need to send out as part of the post-purchase process, covering things like order confirmations, e-receipts, shipping details, refund notices, and so on. Unlike promotional email campaigns that get sent to large groups of contacts at once, transactional emails are sent individually and have to be personalized accordingly, which makes them more labor-intensive. To handle this, Sendinblue has its own SMTP server, an electronic communication protocol that
automates both the sending and dynamic content creation.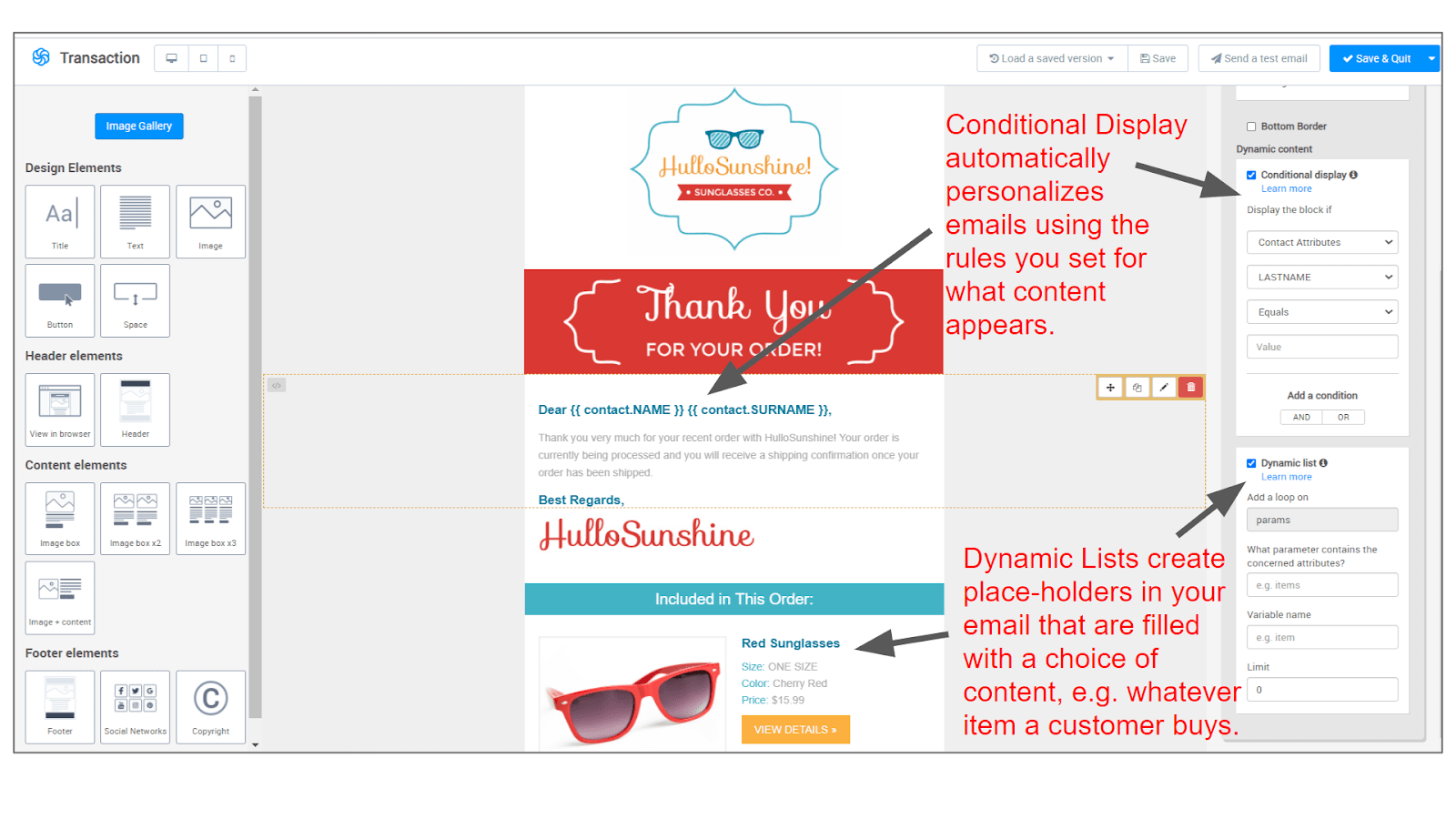 To set up the sending of transactional emails, you have to create automations, which does involve a learning curve. But there's plenty of on-page support offering targeted links to useful resources and guides. The good news for small businesses is that transactional emails are available on
Sendinblue's cheapest plans
 (including the free plan). Starting at
$
25.00
 per month, Sendinblue's paid-for plan is slightly more expensive than VerticalResponse's, but with a maximum of 10,000 emails a month and unlimited contacts, it provides plenty of room to grow your business.
Sendinblue Features
Slick drag-and-drop editor: I'm a big fan of Sendinblue's drag-and-drop editor. In terms of layout and usability, it's one of the best I've come across, as you'll see in my Sendinblue review, and it gives you plenty of options for creating attractive emails in very little time.
Automation workflows: Sendinblue lets you automate promotional and transactional emails. While the choice of templates and rules is not as comprehensive as, say, ActiveCampaign's automation options, Sendinblue offers a step up from basic autoresponders. The workflow editor is user-friendly and a good option for building your skills in marketing automation.
Live chat: If you're ready to experiment with a live chat customer service widget for your website, Sendinblue offers an easy way to get started. The chatbox is programmed and ready to go – you can tweak the design in a straightforward visual editor, then it's a case of pasting the code into your site (there are easy-to-follow guides to help you with that).
SMS marketing: If you want to communicate with your contacts via text message as well as email, Sendinblue is pretty big on SMS marketing. Whether it's campaigns or transactional messages, Sendinblue more or less lets you do everything you can do with email via SMS (just without the graphic design aspect).
| | |
| --- | --- |
| Free plan/trial | Yes – the free plan lets you send up to 300 emails a day to an unlimited number of contacts. |
| Integrations | 13 native integrations, plus access to more options via Zapier and API plug-in. |
| Templates | 60+ |
| Analytics & reporting | Basic top-line reporting of open and click-rates on the cheapest plans; advanced reporting available as a paid-for extra. |
| Customer support | Email/ticket; extensive self-service knowledge base accessed via a Help button on most pages. |
GetResponse is packed full of tools for more experienced marketers as you'll see in our
in-depth GetResponse review
. It's what you might call an email marketing-plus service, adding elements like advanced marketing automation, CRM, webinars, and social media advertising tools that take it beyond the standard email features VerticalResponse offers. In that sense,
it's a great fit for growing businesses and more established marketing professionals.
 The core email marketing tools are still fairly straightforward to navigate and use, but if you're a beginner it might take you a while to get the most out of all the options available. This is certainly true of one of GetResponse's stand-out features, its conversion funnels. Combining elements of marketing automation and CRM,
 these customizable funnels provide an end-to-end template for the entire customer journey
, from lead capture through to transactions.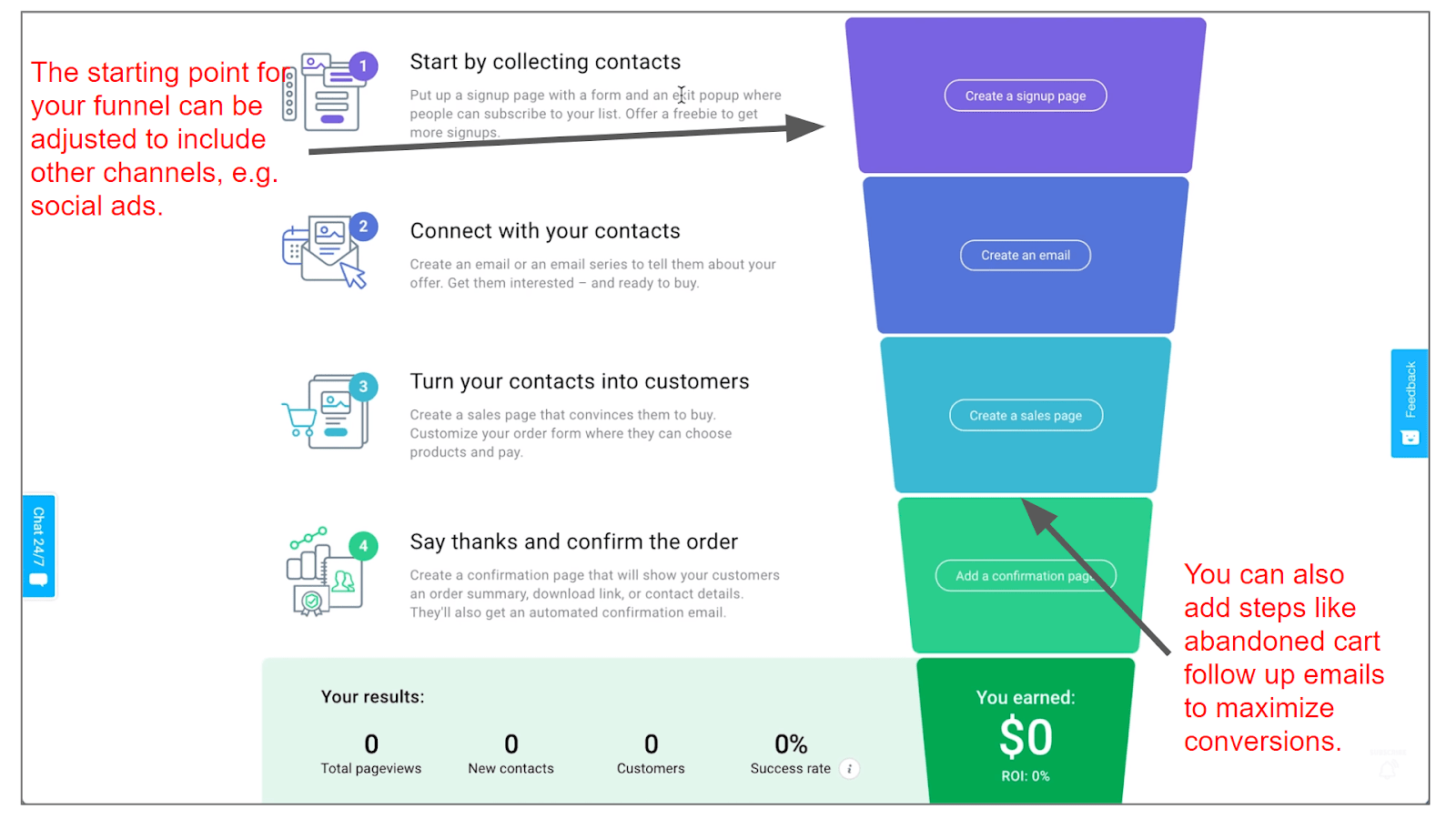 If you're at the stage where you're running lots of different digital marketing strategies side by side, this is great. Not only does it help make sure all the different parts are working together to optimize sales, but
it also saves time having to switch back and forth between different platforms.
 Everything is in one place, streamlined, and clear.
GetResponse also offers 40+ funnel templates
with different suggested steps depending on whether you're looking to sell a product or service, promote an event or webinar, attract new leads, or so on, which makes it even easier to get started. It doesn't cost much to give GetResponse a try. At
$
0
 a month for up to 1,000 contacts on the cheapest paid plan – on a par with a VerticalResponse Pro plan – you can have a go at building your own sales funnel and experiment with unlimited lead funnels.
GetResponse Features
Advanced automation workflows: Like VerticalResponse, GetResponse lets you set up autoresponders. But beyond that, you also get access to an advanced workflow editor that lets you tweak exactly how, when, and why emails are sent for very precise targeting. The GetResponse automation engine is one of the best I've used on an email marketing service. There are also useful templates for different scenarios to help you get started.
Landing pages: I found GetResponse's landing page editor easy to use. There are more than 180 professional-looking templates available and the flexible customization options mean you can create quality product-focused pages in very little time.
Social media marketing: GetResponse's social media services are informative and useful. There's plenty of support to explain how Facebook Ads work, how to buy access to strong leads based on your current customer profiles, and how to target social ads to the people visiting your web pages. There's also help getting started with Instagram, and all of these can be connected to your conversion funnels to get the best value out of the new leads and contacts you pick up on social media.
Webinars: GetResponse is a great way to get started with webinars. Available on the Plus plan upwards (starting at

$

15.58

 per month for up to 1,000 contacts), setting up a webinar is as easy as scheduling a meeting in your desktop calendar. You can promote the event directly via email, including setting up automated reminders. When it comes to the webinar itself, GetResponse has all the tools you need: video live-stream broadcasting, screen share, whiteboards, instant messaging, and even quick-fire polls to get your audience involved.
| | |
| --- | --- |
| Free plan/trial | No free plan, but a 30-day free trial for up to 1,000 contacts. |
| Integrations | 34 native integrations to third-party services including PayPal, Facebook, Slack, and YouTube (for webinars). |
| Templates | 100+ for the latest email editor currently available as a beta release; 500+ for the previous editor. |
| Analytics & reporting | Advanced options include real-time open and click-through stats, campaign comparisons, and mobile vs. desktop. |
| Customer support | 24/7 live chat, email/ticketing, and an extensive self-help online knowledgebase. |
Starting at
$
12.00
 a month for the cheapest paid plan, Constant Contact is more expensive than VerticalResponse. But that aside,
it's arguably one of the best options around for anyone looking for a straightforward, easy-to-use email marketing service they can get started with quickly.
With an excellent drag-and-drop editor, hundreds of high-quality templates, and simple yet effective automation and analytics,
I highly rate Constant Commerce for all your email marketing basics.
In fact, it's scored impressively high for its range and quality of features in
our Constant Contact review
. It also has great options for integrating e-commerce with your email marketing. There are two sides to this. First, you can connect your Constant Contact account to your store on one of the big-name e-commerce platforms like Shopify and WooCommerce. This allows you to sync contacts between the two accounts, segment email campaigns based on purchasing activity, and send automated emails for things like abandoned carts. So far, so standard. Many email marketing services offer integrations with Shopify and the rest.
What's unique about Constant Contact is it also offers web hosting on all of its plans, and you can use this to build an e-commerce store.
 There's support for online billing, order, and inventory, downloads for digital products, discounting, and even calculating shipping costs. Constant Contact also offers transactional emails for automating the sending of receipts, order confirmations, shipping details, and so on.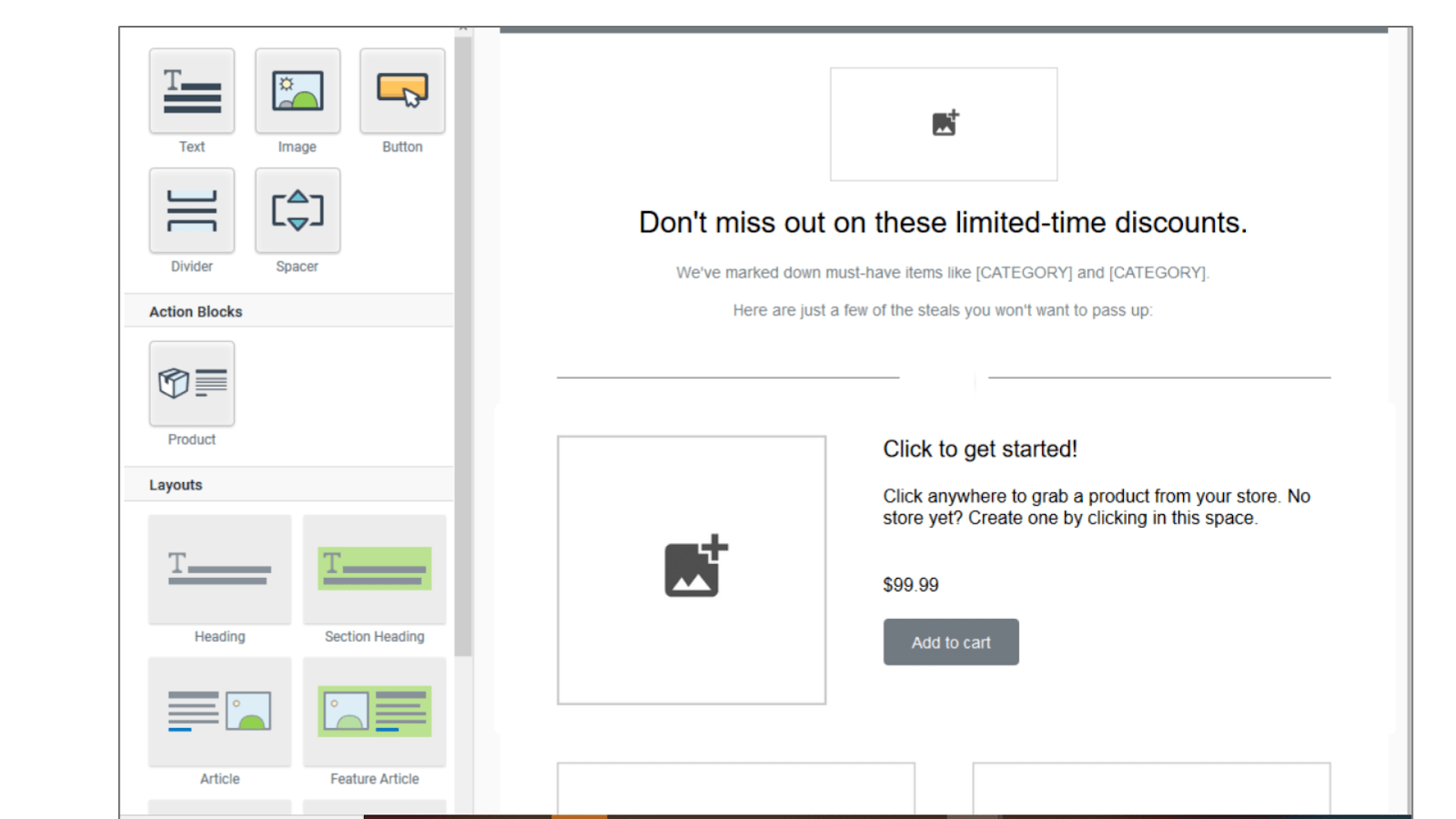 Having this available as part of a low-cost email marketing plan is likely to appeal to people who are thinking about setting up their first small web store and want marketing options bundled in or people, like bloggers, who use email marketing already and want to branch out into selling things. Where Constant Contact's e-commerce features have broader appeal is on the more expensive
Plus plan
,
when you can import products from your web store to list for sale in your emails.
Constant Contact Features
Web hosting: Web hosting is not something many other email marketing services offer. If you like the idea of building complete websites to go with your email campaigns, rather than just custom landing pages (which you can do here, too), Constant Contact could be the ideal choice. All plans come with web hosting included, and you'll get unlimited storage, an SSL security certificate, analytics, a blogging platform, and the ability to buy or connect to your own custom domain.
Social marketing: Constant Contact allows you to create, pay for, and measure the performance of Facebook and Instagram Ads. It also provides a posting and scheduling service for Facebook and Instagram, which works according to the same principles as scheduling an email campaign.
Logomaker: One other unique feature I really like in Constant Contact is its logo-making tool. Just type in the name of your company or a slogan and an AI engine generates six logo options. If there's nothing you like the look of, you can generate six more, and keep scrolling until one catches your eye. Once you pick one, you can customize the colors, fonts, and so on, until you're happy.
Event Promotion: In line with its e-commerce offer, Constant Contact is great if you want to manage paid-for events alongside your other email marketing. Most rival services, VerticalResponse included, let you promote events to your email contact lists and link to sign-up forms, etc. Where Constant Contact stands out is that it also partners with WePay to let you take payment for tickets through the platform, for a small transaction fee.
| | |
| --- | --- |
| Free plan/trial | No free tier, but a 30-day free trial is available. |
| Integrations | 500+ third-party apps and integrations are available. Around 100 of these are free to use, the rest are paid-for extras. |
| Templates | 240+ |
| Analytics & reporting | Basic real-time tracking of recipient activity. |
| Customer support | Live chat and telephone, an extensive online knowledgebase, which includes video tutorials and an active user community. |
AWeber is one of the longest-running email marketing services out there, which can be both a strength and a weakness. On the one hand, email marketing has come a long way in the 20+ years that AWeber has been around. On the other hand, two decades is plenty of time to perfect what matters in email marketing. For example,
AWeber has always put a lot of emphasis on outstanding deliverability
. Unlike many rivals, it still runs its own email delivery platform, rather than relying on third parties. That said, AWeber does not shy away from third-party partnerships in other areas. In fact, if you're a growing business looking to get more than just the basics from your email marketing service,
I'd say the biggest reason to opt for AWeber is the number of third-party integrations it offers
(and it's something we loved in
our AWeber review
)
– more than 850, compared to the 30+ available on VerticalResponse.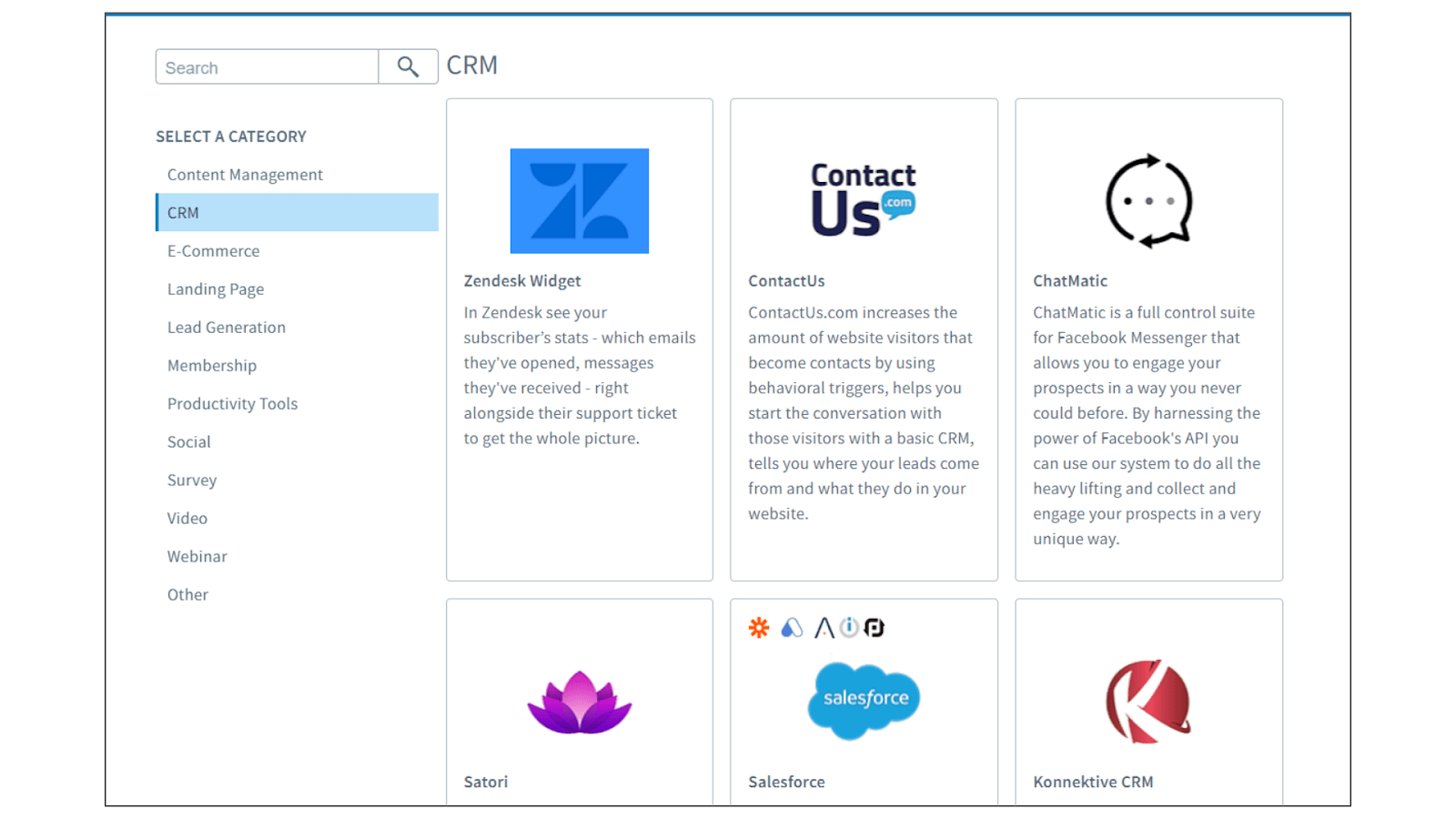 The large number of integrations AWeber offers makes it a great choice if you already use multiple online business services
and want them to work seamlessly with your email marketing platform.
With so many options, you can customize AWeber to do whatever you need. It might not have its own tools for creating and managing end-to-end digital marketing funnels, launching social campaigns, or setting up a web store. But you'll be able to find a plugin that does the job.
AWeber Features
AI-powered template builder: AWeber is still well capable of introducing innovations of its own into the email marketing space, and one of the stand-out examples is its Smart Designer. Using an AI tool, it looks at the branding of your own website to suggest custom email template designs.
Mobile apps: Another area where experience has helped AWeber get ahead of the game, is its development of mobile apps. The Curate app lets you create and send newsletters using content from your blog and website, the Atom app is a mobile form-building tool, and Stats gives you access to all your reports and analytics.
Personalization: Every marketer knows you'll have more success if you make the content of campaigns relevant to your audience, right down to the personal level. AWeber lets you do this by adding dynamic content to emails – changing what your recipients receive based on how you tag and segment your contacts.
| | |
| --- | --- |
| Free plan/Trial | Yes – AWeber's free plan lets you send up to 3,000 emails per month to up to 500 contacts. |
| Integrations | 850+, by some distance the largest number of native integrations offered by any email marketing service. |
| Templates | 700+ free to use for all subscribers. |
| Analytics & Reporting | A choice of pre-built reports and dashboards covering basic performance metrics. Mobile reporting app available. |
| Customer Support | 24/7 live chat, phone support, email/ticketing, plus extensive online knowledgebase. |
Choosing the Right VerticalResponse Alternative for You
VerticalResponse offers a robust email marketing service tailored for beginners, bloggers, and freelancers, providing them with a generous free plan. However, if you operate a growing business, you may find yourself at a juncture where relying solely on email marketing may no longer suffice. As you'll have seen from this article, there are plenty of alternative services out there that offer quality email marketing tools as part of a larger marketing package.
Which one is right for you depends on where your business is right now and where you want to go next
.
If you are ready to explore advanced marketing automation, I would recommend ActiveCampaign
. The number of workflow templates it offers, the simplicity of the workflow editor, and the level of customization available add up to a set of tools that are both powerful and straightforward to get started with. Alternatively,
for an end-to-end marketing approach, go for GetResponse for its conversion funnels
. If your next focus is on growing your list of contacts and potential leads,
I would recommend Benchmark because of its flexible and user-friendly form-building options
. To integrate sales with your email marketing,
Constant Contact offers a unique option to build a web store hosted within the platform
, although you have to pay for the higher tier plan to sell directly within emails.
Sendinblue
offers the most straightforward option for sending out transactional emails
 to confirm orders, shipping arrangements, and so on. Still unsure? You can find out more by reading our list of the
best email marketing services for 2023
.
When VerticalResponse Isn't For You…
Starting price
Standout feature
Best for
ActiveCampaign

$

29.00

User-friendly marketing automation
Growing businesses looking to save time by automating marketing activities
Benchmark

$

0

Flexible form builder and feature-rich content creator
Businesses keen to grow their marketing reach across digital channels
Sendinblue

$

0

Simple-to-use transactional emails, with fully customizable templates
Small or start-up online retailers looking to send out delivery updates, etc by email
GetResponse

$

0

Conversion funnel templates for end-to-end marketing management
Companies looking to drive value by integrating their marketing activities
Constant Contact

$

12.00

Option to build web stores and host them within the Constant Contact platform
Small businesses looking to sell online for the first time
AWeber

$

0

The largest choice of third-party integrations
Those looking to add email marketing to a large number of existing digital business support services.
FAQ
What is the best alternative to VerticalResponse?
Deciding on the best alternative to VerticalResponse depends on your circumstances and what you are looking to get out of an email marketing platform. Here are six options I believe offer different benefits to VerticalResponse. They are:
Sendinblue vs VerticalResponse: which is better?
From the comparison above, VerticalResponse and Sendinblue both offer numerous similar features and both provide user-friendly email marketing solutions ideal for beginners and smaller operations. However, in my opinion, Sendinblue has a slight advantage for expanding businesses due to two primary factors: a broader variety of features and a superb plan that costs nothing.
What are the best FREE alternatives to VerticalResponse?
Three of the alternative services I have reviewed in the above article offer free plans:
Sendinblue's free plan allows for an unlimited number of contacts on its free tier with a maximum of 300 emails sent per day and access to most core features.
AWeber's free plan allows a maximum of 500 contacts and a limit of 3,000 emails per month.
Benchmark's free plan allows a maximum of 250 emails to be sent per month and limited access to key features.