If Sendinblue isn't working out for you and you want to switch to another provider, you'll need to be careful when looking for a replacement.
Sendinblue's competitors aren't all good alternatives
, and the last thing you want is to end up with a provider that has the same issues. You might be looking for an email service provider with
better support or a simpler user interface
, but you don't want to compromise on email deliverability and find all your emails go to spam or worse, get lost.
Perhaps you need social media and sales conversion reporting
, or maybe you just need more integrations than Sendinblue offers. I've tested all the major email marketing services to find the best alternatives to Sendinblue. These platforms not only provide great service, but they also offer everything Sendinblue is lacking. That doesn't mean they're all the same, so check them out to discover which one is best for your specific needs.
Short on Time? These are the Best Alternatives to Sendinblue in 2023
ActiveCampaign – Advanced automations to take your email marketing a step further
Benchmark – More than 1,500 integrations and an easy-to-use interface
GetResponse – The all-in-one solution for professional marketers wanting advanced conversion funnels
What We Look For in the Best Alternatives to Sendinblue
Here's what I was keeping an eye out for while testing Sendinblue alternatives:
Value for money: Sendinblue has very reasonable pricing for beginners, and I wouldn't want you to lose that.
Good deliverability: Sendinblue doesn't stand out for its deliverability. You want a provider that has a good record of landing emails in your subscribers' inbox.
User-friendly: Sendinblue is often criticized for its complexity. I wanted providers that made it easy for you to get started – and keep going.
Integrations: Why stick with Sendinblue's 50+ integrations when you can have many more? Whatever apps you're using in your business, you want an email marketing service that integrates well with all of them.
Templates: Sendinblue's templates look good, but there aren't many to choose from. I was interested in providers with a bigger variety.
Social media reporting: If there's one thing that's noticeably missing from Sendinblue, it's this. I wanted providers that offered social media reporting so you can gain valuable data regarding the social media reach of your emails.
If professional automations are a must for your business
 and you feel limited by Sendinblue's tools,
you need ActiveCampaign
. Automations are its strong suit, and you can do everything from sending broadcast, triggered, and targeted emails to autoresponders and funnel emails. You can also schedule your emails for specific dates, times, and people. All these options may sound a bit overwhelming, but it's easier than you think –
ActiveCampaign has a user-friendly drag-and-drop automation builder and many automation templates available.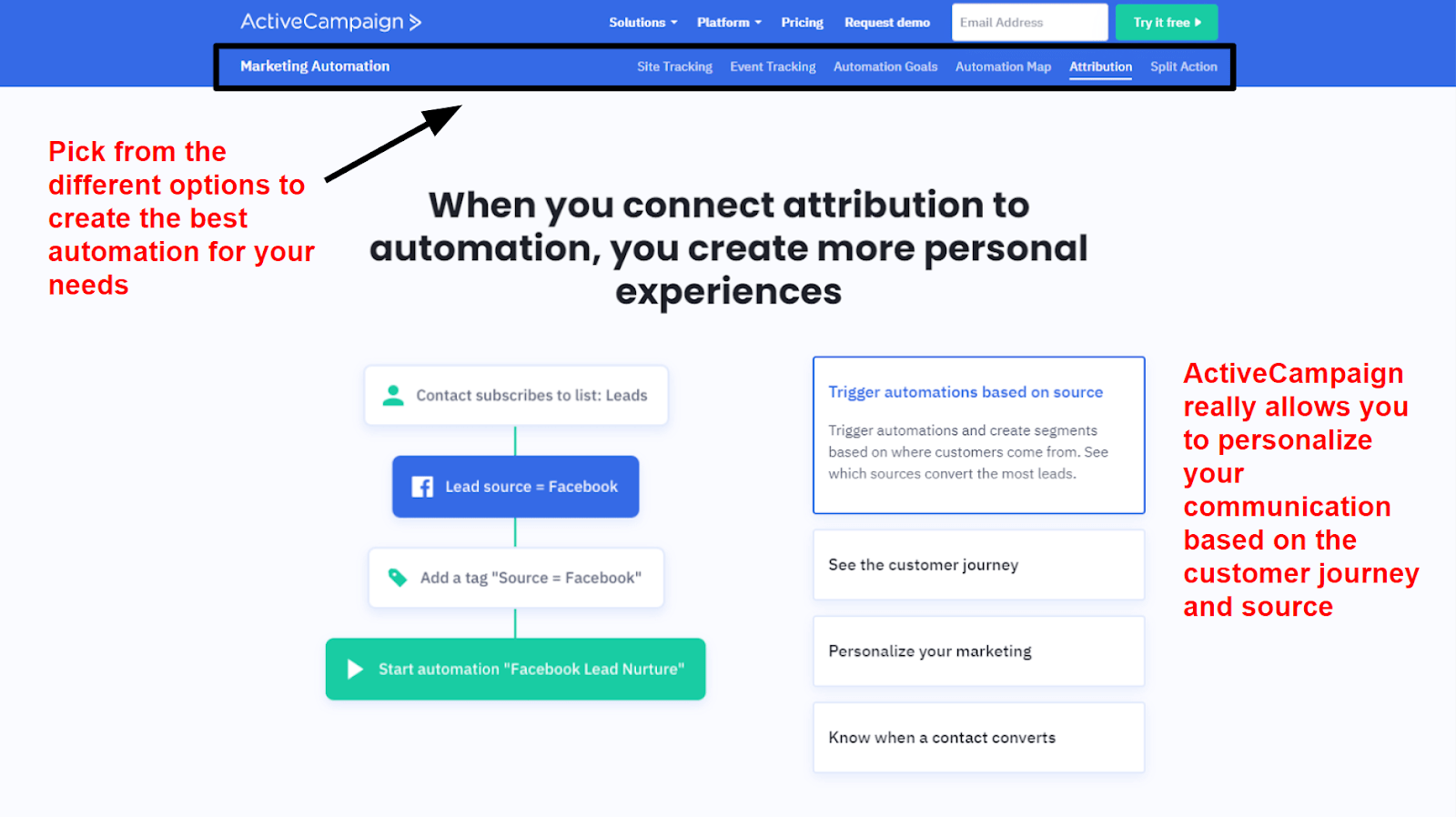 For as little as
$
29.00
per month,
you get
unlimited emails and marketing automations
. You can get
more features
, such as dynamic content, landing pages, and integrations if you upgrade your plan. You can get far with the Plus plan, which starts at
$
49.00
month for 500 contacts (or $49 if you pay for the year upfront) and allows for up to 25 users. Sendinblue only allows multi-user access on its most expensive plans. Although ActiveCampaign doesn't have a free plan like Sendinblue,
 it offers a 14-day free trial period. This allows you to test almost all the features
, and you don't need to enter any payment details to get started. After the free trial, you can choose one of four paid plans, depending on your needs.
Features
Top deliverability: ActiveCampaign is famous for scoring higher than most of its competitors, including Sendinblue. With ActiveCampaign, your emails have a much better chance of going straight to your subscribers' inboxes, not their spam folders.
Excellent support: ActiveCampaign offers support via email and live chat, and for Enterprise plan customers, phone support is also available. Its knowledge database is easy to search and includes useful video tutorials. If you didn't appreciate Sendinblue's support and want something more responsive, ActiveCampaign is worth trying out.
There are cheaper alternatives out there, but I think ActiveCampaign's features are worth paying a bit more.
Its plans provide excellent value for money, especially if you're interested in advanced automations.
| | |
| --- | --- |
| Free Plan/Trial | 14-day free trial |
| Integrations | 320+ available, including Shopify, WooCommerce, WordPress, and Facebook |
| Templates | 25+  professional pre-made email templates |
| Analytics & Reporting | Basic reporting, social media reporting, and e-commerce reporting on some plans |
| Customer Support | Live chat, email, knowledge base. Phone support available for Enterprise plan customers |
One of the best things about Benchmark is its intuitive interface. It's
 very easy to use
, even if you're just starting out – it scored highly for 'ease of use' in
our Benchmark review
. It's also available in nine languages, including Chinese and Japanese, which makes it great for multilingual teams. Benchmark offers all the standard email marketing features, including automations (it calls them Drip Campaigns), landing pages, advanced segmentation, A/B testing, pre-built customer journeys, and more. Benchmark offers three plans, with prices increasing with your number of contacts. It has a
free plan
with all the basic features, limited to 250 emails/month. Its Pro Plan starts at
$
8.00
per month for 500 contacts and includes most features and unlimited emails. The Enterprise plan is available for companies with big email and contact volumes.
If you liked Sendinblue's pricing structure, which is based on the number of emails, Benchmark also has that option
, with plans starting at $40 per month for 10,000 emails. You can also purchase add-ons for all plans, including list verification, dedicated IP, and Inbox Checkers. Something I didn't like about Benchmark is that the
image storage for Free and Pro plans is only 10MB
, which pretty much forces you to buy the Image Hosting add-on that gives you unlimited storage for an extra $5/month. It's not much, but I'd prefer they just include that in the upfront price.
Features
Email editor: Benchmark's editor really shines when it comes to good design. Its drag-and-drop editor makes it easy to create and customize emails. For those with HTML skills, you can customize pretty much everything. If you found the design options in Sendinblue limiting, you'll find more freedom with Benchmark.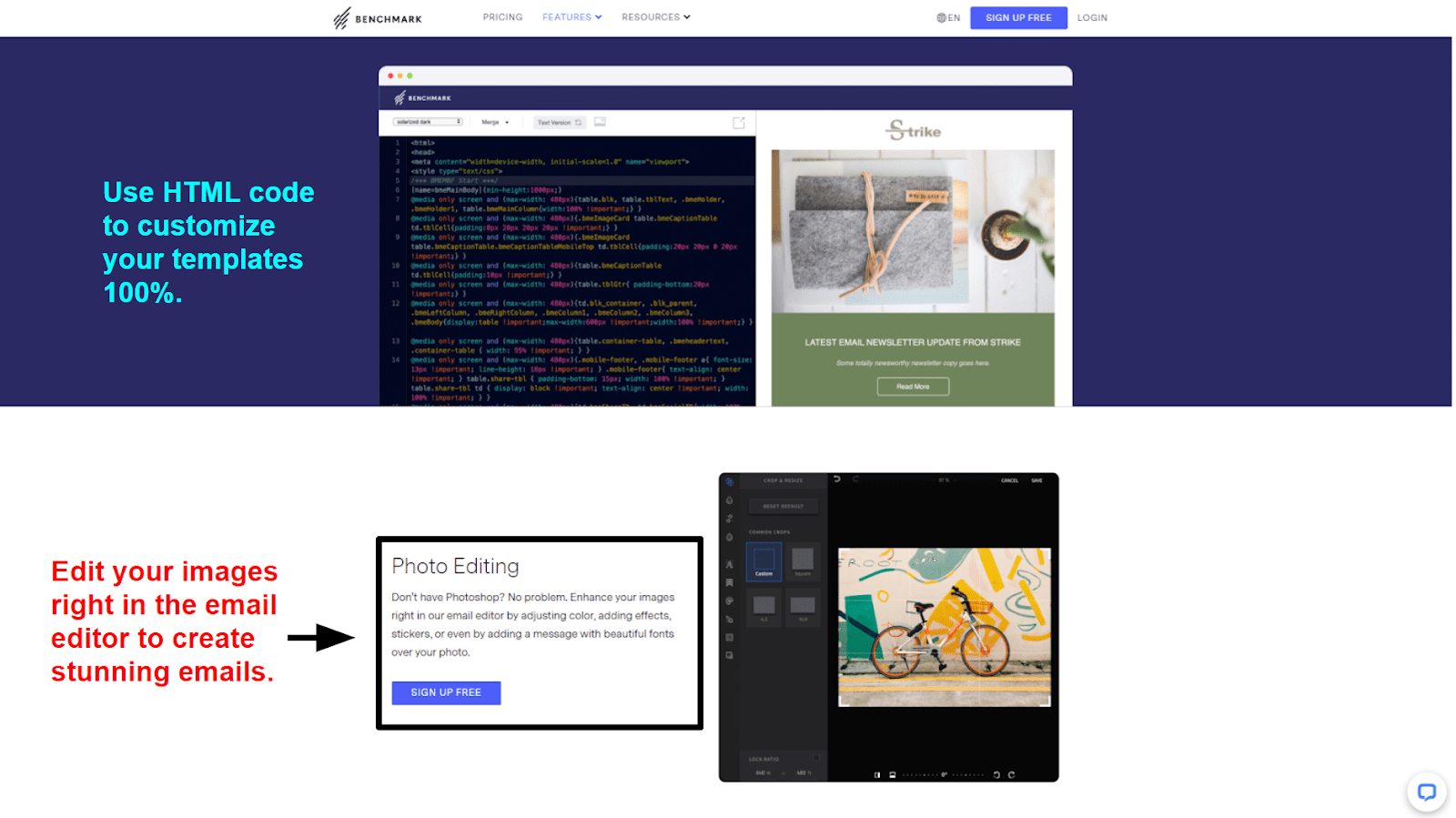 Customer service: Benchmark's support is really good and the live chat is available in five languages. I wrote to the support team with a question and it took literally one second to answer. I'd never experienced anything like it!
Integrations: If you found Sendinblue's integrations lacking, rest assured that Benchmark has you covered with no less than 1,500 integrations. Whatever you need to integrate, if Benchmark can't do it…  I don't know who can.
Overall,
Benchmark is a solid option if you want to spend less time on the technical side of email marketing
. Its user-friendly interface means you don't have to waste time trying to figure things out, and instead you can just focus on making and sending your emails. If you do have any problems, you know they're always ready to help you.
| | |
| --- | --- |
| Free Plan/Trial | Free plan available |
| Integrations | 1,500+ integrations with everything you could ever think of |
| Templates | 200+ split into different categories and industries |
| Analytics & Reporting | Live engagement reports, heatmap, Google Analytics tracking, social media reporting, and thorough A/B testing |
| Customer Support | Live chat, email, phone, and knowledge base |
If you want to get customer leads, GetResponse is one of the best tools to use
. It comes with everything you need to capture and nurture your leads, including a good landing page editor, Google Analytics, Facebook and Instagram ads integration, a lead generation automation funnel, and even the ability to host on-demand webinars.
Considering how many features it has, GetResponse is surprisingly simple to use
. Even if you're new to automations, the
automation templates
will get you started in no time. With the Professional plan and up, you can also build complex automation workflows using its drag-and-drop workflow builder, which is intuitive to use.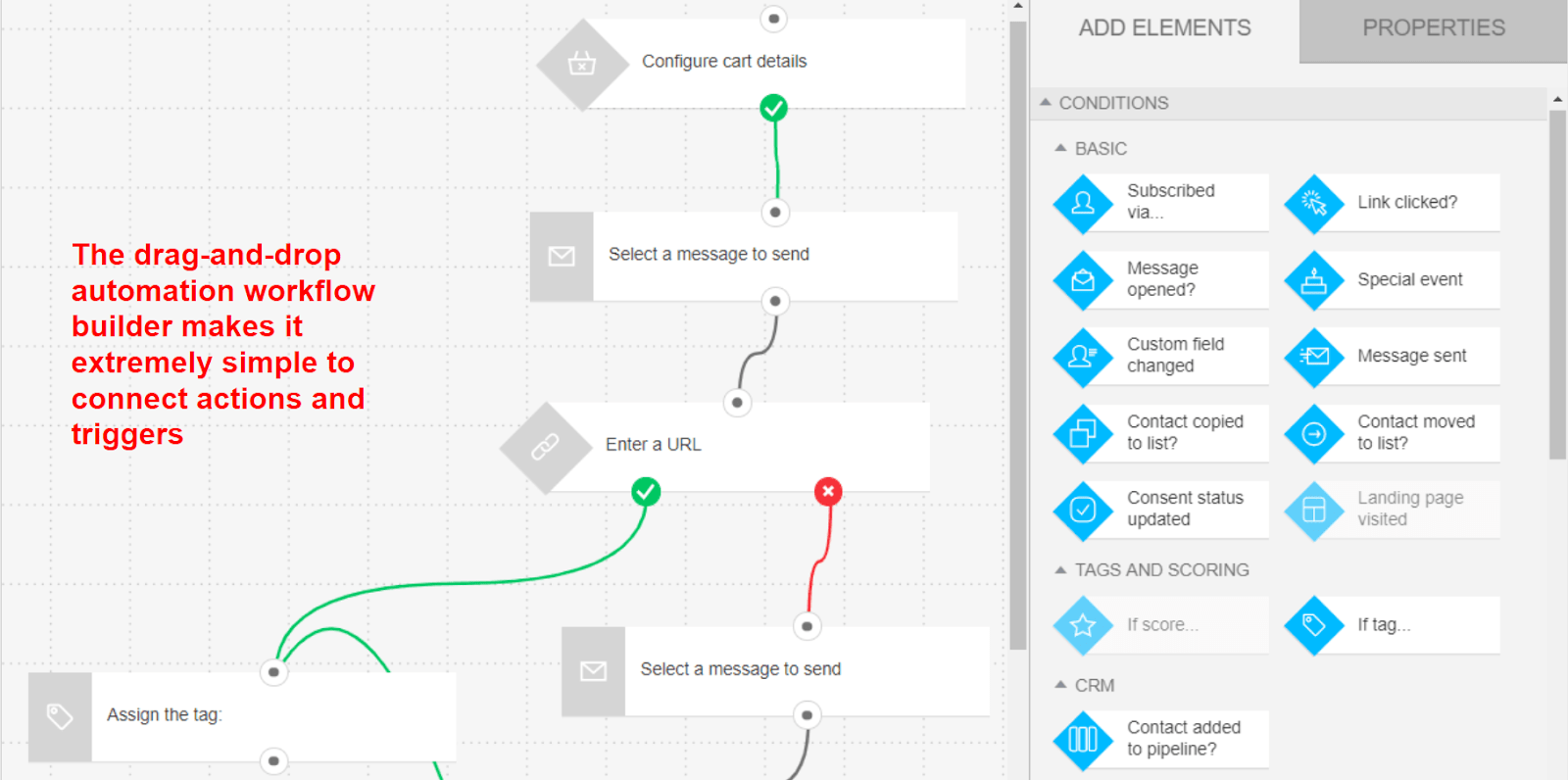 GetResponse's pricing is competitive
, and although there's no free plan, there's a
30-day free trial
– no credit card required. Pricing depends on your list size and plan, starting with
$

0

 per month
for the Basic plan with 1,000 subscribers
. For the automation builder and webinar solutions, you'll need the Plus plan (from
$
15.58
per month). There's a discount if you pay annually. You can get pretty far with the Basic plan, which comes with autoresponders, unlimited landing pages, automation templates, and Facebook Ads run directly from GetResponse's platform, but
if you want to customize your workflows and have several funnels working for you at the same time, you'll need to upgrade.
One thing you need to keep an eye on is the deliverability rate
. It's not always consistent, and while there have been periods where it was really good, it has also been below standard at other times.
Features
Customizable dashboard: One of the things I liked about GetReponse is the ability to add or remove widgets from your dashboard. No need to have features you don't look at cluttering your screen. You can stick to what you actually use.
Conversion funnels: GetResponse comes with a set of funnel templates to help you figure out how to best combine the various elements of your online marketing. These funnels ensure your social ads, landing pages, e-commerce, and emails play together to drive up engagement and sales, supported by automations.
Webinars: Where Sendinblue may fall a bit short in terms of audience engagement, GetResponse's webinar solutions are a great tool to maximize audience participation. Webinars are very easy to set up, and of course, you can integrate them smoothly into your marketing workflows.
Customer service: If you found Sendinblue's support disappointing, you'll have a very different experience with GetResponse. Not only does it have 24/7 live chat support, but the agents respond significantly faster. Phone support is only available for the Max plan, but honestly, with a 24/7 responsive live chat, you won't need it- you can see what all the fuss is about in our GetResponse review.
| | |
| --- | --- |
| Free Plan/Trial | 30-day free trial  |
| Integrations | 150 including Shopify, PayPal and Magento for e-commerce tools, and Facebook, Slack, YouTube and more for social media. |
| Templates | 220+ sorted by category (downloads, sales, webinars etc), all mobile responsive too |
| Analytics & Reporting | Thorough reporting, desktop vs. mobile comparisons, integration with Google Analytics, performance comparison between campaigns. |
| Customer Support | Live chat, email, phone, and Slack |
If you're just getting started with your online business and need more than just email marketing, Constant Contact could be right for you, because it also offers e-commerce features and a website builder. Constant Contact has
two price plans: Basic (

$

12.00

per month for 500 contacts) and Plus (

$

35.00

 per month for 500 contacts)
. As you grow your number of contacts, the price will also increase. If all you need is simple email marketing, the Basic plan will be enough, but if you're hoping to use automations or customize pop-up forms, you'll need the Plus plan. The ability to integrate polls, surveys, RSVPs, and dynamic content in your emails is also exclusive to the Plus plan. Basically, if you want to do any of the fancy stuff with your emails, you have to pay more. This being said, the limitations end here.
Both plans offer many marketing and e-commerce tools
such as landing pages, Google Ads, event management, social media posting, and
more than 400 integrations, which is far more than Sendinblue's 50. All this comes in an easy-to-use interface – just check out
our Constant Contact review
to see what I'm talking about.
If you're planning on opening an online business or already run one,
Constant Contact is a good solution. I really like how it lets you manage everything from one place.
Features
Website builder: Constant Contact allows you to build your own website (including an online shop). You get hosting, unlimited storage, website analytics, and a mobile-responsive website. This makes a huge difference to how competitive its prices are – once you add the website package, you're getting a good deal.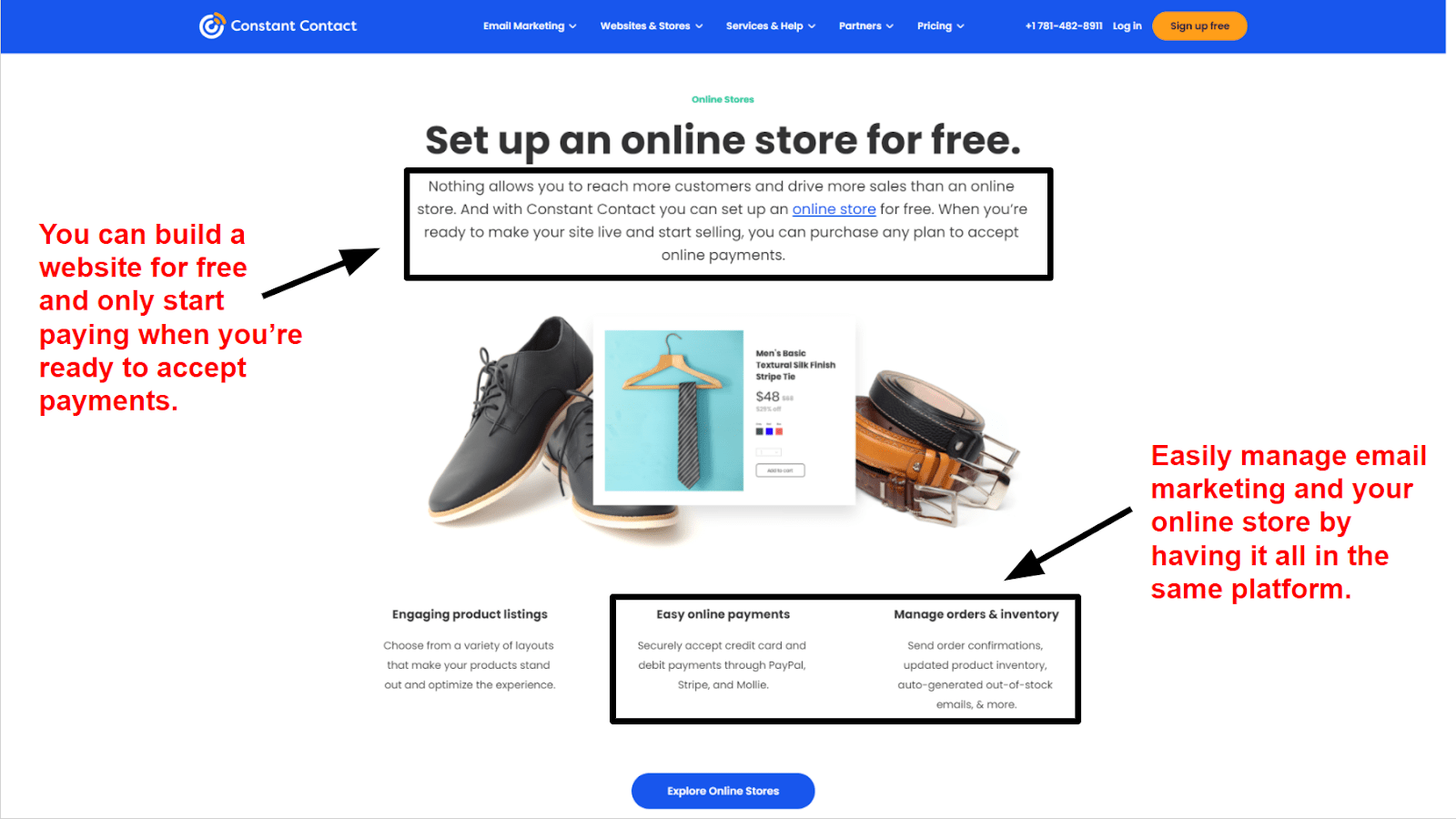 E-commerce management: Both plans include the option to receive online payments, order and inventory management, tax management, coupons and discounts, and integrated shipping management. Just keep in mind that there's a 1.5% transaction fee.
Deliverability: Constant Contact has a fantastic deliverability rate, so you know your emails are going to your customers' inboxes, not their spam folders.
In summary, if you need advanced email marketing functions like complex automations, and A/B testing that goes beyond subject lines, Constant Contact may not be the best solution. However, if you're looking for
 a service that lets you manage your email marketing and online business in one place
, look no further.
| | |
| --- | --- |
| Free Plan/Trial | 60-day free trial if you're in the US, 30-day free trial for everywhere else. |
| Integrations | 400+ including Gmail, Quickbooks, Salesforce, WordPress, Shopify, Facebook and more. |
| Templates | 100+ for newsletters, announcements, sales, and invitation emails |
| Analytics & Reporting | Standard reports, heatmaps, click trends, comparisons among different campaigns, social media monitoring. |
| Customer Support | Live chat, phone, forums, knowledge database |
If you're a small business owner, AWeber has some interesting features for you, plus a decent deliverability rate. Many email marketing platforms, Sendinblue included, offer templates to choose from, but when customization is limited, it isn't always easy to match your emails to your brand.
AWeber has more than 700 templates
, and while some are a bit outdated, it also has its Smart Designer, a tool that creates custom templates based on your website and branding.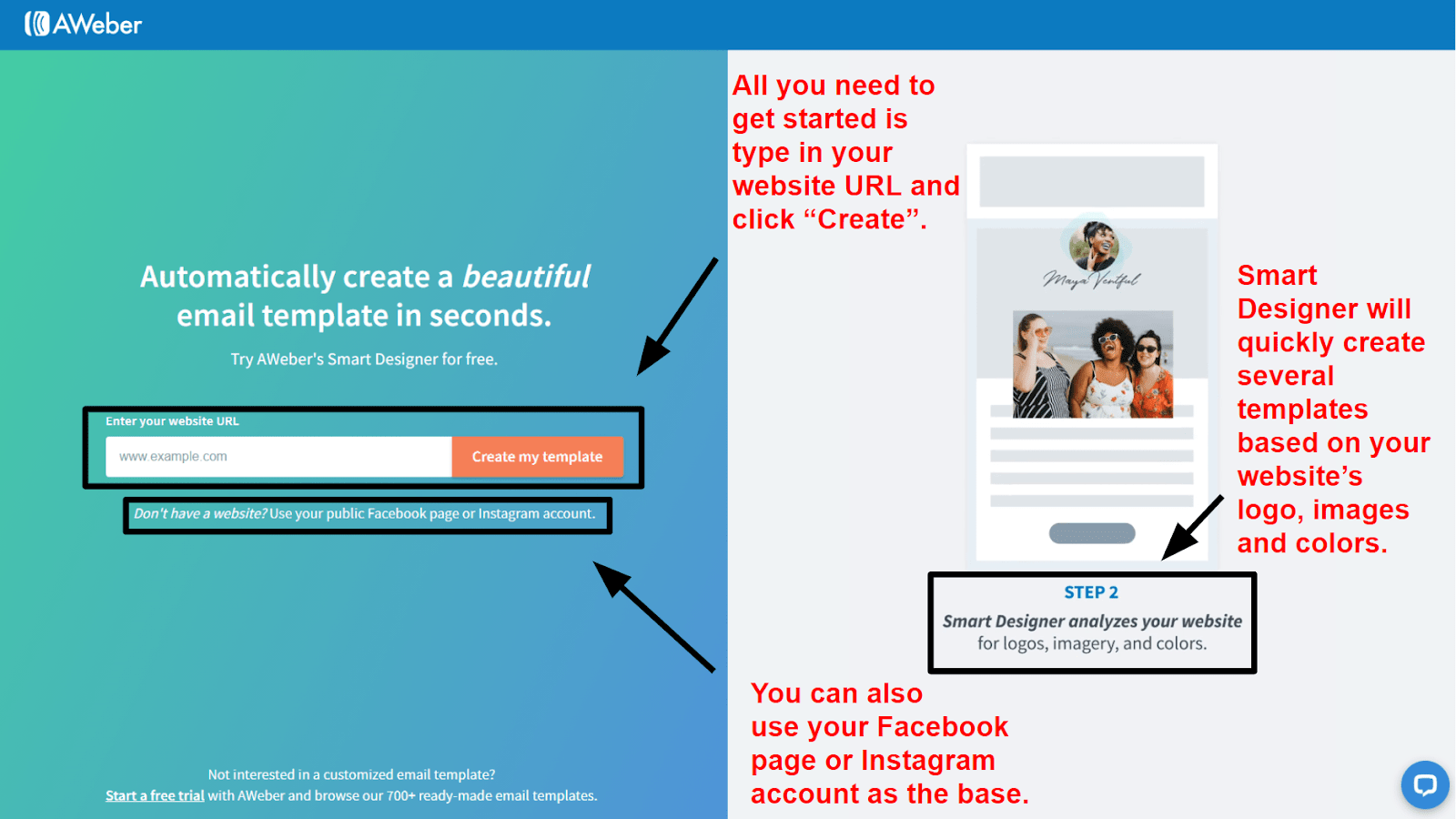 If you joined Sendinblue for the free plan but found it limiting (300 emails a month isn't much), you'll be happy to know
AWeber now has a free plan that lets you have up to 500 subscribers and 3,000 emails a month
. It only lets you have one subscriber list, however, but you can work around that by tagging your subscribers and using your segments as if they were different lists. There's only one
paid plan, starting from
$
12.50
per month for 500+ contacts, which includes all the features (which we tried out in
our AWeber review
). The price goes up along with your number of subscribers.
Beware that
unsubscribed contacts still count towards the limit
, so make sure to clean up your list and delete them to control your spending.
Features
List management tools: AWeber's contact management feature is one of the best, and its segmentation and tagging tools will help you organize your contacts efficiently so you can target the right ones when sending campaigns.
Sales tracking: If you operate an e-commerce website, including sales and website tracking in your analytics reports offers a significant advantage. Unfortunately, Sendinblue does not offer this feature. The data you collect seamlessly integrates with AWeber's contact management tools, allowing you to gain insights into the profitability of your contacts.
Dynamic content: AWeber is one of the few email marketing services that offer AMP for email, which allows you to integrate tools such as surveys, RSVP, polls, and dynamic content seamlessly into your emails. This means customers don't have to click out of an email to perform certain actions – they can do it right from their inbox.
Mobile apps: Most email marketing providers don't have mobile apps. Sendinblue certainly doesn't. AWeber has three mobile apps. They could have possibly been gathered in one app if you ask me, but it's a minor thing. I especially liked the Atom App, which lets you use your phone to collect new subscribers. This could be pretty useful at an event or in a brick-and-mortar store.
| | |
| --- | --- |
| Free Plan/Trial | Free plan available |
| Integrations | 850+ for everything from EventBrite to WordPress |
| Templates | 700+ HTML email templates |
| Analytics & Reporting | Good reporting tools, sales, and website tracking, and advanced audience analytics. |
| Customer Support | Phone, email, and live chat |
Which Sendinblue Alternative Is Right for You?
If you want to try out email marketing, I recommend starting with a free plan. Both Benchmark and AWeber have free options, but Benchmark's plan is limited to 250 emails/month, while AWeber lets you send up to 3,000 emails/month.
For the chance to grow your list before you commit to a paid plan, you'll get further with AWeber's Pro plan.
For maximum design flexibility,
Benchmark has more than a hundred templates
that are very easy to customize, and you can even build your own from scratch. And if you're into coding or have someone in your team who can take care of that, HTML is also an option. When it comes to advanced functionality,
ActiveCampaign gives you much more than what you get with Sendinblue
.
Take advantage of ActiveCampaign's advanced automations
 which help you customize and automate customers' journeys from beginning to end. If you're interested in using webinars in your marketing,
GetResponse, with it's 30-day free trial is a good alternative, and also offers advanced features and excellent conversion funnels
.
| | | | | |
| --- | --- | --- | --- | --- |
| | Free Plan | Standout Feature | Best For | |
| ActiveCampaign | ✘ | Advanced automations | Professional marketers that need complex automations | |
| Benchmark | ✔ | Easy-to-use interface | Businesses who don't want to spend time setting up email marketing and still get great results | |
| GetResponse | ✘ | Conversion funnels | Businesses who focus on lead and sales generation via automations | |
| Constant Contact | ✘ | E-commerce management tools | Small businesses who want to manage their email marketing and e-commerce from one place | |
| AWeber | ✔ | AI-powered template creator | Small businesses and those who want high customization | |
FAQ
How much does Sendinblue cost?
Sendinblue pricing depends on how many emails you send per month. Sendinblue's free plan includes unlimited contacts and 300 emails/day. Its three paid plans start from $25/month (but check out our Sendinblue coupons first and save some money) and include more features as you upgrade to more expensive plans. If you find Sendinblue's free plan too limited, I recommend you give AWeber a try. AWeber's free plan is very generous and lets you get quite far before you have to switch to a paid plan.
Who are Sendinblue's competitors?
Sendinblue has many competitors, and will only get more as the email marketing business keeps growing. If you want to narrow it down to the best competitors, they're the ones on this list: ActiveCampaign, Benchmark, GetResponse, Constant Contact, and AWeber. Plus, among others, they're all on our list of the best email marketing services in 2023.
What are the best alternatives to Sendinblue?
Despite its limitations in some aspects, Sendinblue is a solid email marketing provider, and any viable alternatives must be too. Considering where Sendinblue is lacking, I've found five alternatives. They don't all focus on the same areas, so make sure to read the reviews to decide which one best fulfills your needs. You'll find reviews for ActiveCampaign, Benchmark, GetResponse, Constant Contact, and AWeber. I'd recommend trying out Constant Contact's 60-day free trial (if you're in the US, it's 30 days if you're not) and AWeber's free plan.