When creating a logo for your business, you can
hire a freelancer designer
or use a
logo design service.
Either way, it's still important to be involved in the overall vision and development of your logo. You'll probably need some inspiration to show you where to start. Fortunately, there are numerous websites
dedicated to showcasing the best in logo design.
#1. Pinterest
Pinterest is a social media platform that works by
allowing users to find "pins," save them, and share them with others
. Each pin includes an image, and usually a link to the original source. Due to its setup, it has become a favorite for visual artists of all kinds. Simply log into the platform and
search "logo" or "logo design" in the search engine
. You can then scroll through countless designs to find inspiration for your own.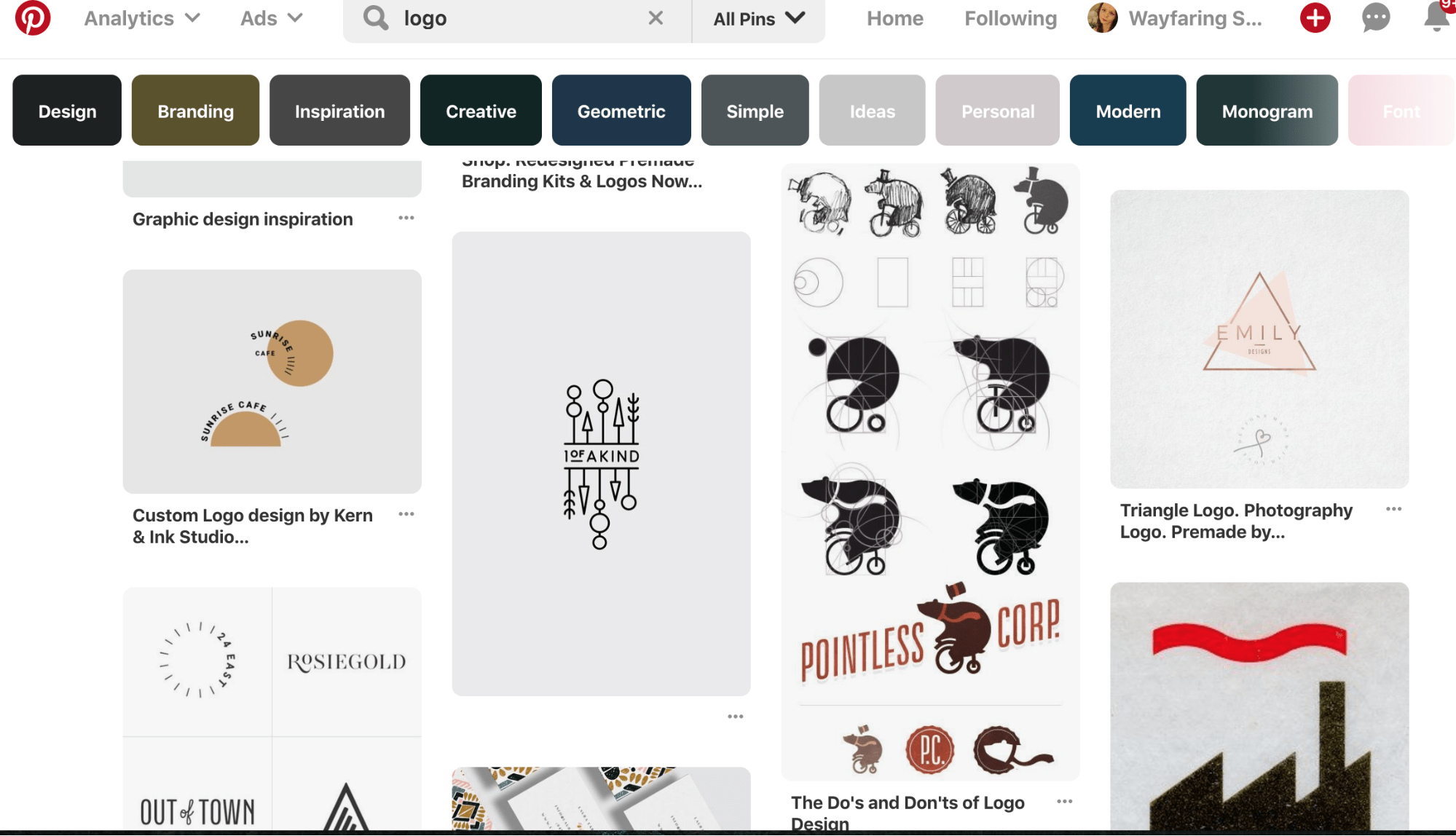 Alternatively, you can check out "boards." This section of the platform allows people to
pin their favorite finds into one place
, grouping them by category, idea, or theme. Unsurprisingly, countless "logo design" boards exist. You can
find logo boards by editing the advanced settings of the search feature
; instead of searching in "all pins," opt to search in boards. Plus, you can follow your favorites, so you'll be
automatically notified when new designs are added
. If you find users who post particularly great content, you can also follow them individually.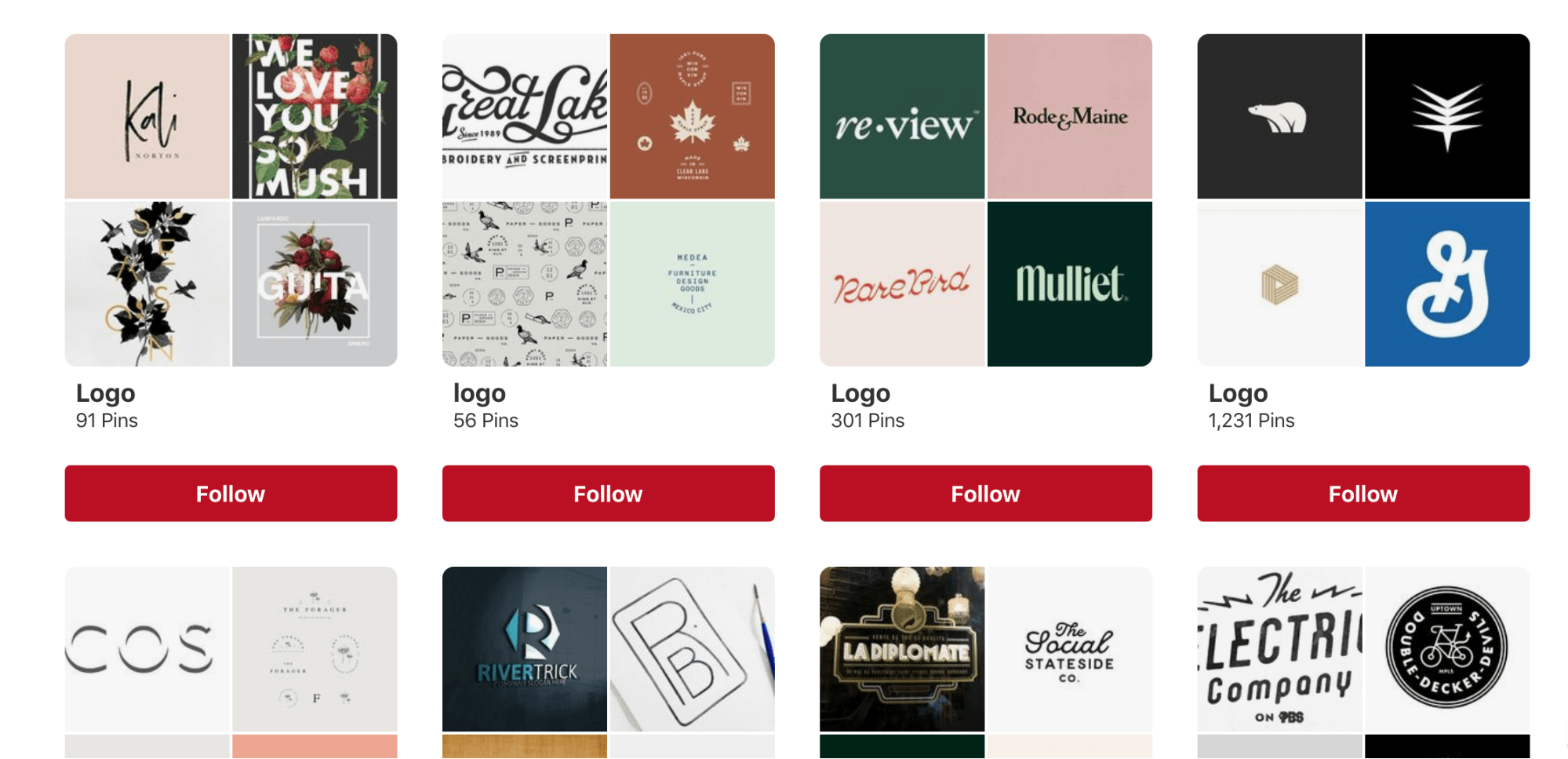 #2. 99designs
99designs is a logo contest website. They allow companies to use their platform to
crowdsource designs from artists around the world
. The platform offers great value for money if you need a logo designed, but it also provides a plethora of inspiration. Head over the "logo design" section of the
99designs website
, and you can
access the winning designs of past competitions
. They even allow you to narrow down your search for information by specifying the industry you're interested in. The logos are set up in
handy scrolling sliders so you can flick through them with ease
. You can even open designs you like and see more work from that specific artist.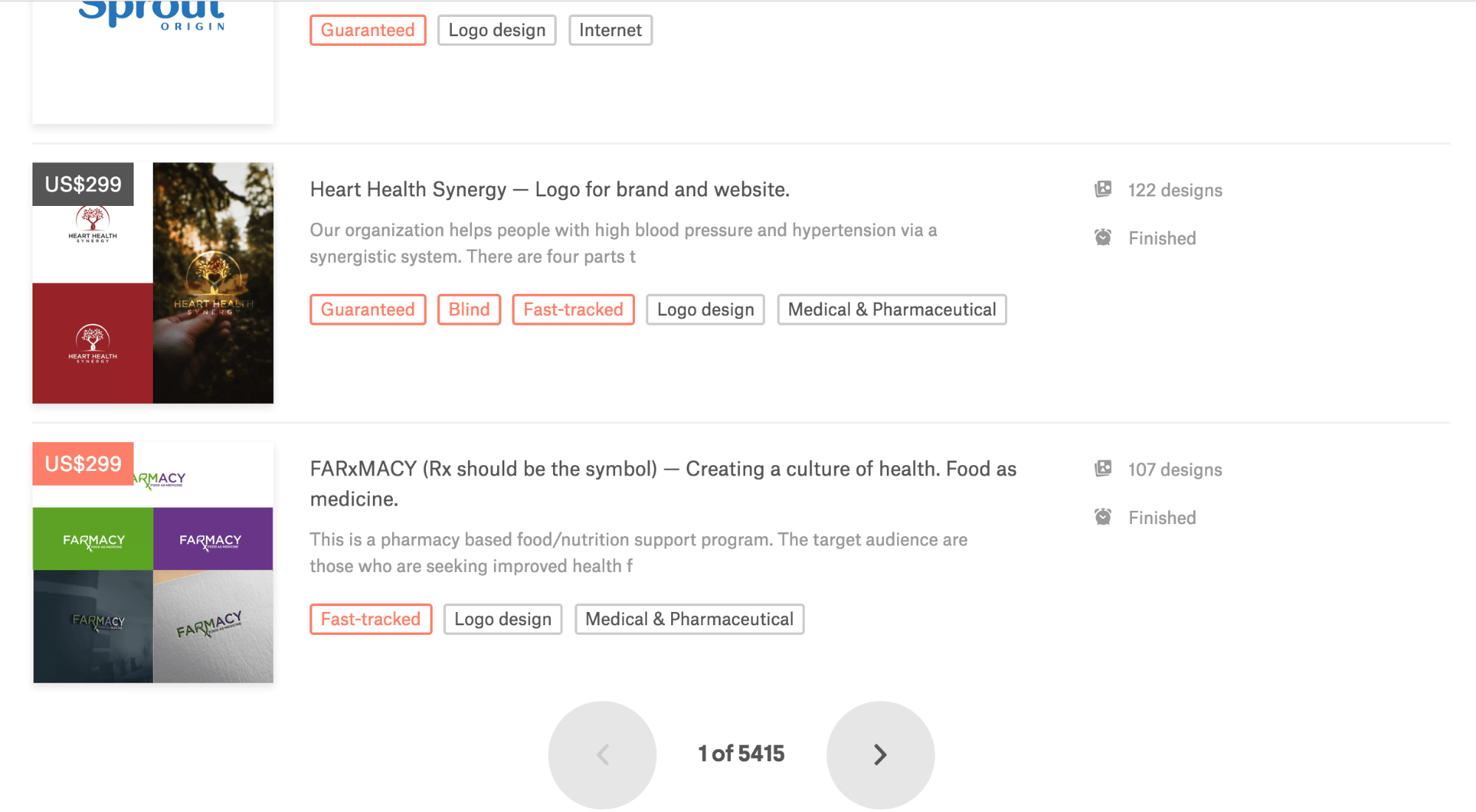 99designs has over 5,400 webpages of designs that you can scroll through at your leisure
. This type of inspiration is particularly useful, as you can click into the competition and see the full development process. It will help to understand
the process a logo must go through before you receive your final design
, and give you inspiration for the sort of things to ask for when you're designing your own. This section can also be
filtered by industry or branding type
, in case you also need ideas for your website and social media platform.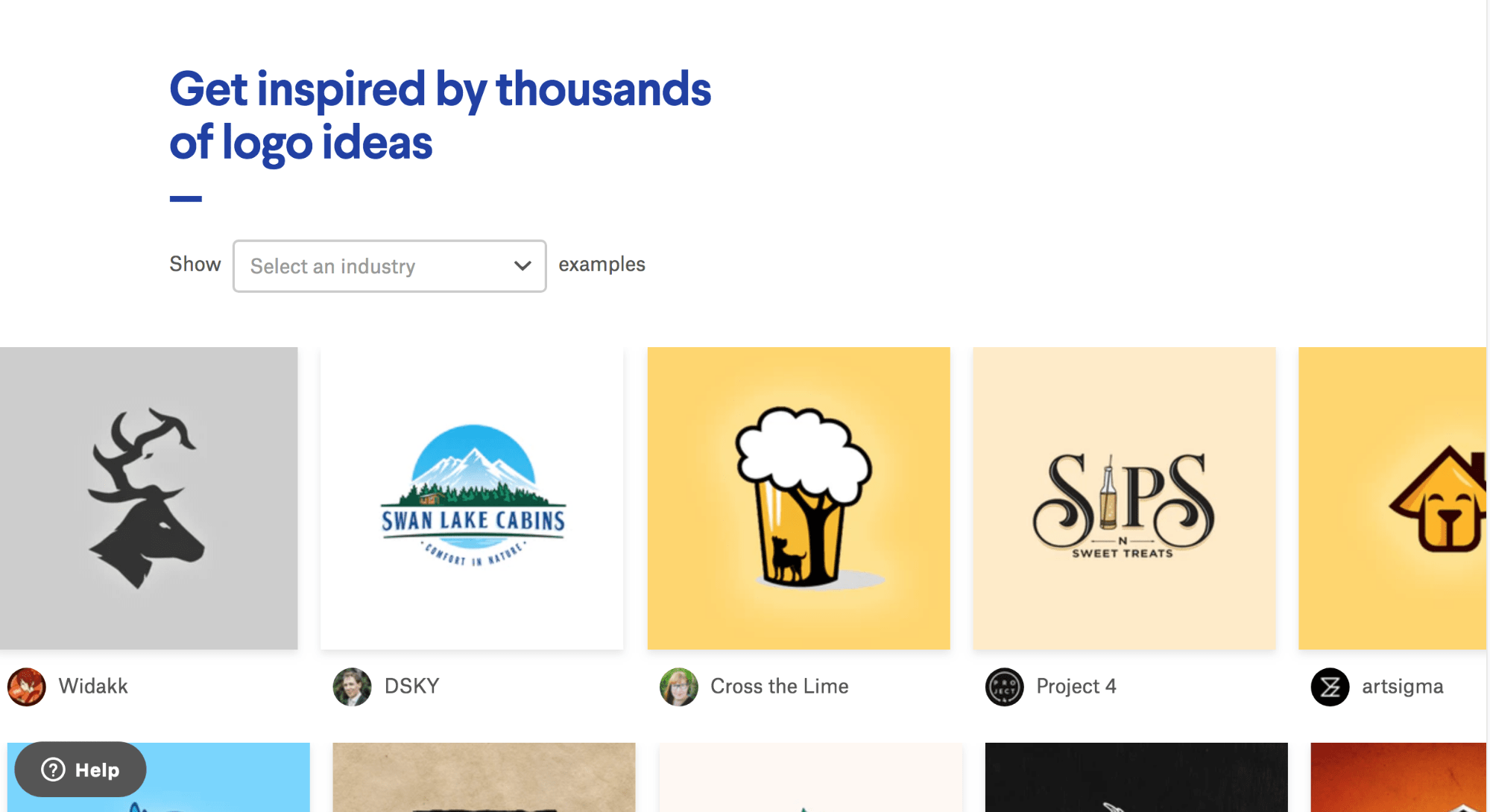 To learn more about 99designs, read our
expert review
.
#3. Logomoose
Logomoose is an online platform
dedicated entirely to logo design inspiration
. You can browse the entire website and find countless designs to inspire you. The homepage
automatically shows a list of the newest added logos
, but you can visit different sections to get different perspectives on their content. The galleries tab offers a variety of popular lists, including
"featured logos," "awarded logos," "highest rated," and "most viewed."
If you click into each logo, you can see how much it costs, who designed it, and any feedback it received. This feature is incredibly useful, as you can see what the general response is to different logo styles.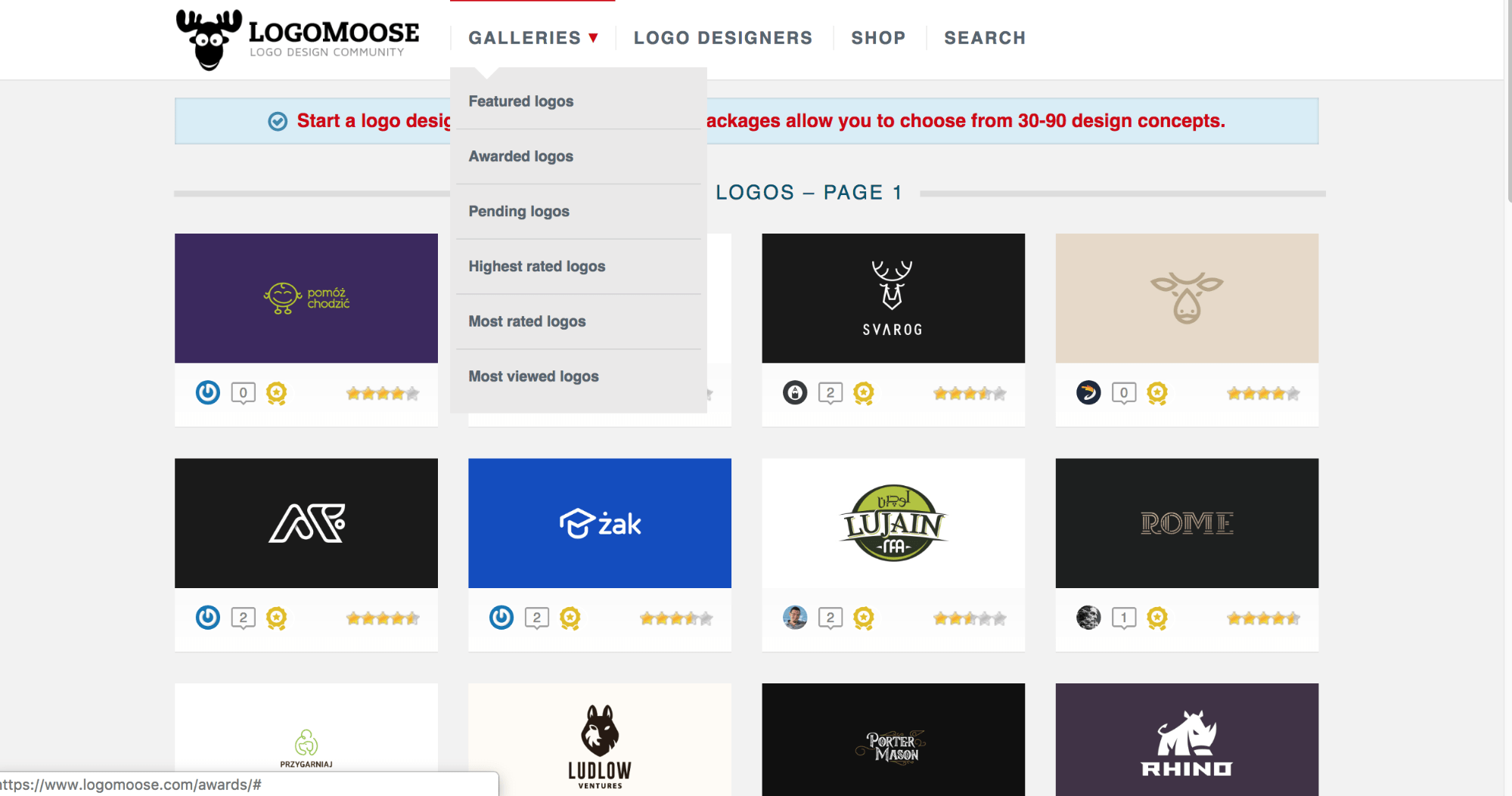 The other way to navigate the website is via the "popular tags" section.
These tags let you specify elements like industry and style
. Lists exist for fashion logos, typography logos,
animal logos
, and many, many more. There are also
tags for specific colors or styles
, such as "black logos" or "vintage logos."

If you can't find what you're looking for in this part of the website, you can access their search tool and look for specific keywords.
#4. Dribbble
Dribbble is so much more than just a logo inspiration platform. It's a
carefully curated community of designers and business owners
who want an ongoing stream of ideas. The homepage provides an instant feed, with numerous logo designs. However, it's easy to navigate the website to find a whole host of different designers. The "shots" section contains curated competitions between designers. You can
browse past winners and popular picks, alongside current contests that are on the go
. There's also an option to check out individual designers, including currently trending artists and the most popular of all time. If you find a style you really like, you can
connect with that designer and hire him or her for your project
.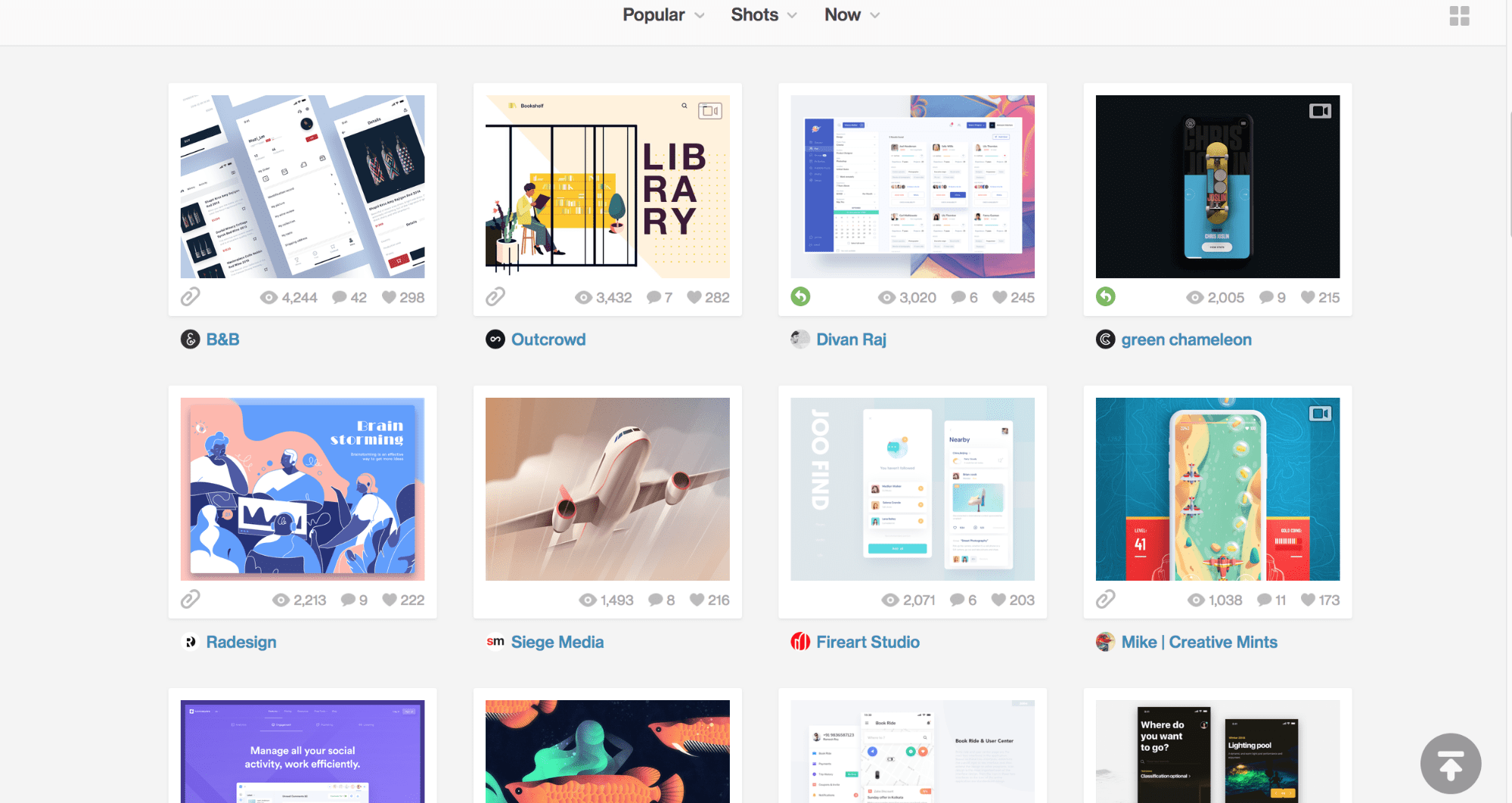 Dribbble also offers extensive search features. You can
browse designers according to skill or location, or their experience, availability, and previous work
. On the other hand, you can search the website by keywords to find specific styles, industries, or color schemes. The one downside to Dribbble is that
you have to be invited to be a member
. However, you can see most of the content without having to log in.
#5. Instagram
Instagram is another social network that has a whole host of design inspiration. Although logos aren't automatically included in your stream, there are
numerous accounts dedicated to posting branding ideas
. Some of them are aggregate accounts that collect interesting designs and share with their audience; others are freelance designers who share their finished projects with the world. As the website is constantly updated,
you get an ongoing feed of design inspirations
that you can pop into and check out whenever you want.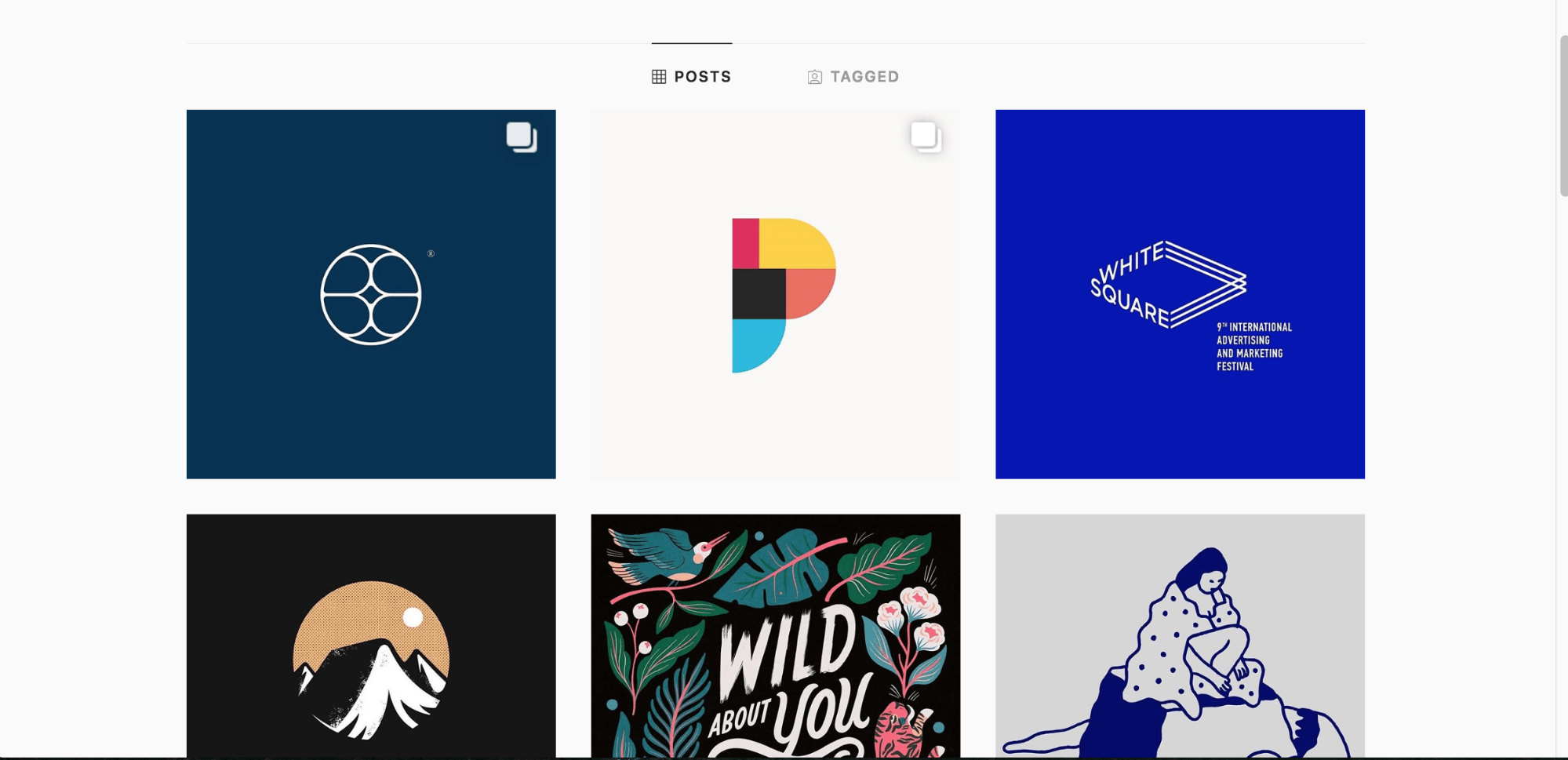 The following are must-follow Instagram accounts for logo design inspiration.
@logos.ai
Logos.ai is a submission-based account that showcases work from numerous different designers. They include
branding of all styles and emblems from many industries
. We tag each post with the original designer, making it simple for you to follow up and reach out if you come across something you truly admire. The owner consistently shares multiple posts daily, ensuring a constant influx of fresh content to fuel your inspiration.
@logoseum
Logoseum is another aggregate account, which is run and curated by graphic designer Matt Cobrin. The designs are all of a similar style: mainly
simple, abstract graphics with one or two colors
. The brilliance of this account is that the posts are completed logos, so you can browse designs and imagine them with your company name and slogan. Matt always credits his posts with the designer, design firm, and the year it was created, so you can find leads if you spot an icon you love.
@logopassion
Logopassion is a professional design specialist that also features inspiration from other artists who can submit their content to get featured. They showcase
a wide range of branding styles, ranging from vintage emblems to modern abstract icons
. The account also posts logos at different steps in the process, so you can see how development occurs. There are also links to YouTube videos with show time lapses of the creation process. You can also contact logopassion directly to inquire about your specific design needs.
Browse Creative Logos to Inspire Your Company Branding
Getting your logo right is important.
Visual appeal can be assessed in 50 milliseconds, and 94% of users will leave a website if they don't like the graphic design
. Considering these statistics, you could be losing a massive amount of your potential customer base if you don't perfect your branding. If you're not a designer, then coming up with a concept from scratch is unlikely to produce stellar results. The best option is to
browse as many inspirational designs as possible
, so you can create an idea that will appeal to both your brand and the customers buying into it.
| | | | | | |
| --- | --- | --- | --- | --- | --- |
| | Pinterest | 99designs | Logomoose | Dribbble | Instagram |
| Pros | "Pin" your favorites to save for later | Browse actual winning designs used by companies | Website dedicated to curating logo inspiration | Connect and liaise with actual logo designers | Follow actual designers to understand the design process |
| Cons | Not solely logo design content | Requires significant scrolling to browse through designs | Can't view development process | Need to sign up to see full range of content | Most content on the website is not logo design |
| Standout Features | "Boards" help you organize and browse designs | You can browse design inspiration by industry | Galleries let you browse most popular designs | "Shots" contests let you compare logos side by side | Instastories give you insights into the development process |
| Best For | Small-business owners who want to curate their own feed of inspiration | Small-business owners who have considered using design contests | Small-business owners who want a one-stop shot for inspiration | Small-business owners who are looking for designers to hire | Small-business owners who already use the platform |