Newsletters are one of the most intimate and cost-effective ways for SMBs to communicate. They can induce customers to "click through" to make purchases, send more visitors to your website, or spread awareness of your brand to friends and family — and all for very little cost compared with other marketing methods.
But just because leads and customers sign up to receive a newsletter doesn't guarantee they'll engage with anything you send them. You have to produce something of high quality to entice them to take action.
The best newsletter software offers features to help you get the maximum click-through rate (CTR) possible. Here's a look at what five leading platforms offer.
Constant Contact
ConstantContact offers email templates specifically designed for newsletters. What's good about their approach is the templates can be filtered by the type of content included in the newsletter.
For example, there are templates designed for product announcements, event invitations, or industry updates. ConstantContact's drag-and-drop design interface lets you easily customize them to fit your needs.
However, there are functionality limitations tied to additional costs beyond the standard plans that decrease the value of the platform. ConstantContact offers additional email template design services to increase CTR, including templates designed specifically for your business and the ability to add animations to your templates.
These services are valuable, but you won't find them attached to any plan. In fact, there's no pricing information available about them at all on Constant Contact's website — you have to speak to a sales rep. That's usually a red flag for "expensive." If you're looking for advanced help with your newsletters, the price should play a factor in your choice.
To learn more about Constant Contact's design capabilities, please check out our expert review or visit their pricing page.
AWeber
AWeber's newsletter templating options are less robust than many other solutions. There are no newsletter-specific designs; you must use general email templates and adapt them to your newsletter. This limitation on design flexibility might be problematic for SMBs looking to maximize CTR without a designer on staff. However, the platform does give you access to 6,000+ stock images to help with your customization efforts. Visual presentation is important to CTR, so this benefit is not without value.
Where AWeber distinguishes itself from other solutions is its automation options. Message customization is a key aspect of CTR, and you'll find that here. You can set your newsletter to send targeted emails to subscribers that are triggered by not just how they respond to an email, but also how they responded to your previous emails. For example, you can send one version of a newsletter to subscribers who opened the previous newsletter, and a different version to those who did not.
AWeber's unique pricing model offers the platform's full functionality for every plan, but changes the cost based on the size of your subscriber list. So, while newsletter functionality is less than other solutions, it's not affected by the price.
Overall, the automation options at no additional cost make AWeber a solid option for SMBs despite the design flaws. You can get more information on how AWeber's automation features work by checking out our expert review. Also feel free to visit AWeber's pricing page to learn about its other features overall.
Benchmark
Benchmark sells itself on being an extremely minimalist email design platform that puts ease of use first. It offers a variety of email templates categorized by either industry or content type.
However, there are no newsletter-specific templates, limiting design flexibility. Combined with the minimalist approach, Benchmark is lacking for users who want more elaborate email design but don't have the in-house knowledge or budget to create it.
Benchmark's commitment to minimalism does pay off with integration flexibility. It easily integrates with more than 300 different applications — including a number of popular CRMs like SugarCRM and Microsoft Dynamics. You can use them to feed the data from your subscribers' interactions with your newsletters straight into your CRM. That makes it easy to use the data to improve your CTR. To learn more about how these integrations can help your CTR, see our review of the Benchmark platform.
In terms of pricing, Benchmark offers a free plan that include their templating options. However, trigger-automation options based on criteria like opens and clicks are reserved for the paid version, which is a huge limitation. Overall, that makes Benchmark a good option for SMBs looking to get the basics, but not a great one. Learn more about Benchmark from its pricing page here.
MailJet
MailJet is one of the few email marketing platform to offer dedicated, robust templating options designed specifically for newsletters via its proprietary "Passport" functionality. Its design platform is also clean and minimalist, so SMBs without Design support still have the flexibility to get quality newsletters that can drive CTR.
But what really sets MailJet apart is its WordPress plugin, which is considered one of the best email marketing integrations available. If you're an SMB using WordPress to manage your website, you definitely need to at least consider this option.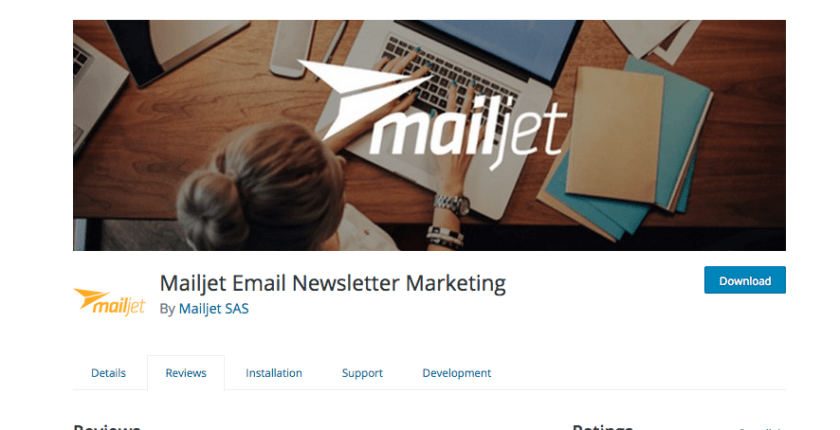 All of this comes with one caveat, however. MailJet's pricing is a bit problematic. True, there's a free version with an advanced email template editor — but you're limited to sending just 200 emails per day. That's too few for all but the smallest of users. In addition, organizing your templates via tagging is a feature reserved for a mid-tier pricing plan. SMBs that send out newsletters frequently, or multiple variants to different segments of their subscriber list, will struggle to keep everything organized.
So, while MailJet does offer really good email functionality, the sending limits and missing organizational capabilities mean that most SMBs will have to go with a mid-tier paid option right from the beginning.
To learn more about MailJet, please check out our expert review or visit their pricing page.
GetResponse
GetResponse offers 500+ newsletter-specific email marketing templates — more than any other platform. In addition, they're broken down by industry and functionality. For example, you can search for newsletter templates specifically designed to drive CTR for nearly any kind of business, including retail, e-commerce, high-tech, online marketing, fitness, restaurants, real estate, and more. Design flexibility isn't an issue here.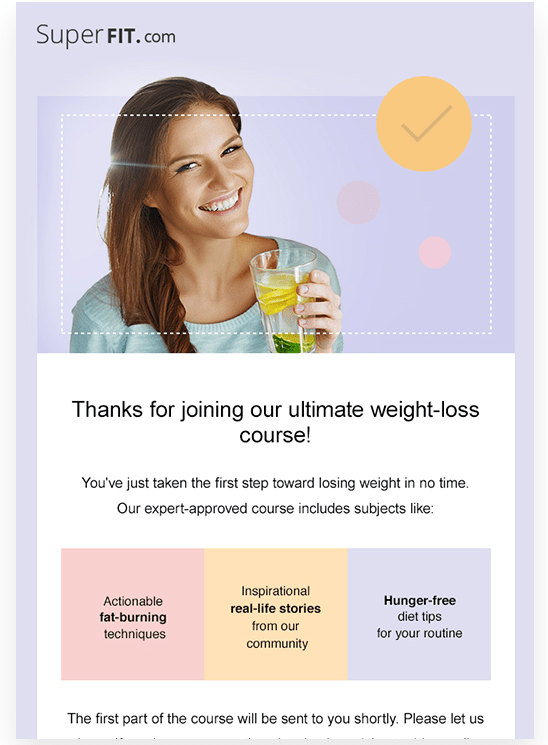 GetResponse's feature list is also long and detailed for all aspects of email marketing. You can embed PDFs, create RSS-to-email feeds, and use the "Perfect Timing" feature that will send your email when it's most likely to be opened.
All of the functionality is great to maximize CTR. But the catch here is in the price, and in a big way. GetResponse has no free option, and its entry-level plan already costs more than some other solutions' mid-tier plans, despite capping your list size at 1,000. By the time you get to its mid-tier plans, you're already paying more than the highest level plan of nearly any other solution.
Botton line, while the templating options are basically second to none, SMBs will be forced to pay a lot to get them. If you're working on a budget, you're most likely better off passing on GetResponse for one of its less-expensive competitors.
Read up more about GetResponse's features in our expert review or their pricing page.
Choosing a Newsletter for Maximum CTR
SMBs can choose from several good options for creating newsletters that get results. The platforms above all have their strengths and weaknesses, but all will do the basic job of sending out professional-looking emails to your subscriber list and getting your contacts clicking. But when making a decision, remember that although newsletters are powerful, they're not the only email marketing tool you need.
Always consider newsletter functionality in conjunction with all the email functionality a platform offers. For example, although the pricing on MailJet's newsletter tagging feature is less than ideal, the platform also offers specific transactional email templates. These let you send emails to users when they do things like subscribe to your list or make a purchase, and they definitely offer additional value. Every email solution presents similar tradeoffs, and you should get to know as many of them as possible before making a final decision.
Ultimately, taking all the features an email marketing platform has into account lets you maximize not just your newsletter CTR, but also your overall email marketing ROI.