Mailchimp
 wasn't telling you everything
. You realized that:
Mailchimp lacks advanced and customizable automation tools
There are better and easier-to-use template libraries and analytics reports
You can find other free or affordable options with more features
You were probably also disappointed by the limited customer service. And if you are an affiliate marketer, you had no choice but to look for another solution – as
Mailchimp's Terms and Conditions prohibit affiliate marketing services from using the service
. It's time for a change – and we did the research for you. Here are the seven best alternatives to Mailchimp so you can choose the right one for your business in no time.
Mailchimp Alternatives – Our Top Picks:
Sendinblue – Strong automation capabilities and affiliate marketing permitted
GetResponse – Versatile, easy-to-use email marketing software with CRM tools and a landing page builder
ActiveCampaign – Excellent automation features and great customer service
Constant Contact – Great for beginners, with excellent event management tools
Benchmark Email – A simple tool with professional automation features
What We Look For in the Best Mailchimp Alternatives
To come up with this list,
we tested dozens of top email marketing services
. The best vendors have the following:
Integrated campaigns – Sure, Mailchimp gives you basic email marketing tools, but the best vendors also give you other advanced tools for SMS, CRM, webinars, landing page builders, and more.
Improved automation – Mailchimp lacks certain automation features, such as tailored autoresponders and single-view workflows. Our top picks have you covered.
Good value – So you won't feel like you're missing out on Mailchimp's free plan, we selected tools that are either free or low-cost.
More freedom – We look for platforms that allow their users to work their own way, such as affiliate marketing.
1. Sendinblue – Best for a High Number of Contacts
If you're in the business of sending thousands of emails per day, Sendinblue provides an affordable email marketing tool for businesses with tight budgets. The platform also claims to be the best option when it comes to dealing with European customers, as its servers are located in France.
Features
This email marketing service has all the features you want: a drag-and-drop tool to create your newsletters, real-time reports, and a dedicated IP to increase the security of the emails you send.
Users really seem to appreciate it.
Pros
Free plan for unlimited contacts. Sendinblue's free plan lets you send up to 300 emails a day to an unlimited number of contacts. (Mailchimp's free plan limits you to 2,000 subscribers per month.)
Cheaper for high volume. It will cost you less to send 40,000 emails/month with Sendinblue than it would with Mailchimp.
Longer support for free plans. Sendinblue offers unlimited email support to free users, plus phone and chat for 60 days.
SMS integration. You'll be able to send personalized text messages to your customers anywhere in the world.
Better automation. Sendinblue's automation capabilities are better than Mailchimp's, as you can set triggers through predefined workflows to better respond to your customers' behavior.
Visual workflows. Sendinblue creates a single view of your automation so you can manage all your autoresponders at a glance.
Affiliate marketing permitted. Sendinblue welcomes affiliate marketers, as long as they have formal consents from their customers.
Cons
Poor template library. Sendinblue's templates are limited and not very creative. Be prepared to spend lots of time tweaking your newsletter or just have it designed elsewhere.
Single login credentials. You get just one login account with Sendinblue, so if you have a team, you will need to share your username and password with them.
Fewer integrations. Sendinblue has only a handful of integrations available.
Go with Sendinblue If…
You need to send thousands of emails per month at the lowest rate
Your customers are based in Europe, and you'd rather keep your database within the EU
2. GetResponse – Best for a Comprehensive Email Marketing Campaign
Need to do more than just send emails? GetResponse offers versatile, easy-to-use software with a comprehensive list of features you can use to integrate your marketing strategy.
Features
GetResponse gives you
CRM and webinar tools, plus a landing page builder
. This means you can manage and analyze the results of these solutions in one place, saving you time and helping you see how they affect each other. It also comes with list-building and automation courses to fine-tune your skills. You can see why it gets
excellent reviews
, but with the
30-day free trial
, you can check it out for yourself.
Pros
100% tailored automation. While Mailchimp gives you preset workflows to manage your automation, GetResponse lets you create autoresponders triggered case by case, based on your customer's behavior. For instance, if a customer leaves your website just before making a payment, it can send an automatic message asking them to finish the process.
Outstanding landing page builder. GetResponse's landing page builder has templates designed for different goals (opt-ins, sales, download pages) and they look more professional, as you can see in the image below. Mailchimp's templates are organized in broad categories, such as notifications, newsletters, and e-commerce.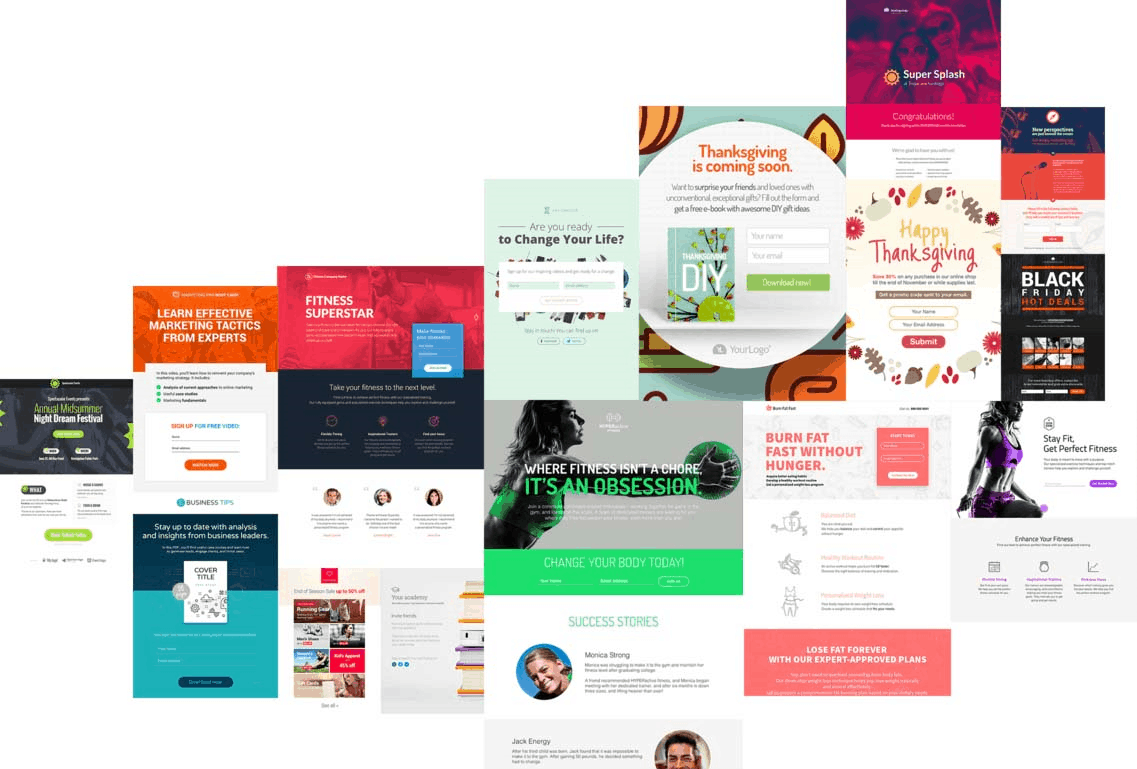 Integrated CRM tool. You can link your landing page and email marketing solution to a CRM tool. This way, you can track leads, make notes and comments, and add triggers so your newsletters will be sent only when your customers reach a predefined stage. Mailchimp doesn't have a CRM tool – you would need to install a third-party integration.
Complete webinar solution. You can stream or record your online event with GetResponse. It also gives you templates of webinar invitation and reminders, YouTube integration, social media sharing, and more. Mailchimp doesn't come with a webinar tool, and no third-party integration is available.
Free Shutterstock images. You'll have access to 5,000 licensed Shutterstock images at your disposal, saving the cost of a stock image service. With Mailchimp, you only get the images which are already part of their templates.
Affiliate marketing permitted. You can send affiliate marketing emails through GetResponse, as long as you have permission from each of your contacts. Mailchimp prohibits affiliate marketing.
Cons
One-user basic plan. GetResponse's cheapest plan allows you to register only one user. If you want to let your team access the tool, be prepared to pay more.
No phone support. Unlike most of the services on this list, GetResponse doesn't offer phone support.
Basic-looking templates. Although you'll have more than 500 templates with GetResponse, many of them look outdated, and others too promotional. You'll need to tweak the templates to make them shine.
Go with GetResponse If…
You want to automate your autoresponders to each customer instead of one for each list, as you would do with Mailchimp
You run online courses for medium to large audiences and you want an email marketing  tool that integrates landing page, CRM, and webinar solutions
3. AWeber – Best for an Easy-to-Use Solution
If you've tried AWeber in the past and didn't like it, it's time to give it another try. If you're like
other AWeber users
, you'll be surprised by the new features recently added to this easy-to-use email marketing platform. If you're not sure if AWeber is right for you, you can test it risk-free with the
30-day free trial
.
Features
AWeber is more user-friendly and intuitive than most of its competitors. Plus, you can use your own domain to track newsletter links. This gives your emails more credibility and consistency than using redirect URLs, like on Mailchimp.
Pros
More templates. AWeber has over 700 templates – many more than Mailchimp's slightly over 100. You're more likely to find something that suits you.
Free stock images. You'll have access to over 6,000 free stock images and buttons to build your newsletters.
Easy-to-use autoresponder solution. AWeber's drag-and-drop builder is easier to manage than Mailchimp's, thanks to the more straightforward menu organization.
Coding-free forms. With Mailchimp, you'll need some HTML knowledge to embed forms in your website. AWeber, on the other hand, will do it for you.
Multiple forms per list. Mailchimp allows only one form per list, while AWeber lets you create multiple forms.
Affiliate marketing permitted. As long as you have formal consent from your contacts, affiliate marketing is allowed – something out of question with Mailchimp.
Cons
Unsubscribers still count. Customers who unsubscribe from your newsletters still count as subscribers on your AWeber subscription.
Per subscription charge. AWeber charges per subscription, not per registered email address. If the same person subscribes for more than one list, they will count as a new person each time.
Disappointing start plan. The cheapest plan lets you send emails to only up to 500 subscribers.
Go with AWeber If…
You'd like to save design costs with AWeber's large number of templates and free stock images
You have a small list of subscribers and want to use a simple tool
4. ActiveCampaign – Best for Pro Email Marketers
Are you ready to take your email marketing campaigns more seriously? Then you should check out
ActiveCampaign
. This is
a favorite tool of pro email marketers
due to its excellent automation features and great customer service. There's a
14-day free trial
, no credit card required, so you can take it for a test drive.
Features
This email marketing software
integrates sales and CRM tools
, so you can manage these aspects of your marketing strategy together with your email marketing. You can also use ActiveCampaign to send SMS messages to your customers.
Pros
One subscriber per email. One email address means one subscriber to ActiveCampaign, no matter how many lists the same person is part of. With Mailchimp, the same email address will count as a new subscriber each time the person signs up to more than one list.
Automation tailored to each customer. You can pre-define which content will be automatically sent to your customers based on their interests and which stage they're in on the buyer's journey. The chart below gives you an idea of how you can customize your automation case by case within the same campaign.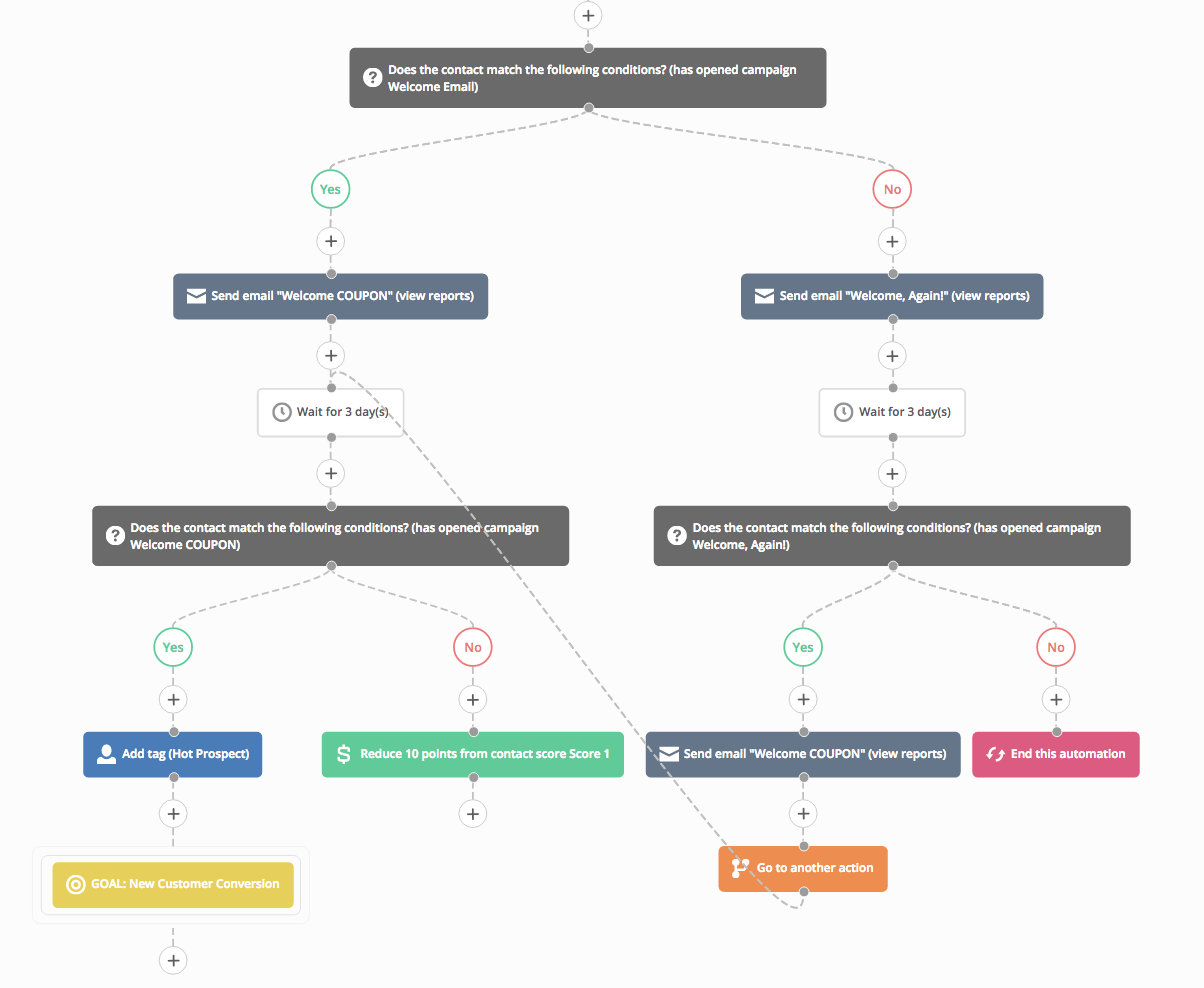 Single View of Automated Campaigns. ActiveCampaign lets you see all your automated campaigns in a single view, so you can find out what's working and make adjustments more efficiently.
Sales Task Management. You'll be able to create and delegate tasks to your sales team within ActiveCampaign based on email marketing results. You can trigger a task, for instance, every time your customer clicks a purchase button, so your salesperson can get in touch with them to close the deal.
Integrated SMS. You can include sending text messages as one of the steps of the campaign's workflow. Among our seven alternatives, only Sendinblue offers the same, and Mailchimp can only do it through a third-party integration.
Cons
Overwhelming options. Because of its large number of customization options, you might find ActiveCampaign intimidating. It may not be the best choice for total beginners.
Few template options. ActiveCampaign offers only 30 templates.
Limited Languages. ActiveCampaign only supports about a dozen languages.
Limited affiliate marketing. Unlike some competitors, ActiveCampaign limits what you can do in terms of affiliate marketing, even if you have consent from your contacts. For instance, you can't distribute emails with the sole purpose of sending various affiliate offers.
Go with ActiveCampaign If…
You have a sales team and want something that integrates CRM, SMS and sales tools
You're a pro email marketer looking for a tool that lets you customize your autoresponders at your will
You run a medium to large retail business that targets a broad audience with several interests, ages, and cultural background, so you need to tailor your automation features to each segment
5. Constant Contact – Best for Event Management
Constant Contact is the second most used email marketing software according to Datanyze, and
users certainly seem to like it.
 If you're looking for a service that can offer better support and event management tools than Mailchimp, you should definitely look into it.
Features
Constant Contact comes with 400 templates, beating Mailchimp in quantity. You'll find the right template, no matter your industry. It's also very easy to import email addresses from Gmail and Outlook.
Pros
Generous free trial. While other paid competitors only allow 30 days to test their features, Constant Contact offers U.S.-based users a 60-day free trial.
Event management tool. If you're an event manager, Constant Contact is the best tool for you. It allows you to accept payments, track registrations, and create a landing page for your event.
Popular WordPress plugin. Many other email marketing tools offer WordPress plugins, but Constant Contact's is one of the most popular. It's simple to install (needing just a few clicks), efficient, and free.
Good for beginners. With Constant Contact, you won't waste precious time looking for the right settings, thanks to its easy-to-navigate menu.
Twitter and Community Support. Besides phone and online chat, you get Constant Contact's support team at your disposal through Twitter, even during weekends. You can also get help from the platform's online community, which is nearly 700,000 members strong.
Cons
Basic automation. Constant Contact isn't the best for automation. It will let you schedule and target emails, but that's all. If automation is important to you, check other tools, such as GetResponse and ActiveCampaign.
Poor templates. Even though Constant Contact has more templates than Mailchimp, they feature only one or two columns. This means you won't get much design flexibility.
No spam testing. Constant Contact doesn't have a spam testing feature, which means you won't know for sure whether your emails are landing in the spam folder. You will need to use a separate spam testing tool.
Go with Constant Contact If…
You're an event manager who needs a tool to communicate with your attendees
You need more than 30 days to decide if an email marketing service is right for you
6. Benchmark Email – Best Free Alternative
If you're not ready to add the cost of an email marketing tool to your budget, then Benchmark Email could be perfect for you. The
free plan
 is designed for new and small businesses looking for software to implement their first email marketing efforts.
Features
Benchmark is a simple tool, but it's ahead of Mailchimp in terms of automation – and
users love it
. Newbies will also find this platform more intuitive and easier to navigate.
Pros
Flexible autoresponders. Compared with Mailchimp, Benchmark's automation tool is more flexible. You can send different emails to customers on the same list, for instance.
CRM tool. Once you have a purchase confirmation, your customers can be automatically moved from your subscribers' list to your leads list.
24/7 support. If you're new to email marketing, you'll definitely like Benchmark's customer service. You get 24/7 live chat and email support even with the free plan.
Simple to use. The menu has just a few options to choose from, making this tool very beginner-friendly.
More emails with the free plan. Benchmark's free plan lets you send 14,000 emails per month. Mailchimp's gives you only 12,000.
Cons
Limited storage. You get only 10MB for data and image storage with Benchmark. No matter what type of business you have, you'll quickly need to pay extra for unlimited storage.
No mobile apps. Unlike Mailchimp, Benchmark has no app you can download to your phone to check how your campaign is going.
Fewer integrations. It's hard to beat Mailchimp on this, with its almost 200 integrations. Benchmark has around 70.
Go with Benchmark If…
You're just getting started with email marketing and you're looking for a basic tool with a free plan option
You're not familiar with all the ins and outs of email marketing and believe you might need support frequently
7. Platformly – Best for Analytics and Reports
Platformly is all about business, and it provides a range of professional tools that can help you gain a better understanding of your customers and increase your profits. It's a fully scalable solution that can easily grow with your business.
Pros
Convenient dashboard with real-time reporting. Not only is Platformly's dashboard accessible from any device, but you can also customize it to your liking with a variety of widgets and third-party integrations.
Free trial. You can try Platformly for free for 15 days to see if it's right for you. It's also worth noting that if you sign up for a yearly plan, you get two months free.
Cons
Credit card required for free trial. Unlike with some of its competitors, you have to enter your credit card or PayPal account details to sign up for Platformly's free trial.
Weak landing page builder. Platformly's landing page builder isn't as intuitive as some of the other options out there, and you don't get many templates to choose from.
Get Ready to Move Away
Now that it's become easier for you to choose the best Mailchimp alternative for your business, you must be wondering how you are going to move all your contacts and lists to your new email marketing tool.
If you go with
GetResponse
, my favorite on this list, the migration will be very easy. The company provides a step-by-step guide that will tell you how to export your lists and move your messages and forms. You will also find the same or equivalent features and integrations, plus all the extra advantages that come with GetResponse automation tool. Other alternatives have similar instructions for you to follow, but you might not be able to find detailed information on their Help pages. In this case, contact their customer service. They will be more than happy to welcome a new customer.
| | | | |
| --- | --- | --- | --- |
| Email Marketing Tool | Good if… | Bad if… | Beats Mailchimp For… |
| GetResponse | You are looking for top-quality automation tools | You want professional templates | Powerful automation and integrated landing page builder, CRM, and webinars tools |
| AWeber | You want an easy-to-use solution | Your subscribers join multiple lists | User-friendly autoresponders, and more than 700 templates |
| ActiveCampaign | You are a pro email marketer and freedom to tailor your automation | You find overwhelming having to deal with a large number of customization options | Advanced automation with integrated sales, CRM, and SMS solutions |
| Constant Contact | You want a tool with a strong community support | You need a solution with advanced automation tools | Features aimed at event management |
| Benchmark | You are on a tight budget and want 24/7 support | You want a solution with mobile apps to work from anywhere | Flexible automation and better support options with a free plan |
| Sendinblue | You send thousands of emails per month | You work with a team and require a multi-user account | Free plan for 300 emails/day to unlimited contacts and SMS integration |
| Platformly | You'd like to gain a better understanding of your customers | You need a tool you can count on for attrractive landing pages | Strong automation tools and excellent reporting and analytics |
---
Source:
https ://www.datanyze.com/market-share/email-marketing/mailchimp-market-share/
Image Credits:
https ://www.getresponse.com/features/mobile-landing-page
https ://www.activecampaign.com/learn/guides/simplifying-automations/