quick, convenient, and easy to use
, others are expensive, offer limited customization and produce amateur results. To make sure you're working with the best of the best, take a look at our list of the
top five logo design apps
– 100% tried and tested to help you find the right one for your needs.
Our Testing Criteria
Logo design apps are undeniably useful, but they're not all created equal. Each app has its own strengths and weaknesses. When evaluating logo design apps for you, here are the things we looked for:
Easy-to-use navigation. Despite the lack of screen space, the app still needs to be intuitive and easy to work with. Good navigation is essential for a top app.
Use of "mobile first" mentality. The days of clunky webpages that struggle to load on mobile devices are over. Today's top apps are made with a "mobile first" design that seamlessly integrates with smaller devices.
Extensive features. Your app needs to include all the features you'd find in an online logo generator. For example, it should provide a vast database of icons, images, and fonts; as well as the ability to make granular customizations even in style, stroke, opacity, borders, and dimensions.
Why Use a Logo Design App?
Finding the
best logo design services
can be a mammoth task. You can use an online logo generator like
Wix Logo Maker
. You can
hire a freelancer or an agency, or even launch a logo contest
on a website like
99designs
or
DesignCrowd
.
However, there are plenty of good reasons why you might prefer using a logo design app instead
:
You can design your logo wherever you are, whenever inspiration strikes, even if you're commuting.
You don't want to spend loads on a designer and you want to retain full control over the ideas.
You want a low-cost way to experiment with design ideas without having to commit to a final product.
You prefer to design your logo on a touch screen, and logo design websites that you've found aren't mobile-friendly.
You're on a tight deadline and you need to come up with something quickly on-the-go.
You're in a meeting or just away from your computer, and you need to design a quick logo to get feedback and ideas from colleagues.
Top 5 Logo Design Apps
The best and most popular logo design apps will not only provide you with all the above – they also offer innovative and unique elements,
such as granular customization and intuitive AI
, which set them apart from the competition. Check out our favorites.
#1. Logo Maker Plus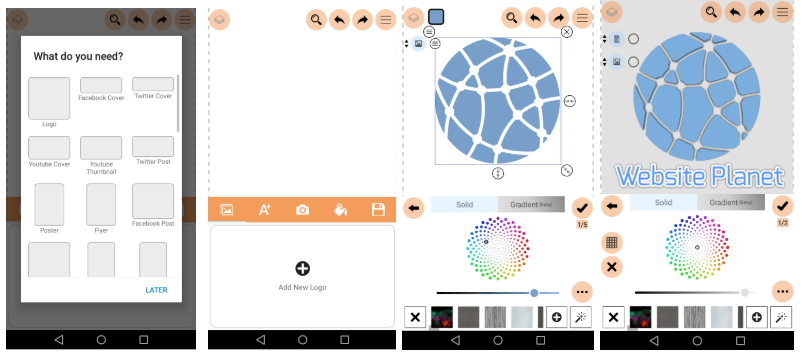 Logo Maker Plus is an incredibly extensive app
that allows you creative control over all elements of the design process. You start by choosing from their
vast database of icons and images
before editing the features you want. You can edit shadow, slant, color, opacity, borders, font weight, and more. Plus, you can
easily add and edit text to fit the style
. You don't need any artistic talent to create a professional-quality final product. Simply experiment with the features until you're happy with the design.
Pros
Impressive customization options
Ability to upload your own images and icons
Options to create social media graphics and other branding elements
Step-by-step guidance throughout the design process
Intuitive and easy-to-use interface
Cons
Available only for Android users
No hand-drawing options
Number of features can be overwhelming
Logo Maker Plus Is Best For…
Small business owners who have no prior design experience
. The app guides you all the way through the process, so even beginners can create a high-quality logo.
#2. Designer Logo Maker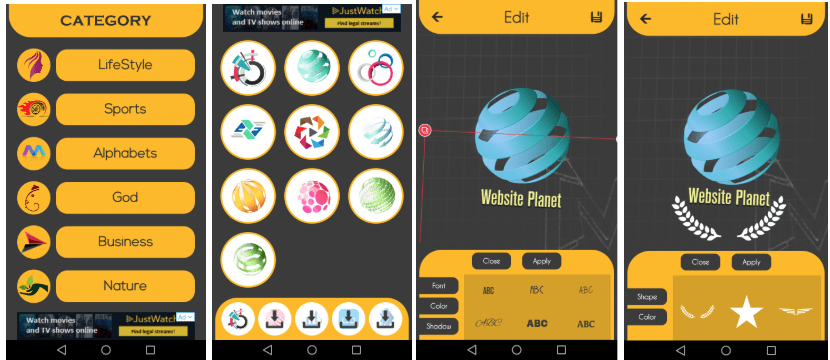 Designer Logo Maker is a straightforward app that
gets the job done, fast
. You have control over all basic elements, including font, icons, shapes, color, and background. The initial brief lets you specify your industry and gives you suggestions based on your answers. This feature is particularly useful, and you can
ensure that the style is appropriate for your business
. The one drawback is that the icon selection is limited.
Pros
Simple grid guidelines included
In-depth RGB color control
Icons organized by industry
Wide range of unique font styles
Unique abstract shapes, which help create one-of-a-kind logos
Cons
Fewer icons available than on other apps
Limited additional features, such as opacity and border control
Excessive in-app ads
Designer Logo Maker Is Best For…
Small business owners who want
a professional-looking logo for minimal time and effort
.
#3. DesignApp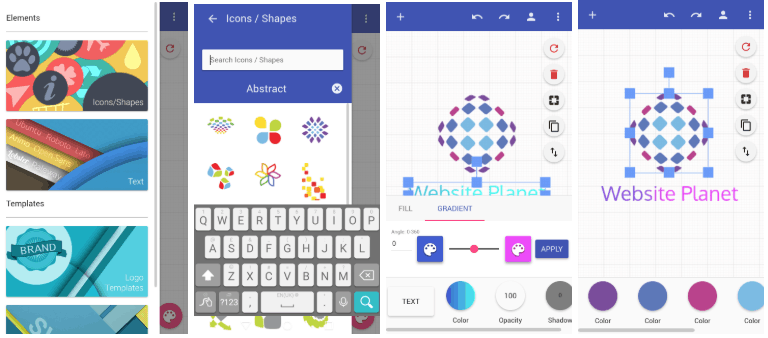 DesignApp is an impressive platform that
uses expert insights to create an innovative design tool
. It boasts a high level of professionalism, with editable grids, logo templates, and control over every element. You have the option to explore DesignApp's extensive icon and image database or personally upload a pre-made design. You can customize every aspect of your design, including intricate features like color gradients and opacity control. The one downside is that the app requires some experimentation, as there's no walkthrough to guide you through the process.
Pros
Significant granular control on all elements
Huge database of icons of all types – abstract and realistic
Grid guidelines, which help create balanced and well-structured logos
Logo templates perfect for beginners
Ability to import your own SVG files and edit them easily
Cons
App suffers from glitches, such as loading issues and elements becoming stuck/overlapped with other elements
In-app ads can be annoying
There's no direct guidance
DesignApp Is Best For…
Small business owners with
a high level of branding knowledge but limited artistic skill
. If you already have a vision of what you want, this app is ideal to help you make that dream a reality.
#4. Sketch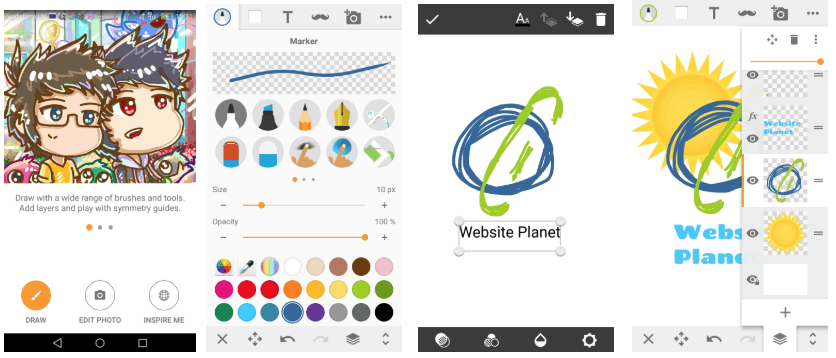 Sketch is a design app that gives you
the freedom to draw your logo from scratch
. Although it does require some artistic ability, it doesn't pose restrictions on what you can create, as some icon-based apps do. You can
draw using your finger or a stylus
, add text, and edit color, background and stroke style. The app also provides a
database of different fonts and icons
, so you can customize your design even further. However, while you can draw freely, the design features are limited – you can't edit the alignment, add borders, or change the shadow and depth of the font.
Pros
Perfect for experienced artists to express their creativity
Option for live drawing
Several different stroke options, including varying opacity
Icon-based designs available
Simple user interface
Cons
No guidance throughout the process
Limited pre-made icons available
Minimal control over text formatting
Sketch Is Best For…
Small business owners who have
extensive artistic experience and want to flaunt their creative skills
.
#5. LogoScopic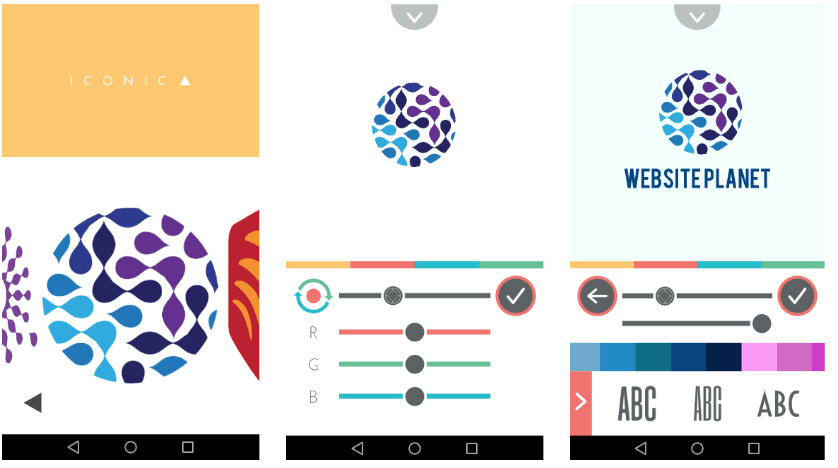 LogoScopic allows you to create
professional-quality logos in a matter of minutes
. You can browse through different icons and artwork to start your design. Once you've made a decision, you can
edit color via RGB sliders
and add texts and background elements. There are several fonts available, and you can use the toggles to
customize numerous elements of the text
. Unfortunately, you can't hand-draw or add extra shapes to the design, but this simplicity is what makes the process so straightforward and quick to complete.
Pros
Unique, artistic icons available
In-depth text editing, including line height and spacing
RGB color editing available
Slider-based editing system that makes experimentation easy
No in-app ads
Cons
Somewhat complicated to use
Many logo templates are limited to the paid version
Customization is limited
LogoScopic Is Best For…
Small business owners who want
a truly unique design for minimal effort
. Although there's limited editing potential, the baseline options are high-quality and innovative.
Create Professional-Quality Logos Quickly and Easily
Logo design apps are ideal for optimizing your time and minimizing your to-do list
, as they're quick and simple and can be used anywhere. The five apps above are all fantastic options that
guarantee a professional-quality result
for minimal time and effort.
After using all the apps, my personal favorite has to be Logo Maker Plus. It has the best balance between affording artistic freedom and automating steps in the design progress. You don't need to be the next da Vinci to make a good logo with it, but you aren't restricted to using a limited amount of set templates. The options for editing granular design components let you create a truly personal logo, with considerable ease
| | | | | | | |
| --- | --- | --- | --- | --- | --- | --- |
|   | Overall Score | Usability | Artistic Freedom | Best For | Premium Features | OS Compatibility |
| Logo Maker Plus | 10/10 | Easy to use | Moderate | People with no prior design experience | 1000 premium icons, gradient coloring | Android |
| Designer Logo Maker | 9/10 | Easy to use | Moderate | Users who want a professional-looking logo quickly | No ads | Android |
| DesignApp | 8/10 | Easy to use | Minimal | Branding experts without artistic talent | Professionally designed logo templates | Android & iOS |
| Sketch | 9/10 | Some Skill Required | Maximal | Business owners with an artist background | Canvas presets, transparent backgrounds, and more stickers | Android & iOS |
| LogoScopic | 8/10 | Some Skill Required | Minimal | People who are short on time | More custom logo templates | Android & iOS |