Currently, there are 75 million websites that use WordPress — 27.5% of all the websites that exist. But while e-commerce and small and medium-sized business (SMB) merchants all around the world use WordPress' templates for their versatile designs, the real reason for the platform's phenomenal success is its huge selection of plugins.
Email marketing is one of the most powerful and necessary functions offered by WordPress plugins. Email has been proven time and time again to be a very effective marketing tactic. And even if your website is great at converting visitors, effective email marketing will get you additional conversions.
But not all plugins offer the same functionality, and you should take that into account when choosing the best email service provider for you.
Sendinblue
The main functionality offered by the Sendinblue plugin for WordPress is the ability to create subscription forms. Website visitors can be prompted to submit their email address. When they do, the data they input will be automatically transferred over to Sendinblue so you can build your subscriber lists.
Subscription forms are fully customizable. You can choose to activate a number of options, including:
Confirmation emails
Double opt-ins
URL redirects
Confirmation messages
Captcha security

The plugin can also be used to manage contact lists and campaigns, and view statistics within WordPress. Additionally, you can have all WordPress emails to your contacts sent through Sendinblue's servers, which can help increase deliverability. Check out our Sendinblue expert review to learn more about the techniques you can use to maximize the number of subscribers who receive your emails in their inboxes.
Installing the plugin requires that you log into your WordPress admin account, search the extensions, and download it. You'll need your Sendinblue API keys to finish the connection.
Constant Contact
The Constant Contact plugin for WordPress requires PHP 5.5 or higher. It stands out as an option with an above-average amount of functionality. In addition to full signup form data transfer integration, the plugin allows you to manage event registration by sending invitations, tracking responses, and helping you with social media promotion.
Check out our Constant Contact expert review to learn more about the full range of features available in the platform.
You can also use the plugin to design your conversion forms within WordPress itself, so you don't have to go back and forth between your website and your Constant Contact account.
In addition, it offers a number of other functions, including:
Adding signup checkboxes and list selection to your registration page and update-profile page
Google Analytics tools
Ability to automatically subscribe users to multiple contact lists
Registration page signup customizations
Subscriber list editing from within WordPress
Ability to place signup widgets anywhere on your website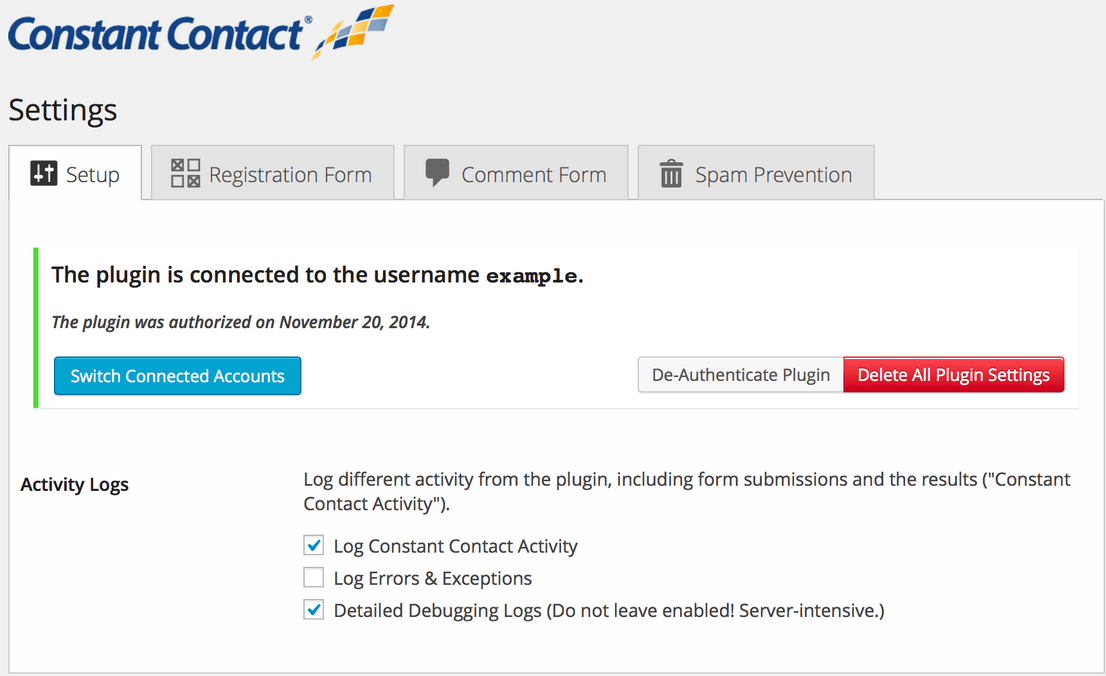 After installing the plugin, you'll have to navigate to the settings webpage and enter your username and password in order to see your contacts and lists. If you want to use the form designer functionality, you'll need to activate the Constant Contact API.
Campaign Monitor
Campaign Monitor's WordPress plugin allows you to create, monitor, and manage your static and popup signup forms. It can also connect the data fields directly to your account so that your lists build without your having to transfer between platforms. Fields can include the standard name and email address, or be customized with unique characteristics or even questions you come up with.
The main focus is on the design of your conversion forms. You can configure them to automatically match the theme and styling of your website in order to maintain a consistent look despite using two different platforms. In addition, there are five different options for signup-form placement on your website:
Slide out – a floating tab which can be placed anywhere on your website and be expanded at any time to reveal the signup form
Lightbox – a signup form that appears in the foreground while the webpage dims
Bar – a signup form with a single field that's fixed to the top or bottom of your webpages
Button – a traditional CTA that brings up a signup form when clicked
Embedded – a form that's built natively into the design of the webpage
Installing the WordPress plugin for Campaign Monitor is as easy as downloading and following the instructions for how to fill out your account information. Alternatively, you can use the manual installation option by downloading the plugin ZIP file and then installing it to your website.
Mailchimp
Mailchimp is the only major email marketing service provider that has a WordPress widget. Unlike a plugin, widgets can be used for lower-tier WordPress plans, making Mailchimp an ideal choice for individuals and small businesses that don't want to pay for pricer plans in order to get email marketing functionality.
However, the widget's functionality is restricted to a single popup form with very basic design. It will not be sufficient for those looking to get the advanced functionality offered in the popups of other service providers.
The Mailchimp WordPress plugin allows you to create sign-up forms with customized fields, and have the data fed directly into your Mailchimp account. In addition, it offers e-commerce functionality through integrations with WooCommerce and easy Digital Downloads.
Check out our Mailchimp expert review  to learn more about what kinds of e-commerce functionality exist, and how you can use it to increase sales.
After you download the plugin, you'll just need to install it using the regular WordPress procedure and then input your API key.
Use WordPress Email Marketing Plugins to Build a Website that Converts
Email marketing plugins from the top email marketing service providers make up one reason why WordPress is the most popular website-building platform in the world. Here's a quick cheat sheet with everything they offer you:
| | | | | | |
| --- | --- | --- | --- | --- | --- |
|   | Pros | Cons | Standout Features | Ease of Use | Best For |
| Sendinblue | Easy installation | Plugin offers no additional e-commerce functionality | Use of Sendinblue's verified and trusted servers helps increase your deliverability | 10/10 | SMBs looking for an effective but user-friendly platform |
| Constant Contact | No API key required for installation | Multiple plugins needed for full design capabilities | Full event registration functionality lets you send invites, keep track of responses, and update attendees from within WordPress itself | 9/10 | Non-profits looking to drive traffic to live events |
| Campaign Monitor | Location of conversion forms is fully customizable | Little functionality beyond design features | Conversion forms can be set to perfectly mimic the design of your website, giving you a consistent look that doesn't distract visitors from converting | 9/10 | Larger websites being used as a branding tool |
| MailChimp | Can show custom subscribe forms in all areas of your website, including posts, webpages, and widget areas | Some users find it takes time to learn how to use the Mailchimp interface properly | Extensive e-commerce functionality includes integrations with WooCommerce | 8/10 | E-commerce stores looking to use their website to sell goods and services |
Something to remember as you choose a platform and extension is that following a proper content strategy will increase the ROI of using them even more. For example, knowing the best practices for writing email headlines that convert is a must-have strategy. Email service provider extensions allow you to easily test different versions of copy and find the one that works best for you.
At the end of the day, the true value of the best email marketing extensions is their ability to combine an optimized emailing strategy with seamless execution.
---
Source:
https://expandedramblings.com/index.php/wordpress-statistics/