You want people to think of you before something goes wrong. And email marketing can help with that.
But there are tons of email marketing services to choose from, all of them claiming to boost your client engagement and conversation rates. So which is really right for you as an insurance agent? I took a close look into which are best for the insurance industry.
Having tested and compared multiple email marketing services, the best one for you depends on your specific needs
– but all of the ones I've included in this list are great for launching email campaigns with insurance sales in mind. It's also important to note here that it's not
just
about which service you pick. Having a good marketing strategy is also really important when launching email campaigns. Further down,
I'll go into the best email marketing strategies with the goal of selling insurance
.
Short on Time? These are the Best Email Marketing Services for Insurance Agents in 2023
ActiveCampaign – A powerful, all-inclusive service with a robust automation tool.
AWeber – Perfect for blogs and newsletters, with a free plan that will suit smaller insurance agencies.
GetResponse – With SMS marketing and email chat, you'll be able to engage your customers across different channels.
The Benefits of Email Marketing for Insurance Agents
As an insurance agent, you can increase your brand's recognition and bolster client relationships through email marketing. Your individual goals as an insurance agent probably differ from others, but email marketing can help you achieve a number of objectives. Here's how email marketing can benefit you:
Convert leads into deals. Email marketing can help increase your chances of turning a prospect into a sale by building relationships, informing contacts of the benefits of your insurance, and introducing people to insurance plans that fit their needs.

Upsell customers. Sending informative emails can help you upsell your customers. By explaining the benefits of your insurance plans, you can get them thinking how it might be worthwhile to spend more for better cover.
Retain customers. Show your customers you care by sending them happy birthday emails, as well as subscription renewal reminders to encourage them to continue with their insurance plan.

Boost brand awareness. When you regularly send emails, you're ensuring you're more likely to be on people's minds when it's time to shop for an insurance plan.
Gather data and study trends. You can use data reports and analytics to study which emails people are opening, which links they're clicking, and what purchases they're making. Analytics will also tell you what characteristics paying customers share, and you can directly gather data by sending surveys and polls to learn what benefits people care about.
What We Look for in Email Marketing Services for Insurance Agents
Not every email marketing service will be suited to the insurance sector. That's why I looked for specific features that will help your marketing strategy and increase insurance sales. Here's what I looked for in each service:
Automation: Automation tools will automatically send out emails when certain conditions are met, so you don't need to do the work yourself. You'll want the ability to send emails such as automated post-purchase instructions, feedback requests, renewal reminders, and messages that improve customer engagement, like happy birthday or anniversary emails.
Mailing list segmentation: Being able to organize your contacts into different categories will allow you to send targeted emails. For example, you could send promotions to customers who have purchased lighter plans to encourage them to upgrade. Or send informative newsletters to people who have not yet purchased insurance.
Ease of use: You shouldn't have to be an expert to use an email marketing service. A good service will be intuitive and easy to learn. All of the services on this list are suitable for beginners, but will also grow with you as you become more experienced.
First-class customer service: If you get stuck, great customer service can make all the difference. Fast responses will ensure you get quick resolutions for time-sensitive matters, too. I've looked for email marketing services that deliver 24/7 support or have guides and tutorials that will actually help you.
ActiveCampaign offers a range of advanced features that can help your email marketing strategy succeed. And
you're not just limited to email, either – you can use it to create text and social media campaigns, too
.
What impresses me most is ActiveCampaign's comprehensive automations feature
. You get so many recipes – templates designed with specific purposes in mind – to choose from. For example, when a contact clicks a link in an email, it might trigger an automated email. You can then easily customize promotional messages for an insurance campaign based on what the contact clicked on. Namely,
you could send post-purchase messages to instruct customers on how to use their insurance, or set up feedback emails to show you appreciate your customers' opinions
. Or you could advertise superior plans to specific customers who have purchased lighter, cheaper plans, further targeting your marketing strategy.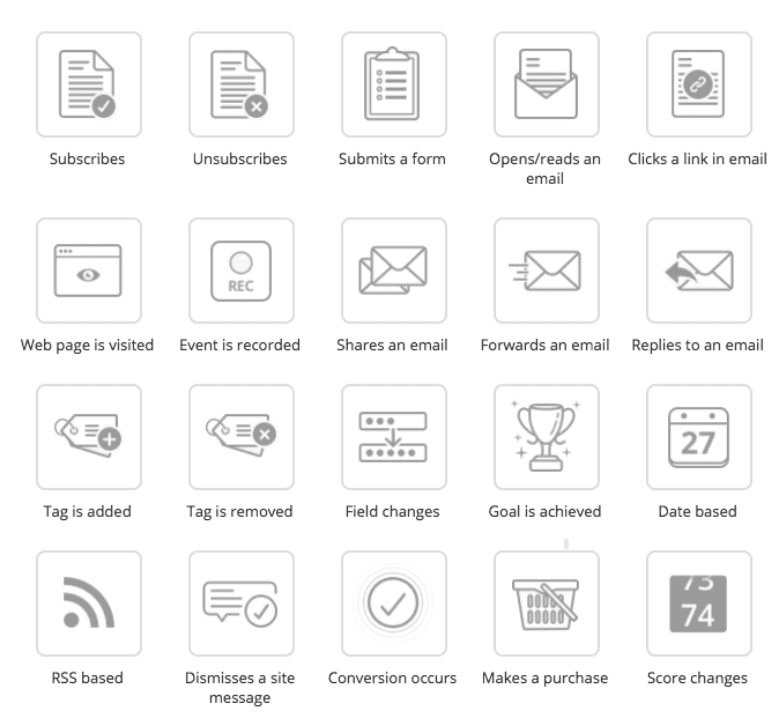 While its main focus is on email marketing,
ActiveCampaign can also serve you as a CRM
(customer relationship management). This means you can manage contact details and set up notes and task reminders to help you and your sales team remember important meetings and calls. Plus,
you get a lead scoring system, which is a neat way to rate your leads with number values so you know which contacts to focus on
. I love how ActiveCampaign combines managing customers and tasks with email campaigns. The two-in-one factor makes it super easy to organize everything in one place. ActiveCampaign is also great at telling you areas you need to improve.
You get basic analytics for email open rates, links clicked, contact location, social shares, unsubscribes, and email clients.
Data reports like this are incredibly useful, as they grant you insights into what is and isn't working.
The only downside I really found is ActiveCampaign's complex functionality and lack of a free plan
.You only get a 14-day trial to try out the service for yourself, which really isn't long enough to familiarize yourself with how it works and decide whether or not it's right for you. Still,
it's a relatively affordable email marketing service
. Its cheapest plan, Lite, has a starting price of
$
29.00
per month, which is pretty fair. You get way more than a pricier service such as HubSpot's Starter plan, which doesn't include automation and starts at a massive $45 a month.
ActiveCampaign isn't the friendliest tool for beginners, in my opinion
. However, if you're willing to learn or already have some experience with email marketing, I have to say
the advanced reporting and analytics, CRM functions, and superb automation are the reasons ActiveCampaign is my favorite pick for insurance agents
.
Features
Expansive automation triggers: There are triggers for pretty much any condition, including tags you define yourself, so you can easily customize your own automated messages to suit your needs. These also cover the basics, like happy birthday emails, newsletters, and post-purchase messages. It's one of the many reasons it scored 4.8 out of 5 in our ActiveCampaign review.
Segmentation tags: You can organize your contacts using custom tags, giving you a lot of flexibility over which emails to send to which groups. This way, you could create a custom tag called "active" for your current customers, helping you keep track of who to send renewal reminders to.
Contact scoring: To further track your leads, you can apply numerical values to contacts based on conditions you set. For example, you can create a rule that assigns 5 points to contacts who live in an area where flooding is common. This is useful because you can prioritize selling to contacts with the highest scores.
Performance reports: You get powerful analytics covering sales, campaigns, team goals, and more. These numbers can help you analyze what you're doing right, as well as wrong, and adjust your marketing strategy to boost your success even higher. When you upgrade plans, you get reports on even more data.
Starting price

$

29.00

per month

Free plan available?

No, only a 14-day free trial.

Beginner friendly?

Not totally. ActiveCampaign is an advanced tool that takes time to learn.

Automation depth?

Extremely in-depth triggers with options for feedback, post-purchase, relationship building, and more.

Customer support channels

24/7 email. Live chat available Monday–Thursday from 8am–11pm CST, and Friday 8am–6pm CST
AWeber has everything you need to set up an email newsletter campaign
, so you can easily keep potential customers in the loop about what your plans cover and how that could benefit them. Or you could keep existing customers informed about how you're supporting them and potential upgrades.
AWeber comes with plenty of newsletter templates to get you started building your first email, making it a great option if you're new to email marketing.
There's a good variety in template design, and if you want to customize and add your own branding, the drag-and-drop email editor is super easy to use, too (just take a look at our
AWeber review
to see it in action). In addition to your standard text, image, and headline blocks,
there are a number of elements you can instantly add to your email. This includes social links, an RSS feed to directly tie in your blog posts, products, and coupons
. I really like how easy it is to quickly put an email together – it's especially great for blog newsletters. Plus, you can
test variations of emails with A/B testing and learn which subject lines are more successful with your subscribers
. This makes it easy to fine-tune your content – although note that this feature isn't available with AWeber's free plan.
AWeber also comes with autoresponders, which are a chain of messages you set up to send after specified increments of time. This makes it
very easy to set up informative emails about insurance
to send periodically. AWeber's automation features don't offer quite the same flexibility as ActiveCampaign – you're not able to send feedback or instruction emails after a customer purchases insurance – but it is easier to use. Still, if less-complex automation options is a dealbreaker for you, I recommend
ActiveCampaign
or
GetResponse
, which have more trigger options.
One final thing I really appreciate about AWeber is its reasonably powerful free plan
, which supports up to 500 contacts and includes everything you need for a newsletter and even some automation features. This, plus how easy it is to use, makes perfect if you're just getting into email marketing or if your agency has a smaller subscriber list.
Features
Easy to use. The user interface is simple to navigate, and the builders for emails and automations are easy to pick up.
Newsletter-style templates. A large selection of templates takes a lot of the work out of email building and makes the process faster.
RSS feed. You can link your blog directly to your emails, which is a great way to keep subscribers up-to-date and informed about the latest insurance tidbits you want to share.
Responsive support. With a 24/7 email and live chat support available, you can quickly get responses to time-sensitive questions. When I contacted support via email, I received a thorough response within 5 hours.
Starting price

$

12.50

 

per month

Free plan available?
Free plan available
Beginner friendly?

Yes, it's very easy to use.

Automation depth?

Fairly basic, only allows you to set up automation series and welcome messages for new subscribers.

Customer support channels

24/7 email and live chat and phone support from 8am–8pm ET
If customer interaction is your main objective,
GetResponse is a great service for engaging with your subscribers.
Its automated SMS marketing feature means you can reach your subscribers through both email
and
text. This could be used to deliver renewal reminders, send fast support responses, run promotions, and more. With both email and mobile marketing, you're increasing the chances your messages will be received and making yourself more available to potential customers.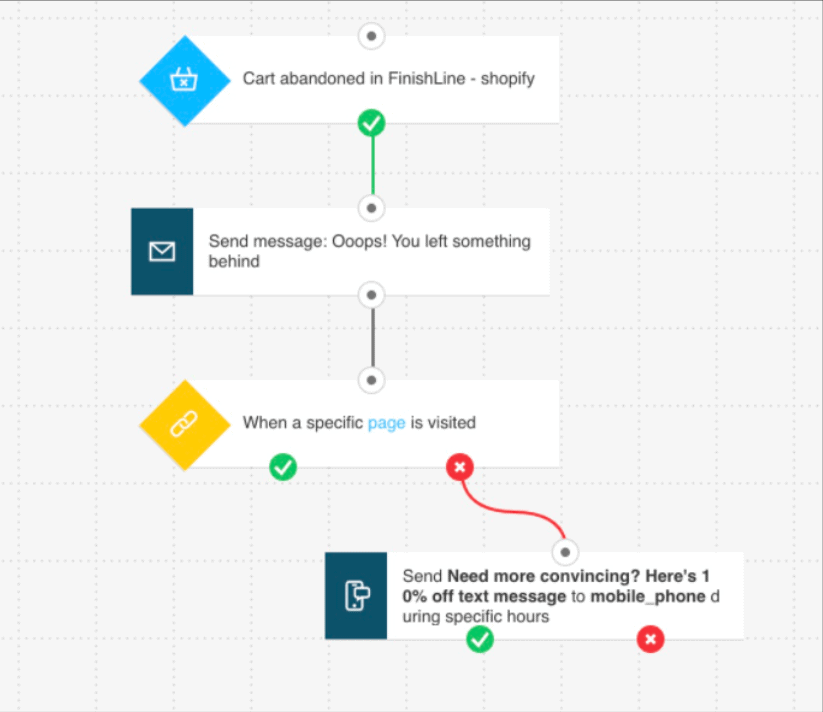 The many ways you can interact with subscribers is what really makes GetResponse stand out.
For example, it includes a webinar builder to host video presentations for up to 1,000 attendees
. I love this feature and think it could be great for insurance agents to speak directly to your contacts and build trust.
Another way you can engage your customers is through GetResponse's live email chat feature
. This is a really great way to provide support for any questions your subscribers might have about insurance, the plans you offer, and how they personally could benefit from it. Talking one-on-one with a lead like this could potentially turn them into a deal. And let's not forget that GetResponse now has its own
Free Forever plan
meaning you don't need to spend any money at all (for more details read our expert
GetResponse review
).
Features
SMS marketing: Send automated text messages in addition to emails when a condition is met.

Live email chat: If a subscriber has any insurance questions, you can chat with them directly and bolster both their confidence in your product and your credibility.

Webinar hosting. Host webinars for your subscribers, communicating directly with your audience to inform them about insurance and the benefits of your plans.
Conversion funnels software. This is a management tool for your online sales, which you can use to help promote and sell plans. It integrates with GetResponse, which helps you combine email marketing with the business side of your insurance agency.
Starting price

$

0

per month
Free plan available?
Free Forever plan available
Beginner friendly?

No, there isn't much support or tutorials geared towards beginners.

Automation depth?

Robust trigger options with mobile texting capabilities.

Customer support channels

24/7 live chat, ticket system
Benchmark is lighter in the features department than more comprehensive services like ActiveCampaign, but it's incredibly easy to learn
. It's a great option if you're looking for something you can pick up and use to start sending emails right away. What makes it so easy to use?
Benchmark breaks everything down into simple steps that are a cinch to follow.
For example, to set up an automation, you'll be taken through step-by-step menus to help you get it set up. No knowledge or expertise required, which is why my colleague loved it so much in our
Benchmark review
.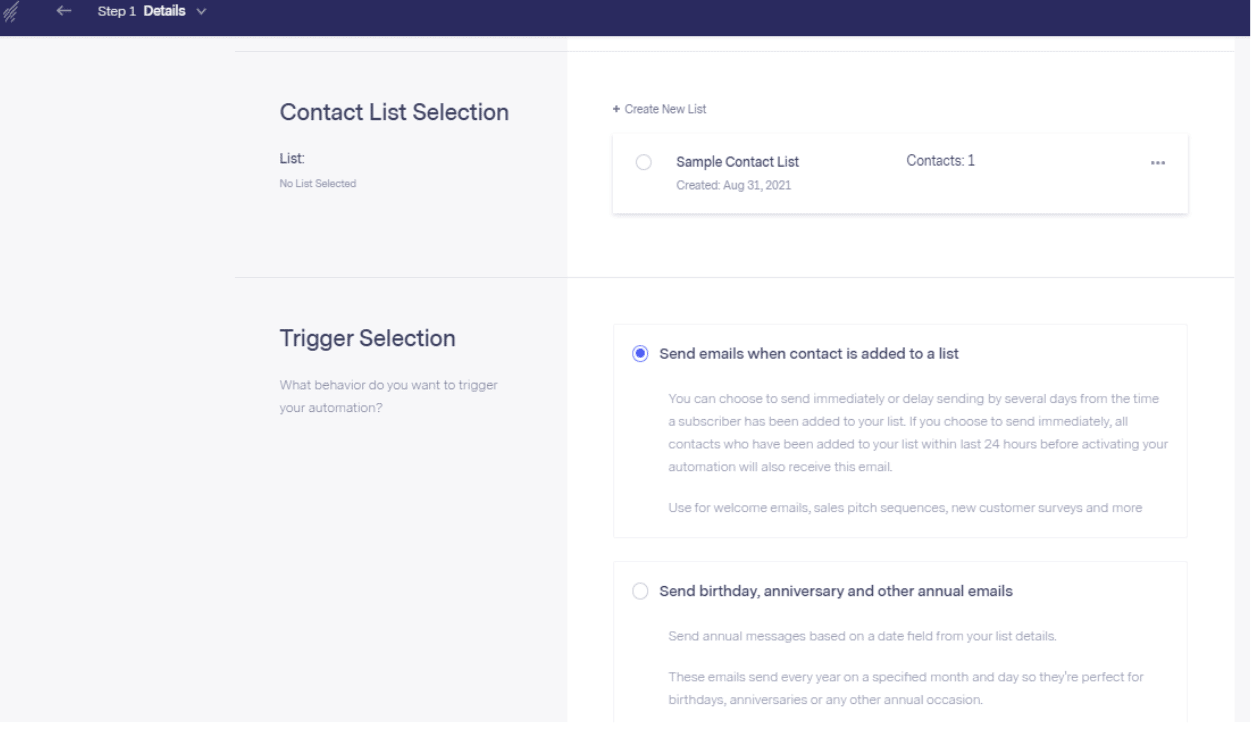 In addition to being easy-to-learn,
Benchmark offers a free plan with automation
.
And its premium plan starts at
$
8.00
per month for 500 contacts, which is a pretty good price for a plan with pro automation and reporting. But its features aren't as powerful as ActiveCampaign's, which has a comparable starting price. Something Benchmark does really well is data gathering. You can
easily send out polls and surveys to really get to the heart of what your customers want
and study trends. Providing emails your subscribers can interact with will help engage them, as well as communicate that you care about their opinions. For example, you could send out a poll or survey asking customers what benefits are most important when considering insurance plans. Not only can you learn which benefits are most popular, you can also study trends by location, age, household size, budget, and more. It's a great way to learn about what your advertisements should focus on.
Features
Step-by-step process. When you perform a task such as building an email or automation campaign, you'll be taken through a very easy-to-follow menu of options.

Pro automation triggers. If you upgrade from lite to pro automation, you gain the triggers to send follow up emails, such as instructions when a customer purchases insurance.
Polls and surveys. Send polls and surveys to your subscribers to gather data. This will allow you to learn useful trends, like what benefits people are most interested in when purchasing insurance.
24/7 support. You get 24/7 email and phone support, as well as 24/7 live chat for paid plans. This adds credence to its beginner friendliness, as there will always be a support agent around to help you out.
Starting price

$

8.00

per month
Free plan available?
Free plan available, but with limited features
Beginner friendly?

Very. Every task is broken down into easy-to-follow steps.

Automation depth?

A simple Lite version and an in-depth Pro version that covers post-purchase, feedback, and newsletter automations.

Customer support channels

24/7 email. 24/7 live chat for paid plans. 24/7 phone support, as well as a sales number available Monday–Friday from 7am–4pm PT.
Seninblue's premium plans are on the pricey side, starting at

$

25.00

 per month, but you get unlimited contacts with no limit on how many emails you can send
. If you run a mid-size insurance agency, or plan to grow your mailing list, Sendinblue offers plenty of room to expand. And
it's probably
the only free plan that can support a bigger agency
, since it allows you unlimited contacts and up to 300 emails every day
. You also get some nifty features, including automation beyond just sending emails – you can also update a subscriber's profile and add them to a list.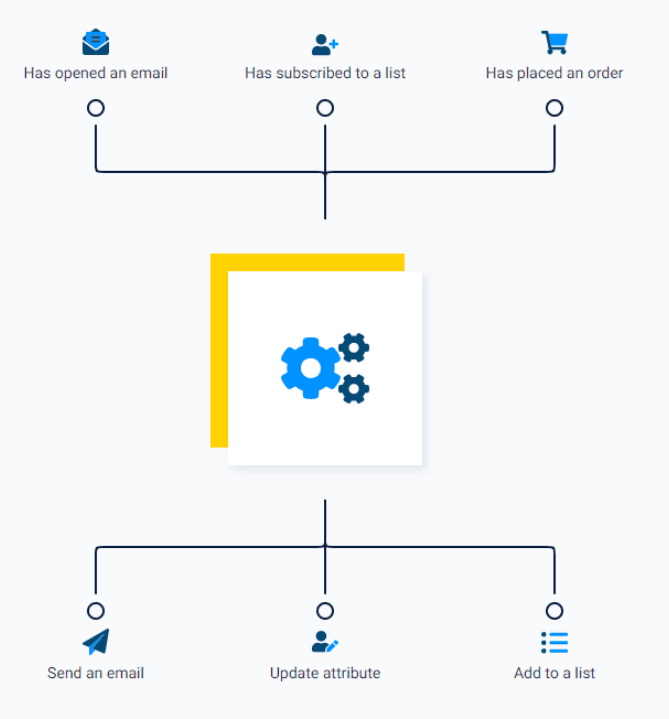 For example, if a customer purchases an insurance plan, you can update their information, tag them as a customer, and add them to the customer list for that plan – all automatically. It can be useful to differentiate which customers sign on to which plan, as this means you can send targeted promos to different groups to strategize an upsell.
Sendinblue also has some secondary CRM features (
learn more about these in our
Sendinblue review
). I always appreciate it when services offer ways to organize contact information and meetings, and Sendinblue covers this pretty well. You can store information and meeting notes within each contact's profile, and you can also organize all of them into lists by shared characteristics.
There's also a task creation tool to make goals and assign them to yourself or to team members
. This helps ensure you and your team stay on the same page, keep track of upcoming meetings, and meet deadlines.
All of this makes Sendinblue great for mid-size agencies with employees
. I love how easy it is to stay organized, and that there's the option for a free plan with unlimited contacts.
Features
Automated actions. In addition to setting up email automations, you can update the properties of your customer based on their activity, such as adding them to a list when they sign up for a specific insurance plan.
SMS marketing. You can also send out marketing texts to contacts that have registered a mobile number, combining it with the automation tool.
Contact tracking. Easily log meetings, calls, and conversations with your customers. This is a great way to keep track of your leads and help convert them to sales or upsells.
Unlimited contact free plan. There are no contact number limits with Sendinblue's free plan and you can send up to 300 emails per day, making it a budget-friendly option for agencies with large mailing lists.
Starting price

$

25.00

per month
Free plan available?
Free plan available

with unlimited contacts

Beginner friendly?

Yes, it's easy to grasp the tool's menu and how each feature functions.

Automation depth?

Allows you to set triggers and perform more actions, including updating your contact and adding them to a list.

Customer support channels

24/7 email
Constant Contact is a good choice if you're looking to combine your email marketing strategy with your insurance agency's online presence.
Email campaigns are easy to set up, and you get all the basic automation features you need for your agency
– but the fact that it's so easy to link your email marketing to your social media accounts is what makes Constant Contact shine (read
all
the details in our
Constant Contact review
).
You can directly make posts to your social media accounts through Constant Contact
, saving you time by tying all your marketing into one service.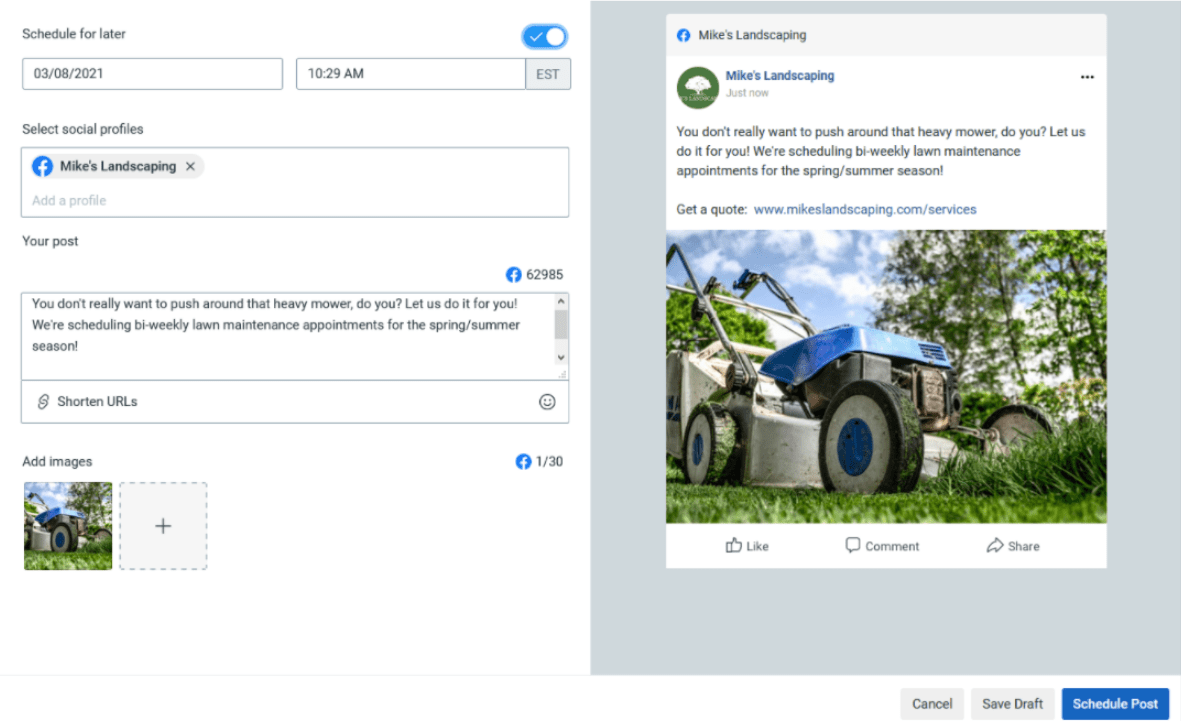 You also
receive multi-step training guides to help you get started advertising on social media.
This is pretty great for beginners or people looking to venture into new strategies. I found the guides pretty in-depth and easy to follow. Not only does Constant Contact allow you to link up your social media accounts, it
also provides an easy way to set up and manage events
. This is done through the Eventbrite app integration, which lets you connect your Constant Contact and Eventbrite accounts.
Creating email invites for events and tracking RSVPs in one place is pretty convenient.
The Email plan starts at
$
12.00
per month, but you miss out on automations, surveys and polls, and event management. If you want these features, you have to go for the Email Plus plan, which starts at
$
35.00
 a month! But thankfully, we do have some
Constant Contact coupons
that can save you a bit of money too. Still, if you like the social media and Eventbrite app integration, Contact Contact blends those well with its email marketing functionality. It makes it super easy to connect everything and manage your emails, conferences, and social media posts in one place.
Features
Social Share: Ability to connect your Facebook, Twitter, Instagram, Pinterest, YouTube, and LinkedIn to promote your posts.
Eventbrite app integration: Constant Contact is connected with Eventbrite, an event manager tool. This makes it easier to organize events by syncing participants and publishing registers – great for hosting insurance conferences to discuss details with potential customers.
Automated email resending: If an email goes unopened by some of your subscribers, you can set it to automatically resend. This is a good backup to ensure important mails, such as renewal reminders or directions, don't go unnoticed.
Customer consultation: When you purchase the Email Plus plan, a consultant will work with you to walk you through the process and give you ideas for your marketing strategy. This is a neat resource if you're totally new to email marketing and are looking for some one-on-one guidance.
Starting price

$

12.00

per month
Free plan available?
No, but there's a very long 60-day trial

 if you're in the US, 30 days for the rest of the world

Beginner friendly?

Yes, it's easy-to-use and get started.

Automation depth?

Covers the basics, including time-based newsletter campaigns and post-purchase trigger messages.

Customer support channels

Live chat Monday through Friday and phone support Monday through Thursday from 8am–10pm ET, Friday from 9am–9pm ET, and Saturday 10am–8pm ET
If you run a small insurance agency,
Mailchimp offers a free version and a decently low starting price at

$

20.00

 per month for 500 contacts.
The basic plan includes multiple automations, such as welcome messages, plus a multitude of triggers. Many free or starting plans don't include very comprehensive automation, so I appreciate this.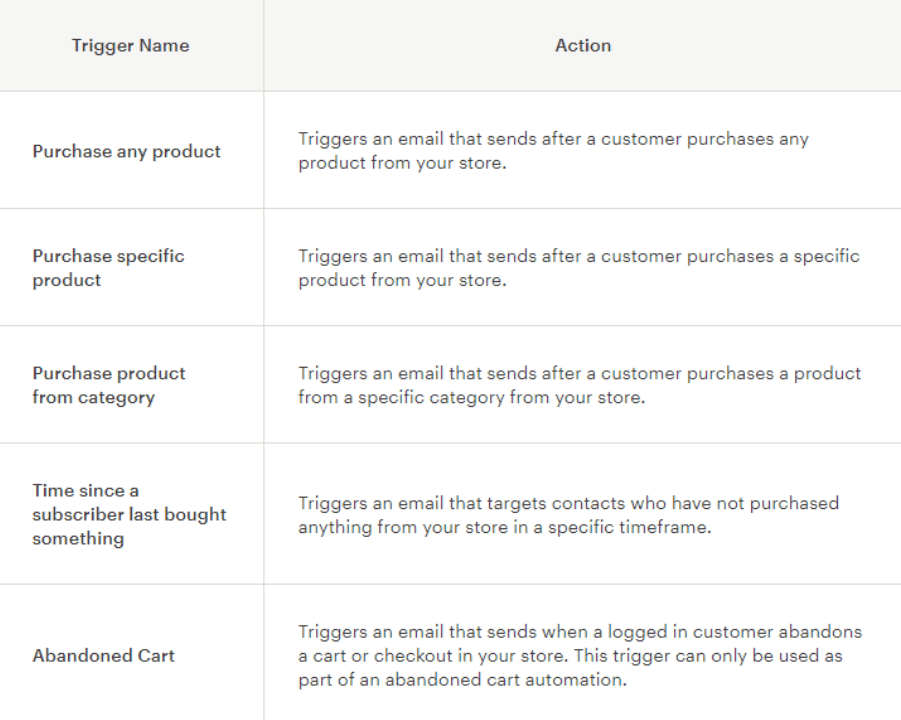 Mailchimp will give you the essentials, such as automation, but is a bit lacking in terms of advanced features.
Its automations are very linear – you can't set up branching messages when, for example, a specific link is clicked. Its A/B testing is also restricted in that you can't split test messages within automations.
Mailchimp also gets a little too pricey for bigger agencies – especially considering its limitations.
At 10k contacts, its cheapest plan starts at $78.99, which is comparable to ActiveCampaign but missing the same functionality. So I can't recommend Mailchimp as a good choice for large agencies or insurance agents looking to expand their contacts. But
if you're looking for the basics on a budget, and you've got a smaller mailing list, Mailchimp might be a good option for you
.
Features
Automation essentials: Even the free version gets you decent automation, including the ability to send messages after a contact visits your site or makes a purchase, more about this in our Mailchimp review.

Customer tracking reports: You'll receive data on how customers are interacting with your emails and website, namely which links they're clicking and purchases they're making.

Email merge tags: Easily add personalization to your emails with a number of detailed tags, ranging from the simple stuff – like a contact's name – to little details like their favorite color. A touch of personalization makes customers feel more valued.

Tutorials and guides: You can peruse pretty extensive guides for learning the basic features, as well as read material on marketing tips and growing your business. This is a pretty nifty database for beginners and people looking to grow alike.
Starting price

$

20.00

per month
Free plan available?
Free plan available, for up to 2,000 contacts
Beginner friendly?

Its tools are easy to learn, but its templates leave much to be desired.

Automation depth?

You can set up welcome and happy birthday emails, along with automated responses to purchases. 

Customer support channels

24/7 email support, weekday 24/7 live chat, and weekday phone support from 9am–5pm ET (phone support only available with the Premium plan)
How to Grow Your Email Marketing
So, you picked out the right email marketing service for you, sent your first email, and have launched some campaigns. That's great! But how do you really perfect your marketing strategy to get noticed and help turn those leads into deals? Well, there's a few things you can do to improve your emails and engage your subscribers even more. Here are some strategies you can incorporate to expand your campaigns:
Integrate "call to action" buttons: Add a share button to your emails to encourage people to send your messages, web page, or informative blog post to friends and associates. Then, those people might subscribe or share with someone else… and so on.
Establish a social media presence: Get active on Facebook, Twitter, Pinterest, and other sites people frequent. Share informative articles or tips about insurance, as well as a way to subscribe to your mailing list, and you'll hook people who're active on those sites.
Send personalized messages: Retaining customers is just as important as acquiring new ones, as this builds credibility and leads to referrals. Show your subscribers they matter with emails wishing them a happy birthday and messages addressing them by name. Services with tags and personalizations will remember the details for you!
Establish a regular newsletter: Keep your contacts up-to-date on your accomplishments and recent developments. This is the perfect time to sell yourself, so really boast about how great you are. A regular newsletter shows you're active and gives people a reason to sign up and stay tuned.
Send reminders: Ensure your contacts stay engaged and listening by setting up reminders for things like insurance plan renewals. Also send follow-up messages to prospects who have shown interest in a plan but have yet to make a purchase. This helps prevent leads and contacts from dropping off.
Which Email Marketing Service is Best For You?
Adopting an email marketing strategy can help your insurance agency succeed by building customer relations and increasing sales
. But choosing the right service for you can be a tricky decision to make. Any of these 7 email marketing services work great for insurance agents, but certain ones will be better or worse for
you
depending on your objectives.
If you want the most advanced features and have room to grow, I say go with ActiveCampaign
, the most complete package.
If you want a service you can seamlessly tie in with your social media, GetResponse has those tools
. Or
if you're a total beginner looking to lift your email campaign off the ground as quickly and easily as possible, I recommend Benchmark
. Every email marketing service has its own set of advantages and disadvantages, and no single service excels in every aspect. Here's my ultimate recommendation: consider the type of strategy you wish to employ for selling insurance, and then select the option that precisely aligns with your objectives.
| | | | | |
| --- | --- | --- | --- | --- |
| | Free Plan | Best Feature | Best For | |
| ActiveCampaign | ✘ | Advanced automation with expansive triggers. | Big businesses and those looking to grow. | |
| AWeber | ✔ | Easy-to-use email builder with RSS feed. | Agents featuring blogs or newsletters.  | |
| GetResponse | ✔ | Powerful SMS marketing and automation. | Agents who favor client interaction. | |
| Benchmark | ✔ | User-friendly features with guided processes. | Beginners looking for an easy experience. | |
| Sendinblue | ✔ | Unlimited contacts in all plans, including free. | Big businesses on a budget. | |
| Constant Contact | ✘ | Efficient social media and Eventbrite integration. | Agents active on social media. | |
| Mailchimp | ✔ | Free plan supports up to 2,000 contacts. | Agents who only need the basics. | |
FAQ
Which email marketing service is best for insurance agents?
That really depends on your needs and goals as an insurance agent. ActiveCampaign has the most advanced features and robust automation. But if you have a small agency and want something simple to use, I'd recommend AWeber instead, which has a free version supporting up to 500 contacts and is a bit easier to learn. There are a lot of great email marketing services out there, but they excel at different things. Compare our list of top services to decide which one is ideal for your agency.
What are the different types of marketing emails that can help grow my business?
– Customer relation emails, such as a welcome message for new subscribers and a happy birthday email triggered to congratulate them on their birthday. – Newsletters to keep your contacts up-to-date and informed on details about the benefits of insurance and your plans in particular. – Promotions of your insurance plans, which advertise and keep your customers informed about your products and their choices. – Deals and coupons to both entice and reward customers for choosing you above other agencies. – Post-purchase emails to send instructions and feedback emails, showing your customers you care how they're doing and what their opinions are.
How much does email marketing cost for insurance agents?
Depending on what you need, email marketing could cost as little as nothing at all. AWeber offers a free plan that's pretty substantial and should do the trick for some agencies. But if you want advanced features or have a big mailing list, you'll need to look into premium options. Most services offer plans supporting 500 contacts beginning anywhere from $10 to $25 a month. You can also look through our coupons and deals page here to get a better price.
Which email marketing service is cheapest?
The cheapest email marketing services are those that offer free plans, such as AWeber, Sendinblue, and Benchmark. ActiveCampaign and GetResponse don't offer free plans, but each have starting prices of $15 per month, which is very reasonable for what you get. Especially compared to more expensive competitors, such as Sendinblue's Lite plan, which has a starting price of

$

25.00

 per month.