Whether you're a blogger, a digital marketer, or the owner of an e-commerce website, you're a very busy person. You could use automation tools to save you time and money.
Sure, there are many popular email marketing services out there to help you out, but it would take you years to test them all!
Lucky for you, I've been in just about every situation as a freelance marketer over the years, and have used dozens of these tools myself. So stay tuned, because I'm going to share my experience with you.
Once you understand the key differences between the best email marketing automation tools, you can quickly hone in on the ideal one for your business.
Email Marketing Automation Tools – Our Best Picks:
ActiveCampaign – Excellent for B2B marketing with a combination of email marketing and CRM
Benchmark Email – Very easy to use, with a wide variety of professionally-designed templates
AWeber – Basic email marketing tools with over 700 integrations
GetResponse – Over 40 automation templates and a visual automation workflow builder
Sendinblue – Offers Email and SMS marketing features, and an easy-to-use form builder
What We Look For in the Best Email Marketing Automation Tools
Automation features. All tools have at least basic automation features. Most on this page have advanced automation workflow builders.
An intuitive dashboard. Email marketing tools have several functions, and they should be clearly labeled and easy to find. We looked for tools that don't require you to spend hours clicking and searching around.
Reasonable price. These tools are affordable for small and medium-sized businesses.
Easy email creation. Email automation involves creating a lot of different emails and variations. Tools should have dozens of modern, responsive templates, and a solid email editor that's easy to use.
Analytics and reporting. Email automation and optimization go hand-in-hand. To see if your automation is producing results, you need data that's both in-depth and easy to understand. All tools here have at least the basics you'll need.
1. ActiveCampaign – CRM and Email Marketing Rolled Into One Tool
Let's get started. ActiveCampaign takes a unique approach to email marketing. It's one of the few tools that offer email marketing automation with an optional light CRM (on certain plans). This is one of the reasons it gets glowing reviews.
This combination is great for B2B marketing, or if you have a sales funnel where each lead needs more attention than what a blogger might give to subscribers.
Features
Although ActiveCampaign's automation workflow editor is as simple as these kinds of editors can get, it's still quite powerful.
The visual editor lets you add triggers or events by clicking the plus button between each step. You can also drag and drop conditions from the side menu: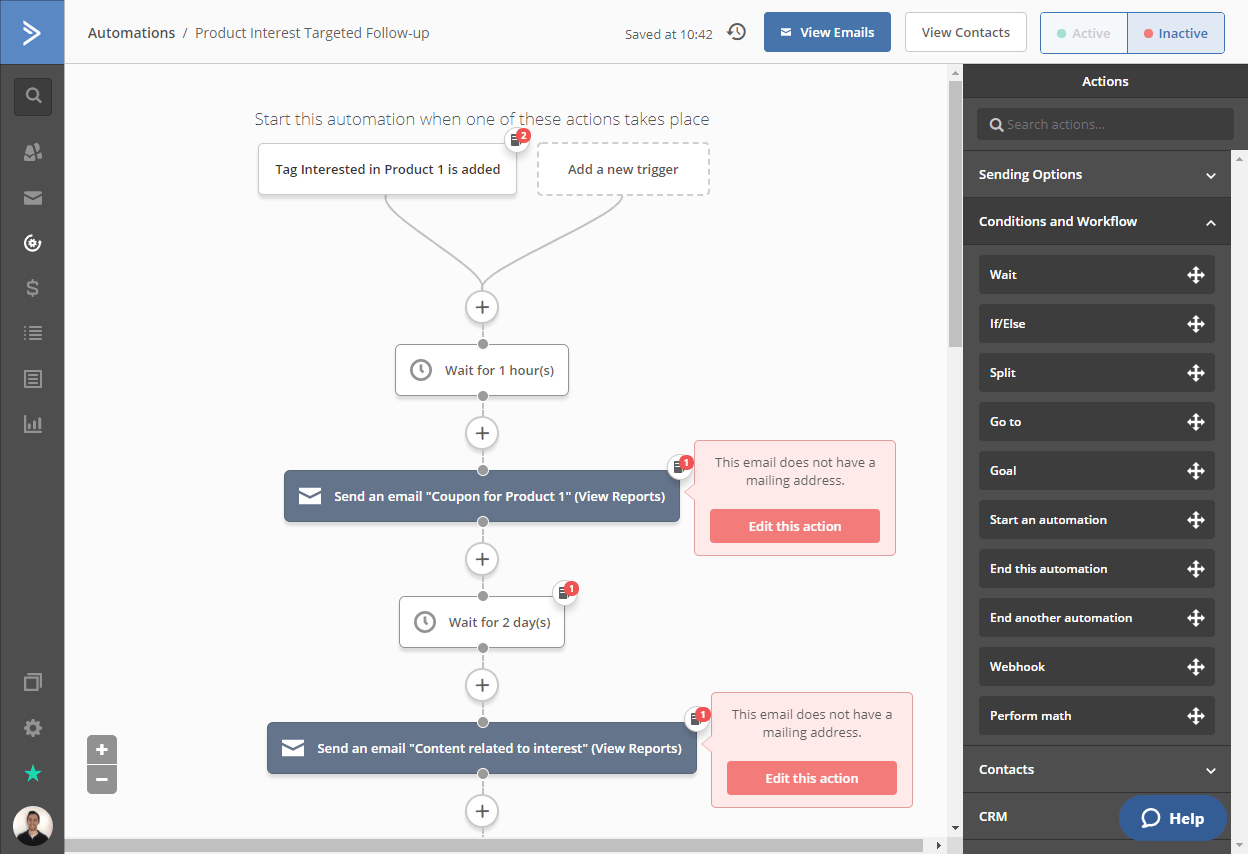 An important feature that many other email marketing automation tools don't have at all, or could improve on, is automation recipes.
ActiveCampaign has several, divided into different categories (e.g., increase revenue, increase traffic). These serve as templates to save you time setting up a basic funnel, and are also useful reminders to conditions you might want to include: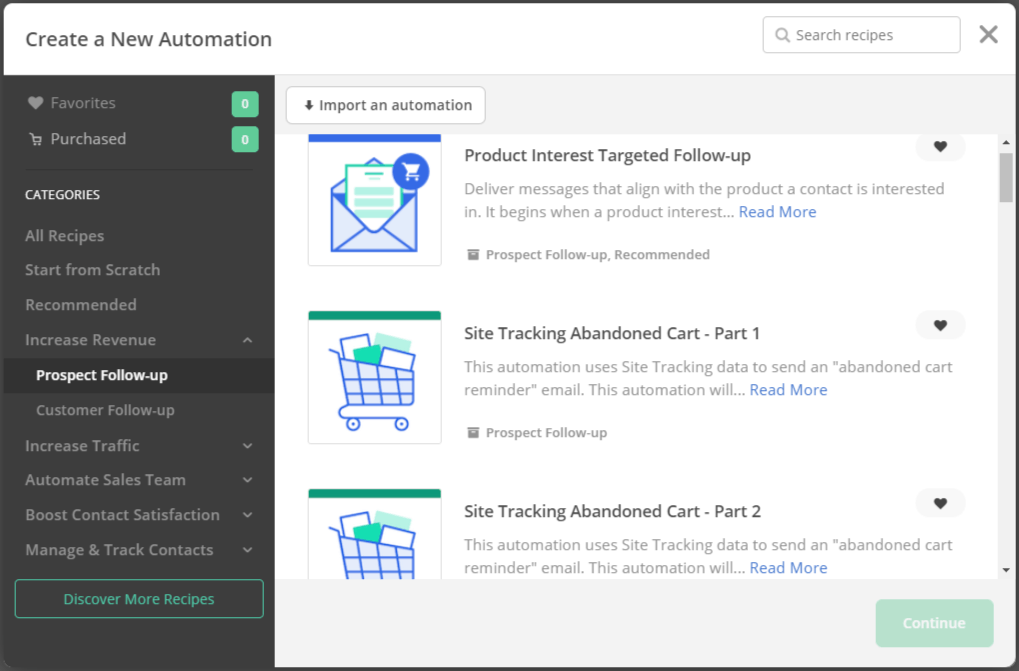 The other core features you might find useful are the CRM features. (Note that the CRM is optional; you can stick to the much cheaper introductory plan that doesn't come with CRM features.)
When you add a contact, you have the option of adding other notes and tasks to their profile. For example, if someone contacts you for support, you could make a note of it to remind you to follow up.
ActiveCampaign will log any activities each contact takes (e.g., if they join an email list, respond to an email, or visit a page on your website) so you can have a closer look: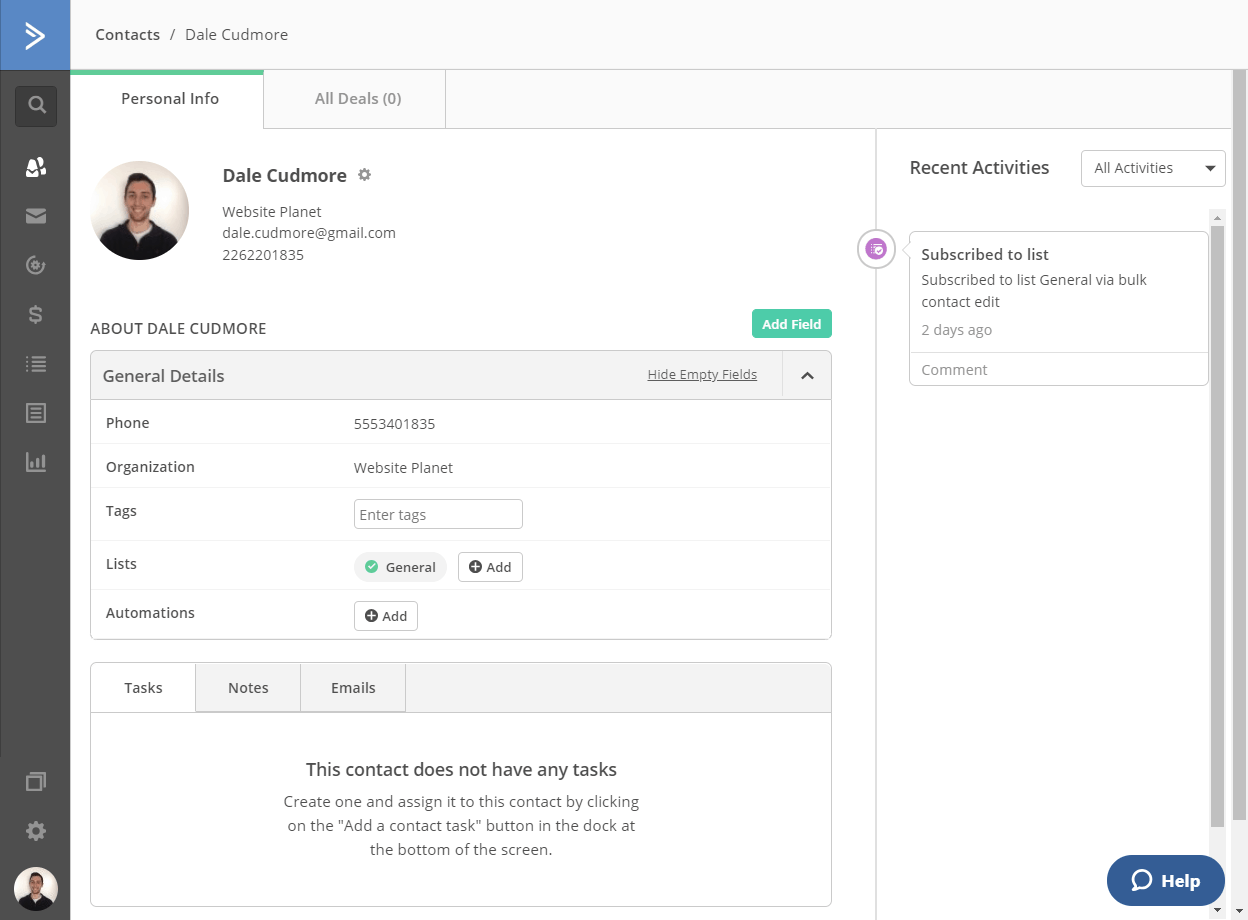 It's a nice, light CRM, if you don't need an advanced one that includes features like calling and scheduling.
Pros
ActiveCampaign is one of the most affordable email marketing automation tools. There's also a 14-day free trial.
It's very easy to use, even if you're new to email marketing.
You get all the automation triggers and actions you'll need.
You can record more detailed contact information.
There are over 250 integrations with popular tools (e.g., WordPress, Zapier, Shopify).
Cons
There are only 30+ email templates (although high-quality), but you can easily save your own.
CRM is too light for high-scale B2B use, which requires more advanced features like scheduling.
CRM features are pretty expensive, especially if you don't use them often.
Choose ActiveCampaign If…
Your leads need extra attention to convert them into customers.
You run an e-commerce business and want to use automation to follow up with customers.
You're looking for a low-cost, but high-performance email marketing automation tool to get started with.
2. Benchmark Email – The Simplest Email Marketing Tool I've Used
If my grandparents needed an email marketing tool, Benchmark would probably be the one I'd recommend.
User reviews often mention its simple and clean user interface, but it's still powerful as far as automation goes.
Features
Benchmark's first standout feature is its email template selection. There are hundreds of modern, professionally designed email templates, and you can filter by email type, industry, integrations, and more.
There are several templates in both the business and e-commerce categories.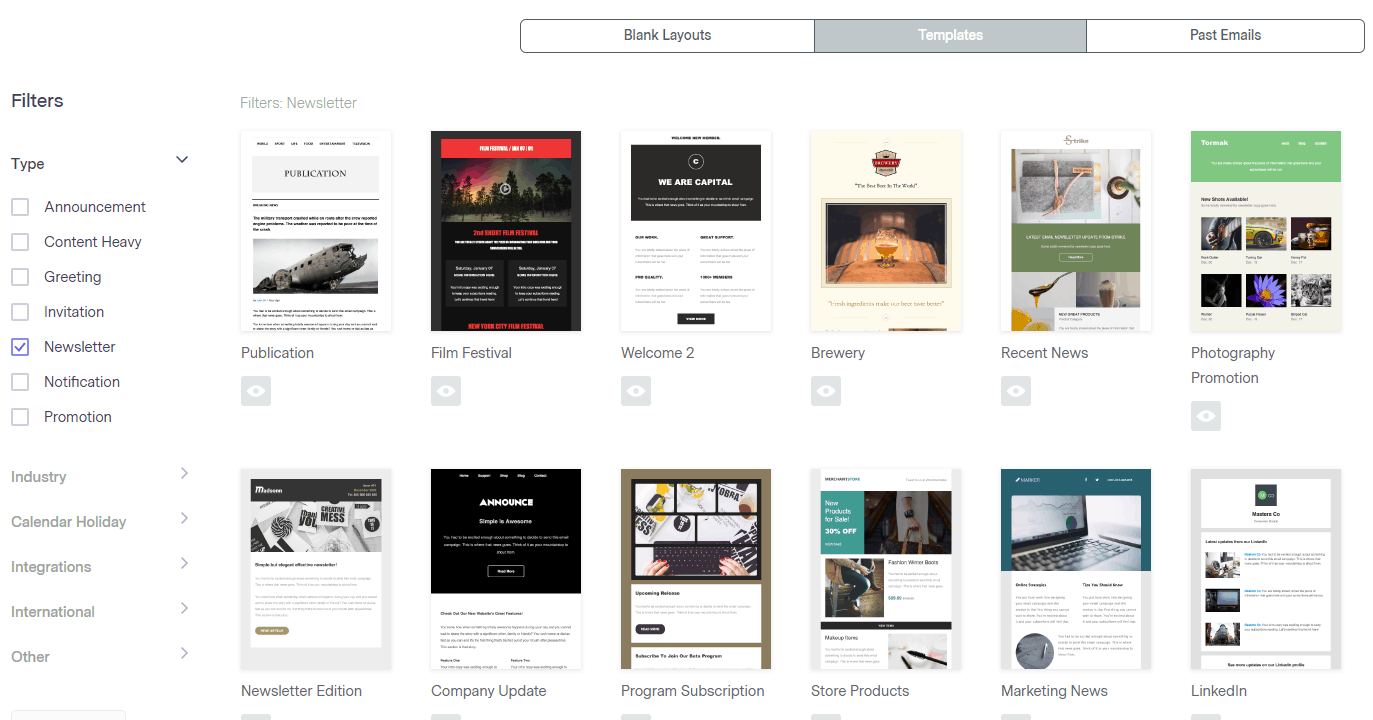 The email editor also stands out because it's so smooth. It uses a standard drag-and-drop interface, but blocks drop in really easily and there's no chance of putting anything in the wrong place and messing up the whole layout.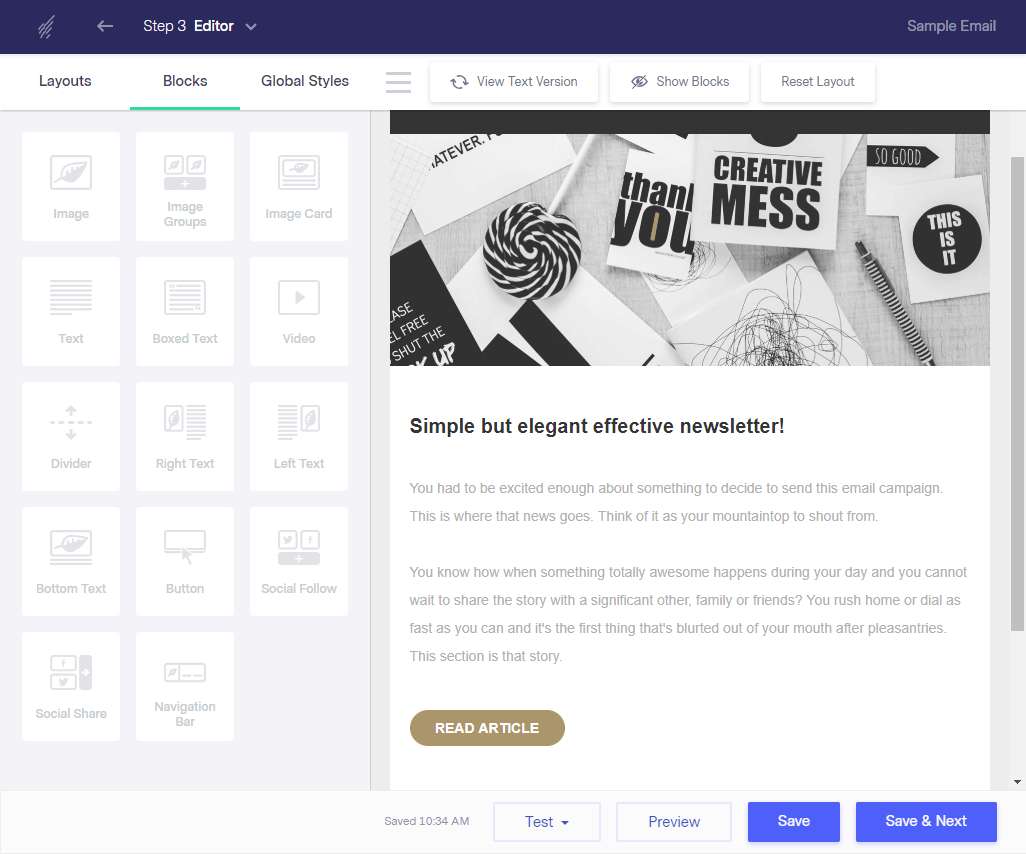 You also get a decent amount of styling options. However, you should know that because the editor is designed for simplicity (i.e., settings often use sliders instead of needing you to set specific values), you don't have complete control over styling options like padding and sizing.
Another nice touch is that you can edit images right in the email editor — no Photoshop or Pixlr needed. You can save time by touching up pictures and adding effects to them in the editor itself.
Finally, Benchmark uses a visual workflow builder for email automation. It offers a lot of flexibility; you can drag elements wherever you'd like on the grid.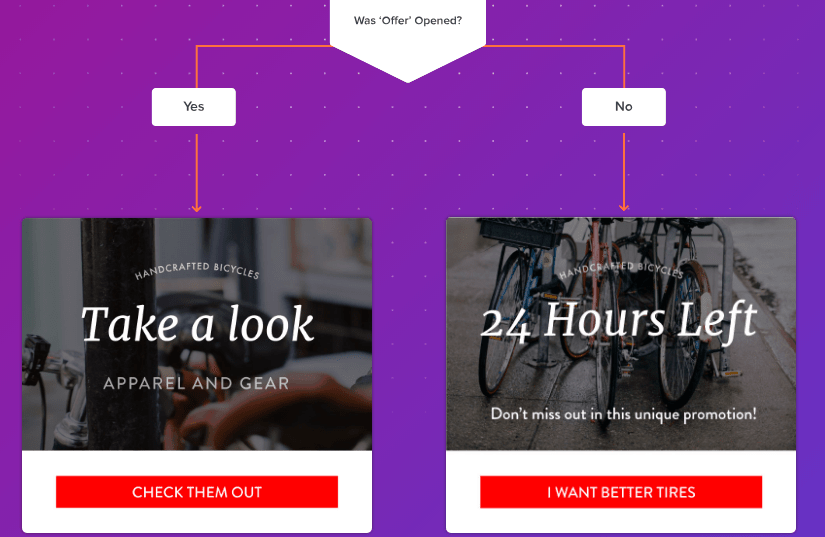 Pros
Benchmark has arguably the best email marketing user interface out there.
It offers a free plan with generous sending limits (but limited automation features).
There's a single paid plan that gives you all automation features. The price, which depends on your list size, is affordable.
There are over 300 integrations, including all the popular tools.
You can create polls and surveys to engage with and learn more about your subscribers.
Cons
There are some limitations in styling emails (e.g., the padding for blocks goes from 0 to 20 pixels, but no more).
The automation features aren't as simple as other tools, and they're overkill if all you need is a simple autoresponder.
Choose Benchmark Email If…
You're looking for the simplest option to create emails.
You're an advanced email marketer looking to build creative automation sales funnels.
3. AWeber – Mature Email Marketing Platform With Hundreds of Integrations
No doubt you've heard of this tool. AWeber was one of the pioneers in email marketing automation years ago.
Other than a facelift, AWeber hasn't changed a whole lot in terms of functionality. It still offers a simple but solid autoresponder along with basic email marketing tools, and users seem to appreciate it.
Features
AWeber has continued to create email templates over the years, and today it boasts a library of hundreds. The more recent ones are well-designed, but there are many outdated ones as well.
AWeber does let you save your own email templates, if you're not happy with the built-in options.
The email editor itself is a standard drag-and-drop editor. It's functional and even has some advanced features that let you add coupons and buttons: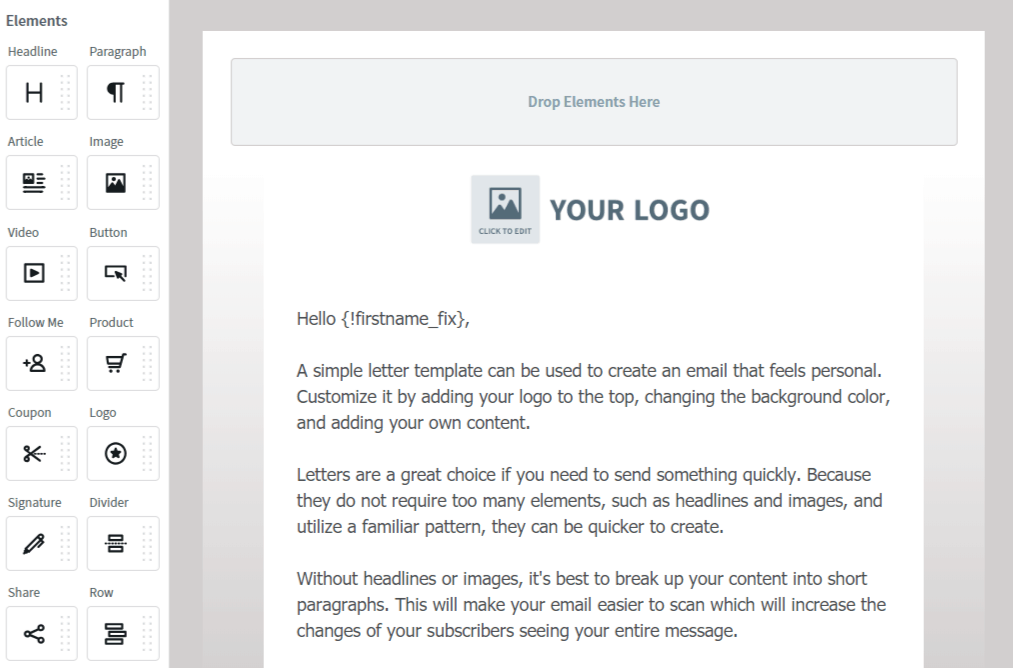 But the editor isn't the prettiest and can be a bit clunky at times.
One area that AWeber recently overhauled is reporting. There's a clean, new interface that lets you track opens, clicks, and sales. It's attractive and simple to use.
As far as automation goes, AWeber has a drag-and-drop editor to let you build "campaigns."
You can create a basic autoresponder by dragging in email and "wait" blocks, but not much more: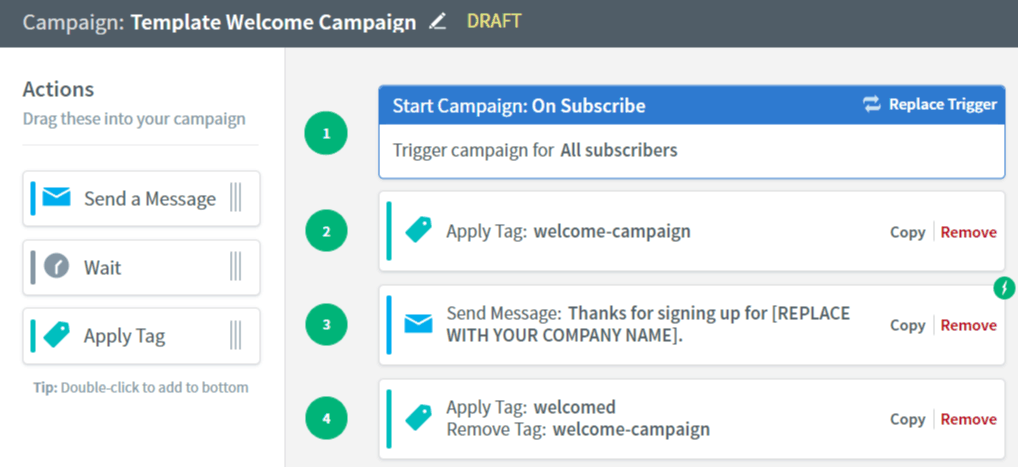 Pros
There are over 770 integrations — the most of any email marketing tool I've come across.
You get a free 30-day free trial for paid plans.
The campaign builder is easy to use.
All plans come with all features; you pay more only for more subscribers.
You can easily create and save email templates for future use.
Cons
Only basic automation features are available.
AWeber's user interface isn't quite as simple or intuitive as other options.
The price is on the high side compared with the other tools on this list (but not by a huge amount).
Choose AWeber If…
All you need in terms of automation is autoresponders.
Email deliverability is a top priority. AWeber has developed robust software that will minimize the number of emails getting delivered to junk boxes.
4. GetResponse – Perfect for Advanced Email Marketers
GetResponse is a giant of the email marketing world, best known for its email automation features.
Most reviewers agree that it's among the best, but let's take a look at how it stacks up against the others in this article.
Features
While GetResponse isn't the prettiest tool, it's quite functional and intuitive. A small feature I love is the top menu bar, which is clean and easy to understand:

A lot of other tools (even some on this page) have weird labels or features hidden away that take time to find, which can be frustrating.
Now, let's move on to creating emails. There are hundreds of templates, which are mostly modern, all divided into categories. It shouldn't take long to find one that fits your needs: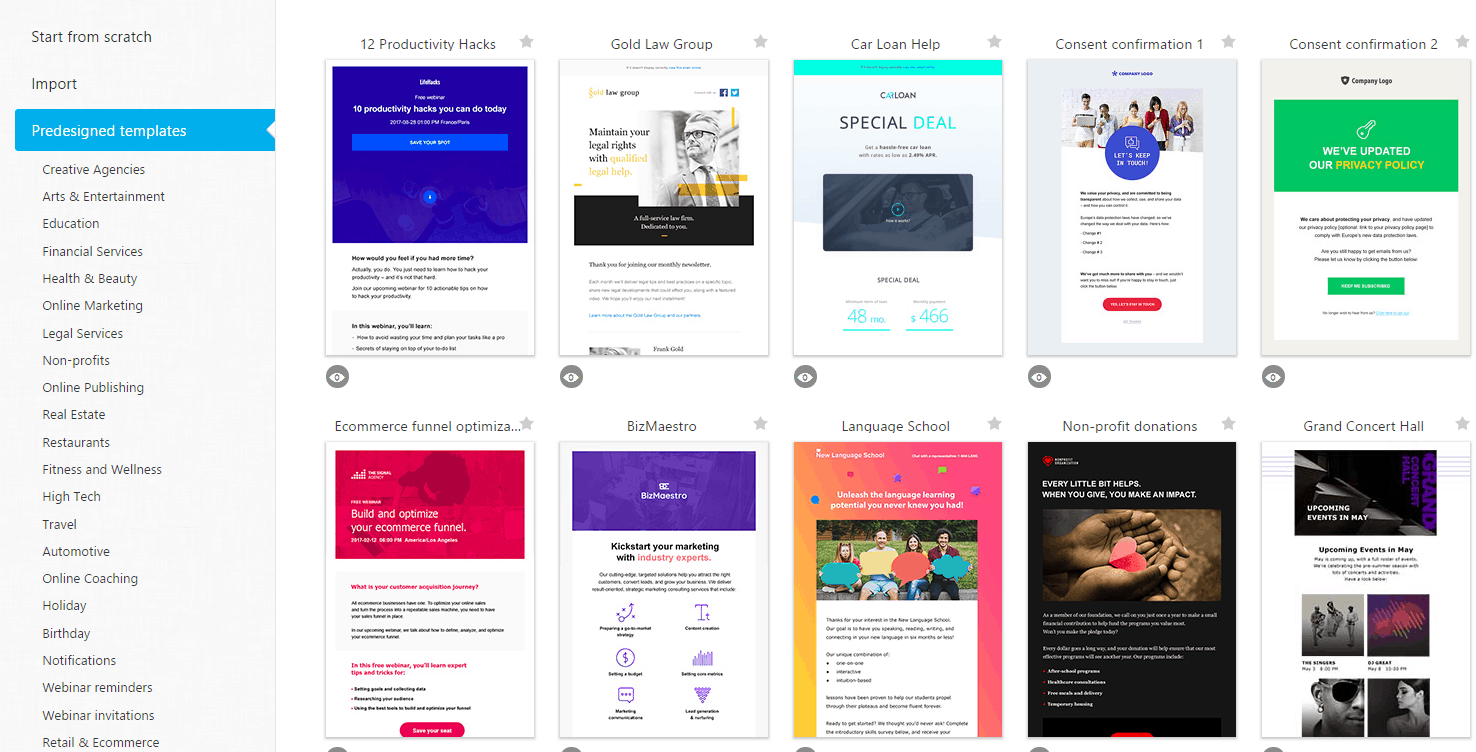 But while finding a template is quick and easy, the editor is a bit clunky. It's functional and has a nice mobile preview, but it takes time to figure out where elements are located in the block menu.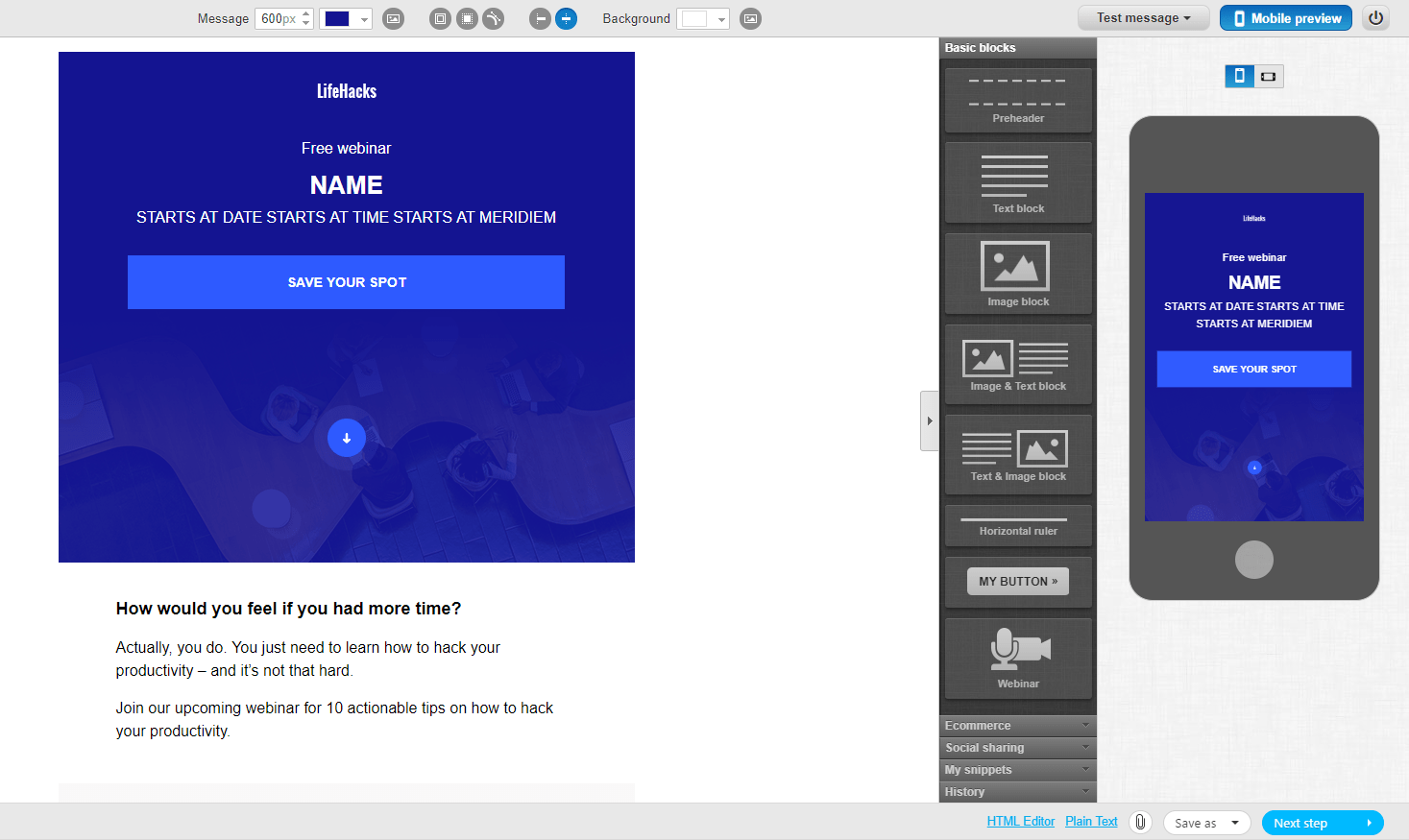 Where GetResponse really shines is automation. There are over 40 automation templates, which will save you a lot of time. There's one for every occasion, even specific ones like Black Friday sales.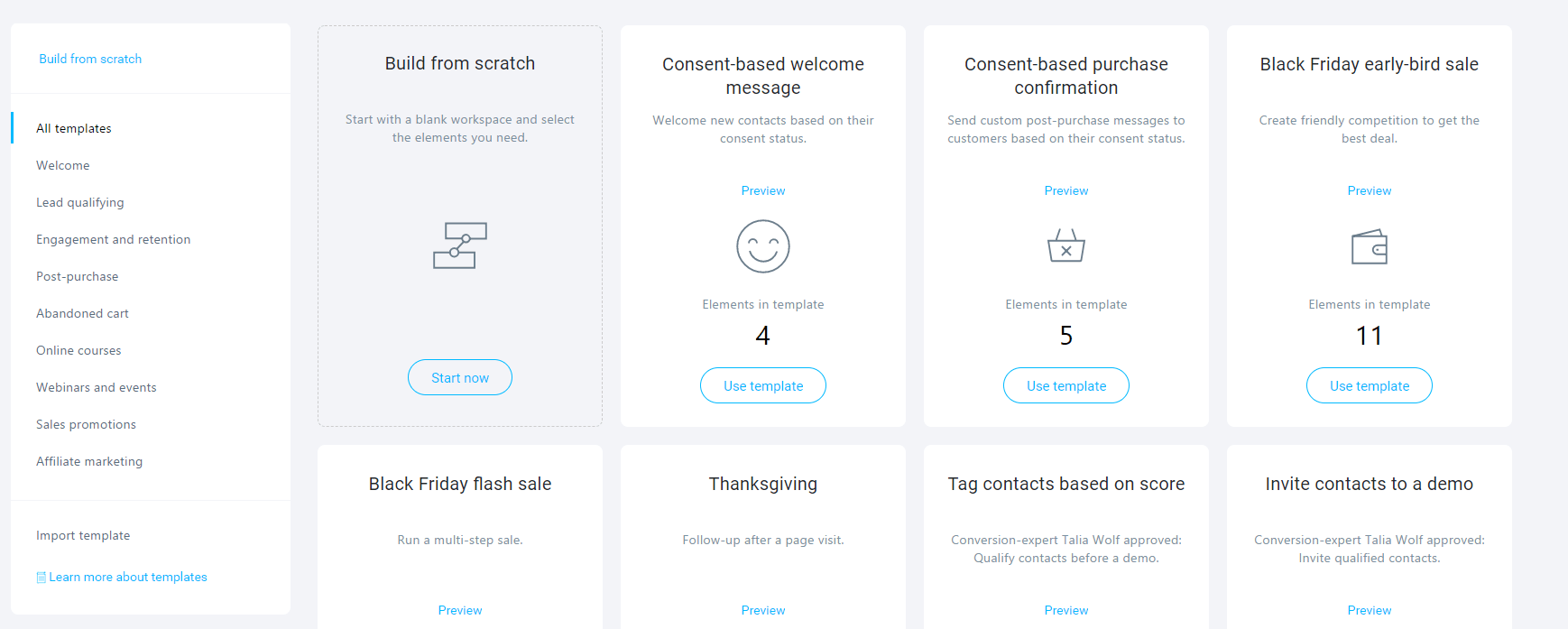 The automation workflow builder is a visual builder, and it's really thoughtfully made.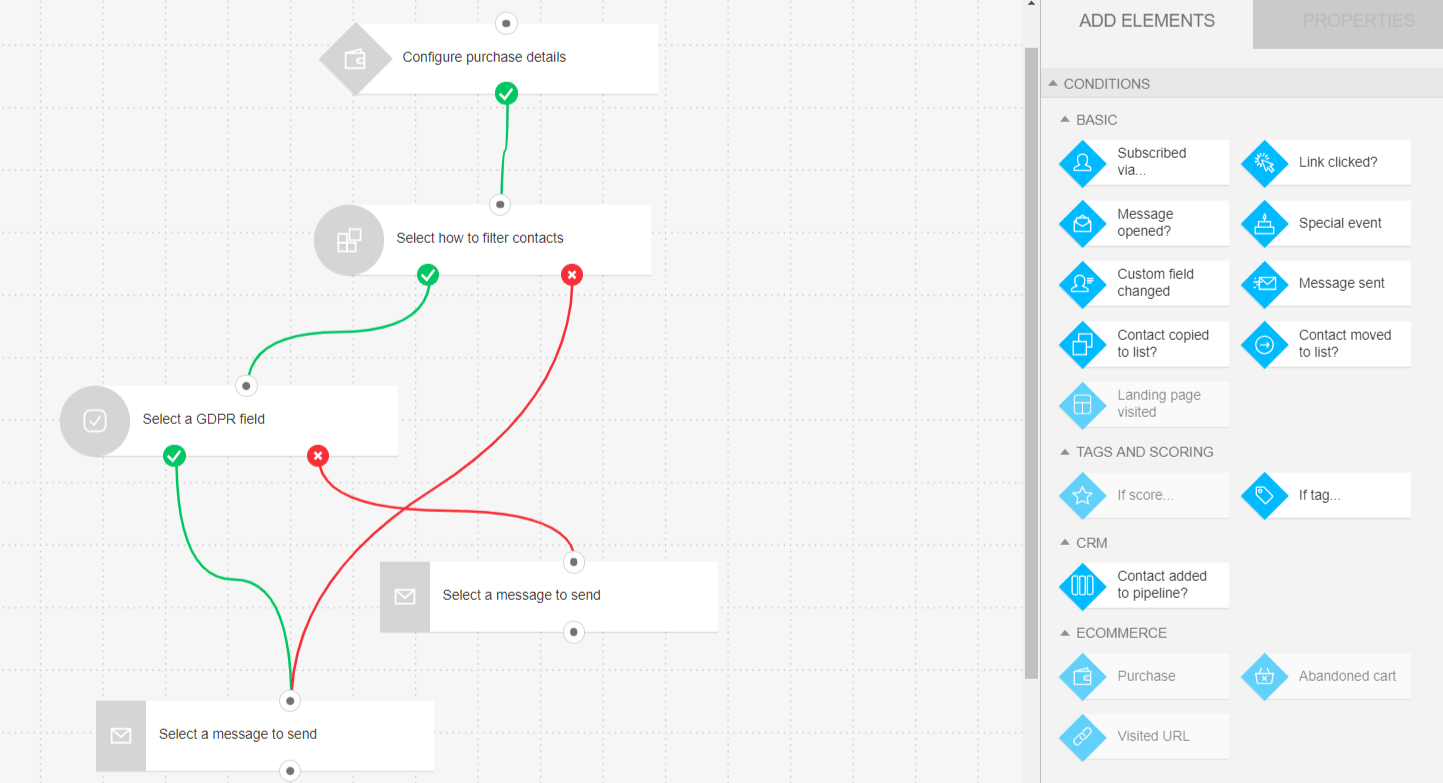 It has a much cleaner layout than the email editor, and is extremely well done in my opinion. There are several elements you can choose from in the side menu, which is clearly divided.
The drag-and-drop editor gives you a lot of flexibility with how you connect elements, and you can create complex email funnels fairly easily.
Pros
GetResponse has arguably the best email automation workflow editor of any tool.
It has all the triggers and actions you'll need for automation (e.g., abandoned cart tracking, web event tracking, etc.).
You get a generous 30-day free trial.
There are basic CRM features on higher-tiered plans.
You also get a landing page builder.
Cons
The email editor feels very different from the workflow creator. This inconsistent design across different parts of the tool might increase the time it takes for you to get used to everything.
While GetResponse is affordable for small email lists, it's fairly expensive for large lists.
The email editor is functional, but not the prettiest or easiest to use.
Choose GetResponse If…
You're an advanced email marketer who will benefit from having more advanced automation options.
You care more about function than design in an email marketing tool.
You occasionally need a CRM or need to create landing pages and would prefer to do it all in one tool.
5. Sendinblue – One of Few Automation Tools That Offer SMS Marketing Features
It's easy to see why Sendinblue is rapidly becoming more popular. It's one of the few email marketing tools that also gives you the ability to send SMS messages to contacts (you buy credits separately from your email plan).
Sendinblue offers a great free plan and affordable paid plans, and it gets excellent reviews.
Features
One feature that really stands out is Sendinblue's form builder.
For whatever reason, most email marketing tools let you build only ugly, unstyled forms — and you're expected to waste time playing with CSS to customize them. But Sendinblue has a beautiful form editor that lets you quickly customize and style forms: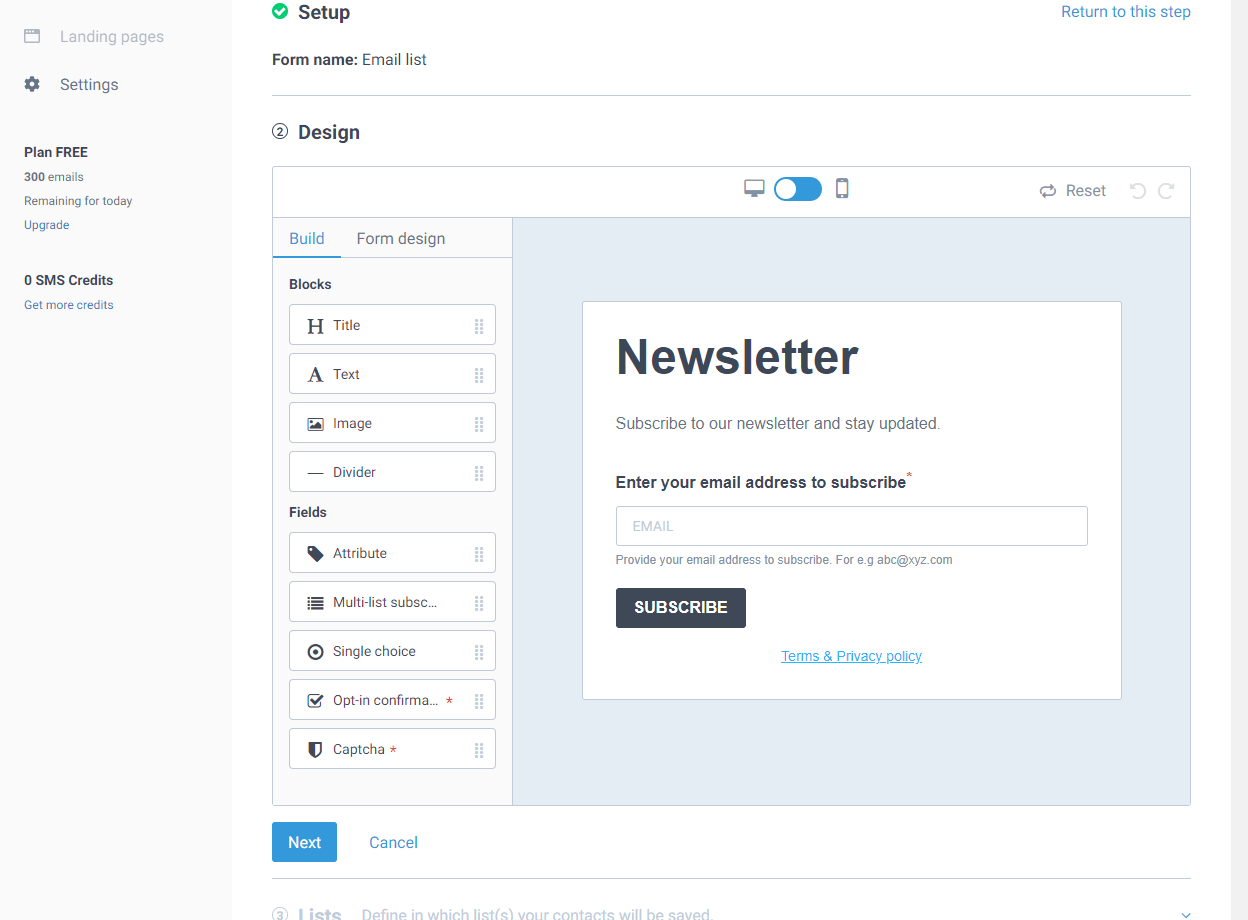 Moving back to the email side of things, there are 65 well-designed email templates that are divided into categories. Unfortunately, some categories lack variety. For example, there's only a single e-commerce template: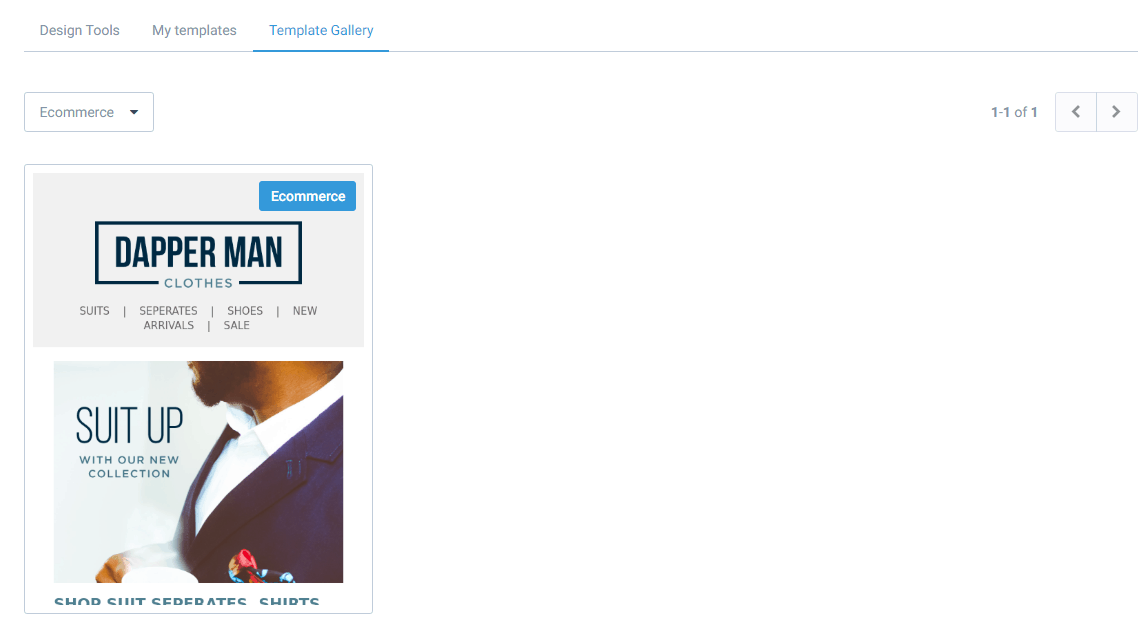 The email editor is a good basic drag-and-drop editor, but there are no advanced elements like PayPal buttons or social elements.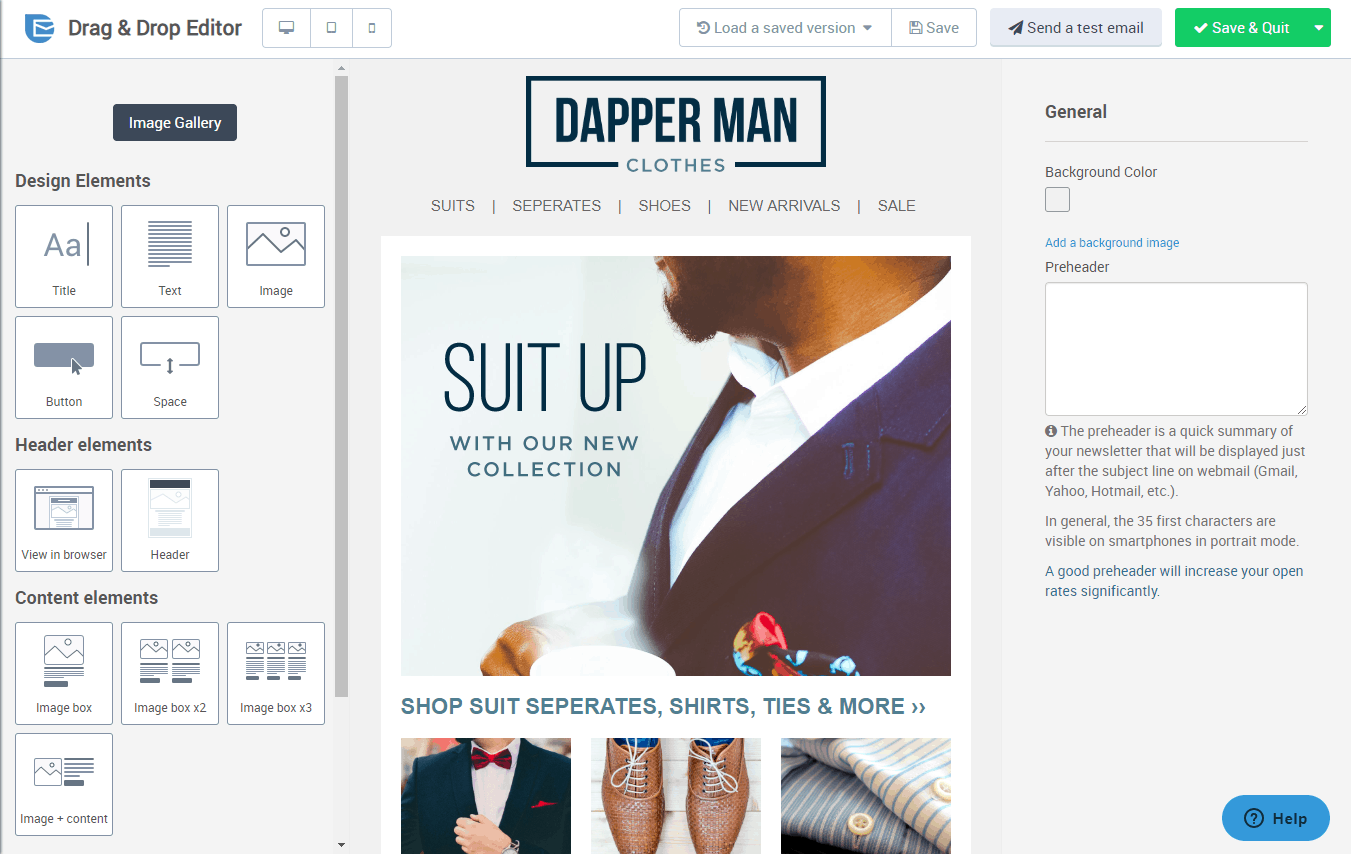 You do get quite a few automation options in Sendinblue. You can choose from 10 workflow types that serve as templates to save you time.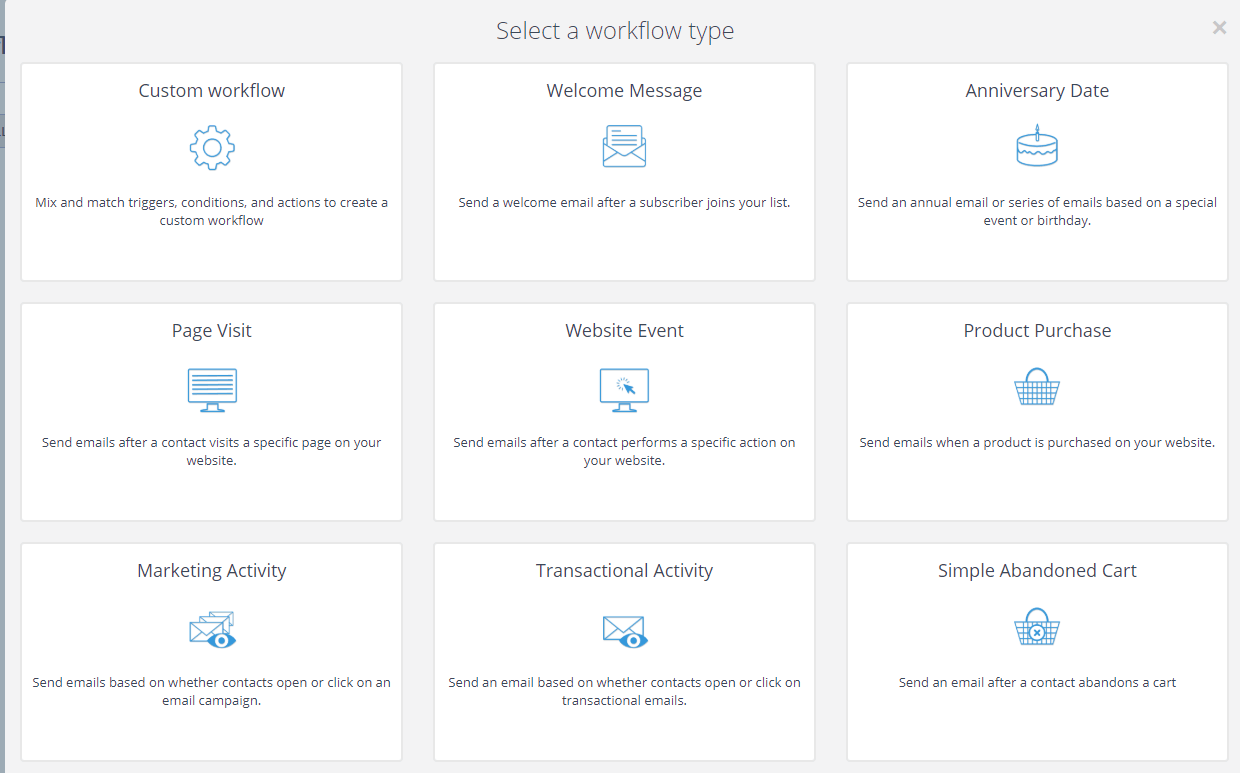 It gives you a visual editor to customize your automation workflow. The editor itself is attractive, and it's easy to see the distinct steps of your workflow.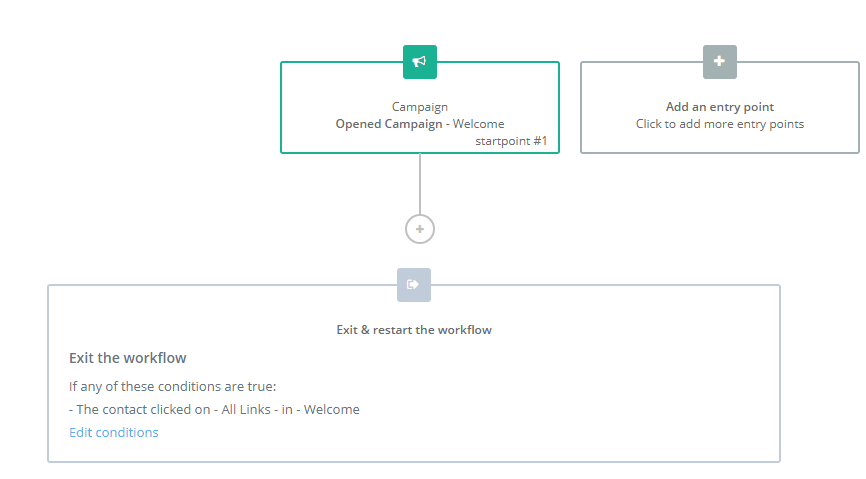 Additionally, advanced automation triggers and actions are available (e.g., joined a list, took an action on an email, visits a certain page on your website).
However, adding or editing steps brings up a series of pop-ups that aren't exactly intuitive (compared with a drag-and-drop side menu), and takes extra time to use.
Pros
The visual builder is clean, making it easy to understand the steps of your sales funnel at a glance.
You get a fantastic sign-up form builder.
There's a very generous free plan with all automation features.
Core reporting statistics can be seen quickly on your dashboard.
You're pretty much guaranteed to be GDPR-compliant if you have subscribers and customers in the EU.
Cons
Because of pop-ups, it takes extra time to add steps to your automation workflow (a side menu would be faster).
The email editor has only basic elements and can be a bit sluggish.
Templates are lacking in certain categories.
Choose Sendinblue If…
You need email automation features on a budget.
You want to consider using cutting-edge marketing channels like SMS marketing for your business.
You create a lot of custom sign-up forms for your web properties.
Which Email Marketing Automation Tool Will Help You The Most?
If you're having trouble making up your mind, start by breaking down your main requirements:
What's your maximum budget?
How many subscribers do you have or expect to have for the foreseeable future (at least a year or two)?
Do you care more about advanced functionality or how easy a tool is to use?
Would you benefit from a tool geared toward your business (e.g., B2B, e-commerce, blog)?
Any one of these tools can be the best choice in different situations. Hopefully, I've given you enough information to make it easy to see the best one for you.
In general:
And here's a summary table for a quick comparison of our top five email automation tools:
Tool
Main Features
Ease of Use
Cost
ActiveCampaign

Built-in light CRM
Visual automation workflow editor
Advanced automation triggers and actions

High
Low
Benchmark Email

Emphasis on simplicity
Visual automation workflow editor
Advanced automation triggers and actions

High
Average
AWeber

Drag-and-drop editor for autoresponders

Medium
High
GetResponse

Flexible editor allows for complex automation workflows
Visual automation workflow editor

Medium
Average
Sendinblue

Visual automation workflow editor
Advanced automation triggers and actions
Offers SMS marketing

Low
Low