An ever-persistent challenge for nearly every B2B company, lead generation is a critical part of the sales and marketing process, which results in identifying potential customers throughout the purchasing journey. At least, it should. While there is some overlap with B2C lead generation strategies, there are subtle, yet important differences regarding B2Bs that demand a thoughtful approach.
Arguably, B2B lead generation is far more complex, due to having more decision-makers, bigger budgets, and the constantly changing demographics of the B2B audience. Simply managing the lead funnel can be a difficult task alone, which is why it's always a good idea to keep close a list of effective strategies that—if done well—can deliver tangible results.
#1: Embrace the Power of Social Selling
In the increasingly digital landscape, it should be no secret that social media plays an important role in any lead generation effort. While it's a bit more complicated, for B2B companies without a singular tell-all conversion rate, stats suggest that social media is great for the top of the funnel, focusing on quality rather than quantity. LinkedIn's research shows 78% of social sellers outsell those who do not rely on social media, and are more than 50% more likely to reach their sales goals.
Why It Works
A huge part of why social selling is so successful lies in the fact that B2B buyers specifically look to it for value. The majority conducts some form of research online during the buying process, providing businesses with an ideal vantage point to target potential customers and learn about issues that matter to them. Social selling cultivates one-on-one relationships where, unlike B2C, companies actually want to have conversations with salespeople to fully understand what they might be committing to. The audience is there, you just have to meet them.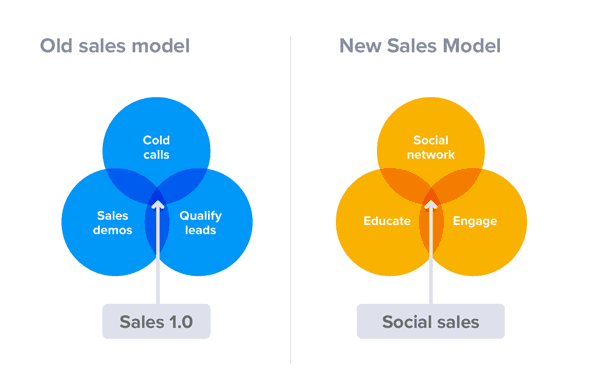 The go-to B2B social network is LinkedIn, where you can obtain information that will help you develop leads, as well as analyze their backgrounds (i.e., find companies that match your target audience, identify the decision makers, check for recent updates, etc.). Make sure to use other online resources like Medium or Quora, which have plenty of B2B-related information that you might also be able to leverage.
#2: Invest More in Your Blog (and Website)
B2B companies have to meet the demand for pre-purchase research. As far as content creation goes, the most notable and effective place to present researchable information is the blog. The trick is to be more devoted to it. According to research performed by Hubspot, companies that published 16 or more blog posts on a monthly basis got almost 3.5 times more traffic (and, consequently, leads) than their counterparts that published between zero to four monthly posts.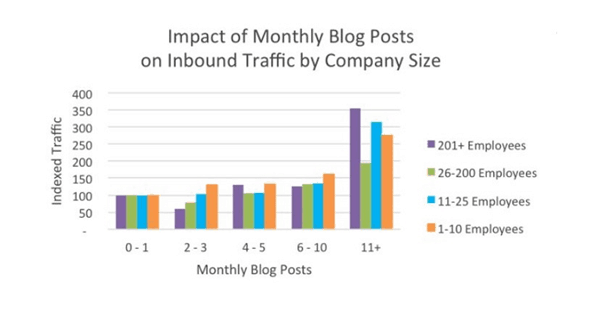 Why It Works
B2B businesses operate in an environment where their potential buyers rely on blogs and online resources to find necessary information; as mentioned earlier, most B2B buyers do their research. Whether you offer industry insights, market news and development, or answers specific questions about problems and solutions (including yours), you give people a reason to visit your website by creating regular and relevant content.
Now, every piece should be in line with specific goals, depending on the type of content. You can experiment and incorporate some of the best online form builders to increase the chances of converting. In any case, frequently publishing relevant content means attracting leads that are not just interested in what you have to say, but are also ready to form a relationship with you.
#3: Scale Up with Lead Generation Tools
Because the B2B sales process is complex by nature, lead research can be a time-consuming process. In order to reduce the time spent, automating as much of the process as possible is key. That's the main idea behind lead generation tools: to provide lead automation by implementing only the most useful and insightful data. These have become an integral part of the lead generation arsenal, and for good reason: 80% of business professionals generate more leads through the use of lead generation software, with 77% experiencing higher conversions.
Why It Works
In reality, referrals, networking, and word-of-mouth recommendations are legitimate sources of lead generation, although they have two glaring problems: outdated data and limited reach. Lead generation software manages accurate data and finds new leads by capturing information from various points of contact: from an open email to a landing page visit to a whitepaper downloaded and everything in between, scaling the operation to new heights.
Any effective platform will provide you with enough insights to qualify your leads and facilitate lead nurturing. Hence, the software does the heavy lifting for you and points you in the direction which requires the most focus. Add in the mandatory CRM integration and you have the right data at the right time, any time.
While traditional lead generation efforts—including email marketing—are still important, the ability to capture more data and use it based on certain triggers is doing wonders for B2B companies. It has enabled B2B professionals to be smarter about how they target their audience and can focus on closing sales.
Ready to Revamp Your Lead Generation Strategy?
The thing with B2B leads is that you have to cast as wide a net as possible, particularly if you are somehow limited in terms of resources and manpower. There are so many options to explore as the B2B market continues to evolve, and you need to make sure that your company is evolving with it. However, if there is one thing that's a mainstay throughout the turbulence, it's the need for leads to keep growing a business.
The changes in the business environment can quickly affect how and where customers buy, as well as how they interact with companies. On its own, lead generation often happens before the lead even develops any strong feelings about your business. Thus, the tiniest inconvenience can have a negative impact with lasting consequences. To draw leads in, you need to take a customer-centric approach through personalized communication and content. Only then can you make sure to catch every opportunity that comes your way.
---
Sources:
https://business.linkedin.com/sales-solutions/social-selling/the-social-selling-index-ssi.
https://www.fronetics.com/most-b2b-buyers-use-social-media-research/.
https://blog.hubspot.com/marketing/blogging-frequency-benchmarks.
https://www.invespcro.com/blog/marketing-automation/.
Image Credits:
SuperOffice
HubSpot