there are many alternative email marketing platforms out there.
But some of them have the same issues as AWeber:
 they have limited features, or come with outdated-looking email templates. Migrating all your subscribers, sign-up forms, emails, and automations to a different platform can be time-consuming, and you don't want to invest time and money in a new service only to find out that it doesn't meet your needs.
To help you choose the right email marketing service for your needs, I tested many different platforms on features, templates, automations, pricing, and more.
 Only the ones I'd feel comfortable working with myself made this list of the best AWeber alternatives.
Short on Time? These Are the Best Alternatives to AWeber in 2023:
Sendinblue – An all-in-one marketing platform with a very generous free plan
GetResponse – Powerful automations and flexible segmentation features to help you send targeted emails
Constant Contact – An intuitive email editor makes this platform a great option for beginners
What We Look For in the Best AWeber Alternatives
While evaluating the various alternatives to AWeber, I focused on the following features:
Ease of use: AWeber's interface is generally intuitive, but some commonly used features can be hard to find, while others require workarounds. I looked for alternatives that provide a better user experience.
Automation flexibility: AWeber's automation features are limited to just three actions. Some of the alternatives on my list allow for a greater variety of automation workflows.
Additional marketing features: AWeber offers only email marketing, which means you'd need separate services to manage other marketing channels. I looked for email marketing platforms that give you more built-in tools, from social media and SMS marketing to webinars and customer relationship management.
Pricing: AWeber isn't the cheapest on the market when you upgrade to a Pro plan to get all the features you'd need. I examined the services on this list carefully to find the ones that offer better value for your money. Some of them even offer a free plan.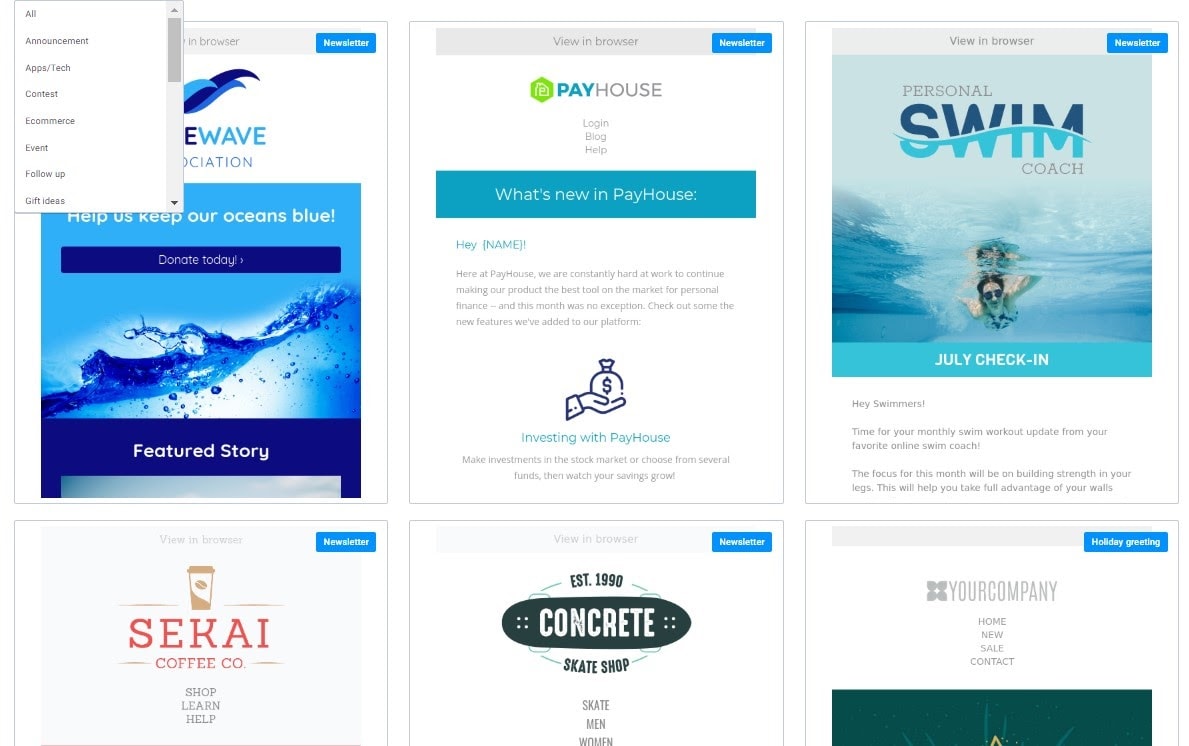 Sendinblue is an all-in-one marketing platform that caters to businesses of all sizes, from startups to large enterprises. In addition to email marketing, it has tools for managing Facebook ads, live chat support, SMS marketing, and more.
Unlike AWeber,
Sendinblue has a free plan – and a rather generous one too.
 It includes:
Unlimited contacts
Sending of up to 300 emails per day
All automation features
Not all email marketing platforms offer their entire range of automations to free users, so be sure to take advantage of these!
 Just note that phone support is a paid feature, as is A/B testing. Your emails will also include Sendinblue branding as long as you're on the free plan.
Sendinblue has a drag-and-drop builder to build your emails – you can see just how easy it is to use in our
expert Sendinblue review
. The email template collection is a bit limited compared to other services, offering only 70+ templates. That said, there's also a landing page builder, which is a nice perk.
Features
Send time optimization: Sendinblue uses machine learning to determine the best time to email your subscribers for higher open rates.
Heat maps: Both AWeber and Sendinblue can tell you the number of times links in your emails have been clicked, but Sendinblue takes it a step further: it can generate color-coded heat maps to help you visualize the data easily.
Lead scoring: With Sendinblue's lead scoring feature, you can assign subscribers points based on actions that they take (or don't take) with your emails. This helps you identify your most engaged subscribers – the ones you may want to email more frequently. To score leads in AWeber, you'd need a third-party integration such as LeadOutcome.
SMS marketing: Sendinblue isn't just about email – it can also send text messages to your email subscribers (for an additional fee).
| | |
| --- | --- |
| Free plan/trial | Free plan available |
| Number of email templates available | 70+ |
| Automations | Available |
| Customer support channels | Ticket system |
GetResponse offers a comprehensive range of email marketing features. Apart from the standard sign-up form builder,
it also has a landing page builder and over 500 email templates you can start with. If you're an experienced marketer, you'll appreciate GetResponse's marketing automation feature.
 While AWeber's automations allow for only three basic actions, GetResponse offers way more advanced options. You can send your subscribers targeted emails based on events such as:
What lead magnet they signed up for
Which links in your emails they've clicked
How much money they've spent on your products
If you're new to automations or you're just looking for a standard workflow,
GetResponse offers more than 40 automation templates
. Just note that some templates require a more expensive pricing plan.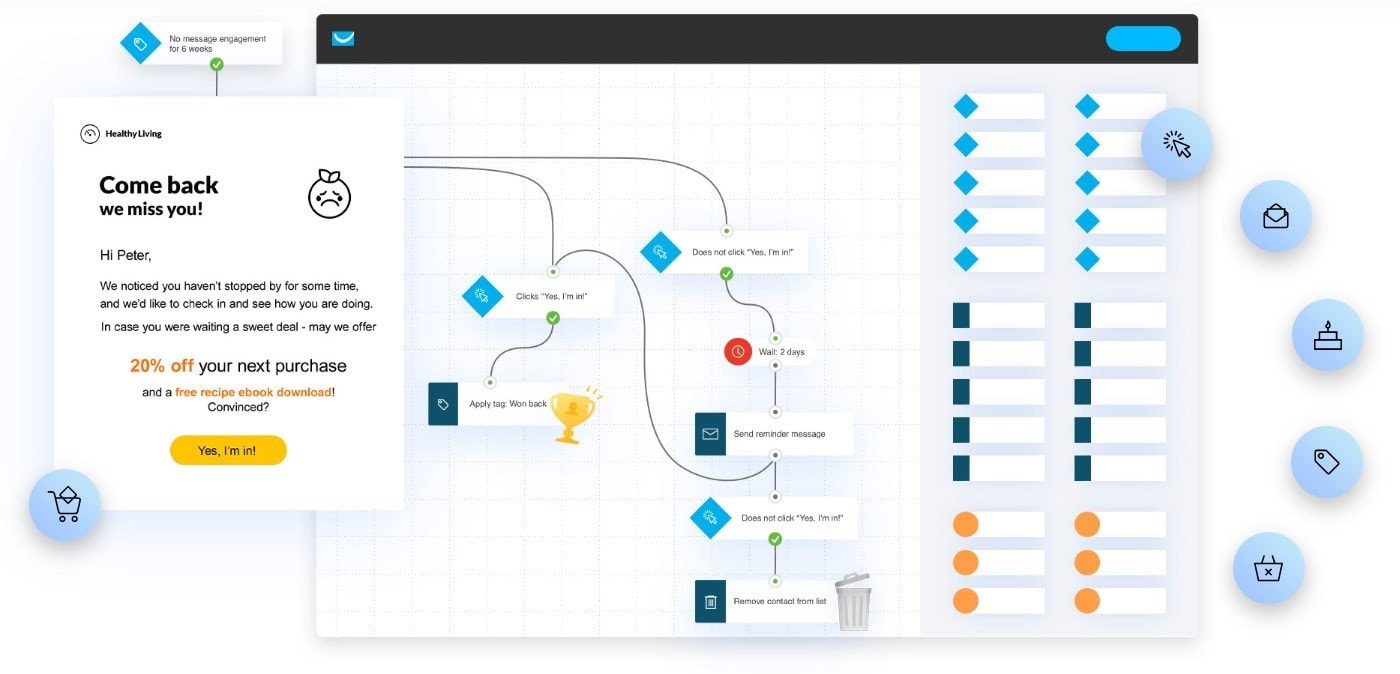 GetResponse's interface might not be the most beginner-friendly, but if you get stuck while using it,
help is available via the 24/7 live chat service, which we put to the test in
our GetResponse review
. The platform also offers email support in eight languages.
Features
Cheaper Basic plan: GetResponse's Basic plan is slightly cheaper than AWeber's paid plan. That said, it's also more limited – but it could be a good option if you don't need advanced automation.
Conversion funnels: While AWeber doesn't provide any help in this regard, GetResponse makes it simple to set up marketing funnels. First, choose the type of funnel that you'd like to set up (sales, list building, or webinar), and GetResponse will walk you through connecting the various funnel components.
A/B testing for landing pages: If landing pages are an important part of your marketing strategy, you'll love GetResponse's landing page builder. It lets you test up to 10(!) different landing page designs with your visitors.
Integrated webinar software: You can use GetResponse to collect webinar participants' email addresses and send them webinar updates. On the big day, you can hold your webinar within GetResponse itself.
| | |
| --- | --- |
| Free plan/trial | 30-day free trial |
| Number of email templates available | 500+ |
| Automations | Available |
| Customer support channels | 24/7 live chat, email support |

If you're new to email marketing, Constant Contact could be the perfect choice for you.
 When you first create your account, the platform walks you step-by-step through the basics of:
Setting up your first list
Adding your organization information
Creating your first email
Unlike AWeber's interface, which isn't the most intuitive,
Constant Contact's drag-and-drop email builder is user-friendly and pleasant to work with
. There are more than 240 email templates that you can customize easily. No coding required! Finally,
Constant Contact offers plenty of support channels, so there's always someone around if you need help
. Aside from the usual knowledge Base articles and live chat support, you can also phone or even tweet the support team for help – there's a reason Constant Contact gets such
good user reviews
, and it offers a
30-60 day trial
 (depending on your location) so you can try it out for free.
Features
Dynamic sign-up forms: These smart forms appear based on how visitors interact with your website, which can help increase sign-up rates. For example, you can have a form that appears only after a visitor has spent a certain amount of time on your website, or if they're about to leave.
Event marketing: Constant Contact offers a suite of event marketing features that help you create event pages, build registration pages, track event sign-ups, gather post-event feedback, and more. AWeber doesn't provide anything like this.
Contact list import tools: Constant Contact gives you a wide range of options for importing subscriber lists, so if you want to migrate your existing list from AWeber, the process should be relatively painless. You can also import contacts from spreadsheets, email providers such as Gmail and Thunderbird, business software such as Salesforce, and even from e-commerce platforms such as Shopify.
Google Ads tool: You can manage your Google Ads within Constant Contact with its dedicated Google Ads tool – something which is missing in AWeber. Sometimes Constant Contact even throws in free Google Ads credits, but this can depend on your location.
| | |
| --- | --- |
| Free plan/trial | 30-day or 60-day free trial, depending on your location |
| Number of email templates available | 240+ |
| Automations | Available |
| Customer support channels | Live chat from Monday to Friday, phone support from Monday to Saturday, Twitter support |
Benchmark's user interface looks minimalist, but this doesn't mean its features are minimal. It has all the essentials, from
more than 200 email templates
to sign-up form and landing page builders, as well as automations. Our expert tried it all out, and more, in
our detailed Benchmark review
.
One of my favorite things about Benchmark is the email builder, which offers more customization options than AWeber's.
 For example, Benchmark lets you build your own email templates using blank layouts (1:3 Column, 2:2 Column, Left Sidebar, and so on). This can be a time-saver if you already have a layout in mind for your email.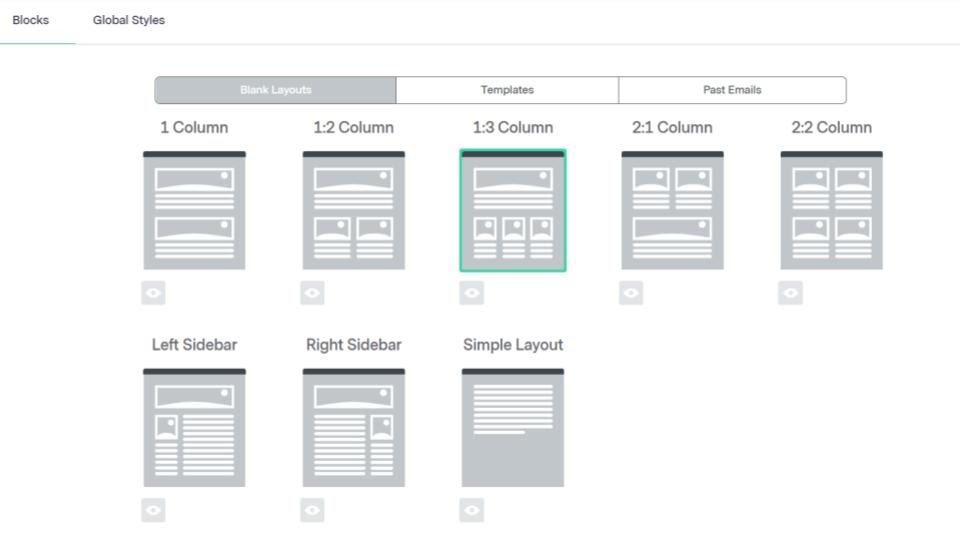 Another thing I like is that
Benchmark offers phone support in eight different languages in addition to English.
 Just keep in mind that support hours differ based on country and usually aren't 24/7.
Features
Free plan available: Benchmark has a free plan that comes with unlimited contacts, which sounds awesome until you realize that you're capped at 250 emails a month. But if your contact list is small, this could still be a good option to get started with.
Built-in image editor: Not happy with how an image looks in your email? Benchmark lets you crop the image, change its colors, or even add text over it. This is a real time-saver – AWeber doesn't have built-in image editing capabilities, which means you'd need to make your edits elsewhere before uploading your images.
Customer relationship management (CRM) tool: If you're in sales, you might want to link your email marketing with Benchmark's proprietary CRM tool. Using the CRM, you can track the progress of your email leads through various sales pipelines, and generate custom lists of leads for future email blasts.
Extensive survey and polling options: While AWeber's survey feature is quite limited, Benchmark's surveys and polls come with a variety of answer styles, such as radio buttons and multiple choice.
| | |
| --- | --- |
| Free plan/trial | Free plan available |
| Number of email templates available | 200+ |
| Automations | Available (Pro Automations available only on a paid plan) |
| Customer support channels | 24/7 live chat, phone support (support hours differ based on country), email support |
ConvertKit markets itself as "email marketing for creators," but with powerful segmentation and automation features,
it has also become a favorite among businesses with more complex needs
. One thing which sets ConvertKit apart from AWeber is its subscriber-centric email marketing model. AWeber is list-based, which means that subscribers are categorized in separate lists based on how they signed up with you.
In ConvertKit, however, your subscribers are stored in just one list.
 To organize them into different lists, you can use ConvertKit's tagging and segmenting features. This can take some getting used to if you're more familiar with conventional email lists. But a major pro of ConvertKit's subscriber-centric model is that
you're charged for each subscriber only once – no matter how many times they've signed up to your email lists.
This is a major benefit if you have multiple lists, especially considering that AWeber charges you multiple times for identical email addresses collected in separate lists.

Don't expect an extensive range of email templates from ConvertKit though. It has only three templates, as the company's approach is that marketing emails should be kept simple. That doesn't mean they all have to look the same, though – you can
use the email editor to customize these templates, or even use custom HTML code for advanced customization
– you can see how we got on with the email editor in our
expert ConverKit review
.
Features
Free plan available: ConvertKit offers a free plan which includes management of up to 1,000 subscribers, compared to just 500 subscribers on AWeber's free plan. However, you'll need to upgrade to a paid plan to use visual automations.
Automatic opt-in delivery: Unlike AWeber, which uses the conventional double opt-in method, ConvertKit can automatically confirm subscribers who click the "Download Lead Magnet" button in their emails. This means they won't be sent an additional confirmation email, and reducing inbox clutter is always a good thing.
Powerful segmentation: Segmentation of subscribers is a breeze in ConvertKit. When they click on special links in your emails, they will be automatically tagged and segmented. In AWeber, they'd have to manually resubmit their details.
Broadcast resends: ConvertKit allows you to resend your broadcasts to subscribers who haven't opened them with just one click of a button. (In AWeber, you'd have to set up an entirely new email automation when setting up the initial broadcast.)
| | |
| --- | --- |
| Free plan/trial | Free plan available |
| Number of email templates available | 3 |
| Automations | Available (paid plan required) |
| Customer support channels | Ticket system |

Mailchimp lets you manage multiple marketing channels in one place, offering everything from built-in social media management tools to a website builder.
The free plan includes up to 2,000 contacts, and the easy-to-use interface, drag-and-drop email builder, and powerful automations
make it a popular choice. It ranks well for all of the above in our
expert Mailchimp review
.
Just keep in mind that Mailchimp doesn't allow affiliate marketers to use its services
. If you rely on affiliate links for your income, you'll need to choose a different platform.
Features
Stylish, modern templates: While Mailchimp has fewer templates than AWeber, Mailchimp's templates look more modern – an important benefit if you don't want your emails to look like they belong in the 90s.
Inbox previews: Unlike AWeber, Mailchimp enables you to preview the appearance of your emails in various email clients, including color-blind subscribers. This functionality proves to be valuable for optimizing the visual appeal of your emails, regardless of their final destination.
Delivery by time zone: If you have subscribers from all around the world, use Mailchimp's Timewarp feature to schedule email send times based on different time zones.
Mobile app: You can manage and monitor your email campaigns on-the-go with Mailchimp's mobile app. The app is available for both iOS and Android devices.
| | |
| --- | --- |
| Free plan/trial | Free plan available |
| Number of email templates available | 100+ |
| Automations | Available (Multi-step and behavioral-based automations available only on the paid plans) |
| Customer support channels | 24/7 live chat from Monday to Friday, phone support from Monday to Friday, email support |
Which AWeber Alternative Is the Right Solution for You?
I know different businesses have different email marketing needs, so here are my recommendations:
If you're new to email marketing, give Constant Contact a try. Its beginner-friendly interface and award-winning support can help you set up your email marketing campaigns painlessly.
If you're a more experienced marketer, take advantage of GetResponse's advanced automations to send targeted emails to your subscribers. Benchmark is another great option if you like to customize your emails to perfection. Or if you run multiple marketing channels, consider managing them all in Mailchimp.
If you're on a budget, Sendinblue's generous free plan may be right up your alley. ConvertKit's practice of charging for subscribers only once, regardless of how many times they sign up with you, can also help keep your email marketing bill down.
Email Marketing Service
Free Plan
Starting Price
Number of Email Templates Available
Standout Feature
Sendinblue

✔

$

0

70+
Generous free plan
GetResponse

✘

$

0

500+
Advanced automations
Constant Contact

✘

$

12.00

240+
Beginner-friendliness
Benchmark

✔

$

0

200+
Email customization
ConvertKit

✔

$

0

3
Subscriber-centric email marketing model
Mailchimp

✔

$

13.00

100+
All-in-one marketing platform
FAQ
1. What are the best FREE alternatives to AWeber?
Sendinblue has a generous free plan which allows you to send out up to 300 emails per day, or if you sign up to a paid plan, you can save with these coupons. Benchmark's free plan is another great choice, but it's a bit more limited, so it might be better for smaller contact lists.
2. How much does AWeber cost?
AWeber pricing starts at

$

0

/month for 0-500 subscribers, and goes all the way to $149/month for between 10,001 and 25,000 subscribers. Discounts are available for quarterly and annual billing. AWeber isn't the most budget-friendly service out there. Don't make any final decisions before you check our email marketing service coupon page – there are some great bargains on there.
3. What is AWeber used for?
AWeber is an email marketing platform that lets you collect email subscribers, send emails at scale, and monetize your email lists. It has a lot to offer large and small businesses alike, which is why it made it to our list of the best email marketing services in 2023. Learn more about AWeber's features in my colleague's detailed AWeber review.
4. Which is better: AWeber or Mailchimp?
AWeber and Mailchimp both offer solid email marketing features, but Mailchimp might be the better option if you have more complex automation needs. On the other hand, AWeber offers many more email templates than Mailchimp. This can be helpful if you have limited design skills. If you need more information to decide which platform fits your needs better, don't miss our in-depth AWeber vs Mailchimp comparison.