And if your BBQ is unique, shouldn't your logo be too?
Will your logo have shooting flames, a beautifully grilled piece of meat, or both? Is your icon strong and serious (picture a snorting bull) or playfully creative (a cow with a crooked chef's hat)?
In the same way that the best BBQ is made by the most experienced grillmasters, the best logos are created by design professionals that know just what you need.
Ready to get your perfect logo for just $5?
Jump down to find out how you can hire a designer for a low price.
I'll also show you how you can DIY your own logo for free. But first, let's take a look at my favorite BBQ logos.
9 Best BBQ Logos
When my colleague set out to test the best logo design platforms, I was excited to see the results – and there were some real surprises. Head over and
check out his expert logo makers comparison
to view the full breakdown.
How to Get a Professional Logo for $5
Your BBQ logo design doesn't have to be expensive to look professional.
Getting your logo from an experienced designer can cost you just $5 if you hire them through Fiverr
, a global freelancing platform. To hire a designer on Fiverr,
go to the Fiverr homepage
 and type
BBQ logo
in the search bar. This will bring up results of designers who specialize in creating BBQ logos. Scroll through until you find one with a style that catches your eye.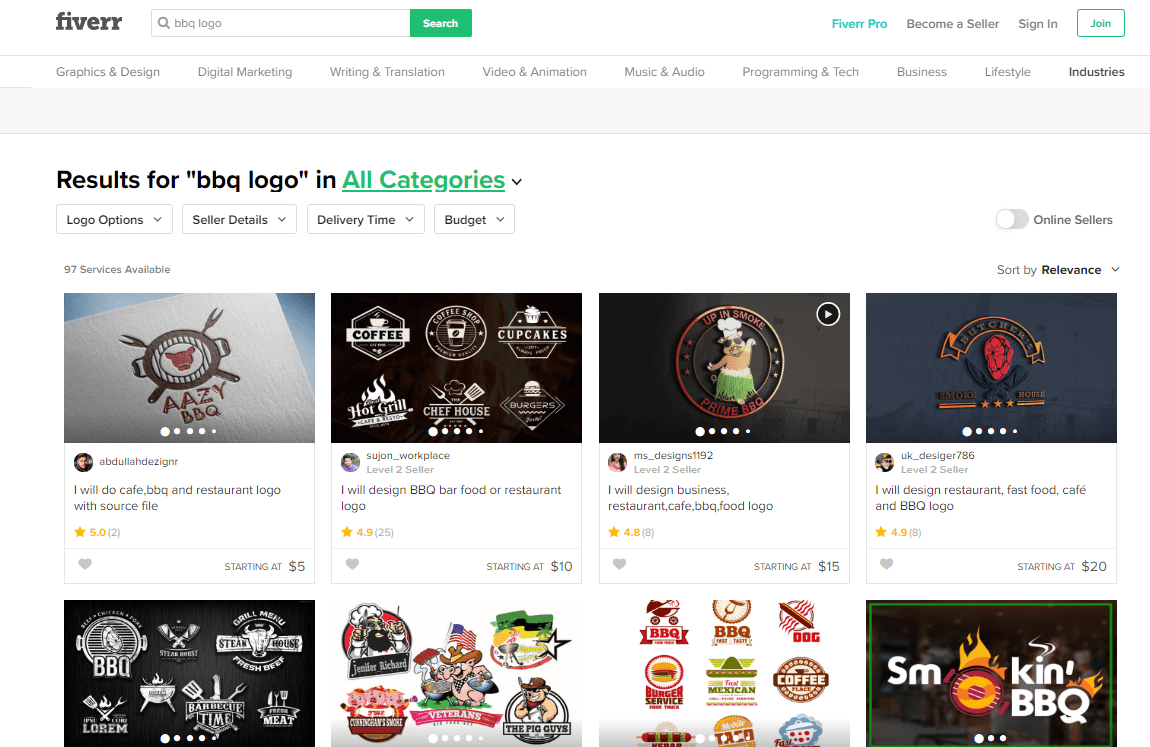 Click on a profile to see a designer's portfolio and their package details. Have a few questions for them? Message them directly or read through their
About this gig
section for more information.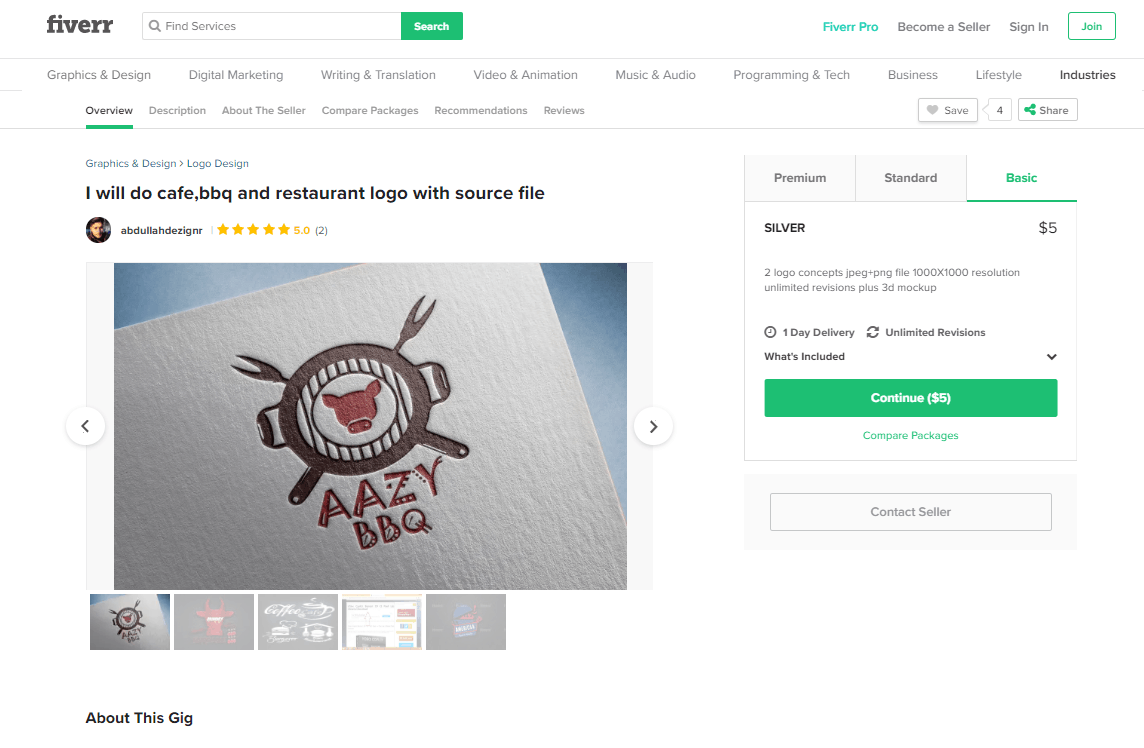 Once you're ready to hire, click
Continue
and head to the payment page. Here, you'll see everything included in your selected package and your total. Hit
Order Now
to finalize your payment and your logo is on its way!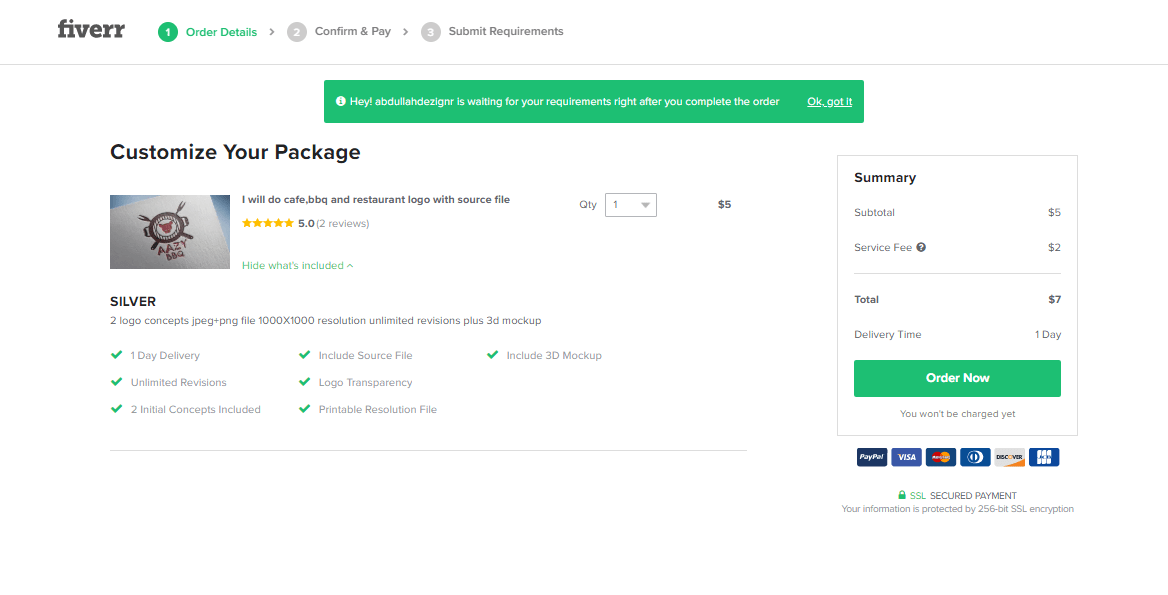 In addition to having a super-simple process, Fiverr has other great features, including:
Protected payments – Your payment is only ever released to a designer once you're 100% satisfied with the work you've received.
Package add-ons – Many freelancers offer extras for an added fee, such as additional revisions, social media kits, and 3D vector files.
Customizable search options – When browsing for your perfect designer, you can narrow down the results further with search filters for logo style, budget, seller details, and delivery time.
Fiverr Pro – If your budget allows, consider hiring a Fiverr Pro designer. These designers have been assessed by Fiverr employees and are guaranteed to be the best in design quality, customer service, and on-time delivery.
Want to know more? Read our
expert Fiverr review
 to see some logo samples.
How to Make Your Own BBQ Logo
Are you confident enough in your artistic skills to try designing your own logo?
This task shouldn't be taken lightly – it requires time, effort, and creative ability.
Hiring a professional is certainly my top recommendation, but if you're interested in trying your hand at DIY logo creation, your best bet is Wix Logo Maker.
In my opinion, Wix Logo Maker is the easiest tool to use and the step-by-step process is straightforward to follow.
First,
go to the Wix Logo Maker homepage
and sign up for a profile so that you can create and save your logo. It will then ask you for your business name and tagline – my example business was called, "Bob's BBQ".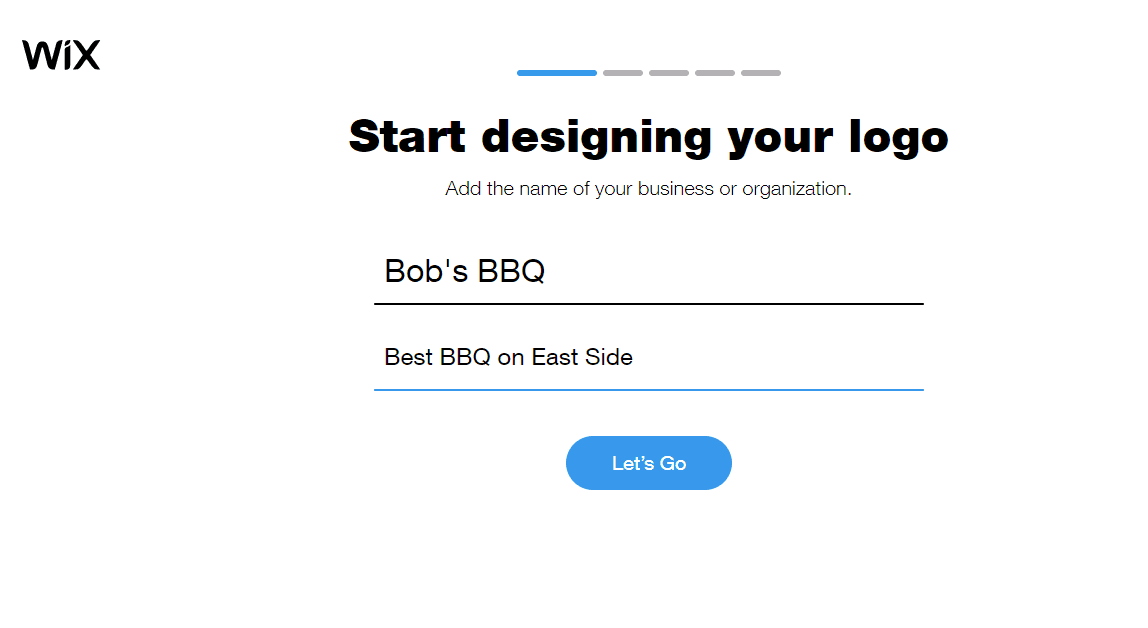 From there, enter your industry or business type.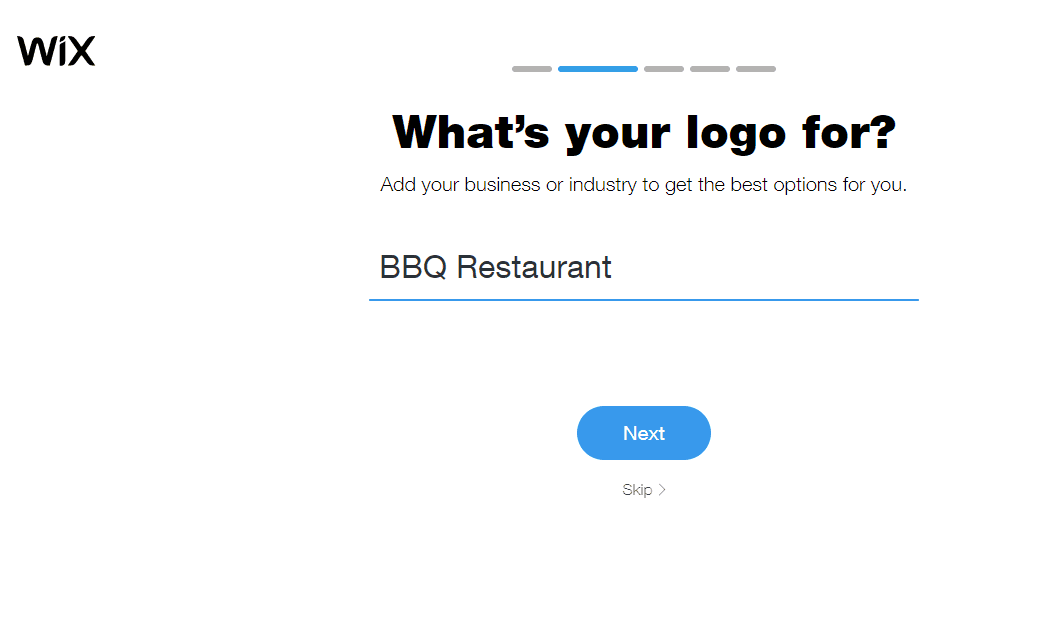 Next, choose from a few descriptions (like formal, timeless, modern, and playful). This helps the Wix Logo Maker artificial intelligence (AI) get a better idea of the look and feel of your ideal logo.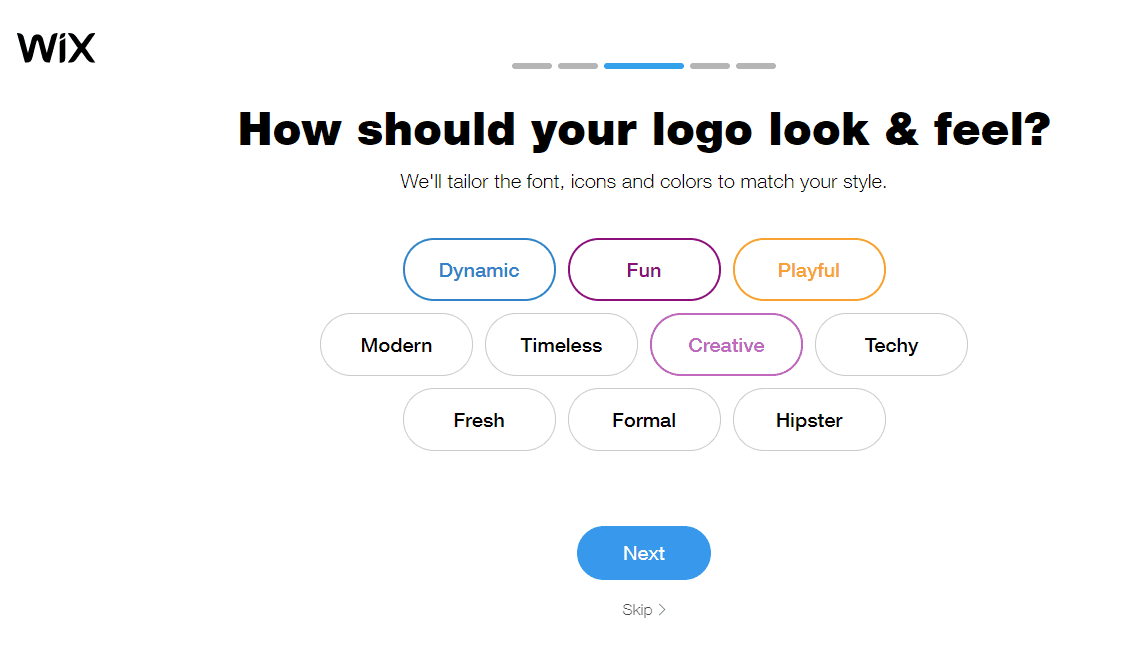 It then shows you a few logo pairs and asks you to choose which you prefer. If you aren't feeling either design, just click
I don't like either of them
and you can skip the pair.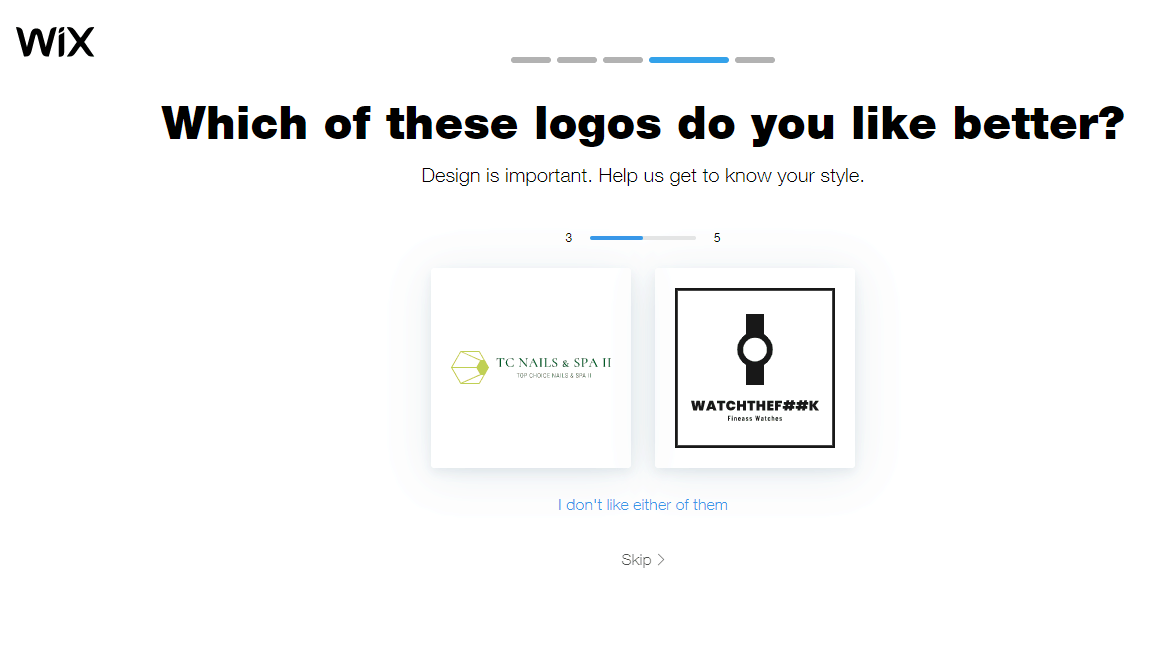 Lastly, let Wix Logo Maker know where you'll be using your logo, such as on social media, business cards, or a website.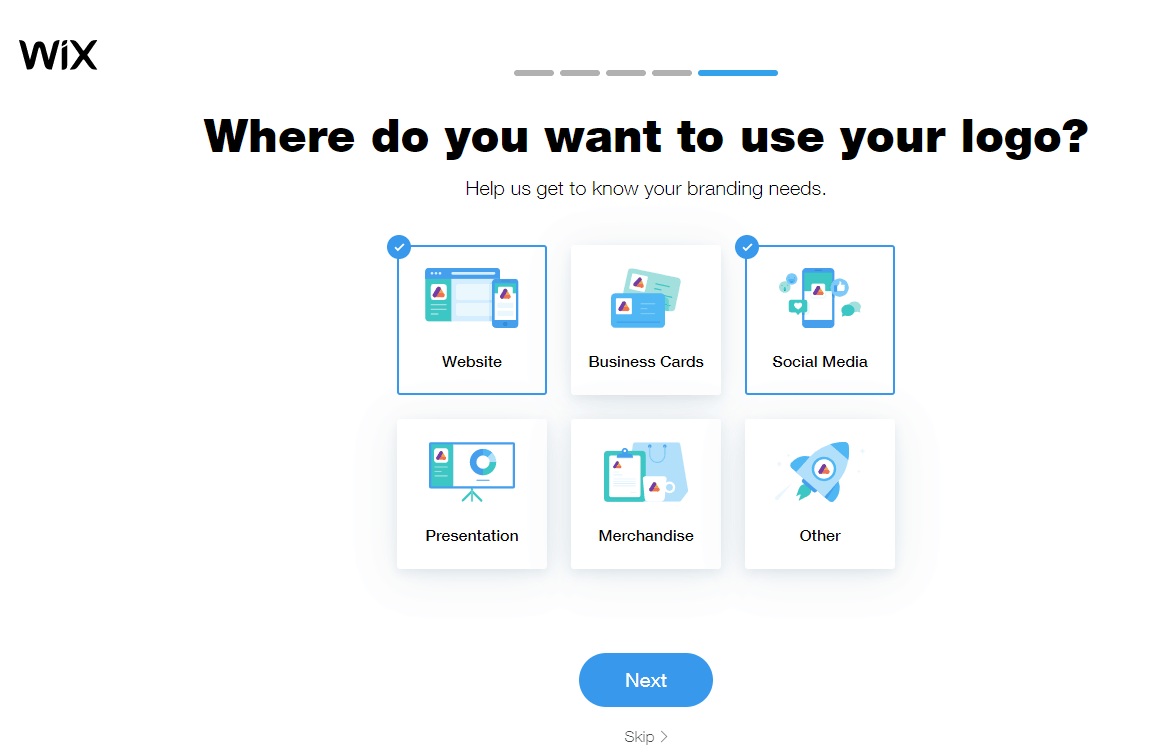 Once you've completed the final question, Wix Logo Maker will generate a list of suggested logo templates based on your answers. If you know what sort of imagery you want to use, click
Replace Icon
and search for the BBQ icon that you like best.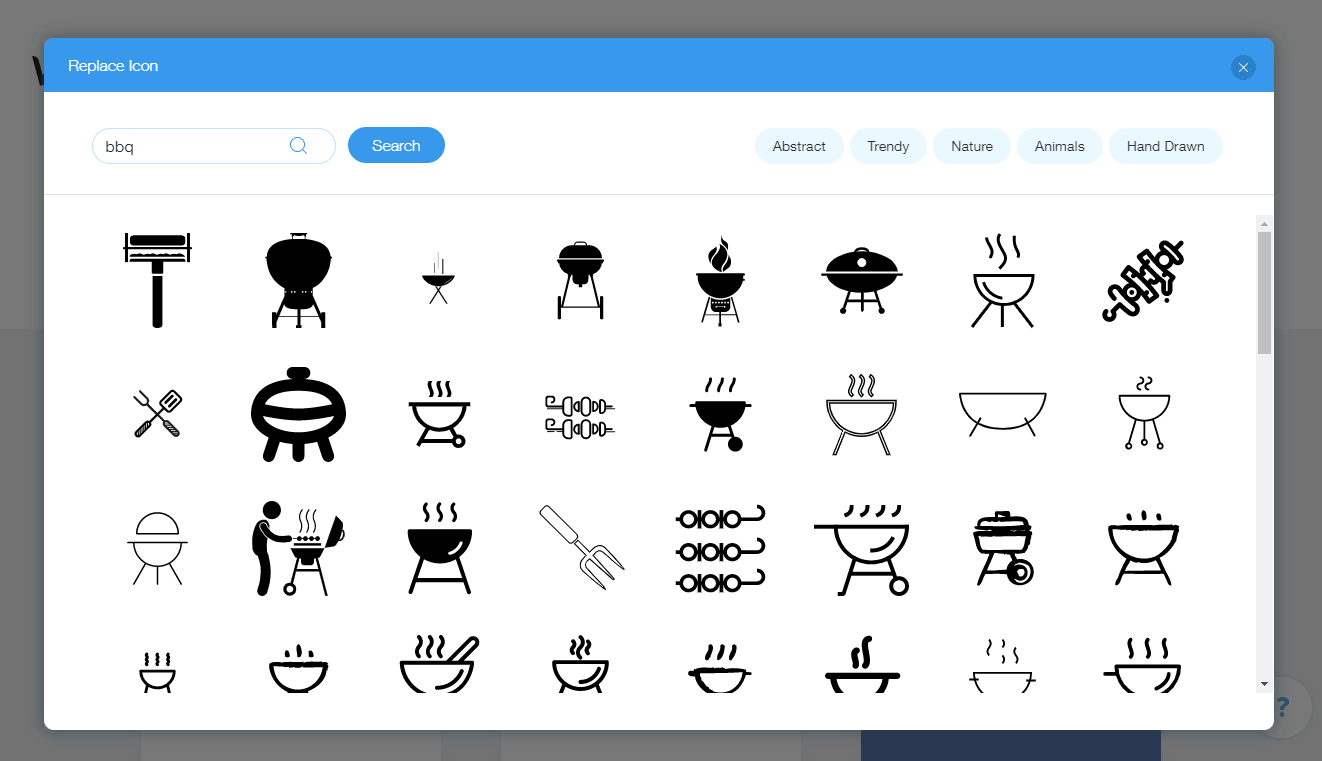 Scroll through the list of generated templates featuring your new icon until you find one you like and want to customize further.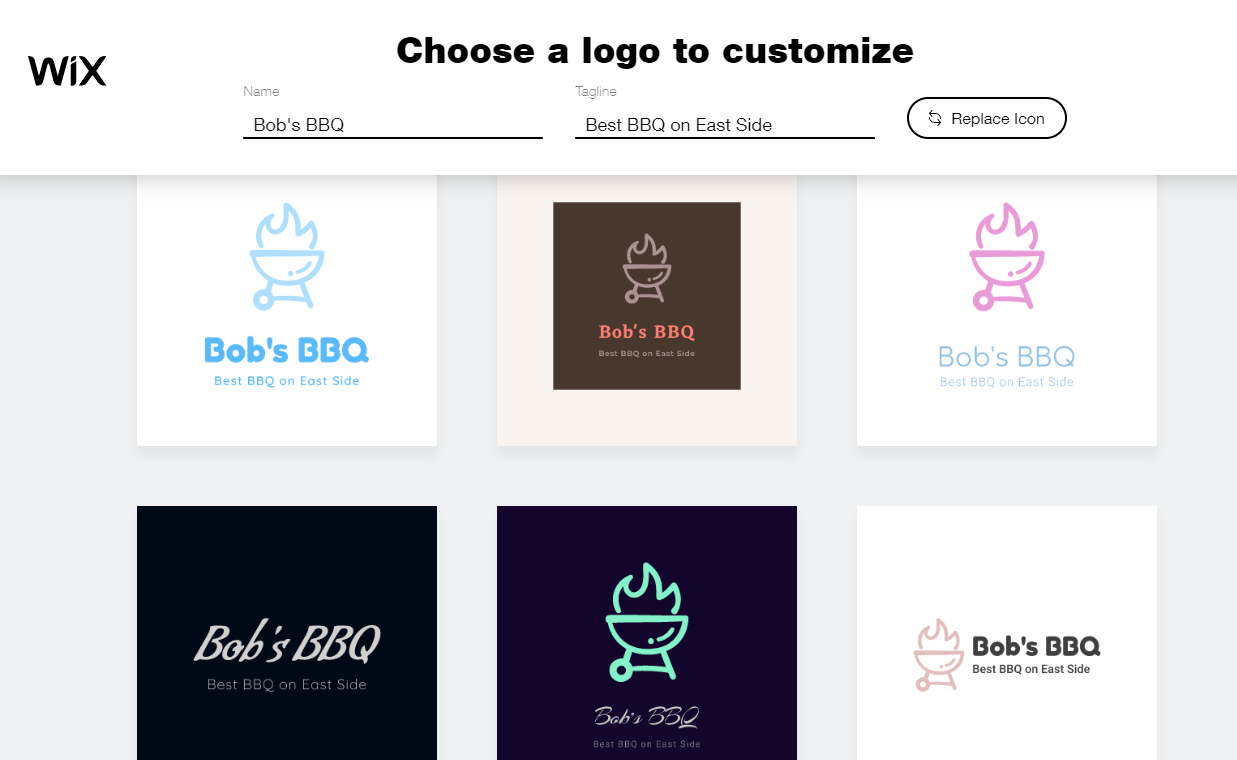 In the editor, you can change fonts, text, colors, and placements. In my example, I decided to change the icon again, and doing so couldn't have been easier. In just a few clicks, I had my new perfect icon and my logo was complete!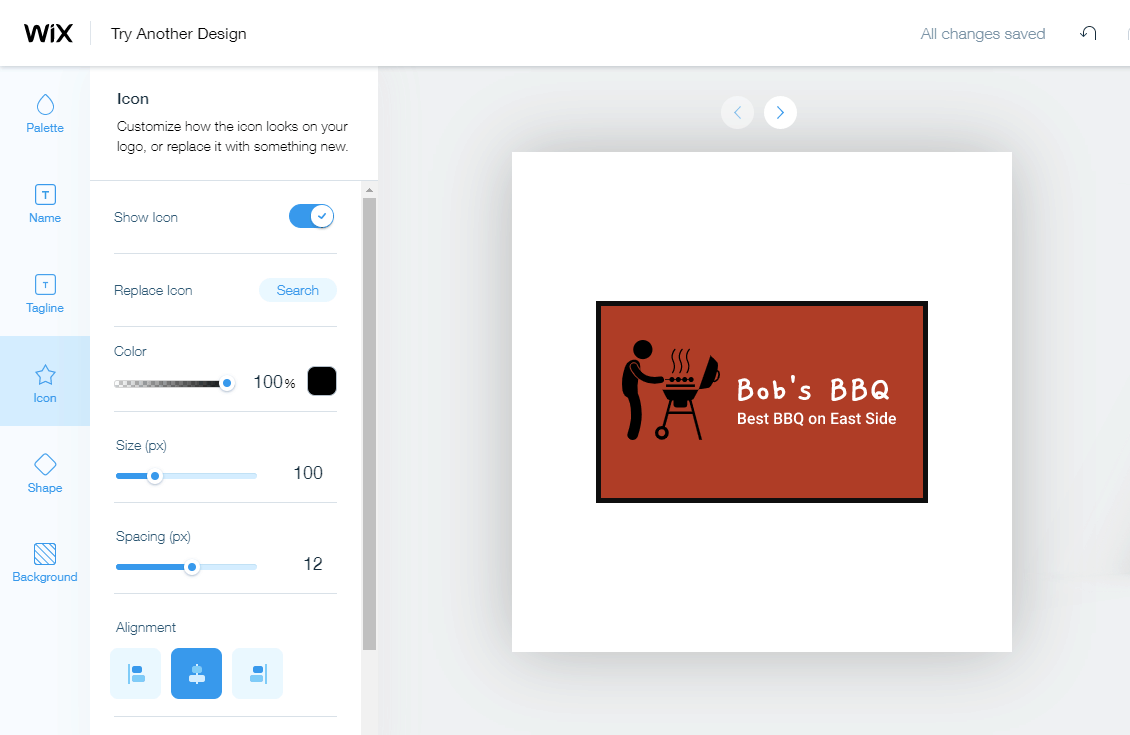 Once you're finished customizing,
proceed to the payment page where you can pay to download your high-quality logo in a variety of formats
. To learn more, read our
in-depth Wix Logo Maker review
.
A couple of logo maker runners-up:
DesignEvo – There are more than 10,000 quality logo templates to choose from on DesignEvo. Navigate to the Food & Drink category to find BBQ logos or customize a template with a BBQ icon you love. Learn more in our full DesignEvo review.
Logo Maker – Designing with Logo Maker is great if speed is of the essence. The entire process can be completed in just four steps and each logo is simple and easy to customize. Read our in-depth Logo Maker review for more details.
To Summarize
If you're looking for a unique, professional BBQ logo design, head over to Fiverr.
Budget won't be an issue when you can hire an expert designer for as little as $5, and for the quality of the logo you'll receive, you can't beat Fiverr when it comes to value for money.
For the creatively adventurous, Wix Logo Maker is the best logo maker out there.
It's intuitive to use and the logo templates are high quality and easy to customize. Not sure if a BBQ logo is quite right for your brand? Why not take a look at our round-ups of the
best food logos
or
best restaurant logos
for more inspiration. And if you're still on the hunt for the ideal logo,
check out my colleague's logo service comparison
for an expert take on the services available online and how they rank against each other.