Keep reading to find out how you can score a new logo design from a professional for just $5
.
---
9 Best Baby Logo Designs
My colleague tested out and ranked several of the top logo design services on the market. His results were enlightening, to say the least! Head over to his
full comparison
 to see which popular services were tested and how they ranked.
How to Get a $5 Logo Design
If someone said you can get a quality, professional service for only $5, you're sure to be a little skeptical. Nothing made by a pro could ever cost so little, right? Before I found Fiverr, I thought the same way. But now that I've experienced Fiverr myself, I'm here to tell you that a new professional logo can absolutely cost you just $5! Fiverr is a website where freelancers from all kinds of creative backgrounds offer service packages starting at $5. These designers come from all over the world and are skilled in an array of design styles – so you're guaranteed to find the perfect designer for your baby logo. Want to see how it works? First, you'll need to
head to the Fiverr homepage
 and type "baby logo" in the search bar. Review the profiles that pop up in the results for any styles that catch your eye. Once you see a designer you'd like to know more about, click on the search result to open that gig.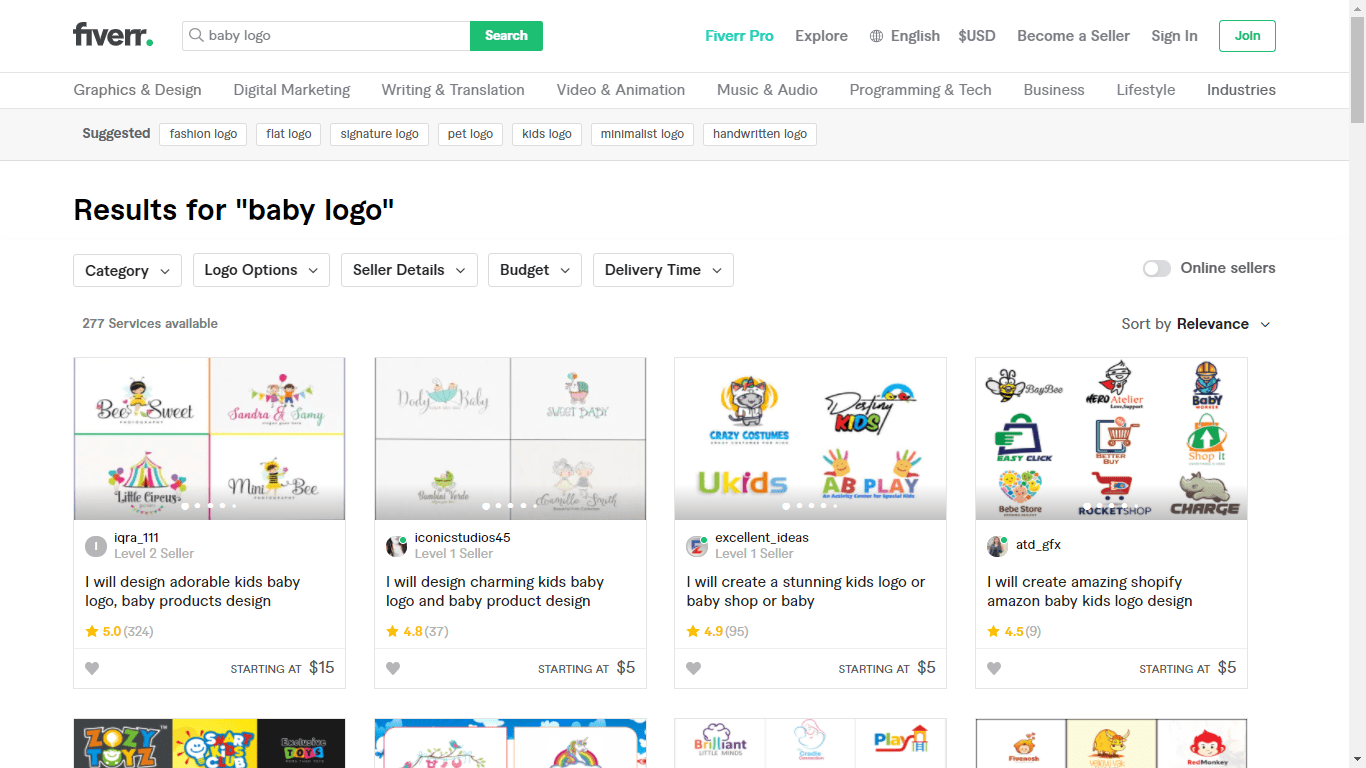 Here, you'll be able to see their "About This Gig" section, portfolio, customer reviews, and package pricing. Check out their Basic, Standard, and Premium packages to see what services are offered in each, and which fit your budget. When you've decided on a package, select it and click
Continue.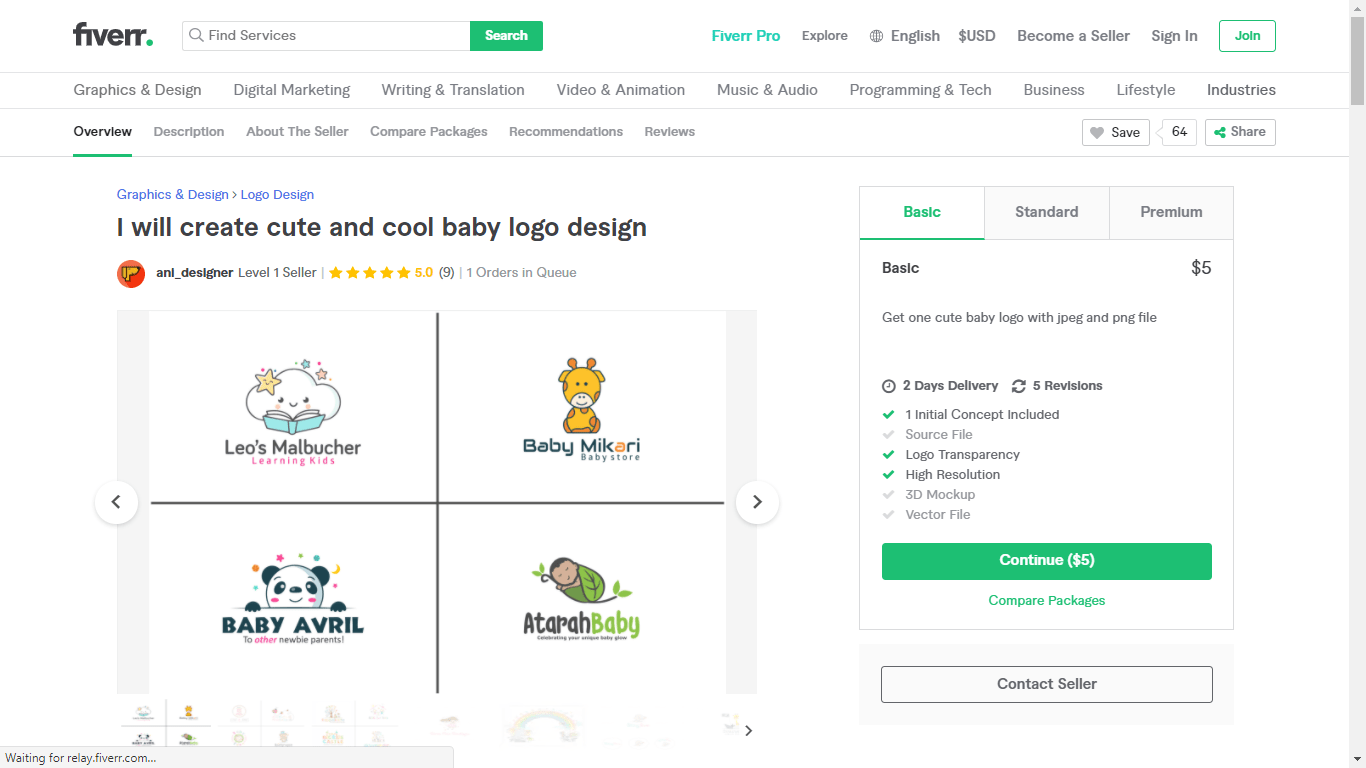 The payment review page will set out the final cost for your package and the services it includes. If you're happy it checks all your boxes, click
Continue to Checkout
to add your payment details. While you pay upfront, the money doesn't go straight to the designer. Fiverr holds your payment in escrow until you receive a logo that you're satisfied with.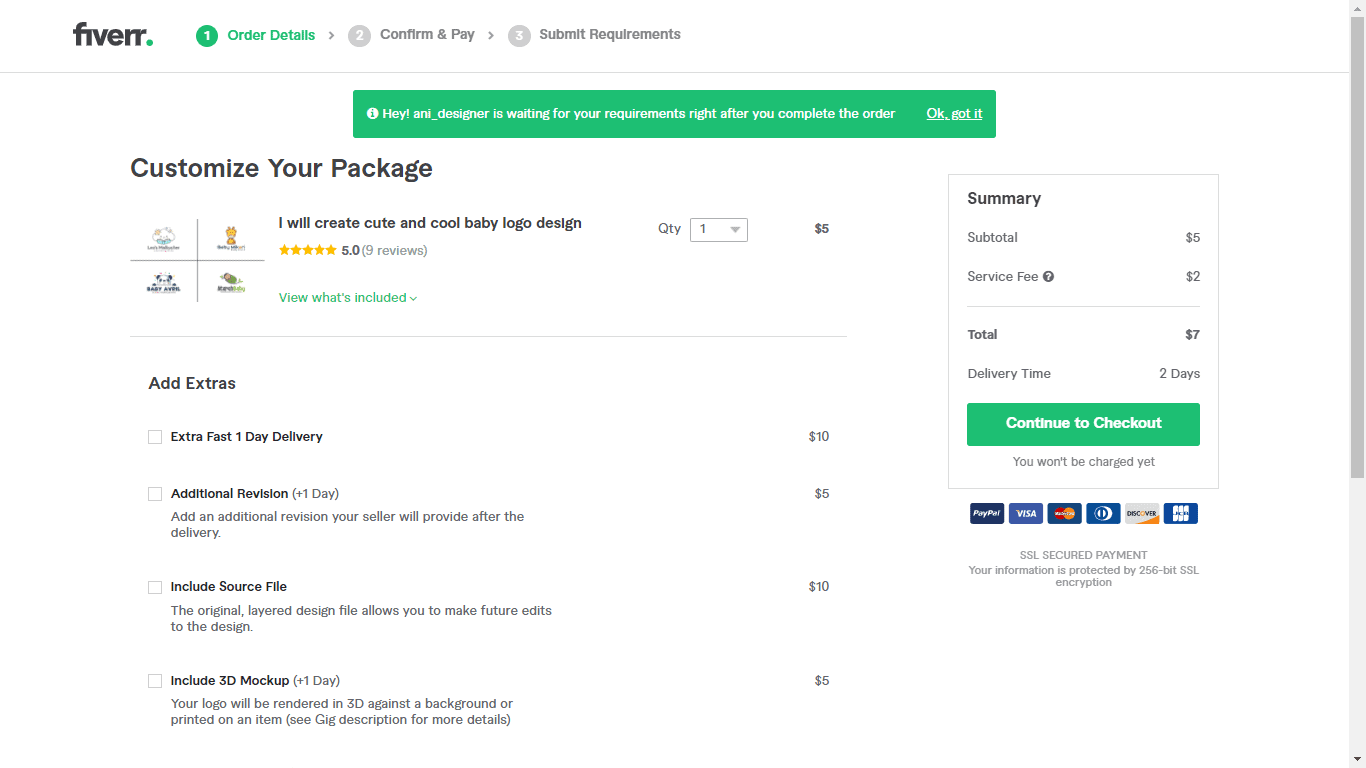 Once you enter your information, you'll be able to fill out a short questionnaire for your designer. Include the details of your logo and upload any photos or sketches your designer can use as inspiration. And there you have it! Your new logo design will be delivered to you in just a few days. Here are a few other perks of using Fiverr to hire your logo designer:
Customizable packages – Where offered, you can add custom services to your packages like expedited delivery, 3D mockups, and stationery design. You can choose this for a small extra fee, right before checkout.
No surprise fees – Since your payment is made upfront, your designer can never add unexpected fees or charges after they've been hired.
Useful search filters – Need to find a designer meeting specific criteria? Use filters like delivery time, budget, logo style, and seller details to narrow down your results.
Fiverr Pro – If your budget has a little wiggle room, consider hiring a Fiverr Pro designer. These designers are personally vetted by Fiverr employees and guarantee the highest level of customer service and design quality.
Get more advice from our experts on hiring the right designer for you by
reading our Fiverr Logo Design review
.
How to Create Your Own Logo
If you'd like to DIY your baby logo, buying fancy design software isn't a necessity. That can be expensive and too complex for the average person to use. Instead, you can use a free online logo maker. My favorite tool to use is Wix Logo Maker. Not only is it incredibly user-friendly, but it always delivers a high-quality, attractive logo that you'd be proud to have represent your company. You'll answer a few questions at the start, and then the tool's intuitive AI will use this data to suggest personalizable logo templates. To see how this tool works for yourself,
head to the Wix Logo Maker homepage
 and create a profile. Enter your company name and tagline into the spaces provided and click
Let's Go
to begin.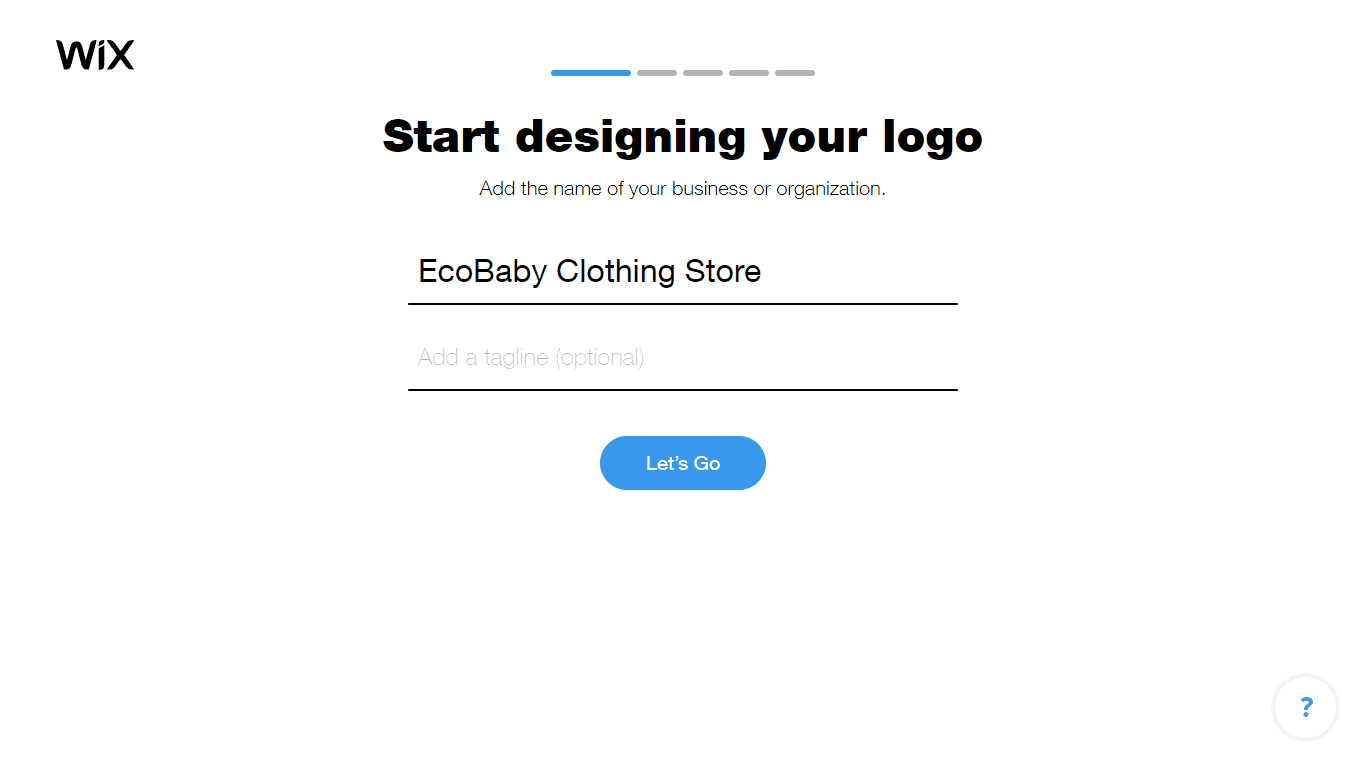 What industry do you work in? Start typing your industry name into the search bar and select the right option from the menu. As you'll see from my example below, you can get pretty specific.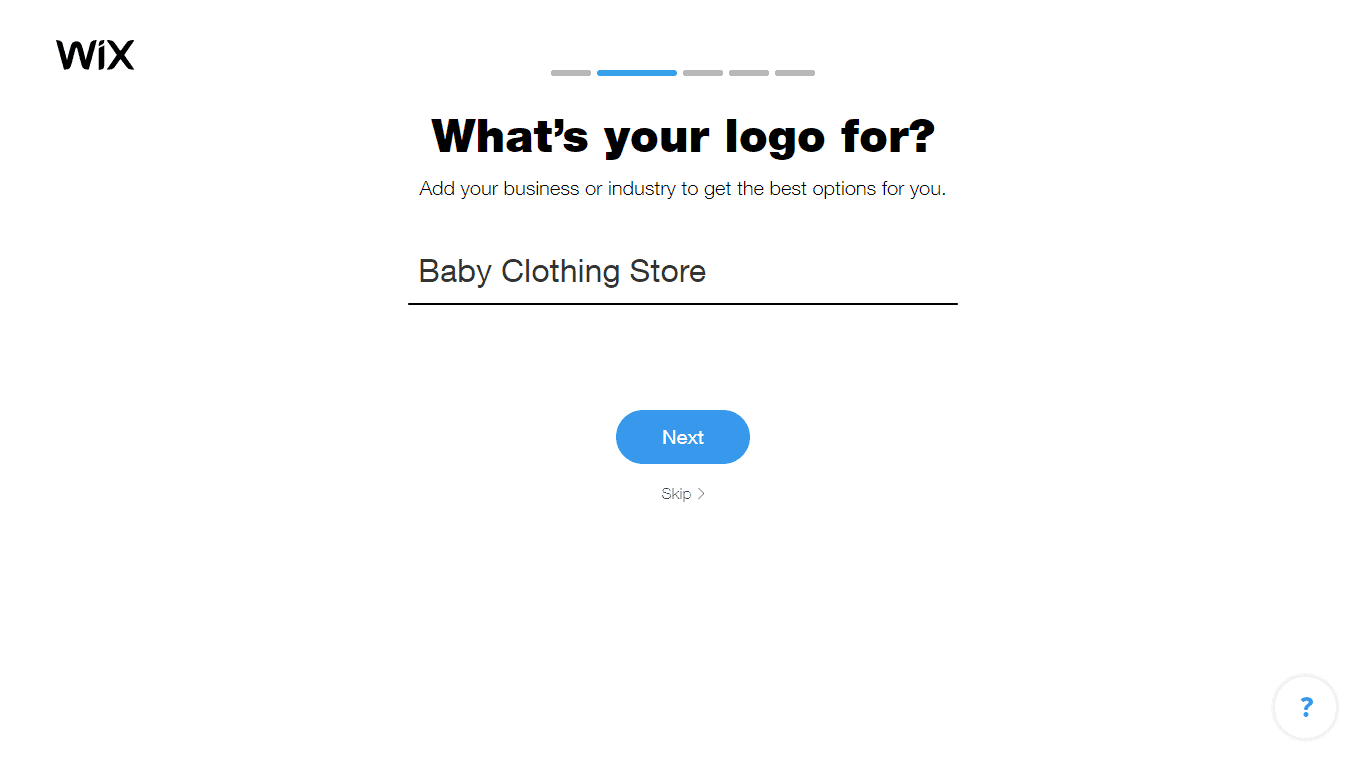 What does your finished logo look like? Is it modern, playful, fun, or creative? Select all the adjectives that apply to your creative vision.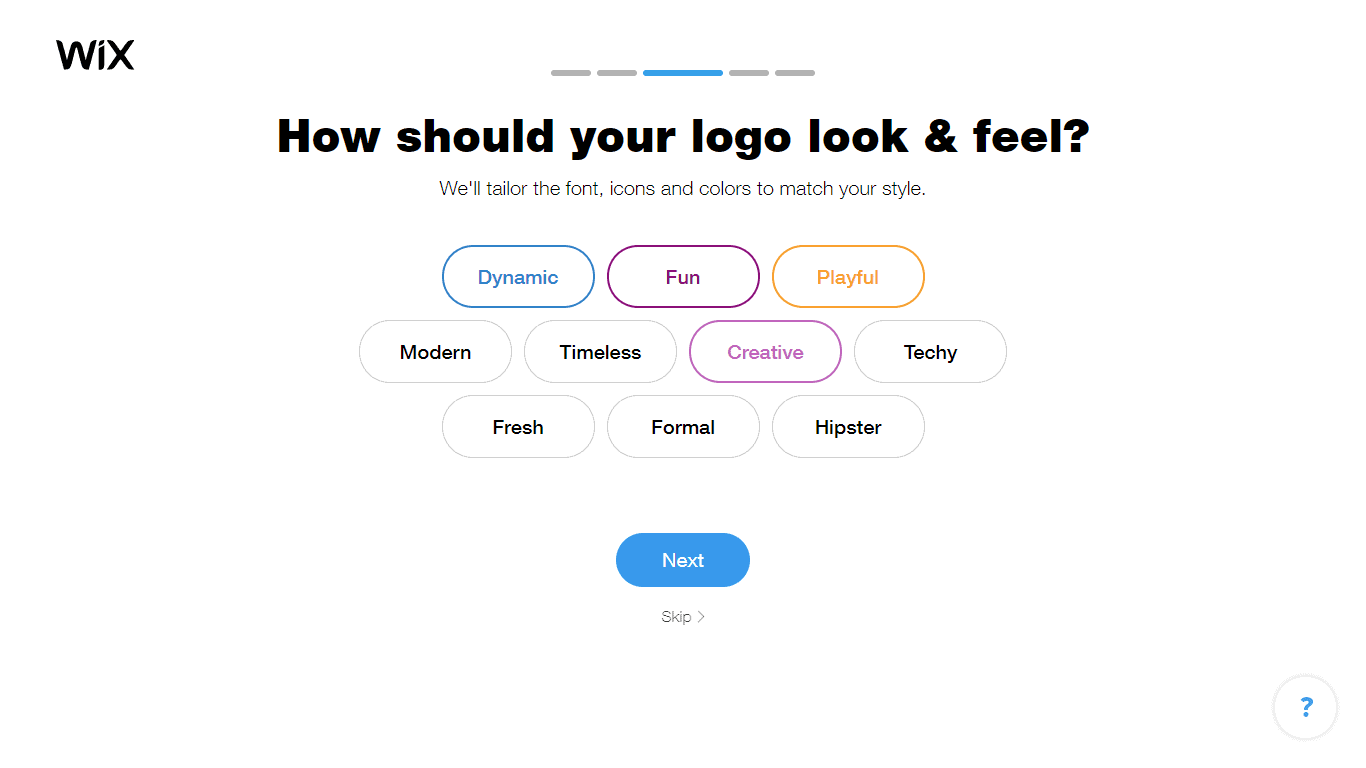 Next is a "this or that" sequence of logos. In each pair, you'll need to select the logo you prefer to help the AI learn your style. If you don't like either logo's design, click
I don't like either of them
to skip the pair.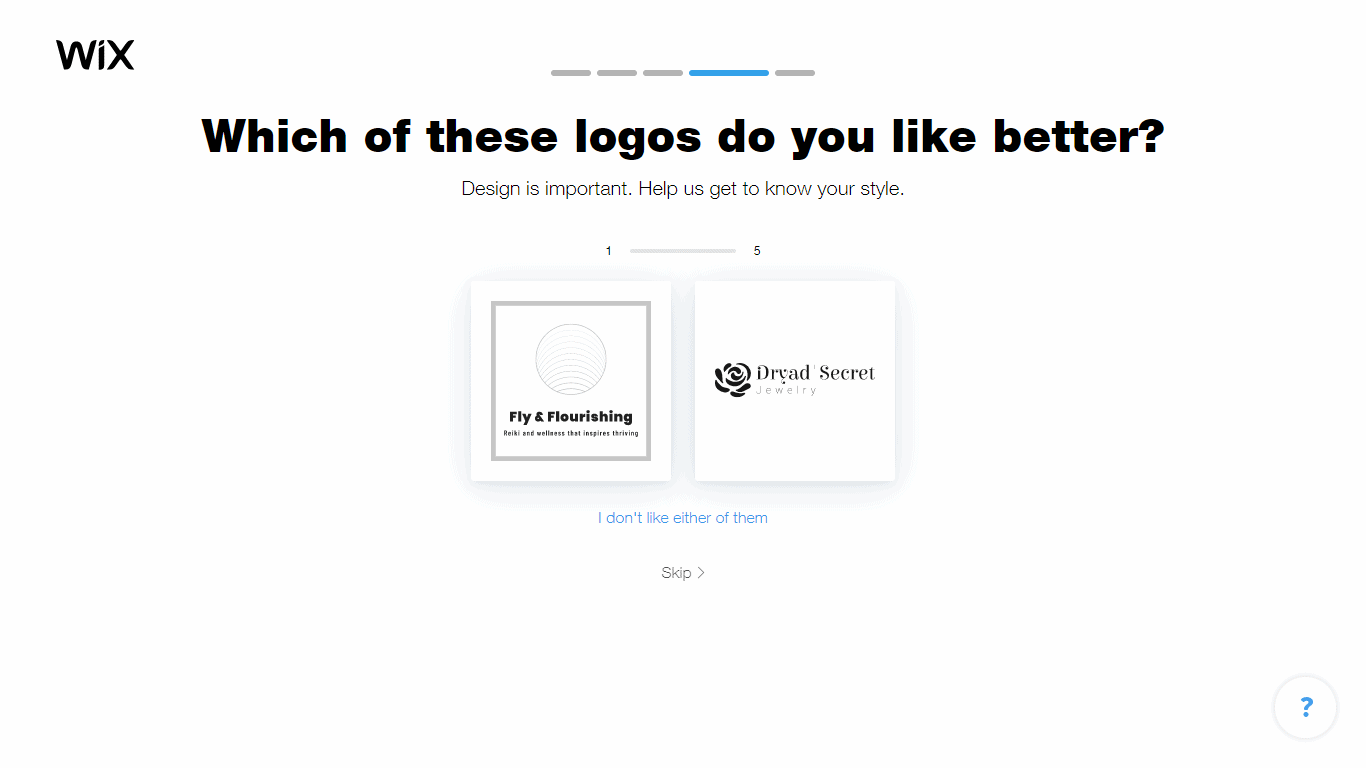 Where will you be using your logo? If you aren't sure yet, select all the options, just in case.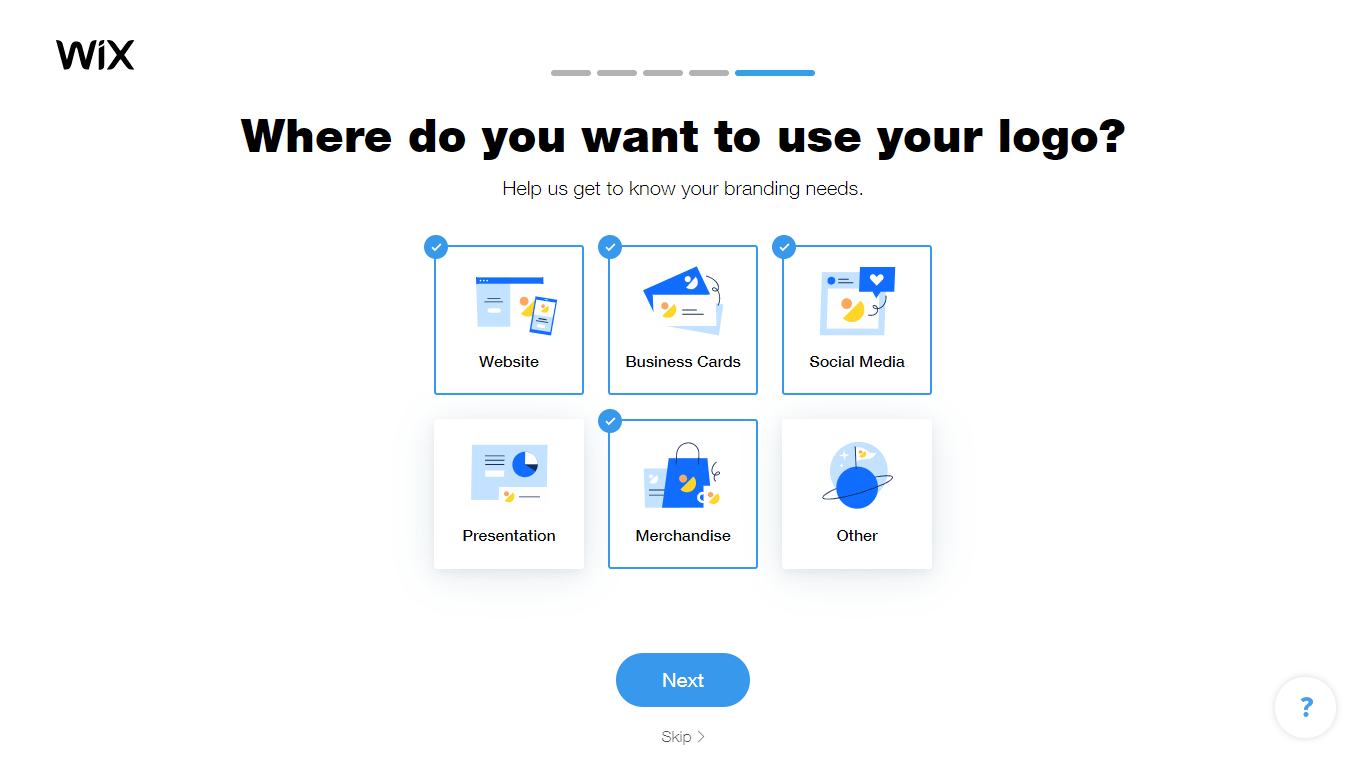 Now it's time for your personalized logo templates! The generated templates will feature your company's name and tagline, and many will include icons related to your industry.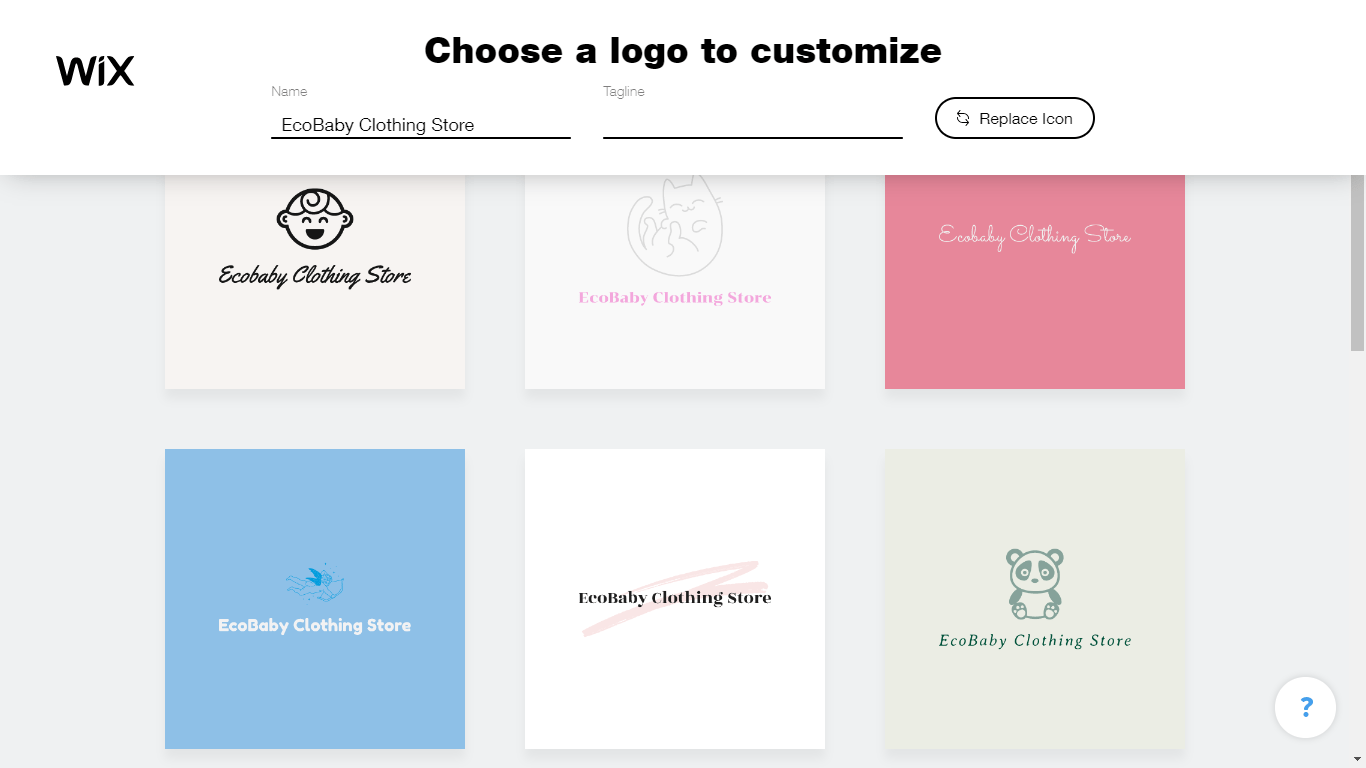 Do you see a logo you love, but the icon isn't quite right? Click
Replace Icon
 to choose something new
.
I searched for "baby", but you can try almost anything and see what options come up.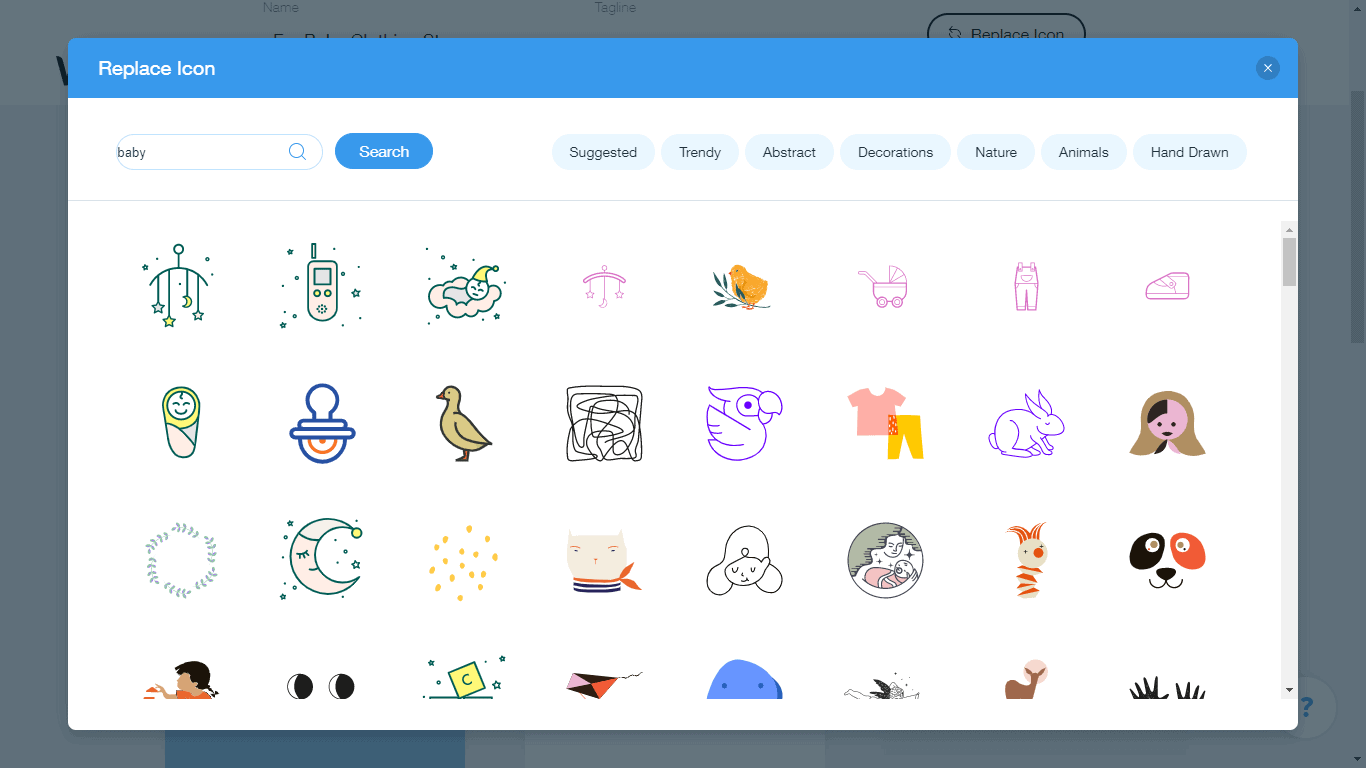 Once you've settled on an icon and a template, it's time to move into the logo editor to make some changes. Here, you'll have access to more than 200 unique fonts, 70+ preset color palettes, and thousands of icons (you can add more than one). Make use of these features to make your logo look as unique as possible, and to match your existing branding.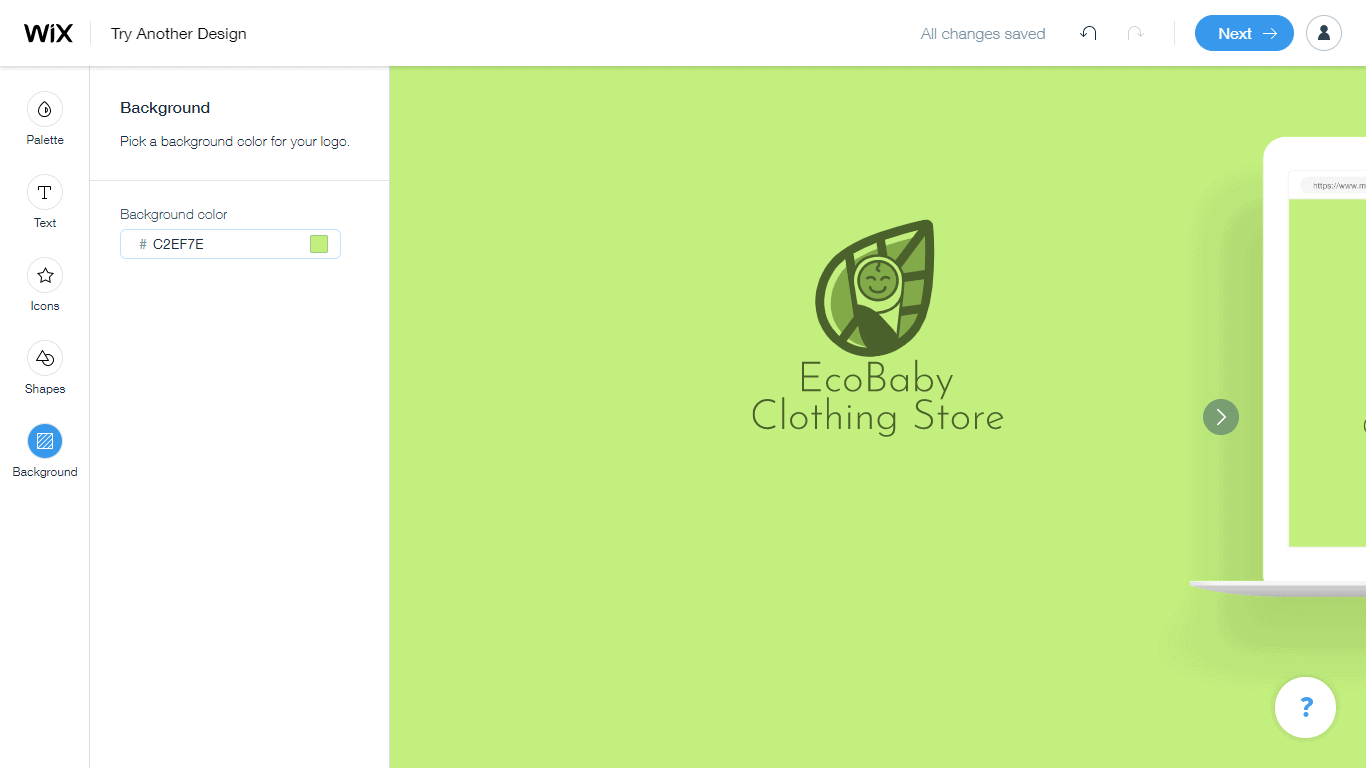 When your edits are finished, click
Next
to choose your package. You'll need to pay if you want to download your logo in high-resolution and start using it. But if you still want to keep trying out alternatives, you can download a free version of your logo in a smaller size for your records.
Wix Logo Maker Alternatives:
Looka – Looka is an ideal logo-making option if you're completely rebranding or in need of lots of branding materials for your new business. You can create your logo and get other marketing assets (like a website) to match.
DesignEvo – If you're short on time, you can create a logo quickly with DesignEvo. There are more than 10,000 logo templates to choose from – just search "baby" to find related templates.
Want to know more? Read our
expert Wix Logo Maker review
to see some logo samples.
Final Thoughts
Fiverr makes it easy to find professional, affordable designers specializing in a variety of styles.
No other logo design option connects you with talented designers for as little as $5
! Whatever your budget and vision, it's always worth checking out Fiverr to see exactly what you can get for your money. No matter how tight your budget, you'll be pleasantly surprised.
The key to creating a quality DIY logo is to use a quality logo maker, like Wix Logo Maker
. The high-tech AI makes the entire logo creation a breeze – if you've got the eye for it, you could create something beautiful in less than ten minutes! Not quite sure which design option is the right one for you? Head on over to my colleague's
expert logo design services review
 to see how other services held up against Wix Logo Maker and Fiverr.