Keep reading to find out how you can hire a pro designer for just $5
.
---
9 Best Anniversary Logo Designs
In a quest to find the best logo design service, my colleague tested out the top platforms on the market. Each service was ranked in a comprehensive review based on their performance. Head to my colleague's
full logo design services comparison
 to see who came out on top.
How to Hire a Pro Designer for $5
Is there really a way to hire a professional logo designer for less than lunch at a fast-food restaurant? For those on a budget, you'll be please to hear the answer to this question is a resounding "yes". It's possible when you use Fiverr to find and hire your logo designer. Fiverr is a freelancing website that lets logo designers and other creatives offer packages beginning at $5. Package costs can increase from this starting price, but many designers around the world choose to remain at the entry-level pricing. The designers hosted at Fiverr are skilled and experienced artists, so you're guaranteed to find your dream designer. You can see what Fiverr is all about by
heading to the Fiverr homepage
. Simply type in your search term (such as "anniversary logo") to pull up designers with relevant packages. Scroll through the results until you see a profile overview you want to explore further.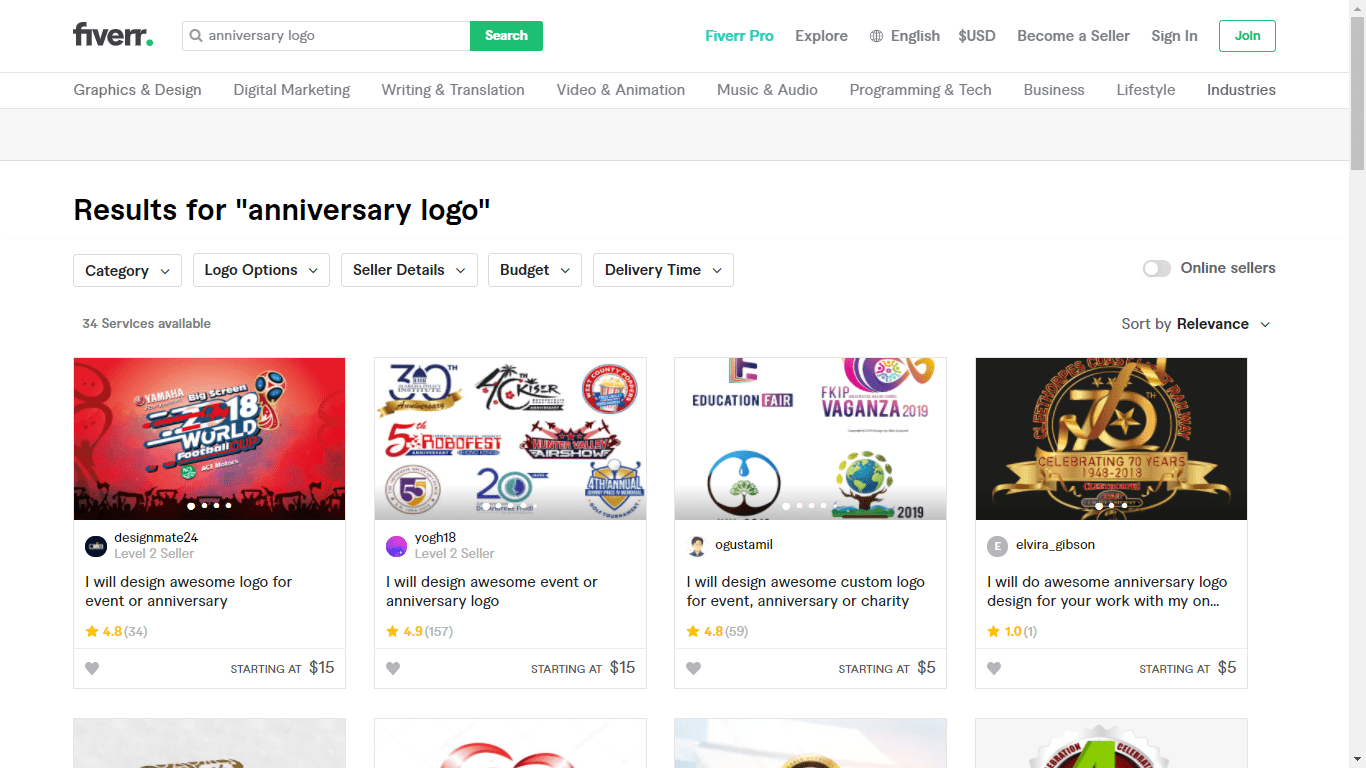 When you click on a result, it'll open the freelancer's full page for that gig. Here, you'll be able to read customer reviews left by previous clients and click through their portfolio. The "About This Gig" section will tell you more about what type of services they offer, and you can always click
Contact Seller
 to reach out directly with any questions. When you've decided on your package, hit
Continue
to move ahead.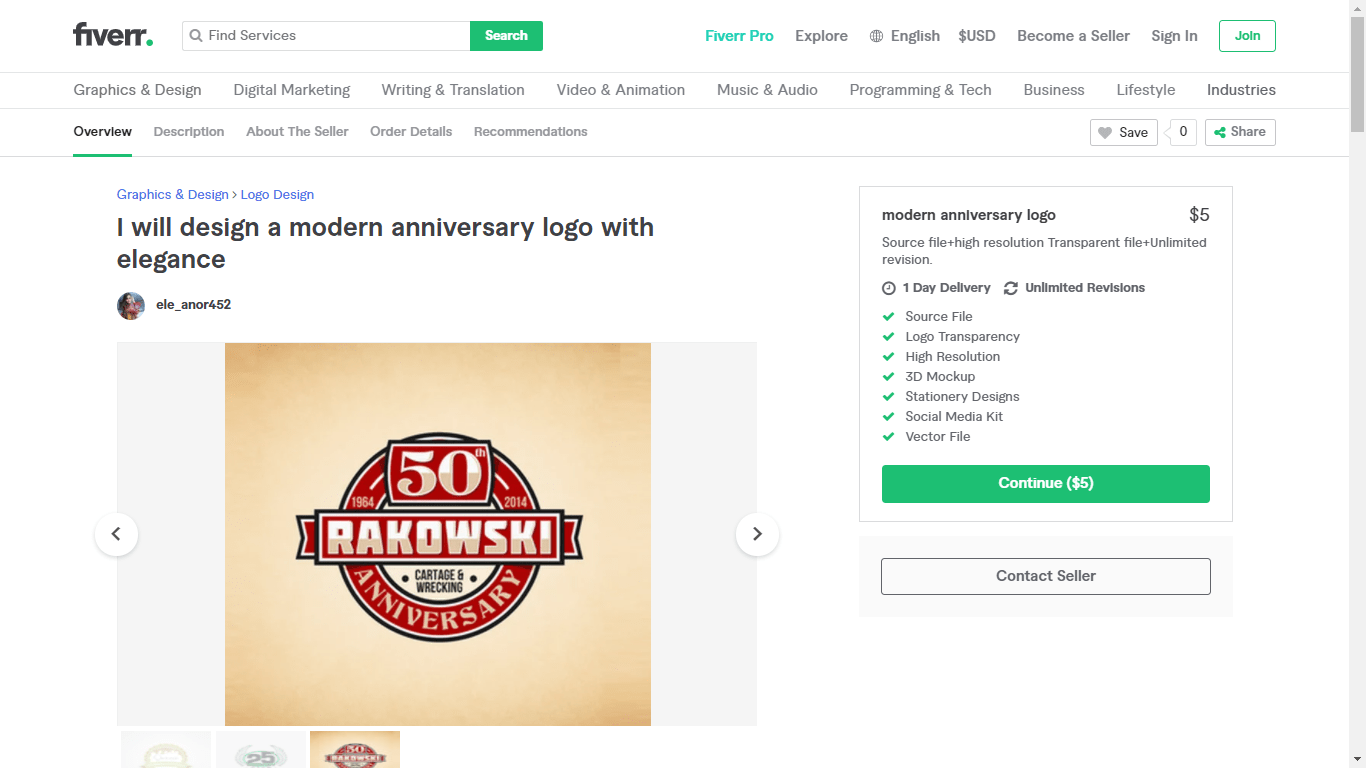 On the page before checkout, you'll see the full list of services included in your package and its final pricing. If the package includes everything you need, click
Continue to Checkout
to enter your payment details and finalize the hiring process.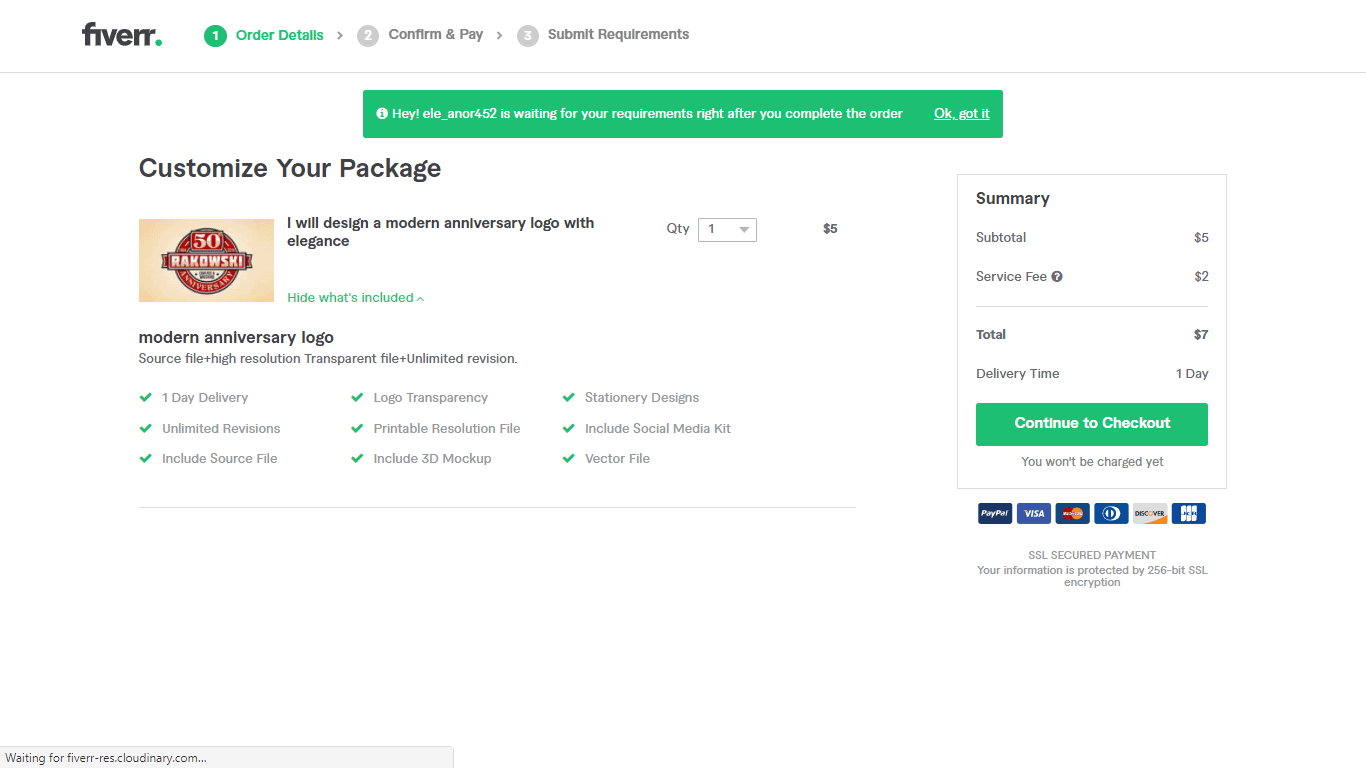 Once you've made your order, you'll be able to give your designer guidelines on the design – for example, brand name and colors, and details of the anniversary. In no time at all, your new, custom logo design will be delivered to you! The process really is that easy. Here are a few other Fiverr perks:
Seller levels – Designers are placed into levels according to their work history and customer reviews. You can choose to hire a designer with a higher seller level to better ensure the quality of your logo.
Time-saving search filters – Narrow down your designer search results using extensive filters like logo style, budget, delivery time, and seller level.
Secured payments – When you enter your payment details, the funds for the package are held in escrow until you choose to release them to your designer. This guarantees you only pay for a design you're satisfied with.
No surprise costs – Your designer cannot overcharge you or price gouge after they've been hired. The cost of your logo will remain the same unless you choose to add extra services during the design process.
Want to know more? Read our
expert Fiverr Logo Design review
to see some logo samples.
How to Make Your Own Logo
If you'd like to try your hand at logo creation, you'll need a reliable DIY logo maker. There are plenty on the market, but not all logo makers are the same. In fact, many of them offer subpar features and overcharge when it comes to downloading your finished files. My top recommendation is always Wix Logo Maker. This tool utilizes modern artificial intelligence (AI) and uses your design preferences to suggest logo templates for personalization. All you have to do is answer a series of quick questions, after which your logo template suggestions are generated, ready for you to customize! To get started,
head to the Wix Logo Maker homepage
 and create an account. Enter your company details and click
Let's Go
to begin.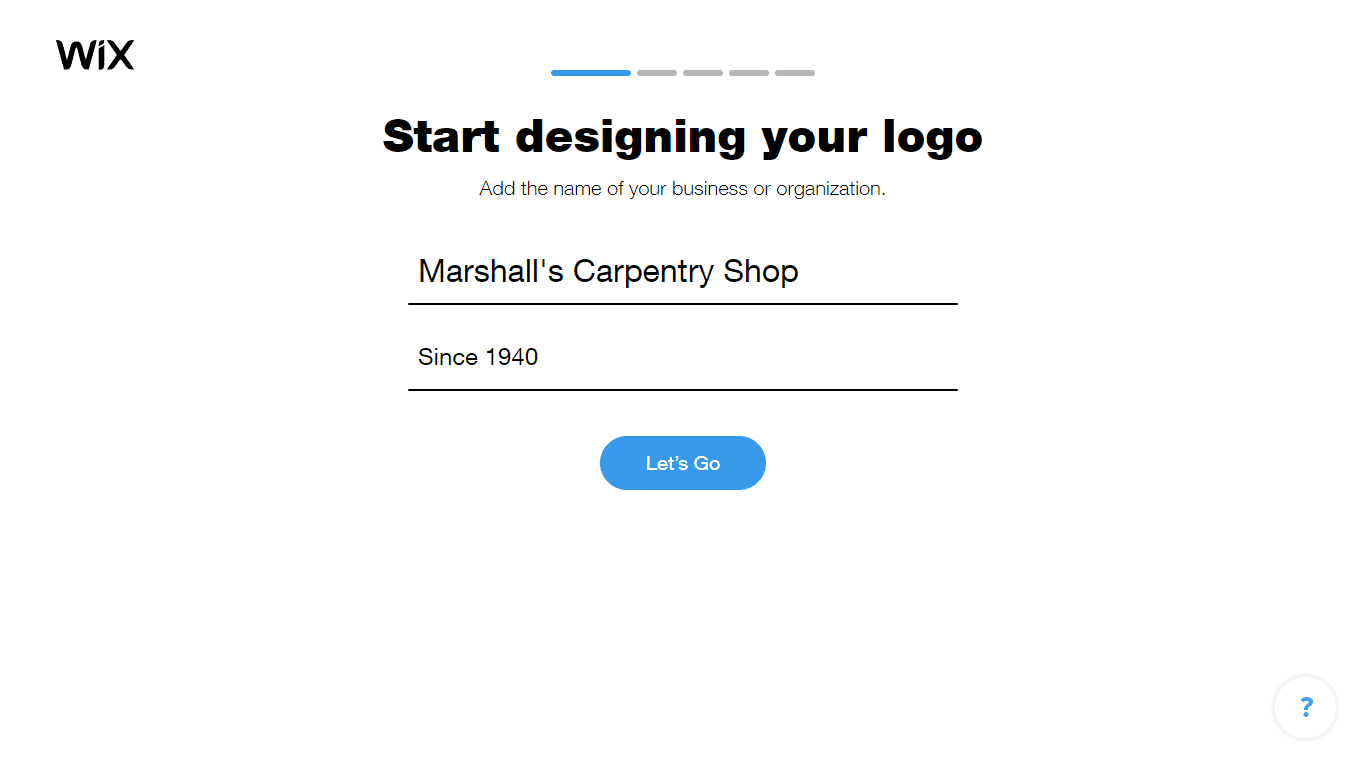 Type your industry into the search bar provided and select the best match from the dropdown menu.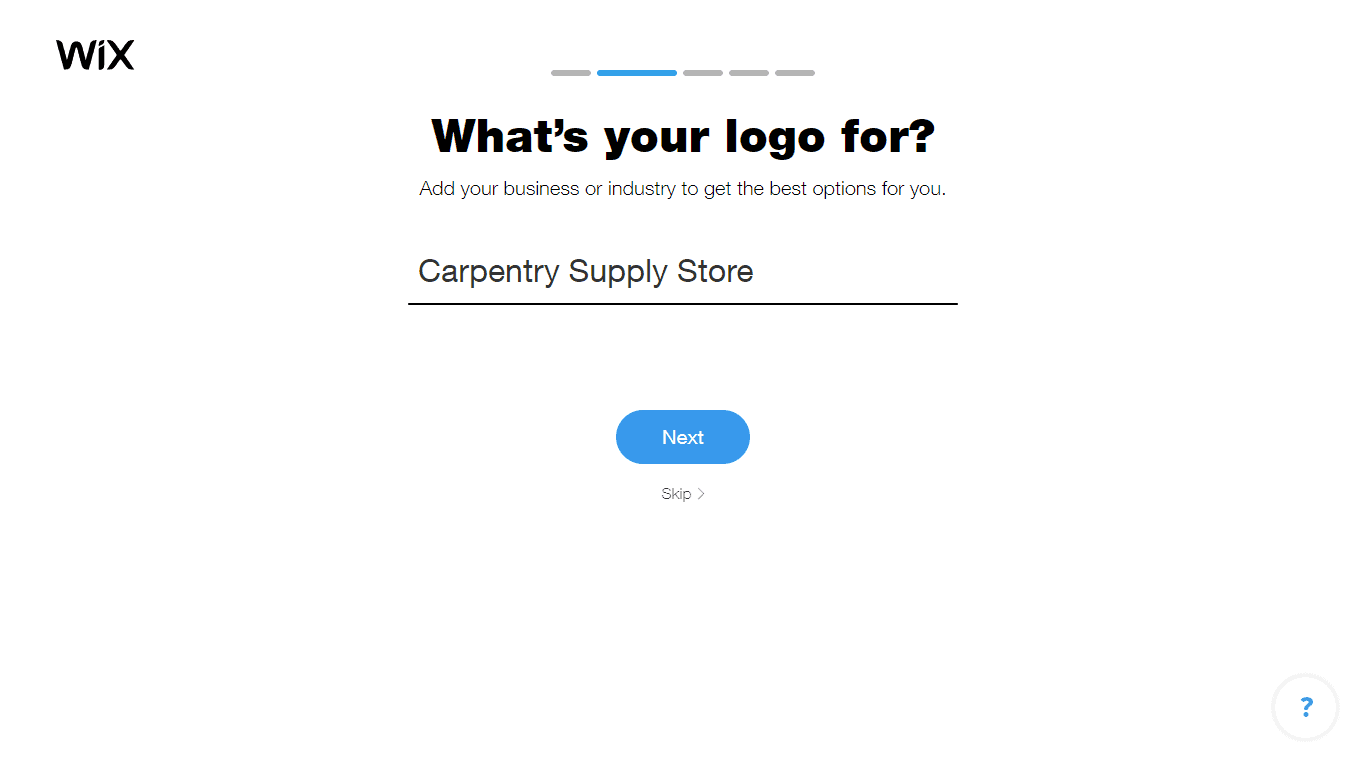 Can you picture your ideal logo in your head? Try to describe its look and feel by clicking the relevant words on this screen.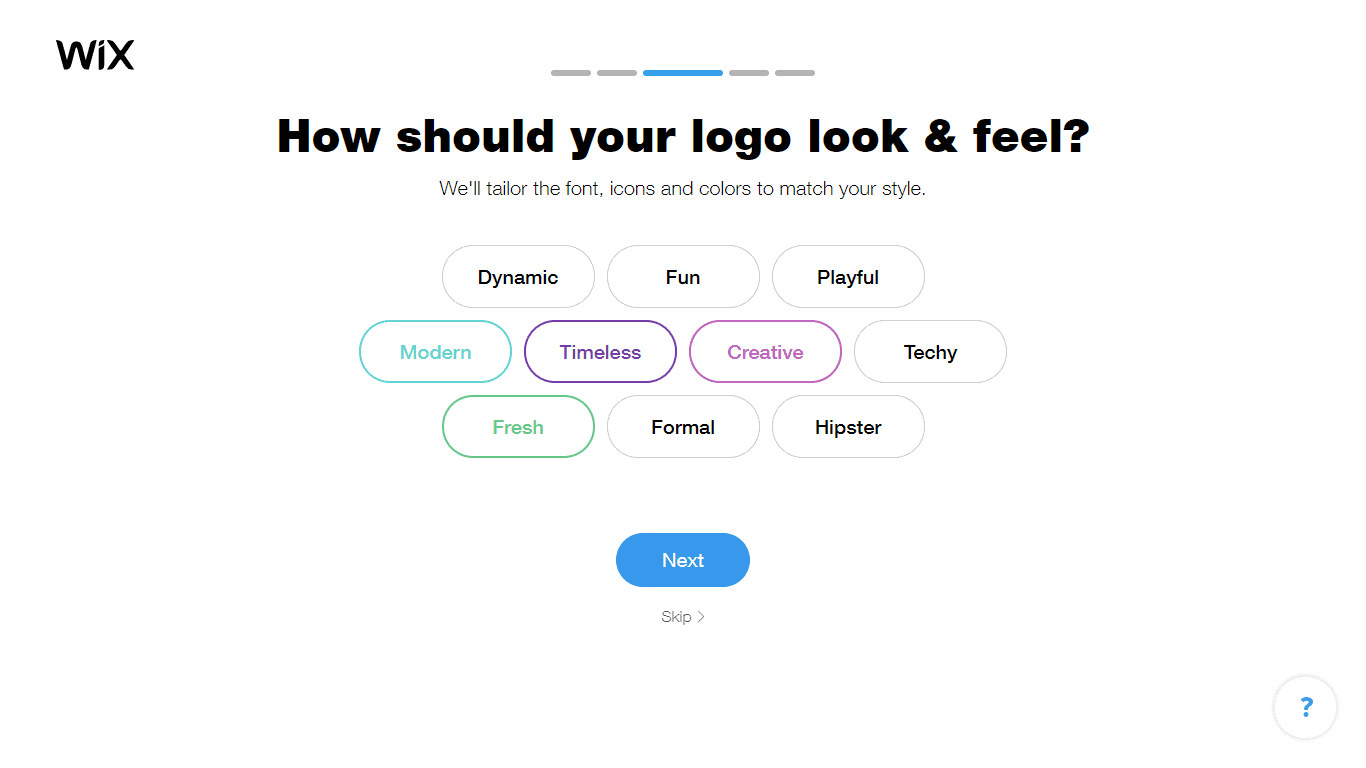 What type of design do you prefer? Now's your chance to let the AI know your preference by selecting the logo you like best in a sequence of logo pairs. You can also hit
I don't like either of them
to skip the pair if neither design catches your eye.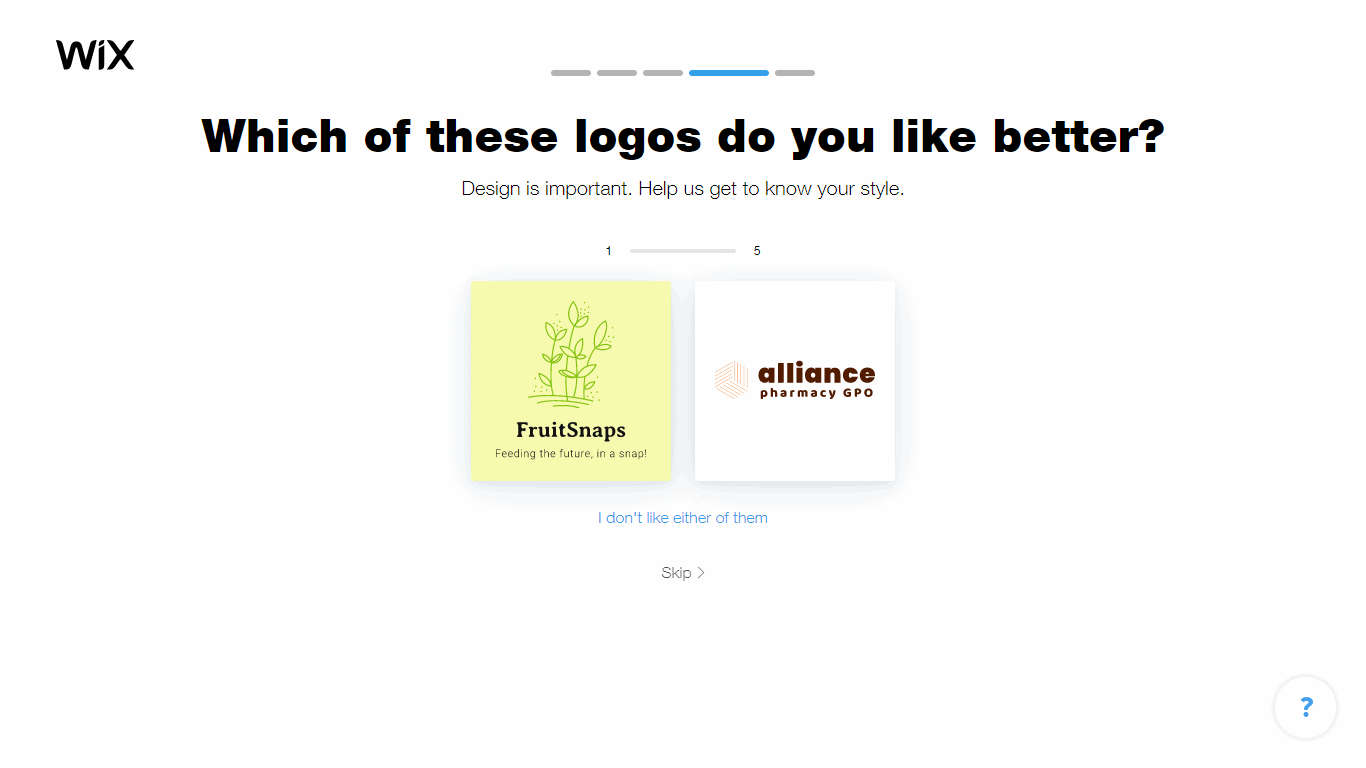 Where do you plan to use your logo? If you aren't sure, you can select all the options. Your choices include social media, a website, and merchandise.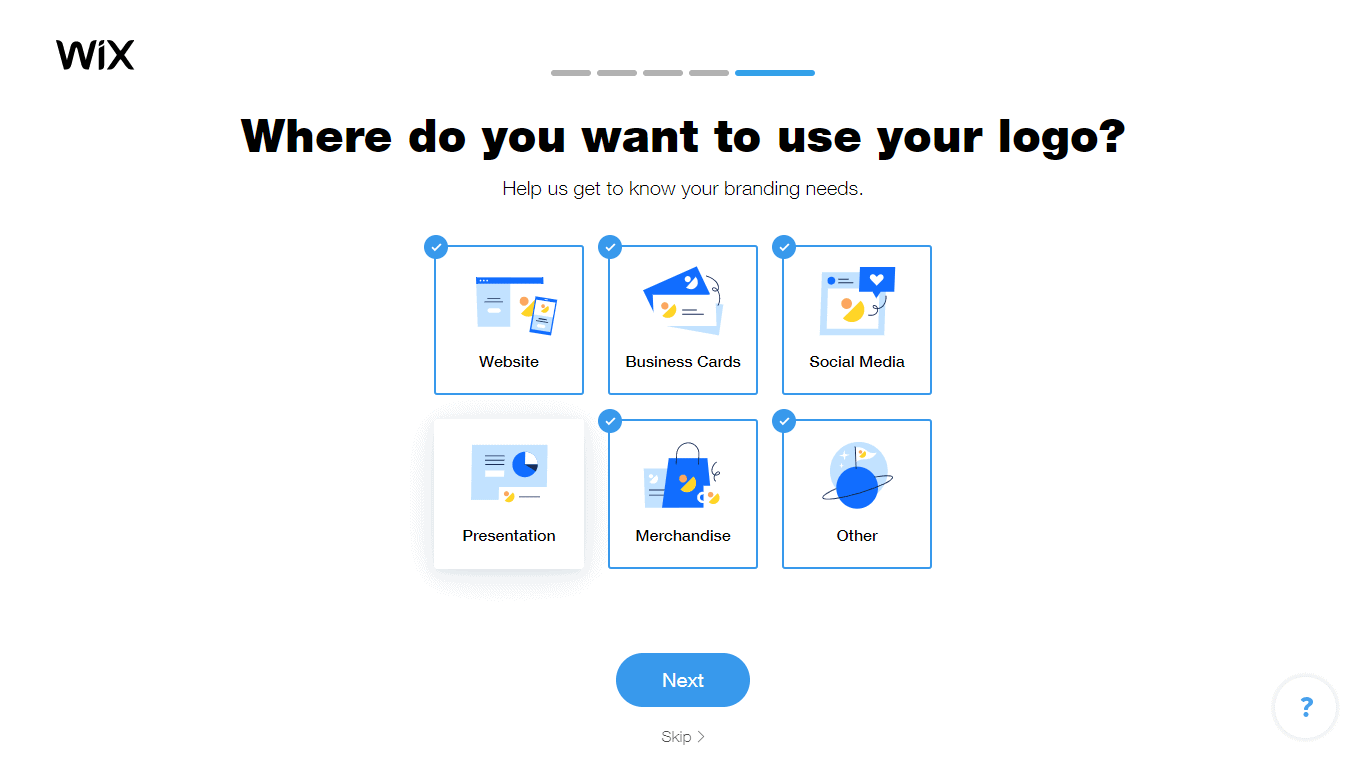 And now it's time for your logo template suggestions! Take your time scrolling through the results to get a feel for what the AI has created for you.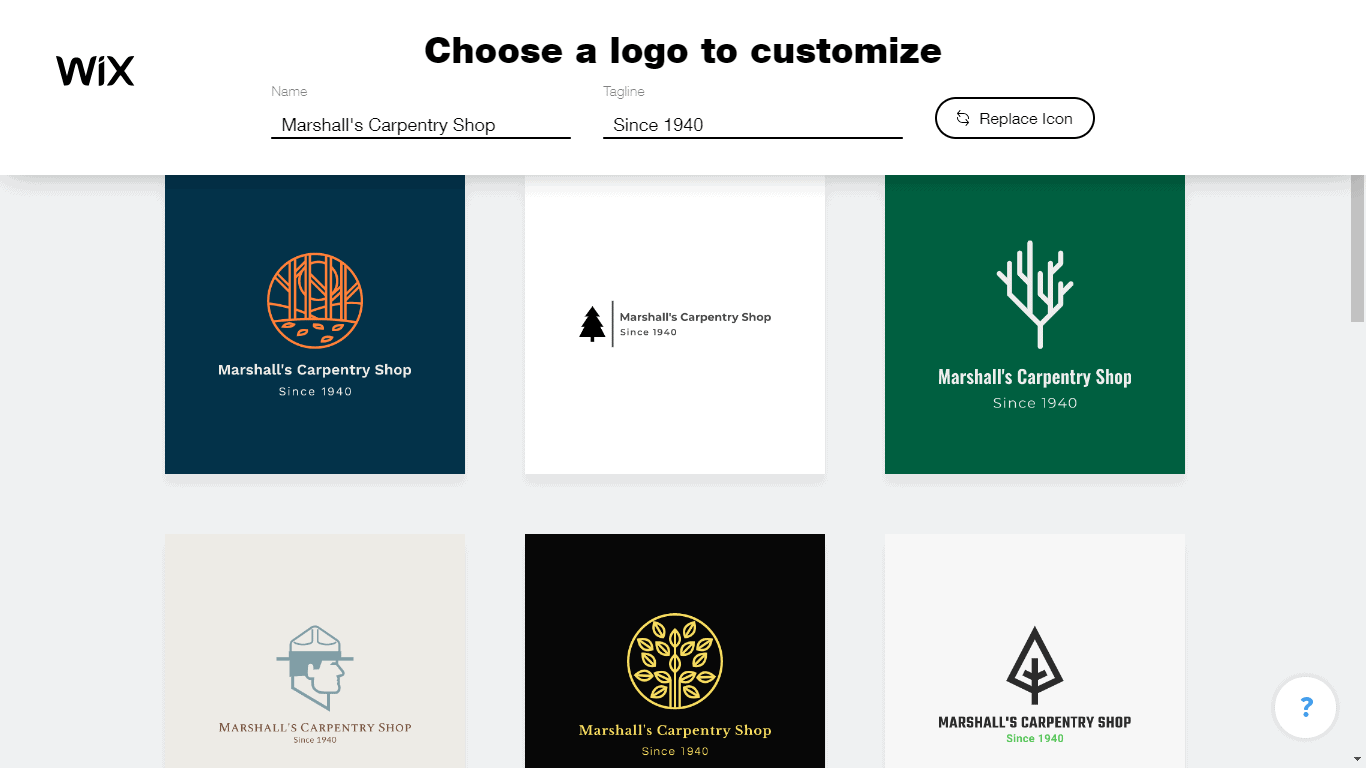 Want to see more icon options? Clicking
Replace Icon
will open a search feature where you can look for new icons. Type in your search term and choose a new icon from the options. You can search for something anniversary-related here, like a calendar, or choose an icon that complements your industry.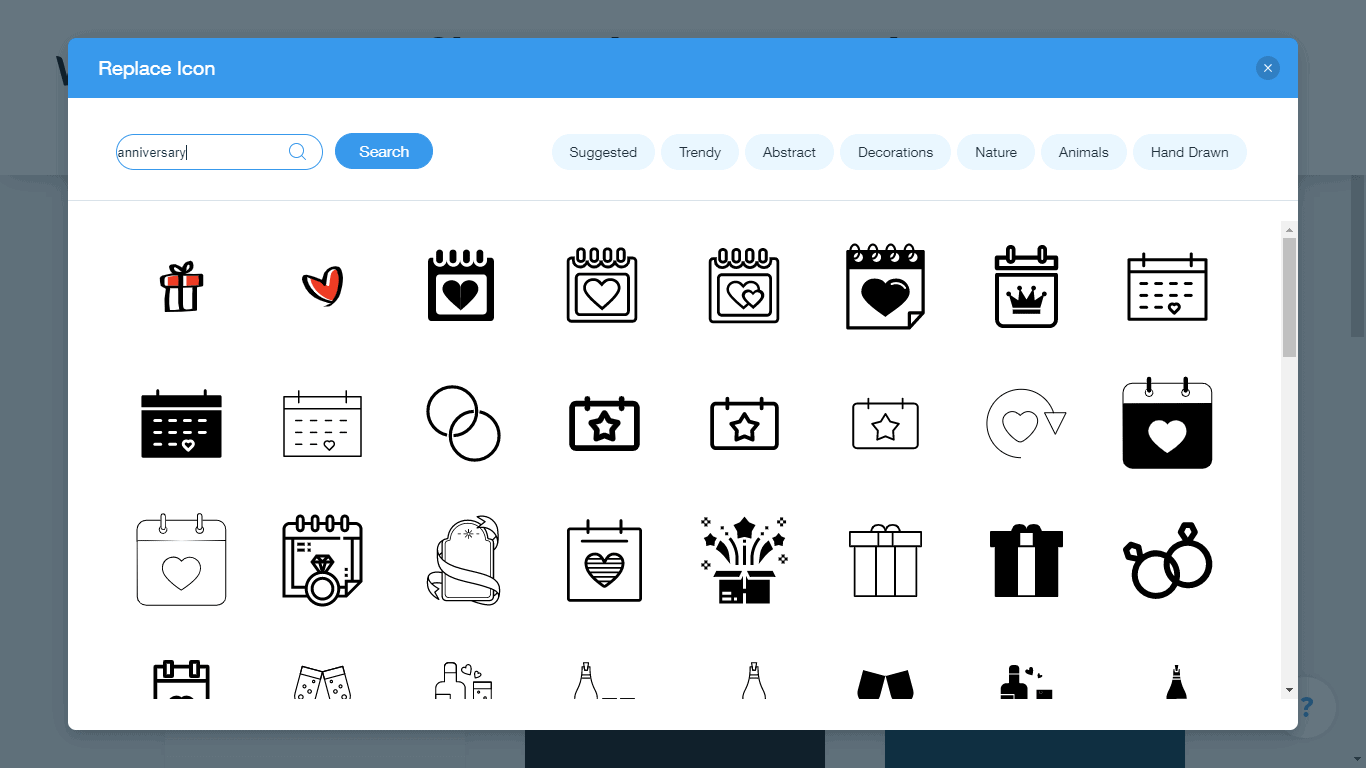 When you're ready to edit your logo, click
Customize
to move to the logo editor. Wix Logo Maker has quite a few customization features, so now's the time to let your creativity run wild.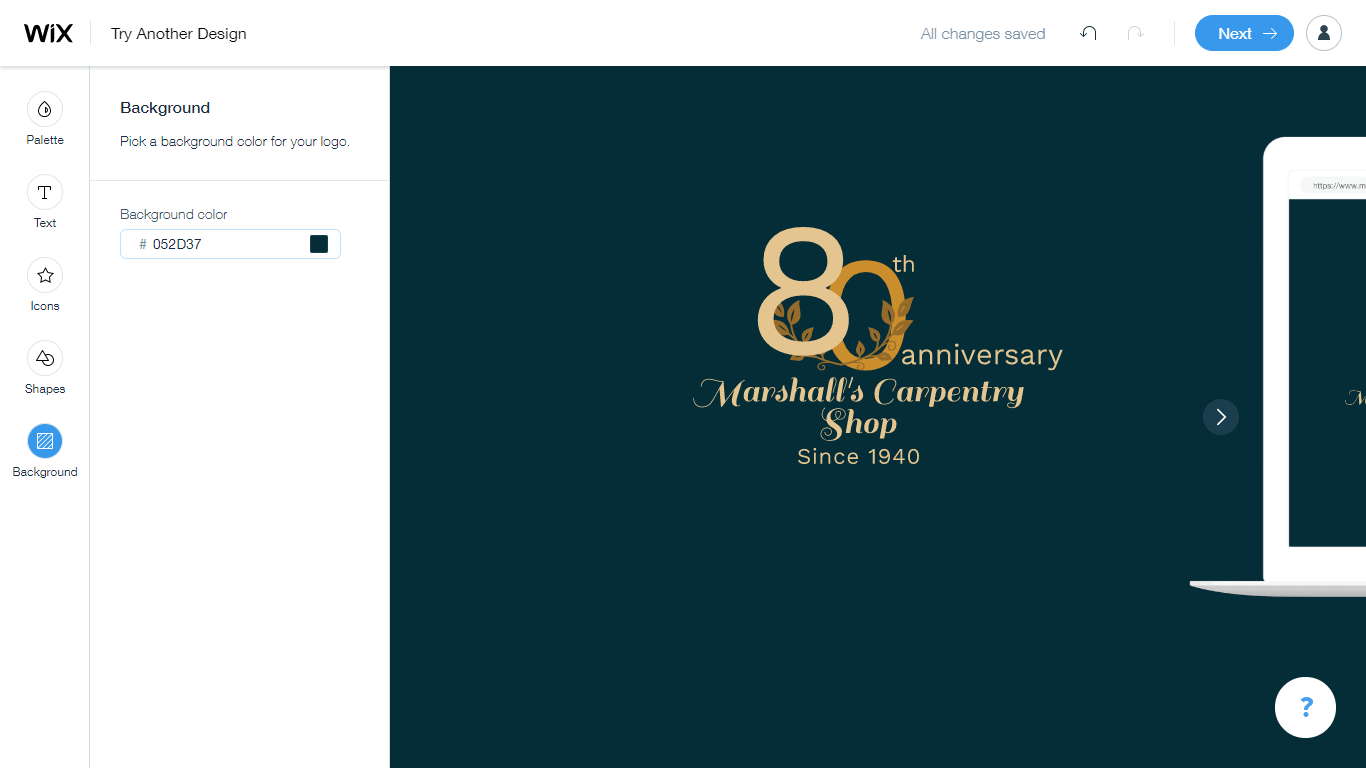 There are more than 200 font options to choose from and you can use different options for your company name and the anniversary announcement. You can also add as many icons to your logo as you want, and choose from 70+ unique preset color palettes. The options for personalization are endless. Click
Next
when you're ready to choose your package, make your payment, and download your new logo. Your logo file is in high-resolution, just like a professional logo file. If you're still exploring your options and don't want to pay yet, you can download a free version of your logo in a smaller file size.
Wix Logo Maker Alternatives:
DesignEvo – There are more than 10,000 high-quality logo templates at DesignEvo, in 18 categories. If you're short on time, search "anniversary" for logo templates that are ready to be customized with your details right away.
LogoMaker – If simple and understated is your ideal style, you can use Logo Maker to create your new logo. In just four steps, you can pull together a basic, functional design that can be used as-is or as a basis for further personalization.
Interested in Wix Logo Maker? Read our
in-depth Wix Logo Design review
to find out more.
Wrapping Up
Fiverr is your easy, affordable logo design solution.
Only Fiverr can connect you with designers offering professional design packages for as low as $5
! You'll never have to sacrifice quality or professionalism in favor of affordability when you hire a designer this way. If the thought of using an intuitive AI to DIY your logo excites you,
head over to Wix Logo Maker to try your hand at designing your new logo
. The tool's step-by-step process and advanced tech make creating a logo stress-free and fun. Still not sure what logo design service suits you best? Check out my colleague's
detailed logo design service review
 to see how the most popular services fared in his test.