You don't have to break the bank to prepare a decent anniversary logo for your organization's next celebratory event.
And if that's just around the corner, you still have enough time. There are two main ways to get a logo online. You can hire a professional to create it for you, or you can use a logo maker to do it yourself.
Fiverr is affordable, features thousands of anniversary logo design gigs, and its advanced filters can help you find just the right freelancer for the job.
I also really like Fiverr's Logo Maker, which has helped me come up with
some great-looking monogram logos
. Unfortunately, it doesn't do anniversary logos justice – variations and redesigns aren't its forte. Other DIY AI logo makers also struggle with this type of logo, so I recommend hiring a human artist this time around. Keep reading, and I'll let you in on how to give your logo the anniversary glow-up it deserves without emptying your wallet.
21 Best Anniversary Logos
Below, I picked some of the best-looking designs from Fiverr's top-rated professionals. I double-checked each artist's profile to ensure they have the required skills and experience to craft unique anniversary logos for many clients in different industries.
Do you see something you like? Let's see how you, too, can get your hands on a 5-star anniversary logo.
The Best Way To Get an Anniversary Logo
I've tried various anniversary logo services online. Fiverr is my top recommendation, mainly because it's:
Unique. Anniversaries are milestones – your logo should capture the unique essence of your journey so far. Fiverr's top designers steer clear of generic templates and can create something that resonates with your brand's story.
Budget-Friendly. Engaging a traditional design agency might set you back a fair amount. With Fiverr, you can secure premium designs that commemorate your achievements without straining your finances.
Fast. Many bosses notify management of the need for a new anniversary logo just a few weeks, or even less, before the actual anniversary. Thankfully, most Fiverr sellers deliver orders within three days, with many offering a 24-hour express option if you're working against the clock.
Diverse. Anniversaries can be themed to resemble your current logo or sway a bit to include essential milestones. Fiverr's diverse array of designers ensures a good fit for your vision. Whether you prefer classic, modern, or a more playful style, you'll find someone who aligns with your preferences.
Secure. Your payment remains safeguarded until you receive the logo. Reclaiming your money is also straightforward if things don't work out or there's a hitch in communication.
Hire a Pro for Your Anniversary Logo Design
Although AI logo makers can deliver fantastic results overall, they fall short when redesigning existing logos. They often struggle with adhering to predefined parameters and strict guidelines.
It's wiser to let the seasoned experts at Fiverr take care of your design for you.
Fiverr is my top choice because its artists have proven to be able to deliver quality designs even on tight deadlines. Navigating the different gigs is straightforward, and I like how I can easily communicate with the right candidates directly to get the specifics of my project down at the start. The whole process is as simple as it gets. You can set up your account, browse gigs, and place your order in less than 20 minutes. Most freelancers will then deliver your design within two working days. To get started, just follow these steps:
Navigate to the Fiverr homepage. Type "anniversary logo design" into the search bar and hit Enter.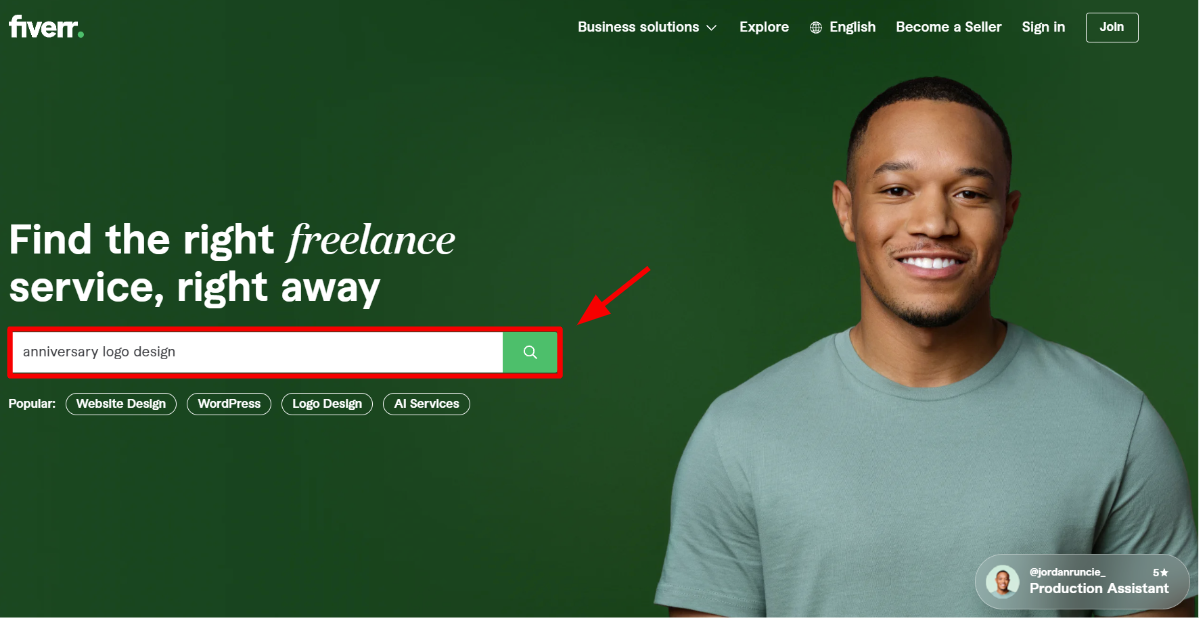 Before showing you any results, Fiverr will ask you to create an account (if you don't have one already). Sign up using your email or connect with your Google, Apple, or Facebook account.
Use the platform's advanced filters to narrow down the results. Let's say you want a specific anniversary logo style (e.g., minimalist) but also need your logo within 24 hours. Applying these filters will still leave you with 200+ gigs to choose from.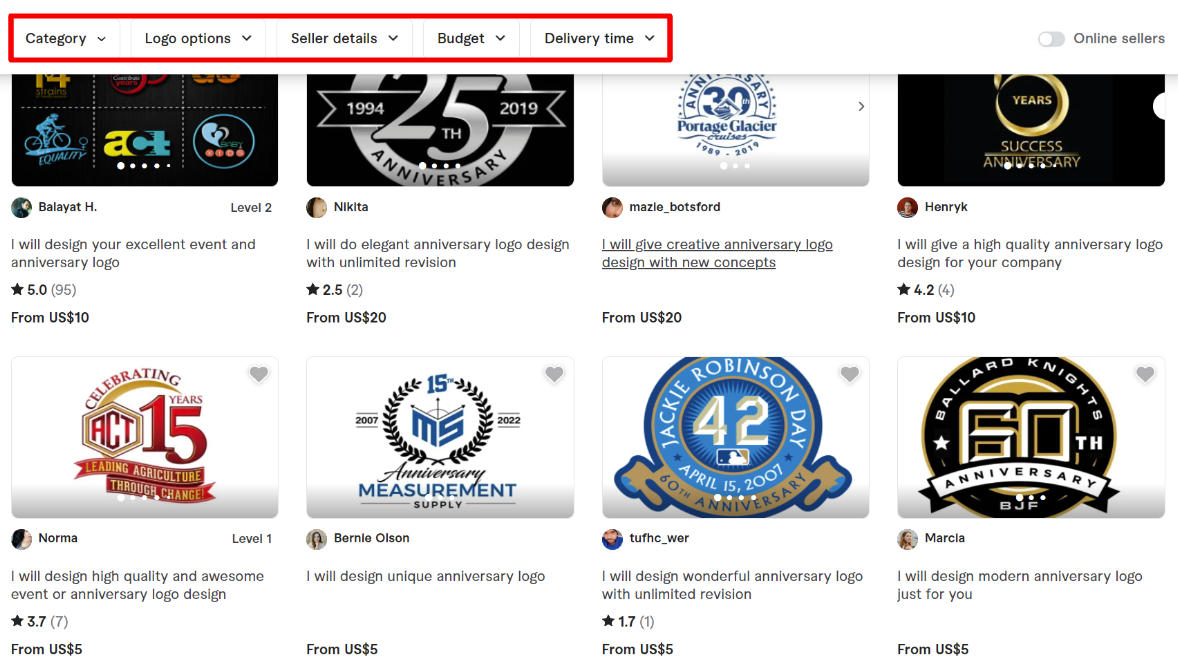 Browse around, and once you find a well-priced gig with a preview logo that catches your eye, click to see more. There's a quick description of the freelancer's services, and you'll also immediately see examples of their past work.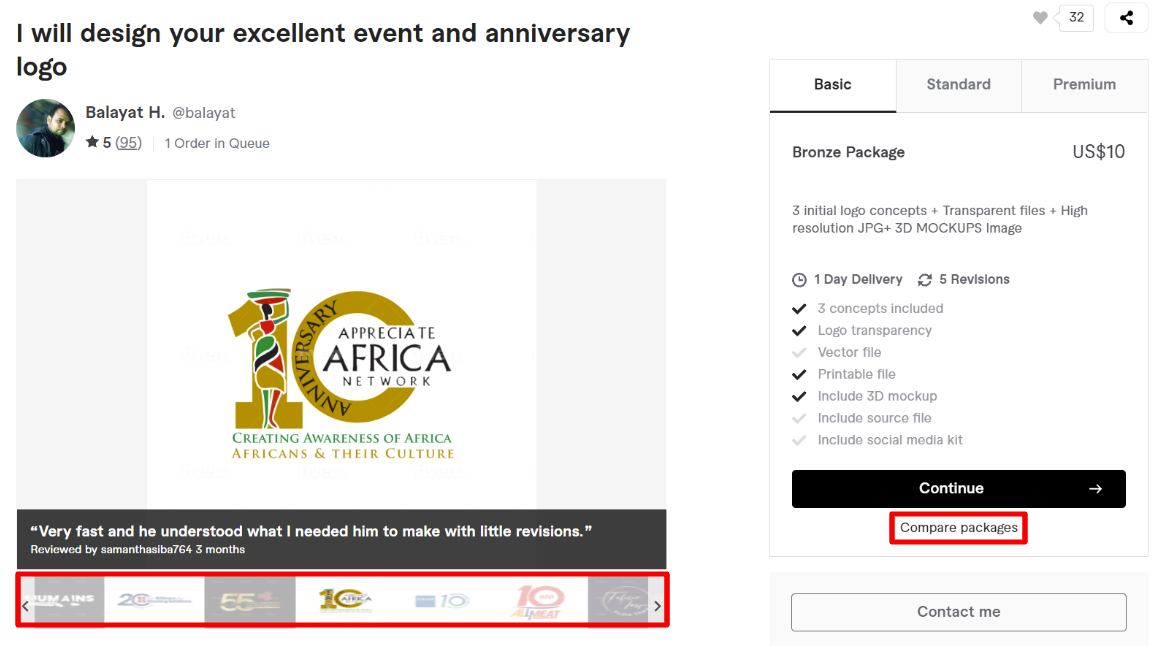 Most anniversary logo designers offer three packages with their gig, each with its own price and deliverables. Click "Compare Packages" in the bottom right corner for a complete breakdown and decide which is best for you.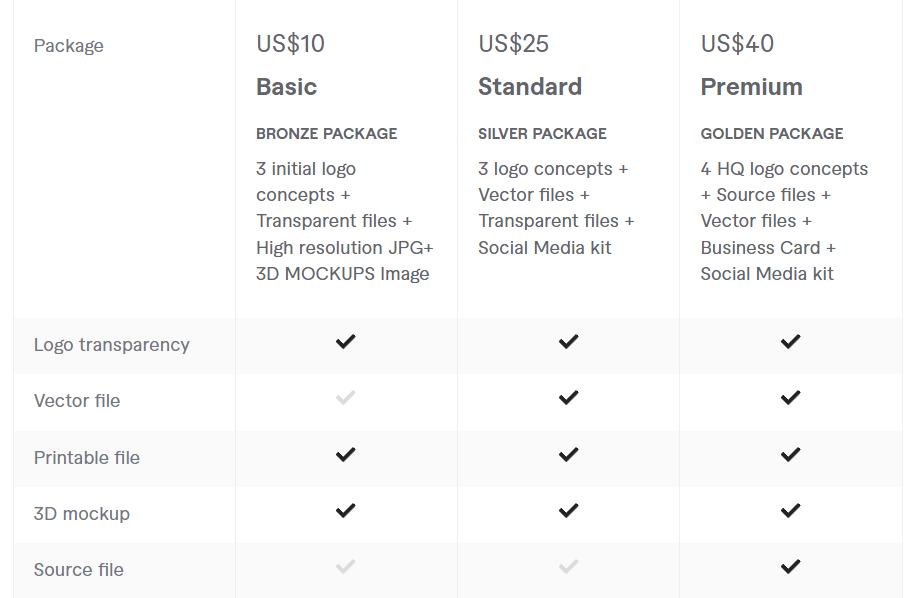 If you keep scrolling down, you'll eventually reach the review section containing detailed score and feedback information. You'll want to stick to freelancers with a proven track record and score close to 5 stars.

Although you get the chance to define your project with your order, it's good practice to contact the freelancer beforehand. Misunderstandings can slow down the process. Click the "Contact Me" button on the main gig page to bring up a live chat window and discuss the details of your anniversary logo.
Once you've done your research and know what to pick, click "Continue." Fiverr will then show some extras (e.g., complete stationary design for your anniversary logo) offered by said freelancer. Add any if you want, and follow Fiverr's instructions to complete your order.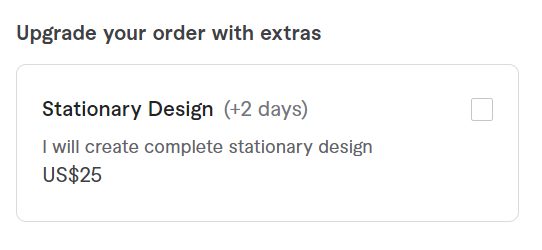 3 Best Anniversary Logo Design Services
Fiverr is my go-to choice for hiring logo artists, but a few other services are also worth considering. Although considerably more expensive, these are primarily websites that run design contests, allowing you to work with many designers at once.
It's hard to go wrong with DesignCrowd.
Whenever you submit a request, more than 30 designers work on your logo.
That's a massive pool of talent to draw from. And if you're not happy with any of the proposed designs, you can ask for a full refund within 60 days. The quality is pretty high overall. In fact, our very own Website Planet logo was commissioned on DesignCrowd! The only problem is that you'll probably end up paying quite a bit more than you would on Fiverr – the cheapest package starts at $129. However, it's certainly worth checking out if you're not on a tight budget.
99 Designs is even more expensive than DesignCrowd, but its contests will result in more submissions (40-50 on average). They're equally high quality, and the platform is easy to use. If you purchase one of the premium packages, you'll access the platform's top talent and even get yourself your own dedicated manager.
99 Designs is an excellent choice if you want to keep your anniversary redesign under wraps with a private design and a signed NDA.
Like DesignCrowd, you can also work alone with a professional designer, but that's not something I would recommend. Equally qualified Fiverr pros charge much less.
The Logo Company functions a lot like a design contest website, but it resembles a traditional design agency in many ways. First, you fill out a detailed brief and receive 5 logo concepts from seasoned professionals.
You can be as specific as you want and get your hands on some pretty good-looking anniversary logos.
The best thing about The Logo Company is that you've got unlimited redraws and revisions to work with, no matter the package. Premium packages include extras like business card and envelope designs, and there are also quite a few add-ons to choose from (e.g., stationery and social media).
Anniversary Logo Designs Should Be Tailor-Made
Your anniversary logo should celebrate your achievements without straying far from the original design. Creating an anniversary logo is complex, and a DIY approach will likely not cut it. For best results, stick to custom designs via either Fiverr or Designcrowd. If you're on a budget and willing to do some research,
Fiverr is my top recommendation
. Its top-rated artists have consistently produced fantastic anniversary logos over the years. The amount of choice is slightly intimidating at first, but take advantage of the advanced filters to find the perfect fit. If you're open to ideas and want to see potential designs from more artists simultaneously,
run a design contest on DesignCrowd
. It'll cost you more, but the results might be well worth it.
FAQ
What is an anniversary logo?
An anniversary logo is a way of celebrating your business' achievements and longevity in your industry. It usually features elements of your standard logo with celebratory touches, such as ribbons, fireworks, sparkles, and so on.
How do I make an anniversary logo?
The best (and easiest) way is to hire a professional on Fiverr. There are over 400 gigs specifically for anniversary logos. It takes less than 20 minutes to create an account, browse what's available, and hire a freelancer.
How much does an anniversary logo cost?
It depends on where you go to get your logo. Traditional agencies might charge thousands of dollars. On Fiverr, you can get a great-looking logo starting at just $5. Design contests on DesignCrowd and other similar platforms begin at around $100.
Can I make an anniversary logo for free?
Yes, but using DIY logo makers for an existing design modification is difficult.Hiring a pro on Fiverr for a small fee ($5-$15) ensures brand consistency.