What if I told you that you could get a new, animated logo professionally designed for just $5? In this article, I'll show you how to do exactly that
.
9 Best Animated Logos
Want to compare and contrast the various logo design services on the market? You're in luck! My colleague tried out the top design services and ranked them accordingly. Head over to his
comprehensive logo design services review
 to see which services were tested and how they performed.
How to Get Your Pro Logo for $5
A $5 logo probably seems like a scam – and a laughable one, at that. How can a quality logo design cost as little as a cheap bottle of wine? When I first started looking into the world of logo design, I was also skeptical about such an affordable logo service. But since discovering Fiverr and using it myself, I can sincerely say that a bespoke $5 logo is
absolutely
possible! Fiverr is a freelancing platform that hosts talented designers from all over the world. Designers offer their services in set packages, with many beginning from just $5. There are literally thousands of experienced designers that keep their design packages competitively low – all to your benefit! I'll show you how it all works and we can get rid of any lingering skepticism! First,
head to the Fiverr homepage
 and search "animated logo" or "logo animation". The results that pop up from your search will showcase all the designers with packages matching your search query. Many of these will be in a video format, so just click the play button to view them in the thumbnails. Browse through the results until you find a designer with a style you like, and click on them to find out more.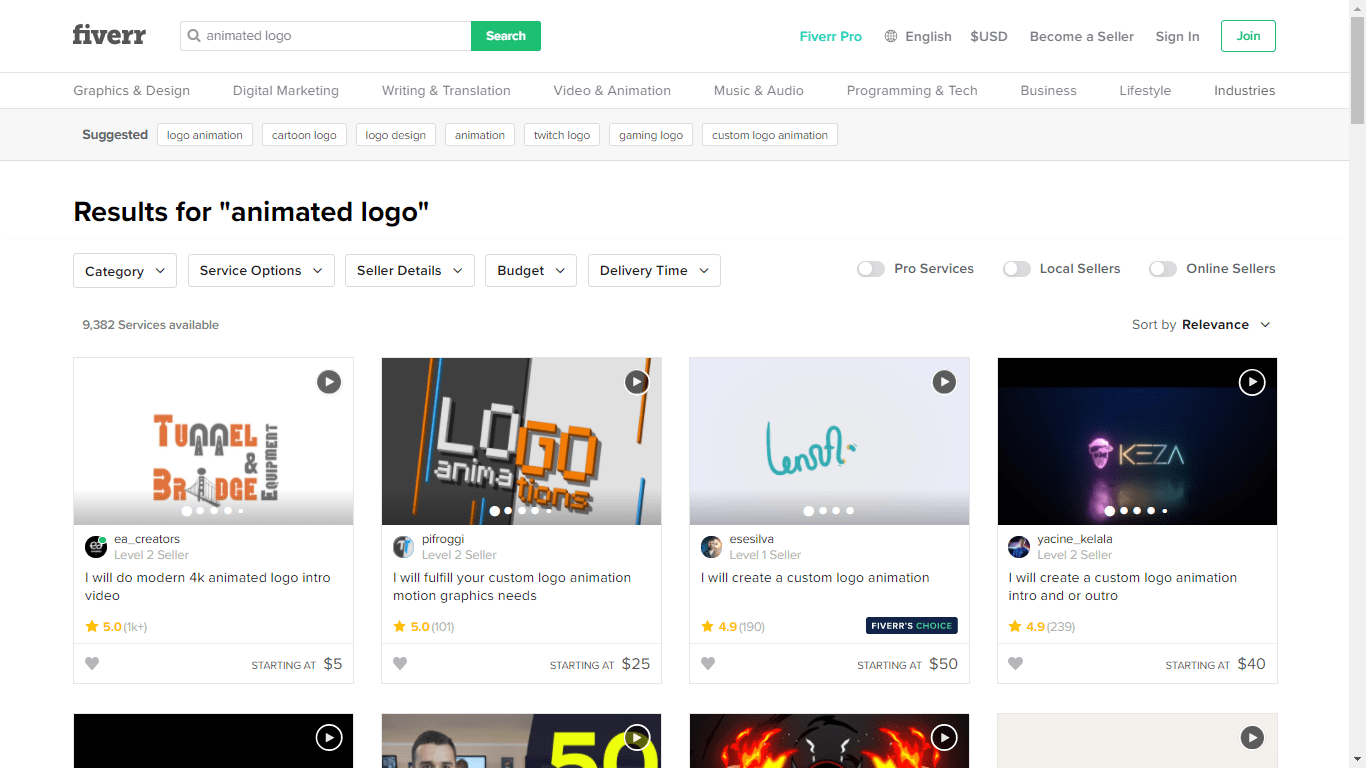 This will take you to the designer's profile, which houses their portfolio, "About This Gig" section, and a full list of services. There are three package levels to choose from that increase in price based on the services provided. You'll also be able to review customer feedback and contact the seller personally if needed. Ready to move ahead? Choose the package you want then click
Continue
to be redirected to the payment preview page.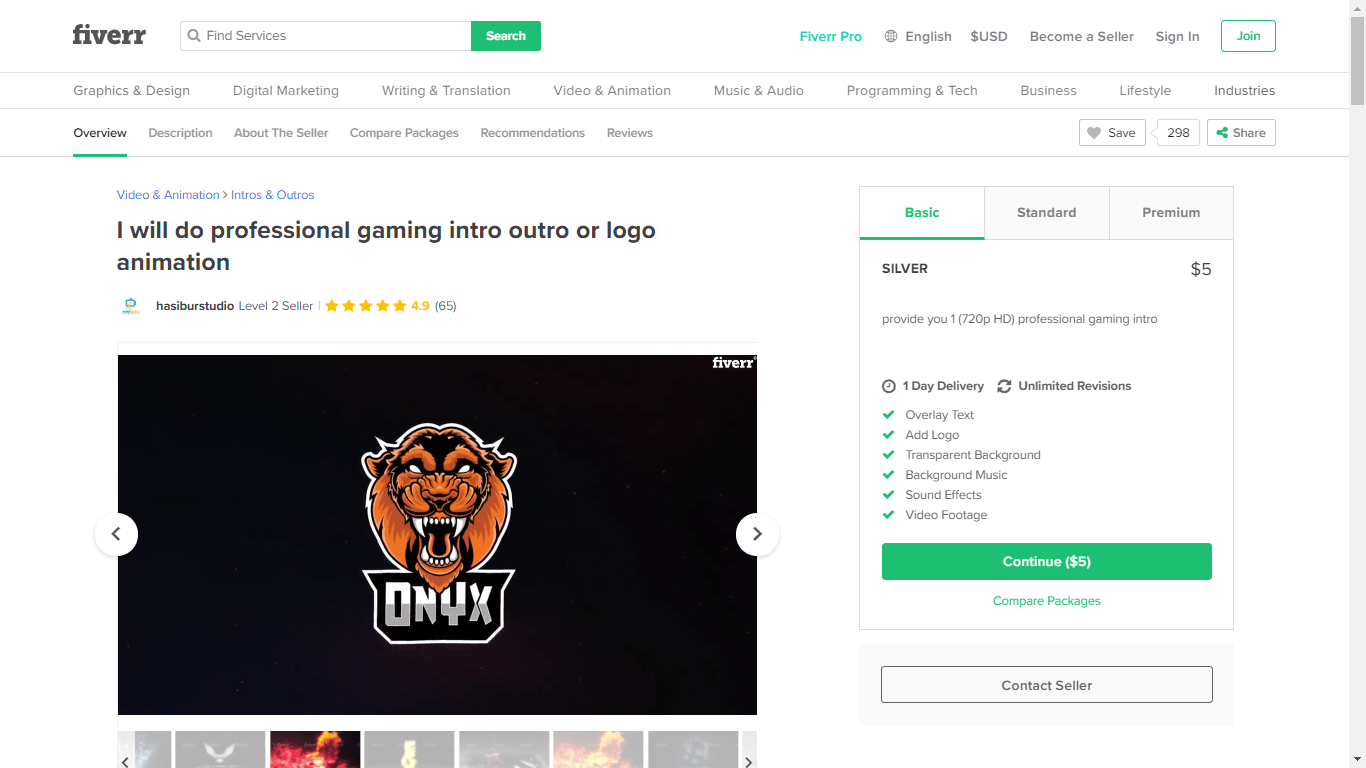 This page outlines the services included in the selected package and also gives you the final cost. Be sure you're happy with all the details, then click
Continue to Checkout
. Once you enter your payment information, you'll be able to send your requirements to your designer (including files of an existing logo, if you have one) and finalize the hiring process.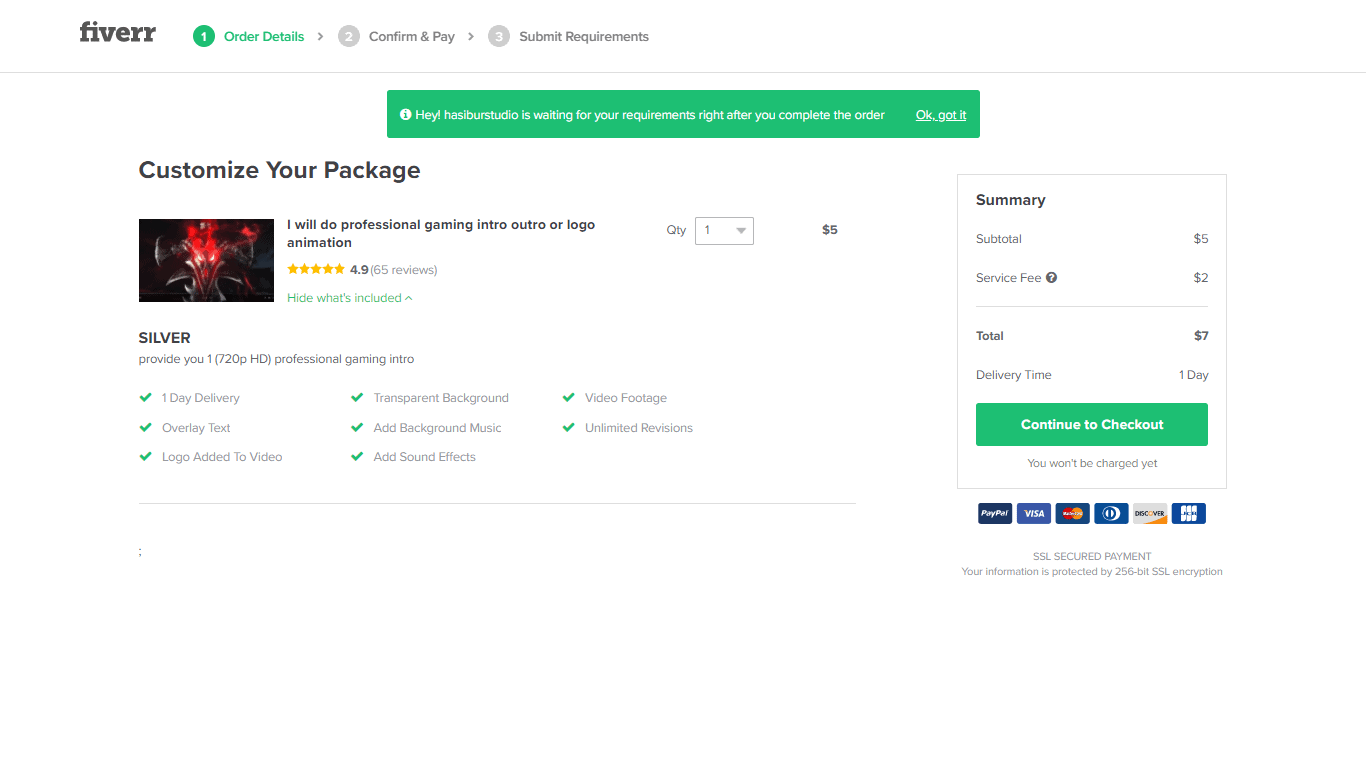 In less than a week (sometimes even 24 hours, depending on your package), you'll get your brand new logo. You can maintain contact with your designer to ensure you receive a final product that you love. Here are few other notable Fiverr perks:
Customizable design packages – Designers can offer package add-ons for an additional fee, including expedited delivery, stationery designs, revisions, and a logo file with a transparent background.
Protected payments – Your payment is held in escrow by Fiverr until you authorize its release to the designer. This guarantees you'll receive a logo that you're 100% satisfied with.
No surprise costs – Since your payment is made upfront, a designer cannot overcharge you or add surprise costs after they've been hired. Unless you add package extras, you won't have to pay more than the original pricing.
Easy designer search options – Need to find a designer that meets certain specifications? Use designer search filters like logo style, seller level, budget, and delivery time to make your search easier.
Get more
advice from our experts on hiring the right Fiverr designer
for you.
How to DIY Your Logo Design
Sometimes, explaining your creative vision to another person might feel impossible. If you prefer to use your artistic talents to animate your logo, then a DIY logo animation maker is your best bet. Do you already have a logo and simply want to add animation? Then you can head straight to RenderForest and create an animated video, a process I'll explain later on. If you don't have a logo design just yet, first use my favorite logo-making tool, Wix Logo Maker, to create your own.
How to Use Wix Logo Maker
To create your logo,
head to the Wix Logo Maker homepage
 and sign up for a profile to get started. Your logo will save to the profile automatically, in case you need to revisit it for any reason. You'll need to enter your company details here to continue.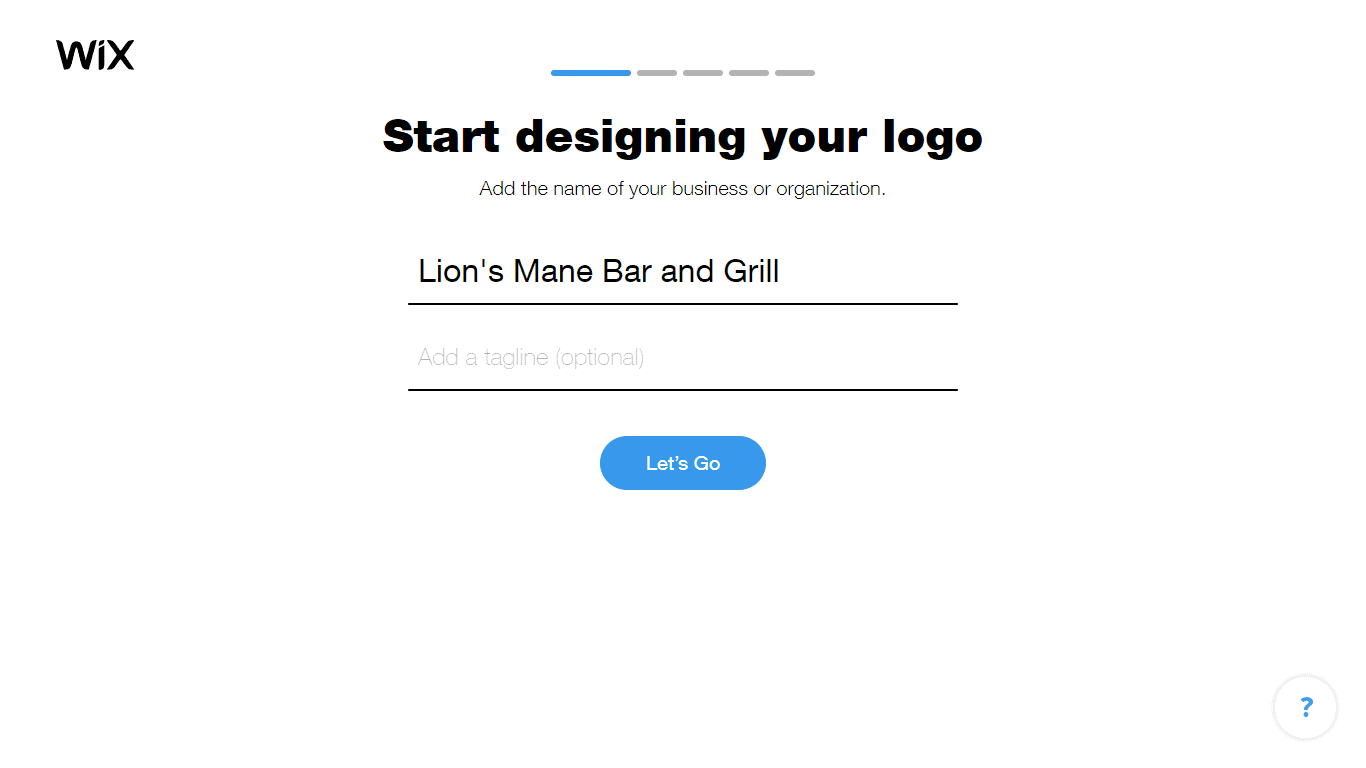 Start typing in your company's industry to pull up the right option from the dropdown menu. Select your industry (or the closest match) and click
Next
 to move on.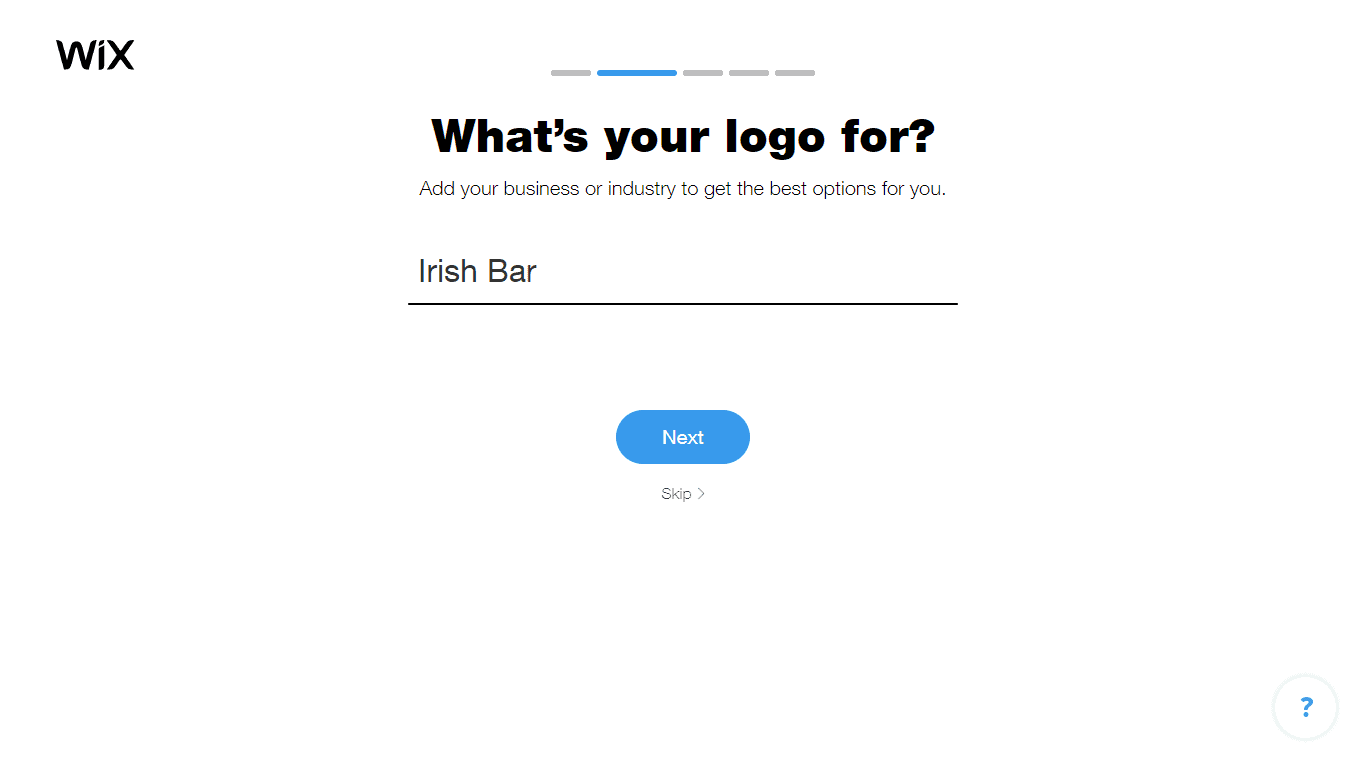 What kind of logo are you looking for? Try to describe it using as many of the listed words as you need.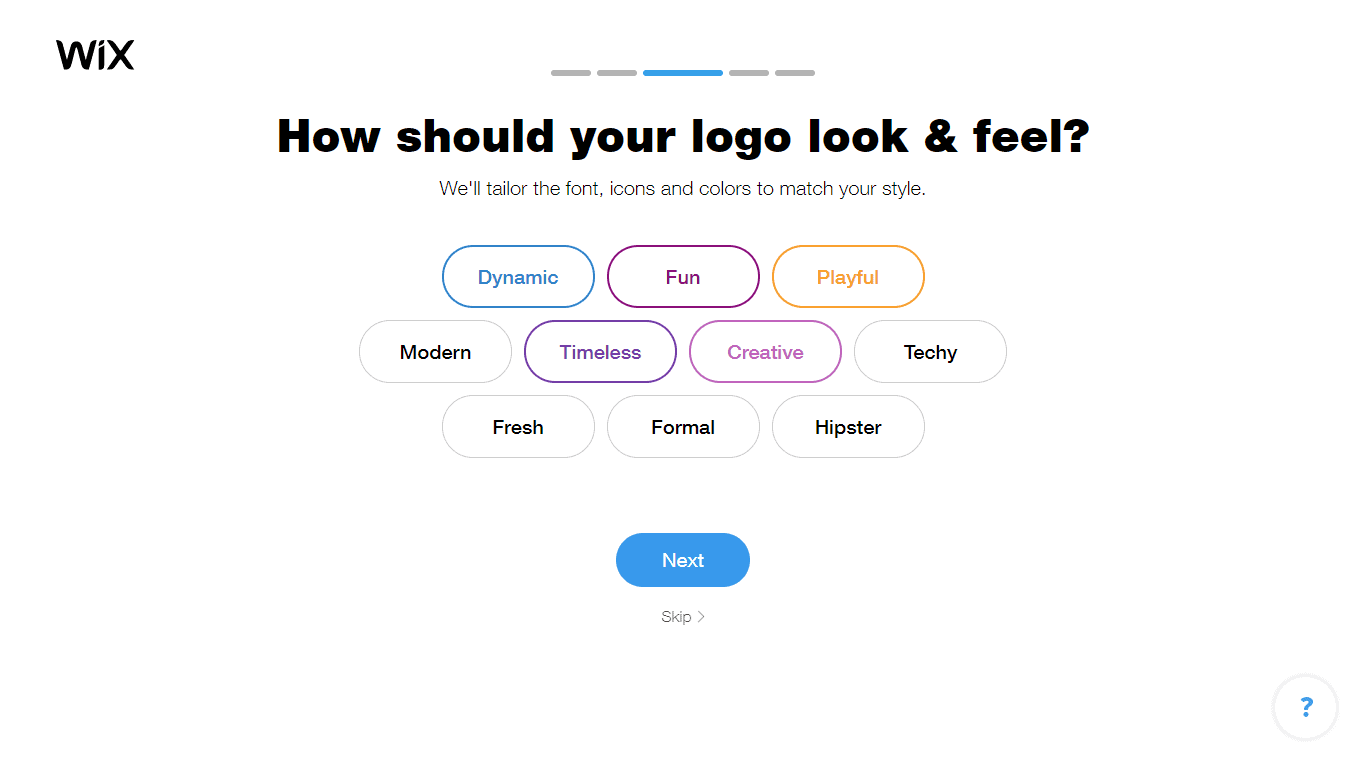 Now for the sequence of logo pairs. Choose the logo in each pair that you like the most – this helps the artificial intelligence (AI) learn your style preferences.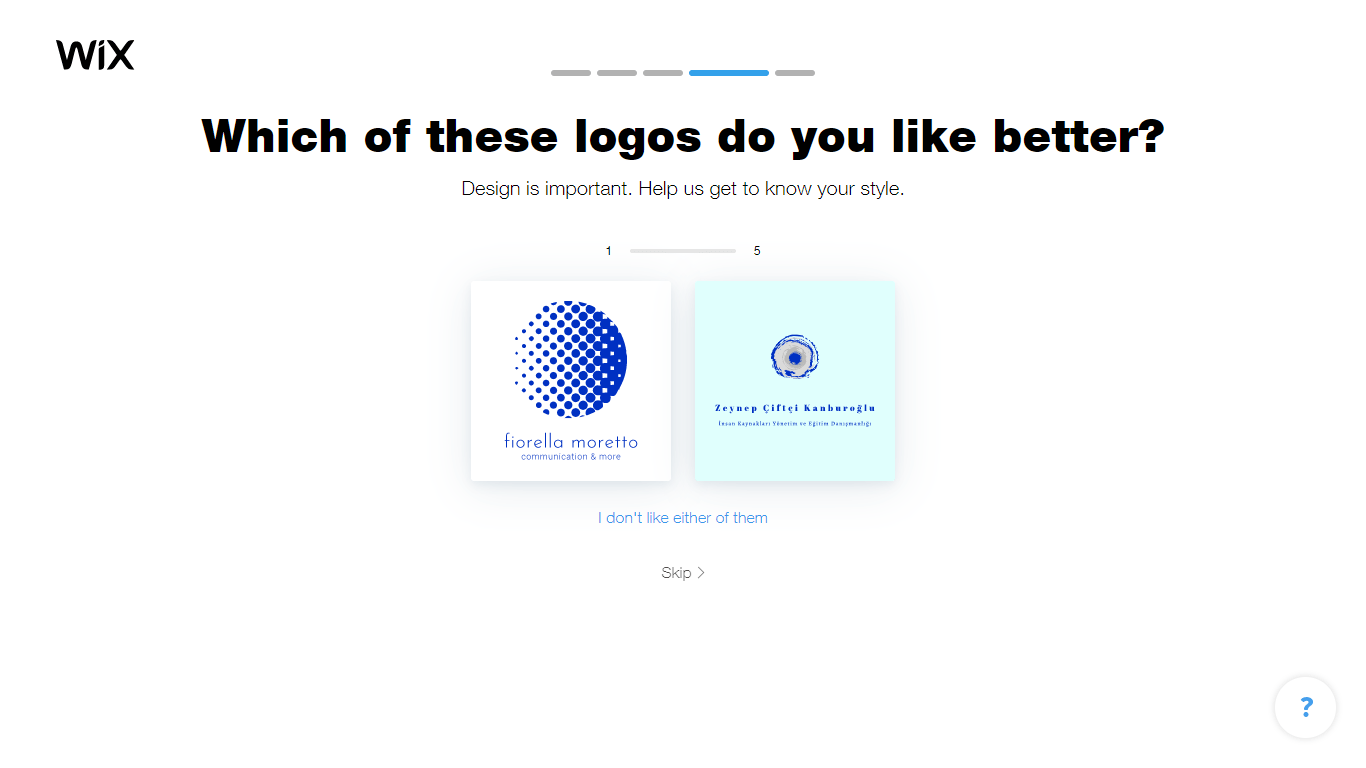 Finally, select all the places you intend to use your logo, like social media, merchandise, or on a website. Click
Next
to end the series of questions and Wix Logo Maker's intuitive AI technology will generate personalized logo suggestions, just for you.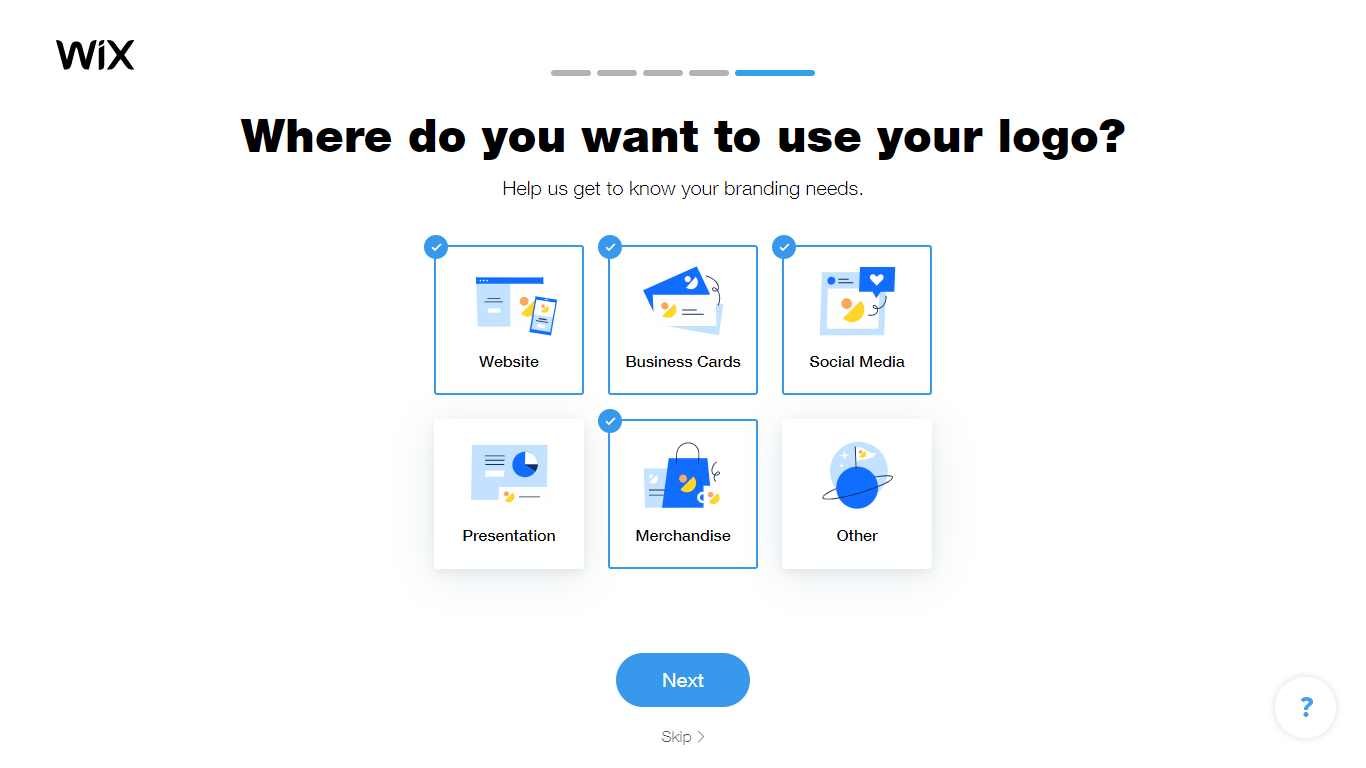 Scroll through the logo results until you find one you'd like to edit.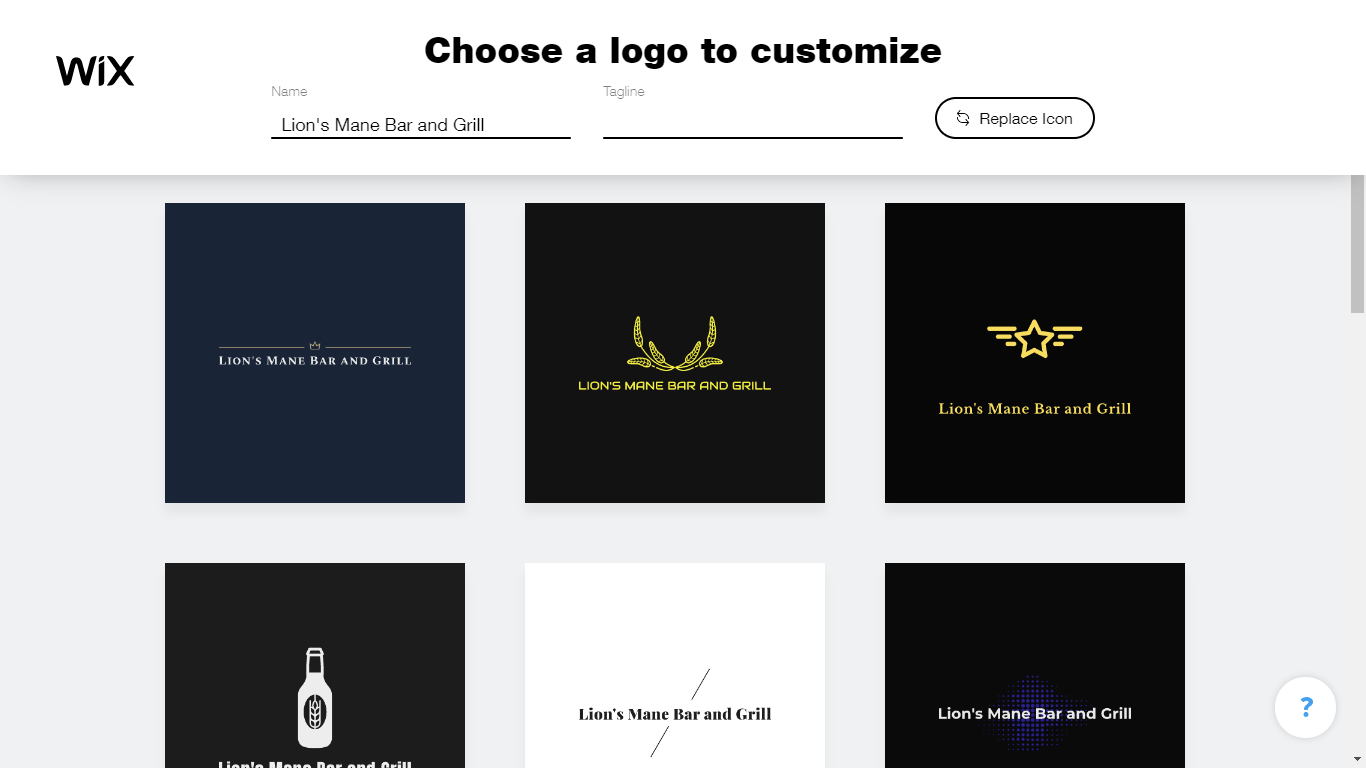 If you want to see more icon options, click R
eplace Icon
and search for a term relating to your industry or company name. Click on the icon, and it will appear across your logo suggestions.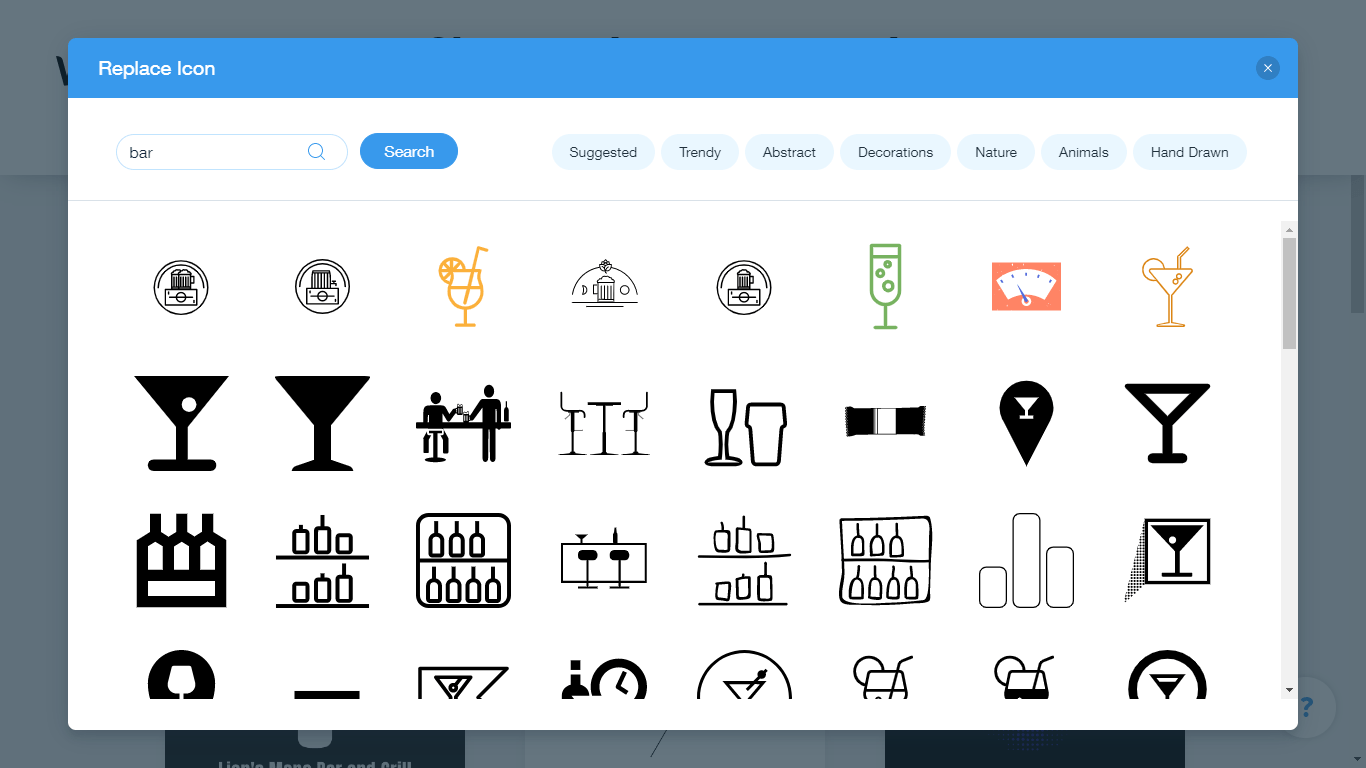 When you're prepared to make edits, simply click your preferred template to access the logo editor. In this section, you'll find over 70 preset color palettes at your disposal, along with a selection of 200+ fonts in different styles and typesets. Feel free to unleash your creativity by incorporating as many icons as you desire into your logo.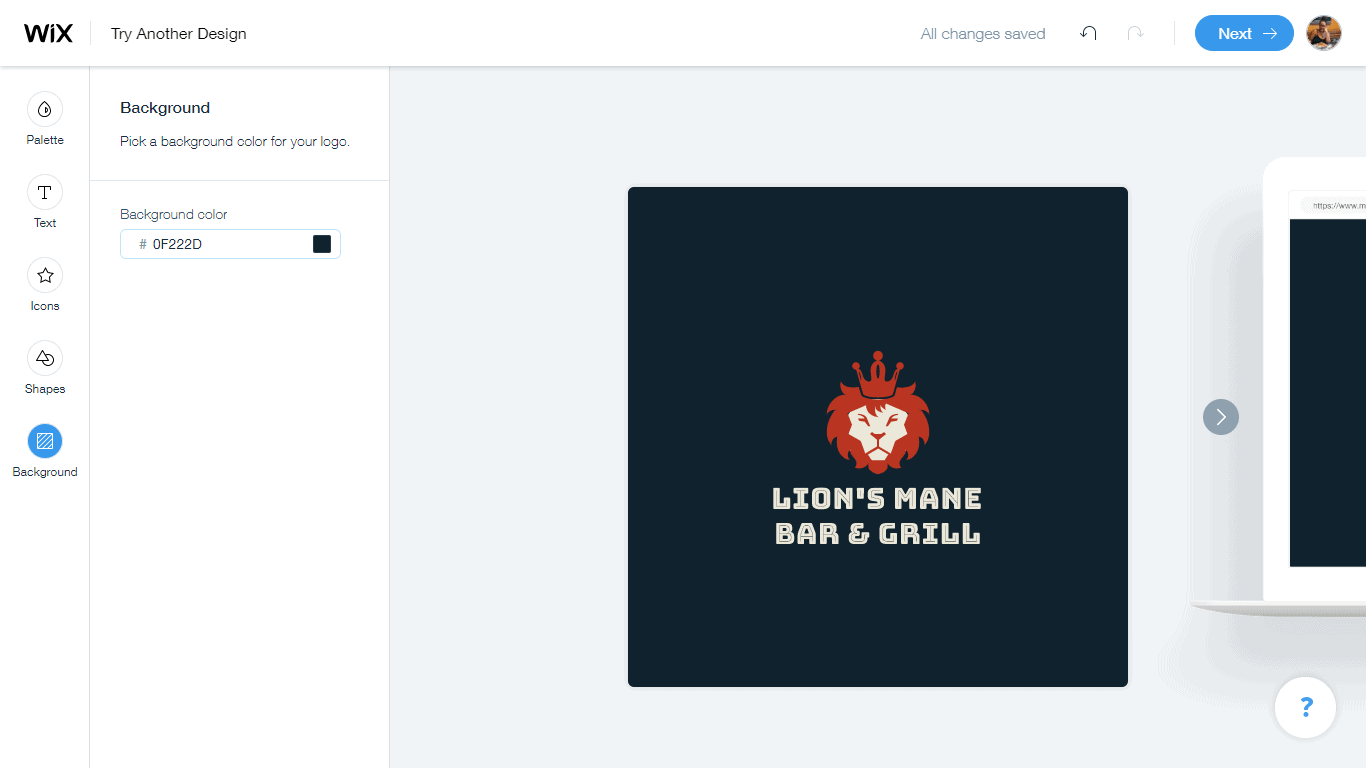 When you're happy with the design, click
Next
to choose your package, pay, and download your new, ready-to-use logo!
How to DIY Animate Your Logo
Once you have your logo,
head to the RenderForest homepage
 and click
Create Video
to begin. From there, click
Intros and Videos
and select the type of video reveal you're looking for, e.g., exploding, smoke, neon, etc.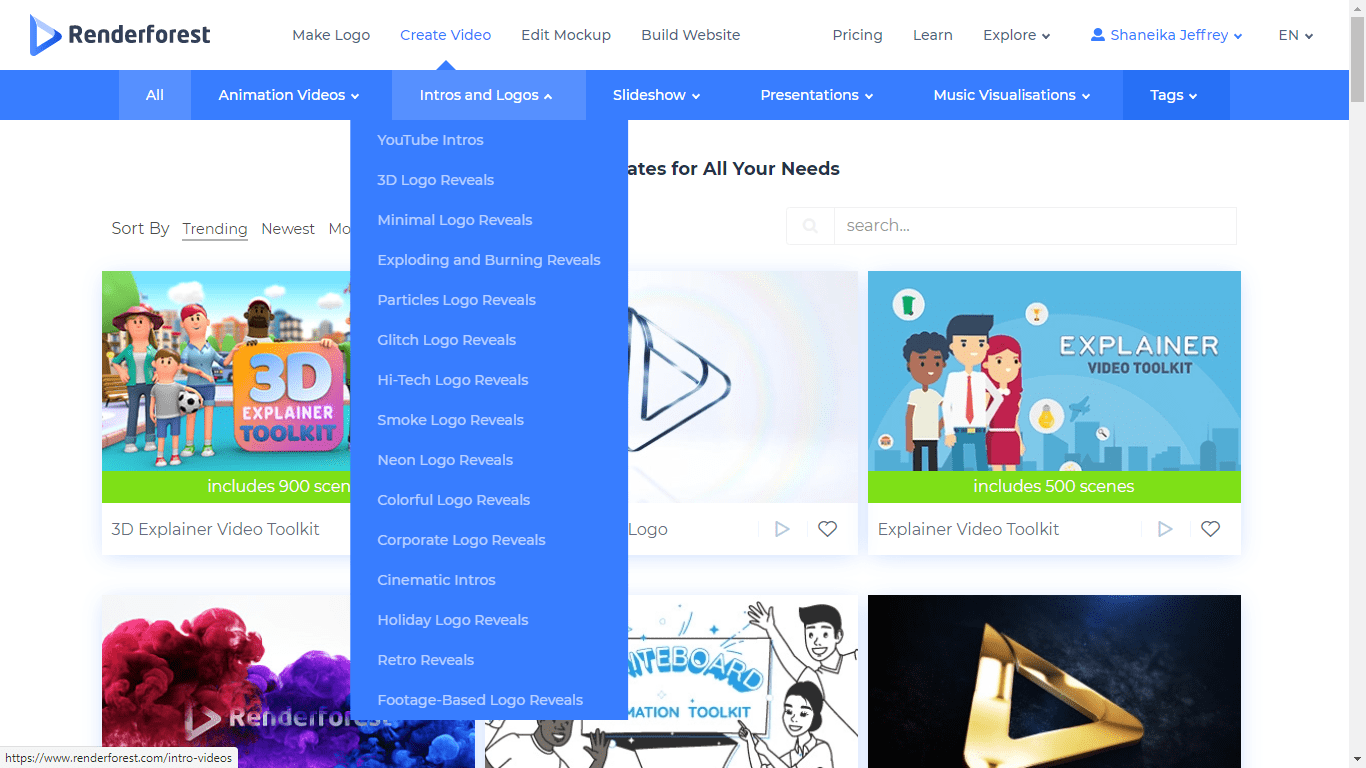 Once you select a type of reveal, relevant animation options will appear in the results. Click on an animation style to find more information.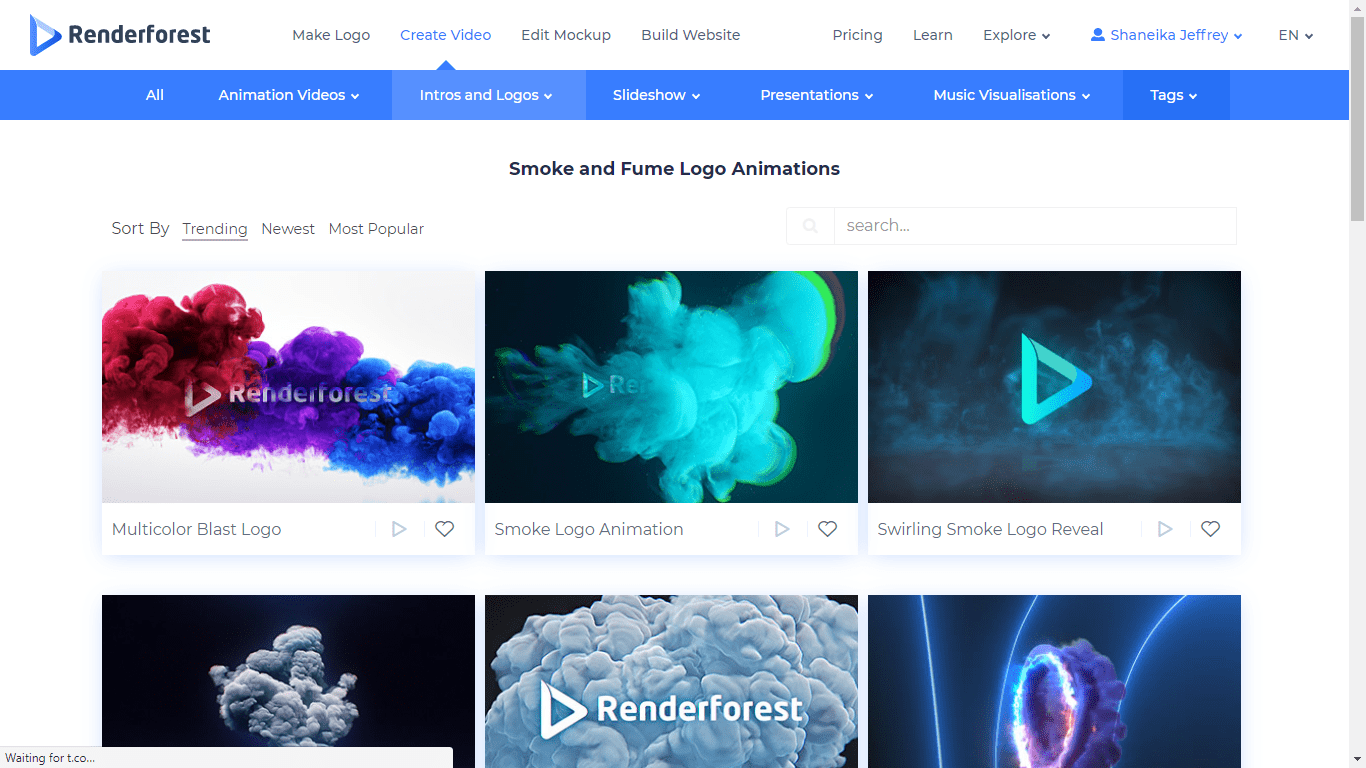 On each animation's page, you'll find its user score (out of five stars), duration, and how many times it has been used and exported. Once you've found the one you want to try out, click
Create Now
to begin editing it.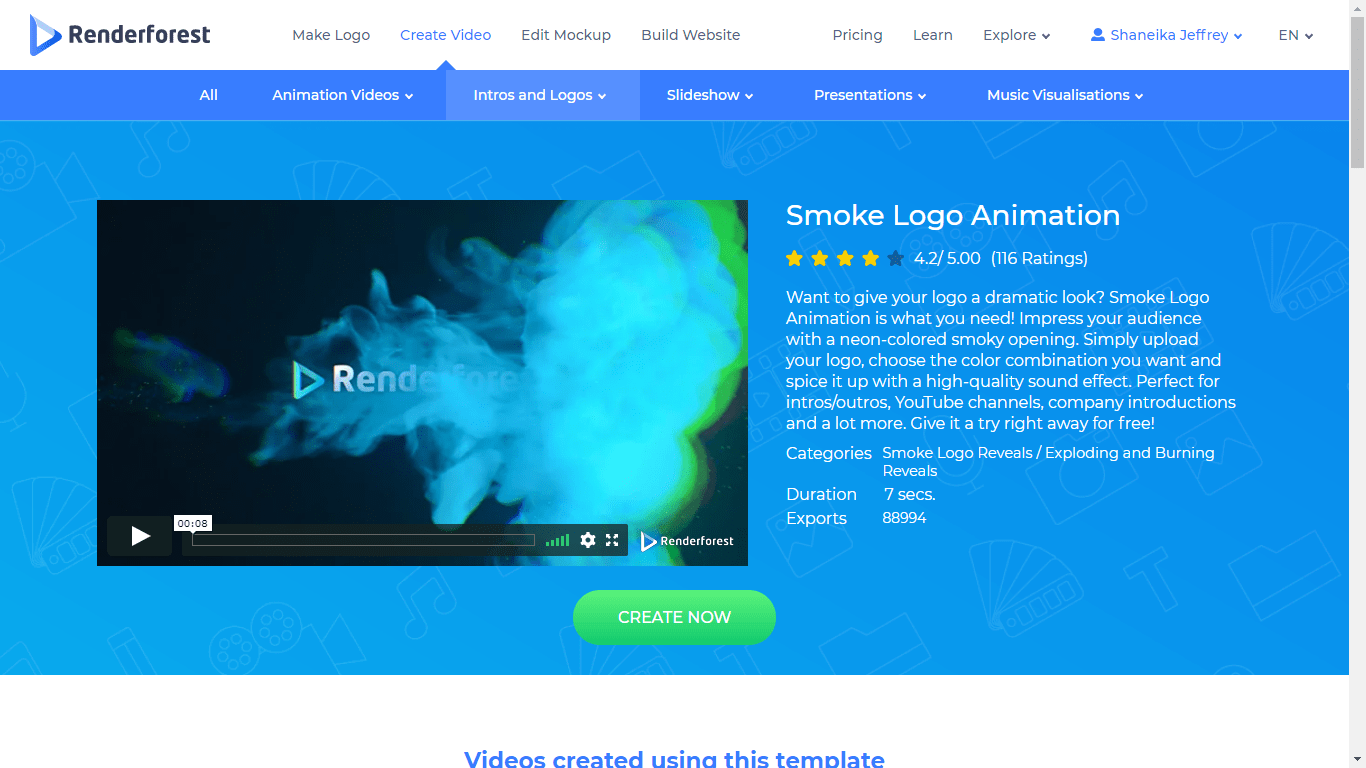 In the editing section, start by uploading your logo and adding any extra text.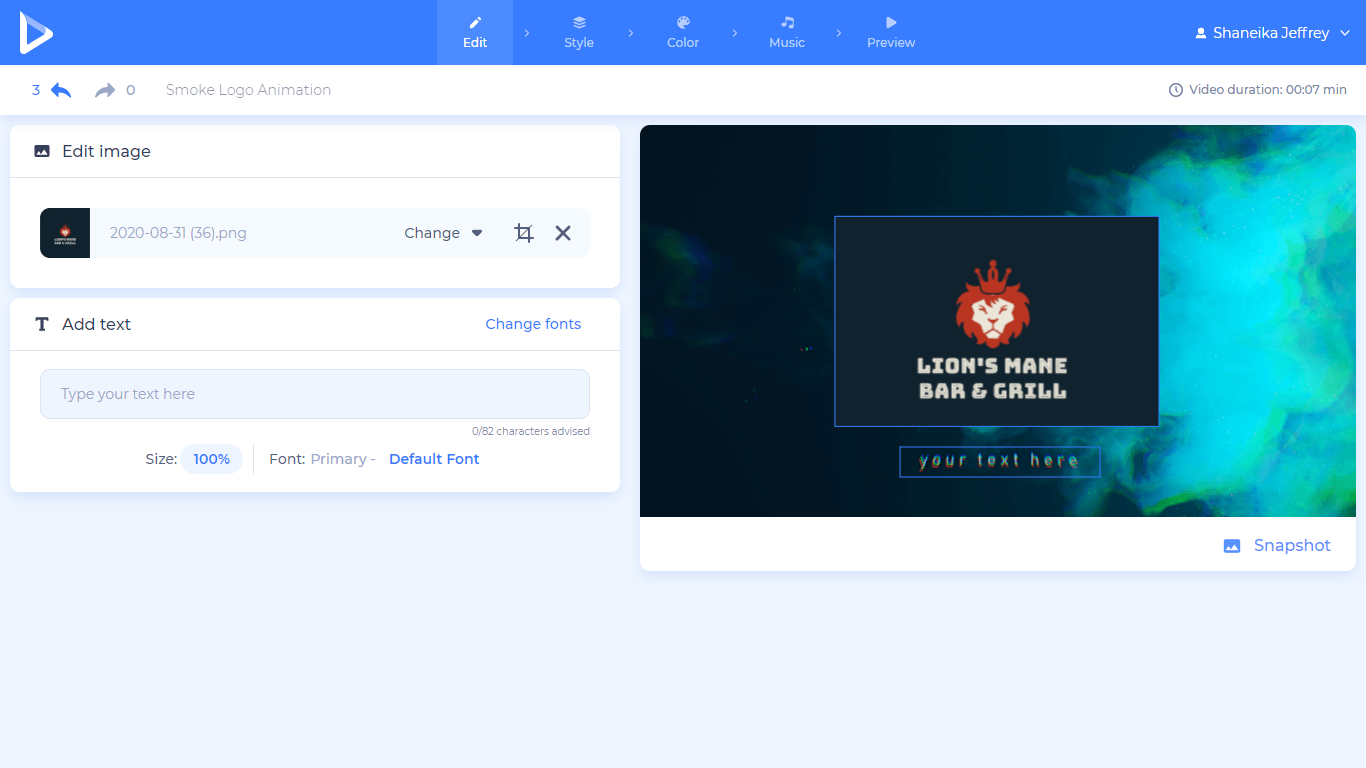 You can pay for a subscription to add a fancy font to your animation or click
Skip this step
to continue.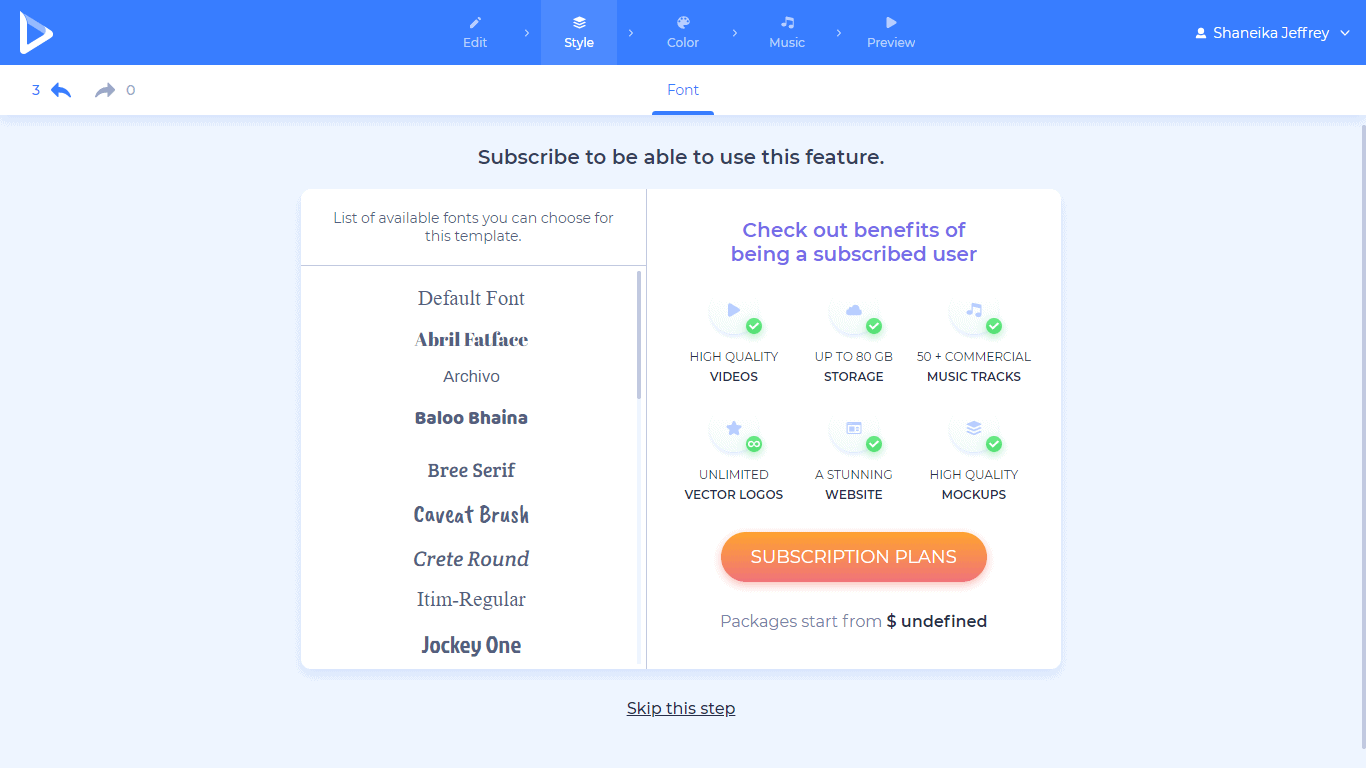 Next, you can choose from a few color presets or create your own color scheme from scratch to ensure it matches your existing logo or brand colors.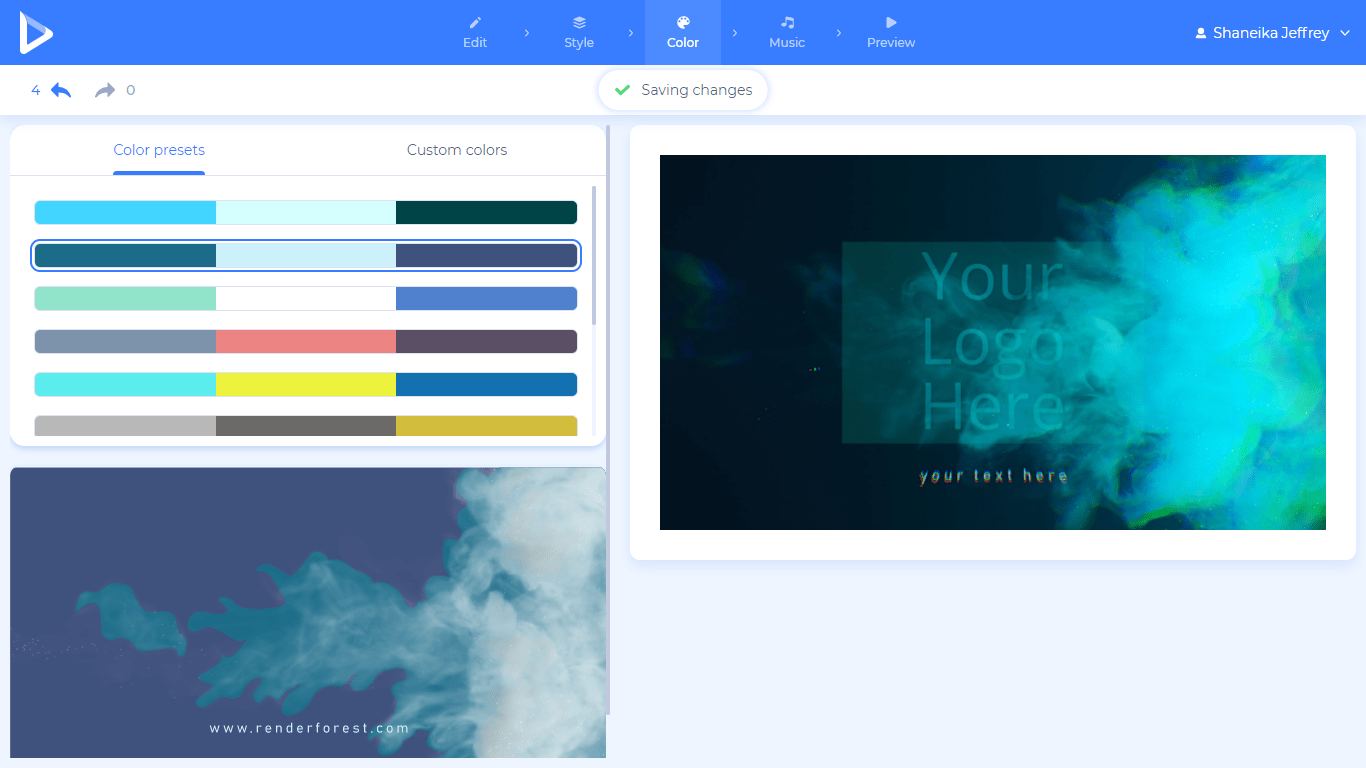 Want music or a voiceover included in your animation? Upload your own music, choose from the free music library, or add your own voiceover for a personal effect.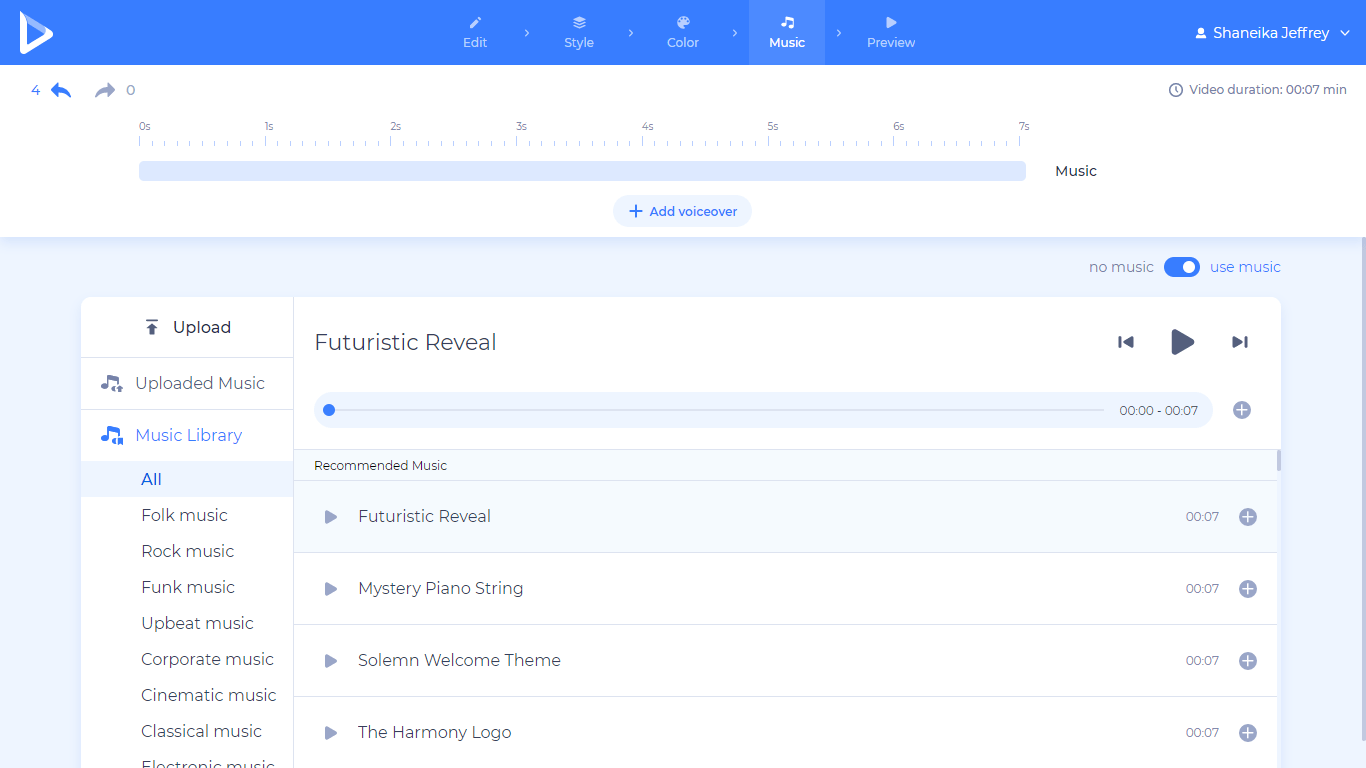 Lastly, decide whether you want to export your logo animation in high definition (HD) or get the free preview instead. Select your preferred option and give the site a few minutes to export your video.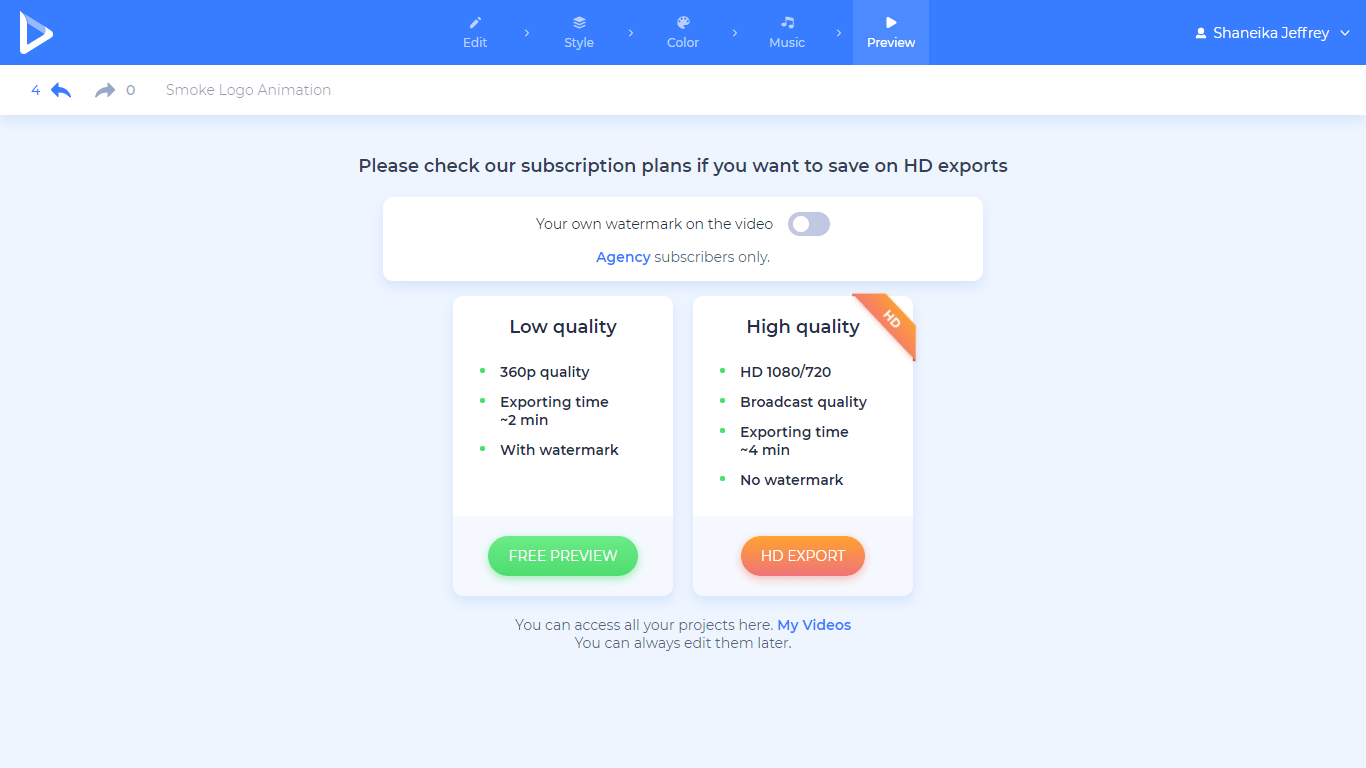 In no time at all, your new logo animation video is ready for viewing. You can download your animation, share it to various social media platforms, or publish the finished product to a YouTube channel.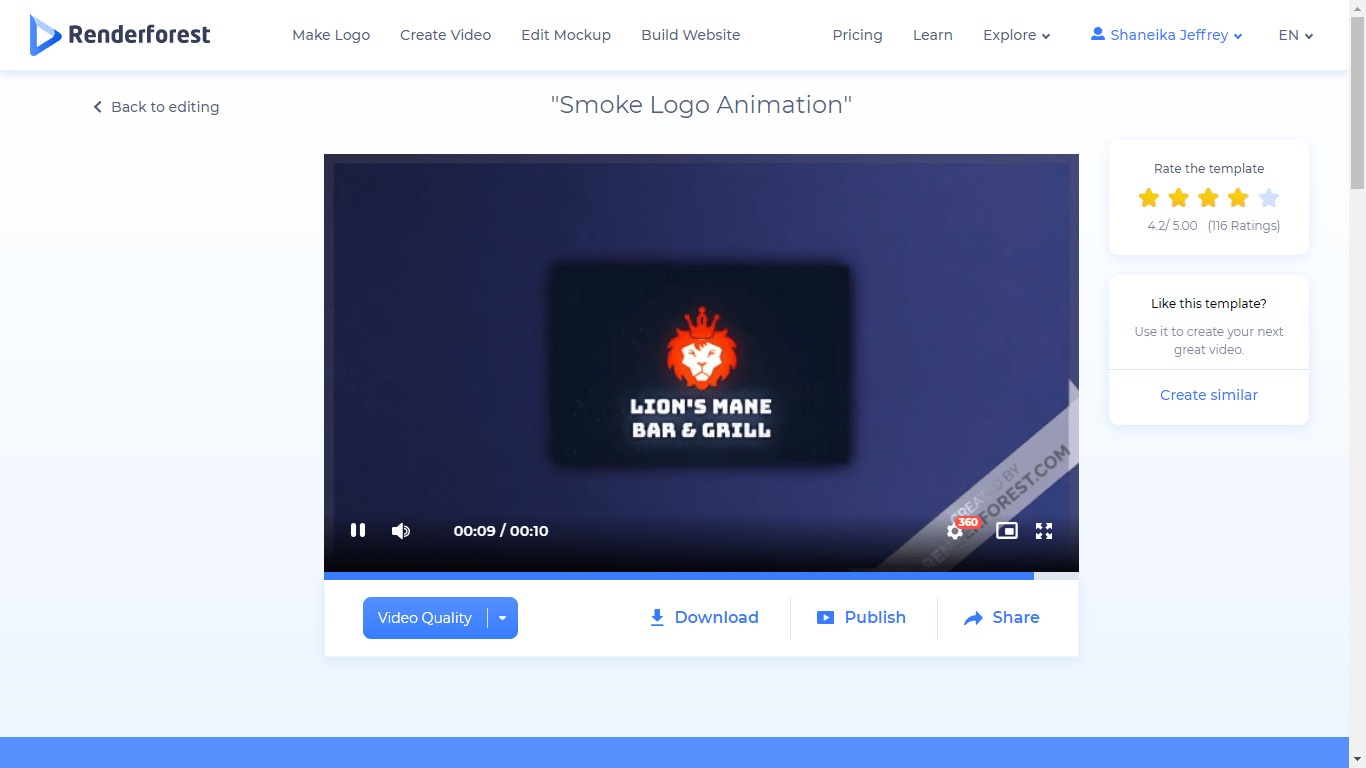 And, just like that, your logo is fully animated! You can use your new, eye-catching animation wherever you need it, right away.
Wrapping Up
Getting the perfect animated logo is super easy when you use Fiverr
. An expert logo designer will ensure you receive a professional-quality animation that truly represents your company. When bespoke designs cost as little as $5, my top recommendation is always to let the professionals do the creative heavy-lifting for you. If you have the time, energy, and creativity to spare, you can try making and animating your own logo.
Wix Logo Maker keeps DIY logo creation hassle-free
 by utilizing state-of-the-art AI technology. Once you have your static logo, you can then
use a tool like RenderForest to bring it to life
 with the logo animation of your dreams. Still not quite sure which design option makes the most sense for your needs? Head over to my colleague's
expert logo design service comparison
 to see how other top services performed.