the social media analytics and reporting available in Sendible's Traction plan
. If you want to learn more about Sendible's many other features, check out our full
Sendible review
.
Overview of Analytics Available in Sendible
For most businesses, it's not enough to have a Facebook scheduler or hashtag tracker – you also need data on what it all means. Sendible connects with:
Facebook pages, groups, and ads
Twitter
Instagram business profiles
LinkedIn pages
Google My Business
YouTube
Pinterest
It also has multiple integrations with blogging software, and includes an integration for Google Analytics. You can see reports from all your connected accounts in the Reports Hub. All you have to do is
click a button to access the report you want.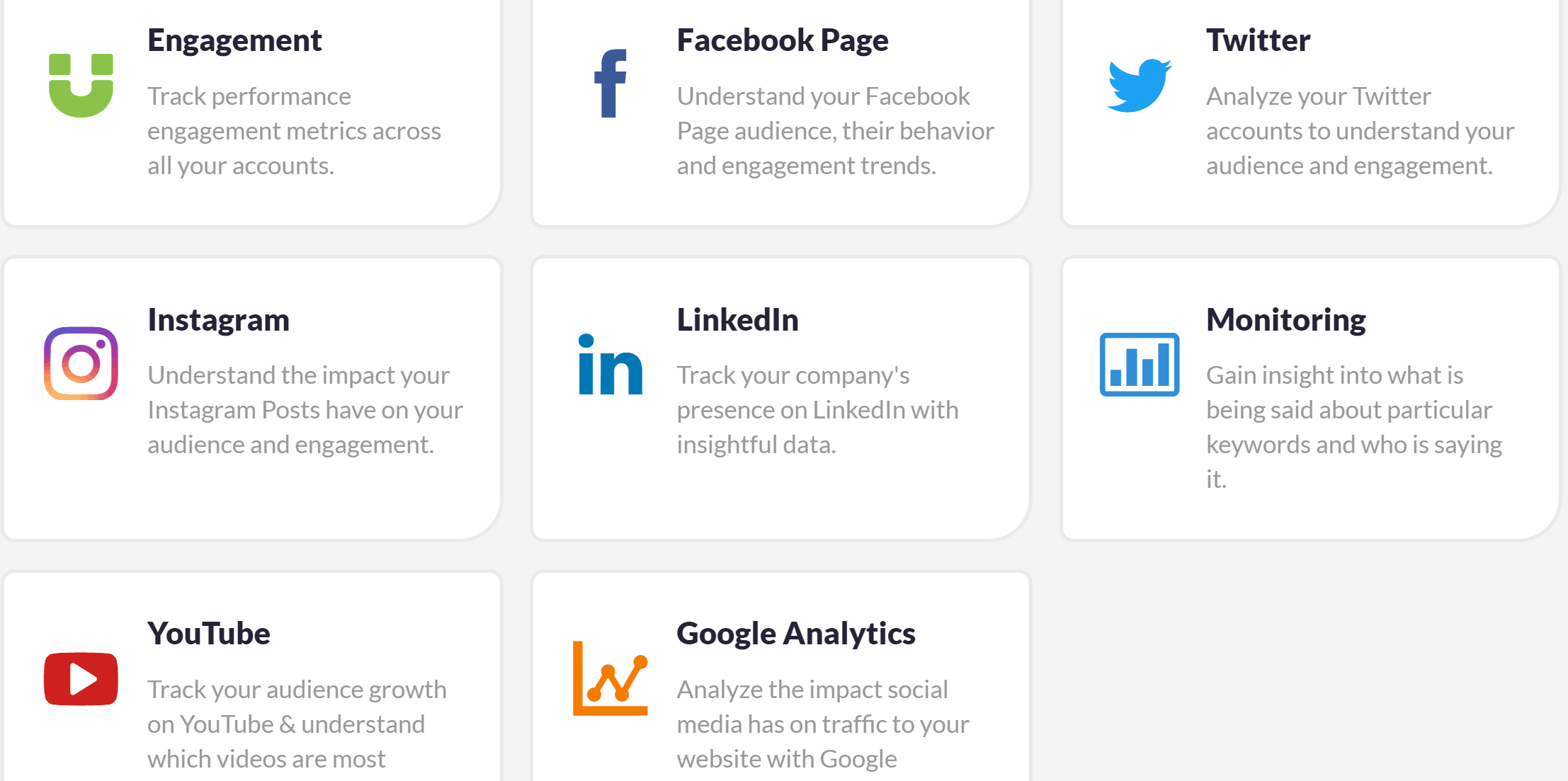 If you haven't yet added the relevant account to Sendible, you're prompted to do so. It's a quick and easy process. Then, you usually have to wait a while for the report to populate. After that, it updates automatically, or you can manually refresh it. This worked well most of the time. Twitter and Facebook reports populated really quickly. However, it's disappointing that
there's no reporting on LinkedIn personal profiles.
For each platform, you can get data on:
Audience growth
Impressions
Reach
Engagement
Demographics

I found Sendible's Facebook data easier to understand than Facebook's own in-app insights, which can take some time and effort. Metrics vary by platform. For example:
For Facebook, you can analyze your publishing behavior and top content
Instagram reporting identifies your most engaged users
Twitter metrics include a Topics & Influencers report

Sendible also provides an overview of all your social media accounts via the
Engagement
report. You can filter this report – like all reports – by date.

This report includes data on audience split (how your audience is divided among the platforms), content habits (based on what you post and what kind of response you get), the best times to get engagement from your audience, and top content.
Using Sendible Data to Strengthen Your Strategy
Sendible's analytics and reporting can
save you time by having all of your social media data in one place
. The social media management tool also has a Google Analytics integration, which means you don't have to leave the platform to track your web data. That report also lets you see if there's any correlation between social media content and web traffic. If you know that publishing a certain kind of content gets more visitors to your site, then you can
adjust your content strategy
accordingly.

Sendible's data also helps you to understand your audience better by providing demographic data and
insights into what interests them most
. This isn't just good for content marketing – it can also help with sales. Influencer marketing is a growing trend, and the insights Sendible provides via the Topics & Influencers report and user engagement reports let you identify the most engaged members of your social media audience. That allows you to reach out to those people and encourage them to promote and advocate for your brand,
resulting in greater brand awareness, more audience engagement and more sales
. The Topic & Influencers report also lets you
see how you rank on the topics you blog about most
, compared to key influencers in each niche. This can let you know if you need to up your content marketing game. One of the features I like most about Sendible is the built-in sentiment analysis for individual social media platforms. It's super useful to
know how people feel about your brand
, and to get immediate alerts if there's a situation you need to handle. As part of your social media strategy, it's also essential to report to clients and bosses on social media performance. Sendible makes this easy, with
customizable reports in its premium plans
. You get up to 15 reports with the Traction plan, up to 35 with the Growth plan, and up to 60 with the Scale plan.
Creating a custom report is a beginner-friendly process
.  Give your report a name and set your desired time period.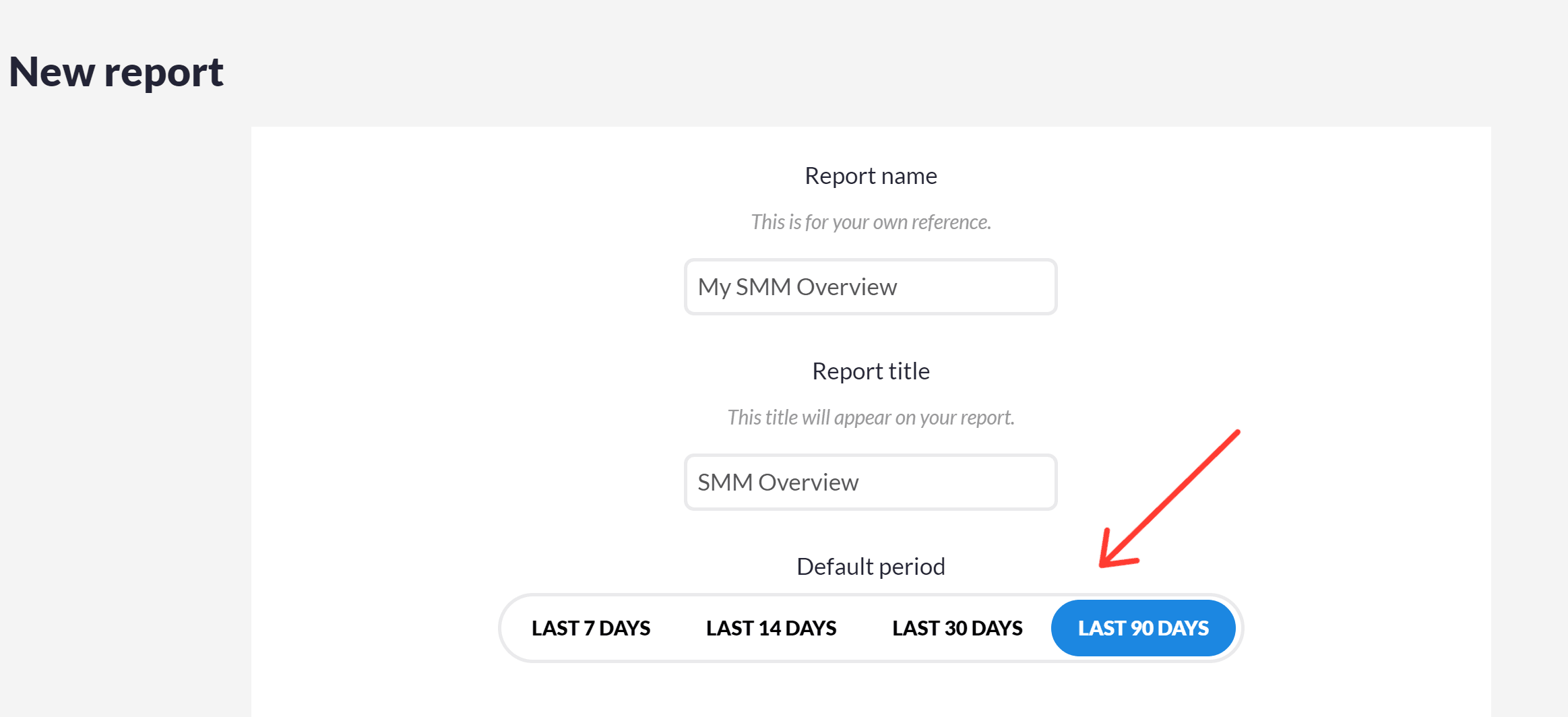 Next, add your modules, then save your report. The next time you log in, you'll see it in your dashboard. If you're an agency, a useful feature is that you can have separate dashboards for each client, to group their social media accounts together. I talk more about this in the
full Sendible review
.
Social Media Analytics – What are the Alternatives?
How does Sendible stack up against other social media measurement tools? Pretty well, as it turns out.
Buffer Publish analytics
isn't a serious contender, now that Buffer has moved its best analytics into the
Buffer Analyze
tool. And while Hootsuite provides
decent analytics
, you'll have to upgrade if you want real insights into your social media data. Sendible's automatically created reports and rich data means it's an excellent social media tracker.
The Bottom Line on Sendible Analytics
Sendible simplifies the process of monitoring essential social media metrics. After you add an account, the system automatically generates most reports, saving you valuable time. Moreover, Sendible offers some of the most remarkable insights available on social media content and audiences. However, it's important to note that the pricing might be more suitable for agencies and teams.