a super intuitive platform that is incredibly easy to use
(especially compared to some of its competitors). You can create a free account or pay for a plan that lets you access more features. Buffer also has a separate, standalone analytics product. So if you're looking for more in-depth data, learn how to make the most of
Buffer Analyze
. For the purposes of this article,
we'll focus on the more basic analytics available with a Buffer Publish account
. By the end, you'll know exactly what data is included, what's missing, and how this information can help you improve your social media strategy. If you are curious about all the other features that Buffer Publish offers, head over to our
full review
.
Overview of Analytics in Buffer Publish
Buffer Publish integrates with five of the biggest social media platforms out there. Regardless of whether you have a free or paid account, you can connect to:
Twitter
Facebook pages and groups
Instagram personal accounts and business profiles
LinkedIn profiles and pages
Pinterest boards
The data you get depends on the type of account you have, and the specific social media platform
. If you have a Buffer Publish Pro account, you only get 30 days of post history (compiled in "Post Reports"). You get full post history with a Premium or Business account, and free accounts can't access any post history at all. The data included in your Posts Reports depends on the platform:
Facebook – likes, comments, shares, clicks (and reach for Facebook Pages)
Twitter – likes, clicks, mentions, retweets, potential reach (and impressions for Premium and Business accounts)
Instagram – likes, comments
LinkedIn – comments, likes, reshares, clicks
Pinterest – comments, likes, repins
Sure, it can be helpful to have this information pulled together for you, but if you
really
want meaningful data that can help you strengthen your message or connect with your audience, you'll need to upgrade to a Premium or Business account.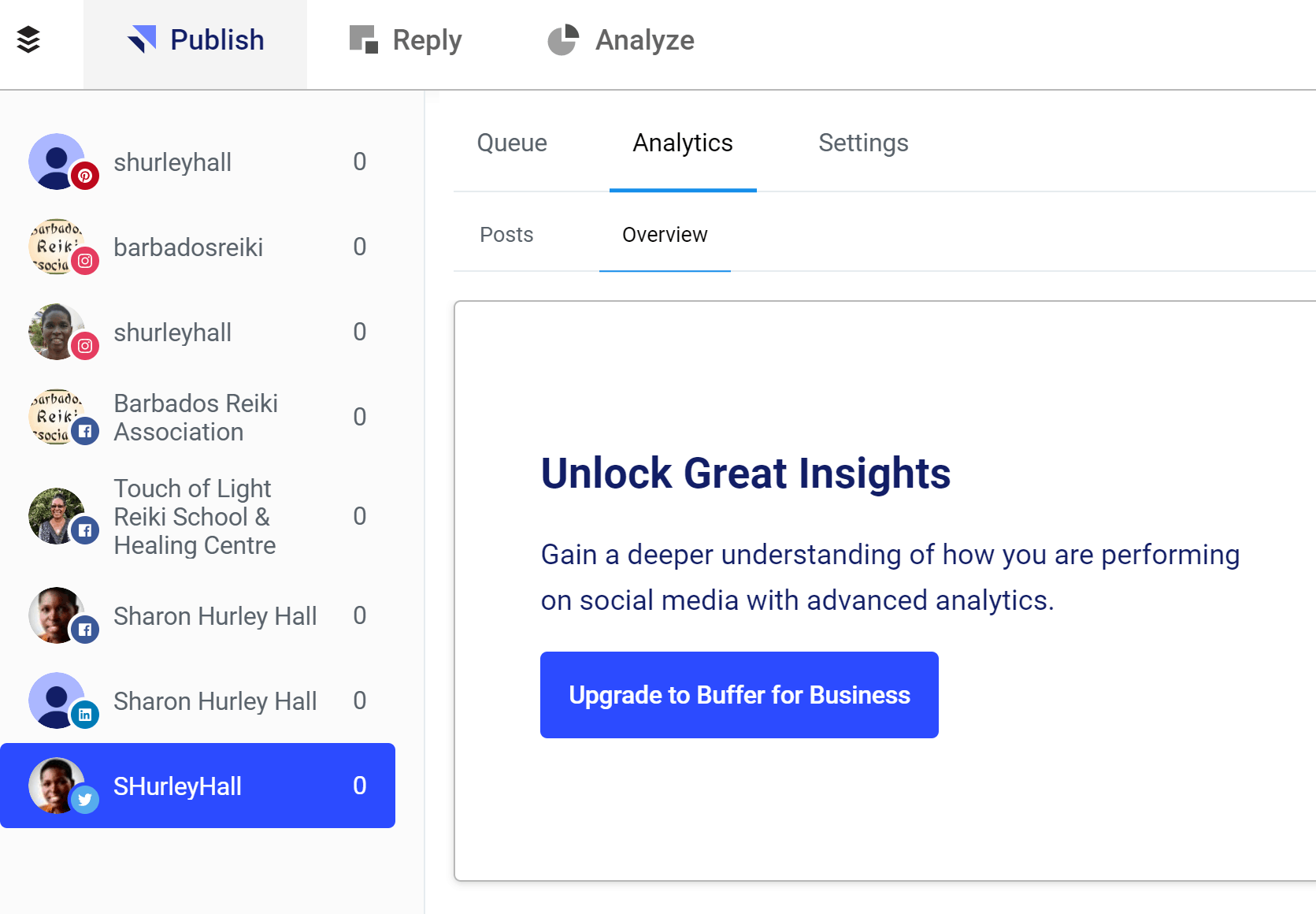 In addition to the Post Reports,
Premium and Business accounts have access to Overview Reports
. While you won't get any new information for LinkedIn or Pinterest in your Overview Reports,
Facebook, Twitter, and Instagram offer additional insight
that can be applied to your social media strategy:
Facebook – post impressions, number of reactions, page and post engagements, link clicks, number of engaged users, new and total fans/followers
Twitter – impressions, engagement, total followers, new followers
Instagram – reach, impressions, engagement rate, video views, post saves, new followers, total followers
Overview Reports offer more visual information, such as tables and graphs, which is great if you're a social media manager and need to pull together a client report. It will look like you spent all morning compiling the data, when really it just took you a few clicks. Like the Posts Reports,
this information is still broken down by social media platform
, so you'll need to toggle between your accounts and assess how your content is doing on each individually. You can look at the data for a social media account as a whole:

You also have the option of viewing data for individual posts: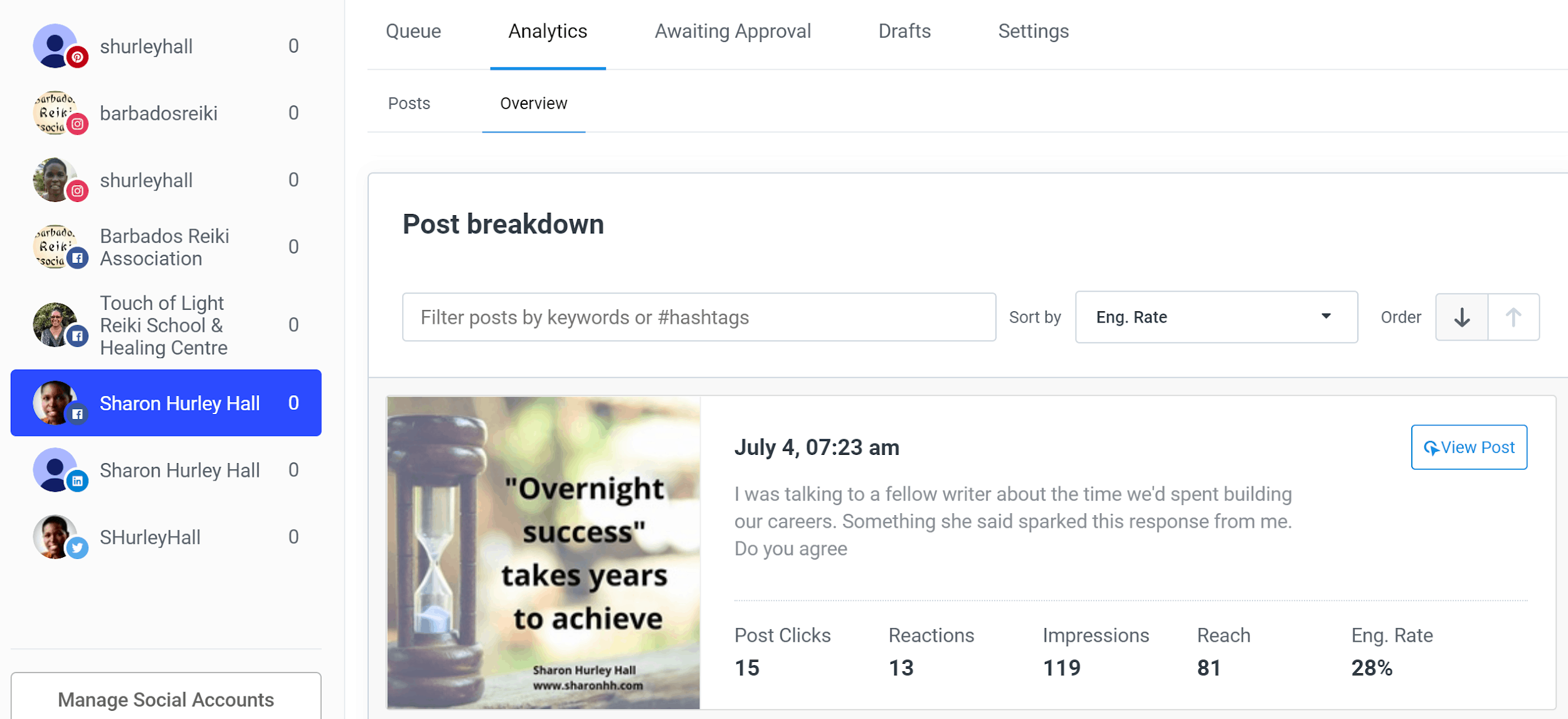 Using the Data to Strengthen Your Strategy
One thing to note is that for some platforms (i.e., Pinterest and LinkedIn) you only see data on content posted via Buffer. For Twitter, Facebook, and Instagram, though, you
get analytics even on the content posted externally
. This is useful if you're looking to get a complete overview of how your strategy's working. With a quick look at one of your Overview Reports, you can determine
which of your social media posts are getting the most attention
from your fans and followers. This can help when making decisions about what type of social media content you should post to get engagement or increase brand awareness. With Buffer Publish basic analytics, you can easily find out:
What kind of content is most popular and successful on a particular platform
Which content is popular across all platforms
Which content is or isn't working for your audience
This can help you decide whether content should be repurposed or tweaked to be more effective. And it can help with content planning strategy as a whole, as you use the data to
make decisions about your messages and the most effective ways to share them
. Plus, if you're sharing one piece of content across multiple platforms, you'll know whether a video, image, link, or text update would work best on each one. Buffer has some basic filtering tools that are also worth taking advantage of. For example, you can filter the data to track performance only for content shared via Buffer. You can also
isolate stats for different types of posts
, such as images, videos, links, text, and retweets. This information can help you optimize for each and every message, post type, and platform.
Comparing Your Options
Unfortunately, the data you get with a basic Buffer Publish account can't compare with packages offered by competitors like
Hootsuite
. It's impossible to get an idea of demographics, behavior, popular keywords, hashtags, and so on. That's not helpful if you're looking for in-depth information to guide your social media strategy. For real strategic guidance, including information on optimal content posting times, and a breakdown of changes in audience numbers and engagement, you'll need to get the separate
Buffer Analyze
service. This provides more insight into Facebook pages and Instagram business accounts, but won't help at all with LinkedIn, Twitter, Pinterest, etc.
The Bottom Line on Buffer Analytics
The basic analytics in Buffer Publish are useful up to a point, because it never hurts to know what people are engaging with. But unless you take the most costly plan, the data doesn't give you enough information to establish reasons why some content is more successful and engaging than other content. That means there's definitely room for improvement. If you want better analytics, even in a free social media scheduling tool, you'd be better off with
Hootsuite
. Either way, it makes sense to check out our
full review of Buffer Publish
to see if its other features make it worth it for you.