Buffer's been in business since 2010 and already has around 80,000 customers using its services. It's not an all-in-one solution, instead, it is a simple, but effective, tool primarily focused on scheduling and publishing posts.
This article is going to take you through the analytics and reporting features offered by Buffer. If you want to read more, you can head over to my in-depth review of Buffer's features and support.
In order to test the feature fully, I published a couple of posts using the Buffer publisher, one on Facebook and one on Twitter. The whole process was simple and easy to do, although I did need to reauthorize my Twitter account a couple of times during the process.
Reports can be accessed via the Analytics tab inside your admin. Then there are three types of (pretty basic) reporting options; Posts, Overview, and Analysis.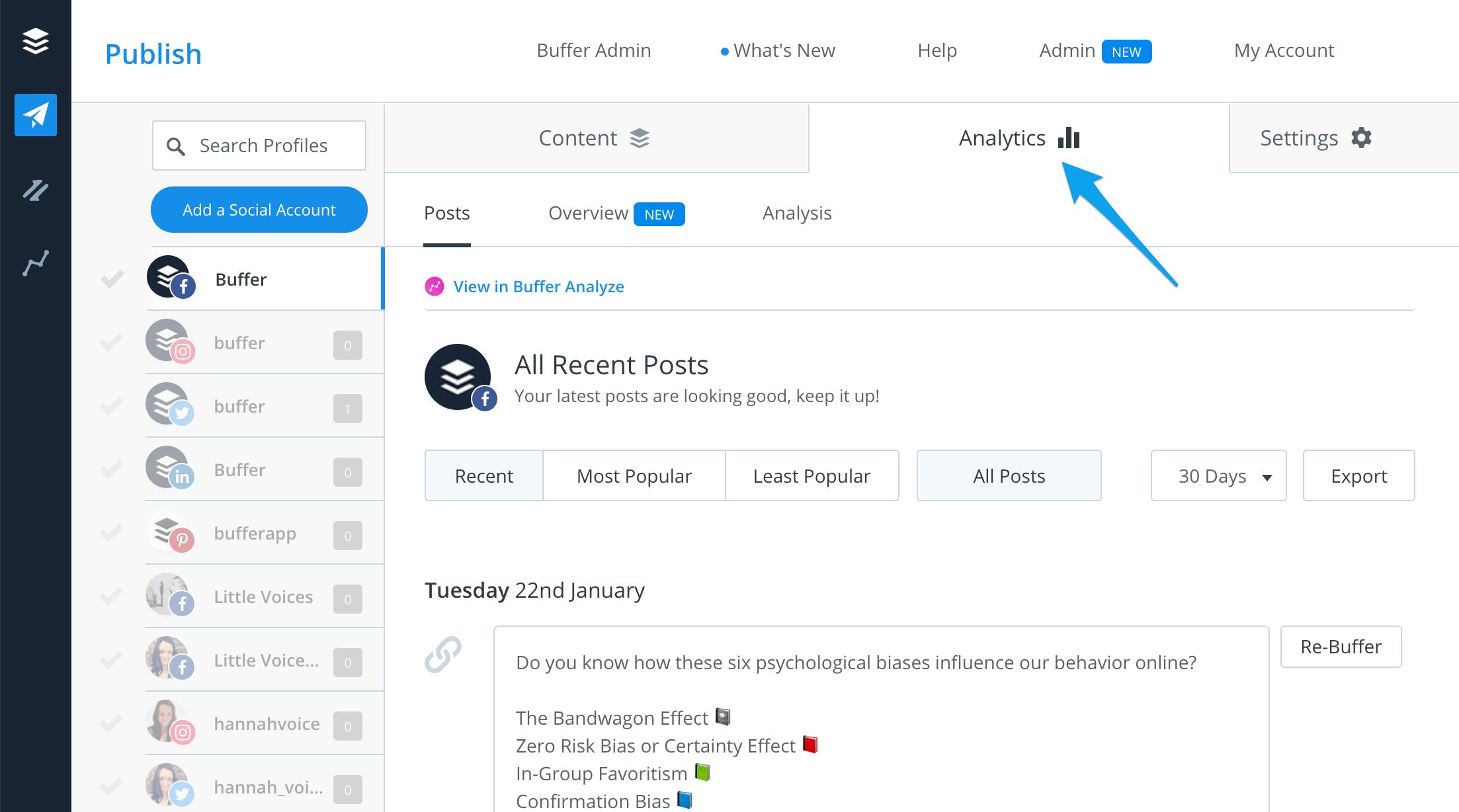 The Posts report shows you a history of all posts which have been published and includes information such as the date it was published and key performance metrics (e.g. likes and shares, but this depends on which social media platform, so be sure to check first, if there's something which is important to you).
After the posts had been running for 24 hours, I logged back in to view my analytics. First, from the Posts tab, I could see that the post had one like, six clicks, and a total reach of 369.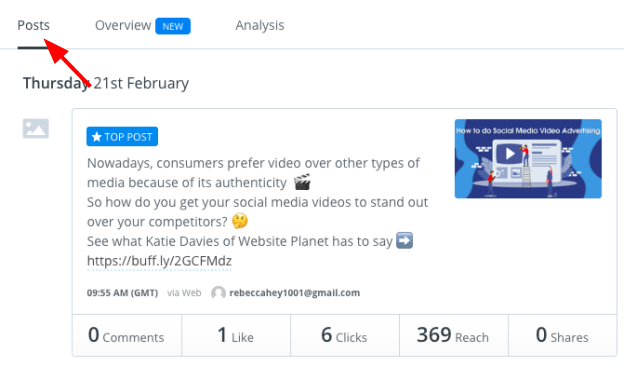 Post reports are available for all of your connected social media accounts and you can easily customize what data is shown, e.g. the number of clicks and whether the post had an image. Once you're done, you can export the report to CSV.
Perhaps my favorite feature of Buffer's Post reports is the Re-Buffer button. In one click, you can re-share your posts from this view.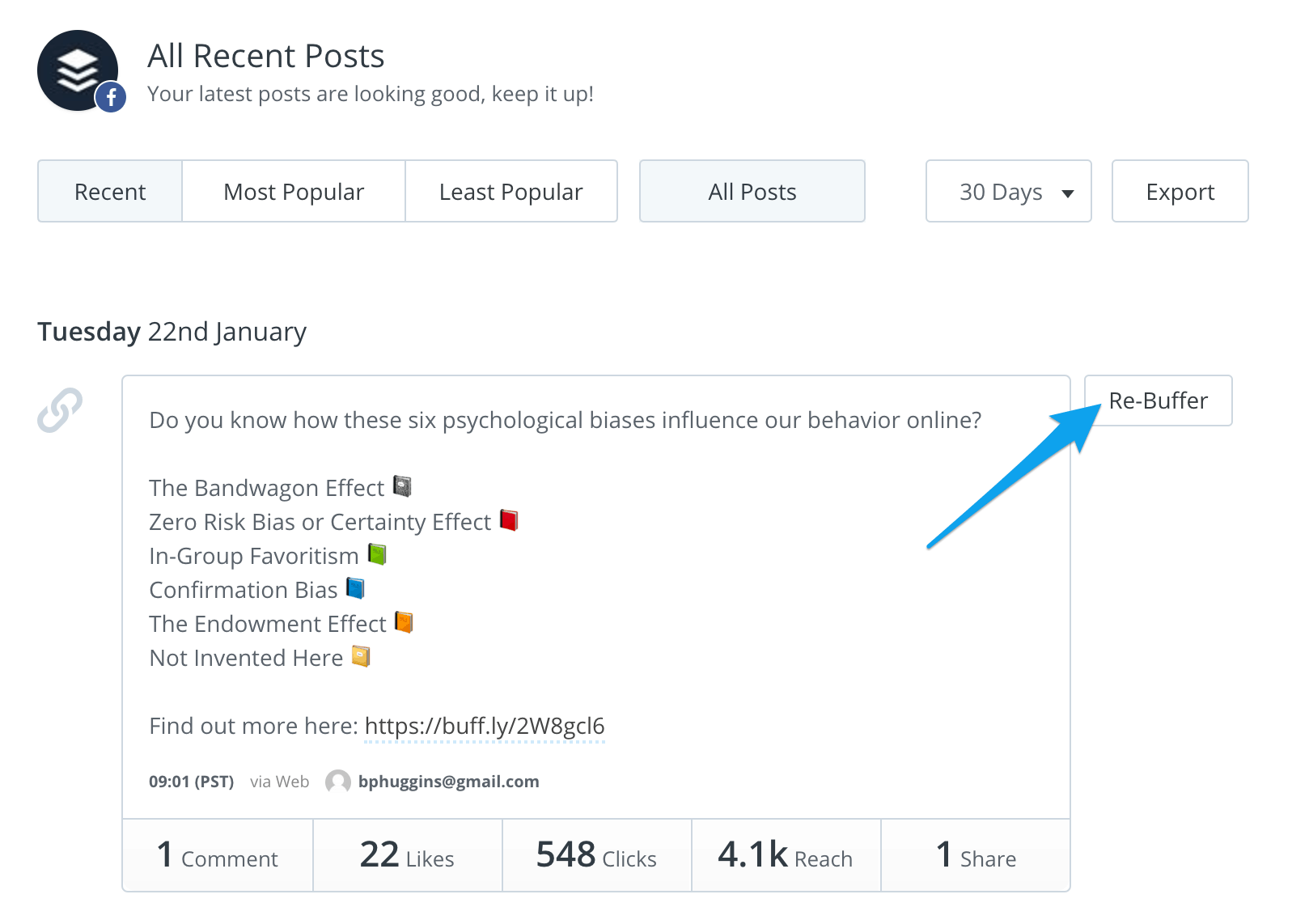 There's an Overview report, available for Facebook and Twitter, which shows overall engagement, including performance (e.g. aggregate metrics for all tweets, clicks, likes, and replies), engagements and audience (to view the performance and engagement over a date range), engagement by the time of day, and an average performance table.
Like the Posts report, you can select a date range and export to CSV, but that's it for customizations.
The Analysis report, which works with all social media accounts (except Twitter), allows you to compare engagement metrics and followers over a set period of time. If you need this for Twitter, use the Influencer report, which shows you your most engaged Twitter followers.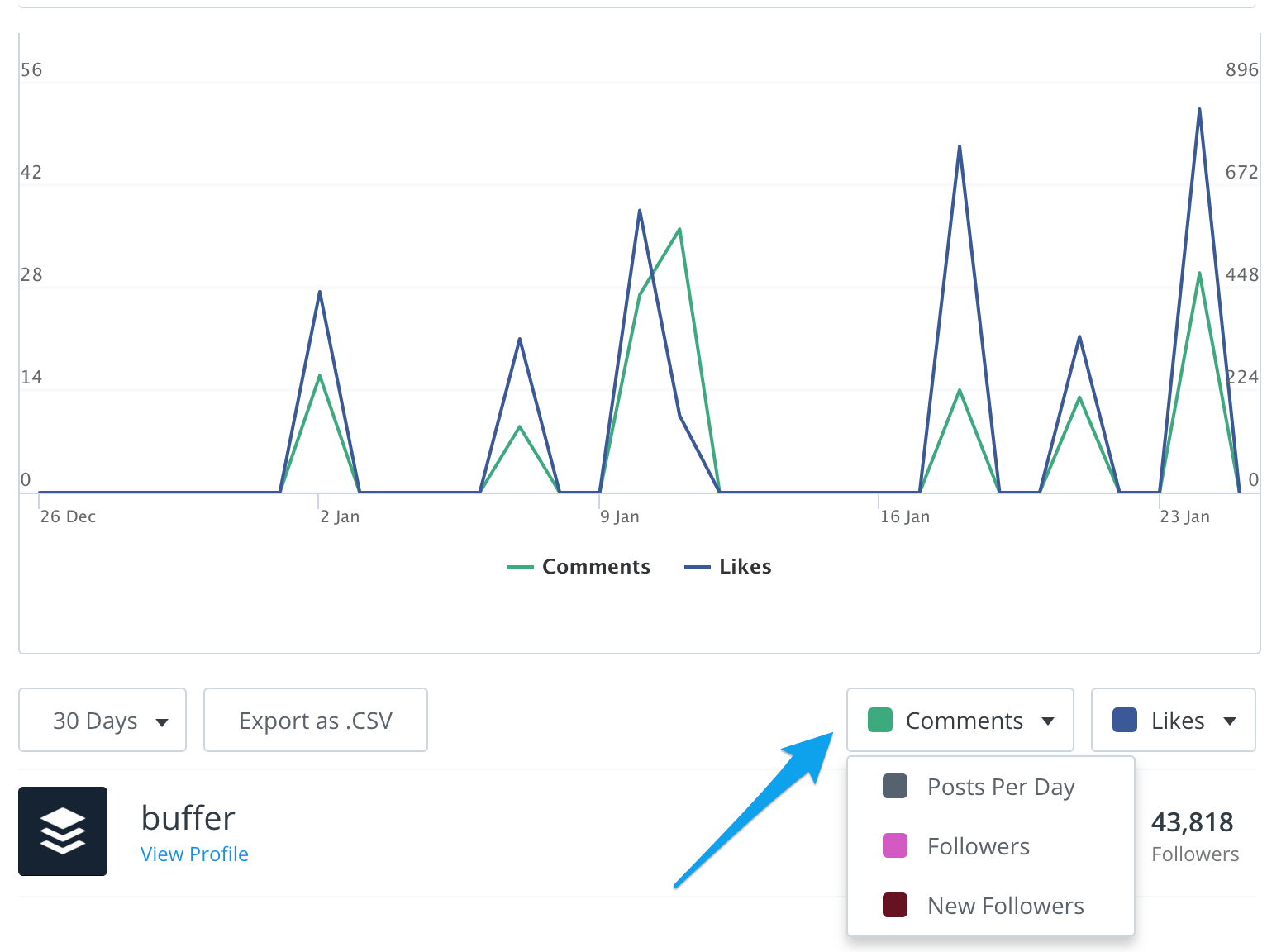 One of the main limitations of Buffer's analytics is that it only shows you data on posts published through the platform (other tools, like Hootsuite, will show you analytics on all of your connected social media accounts). This is largely due to the fact that Buffer is, at its heart, a content scheduling and publishing tool, not an all-in-one solution.
The other main downside is the export feature. You can export to CSV, but there's no option to build client-ready reports or PDFs, which would certainly be a timesaver for most agencies.
The mobile app, like the desktop version, is clean and easy to use. So unlike with options like Sendible or Hootsuite, you can realistically assume you'll be able to check your Buffer analytics on the go.
Conclusion
Buffer's analytics are relatively basic, but with that comes simplicity and ease of use. Like the rest of Buffer's features, there isn't a huge learning curve to get started, so most beginners will be able to get the most of the reports.
Plus, if you need to dig deeper into the data, you'll be pleased to know that Buffer will be releasing Buffer Analyze, which (although I can't confirm the details) seems to provide a more in-depth look at account performance and the types of content that perform best with your particular audience.
In the meantime, if comprehensive reports are important to you, I'd recommend reading these reviews on Sendible and Hootsuite.