Have you built a beautifully designed, functional website but are struggling to see an increase in your engagement levels? Do you constantly post relevant content for your target audience only to receive the odd like or comment? Are you striving to obtain those all-important website hits to drive further clicks and conversions?
If you answered yes to any of all of these questions, you're not alone. While this is a common struggle for small businesses, honestly, what brand isn't always looking for ways to increase their social engagement?
Social media has become a primary form of two-way communication in the digital age. And this is where social sharing buttons come into play.
Simply put, social sharing buttons (i.e., the icons that allow someone to share the webpage or post via social networks such as Facebook, Twitter, or Pinterest) encourage people to share your content across their own channels. The idea is to spread the word to improve your online reach, build brand awareness, and ultimately drive traffic to your website.
These can be fantastic tools for user engagement—if they are used correctly, of course.
#1: Choose Your Placement Wisely
Social sharing buttons perform best when they're placed on individual blog posts, updates, or news articles that the reader might want to share. They can be featured on the side of a webpage or along the top or bottom.
However, according to Sprout Social, the most popular choices are before your content or floating to the left.
Keep in mind that the majority of people won't scroll down far enough to reach the end of your page. In fact, according to Slate and Chartbeat, most readers only make it around 50% of the way down a webpage.
If you want to be super smart about it though, there's no harm in having two areas of button placement. Take BuzzFeed, for example. They include social sharing buttons both above and below their content to increase the likelihood of clicks.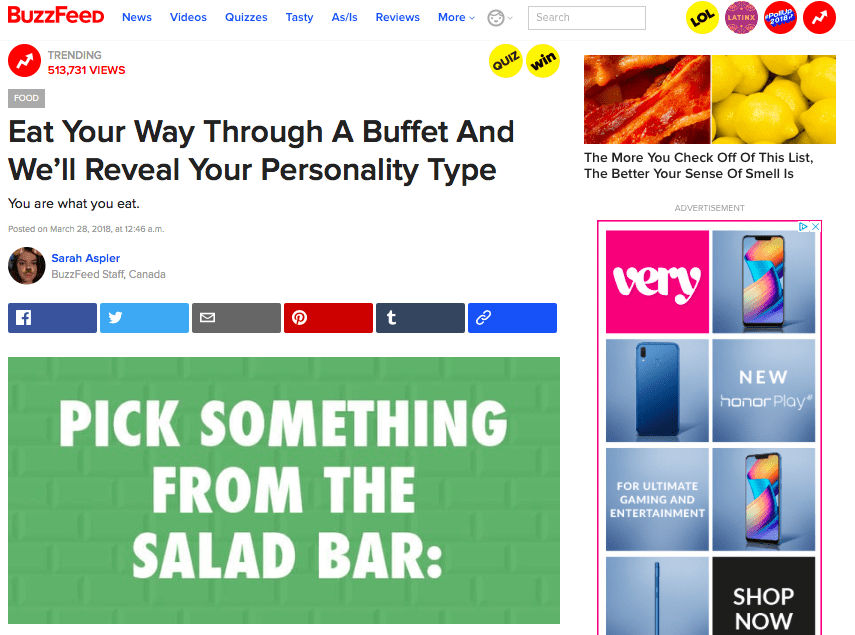 #2: Design, Design, Design
The placement of your buttons won't matter in the least if they don't stand out. The worst thing you can do with a significant call-to-action share button is to create something small and bland that can easily be overlooked.
Again, take direction from BuzzFeed and use social sharing buttons that are very prominent in terms of size and color. This undeniably makes them pop on the page and instantly catch the attention of the reader.
#3: Use Plugins to Set Up Your Buttons
Luckily, setting up social sharing buttons on your website has never been more straightforward, especially if you use a content management system like WordPress.
All you have to do is grab the right plugin—and away you go!
You can simply search "social sharing buttons" in the "Add Plugins" section of WordPress and use one of the tried-and-true options.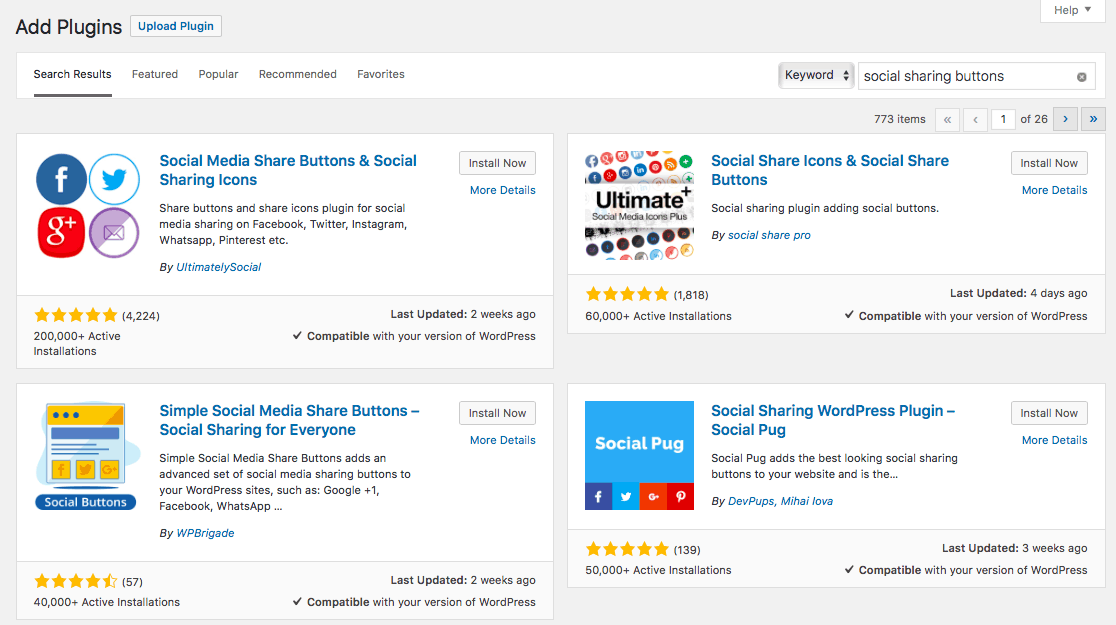 With any of these plugins, you can pick out which social networks you want to connect with your buttons and where you'd like to place them on your website.
#4: Make it Easy to Share Your Content
Various plugins offer different experiences, but be sure to pick the right plugin that will match your needs, as well as the needs of your readers.
Generally speaking, you have two options. You can either pre-populate the content that you want your reader to share when they click your call-to-action button or you can let the reader write it themselves.
For instance, if someone wanted to share this video from The Climate Reality Project, they would just click the Twitter social share button and are immediately provided with a pre-written tweet, their Twitter handle, and a link to the video—all they have to do is click "share." This is a good option for brands that want to try and promote a very specific message.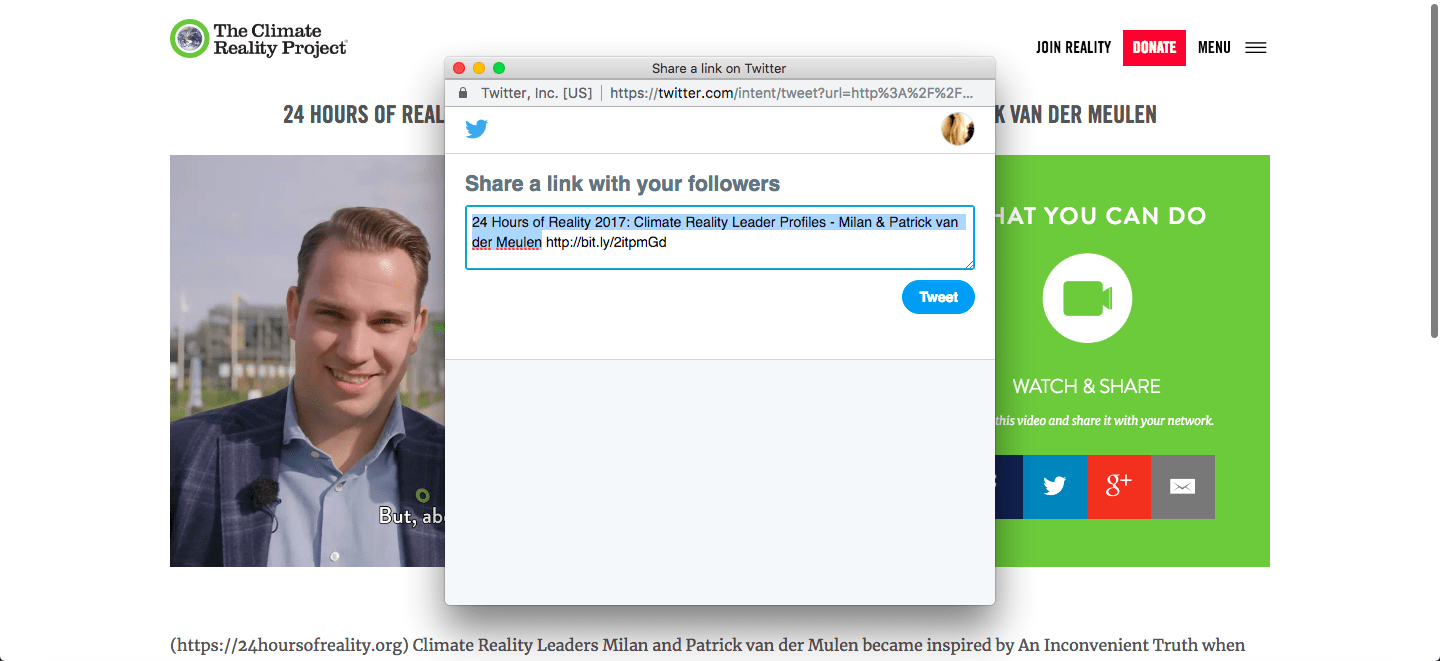 Alternatively, you design your buttons so that, after the reader clicks to share your post, they will have a link to your content but will be prompted to write their own personalized message.
Both methods are equally effective. Just make sure that it's easy for people to share your content via social media. After all, more than 70% of consumers are likely to recommend your brand to others if they've had a positive social media service experience.
Hootsuite also does this cool thing where you can add their Social Share tool to your website and app, which allows readers to share your content across multiple social networks at the same time. The user can also pick and choose when exactly they share it according to their peak activity time slots, which can amplify views and engagement rates.
#5: Assess Your Button Analytics
Only once you've found the right plugin(s) for your website, set up your social share buttons, and started incorporating them into your content does the work really begin.
At this point, you should be regularly assessing your social share button analytics to keep you at the top of your game.
Social management tools like Sprout Social are wonderful for this. They can provide you with key statistics like the number of impressions, engagements, and link clicks you receive per button.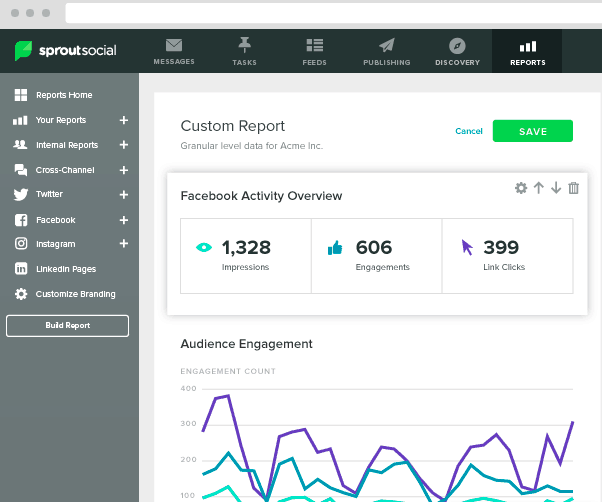 Sprout Social can also give you insight into your audience and where the clicks are coming from geographically.
How do these reports help?
You'll understand your customers better, for one. You can find out where they live, how old they are, and what kind of content they enjoy. You can also use these reports to decide where to focus your energy when it comes to specific social networks or topics.
When it comes to online marketing, it's true what they say: knowledge is power.
#6: Optimize Your Button Order
Once you've analyzed your social sharing buttons and you know which social networks are performing the best, you can optimize your button placement.
By this, I mean that you can select which share buttons are on display and in what order based on your audience's preferences.
For example, there's really no point having a Pinterest social sharing button embedded within your post if your content isn't particularly visual or your audience is not active on the platform.
Remember, sometimes less is more in the digital marketing world. ShareThis claims that the more buttons you have on display, the higher the risk can be of losing the share. Some readers don't like having too much choice. They might not be able to decide which button to click, so they end up not clicking at all.
Time to Start Social Sharing
Remember the golden rule when it comes to your social sharing buttons: if you want people to press them, you need to first produce share-worthy content.
That being said, it helps if your buttons are beautifully designed, strategically placed, optimized for your reader, and tweaked regularly according to individual analytics. You might not get social sharing tools right the first time—and that's okay. Keep persevering because it won't be long before you see your traffic and engagement levels start to rise thanks to these handy little buttons.
---
Sources:
MarketingSherpa statistic: https://www.marketingsherpa.com/article/chart/demographics-why-customer-follow-brands-social-media
Sprout Social mention: https://sproutsocial.com/insights/social-media-buttons/
Slate and Chartbeat statistic: http://www.slate.com/articles/technology/technology/2013/06/how_people_read_online_why_you_won_t_finish_this_article.html?via=gdpr-consent
BuzzFeed example: https://www.buzzfeed.com/sarahaspler/eat-your-way-through-a-buffet-personality-type
Hootsuite mention: https://hootsuite.com/social-share
Ambassador statistic: https://www.getambassador.com/blog/social-customer-service-infographic
ShareThis mention: https://www.sharethis.com/best-practices/2017/08/how-to-strategically-use-share-buttons-to-boost-engagement-and-seo/