You want – no, need – to create content that potential customers really want to read
. Not just because their boss tells them to or because they are bored, but because it gives them information that answers their most burning questions – at least about your topic or product. We know that creating great content is anything but simple. It can be nerve-wracking and time-consuming without a clear plan to guide you.
Using AnswerThePublic to Get Inside People's Minds
It's no small feat to write content that people care about and to make it super-duper easy for them to find.
Many companies are now using AnswerThePublic
, an online tool that provides detailed search and keyword information, to get the guidance they need to create great marketing content. People ask Google (or whichever search engine they prefer) questions that they aren't going to ask anyone else – not their co-workers, their best friends, or sometimes even their doctors.
This means that search engine data, which AnswerThePublic collects, can tell you everything you need to know about your customers that they aren't going to tell you themselves
. When you help people solve the problems that keep them up at night – or at least that cross their mind when they are bored in a meeting – they will trust your brand and hopefully buy your products and services. AnswerThePublic
has a basic free version
that gives you up to three searches a day. You can also pay $99 a month for a pro version that allows
unlimited searches and more reporting options
. Most people start by using the free version to get a feel for the tool and its capabilities, then many upgrade to the pro version once they see the value it can provide to their business – often many times the monthly fee in increased sales.
The Good and the Bad About AnswerThePublic
Before we walk you through AnswerThePublic, here is an honest look at the good things and the faults of the tool. Let's start with the positive:
It's 100% free. You can use three free searches every day, which turns into 15 searches a work week. You really have nothing to lose by getting the information. Even if you use only a portion of it, odds are high that your content will be more interesting and relevant to your audience.
It takes seconds – OK, maybe 30 seconds – to run the report. Literally less time than it takes to listen to Susan tell you about her weekend. And maybe a lot less if Susan likes to talk a lot. Yes, sorting through the data and using it take more time than her telling you about her bad date. But it can also save you the time of writing a lot of content that no one cares about.
The results are customizable. There are lots of ways to put the information in the format that you need. Pick the data or visualization view based on your needs. Hide the suggestions that aren't useful to you so you don't have to continually wade through them. Turn the Excel version into the start of an editorial calendar or work plan.
You can create pretty graphics. Yes, we know we've mentioned this before. But the graphics are really nice and attractive. And with the hide feature, your graphics include only the data that you want to use.
You can save your reports. This is especially helpful if you use the free version. When you save a report, you can go back weeks later and look at the data again. This keeps you from rerunning the same reports and wasting your free reports.
And here are a few things that AnswerThePublic could do better:
Create a mobile version. While the website is very easy to use, AnswerThePublic does not have a mobile app. The only way to use the tool from a phone or tablet is by accessing it through your device's web browser. It's workable, but hopefully an app is in the works for the near future so marketers can get the info they need, whichever device they are using..
The Save Image feature is annoying – Because the results open in the same window, you have to use the browser's Back button to get back to the results. While we were testing, we experienced several stalls and frozen screens, which was a bit frustrating.
You have to count searches on your fingers so you don't run out. Yes, it's not that hard to count to three, but with four zillion things on your mind, you really don't need one more thing to keep track of. The screen does not tell you how many free searches you have left until you are out of searches. This means you have to remember that you searched for dog food before lunch, cat toys after lunch and something else you still can't recall when you desperately needed your afternoon coffee. A simple on-screen tracker would help you remember how many searches you have left.
Running a Search with AnswerThePublic
It's simple and quick to run a search with AnswerThePublic. It's a tool that is deceptive in its no-frills interface but that delivers a lot of value on the back end.
However, the quality of your results depends on the search terms you use in relation to your business and audience
.
Use the following steps to run a search:
Before you run a search, create a login. Head to www.answerthepublic.com and click on "Sign in" in the top right corner. This way you can access saved searches. But if you are in a hurry or don't want to give out your email, you can run a search without an account.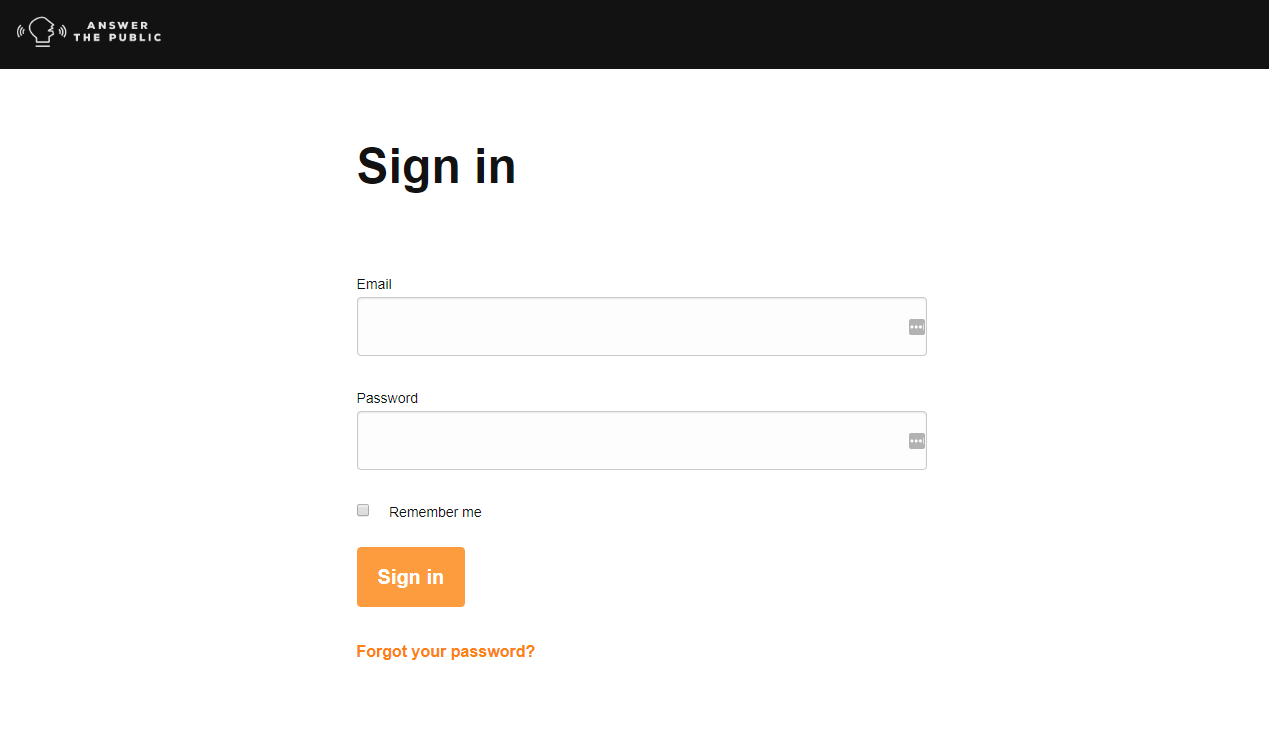 Next, select the language and your region.
In the "Enter your keyword" field, type in the topic that you want to search and press the Get Questions button.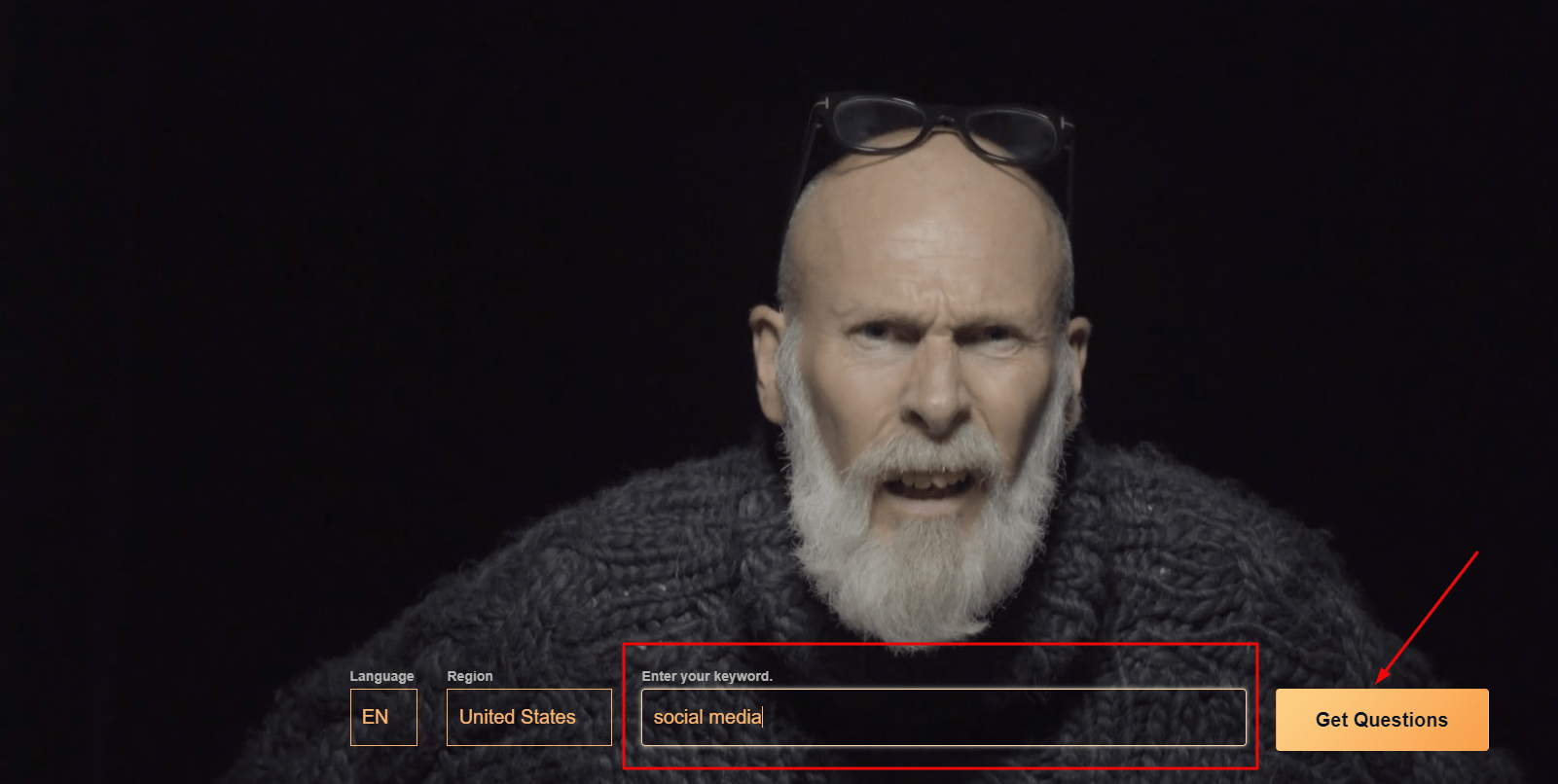 Pro tip: Do your first search on a topic using a generic term, not a long-tail or specific term. If you are selling a social media tool and want to create a topic of interest to people in charge of their company's social media accounts, start with the term "social media" instead of "getting more social media followers
We haven't gotten that far yet, but you will see shortly that the reports suggest prepositions to use in your content. So when you search for phrases with prepositions, it's just way too many prepositions to be useful.
Pro tip: Prepositions aren't just something you learned in elementary school and don't really ever need to think about anymore. With search engine optimization and AnswerThePublic, prepositions not only matter, they are key to getting the most from the tool
If you haven't kept track of your searches – no worries, it happens to us as well – and you've exceeded your maximum of three searches for the day, you'll see this screen. You've got two choices:

Find something else to do for the rest of the day – hopefully work-related unless it's the end of the day. Then run the rest of your searches tomorrow.
Upgrade to the Pro plan so you can keep working and don't have to lose your train of thought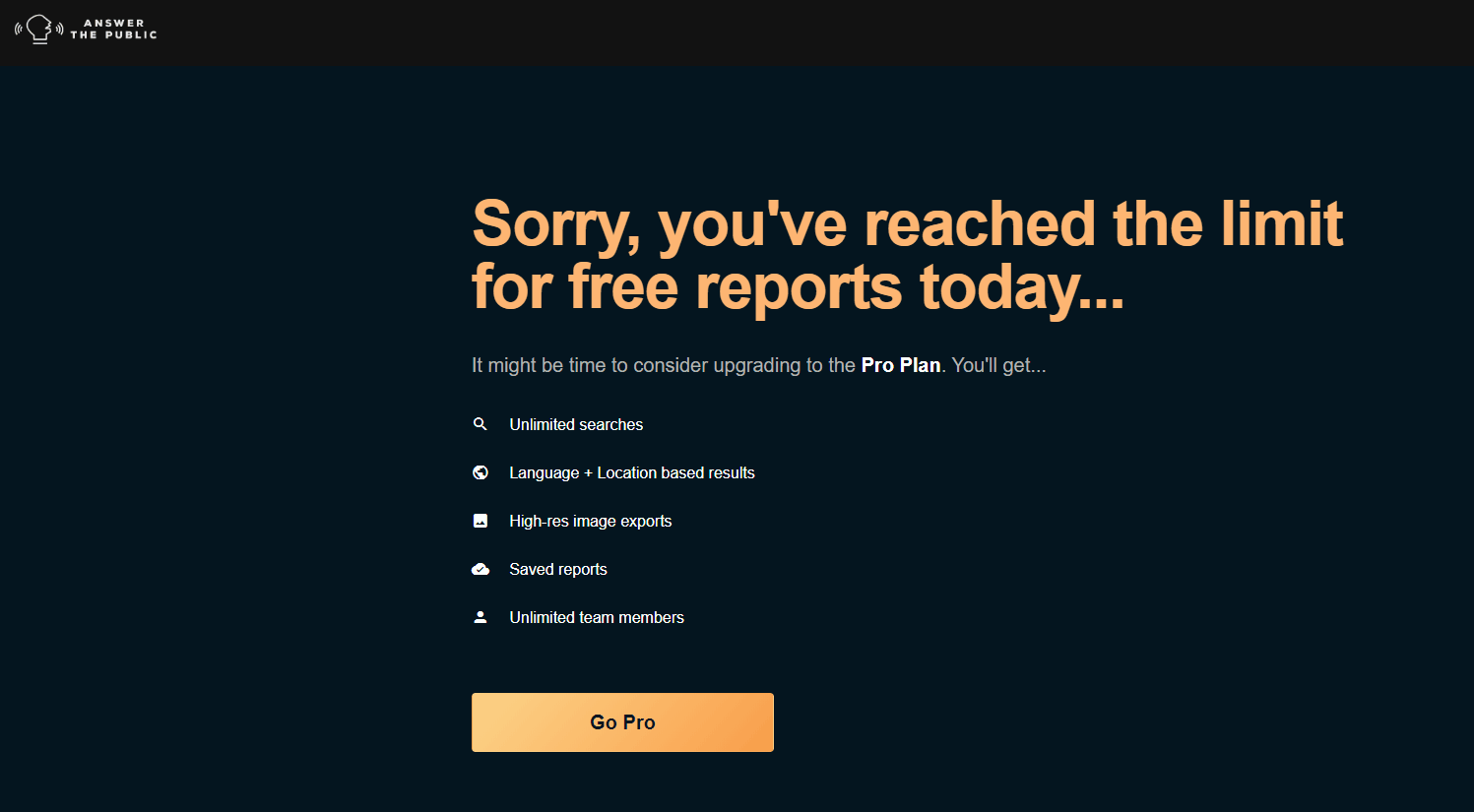 Navigating Your Results
Once you run the results, you will see your term listed on the screen.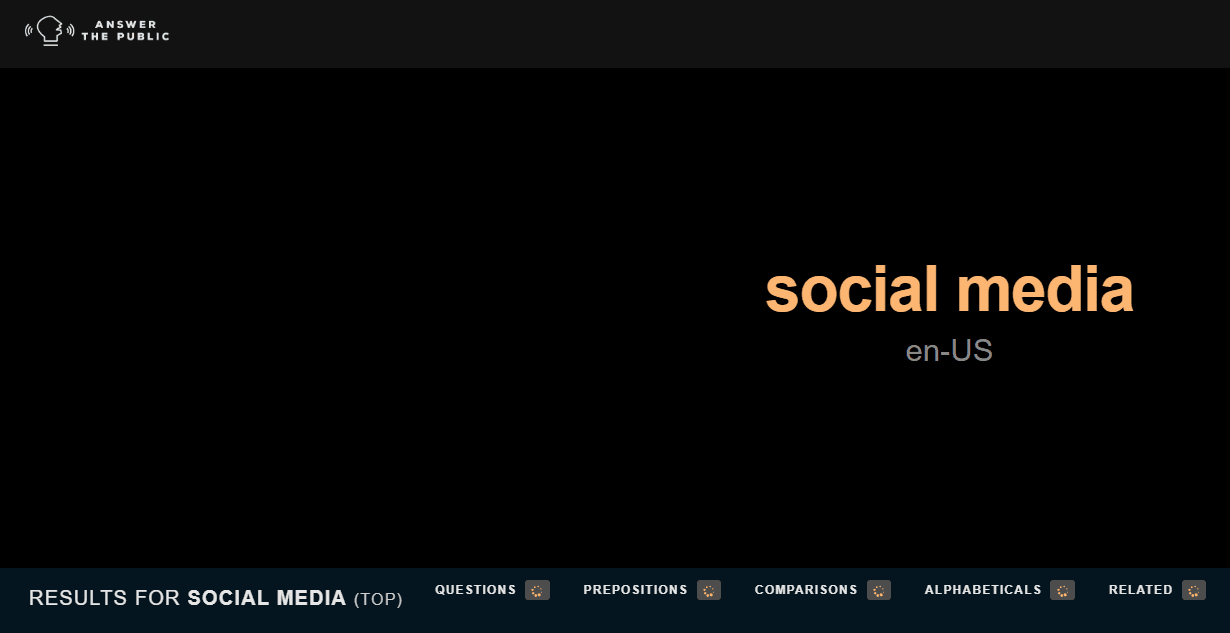 As you scroll down, you will see lots of data and sections and buttons. Don't let it overwhelm you. The AnswerThePublic interface has a number of handy views and features to help you organize the large amount of information. Each section has two different views – visualization and data. You can switch between views by clicking on the tab for each. Both show the same data, just in different formats. The visualization view gives you the results in a fancy chart, which can be especially useful if you need to present results to your boss or impress your co-workers. And because the chart is an image map, you can click on any question to view the specific search results. It's also super-duper easy to save the image in JPEG format – just click the Save button and then the Download button. You then simply right-click and save the file to your preferred location.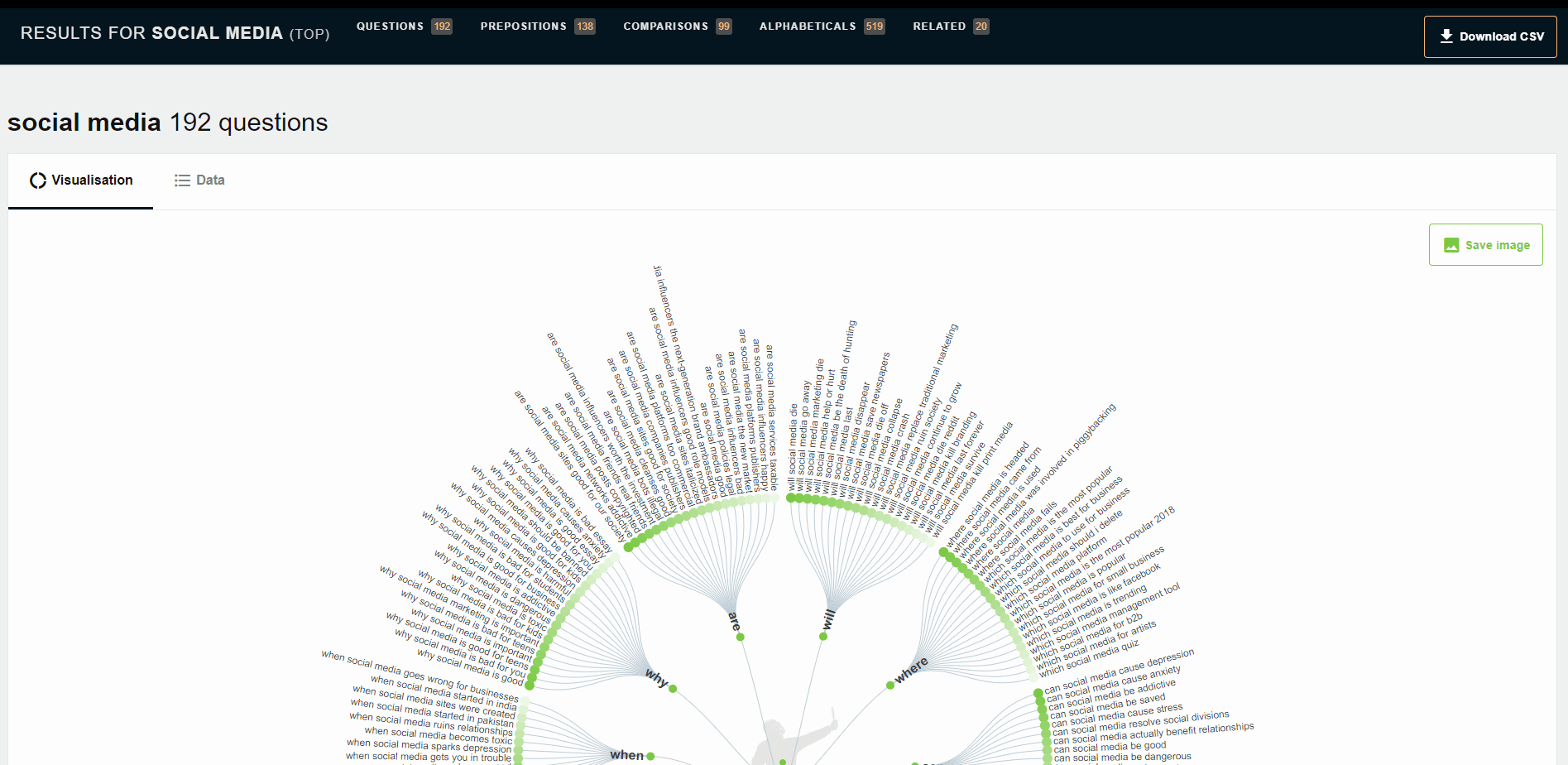 If you want to see the data in a format that can be more easily viewed or copied, then click on the data tab. Each of the sections within each category is shown separately, which gives you a more manageable chunk of information.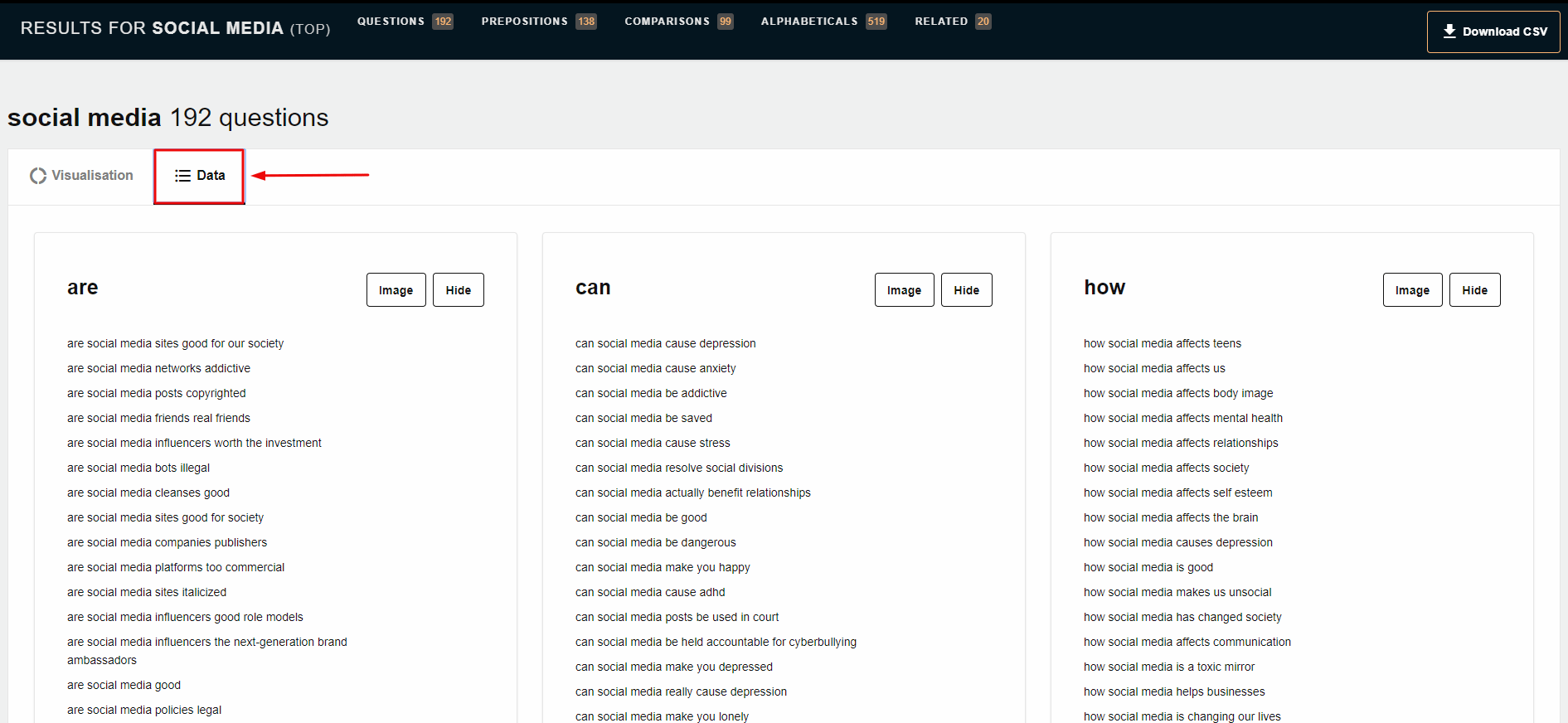 Now that you know how to navigate the views, scroll down to look at the five different types of categories of results. Each section has unique information that you can use to create amazing, kick-butt content. Take a minute to browse through each section to learn about the types of information that you can expect to get with your searches.
Questions – What questions people are asking using your search term, organized by common question words, such as why, where, will, can, which, who, how, when and what.
Prepositions – What searches on your topic are made using prepositions such as for, near, is, can, without, with and to.
Pro Tip: If you have accidentally included prepositions in your search – we know, it's easy to forget your elementary school grammar lessons – this section will likely be confusing. You may need to rerun the search to use this information
Comparisons – What are people wanting to know about how your topic compares to other topics using the terms "or", "and", "vs" and "versus."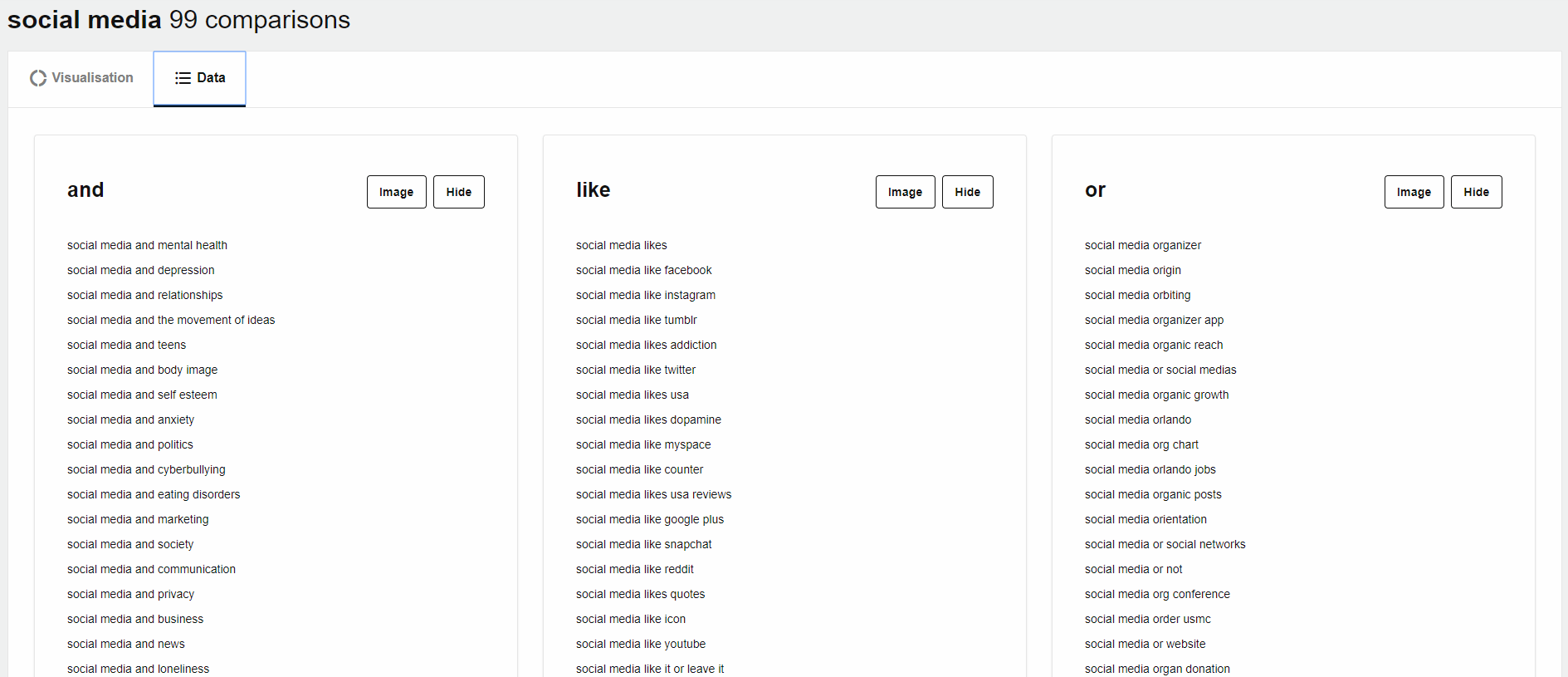 Pro Tip: The information in the "and" section often shows topics that are more related than comparisons. For example, social media and teens shows up under "and," but this term means that people care about the relationship between social media and teens or perhaps about the effect of social media on teens. It doesn't mean anyone is really trying to decide which is better, social media or teenagers – although depending on the mood of the teen and the trending topics on social media, that can be a toss-up
Alphabetical – Lists in ABC order all the terms searched for in conjunction with your search term. This is the same information as the other searches, just compiled in a single, very long list.
Related – What other topics people who are searching for your terms are interested in. For example, social media manager isn't the same as social media, but people who are searching for information about social media also often search for social media manager.
And if you need the data in CSV format, it's as easy as clicking a button. Yes, the Download CSV button in the top right corner.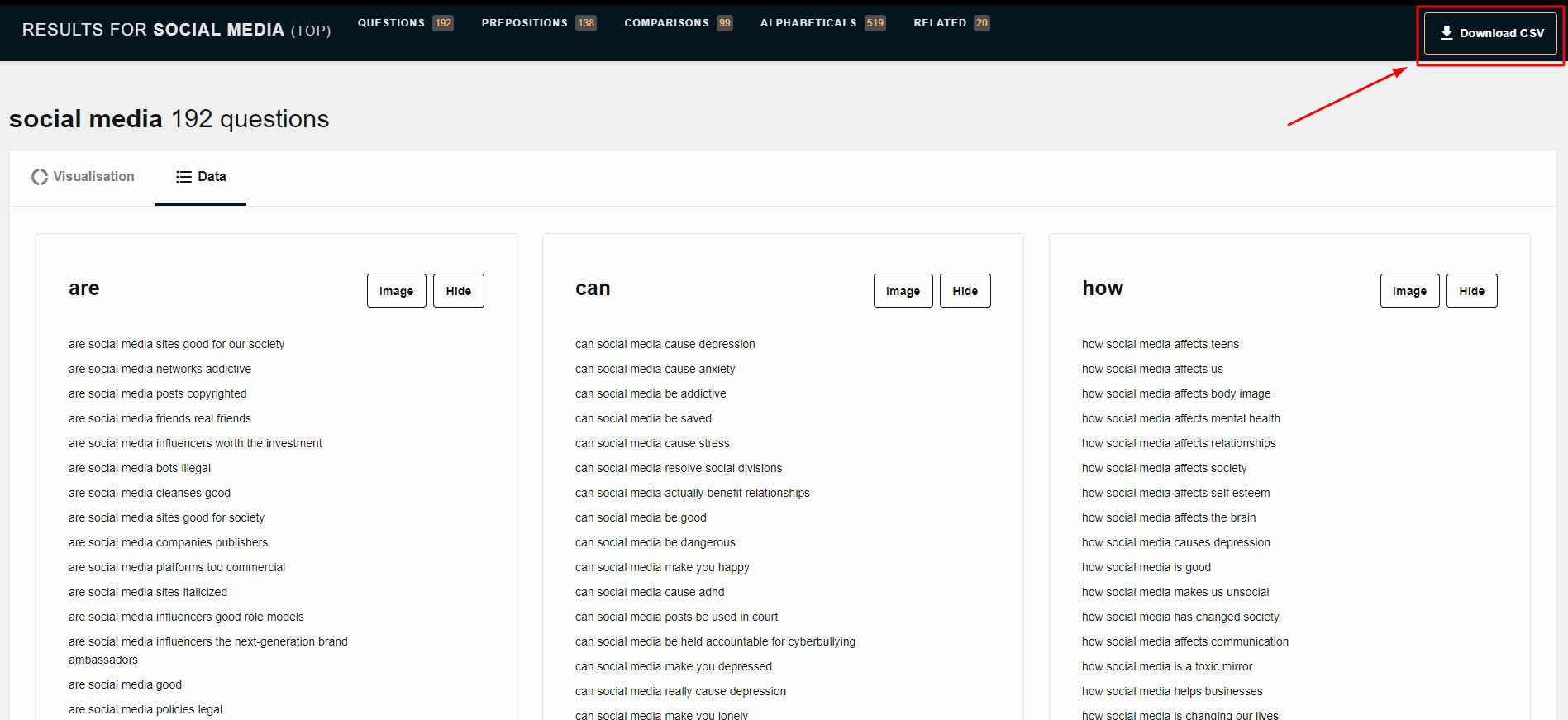 Then just open the Microsoft Excel file and begin working with the data.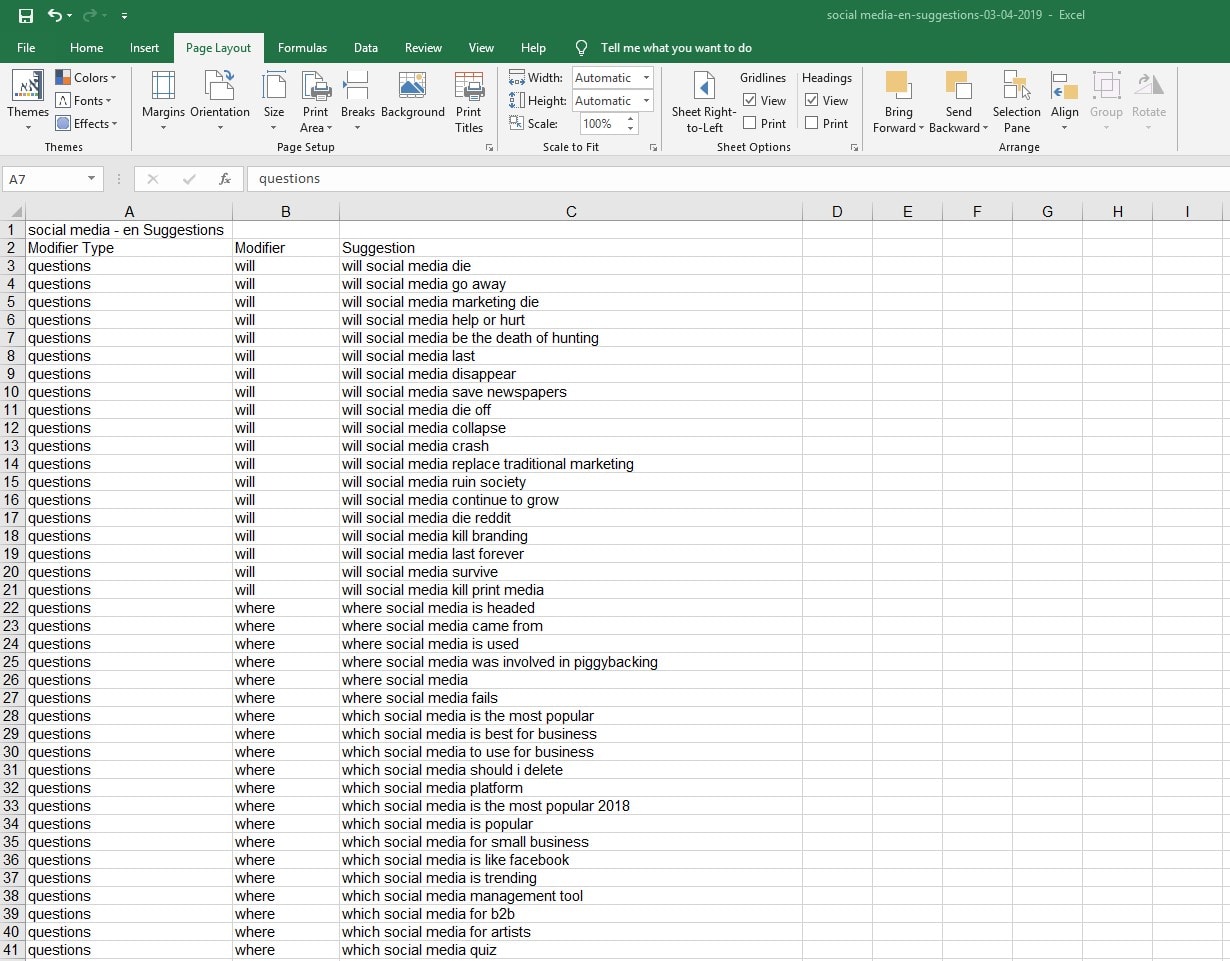 Pro Tip: While the other views are pretty and great for making you look smart, many users find the CSV format to be the most practical. Although all the data is in a single tab, the CSV file has three columns – type, modifier and then suggestion – which makes it easy to search, organize and manage. You can also save the data in this format for future use, which is especially valuable if you are only using the free version and trying to conserve your daily searches
Using the Results to Create Great Content
AnswerThePublic gives you what you need to know to create content your audience craves – maybe not as much as ice cream and pizza, but hopefully close. But simply using the tool doesn't magically turn into results. It's just data.
You have to take the information and actively determine what content to create and actually create the content
. Once you have the results, you may be tempted – or your boss may tell you – to run the results through Google Keyword Planner. This is all fine and good, but keep in mind that long-tail keywords, which is what AnswerThePublic gives you, aren't the same as the best keywords for buying ads.
But yes, long-tail keywords are still where it is at – especially since the competition is so high for the shorter ones these days.
Here are four steps for turning AnswerThePublic search results into content that will drive engagement and conversions – yes, we know those are buzzwords, but in this case, it's true.
Look at your current editorial calendar, and determine the current holes in your content calendar. There is no rule that you should pick 17 ideas from your AnswerThePublic result and then create approximately 14 blog posts, two infographics and a white paper in the next three months. Your needs are very specific to your current channels, needs and audience. And remember that high-quality content is more effective than tons and tons of bad or even mediocre content.
Look at each category in the results, and select the ideas that you think will be most interesting to your audience. Just because it's listed doesn't mean your specific audience will love it. So you have to add your own human knowledge to the equation as well.
For example, if your audience is businesses which use social media, then you should skip terms such as "social media and teens," "social media and depression," and probably "social media horror movie." But "What social media metrics matter?" and "Will social media replace branding?" are topics that might be interesting to your audience.
Decide the best type of content to create for each topic. But don't automatically just write a blog. Yes, blogs can be good. Actually, blogs can be great. You really need a blog. But you also need other types of content to get the most from your efforts.
Especially look for topics that would work well for video – according to the Aberdeen Group, marketers who use video get 66 percent more leads per year. Consider new channels as well, such as podcasting – Content Marketing Institute found that more than a third of marketers are increasing their use of podcasts.
Be creative. You aren't the only person in your industry using AnswerThePublic. So while the insights are great, you need to use them as a starting point to create something unique. For example, let's take the "Will social media replace branding?" topic suggestion. Sure, you could write a thought leadership blog post on the topic that sounds very similar to all the other articles on the web. Or you could create a video – complete with funny costumes – that shows two alternate realities, one without branding and one without social media. By using video, you will likely get a lot of attention. But more importantly, your video – especially if you combine humor with new insights – will make people stop and think about what the trends mean and how they affect everyday life.
Should Content Marketers use AnswerThePublic?
The answer is yes. Absolutely. Positively. According to the Content Marketing Institute, 56% of B2C companies are increasing their spending on content creation. But this is just money down the drain if you aren't creating the right content. If your company is going to create more content this year, then AnswerThePublic should be on your to-do list. If you are responsible for content marketing for your company, then you could most likely grow your audience – possibly pretty significantly – by using the insights found in AnswerThePublic. At the very least,
content marketers should use the free version.
And depending on your volume of content and needs, it's likely you should consider upgrading to the Pro Plan. We were about to repeat some of the reasons that we wrote about in the benefits of ATP sections, but then we realized that no one wants to read the same thing twice. So if you skimmed through that section, go back and reread it.
But honestly, while AnswerThePublic has great features and uses, the most important reason to use it is that you will create better content. Probably a lot better.
The reason is that you will have better ideas. According to the Content Marketing Institute, four out of five articles fail because the marketer rushes through the ideation process – no shame; we've all done it. However, by using AnswerThePublic, you will have a list of suggested topics that have a much higher chance of turning into great ideas. And many you likely would not have thought up on your own. And your success rate will likely be even higher if you combine ideas or put a unique spin on one of the suggested topics.
What are the Benefits of Upgrading to Pro?
After getting such great information from the free version, you are probably wondering whether you should
upgrade to the Pro version
. One of the annoying aspects of AnswerThePublic is that you are constantly being asked to upgrade to Pro. So you are likely wondering exactly what the benefits of the Pro Plan are.  Here are the top three benefits we found to upgrading.
Unlimited searches and unlimited users – This is the biggest benefit – volume. This means that everyone in your office – well, everyone who cares about content marketing – can run as many searches as they want. You can focus on getting the information you need to create the content your audience wants without worrying about counting to three.
Saved reports – With the free version, you run a report and your data is lost unless you save it. But with the Pro version, you can go back and get reports from the past. Often you may not realize something is helpful until it is too late. This ability saves you time and hassle. Plus with everything saved in the tool, you aren't constantly trying to remember where you saved reports manually.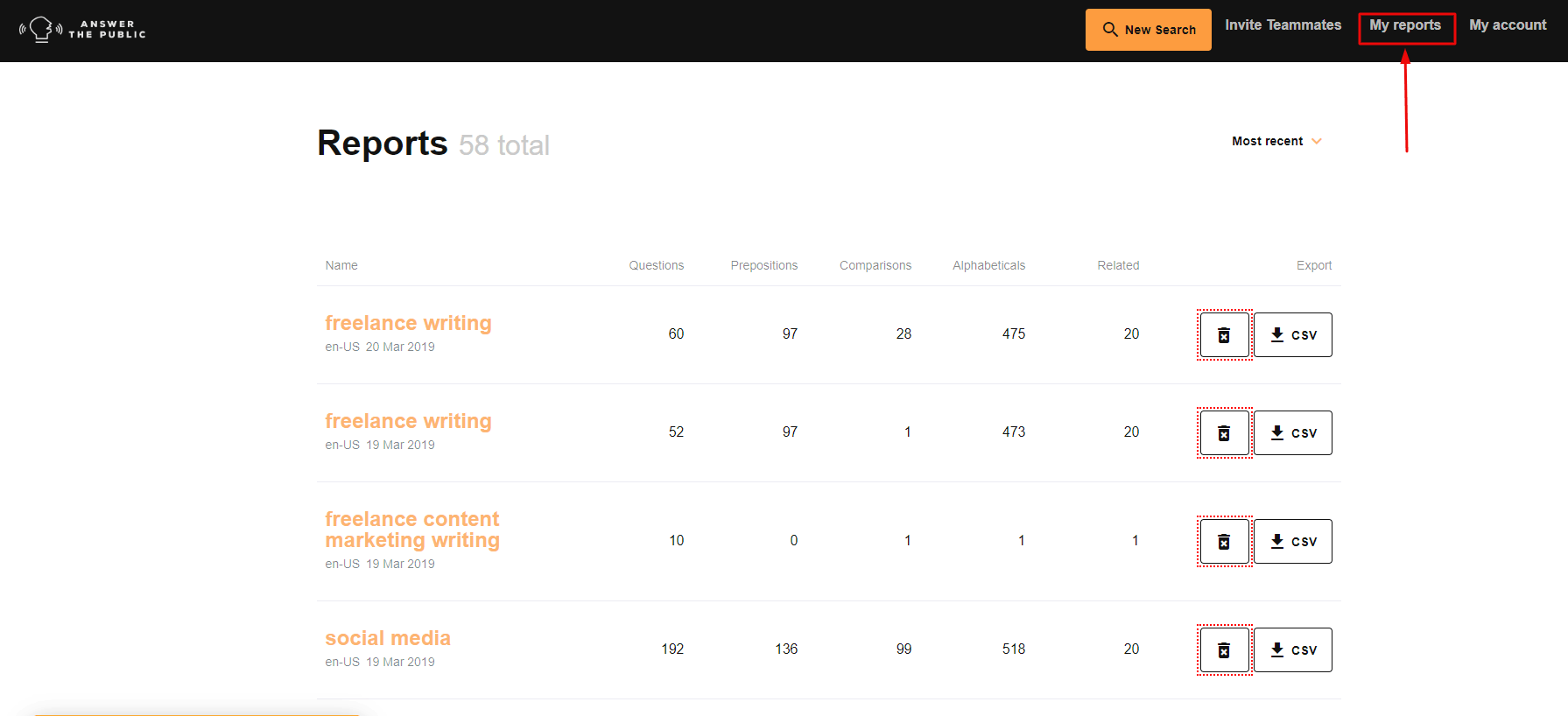 Hide individual suggestions and unwanted sections – One of the best parts of AnswerThePublic is also one of the biggest challenges: the amount of information. With the free plan, you are stuck with all of the categories and results. This means that your graphics aren't as impressive because they contain ideas and topics that are likely not relevant to you. So you won't look as smart in your next presentation.
You can also control the data included in the small image on the Data tab as well as the large image on the Visualization tab. If you do not want a type of information included, simply click the Hide button. You will then no longer see it on any of the lists or graphics. Since one of the downsides of AnswerThePublic is the large amount of information, this lets you focus on a more manageable piece at a time. If you are a visual person, click on the Image button for a handy map that clearly shows the relationship between the term and the results. Be sure to show this one to your boss as well. She will think you are brilliant and talented – don't worry, we won't tell her it's a feature of the program.
Should you Upgrade to Pro?
It depends largely on your volume of searches. We found the biggest benefits to be the
unlimited searches and users.
 The other benefits are nice and helpful but alone aren't worth the $99 a month. Even if you aren't creating a lot of content in the long term,
it might be worth getting the Pro Plan for at least a month or two
. When you are first getting used to AnswerThePublic, it is super helpful to run multiple reports with tweaks and changes to figure out how to get the best results. With the Pro Plan, you have the freedom to do this. One of the gaps in the product that we found is a lack of a middle option between three-a-day and unlimited searches. A small business or solo business owner may very well need more than the three a day but may find the $99 a month to be too much for the use and value. If you fall into this middle category, consider purchasing one or two months' worth of the Pro Plan and focusing on your content planning during those months. Otherwise, you will likely not use the tool as much as you would like to because of the three-a-day limit.
Good Alone, Great Together
While you can't have great content without a fabulous idea, there are many other parts to successful content marketing. You can see even better results by using AnswerThePublic along with other related tools.
After testing many other keyword and ideation tools, we came up with our top two favorites to use alongside AnswerThePublic.
Ahrefs
While Ahrefs has a basic idea generator – nowhere near as detailed as AnswerThePublic – the real value is in its other features, including a site explorer, keyword tracker, rank tracker and site audit tool. Because Ahrefs' Content Explorer takes a very different approach than AnswerThePublic – you enter a keyword and the tool displays the top-performing pieces of content –
content marketers should actually use both tools as part of their creative process
.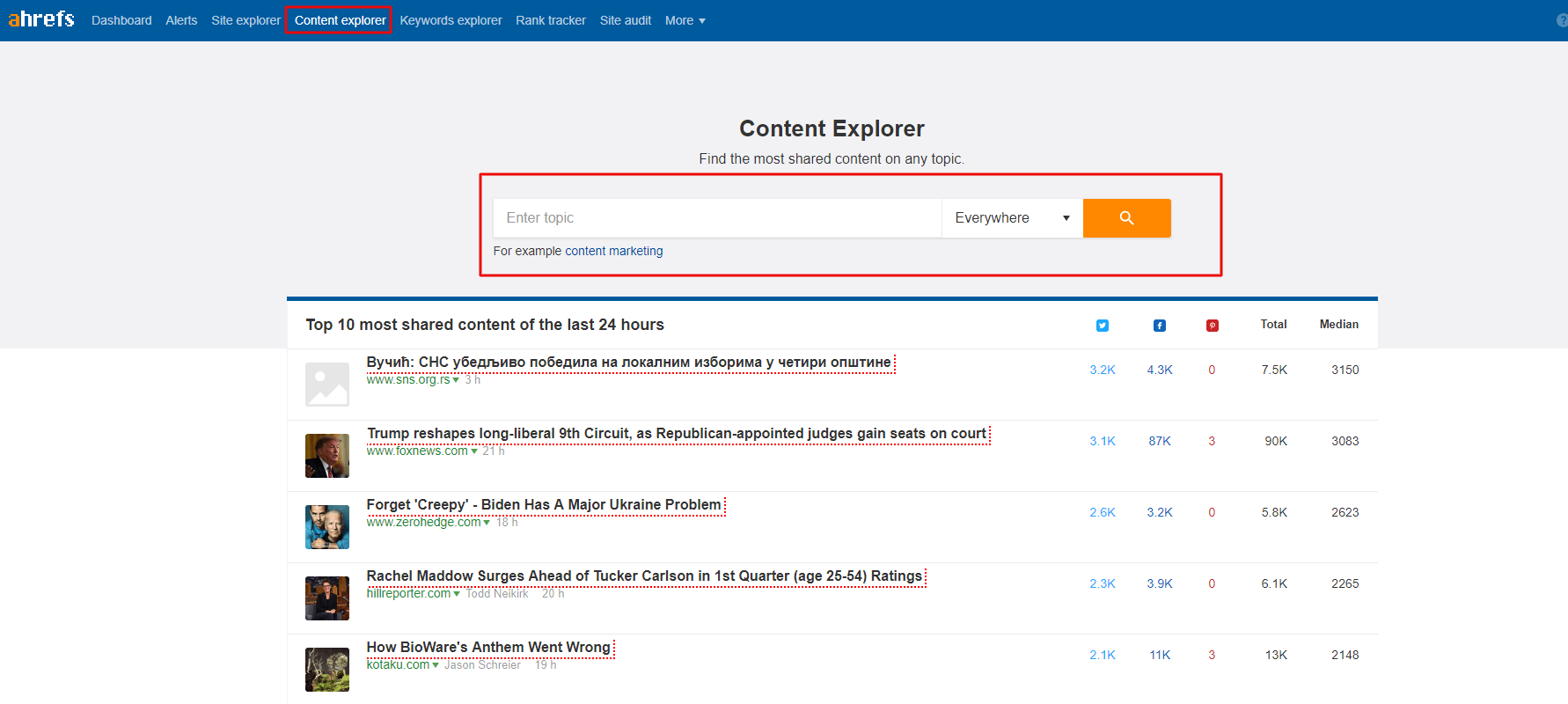 A new feature of Ahrefs is the expanded questions content, which gives detailed information on the top-performing questions in search engines.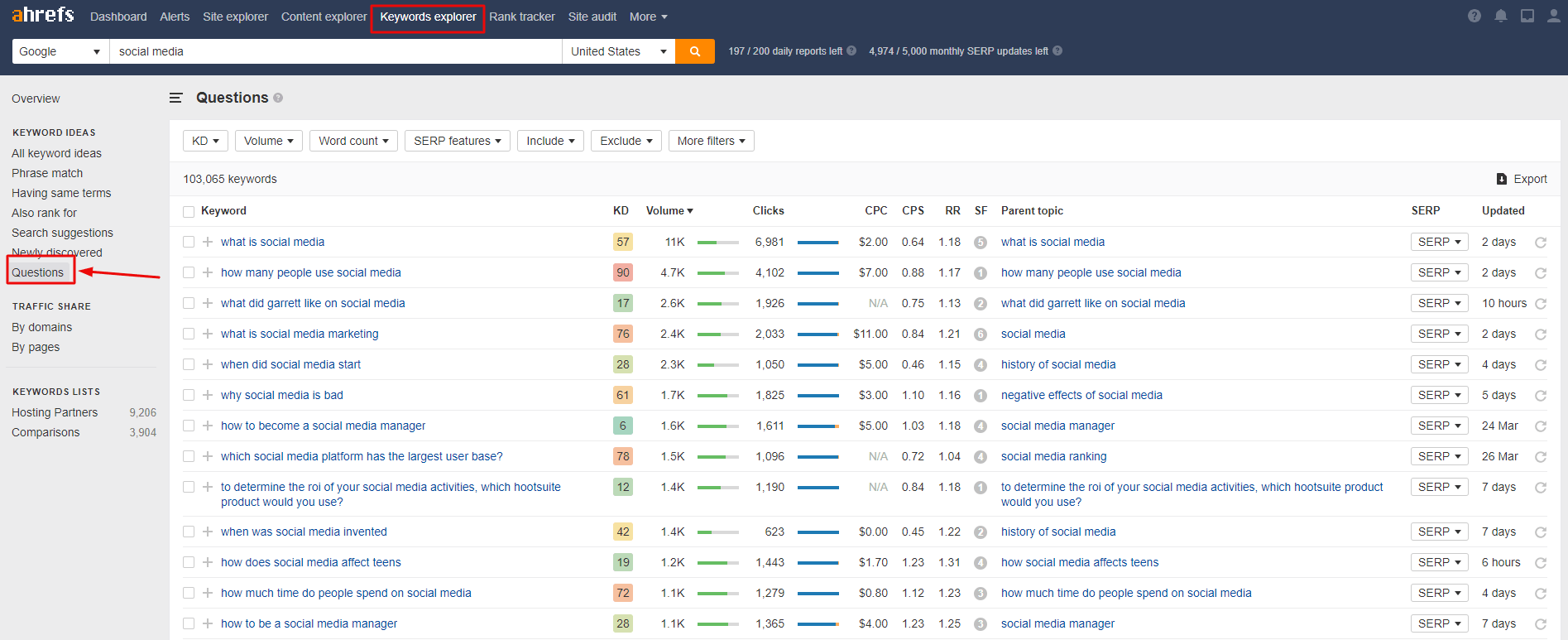 SEMrush
Keywords are important. In addition to ideas, you need to know what keywords to be ranking for, especially if you are going to be purchasing paid ads, which you probably should at least consider doing. Since SEMrush offers
free unlimited searches
, consider using it for additional information to use alongside your AnswerThePublic results. However, we found the upsell prompts seemingly at every click – yes, we are exaggerating slightly – to be annoying and interruptive.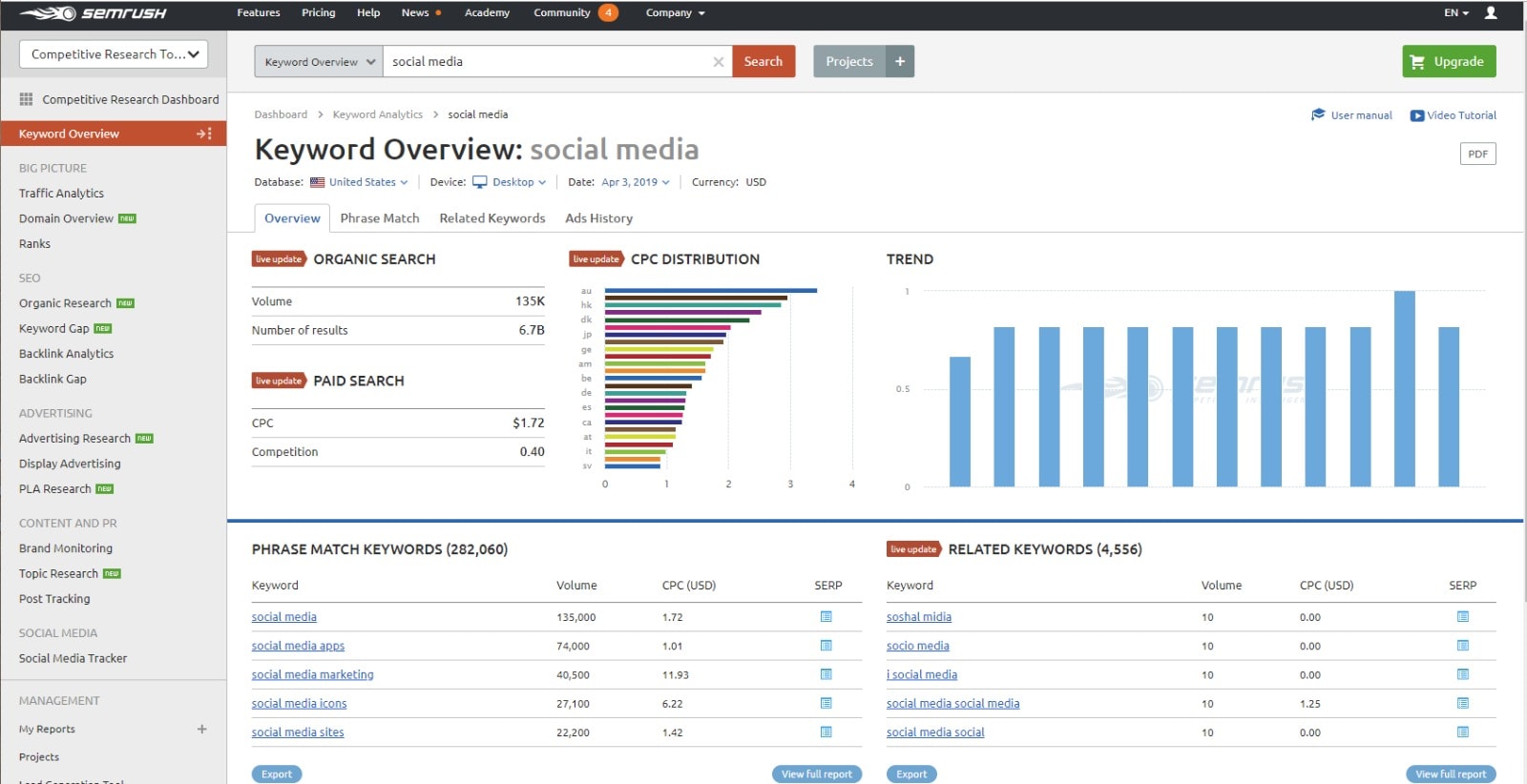 You can also use the Keyword Magic Tool for even more detailed information regarding which keywords to be targeting.
Read our review of SEMrush for content marketers here!
The Final Word on AnswerThePublic
Deciding what topics to use for your blogs, white papers, infographics and whatever other types of content your business creates is hard. It's time-consuming. It's stressful. Not to mention the reason that it feels like you are writing the same topic that everyone else is writing about is because you likely are doing exactly that. Because content marketing is expensive to produce, the stakes are high. You can't afford to get it wrong, even occasionally. And here's the thing: Your content is only going to get results if people read it.
And the only way to create the content people want to read is to get inside their search engine habits.
By using tools such as AnswerThePublic,
you can have instant brainstorming at your fingertips to help you come up with possible ideas on any topic that the sales department suggests
. And it can help you come up with overlooked angles on those topics that you feel like you've already written about 99 different times. Creating great content is hard. With so many tools online, your competitors are more than likely getting help with ideas, keywords and optimization. And when you don't take advantage of the same resources, you are giving them a three-lap head start before the race even begins. Instead of playing catch-up, try the free version of AnswerThePublic so you can get ahead of your competitors in terms of snagging SEO terms.
If you have friends and colleagues within the content marketing industry and/or are a member of content writer groups on Facebook, we'd appreciate it if you share this guide with them. You can share it on Twitter as well. 
---
Source List:
http ://v1.aberdeen.com/launch/report/research_report/12472-RR-Video-Marketing-Growth-AM.asp
https ://contentmarketinginstitute.com/