find
your content – and find it
easily and often
. This means your content also needs to rank high in the search results for keywords your potential customers are likely to be searching for. But you aren't an SEO expert. Thankfully, you don't need to be. By using one (or several) of the best SEO tools available – some are free SEO tools, some paid – you can have the information you need to help improve your rankings. Since you are busy creating amazing content, we did the hard work of reviewing a whole bunch of top SEO tools. Now all you have to do is scan our list – well, hopefully you will do more than scan – to find the tools that meet your needs. Then you can get back to writing, videoing, and podcasting. And if you're building your site from scratch, take a look at our list of
the best website builders for SEO
.
What We Look For in the Best SEO Tools
Many of the best SEO tools have the same basic function – providing information on keyword rank and volume. But beyond that, the tools vary more than you would expect. As we looked at all types of top SEO tools – simple, complex, free, and expensive – we came up with a list of criteria to help us evaluate them. Here are the things we looked for:
Intuitive and easy-to-use design: You want to focus on getting the info you need, not spending hours learning how to use the tools.
Valuable keyword information: All the tools we reviewed give keywords and volume, but from there, the information varies. Some tools provide suggestions for specific keywords based on your topic, while others give paid vs. organic information.
Exportable data: You need to get the information out of the tool so you can work with the data and share it with your colleagues or clients.
Insight beyond keywords: It's easy to focus on keywords alone, but many factors go into determining SEO. We found several tools that give data on backlinks, site speed, and mobile responsiveness.
Our Favorite Free SEO Tools
#1: Google Keyword Planner – The Must-Use Tool for Volume Data
Yes, this tool was designed for purchasing ads. But the keyword information is straight from the source – in this case, Google – and gives you information you won't find elsewhere. Keyword Planner tells you how often specific words and phrases are searched for to help you select the right keywords for your content. The interface is easy to use, but the amount of information can be overwhelming to a beginner. Many marketers make the big mistake of using Google Keyword Planner as their main SEO tool.
You should use Keyword Planner in conjunction with another tool specifically designed for SEO, not as your only resource. 
Why? Because while the information about search averages is helpful, keep in mind that it's the
average
number of searches. The default is over the past 12 months. Search patterns often change quicker – sometimes
much
quicker – if related to a trend or news story. This means that Keyword Planner is not always the best source for spotting keyword trends.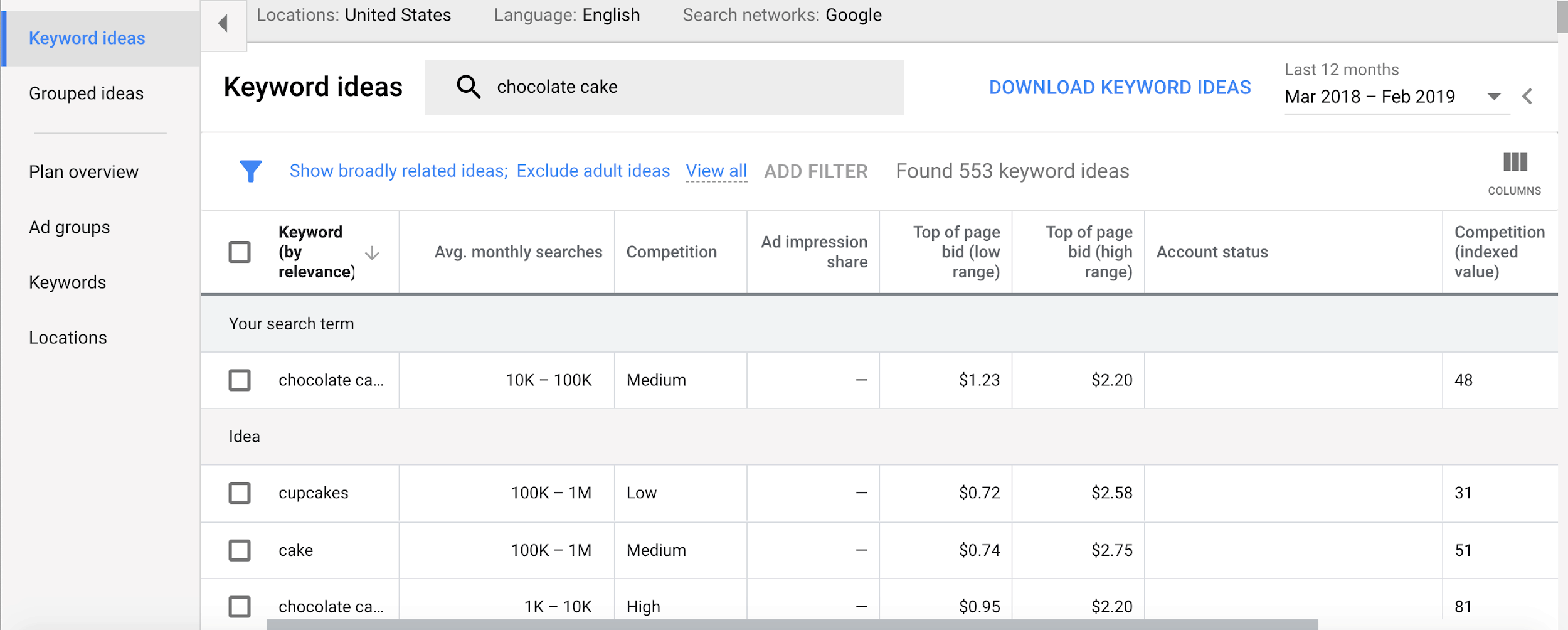 Key features include:
Competition information: The tool shows if the competition for the keyword is low, medium, or high.
Recommended keywords: When you search for a topic, the tool returns an organized list of terms to start your keyword research.
Easy-to-use interface: Just put in your terms, click a button, and view your results. For beginners, the challenge with the tool comes in interpreting and using the info in your content marketing.
Hyper-local search data: Need to know what your neighbors are searching for? Not because you are creepy and spying, of course. But because you want them to come to your place of business. Keyword Planner gives the most granular and local data of the tools we reviewed.
| | |
| --- | --- |
| Exportable | Exported to CSV or copy to clipboard |
| Languages Supported | Multiple languages |
| Unlimited Searches Available | Yes |
| Option for Paid Version | No, always free |
#2: Ubersuggest – The Most Simple to Use
One of the best parts of Ubersuggest – besides the fact that it's
completely free with no limited functionality
– is its intuitiveness. You receive the information you need – both keywords and long-tail phrases. The amount of data is perfect for most users – enough without being overwhelming. However, with the simplicity comes the trade-off of not having advanced analytics, such as ranking and competition. Many content marketers pair Ubersuggest with Google Keyword Planner to get both levels of information. While Google Keyword Planner focuses on the ads people click on, Ubersuggest provides keywords people are actually searching for.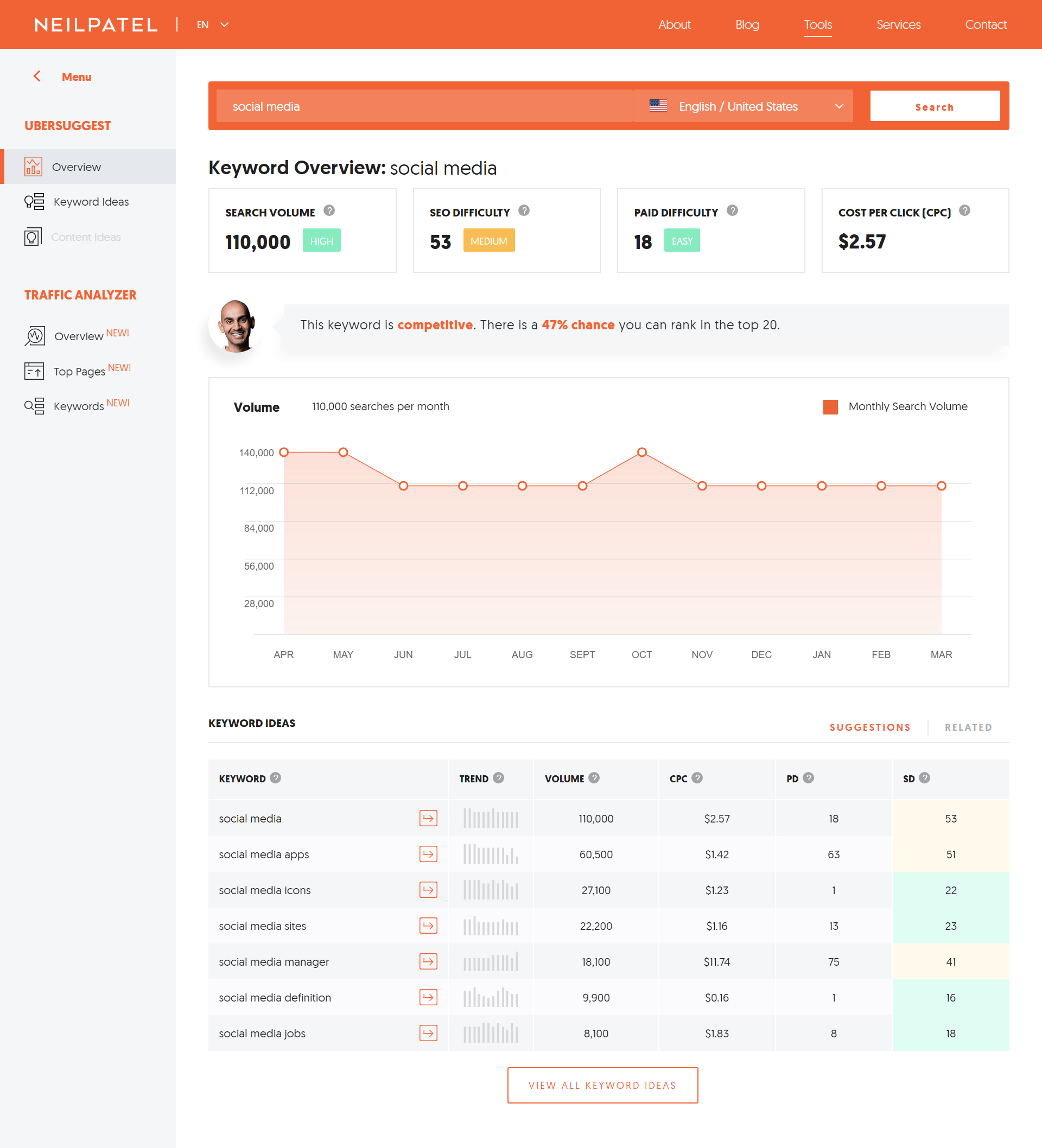 Key features include:
Search a keyword or a URL: While many tools let you start with either the word or the site, Ubersuggest lets you analyze both traffic based on a keyword and data on a specific URL.
Large number of keyword suggestions: Several searches we ran gave us hundreds of keywords to consider.
Percentage of success: The tool tells you how likely you are to rank in the top 20 as well as the leading sites for the given keyword.
| | |
| --- | --- |
| Exportable | Exported to CSV or copy to clipboard |
| Languages Supported | 40 languages |
| Unlimited Searches Available | Yes |
| Option for Paid Version | No, always free |
#3: SpyFu – The Best for Watching Your Competition
If you create content on topics that often change – terms, popularity, keywords – SpyFu should be on your list, if not at the top. SpyFu also gave us
the best insight on competitors
, which can be super useful to help you figure out where to focus your energy. While the free version offers a lot of really insightful information, there are some limitations, and many marketers find themselves upgrading.
You will know everything – every keyword they bought on AdWords as well as organic search rank for all keywords.
If your focus is on AdWords, this is a great tool to use in conjunction with Google Keyword Planner. However, if you are new to SEO, the amount of data is likely to be a bit overwhelming.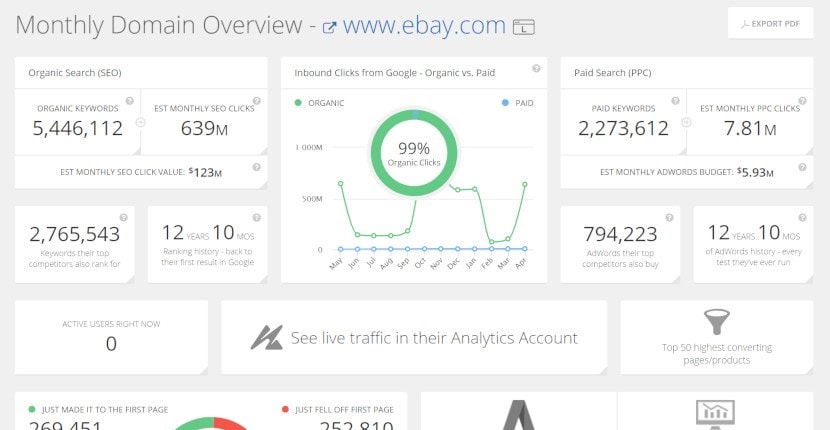 Key features include:
Both paid and organic keywords: While some tools focus on one over the other – or do one better than the other – SpyFu provides excellent data to help create content for both.
Lots of data: The amount of data for the free version of the tool rivaled and often beat other paid keyword tools. However, if you want unlimited searches, data exports, and domain overviews, upgrade to the paid tool.
Simple without being limited: The interface is clean, simple and intuitive. No need to look up instructions; everything you need to know is right on the screen.
| | |
| --- | --- |
| Exportable | CSV file or PDF |
| Languages Supported | English only |
| Unlimited Searches Available | No (unlimited with a paid plan) |
| Option for Paid Version | Yes (Basic, Professional, and Team plans) |
#4: Keyworddit – The Only Tool That Mines Reddit
Instead of searching Google like the other tools on this list, Keyworddit uses Reddit posts to find keywords. You may already use Reddit to get topic ideas, but the tool is a great way to see what's trending and generating conversations. While you may initially overlook this tool if you aren't looking to rank on Reddit,
Keyworddit can help uncover some keywords you might otherwise miss.
It works a little differently than the other tools we reviewed. Instead of starting with a topic and getting keywords, you select a subreddit and receive list of keywords. And if you aren't sure what subreddits exist, you can click on the handy drop-down list to get started. While you only get limited information – no competition or statistics – the simplicity makes the data quick and easy to digest. However, the quality of the keywords is highly dependant on the specific topic.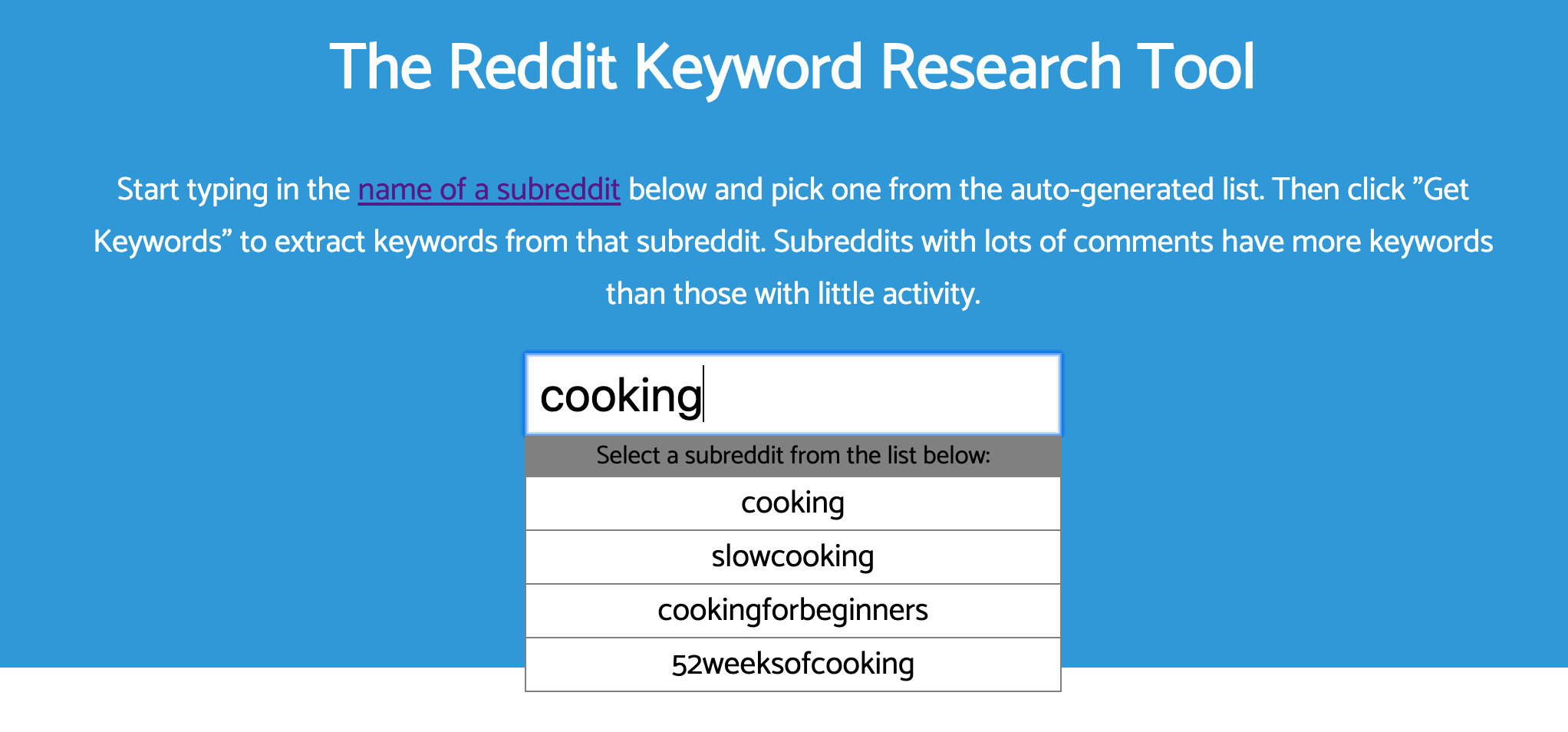 Key features include:
Simple to search and view: With a single field and button, there is no question how to work the tool. The results include two columns of data and a link for each row.
Puts the keywords in context: There's no guessing with this tool. Each keyword comes with a context link that displays Google links for related Reddit topics.
Uses Grepwords for keyword volume: Grepwords describes itself as a massive, fresh keyword database. Since most other tools use Google, this gives a different perspective.
| | |
| --- | --- |
| Exportable | Exported to CSV |
| Languages Supported | English only |
| Unlimited Searches Available | Yes |
| Option for Paid Version | No, always free |
#5: Yoast – More Than Just SEO
Maybe you've already written the content and you just want to know if you've gotten the SEO right. By installing the Yoast plugin into your WordPress site, you get immediate SEO feedback on your content. You tell Yoast your focus keyword (you can only optimize for one keyword with a free account), and it checks the content to see if you've hit the mark.
Yoast is a great beginner tool
because the interface walks you through the SEO process. And once you have it set up, it automatically runs. It's also super simple to understand the results – you get a score, and then you make changes to improve it. Yoast gives you clear steps, for example: add alt tags with the focus keyword to images, improve your keyword density, put the focus keyword in the URL, etc.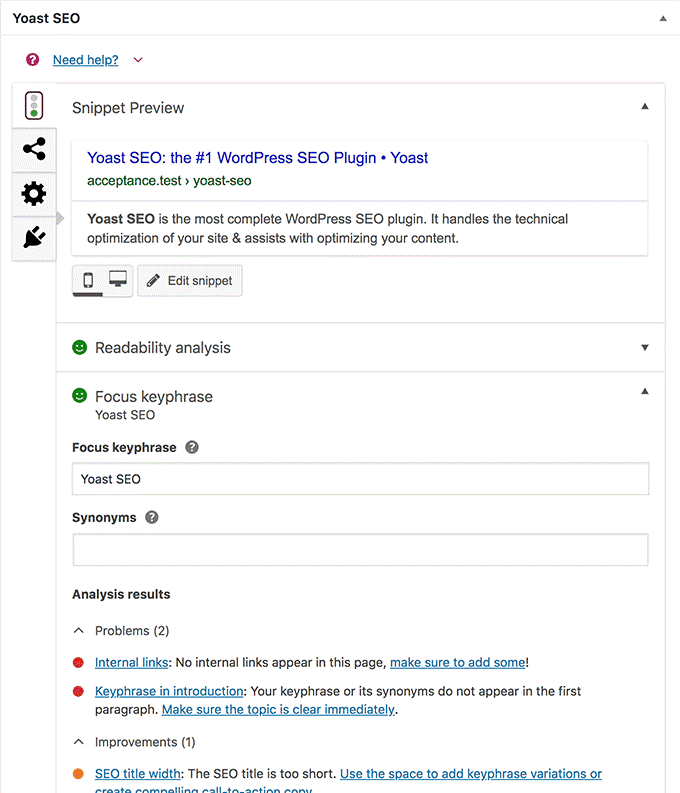 Key features include:
No extra step: Because the tool is built into your web editor, the SEO optimization automatically happens – it's almost impossible to overlook.
Readability information: Not only do your readers need to find your content, they need to be able to easily understand and digest it. With a simple readability index, you can make changes before you publish.
Metadata help: Yes, metadata is still important. And Yoast guides you through making sure it's optimized for your focus keyword.
| | |
| --- | --- |
| Exportable | Yes |
| Languages Supported | Yes, though some checks are language-specific |
| Unlimited Searches Available | Yes |
| Option for Paid Version | Yes. at a one-time cost per year, per site |
Our Favorite Paid Top SEO Tools
#1: SEO SiteCheckup – More Than Just Keywords
This powerful tool lets you monitor your own site (and a competitor's) to give you
an SEO score based on 45 checks in six categories.
While the tool offers many features for free, you have to run a separate report each time. The paid tool, on the other hand, proactively monitors and notifies you of changes and new opportunities. You can track keywords, websites, competitors, and regions (the allotted number varies by plan). This proactive monitoring is especially helpful for site speed and security issues, which need to be addressed immediately or will negatively affect your SEO.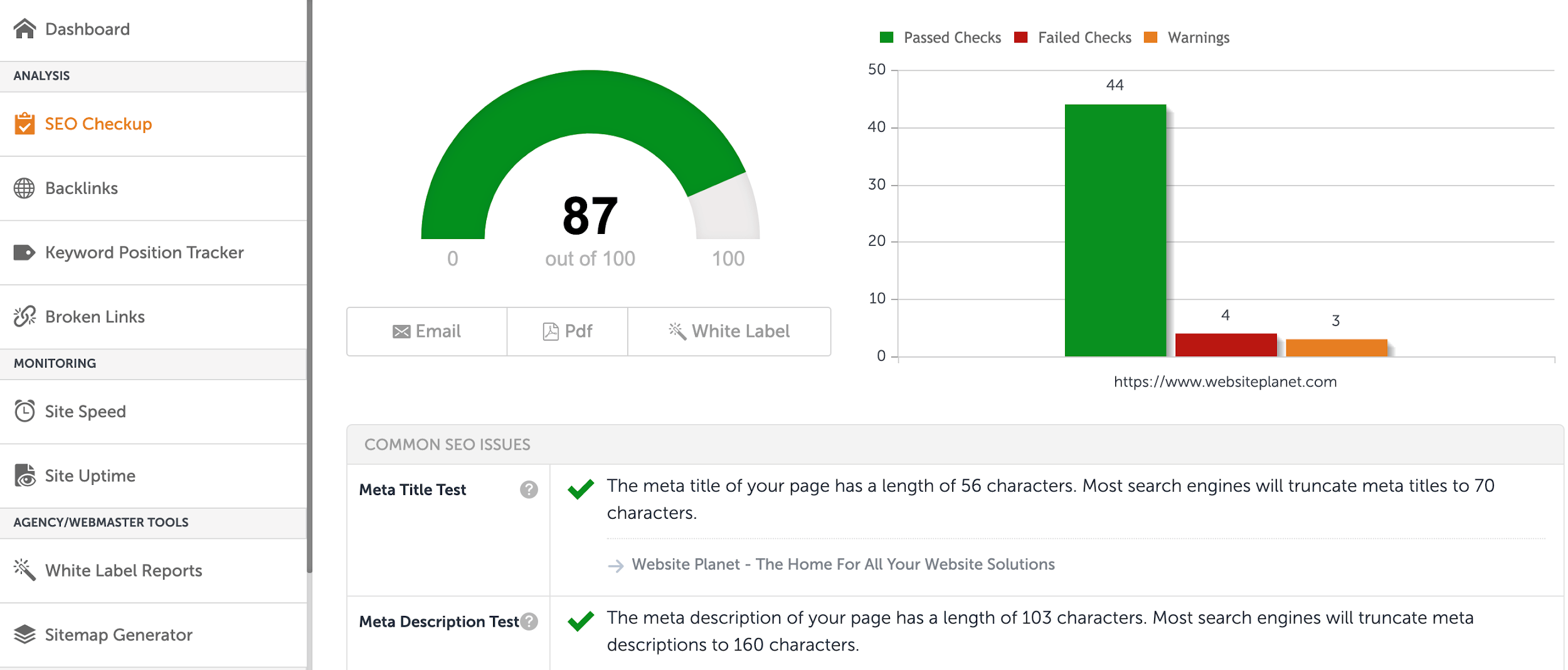 Key features include:
Website monitoring: You can analyze both your site and a competitor's – at the same time. The Basic plan lets you follow three sites, whereas you can follow up to 15 with the Professional plan. This monitoring includes everything from keyword position and SEO score to site speed and downtime notifications.
While label reports: With the Professional and Webmaster plans, you can create custom reports that provide SEO analysis with only the information that you (or your boss or client) need.
Sitemaps on demand: Creating a sitemap can take time and effort, but it can greatly improve your Google ranking. SEO SiteCheckup creates one for you with no extra steps on your end. With the Basic plan, you can create a map of one domain, but the Professional Plan lets you map up to 15 domains.
| | |
| --- | --- |
| Exportable | Exported to CSV |
| Beginner Friendly | Yes |
| Customer Support Options | FAQ and email |
| Free Trial Available | 14-day free trial (with credit card information) |
#2: SEMrush – The Most In-Depth Reporting
It's easy to focus on keywords, but good SEO ranking also depends on loading speed, mobile optimization, backlinks, and site structure.
SEMrush analyzes your site and makes suggestions
for improving SEO, advertising, and keyword research in a single tool. Because of the price tag and in-depth features, this tool is best suited to large companies and enterprises.
If you have the know-how, you won't need any other tool but this one
– it gives you everything you need to improve your SEO, not just keywords. One of its best features is the social media data that helps you improve your reach on social channels as well. And the keyword information is top notch – easy to use and detailed. Plus, you can see competitive information as well, such as what keywords other vendors lost, so you can target new keywords. One of our favorite parts was the detailed tutorial that walks you through how to use the information and fix issues on your site.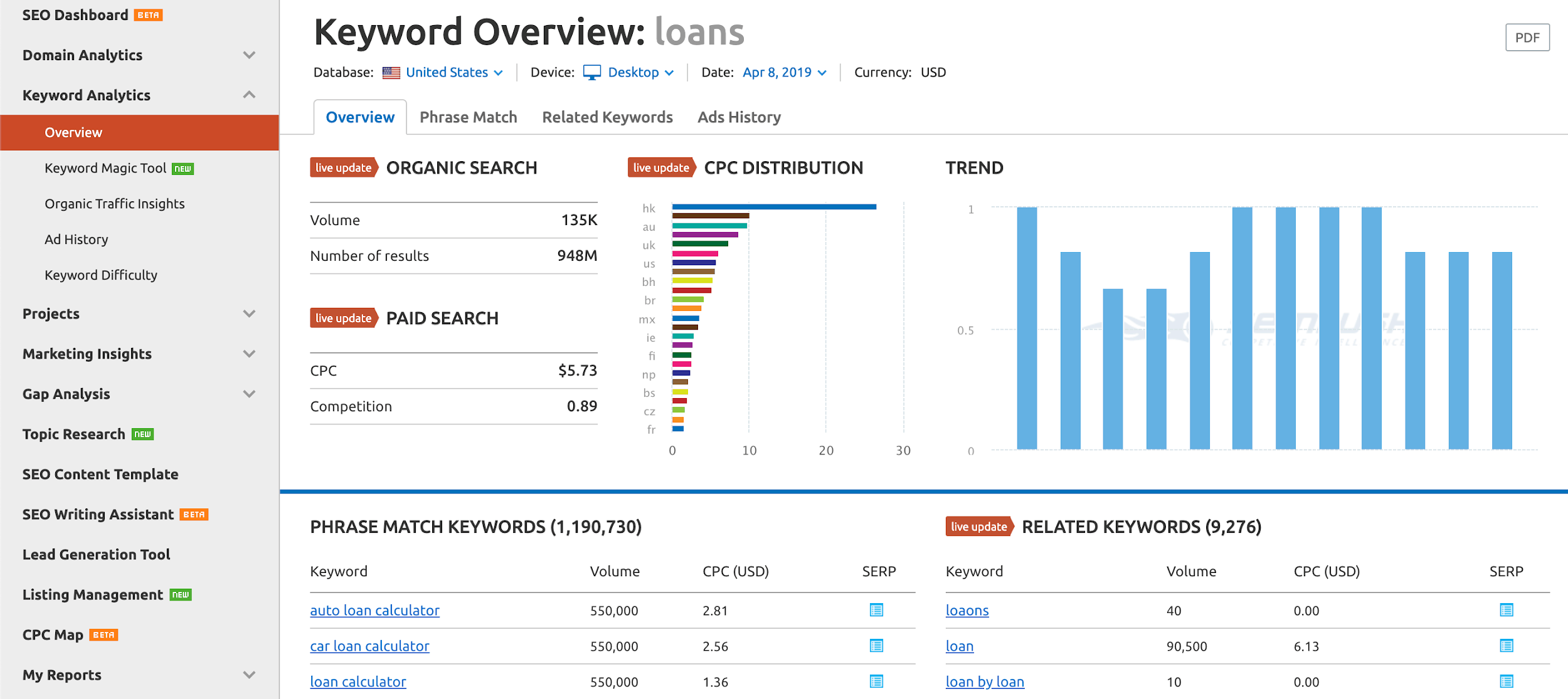 Key features include:
Easy-to-use dashboard: You can see a snapshot of all the information you need about traffic and keywords in one place. The clean and intuitive design is a bonus.
Campaign-specific tracking: Your boss evaluates you on campaign success, and this tool breaks it down by campaign so you can make changes to improve your results.
Proactive keyword suggestions: Instead of just telling you how the keywords are performing or giving a list of hundreds of suggestions, SEMrush recommends specific keywords to target.
| | |
| --- | --- |
| Exportable | Into a CSV file, or save reports as PDFs |
| Beginner Friendly | Advanced, but includes helpful tutorials |
| Customer Support Options | FAQ, toll-free phone (U.S. and U.K. business hours) |
| Free Trial Available | 7-day free trial of Premium (Also, limited free account option) |
#3: Content King – Great for Making Site Improvements
We agree with the reviews on Content King –
it's an all-around fabulous app, especially for the price, which is lower than many other paid tools with fewer features.
Instead of you running searches, Content King monitors websites – every day, all day, even at 2 a.m. – and proactively notifies you of issues. If a link breaks, you get a message. If a page goes down, you get a message. Content King is a lifesaver for content marketers who are responsible for multiple websites, especially those working at agencies and managing sites for clients. Your clients will be super impressed at how on top of it you are, not to mention the easy-to-understand reports you can show at the next status meeting. The actionable insights on how to fix issues are invaluable – there's no numerical score that you try to improve through trial and error. Just a list of things to fix and change. To make things even easier, you can prioritize action items and even ignore issues right in the Content King app. We got super excited when we discovered that if you click the insight, Content King takes you right to the very page that needs to be fixed, which is a huge time saver.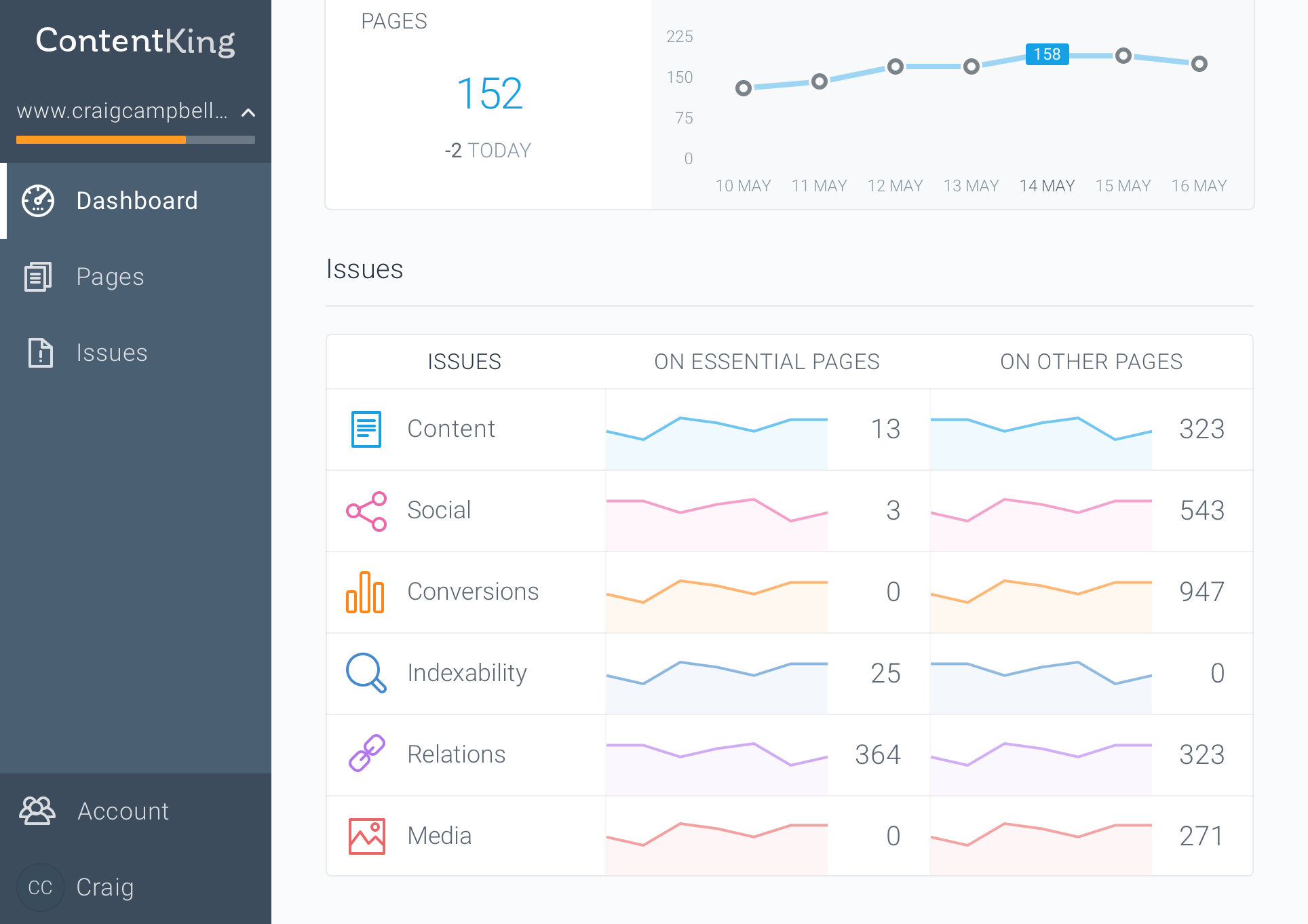 Key features include:
Track changes: Not only do you get notified if something is broken, but also if something is changed – a new link, a new page, even new content. This is super helpful if multiple people have edit access to your site – no more surprises or wondering who did what.
Technical auditing: This is the only tool reviewed that analyzes your XML sitemaps, txt file, or domain configuration. While overlooked by many tools, these foundational components can make a positive or negative difference in your SEO.
Segments: Not all pages have the same goal, and some work together. You can create page groupings, which makes them easier to analyze and fix. For example, you can have your blog pages in one segment and your product pages in another, because their SEO needs are different.
| | |
| --- | --- |
| Exportable | Into a CSV file |
| Beginner Friendly | Yes |
| Customer Support Options | Live chat and phone (during UK business hours) and email |
| Free Trial Available | 14-day free trial (no credit card information required) |
#4: Clusteric – The Most Personalized Results
Sometimes you don't want standard information, you want a personalized report. When that is the case, Clusteric is one of the only tools we found that allows you to customize the output. The tradeoff to this advanced customization is, not surprisingly, a clunky interface and reports that are a bit time consuming to wade through. But once you get the hang of it, it's relatively easy to use. Yes, this tool isn't as well-known as some of the others on the list, but we added it because
the level of personalization is invaluable to advanced users.
Content marketers who really want to geek out on the metrics will have a ball. Or, even more importantly, if your agency has clients that want this level of customization, they will think you are a genius. The tool has many of the same features as the others we reviewed – backlinks, keywords, competitor analysis, and search visibility. But the difference is that you can pick from 100 different factors when you run the tool so that you get exactly what you need – nothing more or less. Clusteric also lets you assign levels to each factor – heavy, medium, or light.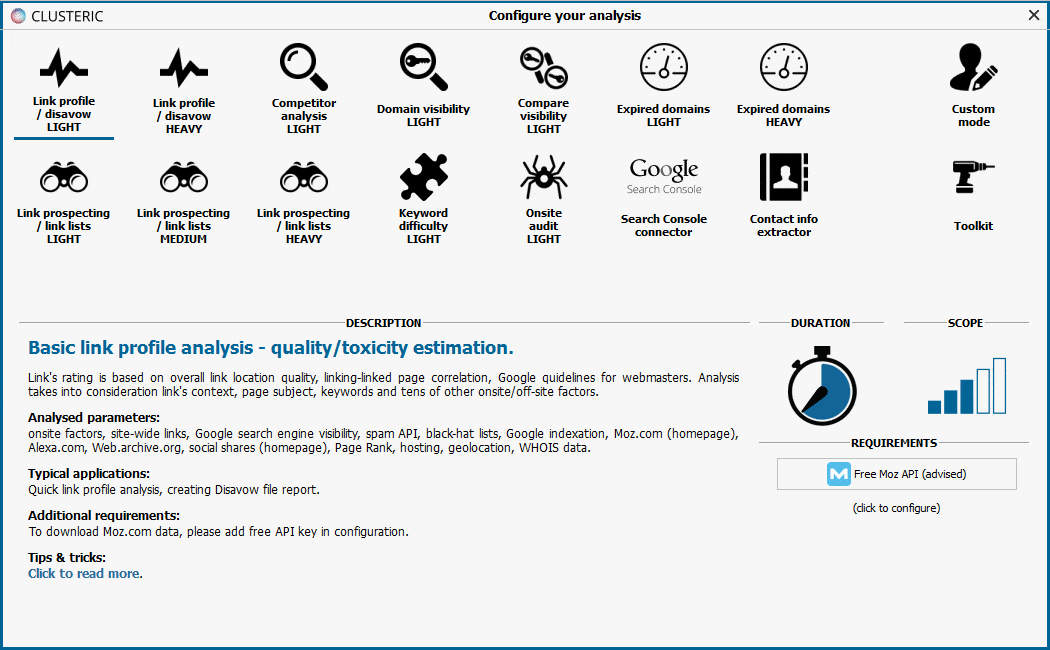 Key features include:
Link quality: You don't just get info about whether the link is working or not but also an analysis of the quality. Since this matters to Google, it should matter to you.
Optional premium API: You can customize the tool even more by subscribing to the API with 30 integrations, including SPAM detection and advanced backlinks.
Lead generator: Based on your specific keywords, the tool will generate a list of potential customers that you can email directly or target on social media.
| | |
| --- | --- |
| Exportable | Excel, Google Docs, OpenOffice |
| Beginner Friendly | No |
| Customer Support Options | Email only |
| Free Trial Available | No, but you can download a demo version |
#5: Wordtracker – Best Tool for Beginners
Are you on a budget? You're not alone. If you're a content marketer seeking greater functionality than what free tools provide but can do without some of the highly advanced (and pricier) features, Wordtracker presents itself as the ideal solution for you. We really like that
you can try out 12 searches without putting in your credit card info.
Most of the other tools we tested required registration and payment information for the free trial. But with this one, you can see what you get before going through the effort of signing up. Wordtracker was also one of our top picks in terms of value. Not to mention, it's easy to use and has a simple interface. But that doesn't mean basic – this tool was one of our favorites for finding long-tail keywords. And since we aren't always the best spellers, we were impressed with how easy
it capitalizes on people who make spelling mistakes in browser searches.
You can then capture these misspelled versions for common keywords, which are often low competition. You also get more for your money – yes, we know that's a cliché, but it's true – by using Wordtracker with the free Chrome extension, Scout. This way you can use Wordtracker on any site that you visit, which makes competitive research even easier to do.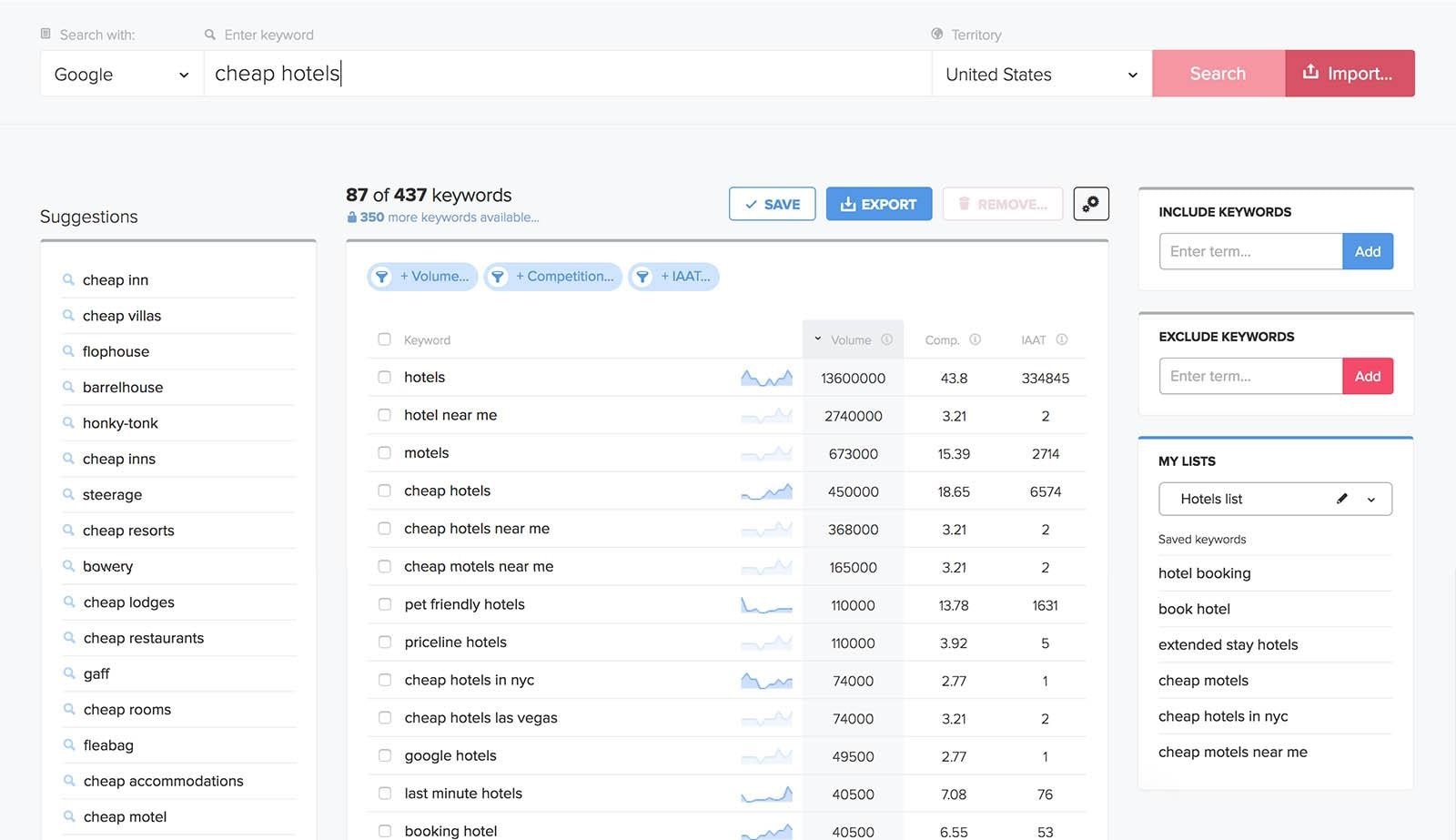 Key features include:
Pulls from multiple sources: You won't just get information Google, but also from Amazon and YouTube.
Available API: Feel like building your own tool? If so, you can use the API that comes with the monthly plan to connect to the Wordtracker database.
Tons of keywords: All the tools we looked at had lots of keywords, but Wordtracker impressed us with at least 320 million keywords in its database.
| | |
| --- | --- |
| Exportable | Yes |
| Beginner Friendly | Very |
| Customer Support Options | Phone and live chat (during UK business hours) and email |
| Free Trial Available | 7-day free trial, plus 30-day money-back guarantee |
Choosing the Right SEO Tool for You
You need an SEO tool. There's no way around it. No two tools are the same, and no one tool is right for every business. You need
the
tool that's right for
your
business, not the flashiest or the one with the most features. If you get a tool that has too many features, you will likely spend too much money and then more time going through the results. Finding the right SEO tool to help people find your content starts by really understanding what you need from a tool.
Think about what information you want and what features you really will use.
And be honest about your skill level: Are you new to SEO, or are you the person in your office that everyone comes to with an SEO question? After spending way too many hours looking at tools, we have a few favorites:
If you are an agency or manage multiple sites for your company, our favorite is Content King. It's super easy to keep tabs on all the sites you are responsible for because you can set up notifications.
If you are new to SEO and need the basics, check out the free version of Yoast or the paid tool Both tools give you the keywords you need and are extremely intuitive.
If you are an SEO nerd, consider It's got the bells. It's got the whistles. And you've got the expertise to put it to use.
To make your decision a bit easier, here's a couple of handy comparison tables.
FEATURES COMPARISON OF FREE SEO TOOLS
| | | | | | |
| --- | --- | --- | --- | --- | --- |
| | Google Keyword Planner | Ubersuggest | SpyFu | Keyworddit | Yoast |
| Keyword Research | ✔️ | ✔️ | ✔️ | ✔️ | ✔️ |
| Content Audit | ❌ | ❌ | ✔️ | ❌ | ✔️ |
| Topic Ideas | ❌ | ❌ | ✔️ | ❌ | ❌ |
| Competitive Analysis | ❌ | ❌ | ✔️ | ❌ | ❌ |
| Change Tracking | ✔️ | ❌ | ✔️ | ❌ | ❌ |
FEATURES COMPARISON OF PAID SEO TOOLS
| | | | | | |
| --- | --- | --- | --- | --- | --- |
| | SEO Site Checkup | SEMrush | ContentKing | Clusteric | Wordtracker |
| Keyword Research | ✔️ | ✔️ | ✔️ | ✔️ | ✔️ |
| Content Audit | ✔️ | ✔️ | ✔️ | ✔️ | ✔️ |
| Topic Ideas | ❌ | ❌ | ❌ | ❌ | ❌ |
| Competitive Analysis | ✔️ | ✔️ | ❌ | ✔️ | ✔️ |
| Change Tracking | ✔️ | ✔️ | ✔️ | ❌ | ❌ |
Now you have all the information you need to find the perfect tool for your website. But simply purchasing or using the tool isn't going to automatically increase your SEO. You have to take the next step and
use the data to create SEO-friendly content
that your customers will actually be able to find. And if you are just beginning to build your online presence, be sure to take a look at our list of
the best website builders for SEO
. SEO is just the beginning. Creating interesting and creative content is the rest of the story.