many hosts charge premium rates only to provide automatic updates for WordPress, and nothing else
. But there are hosts that provide everything you need for your WordPress site to flourish. With the right host,
you could enjoy the latest in WordPress and web server optimizations, proprietary plugins, useful design tools, and more
. To save you the headache of finding the best providers, I've tested dozens of managed WordPress hosts for you, and narrowed it down to eight of the very best. All of the hosts below offer an ideal WordPress hosting environment with plenty of extra features. Read on to find out which one is the best for you.
Short on time? These are the best hosts for managed WordPress hosting:
Hostinger – powerful optimized WordPress on a budget
Kinsta – the best performance on the market
Nexcess – lots of premium WordPress features included
What we Look for in the Best Hosting Providers for Managed WordPress
Speedy performance. If your site is taking centuries to load, you aren't going to be able to retain any visitors. That's why I only picked hosts that deliver high page loading speeds.
Reliable uptime. Any amount of downtime can drastically affect your site's overall traffic and reduce engagement. I only included hosts that offered near-perfect uptime in our testing.
Premium features for WordPress. A managed plan should give you much more than automatic WordPress updates. These hosts offer exciting or proprietary features you won't find in a typical shared hosting plan.
Powerful WordPress optimizations. Thorough optimization can boost your site's speed and reliability. Providers with optimized WordPress installations earned extra points.
Robust security. WordPress can be vulnerable to cyberattacks. I've only considered hosts with multiple levels of security on their servers.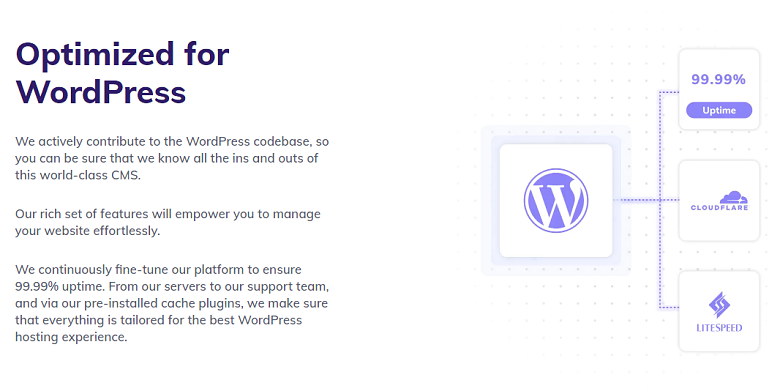 If you're looking for managed WordPress on a budget, Hostinger is a sensible choice.
It's the cheapest option on the list
, yet it still manages to offer a lot of good WordPress-specific features. Along with the usual automatic updates for WordPress, Hostinger helps you get up and running quickly.
WordPress can be installed in just a few minutes with a single click.
Additionally, Hostinger uses LiteSpeed web servers. This offers a speed boost by itself, but it also means
you can use the exclusive features offered by the LiteSpeed Cache for WordPress plugin
. All of this results in superior performance –
my tests revealed
that Hostinger delivers loading speeds that rival much more expensive hosts. Hostinger is a reliable host, achieving near-perfect uptime over two months of testing. However, Hostinger's support team tends to be slow to respond to questions.
Hostinger WordPress Hosting
A free domain name is included with some hosting plans from Hostinger
WordPress Multisite. If you're looking to run lots of WordPress sites, the second-tier WordPress Starter plan allows for up to 100. WordPress Multisite is also enabled, allowing you to manage a network of similar sites from a single WordPress dashboard.
Collection of themes. Hostinger offers a proprietary collection of professional-grade WordPress themes that are free to use with your hosting plan. Each theme can be customized to meet your needs.
Free Google Ads credit. If you sign up for the WordPress Starter plan or higher, you'll get a complimentary Google Ads credit to help promote your website.
Extensive knowledge base. While support is rather slow, Hostinger provides plenty of documentation covering the basics. The included tutorials are easy to follow even without technical knowledge.
Money-back guarantee
30 days
Data center locations
1 in the US, 3 in Europe, 2 in Asia, 1 in South America
Uptime guarantee
99.9%
Starting price

$

1.99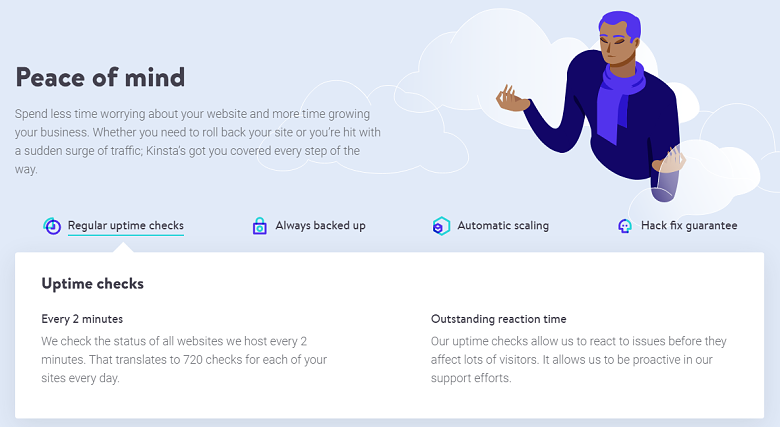 Kinsta specializes solely in providing powerful managed WordPress hosting.
My tests with Kinsta revealed some of the fastest speeds I've ever seen, and uptime was a perfect 100% over four months of testing.
All of Kinsta's customers are hosted on the robust and reliable Google Cloud Platform.
Combining this with Kinsta's expertise in WordPress optimization leads to some truly impressive results. Kinsta takes your site uptime seriously.
It checks to see if your site is up every two minutes
and it'll take automatic measures to bring it back online if problems are detected. All of this comes at a premium price, though, even if you're going for the cheapest plan.
Auto-scaling. If you experience a traffic spike and your current plan lacks the resources to serve it, you will be scaled up automatically. This allows your site to handle such events without a loss in performance, but it does incur extra fees.
Huge number of data centers. Kinsta boasts a huge network of data centers, with 25 available on all major continents. You will be able to serve your target audience with the best possible speeds, wherever it may be.
Hack & malware removal. If your site is hacked or infected with malware, Kinsta will restore it for free, as quickly as possible.
Premium migration. Every plan includes a number of premium site migration credits. These allow you to have Kinsta's experts manage your more complex website transfers from other hosts.
Money-back guarantee
30 days
Data center locations
7 in the US, 1 in Canada, 7 in Europe, 1 in Australia, 8 in Asia, 1 in South America
Uptime guarantee
99.9%
Starting price

$

35.00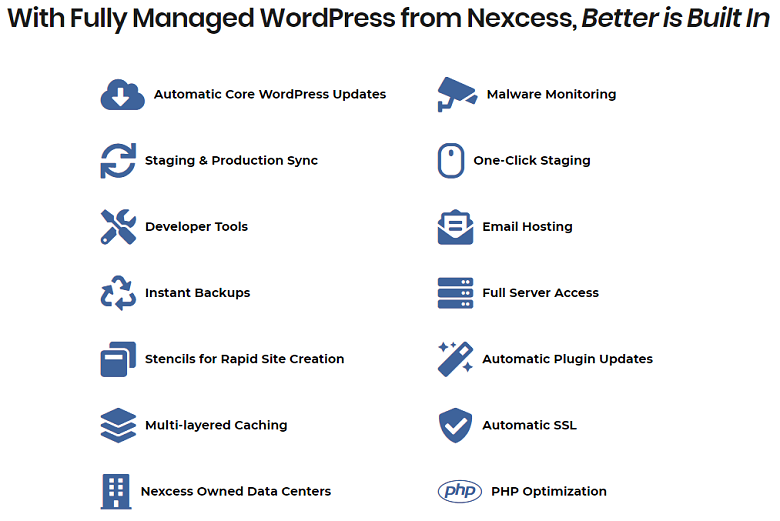 Nexcess offers automatic updates for WordPress and its plugins – but better.
Every night, Nexcess applies any outstanding updates to a clone of your site. If the Visual Comparison Tool detects no errors on the updated version, updates are implemented on the live site automatically. Otherwise, you are notified about which updates have not been applied. Also,
every plan has access to Qubley Pro, a powerful page builder that works with the latest block editor in WordPress
. You can easily create customized pages for your WordPress site using pre-made layouts and sections – no coding required. Like Kinsta, resources will be scaled up automatically to cope with traffic surges. But
Nexcess' scaling service is fully free for 24 hours per month
, whereas Kinsta will always charge you extra for the trouble. That being said, Nexcess is also quite expensive.
Nexcess WordPress Hosting
Advanced CDN. All managed WordPress plans come with access to Nexcess' Edge CDN. 22 locations around the globe allows for your content to be cached nearer to your site visitors, speeding up performance.
100% uptime. Nexcess offers a competitive uptime guarantee. If your site is down for 15 minutes cumulatively over a month of service, you may be eligible to receive service credits.
Automatic daily backups. Your WordPress site will benefit from automatic daily backups. Each backup is stored off-server and is available for restoration for 30 days.
iThemes Security Pro. This is a high-end security plugin that protects you from just about every WordPress-specific exploit, with customizable email alerts.
Money-back guarantee
14-day free trial
Data center locations
4 in the US, 3 in Europe, 1 in Australia
Uptime guarantee
100%
Starting price

$

12.67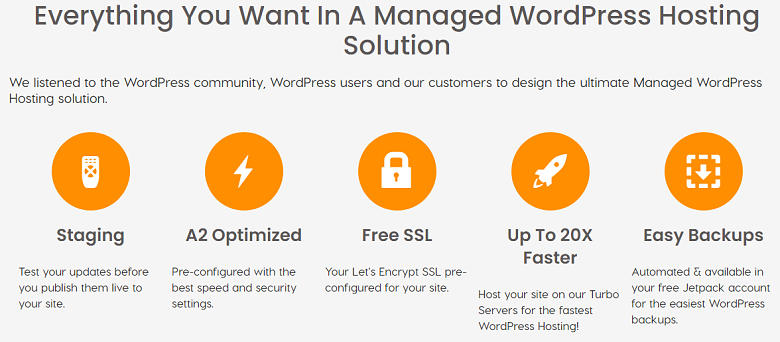 A2 Hosting's managed WordPress plans run on its LiteSpeed-based Turbo Servers.
These feature several layers of content caching, delivering your site with maximum speed.
This also includes a license for the useful Jetpack plugin
, which performs automatic daily backups, provides an extra level of security, and optimizes your WordPress site even further. A2 Hosting also has a particularly good refund policy.
You are able to cancel your account after the period protected by the 30-day money-back guarantee and still receive a prorated refund
for the time left on your contract. The only downside with A2 Hosting is, in my experience, its support agents have been slow to respond and of little help.
A2 Hosting WordPress Hosting
A2 Optimized plugin. Every WordPress install comes pre-configured for the best possible performance on A2's servers with the A2 Optimized plugin, which applies a number of performance tweaks.
Secure and speedy CDN. Access to Cloudflare's ServerShield CDN can be set up with a single click in the control panel. It speeds up page loading while blocking potential threats from reaching the server.
LSCache for WordPress. As A2 uses LiteSpeed web server software, the LiteSpeed Cache for WordPress plugin is available to provide yet another level of optimization.
Extensive security. A2 Hosting's Perpetual Security initiative includes proactive scanning and regular updates to all software, right down to the server operating system level.
Money-back guarantee
30 days
Data center locations
2 in the US, 1 in Europe, 1 in Asia
Uptime guarantee
99.9%
Starting price

$

11.99

If you're looking for a versatile environment to grow your WordPress site, InterServer might be a good fit for you. While there isn't a plan dedicated only to WordPress, core software and plugins are updated automatically on
InterServer's Standard hosting plan
.
This hosting plan provides unlimited resources at a very low price
, including unlimited SSD storage, unlimited data transfer, and unlimited email accounts.
Additionally,
InterServer offers the cheapest monthly billing cycle on the list
. While many other hosts require you sign up for multiple years just to get a decent discount, InterServer allows you to retain flexibility with a low monthly rate.
Also, InterServer only features data centers within the US, so you won't be getting the best possible speeds if you are targeting an audience elsewhere.
Super-reliable storage. InterServer stores your site's data over multiple SSD disks in a special configuration. This improves performance and protects you against data loss: if one drive fails, your data will be safe on another.
InterShield security. InterServer provides a machine-learning firewall and an in-house malware database to block attacks proactively. Servers also perform automatic virus scans regularly.
Free site cleanup. If your WordPress site is still somehow infected or hacked, InterServer will restore it for free. Furthermore, the tech team will take measures to prevent it from happening again.
WordPress VPS. If you find that your WordPress site needs more resources than what the Standard plan offers, you can easily scale up to a Virtual Private Server (VPS). InterServer offers an affordable VPS plan that is optimized for WordPress.
Money-back guarantee
30 days
Data center locations
2 in the US
Uptime guarantee
99.9%
Starting price

$

2.50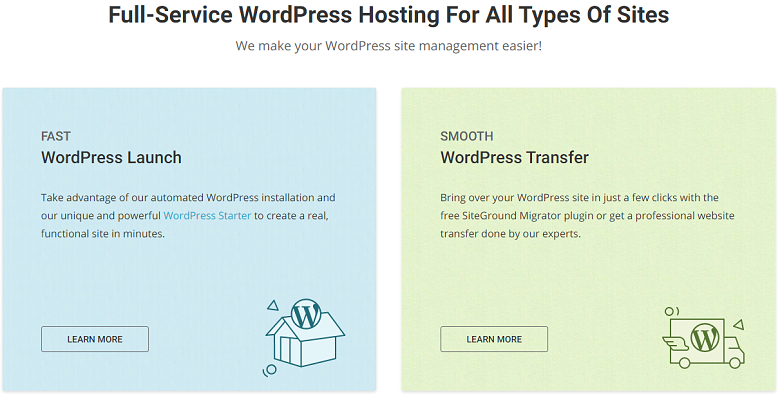 SiteGround is a particularly good option for beginners
looking to run a WordPress site. All updates are performed automatically as you'd expect, but the unique value of SiteGround lies with the number of features designed to help you get started. For example,
all plans include
 access to WordPress Starter.
This tool helps you choose an appropriate theme for your site and install any essential plugins.
If you're building a blog, the wizard will install vital search engine optimization (SEO) plugins. Looking to open an online store? It'll automatically install an ecommerce plugin for you. Another aspect of SiteGround that stands out is its support service. While it can be slow,
the support agents are a joy to work with
– they are eager to help, and they take a hands-on approach. It's not all good news though: SiteGround's plans are pretty tight on resources, and the renewal fees are high.
SiteGround WordPress Hosting
A free domain name is included with some hosting plans from SiteGround
Unlimited WordPress migrations. You can migrate an unlimited number of WordPress sites to SiteGround's service with the WP Migrator plugin, which automates the entire process.
Automatic daily backups. Even SiteGround's cheapest plan includes automatic daily backups. Every backup is retained for 30 days.
Site Tools. SiteGround provides a proprietary control panel that is incredibly user-friendly and responsive. All important functions are easy to find and use.
SG Optimizer plugin. Every WordPress plan comes with the SG Optimizer plugin. It contains speedy caching technology along with optimizations for every aspect of your WordPress site.
Money-back guarantee
30 days
Data center locations
1 in the US, 3 in Europe, 1 in Australia, 1 in Asia
Uptime guarantee
99.9%
Starting price

$

1.99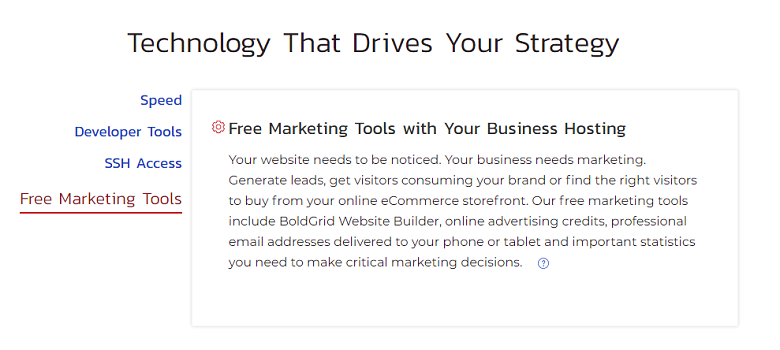 InMotion Hosting's 90-day money-back guarantee is pretty enticing.
Few hosts have a policy that even comes close – but it isn't the only reason to choose InMotion. InMotion Hosting helps you to achieve better rankings in search results with the EasySEO plugin. This analyzes all of the content on your site, offering optimization suggestions for search engines.
You also get $150 in advertising credits with every plan
 – a small but helpful boost in outreach for a new site. While it offers some very nice server specifications for WordPress sites, InMotion Hosting only has data centers in the US, and the WordPress plans lack any kind of formal uptime guarantee.
InMotion Hosting WordPress Hosting
Free domain. InMotion Hosting will cover your domain costs for the first year of your hosting plan. You can take advantage of this offer with a new or transferred domain name.
Jetpack Personal. The second- and third-tier plans include a Jetpack Personal plugin license, with various optimization and security features. The WP-4000S plan includes Jetpack Professional.
BoldGrid Page Builder. All managed WordPress plans include the premium version of the BoldGrid Page Builder. Build complex layouts quickly with widgets, moving sliders, and custom buttons.
Site creation service. If you'd like to skip the site creation process entirely, you can pay InMotion Hosting a one-time fee to have a WordPress site designed and built for you.
Money-back guarantee
90 days
Data center locations
2 in the US
Uptime guarantee
None
Starting price

$

4.99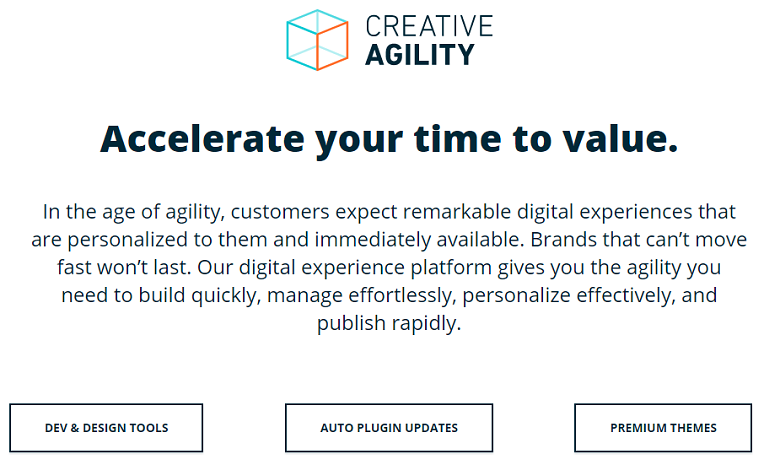 WP Engine is all about hosting your WordPress sites with superior managed service.
Its focus is on medium-to-large businesses, but a small operation with a busy website could also use this premium host's entry-level plan. What I really liked about WP Engine was the Smart Plugin Manager.
It automatically updates your plugins using advanced AI and visual testing to scan for potential issues caused by each update.
Your site is backed up beforehand, and if issues are detected, the update is not applied.
Every plan benefits from automatic daily backups
, with each backup encrypted and stored offsite. The 40 most recent backups can be accessed and restored at any time. As you might expect, all of these features add up to a high price, and WP Engine doesn't offer a money-back guarantee to protect you if you decide to cancel.
EverCache. WP Engine has developed an impressive proprietary caching system, tailored to work specifically with WordPress. It offers extra speed and security, and is designed to scale as you expand your website.
Genesis Framework. All of WP Engine's plans come with access to the sophisticated Genesis Framework site builder. This allows you to create SEO-optimized, accessible pages, beginning with any one of 30+ premium StudioPress themes.
Google Cloud Platform. WP Engine hosts its shared plans on Google Cloud Platform for industry-leading performance and reliability.
Unlimited migrations. Whether you need to migrate one or multiple WordPress sites, the WP Engine Migration plugin facilitates this process for you. Simply install the plugin at the original location and fill out a form to get started – you'll be notified by email when the process is complete.
Money-back guarantee
None
Data center locations
3 in the US, 1 in Canada, 4 in Europe, 1 in Australia, 2 in Asia
Uptime guarantee
99.95%
Starting price

$

20.00
Which Managed WordPress Host Is Right for You?
All of these hosts offer good value and quality managed service – it's just a matter of picking the one that best suits your specific needs. Here are my suggestions:
Hostinger is the cheapest option for small-to-medium WordPress sites,
while
Kinsta is by far the fastest and most reliable option
if you can afford the premium pricing.
If you're expecting occasional traffic surges, I'd choose Nexcess for its bonus monthly auto-scaling.
On the other hand, if you're still working on getting your first big traffic spike,
InMotion Hosting features plenty of useful marketing tools
.
InterServer's shared hosting plan boasts unlimited resources and cheap monthly billing,
while
A2 Hosting offers a scalable solution that grants you access to increasingly powerful tech
as you grow. Alternatively,
WP Engine features the best WordPress plugin management of the bunch with impressive speed and reliability
.
Standout Feature
SSD Storage
Automatic Backups
Starting Price
Hostinger
Low prices, and optimized for WordPress
30GB – 200GB
Weekly

$

1.99

Kinsta
Amazing performance and uptime
10GB – 250GB
Daily

$

35.00

Nexcess
Free auto-scaling service, many premium plugins
15GB – 800GB
Daily

$

12.67

A2 Hosting
Multiple levels of optimization with speedy technology
10GB – 40GB
Daily

$

11.99

InterServer

Cheap monthly billing and unlimited resources

Unlimited
Weekly

$

2.50

SiteGround
Plenty of features for beginners with helpful support
10GB – 40GB
Daily

$

1.99

InMotion Hosting
90-day money-back guarantee, marketing tools
50GB – 200GB
Daily

$

4.99

WP Engine
Smart plugin manager with great speeds and reliability
10GB – 50GB
Daily

$

20.00
FAQ
Who is the best managed WordPress hosting provider?
It depends on your specific hosting needs. If you're unsure, you may want to go with Hostinger. It's affordable, and features a highly-optimized WordPress solution. If none of the hosts above seem exactly right, you can find more recommendations in our guide to the best web hosts.
Do I need managed WordPress hosting?
A managed WordPress solution makes hosting your blog or online business a lot easier. You won't have to worry about keeping your site's software up to date, or manually optimizing the web server settings. It's possible to do all this yourself, but it's time consuming, and it requires a fair amount of technical know-how.
What's the difference between managed WordPress hosting and regular shared hosting?
Hosts offering managed WordPress plans will take care of server and software configuration and maintenance for you. Typical shared hosting plans may offer WordPress, but they lack the ease-of-use offered with managed plans. If you don't need a fully-managed WordPress plan, try InterServer, or take a look at our guide to the best WordPress hosting services for more recommendations.
Can I get managed WordPress hosting for free?
You'd be hard-pressed to find a forever-free managed WordPress plan that isn't a scam. If you're looking to save money, our coupon page has great deals for discounts on our recommended managed WordPress hosts.