Many content marketers are turning to Semrush because it's a bunch of toolkits that all work together in a single platform
. Not only does this mean less to learn and manage, but you also get a more accurate picture of your content. Why? Because all data – social media, SEO, views, clicks, and everything else under the sun – is shared with the other tools.
What, Exactly, Is Semrush? (And What Isn't It?)
First and foremost,
Semrush
 is an SEO optimization tool. But it's also so much more. One of the best features of the tool is that it is organized into toolkits – SEO, Advertising, Social Media, Content Marketing, Competitive Research, and Management – based on your role. This makes a ton of sense to us and is one of our favorite parts of the tool. Let's face it – what you need from it as a content marketer is different from what someone in advertising may need. So instead of trying to figure out what sections are important to you, you can simply go to the Content Marketing Toolkit and get to work. Because SemMrush does so many different things, it can be a little overwhelming – OK, a lot overwhelming.
So we decided to dig in and create a guide that gives you the information you need to do your job as a content marketer
. And since we know you need to focus on getting stuff done, we've organized the guide based on your to-do list. So let's get started. Open Semrush, log in, and then select the
Content Marketing Toolkit
from the menu in the top left corner. You will then be on the Content Marketing Toolkit dashboard.
Finding Out the Strengths and Weaknesses of Your Current Content
It doesn't do any good to just start creating more content. You need to first understand what you've done right and how you can improve what you are already sharing with your audience.
Often you can improve your results with some simple tweaks to your current content
. So don't rush past this part to get to what you think is "the good stuff" –
great content starts with understanding where you are today
. But this part of the process isn't just about getting information. Semrush helps you actually make changes such as updating, merging, or removing pages.
Semrush's Content Analyzer has two tools – Content Audit and Post Tracking – to help you figure out your starting point
. Content Audit reviews all of your existing content and tells you the current status of your SEO and content along with recommendations of what's good, bad, and needs to be fixed. With Post Tracking, you can set the tool to monitor posts from this point forward and notify you of changes.
Using Content Audit
To get started, click on the
Content Audit
menu item in the top left corner. Then enter your domain name and click on the
Start Audit
button.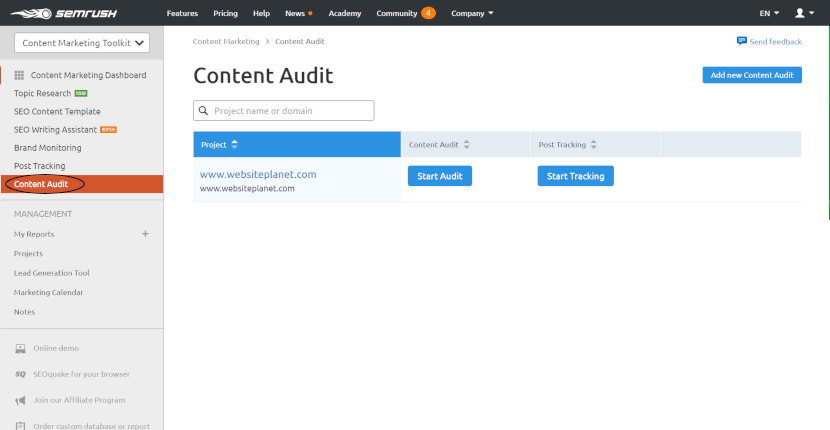 Pro Tip:
Connect your Google Analytics account to Semrush right from the start. This dramatically increases the amount of information that you can get about your pages.
Semrush then generates a content map from your domain and displays it. Select all of the URLs you want to audit and then click the Start Audit button. You can also export the results to a spreadsheet by clicking the Export XLSX button.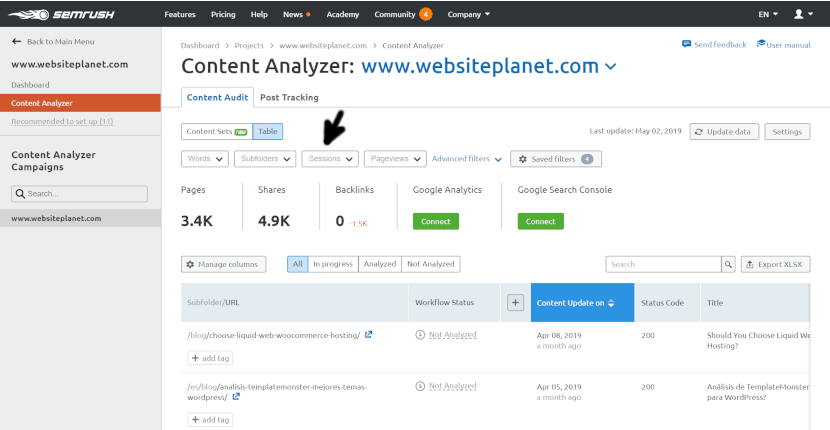 The dashboard has two views – Sessions and Pageviews – that you can change by clicking on the button on the top. "Sessions" refers to the length of time that a user is on your site, while "Pageviews" is the number of pages that they look at during that time. A long session time with a low number of pageviews shows, obviously, that a visitor spent a lot of time on your site without hopping around too much. But a high number of pages in a short time indicates that they either didn't find what they wanted or weren't engaged by the content on each page. Use the filters at the top of the page to change the information shown in the dashboard. By playing around with the parameters, such as Words (number of words in the piece of content), Subfolders (location on your site to search), Sessions, Pageviews, and advanced filters, you can customize the information shown.
These let you set up custom content sets so that you can view the information in the format most helpful to you
. And we almost forgot about Advanced Analytics. It's not as fancy as it sounds. This feature lets you also sort by shares, backlinks, bounce rates, search queries, content update, status code, and tags. Semrush also has a new feature called Content Sets, where you can view pages by the actions you need to take, such as rewrite/remove, update, or review content.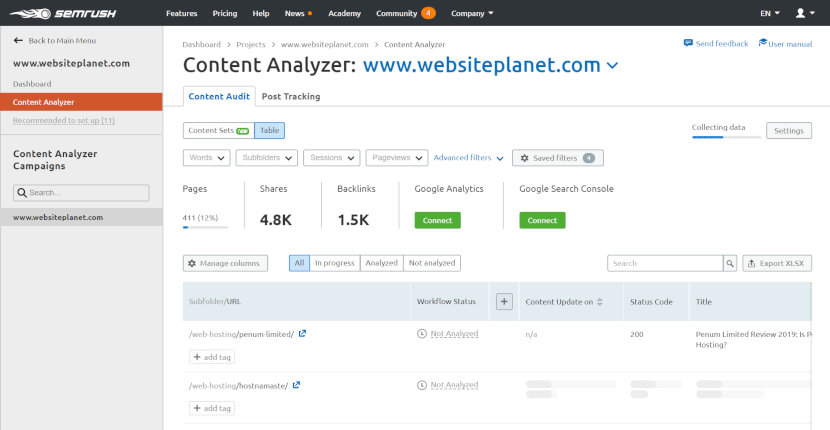 Review your content audit results. Don't get too upset or happy at a single result. Instead,
look for overarching patterns
. For example, are your session times short? Then you need to create more engaging content or make sure your keywords are relevant. Do you have few backlinks? Then you need to prioritize a process to actively seek out more backlinks from companies with high SEO and page views. Do you have a few pages that everyone seems to love? Then write more about those topics.
Using Post Tracking
Post Tracking lets you proactively keep track of what's going on with up to 50 different pages of content from this point forward. You can also set up email notifications to get daily updates on the specific posts that you set up to be tracked. If you aren't sure which posts to track, don't overthink it.
It's best to prioritize posts that cover new types of content or topics, or pages that are currently underperforming
. Many companies track all new posts for a short period of time. And yes, if you are using all 50 pages, then you can remove a page and start tracking a new one at any time. It's super easy to do this: just copy the URL into the text box and click Add Article – the statistics will then show up. To get more information about social shares, click on the column and you will see a breakdown of shares on each platform. Use this information to learn more about where your users hang out and the type of content to share on each platform.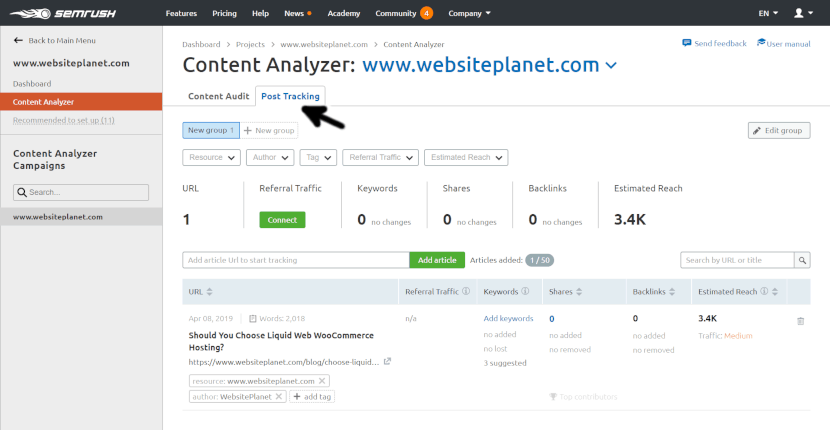 And if you want to be super stealthy,
you can use this feature to monitor competitors with successful content marketing to figure out what they are doing right
.
Pro Tip: Review your editorial calendar and monitor posts of competitors on the same topics to see where they are strong and what opportunities they are missing. For example, if another company is kicking your tail in the content game, you can track their content to see what types of content and keywords get the best results. Then make tweaks to your own content in order to help your posts do even better.
On the flip side, if you see areas where your competitors are weak, that means that you should increase your efforts on those topics because you may easily be able to take away some of their audience. And – more importantly – possibly gain new readers and hopefully customers.
You can also use this information to see exactly who is sharing your posts
, especially those who Semrush shows have lots of reach. You can see their social media handles, shares of your content, number of posts, and number of followers. Then you can reach out to these influencers for other opportunities.
Pro Tips:
Use Post Tracking for new campaigns, especially in the early days. You can see what's working and what's not so you can course-correct before your boss even notices.
Think outside of your own blog. Use Post Tracking to monitor guest posts your company does on other sites as well as sponsored content. This gives you immediate results so you can make tweaks, such as promoting more on social media or buying a paid ad.
Coming Up with Awesome Ideas for Content
It's easy to get caught up in the details of keywords and social media – especially when you're trying to craft the perfect piece of content. But honestly, the cornerstone of content marketing starts with writing about things that your audience cares about – the things that keep them up at night.
If you miss the mark on the topic, it all goes downhill from there and you really can't recover.
Unlike many SEO tools, Semrush uses data collected from everything else related to your site – social shares, keywords, audience information – to come up with new ideas to share. Content marketers who use the tool only for SEO are missing out on one of its best features: generating ideas. Go back to the Content Marketing Platform dashboard and click on the
Find a Topic
icon. In the
Find a Topic
field, enter your topic. For example, if you are a realtor then you might want to search for "buying a house." Then you can add new content to attract people looking for a new home to your site.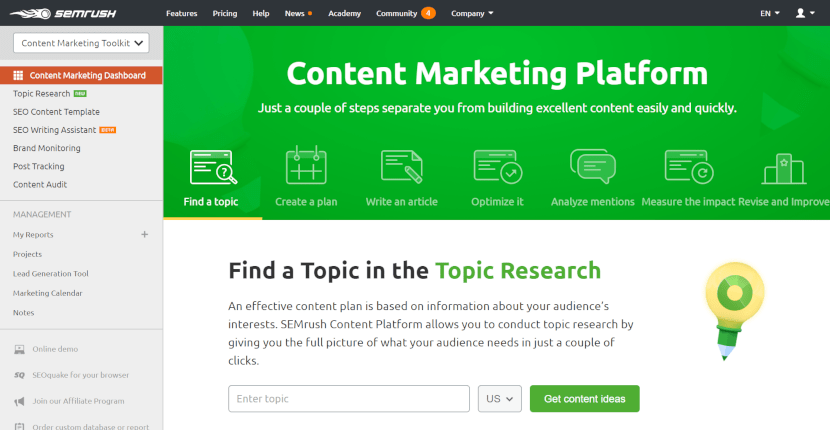 Semrush will display a lot of different ideas based on current trending topics in the past 60 days
. No worries about having to remember or write down which ideas you like – just click the
Add to Favorites
icon on any topic idea found at the far right of the suggestion. Then, anytime you want to see your favorites, just click on the
Favorites
tab. They're all nice and organized for when you are ready to create your editorial calendar. No more sticky notes or trying to read your own handwriting. And you can even export your
Favorites
tab to an XLS file so you can look brilliant in front of your co-workers with very little effort. Now let's get back to looking at all the different ideas that are displayed. You have lots of options for reviewing the information that may translate into your next brilliant piece of content. You can use the Cards, Explorer, Overview, or Mind Map view.
Since different presentations may inspire you, we recommend looking at the results for each search in all of the different views
. You can further narrow your ideas by entering Country, Region, City, and Language information. We found it a delicate balance to limit the search enough to get targeted results without making it so narrow that you don't get good ideas.
Unless you are really only targeting a small area, we recommend using only the Language and Country settings, if applicable
. We found the Explorer view to be less inspiring because it just lists the top topics. And while the Mind Map view is pretty to look at, it was harder to turn into actionable content. However, you should check out both of them yourself and not just take our opinion. But we like – no, we love – both the Cards and Overview views. Let's start with the Cards view. We are huge sticky note fans, so it's no surprise we were instantly drawn to this view. You will see a bunch of cards listed with different sub-topics for your search term. If you don't like a card and know you won't ever use it, click on the ellipses in the top right of the card and select Dismiss this Card and then it's gone forever.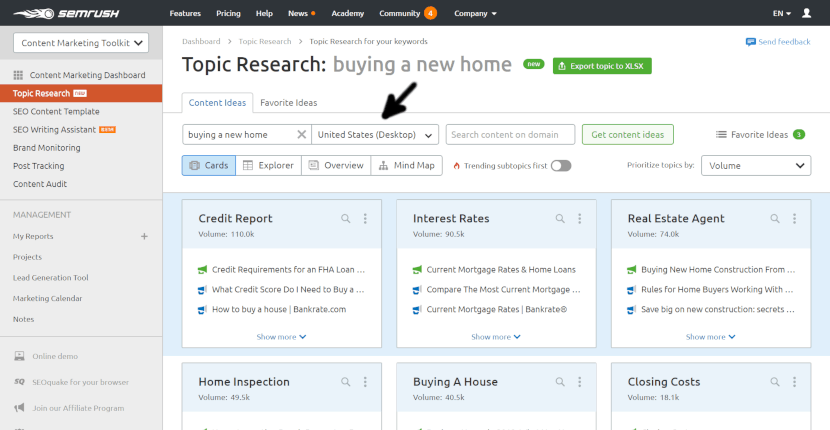 When you click on a card, you can see the top Headlines, Questions, and Related Searches for each one. Click on the link and you can see the piece of content. Or click on the
Favorites
icon and it goes to your Favorites view.
Pro Tip: If you want to check out a competitor's site, put the URL in the Search Content area of the domain field and then click Get Content Ideas. You will discover that the cards for topics with a top 100 ranking keyword for that domain are now colored green.
The Overview view is somewhat similar to the Cards view, which is probably why we like it. At the top of the page, you see the Top 10 Headlines by backlink and 10 Interesting Questions, which really sparked our creative juices.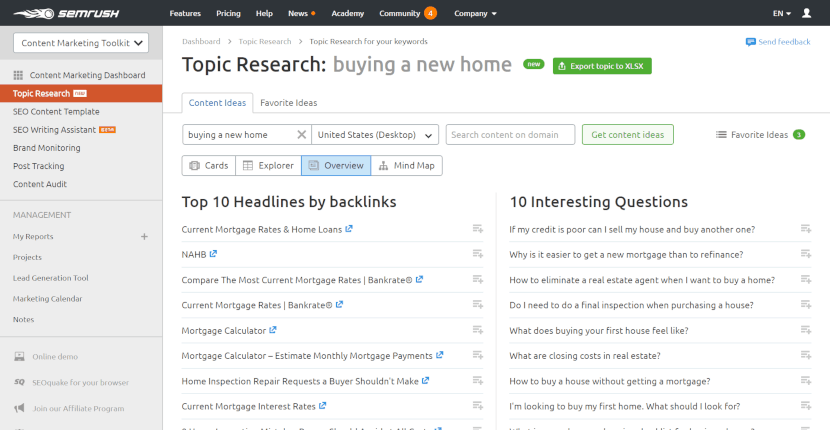 At first, we just used these lists to come up with new content ideas. Then we realized that we were missing out on super helpful information.
By looking at the Top 10 Headlines, you can see what types of titles your particular audience is drawn to
. For example, some audiences might love Top X Tips while others get higher clicks for humorous headlines. On both the Overview and Cards view, you can sort by the following:
Volume: This is the number of times the keyword is searched for each month.
Difficulty: This percentage tells you how hard it is to compete organically. A high percentage means it's more challenging to rank. If you are looking for low hanging fruit, use this view to find keywords with a lower percentage so you can more easily improve your SEO for those keywords.
Topic Efficiency: Check out this metric if you want to know the relationship between volume and difficulty. We found sorting by Topic Efficiency to be the most useful, because topics with a high-efficiency score meant they had a high volume of searches, but lower difficulty. These topics were often the equivalent of the best value and a great place to start.
Now that you have done all of this auditing and reviewing of your own site, you need to do the same thing on your competitors
. The fancy term for this is gap analysis. But what it really means is to find out what keywords they rank for, but you are missing out on. Once you've identified these opportunities you can revise your content and keywords to improve your rank.
Find the Right Keywords to Target
You know that keywords are important. But it can be time-consuming to find the right ones. A lot of other tools give you keyword data, but even then the information can be overwhelming. If you have a teeny tiny – or even just a tiny – advertising budget, then you can use Semrush to improve your organic traffic through better keywords. Semrush offers two different keyword tools – Keyword Overview and Keyword Magic. Not surprisingly, Keyword Overview gives you a fabulous, but high-level report about specific keywords or a specific domain. On the other hand, Keyword Magic gets into the nitty-gritty with its database of 9.4 billion keywords.
Keyword Overview
Start with the Keyword Overview Tool, and enter your keyword in the field and click Search. You will then see your report, which includes some very helpful overview information, including:
Volume: The average number of times each month the word was searched
Number: How many URLs are returned in a search for the keyword
Trend: A measurement of interest in the word over the past year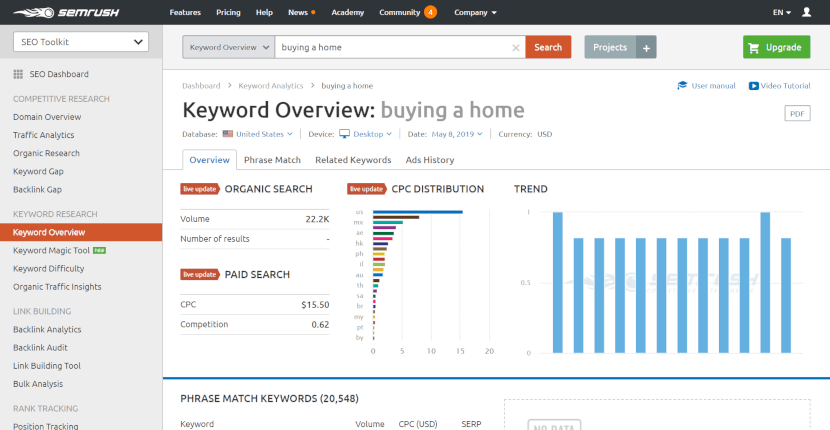 We especially found the ad copy that high-ranking sites have placed on search engines and social media to be helpful – both for seeing the results of ads and for understanding what makes compelling ad copy. And if you want to use the copy as inspiration, you can export the ads to a document format.
Pro Tip: Use this report if you have a specific keyword that you want to target and know you need to rank for. This gives you the basic information that you need to make some high-level strategic decisions. And for most content marketers, honestly, the Keyword Overview tool is likely enough.
Keyword Magic Tool
It's possible that we fell in love with this tool just because of the name. And what content marketer doesn't want magic when it comes to keywords? Well, it falls a bit short of magic, but it is easy to use and provides the exact information you need to increase your SEO for specific keywords with three different types of match reports. (Well, now that I write it out, that pretty much classifies as magic.)
Broad Match: Shows all ideas and forms for the seed keyword, but not in order. If you want a lot of keywords, use this report.
Phrase Match: Ony shows the exact form as the seed keyword, which means that if you search for a word with -ing, such as swimming, then you will only get keywords with -ing. However, there is no order to the keywords.
Exact Match: When you know what you want, use this report – you'll get the same form and exact order. This is a narrower and shorter report.
Related: This fourth option lets you look at keywords that are similar to yours. Use this option when you are looking for inspiration.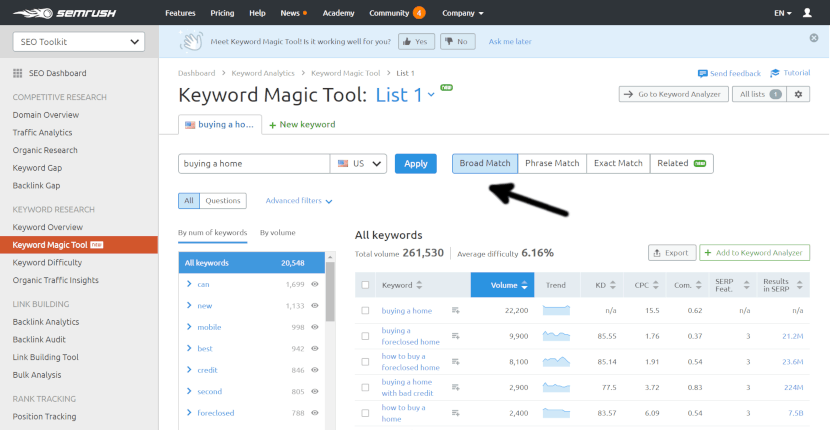 Be sure to click on the
Questions
tab to see questions related to the keywords. Hopefully, these will spark some new ideas for content topics. We also love the List feature, which lets you save reports and easily go back to modify and tweak the data.
Writing Great SEO Content
While the idea is crucial, it's just the beginning. Your next challenge is creating a piece of content that is both interesting and beneficial to your audience while also helping you achieve high-SEO rankings. Semrush helps you find the delicate balance of appropriately using keywords in a way that is both natural and authentic by providing SEO Content Templates. Start by going to the Content Marketing Dashboard and then clicking on the
Write an Article
icon. Enter the topic in the Enter Keywords field and click on
Create SEO Template
.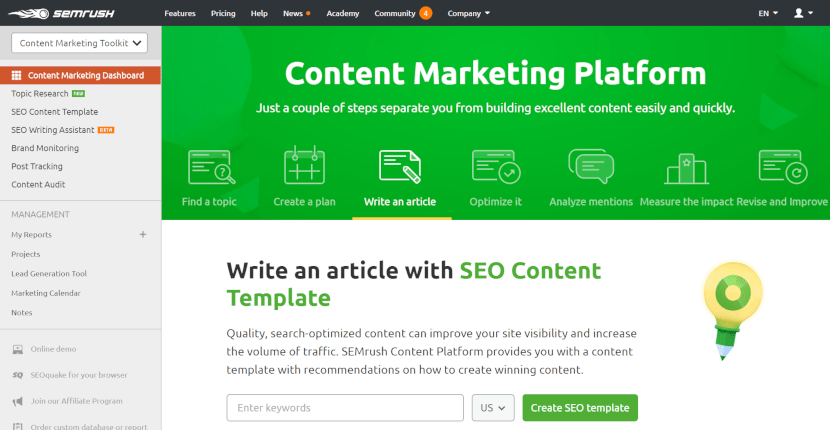 Although the amount of information returned can feel overwhelming, pay careful attention to the information at the top of the screen:
Semantically related words: Use these words that are similar to your keyword in your text to improve both readability and SEO.
Backlinks: See what backlinks other sites are getting. This can be valuable when it comes to increasing your search ranking and is not included in all SEO tools.
Readability: This metric is less useful than the others. It tells you the readability score of your competitors. Use this to make sure that yours falls in at least the same range – but hopefully better.
Text length: Content marketers love to debate the ideal text length for articles. It seems like the recommendation is always changing. But this field tells you exactly what length to make your article based on the topic and other similar articles for the highest SEO and readability. No more guessing required.
You aren't on your own after you use this information to write your first draft. Copy your text into the Real-Time Content Quicker Checker tab and Semrush reviews your content using keywords and metrics for your topic and top-performing pieces for your keywords. The tool gives detailed information about all aspects of your content. For example, you might see how your headline performs against other pieces as well as how you compare to the ideal paragraph length.
Pro Tip: Because tone is key for engaging an audience, carefully look at your tone of voice score compared to competitors. We especially like the online help for this section because it rates the tone on a scale of Casual, Neutral, and Formal.
Improving Your SEO
While the Content Marketing Dashboard is great for new content, you already have a ton of content on your site. And you can't start over. By using key parts of the SEO Toolkit, you can make improvements to your SEO that dramatically help increase the number of eyeballs that see your content. At first, we found the SEO Toolkit a bit overwhelming because there are so many options and so much detail. So we are going to point out a few features that we think are most helpful for content marketers.
Track Your Position
The first one is the position tracking. We like to see results, and even more importantly, we want to show tangible results to our boss. From the SEO Toolkit, click on Position Tracking, enter your domain name, and click Setup. Follow the prompts to enter your domain, location, keywords to track, and competitors. Spend a few minutes checking out the information. You need to know where you are today. By watching the trends as you make improvements and changes to your SEO, both with new and existing content, you can see what is working and what changes aren't really making a difference with both new and existing content.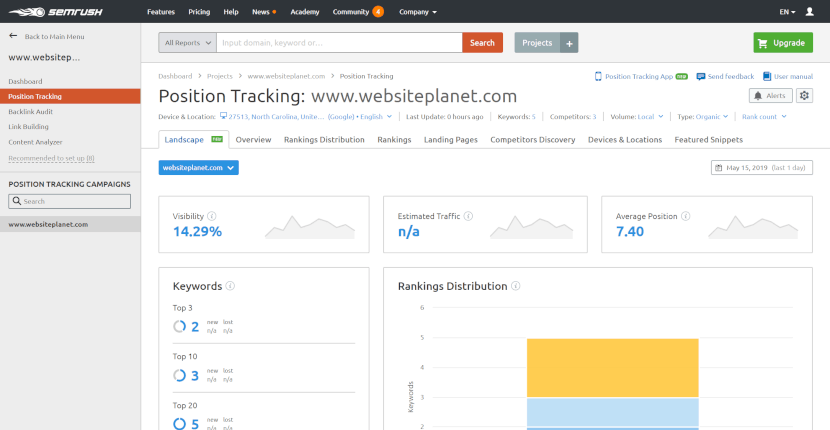 For example, you might notice that articles with keywords on summer sandals are trending high. If so, you might be inspired to create a series of blog posts on different topics relating to summer sandals.
Get Help Building Links
As content marketers, we focus on creating great stuff and making it SEO-friendly. But it's super easy to forget the importance of link building with all the focus on keywords, keywords, keywords. It's a simple step that can make a huge difference in your SEO. We got super excited when we first saw the Link Building tool, because it takes the guesswork out of it and makes it super simple for us to do. Once in the Link Building tool, enter your domain and click on the Build Links button. Then enter your keywords and competitors' URLs. After processing – which took way too long in our opinion – Semrush displayed specific domains that would be good to develop relationships with in order to build links that would increase SEO.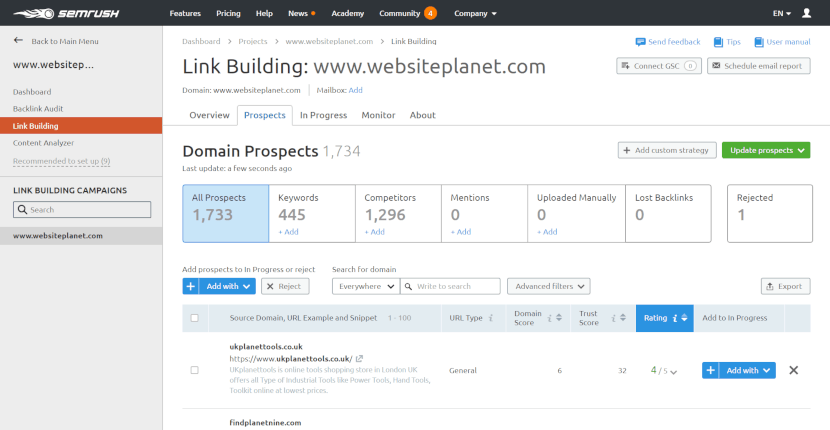 We found the organized list of domains to build links to be very helpful and easy to use. And the options on the right side of the page helped us organize and track our actions. You can then reach out to those websites suggested and ask for backlinks. And if you want more, just add more keywords by clicking on
Keywords
.
Uncover Competitor Intel
You aren't just competing with your competitors for customers,
you're competing directly for keywords and ranking
. So it's super-duper important to know how they are performing and what keywords they have a stronghold on. The SEO Toolkit enables you to identify opportunities for advancement by incorporating content for keywords your website isn't presently ranking for. Semrush provides the keyword insights, and you simply create the corresponding content. Semrush gives you the inside scoop on your competitors in all the areas that it gives you information on your own site. But that's way too much to get started with. So we recommend focusing on gathering information from one or two competitors to keep from becoming overwhelmed.
One Final Word
Semrush is a great tool. But it's just that, only a tool. As much as we wish it were true, using Semrush alone won't improve your content marketing. It's up to you and your team to then use the results to improve your SEO and ultimately your content. By using Semrush, you have the information and direction. Now it's up to you to take the next step.