Lead generation is undoubtedly at the center of any sound business strategy. Without leads, a business is unable to evolve and achieve sustainable and profitable growth. It doesn't matter how good your product or service is, potential customers need the opportunity to find you, and incentives to further engage. Hence, you'll see and hear the term "lead generation funnel" quite often when referring to a way of first getting leads, and the tactics later used to ultimately turn them into customers.
What Is a Lead Generation Funnel and How Does It Work?
The easiest way to describe a lead generation funnel is to compare it to an actual funnel, which filters the most qualified leads based on where they are in the lead generation process, and provides direction on how to best turn them into bonafide customers. It's the main pipeline that supplies your business and drives sales.
In other words, a lead generation funnel is a strategic process that takes into account all potential prospects (top of the funnel or TOFU) and encourages individuals to actually pay for your product or service (bottom of the funnel or BOFU) through various incentives and actions (middle of the funnel or MOFU).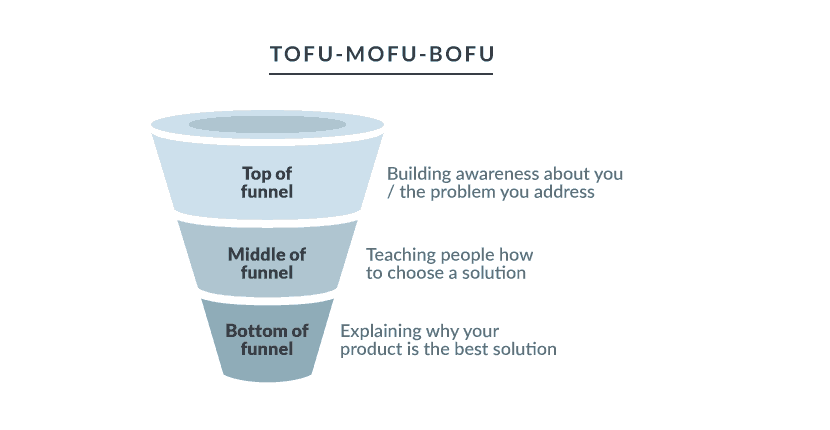 How and Where Do I Get Leads?
As you can see in the image above, there are three main stages when moving leads down a funnel. Each of these stages contain a different critical objective. The key is to tailor your messages accordingly.
Keep in mind that you'll begin with a higher number of prospects than will actually result in customers; many will inevitably drop off along the way. In order to keep this percentage as high as possible, you'll need clear and tailored messages that can effectively meet the audience at whatever stage they are currently in.
Most companies have different strategies for their lead generation funnels, depending on their individual sales processes and business structure. However, generally they all follow the same principles of the buyer's journey, which can be equated with the funnel's stages:
Awareness: TOFU
Consideration: MOFU
Decision: BOFU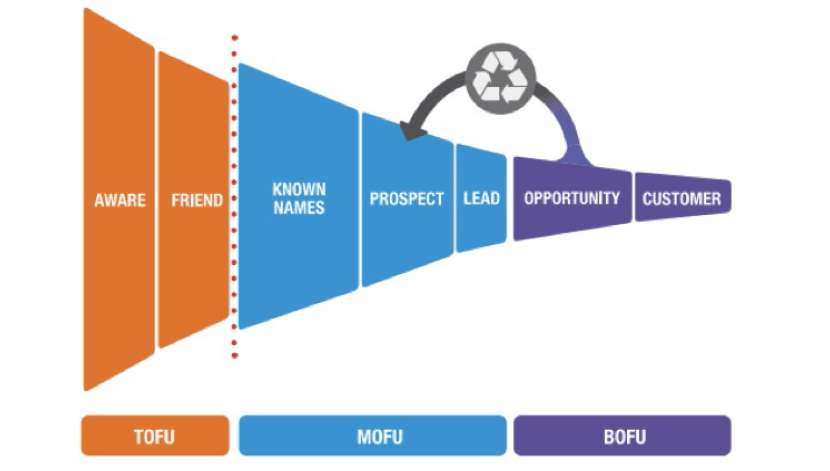 Top of the Funnel (TOFU): Awareness
These are the individuals who are just at the very beginning of their journey, so you're not looking to sell anything at this point. They require more educational content, which raises their awareness about your product or service in dealing with the problem they are facing. The majority of new leads are not ready to buy at this stage, so you need to craft messages that help them understand the value you bring without directly selling.
By providing them with something of value and quality (such as informative blog posts or visually compelling social media posts), you can build your brand's reputation and ensure that you are on their radar as they become more prepared to make a purchase.
Middle of the Funnel (MOFU): Consideration
At this stage, potential customers know who you are. Now you want to make sure that—when it comes to making a purchasing decision—you are in their consideration set. Many are not yet ready to make a purchase, but they are aware of the problem that your product or service addresses.
MOFU content acts as a bridge between the initial and final funnel stages. For many potential customers, it can be the longest part of your funnel, as it requires the most time to build and nurture relationships.
The goal of MOFU content is to steer your prospects through their buyer's journey, providing insights that will help them assess your brand, build loyalty, and ultimately form a bias for your offering over the competition. Case studies are a great example of such content, as well as specifically tailored reports, ebooks, and interactive elements like calculators or webinars.
Bottom of the Funnel (BOFU): Decision
This is where you show your product or service in the best possible light. The content should be very specific and directed toward those who are on the verge of becoming paying customers. At this stage, you're effectively acting upon their intent to make a purchase in order to close the sale.
To highlight your value proposition and convince them that you are the best choice, some form of interactive experience or offering can help close the deal. These are usually demos of the product/service, free trials, pricing consultations, third-party reviews, and so on.
What About Capturing the Lead?
If you're thinking that most visitors never convert to leads, you're right. Designing content to attract visitors is only half the opportunity. If you want to fully capitalize on it, you need to have lead capture forms. These can be specific landing pages, content upgrades, gated content—anything you can use to collect data and use it to your advantage.
In that regard, design and structure play a major role. On one hand, lead capture forms must be appealing and attractive to those who are most likely to become customers. However, you must be careful in not making a hard sell right from the start. The idea is to ease your leads into a relationship with your product/service and gain their trust.
Some of the best online form builders on the market offer lots of features that cater to a wide range of users. Whether you want to capture attention, generate trust and establish authority, offer a demo/trial, or simply reinforce the value of your product/service, the right lead capture page can generate leads for your business and improve your entire lead generation process by creating a rich lead profile.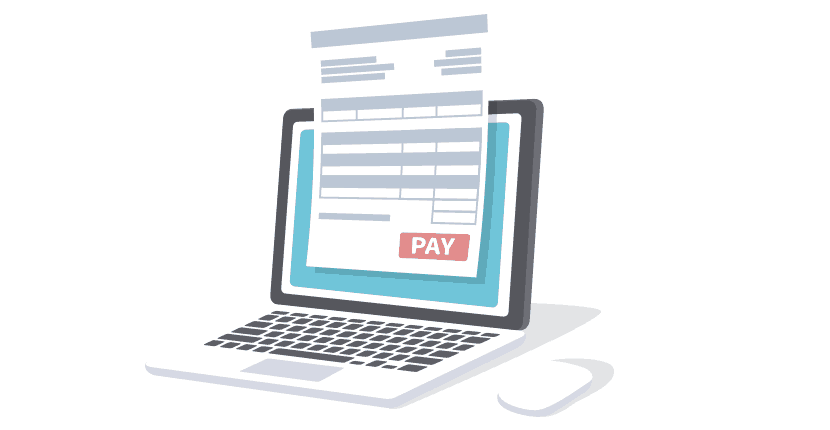 How To Get a Lead to Do What You Want
In a sense, there's really no way to ensure that a lead will act in a way that you'd like them to. What you can do is make sure you are effectively addressing all leads and speaking to every segment. This ensures that you are giving yourself the best chance of success, and not missing out on potential customers.
For example, if you're focusing strictly on educating about the problems and possible solutions, you're neglecting the lower part of the lead generation funnel. On the other hand, if you're largely targeting those who are aware of the problem you're solving, you're stuck with a finite group of people that may or may not commit to you. The same goes for the bottom of the funnel: you're catering to only those who are ready to buy and not diversifying content for those who aren't as far along in the process.
It's essential that you be continually proving your value based on the questions, needs, motivations, and concerns that individuals may have at a given moment. Remember that marketing today is about the customer, not about the brand. If you want to build meaningful relationships that result in sales and last for years, your messaging needs to be focused on the individual.
To that end, you would bode well to develop detailed buyer personas. These are fictional representations of your ideal buyers which can help you effectively develop messaging and incentives at every stage of the lead generation funnel.
Do You Need a Lead Generation Funnel?
The short answer: Yes.
Why? It's simple. A lead generation funnel makes your sales and marketing strategies far more streamlined and effective. Knowing where a lead is in his or her buying journey helps you align your sales and marketing processes for maximum impact. Mapping out your lead generation effort according to your funnel is crucial because it commands everything from your campaigns to the targeted messages to the desired metrics you want to see at the end of the day.
Look at it this way. Sure, it takes time to produce content that adds value, educates, nurtures, and compels your leads down the funnel. But what is the alternative? If you don't offer anything of value or interest, you're unlikely to win the devotion of customers. Relationships take time, and that is exactly what you are building here. Without a strong lead generation funnel, your business is going to have a hard time being successful.
---
Image Credits:
http://dream-logic.com/4-content-marketing-frameworks-that-jumpstart-your-traffic/