Unless you've been living under a rock for the last decade, chances are that you've heard of the massive social media platform that is Twitter. With 336 million monthly active users, Twitter is far from the world's largest social network, although the platform still commands an impressive influence.
As a social media marketer, you may be wondering whether or not investing some of your limited budget on Twitter Ads is a good idea.
While it's ideal to reach as many eyes as possible, when it comes to disseminating your brand's message, we know that many marketers can only afford to place ads on the platforms that offer them the best returns. For this reason, some may opt to invest their entire budget into one of the larger platforms, ignoring Twitter altogether. This is understandable, as it's often not feasible to dedicate resources to every social media platform out there.
Marketers need to be careful that they're using the best platform available for spreading their campaign's message, and choosing based solely on high user numbers is not necessarily the best approach. There are many important metrics by which a social media site should be judged when determining the best option for your campaign. These include reach, target audience, click-through rates, engagement rates, conversion rates, costs, and—most importantly—return on investment (ROI).
Who Uses Twitter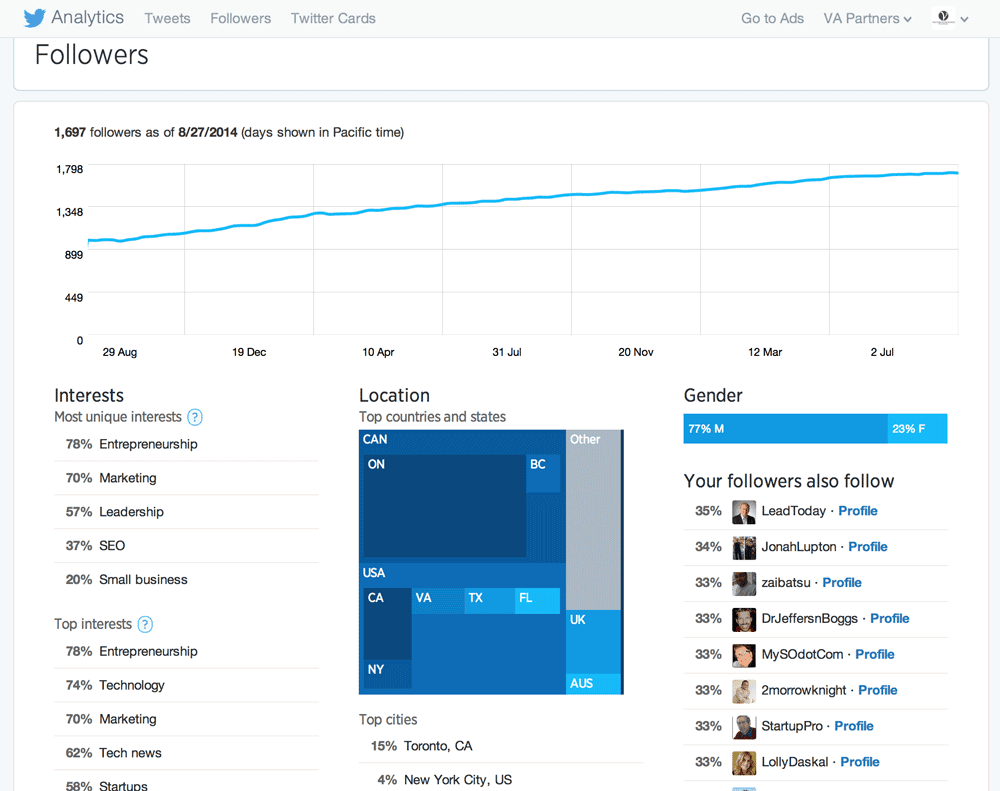 Knowing who makes up your target audience is one of the first things that any marketer needs to figure out in order to maximize their campaign's effectiveness. Once you know who you're trying to reach, you can check each platform's demographics to determine which would be the best venue for getting your message in front of them.
According to recent data, Twitter users are:
More male than female, as 24% of men and 21% of women who are online have Twitter accounts
Global, as 79% of Twitter users (261 million people) are based outside of the U.S.
Active on the platform, as 46% of users log in daily
Mostly Millennials aged between 18 and 29 (40%), with 27% being between the ages of 30 and 49, and only 8% being over 65 years old
Mobile, as 80% of users access the platform from a smartphone or tablet
Largely affluent, with 30% of Americans who earn over $75,000 annually being Twitter users
Interested in current events, as 74% of users rely the platform as their primary news source
Likely to be well-educated, with 28% of all college graduates within the U.S. on Twitter
More likely to live in an urban rather than a rural environment
Benefits of Using Twitter Ads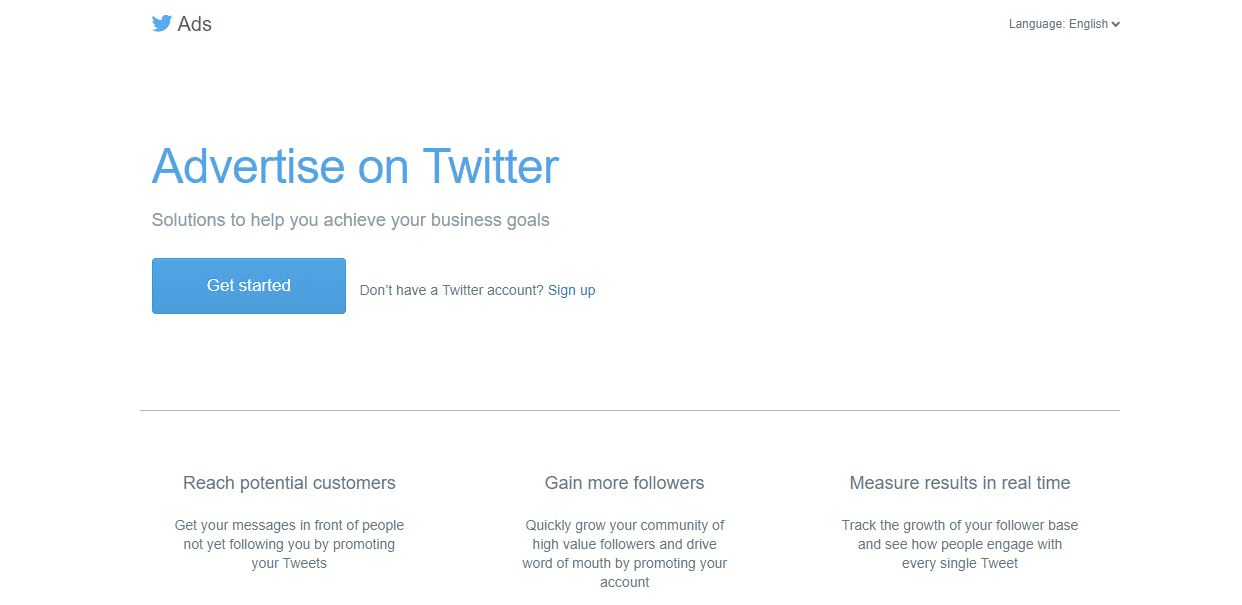 In recent years, Twitter has begun to shrink; between the second and third quarters of 2018 alone the platform lost nine million users. With this news, some may be inclined to believe that its effectiveness for reaching different audiences is also decreasing, although this certainly isn't the case.
While their user numbers may be declining, Twitter's ad engagement rates have been steadily increasing, and grew by an impressive 50% during the third quarter of 2018 alone. In addition to this, their cost-per-engagement rates have also been declining, with a 32% price decrease in the first quarter of 2018. This makes Twitter one of the cheapest options available for advertising on a major social media channel, cheaper than both Facebook and Instagram, priced at around $5.76 per 1,000 impressions, and $0.53 per click.
So not only is Twitter's audience growing more engaged, but they're becoming cheaper to reach as well. And as any savvy marketer knows, a small but highly engaged audience is far better than a large one that ignores your content.
Twitter has also proven itself to be an excellent place for small and medium-sized businesses (SMBs) to market themselves. According to a study conducted by Research Now and Twitter, 69% of individuals who currently follow an SMB stated that they've purchased something from a small business after they began following them on the platform, and an impressive 93% intend to make a purchase from an SMB they follow in the near future. SMBs around the world are taking note of this, as 44% of small businesses in the U.S.—66% of those with 100 or more employees—already have a presence on the platform.
Another bonus to this platform is that Twitter recently blocked—and subsequently erased—all accounts they've deemed to be fake or hacked. The social media giant began actively seeking out and deactivating or freezing problematic or fake accounts, making them one of the more accurate platforms in terms of follower counts. This is a problem that Facebook is also currently dealing with, having removed nearly 1.3 billion fake accounts at the beginning of 2018. Profiles on Twitter that are considered fake or are blocked will no longer receive ads, so Twitter Ads are far more likely to reach a real person.
Building a Presence Across Platforms
Depending on your target audience and budget, the best strategy may be to build a presence across all of the top three platforms. In terms of ROI, these include Twitter, Instagram, and Facebook. Each has their own drawbacks and benefits, and some are better at targeting certain market segments—such as teens or seniors—than others.
One great way to see which platforms are best for your brand is to create a small ad across different social networks and track the success (or failure) of each. The ads should be identical and only the platform should differ. This way you're certain all variations in engagement rates are related to the site used.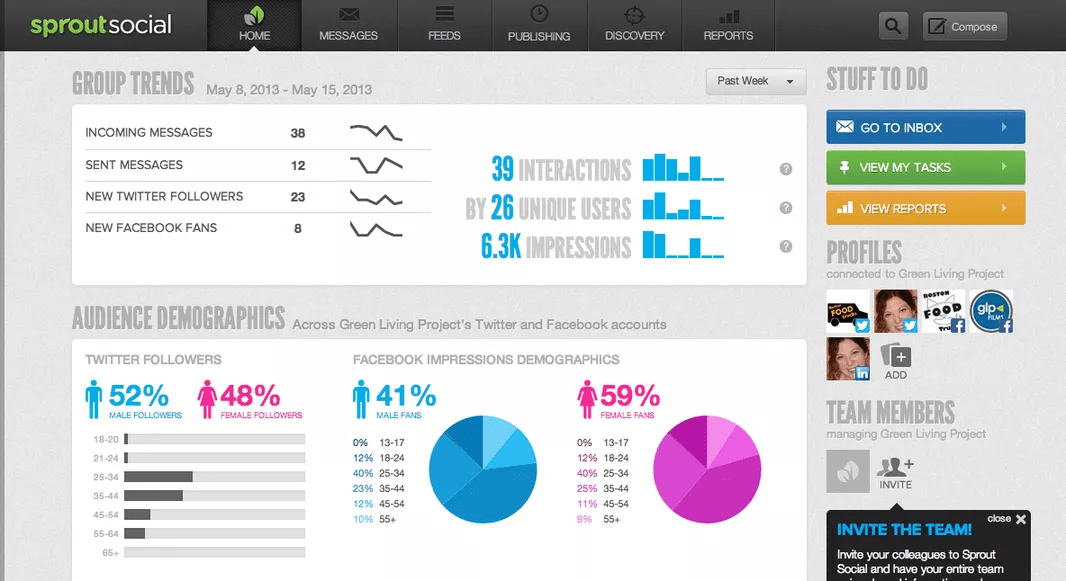 When testing an ad on multiple platforms, the important metrics can easily be tracked using one of the many social media management tools available. Tools such as Hootsuite and Sprout Social make it easy to track the success of a campaign across all major platforms simultaneously. They also simplify the A/B testing process of your marketing campaigns, so you're able to determine the specific mix that will make your campaign most effective for your audience.
If interested in learning more, you can read our expert review for Hootsuite, as well as the review  we did for Sprout Social. Beyond that, visit either Sprout Social or Hootsuite for a free trial, giving you the chance to see what they can do before spending any cash.
Optimizing Your Ads for Twitter
At this point, if you've decided that Twitter is still relevant and would make a good fit for your marketing needs, the next step is to learn how to create ads that are well-optimized and effective for this platform.
What works best will again vary based upon the audience you're trying to reach, although there are some general guidelines you can follow to create ads that get the most possible clicks.
Some of the points to consider when creating your Twitter ad campaign include:
Decide on an objective for your campaign, such as picking up additional followers, spreading brand awareness, sending traffic to a specific page or site, or simply improving your engagement rates.
Video ads generally do better than other ad types, and enjoy higher levels of engagement. They're also more memorable and viewed more favorably than other ad types.
Create ads that will capture your audience's attention. Make them more interesting by using statistics, questions related to your link, quotes, videos, images, gifs, or even polls.
Ensure that your ad is aligned with your brand identity. This includes both the visual design, as well as the specific language you use.
Engage with your customers; answer their questions, respond to their direct messages, and address their mentions. Twitter is a powerful customer service tool, so take advantage of it.
Include more than one tweet in your campaign, this way Twitter's algorithm has multiple options to choose from when determining which ad is performing the best.
Hashtags can be used to widen your reach by increasing the likelihood that users will stumble across your post through a hashtag search. Research to find the hashtags most likely to be searched for by your target audience and include them, as applicable.
Create a strong call to action that's likely to create excitement and urgency amongst members of your target audience.
Now that you know what it takes to get started with Twitter Ads, you can take it a step further and learn the steps necessary to become a Twitter master. And with time, you'll be creating high converting campaigns that'll dominate on this powerful platform.
---
Sources
https ://www.statista.com/statistics/272014/global-social-networks-ranked-by-number-of-users/
https ://www.omnicoreagency.com/twitter-statistics/
https ://www.bigcommerce.com/blog/social-media-advertising/#the-6-best-social-networks-for-ecommerce-advertising
https ://zephoria.com/twitter-statistics-top-ten/
http ://www.pewinternet.org/2018/05/31/teens-social-media-technology-2018/
https ://www.falcon.io/insights-hub/topics/social-media-roi/how-much-do-ads-cost-on-facebook-instagram-twitter-and-linkedin-in-2018/
https ://blog.hootsuite.com/twitter-statistics/
https ://www.statista.com/statistics/265647/share-of-us-internet-users-who-use-twitter-by-age-group/
https ://developers.google.com/web/showcase/2017/twitter
https ://business.twitter.com/en/basics/twitter-followers.html
https ://blog.hootsuite.com/twitter-statistics/
https ://www.inc.com/bill-murphy-jr/facebook-says-it-disabled-almost-13-billion-fake-accounts-and-numbers-only-get-more-insane-from-there.html
https ://www.statista.com/statistics/268136/top-15-countries-based-on-number-of-facebook-users/
https ://business.twitter.com/en/blog/3-reasons-videos-capture-twitters-mobile-audience.html
Image Credits
https ://images.pexels.com/photos/262543/pexels-photo-262543.jpeg?auto=compress&cs=tinysrgb&h=650&w=940
https ://www.vapartners.ca/wp-content/uploads/2014/08/twitter-analytics-followers.gif
https ://ads.twitter.com/login/
https ://i0.wp.com/www.jittipong.com/wp-content/uploads/2018/01/sprout-social-dashboard.png