With the growth of social media, brands now have an unprecedented level of access to their potential clients. Due to this evolution in the relationship between marketers and their customers, expectations have reached an all-time high.
Now more than ever, customers expect brands to have a "personality," and to relate with them on a more personal level. According to a recent study conducted by Salesforce, 84% of customers claimed that in order to win their business it's incredibly important that they're treated like an individual, rather than a faceless number. This is why developing a strong social media presence where you're able to interact directly with your clientele is vital. And among the most important social media platforms—along with Facebook and YouTube—is Instagram.
With over a billion users, half of which use the platform daily, Instagram is the third largest social media platform available, making it one of the most important for marketers. Instagram's users are international, 80% being located outside the United States. They're also young, with more than half (59%) under the age of 30 and another 33% between 30 and 49 years old. On top of all this, 42% of adult Instagram users earn over $75 thousand annually, meaning they have disposable income.
Therefore, if you're not already on Instagram, you're late to the game; and if you are, your feed probably has some room for improvement. This powerful tool is being utilized by countless savvy marketers to build their brand, and if you want to compete it's time to do your homework.
#1: Clearly Define Your Goals
Before you do anything, the first step to creating a strong Instagram feed is to figure out what it is that you intend to accomplish with your page. Are you an influencer trying to gain a following? A carpet cleaning company working to spread brand awareness? Or a dropshipper looking to pick up some more customers?
Once your goals are clearly defined you should keep them in mind with every subsequent step. Everything from your content, style, language choice, and even the hashtags you use should ladder up to this overarching goal. Before taking any actions on your feed you should always first ask yourself: will this help, or hinder me in accomplishing my end goals?
#2: Identify Your Audience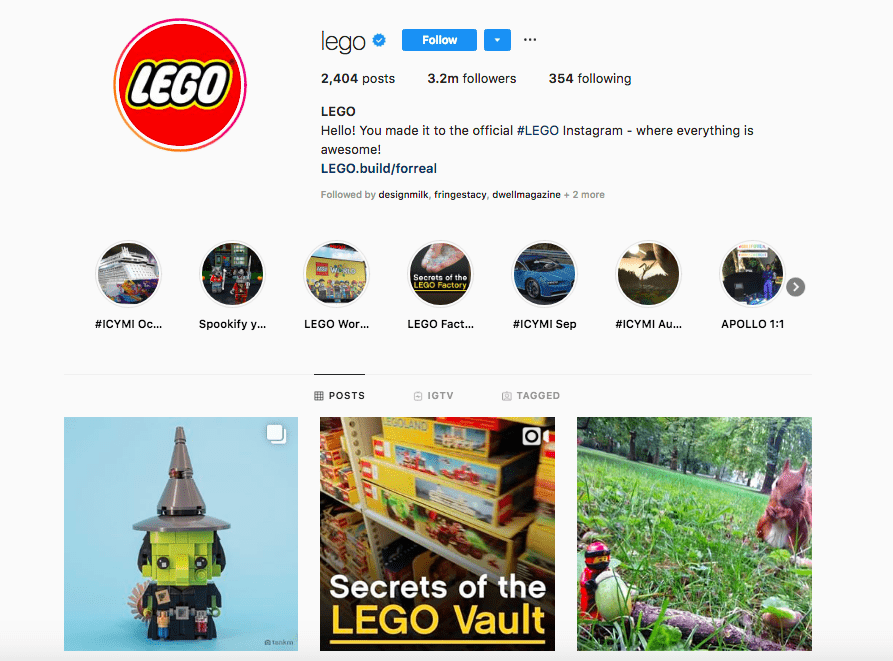 Once you've identified what it is that you're trying to accomplish, next you need to figure out who your audience is. Different audiences require different marketing strategies, and identifying yours is one of the most important steps in crafting an effective feed. Your audience is going to vary depending on your product and/or goals. For example, Lego targets young and old alike by appealing to the fun-loving, silly, and creative crowd.
When trying to find your target audience, you should ask yourself the following questions:
How old is your target audience likely to be? What generation or cohort do they belong to? (Gen X, Millennial, Baby Boomer, Gen Y, etc.)
What industry are they likely to work in? What is their income level?
Is your audience likely to be well-educated? Are they college graduates?
What are their hobbies? How are they likely to spend their free time?
Are they married or single? Do they have children?
What's their sex? Would your product resonate more with a masculine or feminine audience?
What do they find most important in life (friends, family, money, status, health, etc.)?
Are status symbols important to them? If so, which are likely to be most important (cars, clothing, jewelry, accommodation, etc.)?
What is their personality type? What makes them happy, sad, angry, or passionate?
What are their politics likely to be? Are they liberal, conservative, or somewhere in the middle?
By answering these questions you can create a fairly thorough picture of your ideal customer, and tailor your feed accordingly. The more effective you are at targeting your audience, the more likely it is that you'll attract people who are engaged and legitimately enjoy your posts.
Just keep in mind that, while the above questions are a great start to understanding your audience, this list is by no means comprehensive. Depending on your goals, which questions are most relevant to ask can vary. Figure out what's most important to know about your audience, and then continue to learn from them with every piece of content you post. By doing so, you'll be better equipped to develop content that will resonate with them.
#3: Choose the Primary Focus of Your Feed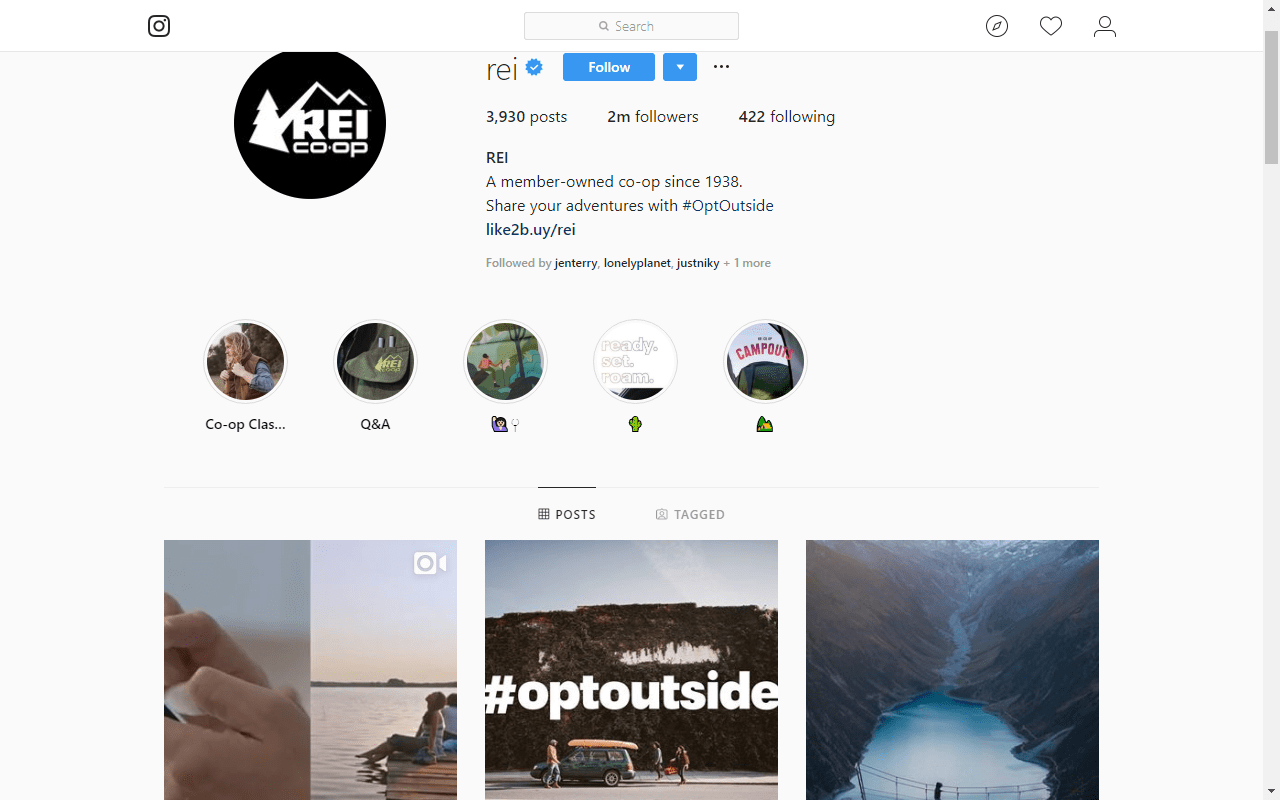 While you want to create posts that are unique and aren't repetitive, you'll still need to determine an overarching focus for your page. Your focus should be something that will assist in accomplishing your goals and that is interesting to your target audience. People are more likely to follow a page whose posts are consistently aligned with their interests.
For example, the camping, hiking, and outdoor supply chain REI has chosen people in nature as the main focus of their feed. This helps to draw in an audience who appreciates the outdoors and is likely to buy the type of merchandise that REI sells. Those who love camping and other outdoor activities (their target audience) are far more likely to follow their feed due to a genuine appreciation for their posts. Their attractive nature-based content likely draws in a more engaged audience as well, while creating a mental association between REI's brand and outdoor activities.
#4: Generate Content Ideas
Now that you have a fairly good idea as to who you're trying to reach, and how you're going to do it, you'll next want to identify some content ideas that will help accomplish your goals. A great and simple tool you can use to help organize your thoughts and brainstorm some ideas is to create a table. On the left-hand side, you should list the different attributes that your target audience likely shares, and on the right-hand side brainstorm the types of content that are likely to resonate with them. Your content should be unique, but it should stick to the overall aesthetic of your brand.
Look at the following table as an example, notice how despite the different audience attributes there's still overarching theme (young, hip, career-focused men). You want to get very specific here, as this will help to make your posts far more engaging to your target audience, increasing the likelihood that they'll hit the follow button and interact with future posts.
| | |
| --- | --- |
| TARGET AUDIENCE | CONTENT IDEAS |
| Millennial Men, 25 to 30 Years Old, Live in Urban Environment | City Skylines, Trendy Bars, Craft Beer, Coffee Shops |
| Politically Progressive, Focused on Career | Inspirational Quotes, People Engaged in Business, Skyscrapers |
| Finds Fashion to Be Important, Concerned with Image | Images of Well Dressed Models, Popular Fashion Lines |
| Exercises Often, Health Conscious | Images of People Exercising, People Jogging in City Environments,    Quotes About Working Out |
| Live in a Hip Location, Interested in Design | Beautifully Designed Apartments, Furniture Layout Ideas |
#5: Give Your Page a Consistent Look
Just like any other measure used to establish your brand, such as your logo or website, your Instagram feed should also be consistent with your brand's image. Regardless of whether you're a marketer for a multinational corporation, an aspiring influencer, a small clothing store, or a health and wellness blog, maintaining a consistent brand image is important.
Your feeds layout, composition, color scheme, fonts, design elements, and content should all be in-line with the image you wish to convey. Your customers should recognize your page and mentally associate it with your brand.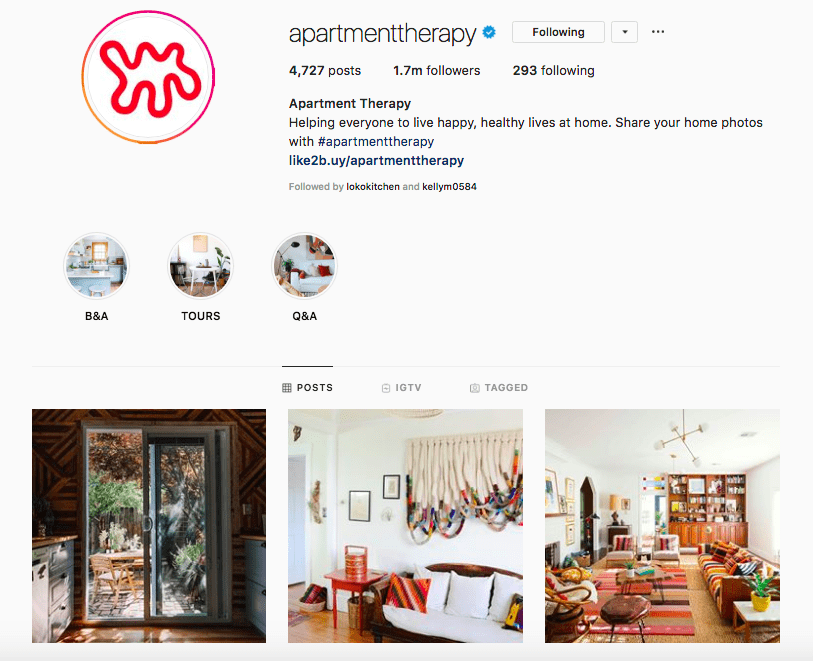 There's a plethora of themes and templates that can be used to design a page that better represents your brand's image. Apartment Therapy is a good example of this. While their feed features home decorating and interior design from homes both large and small, their photos are always crispy, vibrant, and eclectic.
#6: Plan Your Posts in Advance
In your quest to create the best possible feed, it's also a good idea to plot out your posts in advance, releasing them regularly and with purpose. Your posts could be used to tell a story or align with important events such as new product releases, blog posts, sales, or anything else that your followers may be interested in. By regularly releasing posts that are relevant and well-plotted out, you'll keep your followers engaged and your feed fresh.
Some of the best social media management tools can assist you with this process, many of which will allow you to see what they'll look like before they've been posted, making it easy to create unique layouts and interesting themes. Two of the best platforms available today are Sprout Social and Hootsuite, check out our expert reviews before deciding which is best for your brand.
#7: Learn from the Competition
If you're struggling for ideas or having trouble identifying your target audience, your competition's account can be an excellent resource. Look to brands that are most similar to yours and see what tactics are working for them, as well as those that aren't. While it's impossible to have the full picture, you can measure their success to some extent by looking at a post's engagement levels. Posts that received a lot of positive comments and likes (compared to other posts) can be considered successful.
While this is an effective exercise and a great way to brainstorm some original ideas, you should never copy your competitors directly. Even though they may be using a winning strategy, copying too much is likely to backfire, as there's a good chance it'll be noticed. Instead, take what you can from their strategies and make them your own. You can also look through their audience to help generate ideas. Their audience is the same that you're after, so understanding their likes and dislikes can provide incredibly valuable insight.
Don't Give Up
Social media marketing can be tricky regardless of the platform. Before you're able to develop a winning strategy, there's a good chance that there'll be a decent amount of trial and error. But if you follow the above steps, and learn from your mistakes along the way, with enough persistence you will begin to see progress.
---
Sources
The Step-By-Step Guide to Creating a Stunning Instagram Feed That Inspires Loyal Followers: https://foundr.com/instagram-feed/
Customer Expectations Hit All-Time Highs: https://www.salesforce.com/research/customer-expectations/
24+ Instagram Statistics That Matter to Marketers in 2019: https://blog.hootsuite.com/instagram-statistics/
Image Credits
Featured Image: https://unsplash.com/photos/R-8Kkjaztn0
Lego Instagram: https://www.instagram.com/lego/
REI Instagram: https://www.instagram.com/rei/
Apartment Therapy Instagram: https://www.instagram.com/apartmenttherapy/