With options like Facebook Live, Instagram Stories, YouTube Pre-Roll, and Twitter Video, there are many different ways you can incorporate video into your brand's marketing strategy. But there are just as many ways—or more—to lose your audience's attention along the way.
A poorly constructed video is much more than a waste of your production and marketing budget. It puts you at risk of losing your following and damaging your brand reputation. If you are going to use video ads, you need to do them well.
There are a number of guidelines that you should be following when it comes to length, strategy, content, production, and formatting.
An ad that performs well on Facebook might not be effective on Twitter. We've taken a close look at the most prominent social media players to highlight additional factors that can help you promote your video on a specific platform.
Let's start with best practices.
When It Comes to Length
The first rule of social media video advertising: less is more.
Video is one of the best ways to boost engagement levels while increasing brand recognition and engaging your target audience—but only if you act quickly.
Why? Well, viewers quickly become disengaged.
After all, they're not spending time on a social media platform just to see your ad. They're busy looking at other content. They might have limited time before they have to go back to work, head to class, or start cleaning the kitchen.
So, how long is too long?
Facebook, Twitter, Instagram, and YouTube all have different parameters regarding how long your video ad can be. But just because you can use a certain amount of time doesn't mean that you should.
It's generally considered best practice to keep your video under 15 seconds long (unless you know you have a highly engaged audience).
Regardless, it's important to remember that many people will likely skip your video after just a few seconds. This means that you need to deliver your key message and branding pretty much immediately if you are going to make any sort of impact.
When It Comes to Strategy
Based on what you are trying to achieve with your video, certain conceptual directions will work better than others. You can measure these with specific key performance indicators (KPIs). Consider the following situations:
Want to build brand awareness and expand your reach?
Opt for a storytelling feature or a behind-the-scenes video that evokes emotion and helps you connect to viewers on a personal level. If you can build a strong relationship straight away, this can result in loyal, long-term customers.
Measurable KPIs:
As your aim is to get as many views as possible, track the views of your video at three, ten, and 30 seconds to measure your viewership over time.
You can also measure brand impact through ad recall lift, a reliable metric that tells you how many people tend to remember your ad after a day or two of watching it.
Want to drive traffic to your website?
Consider an educational video that solves a problem for your audience. This can establish you as an expert in your niche and help build that all-important trust, increasing the chances that viewers will want to click to learn more about your brand and what else you can offer them.
Measurable KPIs:
Use clicks and click-through-rate on your ad as relevant KPIs to tell you how much traffic is being generated by people clicking on your ad.
Want to increase product sales?
Product videos are ideal for building excitement during a new product launch. Videos that showcase customer success stories are extremely effective for driving conversions. If the viewer can see how your business can help others, they'll be more likely to engage.
Measurable KPIs:
Track your conversion rate on your website. If you're using the Facebook Ad Manager, use the Facebook Pixel, which is a code you place in your HTML so that Facebook can provide you with key insights about your campaign.
When It Comes to Content
Now that you have a strategy for your video and the right KPIs in mind, make sure that you are including the following elements. These are essential to creating a strong and memorable video ad on social media:
1. An Attention-Grabbing Introduction:
Intrigue your audience enough for them to stop scrolling
Let your viewers know that this ad is relevant to them
Include compelling images, an interesting question, or witty dialogue
2. An Immediate Brand Mention:
Let your viewers know who you are within the first three seconds (at the most)
Include your brand logo and colors
Incorporate additional visual elements that align with your brand image and personality
3. A Central Call-To-Action:
Try not to place your CTA too early, which can feel too "salesy"
Instead, incorporate your CTA immediately after you hook your audience with your value proposition
Use compelling language that encourages your audience to act now
4. An Optimized Title and Description:
Remember that not everyone will watch your video, so include the necessary info here as well
Hook your audience with compelling copy that is short, sweet, and to the point
Include relevant keywords and hashtags so you can successfully target your desired audience on the platform
Take this example from the Philadelphia brand. At ten seconds, the length of the ad is perfect. It also starts with an interesting copy hook that is probably relevant to a lot of people during a particular time of year. The CTA in the description is clear and compelling.
However, from a visual perspective, the ad is pretty boring—at least at the beginning, which is the most critical part. Additionally, while some of the hashtags are good in helping identify the audience, there are probably a few too many, and they could be more focused.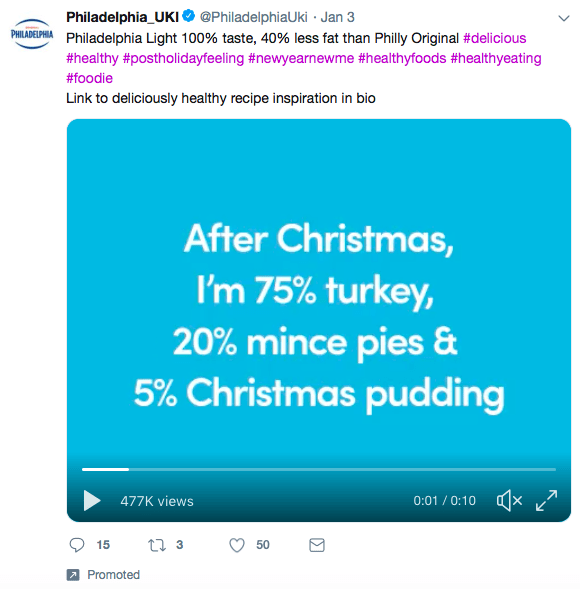 When It Comes to Production
You could have the perfect length, the right KPIs, and all of the key video components set—but if the production quality is low, your ad will not be memorable (at least, not for the right reasons).
The Art of Storytelling
if you want your social media video ad to be as good as it can be, effective storytelling is a must. A great narrative evokes emotion from your audience and establishes a strong connection.
Take Kate Spade, for example. A few seasons back, the leather goods brand promoted episodic video ads that told the story of Miss Adventure, a charming and relatable New Yorker who seemed to have bad luck with all her endeavours.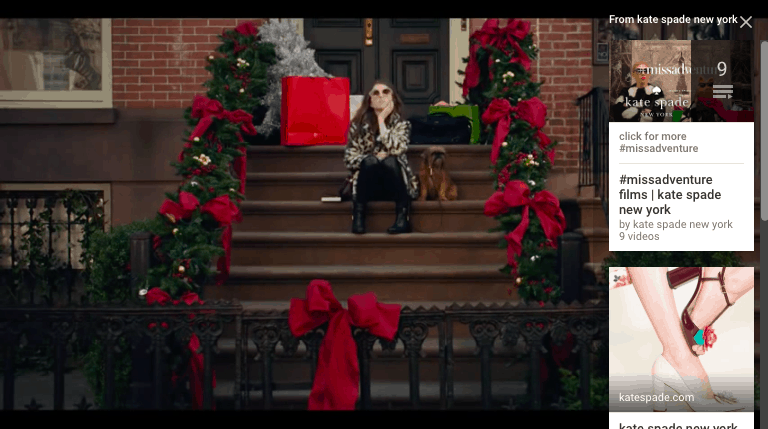 Each video in this nine-part miniseries on YouTube told part of Miss Adventure's story. The two-minute episodes weren't too long, and each one was distinctive and compelling. This is a great way to tease the audience and keep them engaged for a while.
Animation vs. Live Action
There are no right or wrong answers here. The trick is to tell your video story in a way that's in line with the rest of your branding.
It goes without saying that real people are more relatable for customer-centric and behind-the-scenes videos, where you're trying to spark an emotional connection.
On the other hand, animation can be a great tactic to illustrate complex or difficult topics in a clear, accessible, and informative way. The Suicide Prevention video on Facebook is a great example of this.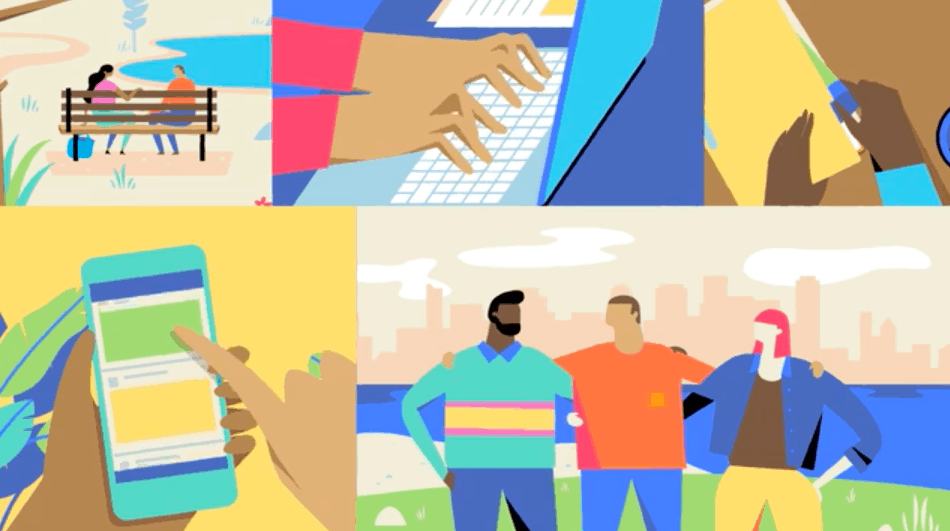 The use of animation in this video helps to suggest advice and tools to support those struggling with mental health issues in a sensitive and empathetic way.
Here's another example from Monday.com, a project management tool. The live action video, which ran on YouTube, effectively walked viewers through how to use the sophisticated product. The light and fun narrative kept people engaged throughout, but also gave them the option to "Sign Up Free" at any point during the 30-second ad.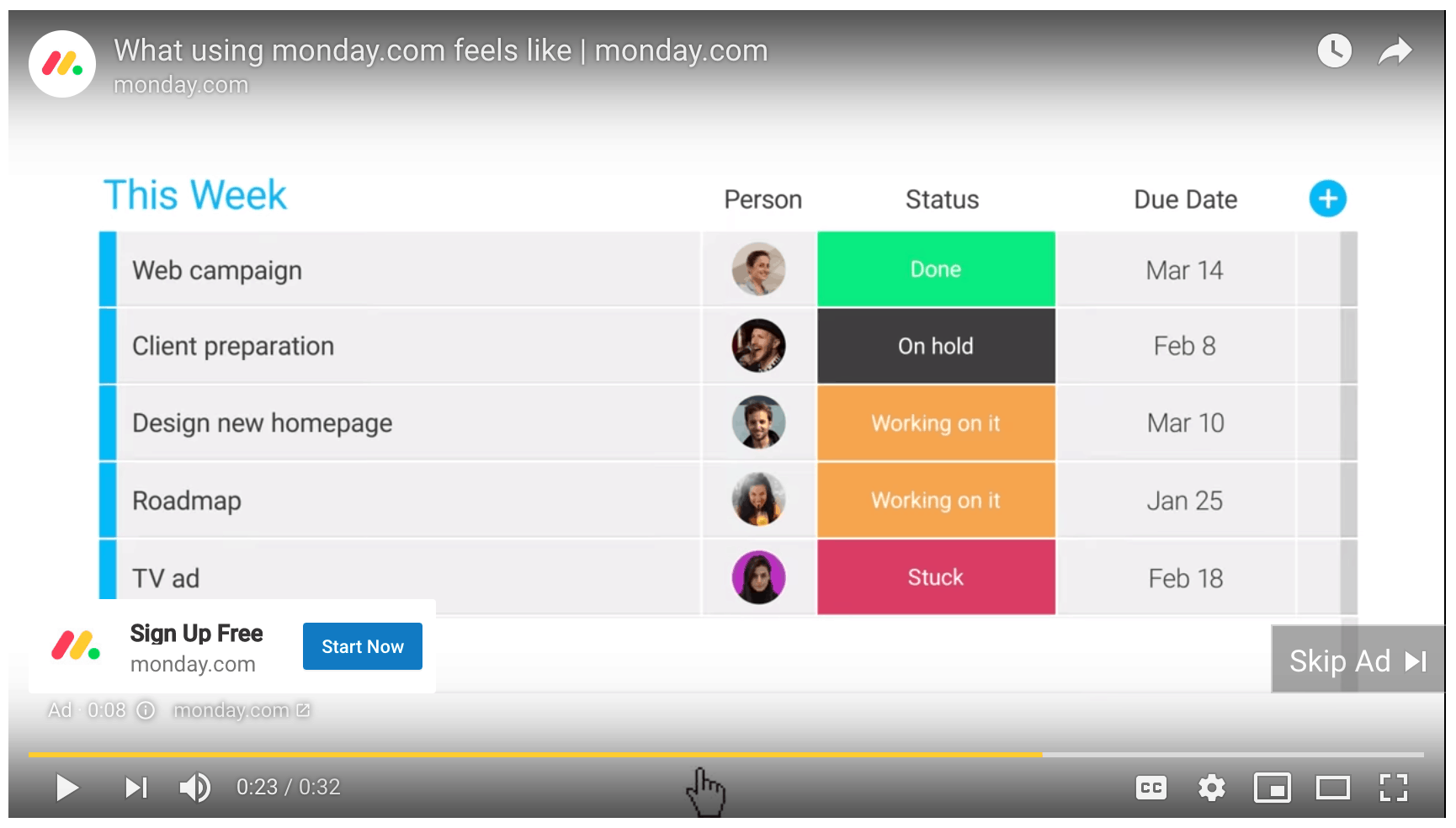 Lighting Matters
When it comes to shooting your video, opt for the best lighting possible. Needless to say, a dark environment will result in a grainy video.
Instead, use natural daylight or LED lights that will brighten up your chosen location. Be sure to avoid backlighting or direct overhead spotlighting.
When It Comes to Formating
If you're going to invest in creating a great video, you want to make sure it's formatted properly so you can reach as wide an audience as possible.
Ensure Your Video Is High Quality
The first rule of formatting a video ad is to make sure you're following the specific recommendations of whichever social media platform you're using.
Facebook, Instagram, Twitter, and YouTube all have their own guidelines regarding ratio, resolution, and file size. Following these guidelines will help you generate the maximum amount of views and engagement.
For example, Facebook recommends a video have 1280 x 720 pixel resolution for landscape orientation. If your video is less than 600 pixels in width, Facebook might reject it. Even if not, it could look blurry or pixelated on larger screens, making it difficult for your audience to enjoy.
Read more about the best Facebook and Twitter video specs.
Assume Your Audience Will Have the Sound Turned Off
It's critical that your video ad is able to deliver your key messages without sound.
Why? Well, multiple sources state that around 85% of videos on Facebook are watched with the sound turned off. It's likely that many people are watching on their mobile phones, which could be in silent or vibrate mode.
Be sure to include subtitles for any meaningful dialog, like food subscription service HelloFresh.
The video below features clear, white-colored subtitles at the bottom of the screen. These are easy to read without distracting the viewer from the customer's story.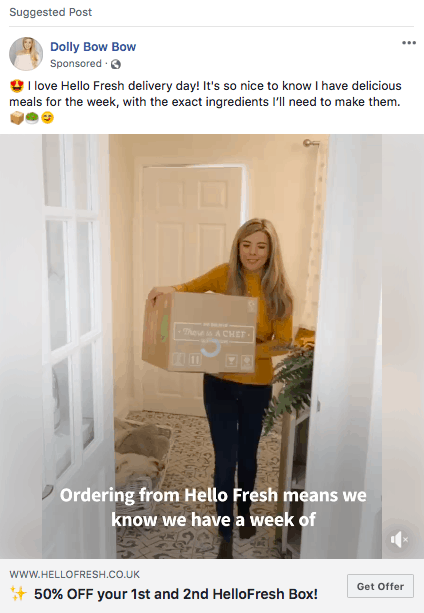 If your target audience is multinational, subtitles are a must. They also make your video accessible to viewers who who are hard of hearing.
YouTube is pretty great in this regard, allowing you to set your video to automatically switch on closed captioning for all viewers, in the language of your choice.
Optimize Your Video's Orientation
According to Instapage, 90% of social media video ads are viewed on mobile devices. Taking this into account when sizing your video is a no-brainer.
Mobile phones are typically held vertically, which means you should use portrait orientation or a square ratio for platforms like Instagram and Twitter.
On Facebook, the ad options are much more varied. Depending on the placement of your ad, it may make sense to use a portrait, landscape, or square ratio.
When it comes to YouTube, keep in mind that many users are likely to be holding their devices horizontally, to make the video as big as possible on their screens.
Regardless, be sure follow your platform's specific recommendations—after all, they know best.
Syncing Your Video Ad to a Specific Platform
There is a general consensus regarding many of the best practices for creating video ads on social media. However, don't forget that Facebook, Twitter, Instagram, and YouTube all have their own ad options and core audiences.
When uploading your video to the different social media platforms, you'll have a chance to indicate your specific marketing objectives (e.g., video views) as well as the audience you are looking to reach. Through sophisticated algorithms, each platform can help you optimize your settings and put an appropriate budget in place.
At this point, consider the different video ad options available and then keep in mind some platform-specific tips:
Facebook Video Ad Options:
Vertical video ads work well for short, attention-grabbing formats
Carousel ads and in-streams are best for spreading brand awareness and recognition
Collection or canvas ads allow you to display products or services in clickable images below the video, which is perfect for driving traffic to product pages and increasing sales
While they can't be promoted through the Facebook Ad Manager, live videos and 360 videos are great for showcasing new products through tutorials and how-tos, receiving a high level of engagement and creating an intimate connection with your audience because they know it's authentic, in-the-moment, and unedited
Facebook Video Ad Tips:
Upload your video directly to Facebook instead uploading to YouTube or Vimeo and sharing
Customize the thumbnail image of your video for maximum impact
Create a custom audience to best target your video
Take advantage of Facebook Analytics and split testing
Twitter Video Ad Options:
Pre-roll, in-stream ads pop up just before a content partner's video and work well for short, attention-grabbing video ads
Promoted videos (up to ten minutes long) appear in users' timelines and are ideal for showcasing new products, spreading brand awareness, and building recognition
Twitter Video Ad Tips:
When using in-stream videos, select the appropriate category for your brand (e.g., a sports ad should proceed a sports video)
Keep in mind that many people use this platform for news and information; your video should match this type of content
Remember that hashtags are very important on Twitter
Take advantage of the Tweet Activity and Audience Insights dashboards
Instagram Video Ad Options:
While live videos cannot be promoted as paid ads, they are best to showcase new products or services through tutorials and how-to videos, creating an instant connection with your audience and encouraging immediate reactions
In-stream Stories are great for highlighting a new product or service as you can take advantage of the "Swipe Up to shop" feature
In-stream Stories are also great for building brand awareness and driving traffic to your website, thanks to the "Swipe Up to visit" feature
Instagram Video Ad Tips:
Develop video ads for a more visually-focused audience
Keep in mind that unlike on other platforms, viewers cannot enlarge videos
Remember that Instagram thumbnails have to come from the video (i.e., they cannot be customized)
YouTube Video Ad Options:
Bumper ads are six-second videos optimized for mobile devices that work for short, attention-grabbing ads to spread brand awareness
TrueView in-stream ads are great for showcasing a new product or service through customer testimonials, how-tos, or tutorials; however, viewers can skip the video after five seconds, so it needs to be engaging right from the get-go
TrueView Discovery ads appear on search results, on the homepage, and alongside related videos, which is great for expanding your reach and driving traffic to your website
YouTube Video Ad Tips:
Use landscape orientation for your video so viewers can make it as large as possible on their screens
Keep in mind that many users come to this platform to access tutorial videos—this could benefit your content strategy
Consider that you may have a more focused audience compared to other social media platforms, where users are more likely to be on the go
In summary, be sure to select the most appropriate platform for your video based on your primary marketing objectives and where your target audience spends their time. This way, you're sure to encourage optimal views, clicks, and—ultimately—conversions.
---
Sources
https ://sproutsocial.com/insights/twitter-video/
https ://www.facebook.com/business/ads/video-ad-format?ref=ens_rdr
https ://www.falcon.io
https ://digiday.com/media/silent-world-facebook-video/
https ://econsultancy.com/four-examples-of-brands-using-an-episodic-content-marketing-strategy/
https ://instapage.com/blog/twitter-video-ads
https ://www.socialmediatoday.com/marketing/5-ways-optimize-your-facebook-videos-mobile-viewing
https ://vimeo.com/208166632?_ga=2.118232911.775751678.1549013145-1969046571.1549013145
https ://support.google.com/google-ads/answer/2375464?hl=en-GB&_ga=2.104111936.1336829904.1549283918-979369418.1534764900