For businesses—particularly those in a more aesthetically-driven industry, such as fashion or home décor—Pinterest can be an incredible resource. In fact, for many brands, it can be one of the most important components of a strong marketing plan. But it will only work for you if you appropriately leverage the platform, which means that there are things that you need to do, and things that you need to steer clear from if you are going to increase your traffic, sales, and brand affinity.
A Quick Look at the Numbers
Pinterest is an online retailer's dream. Just consider the following statistics:
200+ million visitors per month

93% use the platform specifically to plan for purchases

67% have discovered a new product or brand while browsing

Half of visitors have made a purchase after seeing a promoted pin

On average, users spend about $4 more on purchases found on Pinterest than those found on Facebook; and about $13 more than Twitter purchases

The half-life of a pin is 3.5 months; in comparison, the half-life of a Facebook post is 90 minutes, and the half-life of a tweet is 24 minutes
Take another look at that last statistic. One pin can inspire engagement and drive traffic (potential customers) to your website for the better part of a year. This means that the time that you put into building a strong Pinterest strategy and content will continually pay off over time, in a way that other social media platforms just can't compare.
Ready to create a Pinterest business account and start selling? Great! Just make sure you consider the following do's and don'ts.
6 Things to Do When Selling on Pinterest
#1: Take Advantage of Different Pin Types
Pinterest has made the platform extremely easy for online retailers, providing a number of options to help you reach your customers and ensure that their discovery and purchasing experience is as seamless as possible.
There are a number of different pin types that you should take advantage of. For the best results, make sure to diversify your pin types with a combination of the following:
Rich Pins:

Provides the viewer with additional information, such as real-time pricing and availability, as well as a location suggestions so users can best find your product. Merchants that enabled this feature saw a significant increase—70%—in traffic from Pinterest.

Buyable Pins:

Allows users to make a purchase straight from Pinterest. This is a great way to bring attention to promotions or new products. Merchants also continue to control the shipping process and customer service experience, and Pinterest doesn't take a cut!

Promoted Pins:

Just like the name states. Pinterest allows companies to pay for pins to be placed where they are likely to be seen by prospective buyers based on their interests and habits. Good for reaching new and potential customers.  

#2: Strategize Your Inventory with Strong Board Themes
If you sell women's clothing, why not have boards separated by color or occasion? Think about the ways that individuals typically shop (e.g., looking for a little black dress, or statement heels). Plan these themes out and give careful consideration to board titles; you want names that will intrigue and make people click. For strong and cohesive boards, consider your full inventory and look for intuitive and clever ways to group your products.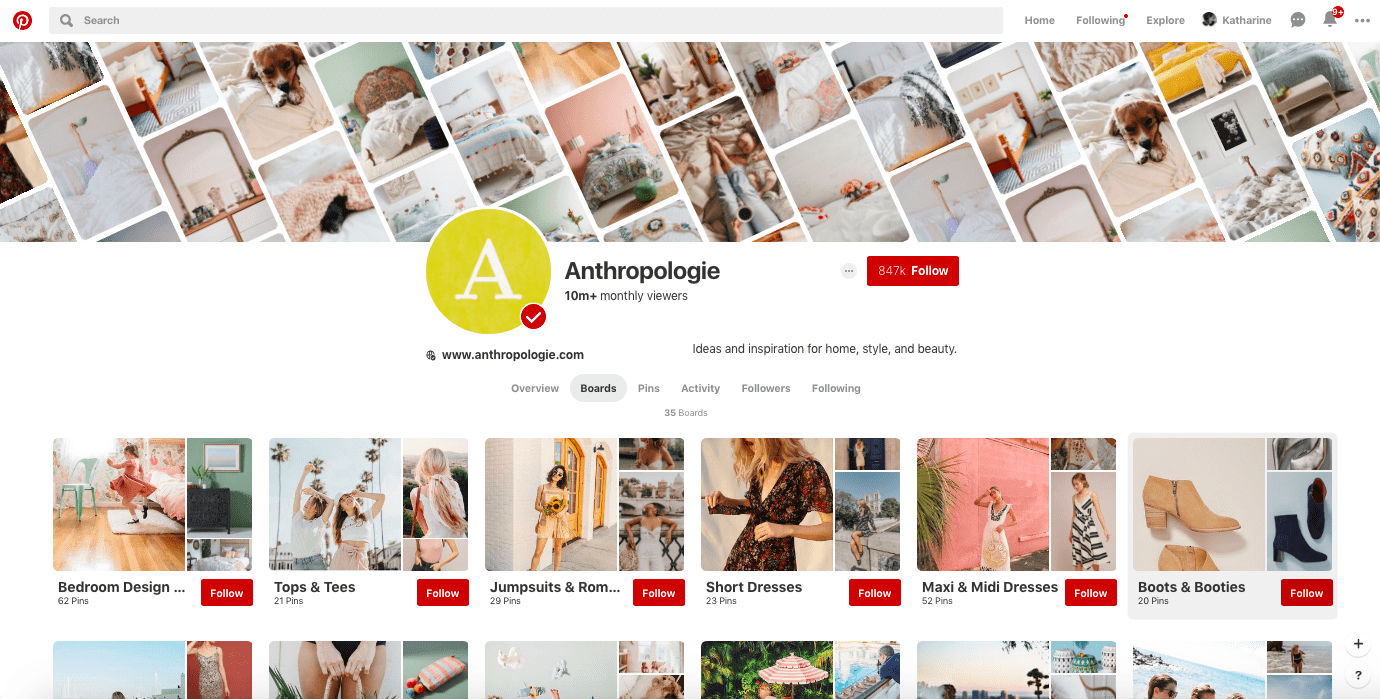 #3: Build Relationships with Potential Customers
As strange as this may sound, the main goal of your Pinterest account shouldn't be to sell products first and foremost. All social media connects people, and smart brands capitalize on potential connections first, and then convert those connections into customers. Find your people! Re-pin their pins, follow their boards, leave comments. Social media interaction is essential to business these days.
#4: Align Yourself with Similar Brands
Think of companies that aren't direct competition as potential partners. The owner of a dress store may meet a handbag designer on Pinterest and start talking. If both owners are smart, they could potentially combine forces for a promotion off of Pinterest in the future. Interacting with other companies means there's a better chance they'll interact with you—and both of your products and boards will reach more eyes. The more social you are, the better.
#5: Determine What Works Best for You
Many articles claim to know the best times to be active on Pinterest in order to get your products seen. The truth is this: you'll only figure out what's best for your business by pinning regularly, and often.
As your business grows, Pinterest will be one piece of your social strategy you may be able to spend less time on. However, you need to make sure that you aren't just creating pins and boards and then forgetting about them. Make sure you are continually monitoring what works and what doesn't, this will make things much easier—and lucrative—in the future.
#6: Make Purchasing as Easy as Possible  
This point can't be stressed enough. Pinterest is a fantastic platform for impulse purchases, but what's the point in spending all of this time and energy helping customers discover and become inspired by your products if it's difficult for them to actually initiate or finalize a purchase?
Take advantage of the aforementioned buyable pins, and be sure to use a trusted e-commerce partner. Not only will this result in more purchases, but customers are much more likely to become repeat customers and share your company information after a good experience on the website!
6 Things to Avoid When Selling on Pinterest
#1: Don't Lose Sight of the Brand
Brands are more than just products; they are an experience, a lifestyle, something that someone can relate to and identify with. The companies that tell their story the best, not only sell more products, but they are able to charge more for those products. Luckily, Pinterest is a terrific platform for companies to build up their brand.
For example, you probably know Lowe's as a home improvement store. Knowing that their customer base is already on Pinterest ,looking for fun and creative DIY ideas, they've created a number of boards that focus on things like hosting the perfect summer party, including backyard moving nights, fun kid activities, and delicious barbequed treats. So much more than just paint and hammers!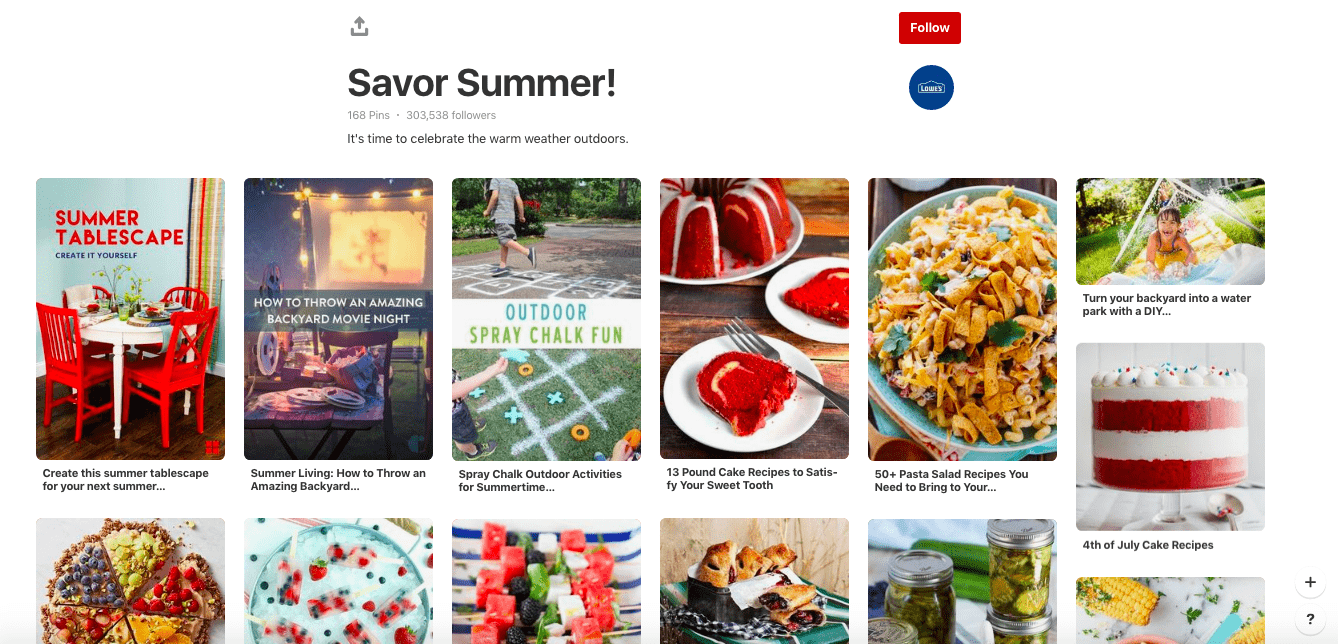 #2: Don't Be Overly Broad or Generic
Pinterest is a platform that really shines with niche products and audiences. For a shoe brand to just create boards like "flats" or "heels" would not only be boring, it would lazy.
Take a look at Steve Madden's boards, entitled "Beach Please" or "Snake is the New Neutral" or "Varsity Hues." Not only are these much more eye-catching, but it also helps target a more specific audience, and develop that whole "brand identity" thing we mentioned earlier.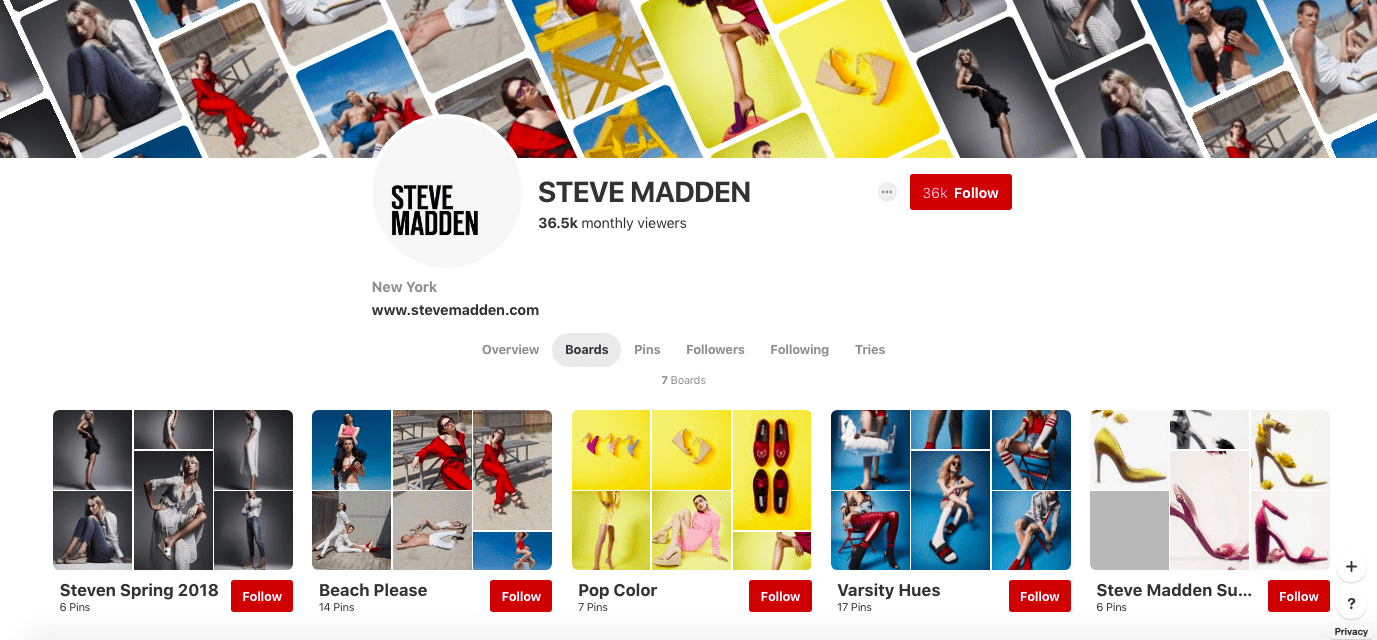 #3: Don't Slack on Your Images
Pinterest is an image-driven platform, which means that users are looking for creativity and inspiration. Photos that are boring, poorly shot, or don't fit into an overarching brand image aren't going to get repinned or shared. It's as simple as that.
Embrace the rainbow:

Images with multiple dominating colors get clicked about 3% more than images with one dominant color

Find middle ground:

Very dark and very light images often get overlooked; similarly, highly saturated or desaturated pin images also don't perform well

Keep the background minimal:

An image with more than 30% background space gets clicked less often than an image with background space of 30% or below
#4: Don't Take Away the Imagination
As mentioned earlier, people use Pinterest when they are looking for inspiration. Basically, they want to imagine their future guest bath, their perfect wedding, their dinner party. People can be included in images to provide context, but avoid showing model's faces—which takes away some of this illusion. Faceless pins get more clicks than those that feature faces!
#5: Don't Write Off Keywords
Pinterest is a so much more than a social media platform—it's a visual search engine. So, like Google, it is driven by keywords and you better use them right if you are going to improve your SEO.
Discover what individuals are searching for to decide what keywords you should be focusing on. Remember, niche products really thrive here, so this is another area where it really pays to be creative and thoughtful about your audience.
Once you've come up with strong keywords, make sure you incorporate them into:
Your company profile

Alt-text on images

Board titles

Board descriptions
#6: Don't Force the Platform, but Look for Opportunity
Pinterest works well for certain businesses, but not for others. Does your target audience use the platform? If yes, then you better be there to meet them! If not, you'd be better off focusing your efforts elsewhere.
While Pinterest truly shines with visually-driven products or categories, just because you don't sell purses doesn't mean your website won't be able to really benefit from this platform. Remember the earlier Lowe's example? They certainly aren't pinning pictures of paint thinner and wrenches, but they have found ways to be creative and deliver their audience with value-added content.
Pinning it All Together
A successful Pinterest account does more than just feature images of products for sale. Use Pinterest to build a community and tell a story that people want to be a part of. This is an excellent platform to connect with new customers and provide a richer brand experience—but only when it's done right. Like so many other components of your marketing mix, it is only going to work for you, if you put in the time and effort required.