Until recently, scheduling posts on Instagram was all but impossible, as the company didn't allow for third-party applications to make posts onto a user's account. This all changed in early 2018, when the social media giant officially announced that it would finally begin permitting the scheduling of posts, although there was a twist:
Unlike some of the other popular social networks, such as Facebook or Twitter, it still isn't possible to schedule posts through Instagram itself, but only through the use of an authorized third-party tool
.
Of the social media management tools available for scheduling posts, Hootsuite and Sprout Social are among the most popular. This newfound ability to schedule posts is a godsend for social media marketers, as Instagram has risen to become one of the best platforms available for engaging with your customer base, specifically for visually-driven brands and companies.
Scheduling Posts on Instagram
As mentioned in the introduction, the ability to schedule posts on Instagram is still fairly new, and, on top of this, can only be done through third-party tools. While this is true,
there's still the ability to create drafts on Instagram itself. This allows you to save posts for later, but it's still left up to you to actually log in and post it
. Other than that, you're likely to be stuck using a third-party tool. Fortunately, with a little research, you'll find plenty of information and reviews available when looking for the
best social media management tools
to help accomplish your marketing goals. Two of the better tools include Sprout Social and Hootsuite, which will be covered below in more depth.
Instagram Drafts
While it's not quite possible to schedule posts that will automatically publish through the Instagram website or phone app, the platform does give you the ability to create drafts.
Drafts allow you to create the content of a post, give it a caption, filter the image, and anything else you'd do when creating an Instagram post, then save it to be published at a later date
. The main problem is that, when the time to post does come, it's necessary to log in and publish it manually.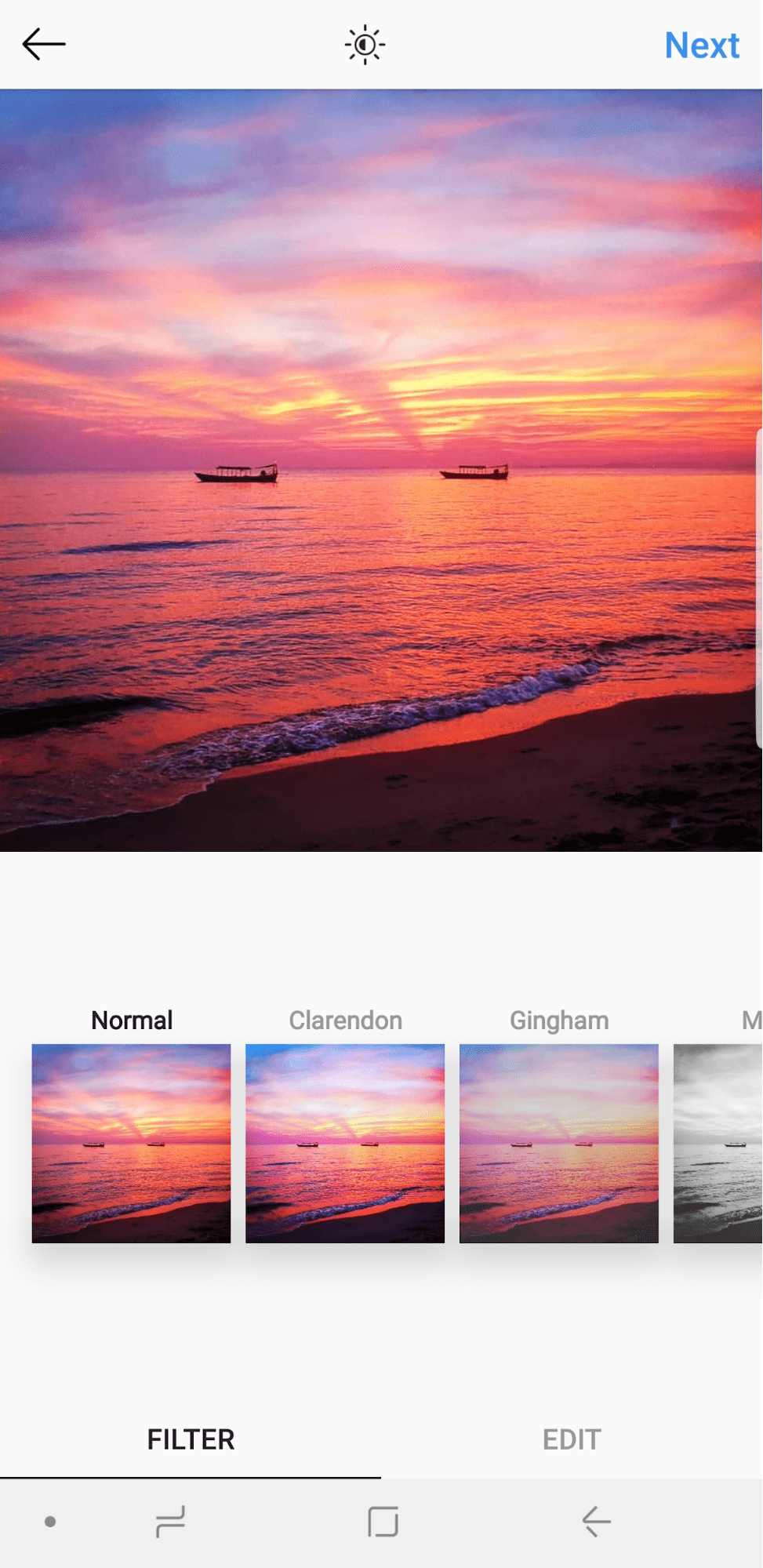 While you cannot schedule an automatic publication time for your post, this feature proves valuable as it enables you to prepare multiple posts that you can effortlessly publish at the suitable moment. Enhancing this process can be achieved by configuring a reminder in your phone's calendar. Creating a draft on Instagram is quite simple, just follow these steps:
Create a post as you typically would using the Instagram app (choosing filters, adding a location, writing a caption, etc.)
Once you have the post how you want it, rather than hitting the "Share" button, as you normally would, instead hit the back arrow at the top left corner of the screen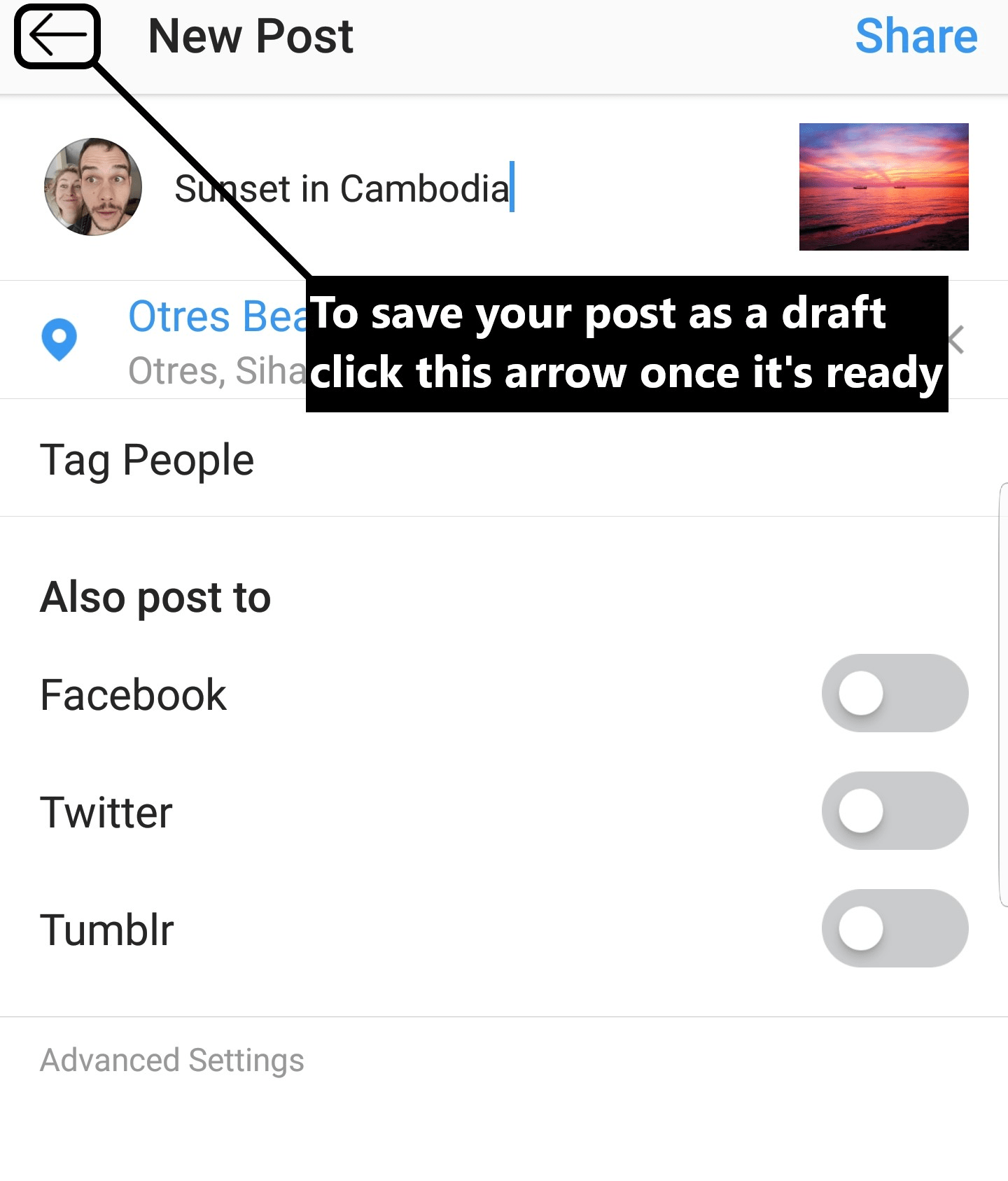 This will take you back to the filter/edit screen, where you should again hit the back arrow a second time
After hitting the arrow again, a dialogue box will appear asking if you'd like to save the post as a draft or discard it; choose "Save Draft"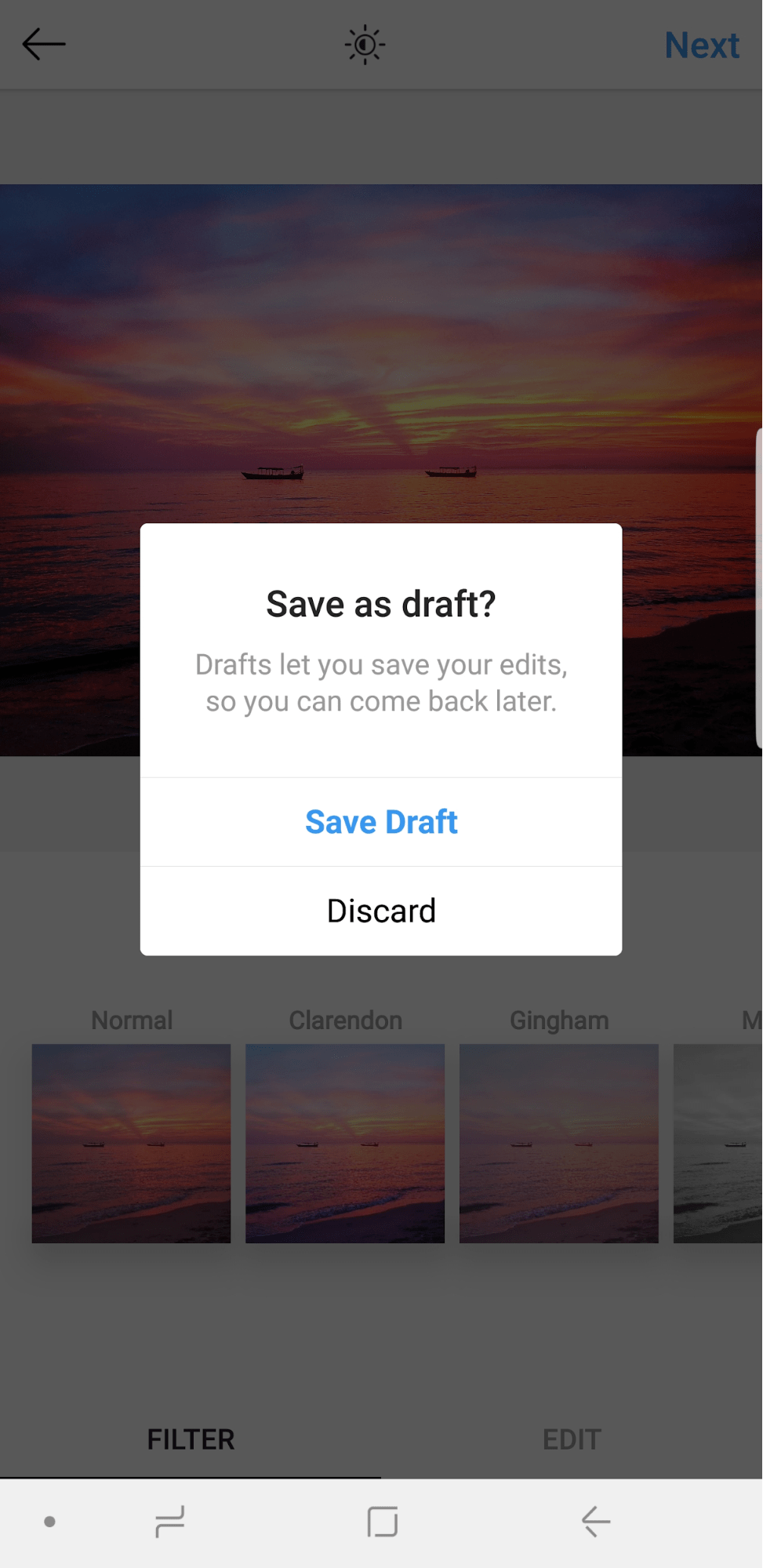 Your drafts are located just above your gallery, under the subtitle "Drafts"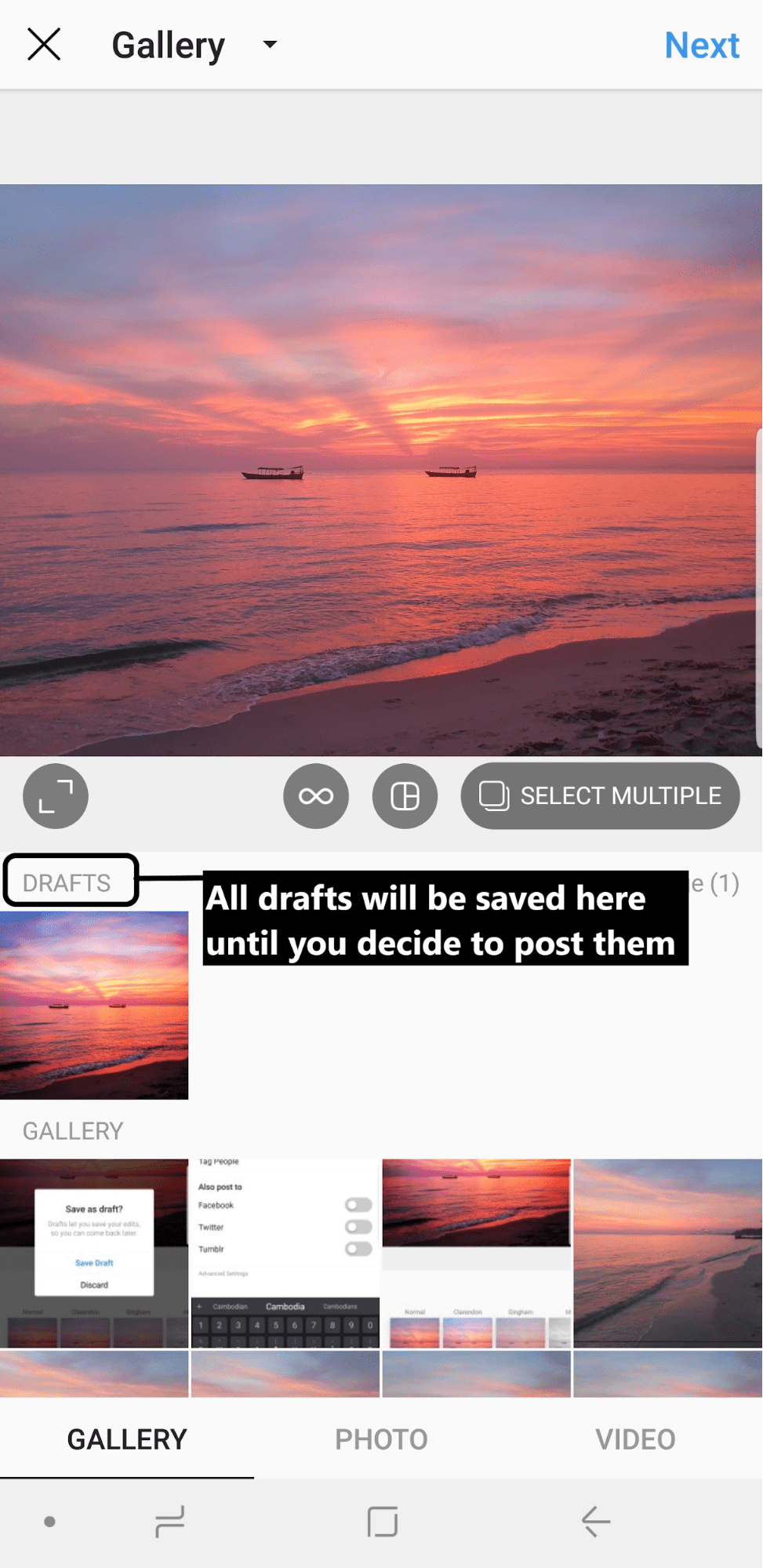 To remind yourself to post regularly, use an app or your phone's calendar to set reminders
Sprout Social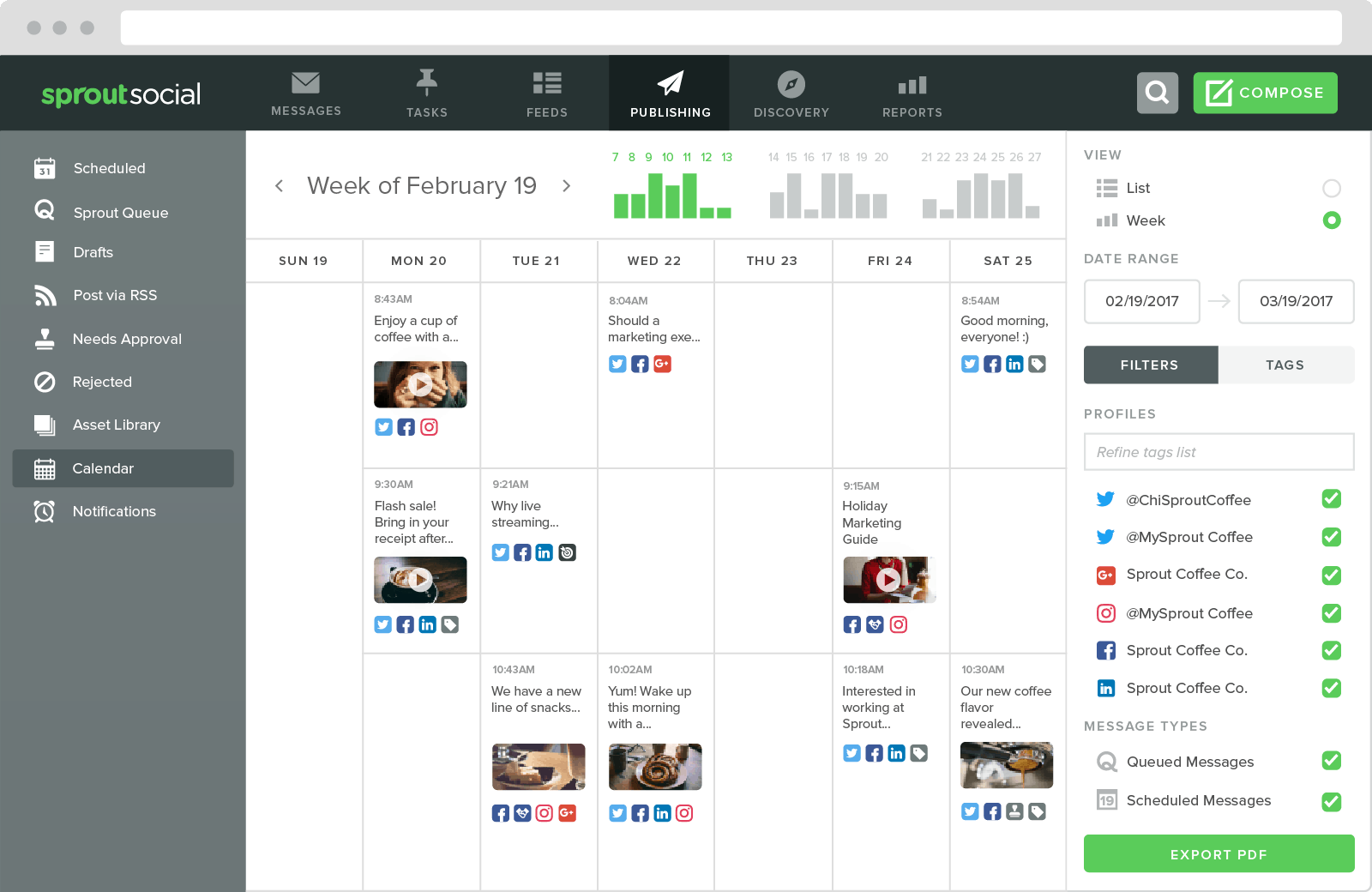 As one of the top social media management tools, Sprout Social makes it easy to schedule a post that's simple to publish at the desired time.
Sprout Social
's Instagram publishing feature, which allows you to post directly to Instagram through their app, is
currently only available to business accounts
. So if your account isn't set as a business account, don't worry, as it's free and fairly simple to change it. To schedule posts through Sprout Social's publishing feature you'll need to:
Click the green "Compose" button on the top right corner of the screen
Add the completed image, caption, and hashtags that you'd like posted
Select which Instagram account you'd like your content to appear on
If available, choose a designated publisher from your team by selecting the alarm clock icon in the compose window; if you don't have a publisher available, you'll need to manually publish your content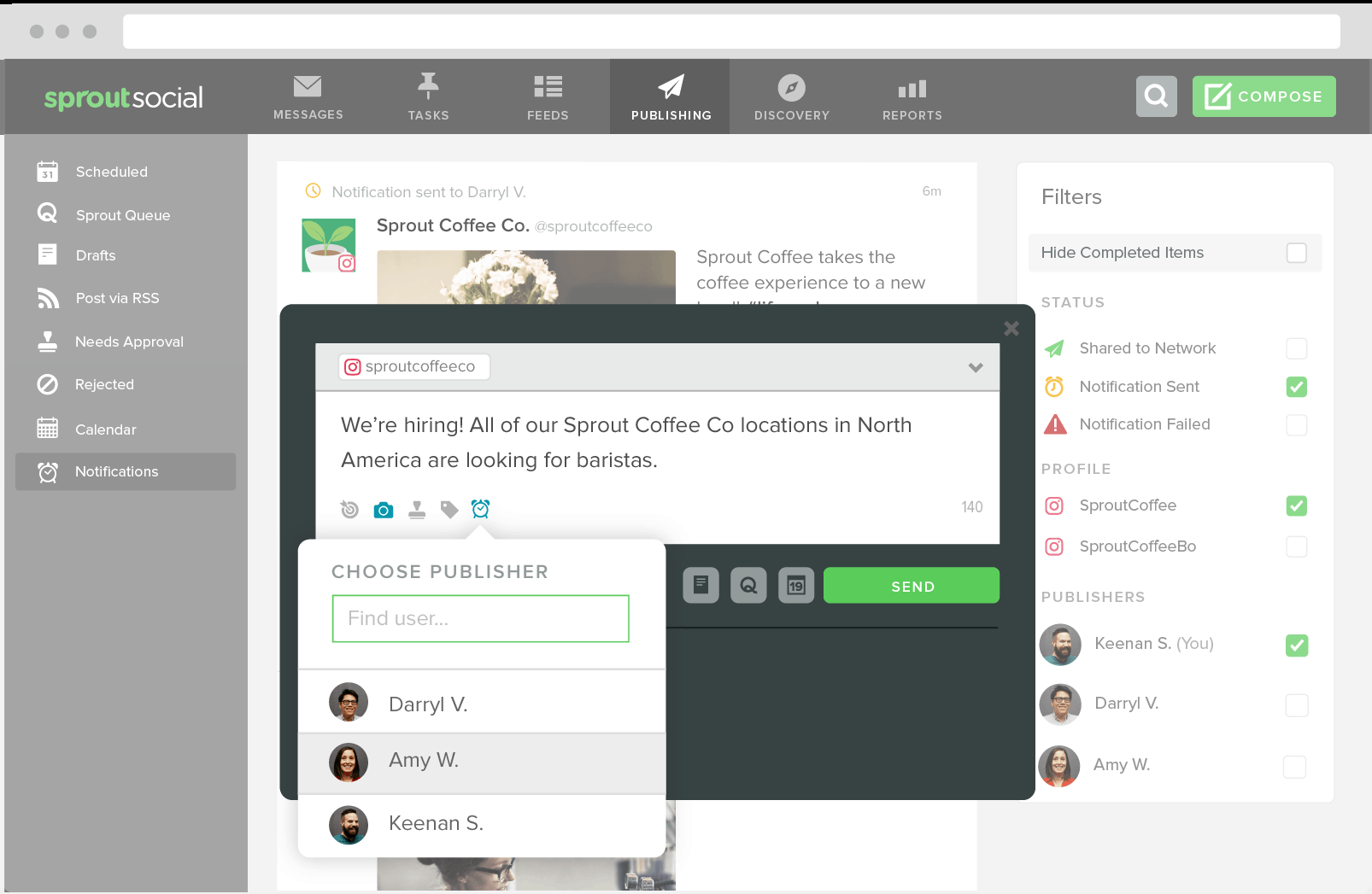 Choose how you'd like the content to be posted, for scheduled posts choose "Schedule Manually"
From the drop-down calendar select the date and time you'd like your content to be published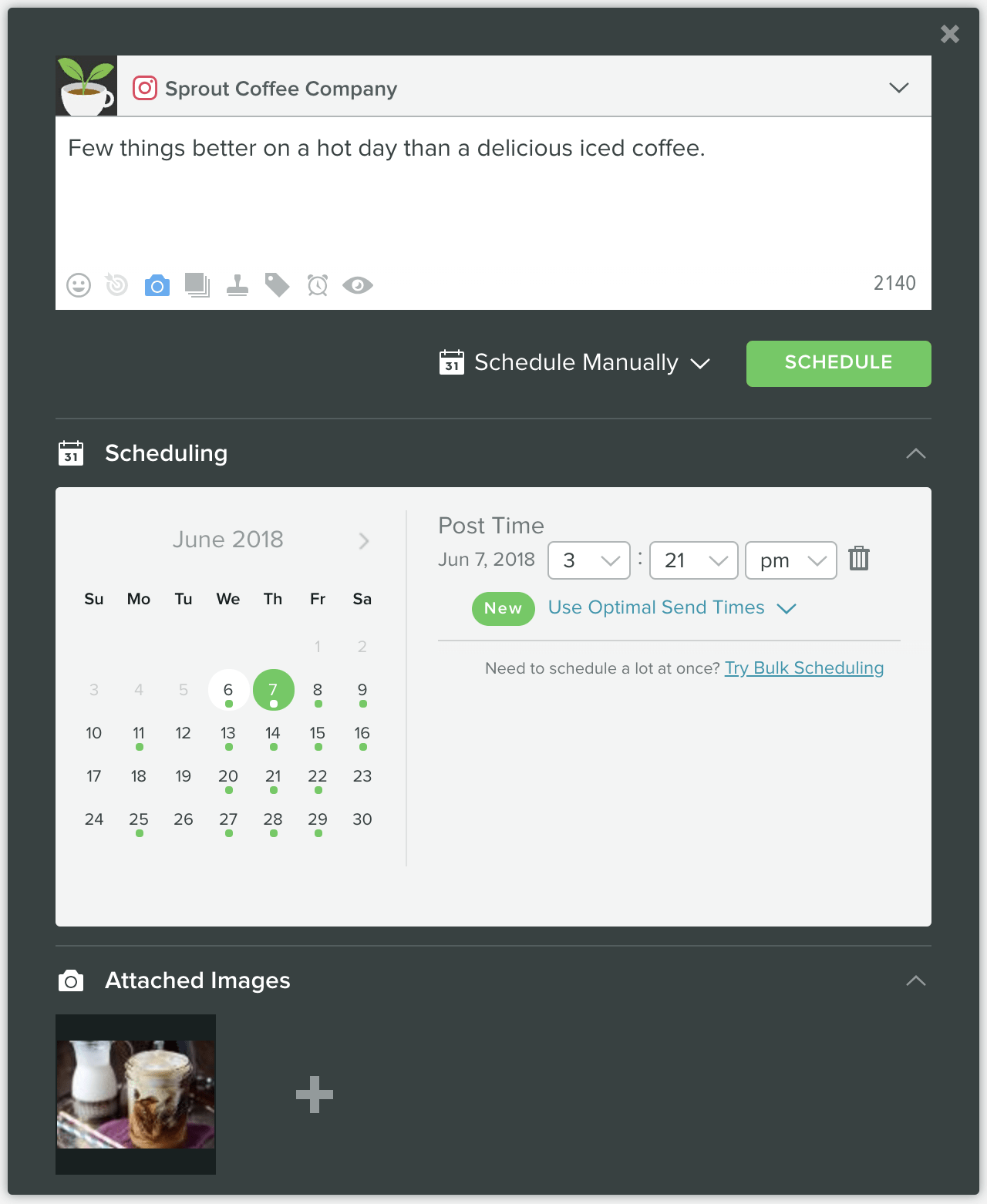 On the day and time that was selected, the person chosen to post the content (the publisher, or you, if no other publisher was selected) will receive a push notification reminding them to publish
From the notification, you can easily click into Sprout Social's mobile app where you simply need to click "Share on Instagram" and your image will be transferred to the Instagram platform
From here, simply add the location, tag people if desired, and any other final edits, then choose the "Share" button in the Instagram app and you're done!
Hootsuite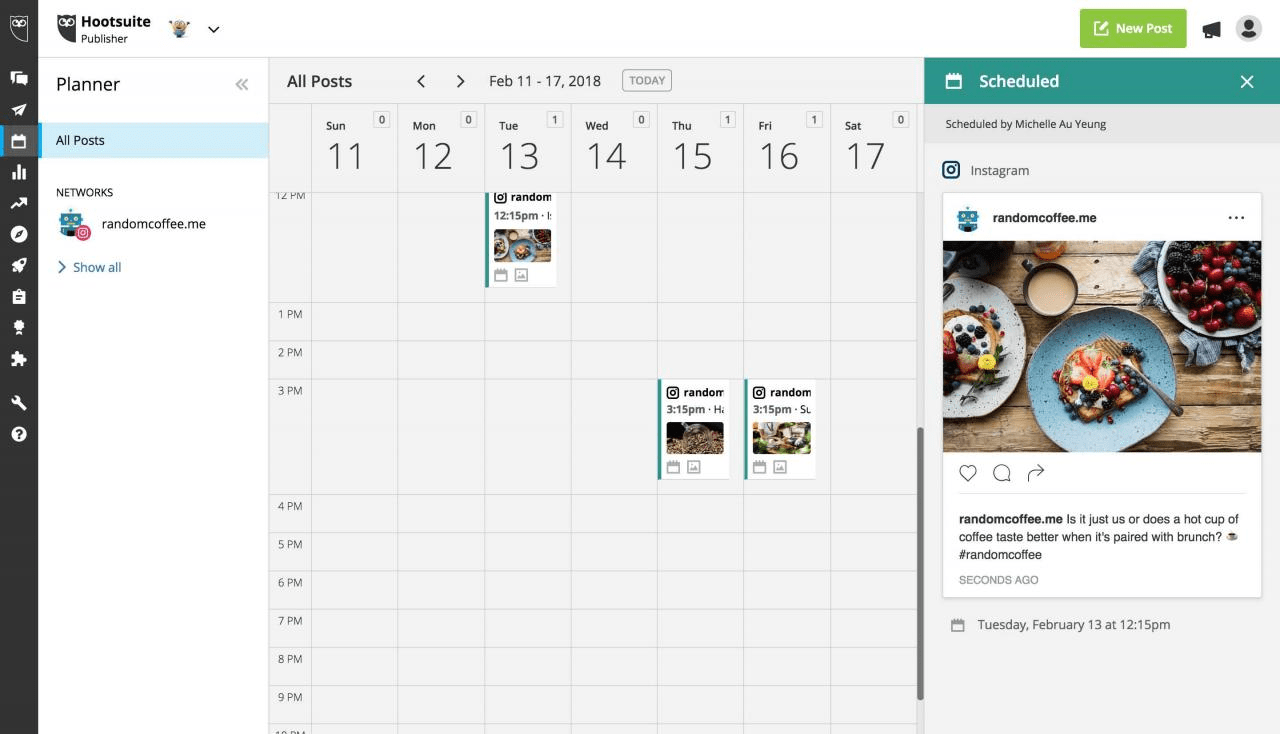 Unlike Sprout Social, Hootsuite allows for direct publishing of scheduled content, meaning once the time and day are set, they'll post for you
. No waiting for a push notification to remind you, the team at Hootsuite will simply make sure that your content goes live exactly when it's meant to. Check out
Hootsuite
's website for their full range of features and offerings. Scheduling posts on Hootsuite involves the following steps:
If you're not using a business account, first you're going to need to convert account types, which can easily be done through Instagram's settings
Add your business profile to the Hootsuite platform
Log into your Hootsuite dashboard and choose the green "New Post" button from the top right corner of the window.
Select the correct Instagram profile that your content should appear on from the available drop-down menu
Upload the photo that you wish to publish, along with your caption, and any important hashtags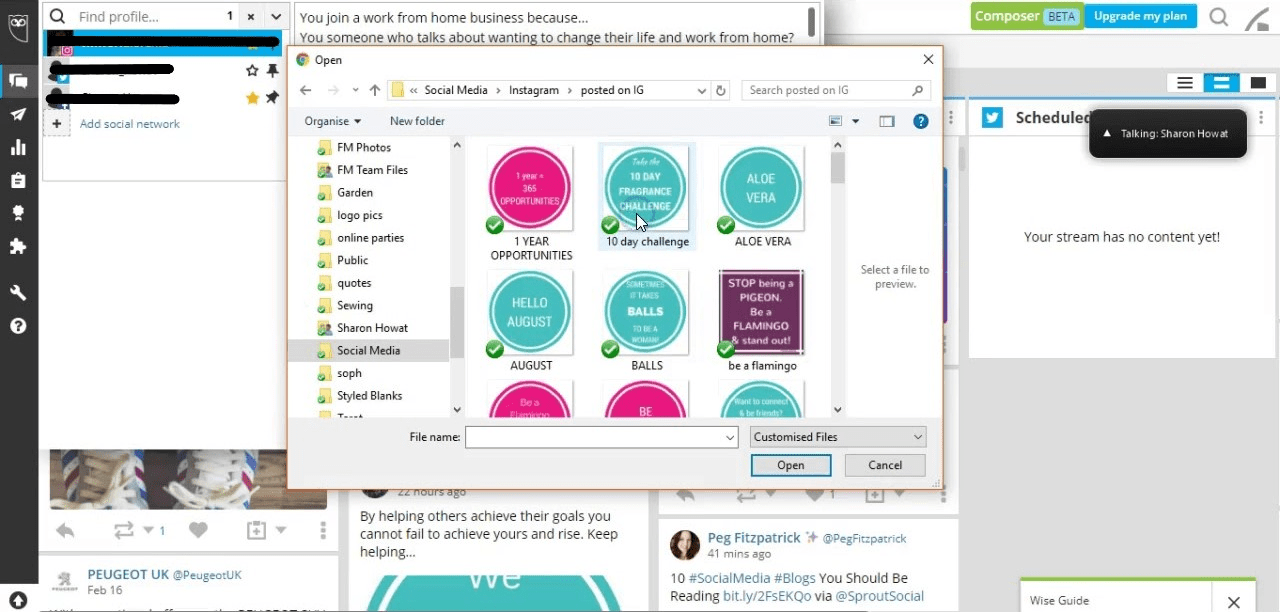 Look for the drop-down menu along the bottom of the screen, and from here click the "Publish on Schedule Date" option; you can then select a date and time that you'd like your content published, or allow Hootsuite's scheduler to use its analytics to pick the ideal time for your specific audience
After all the details are correct, simply push the blue "Schedule" button and wait; your content will publish automatically at the selected time
Why Instagram?
At this point, you may be wondering why any of this matters. You might not use Instagram or think that it's a passing fad, however, the evidence suggests otherwise.
With over one billion active monthly users, 80% of whom follow at least one brand (more than on any other social media platform), Instagram is one of the best available methods your brand can use to develop a relationship with its customers
.
When compared to other social networks, Instagram users are more likely to purchase something that they initially see on the platform as well, as 72% of them have bought at least one thing that was discovered through the site
. The average Instagram user is young (61% of users are between the ages of 18 and 34), technologically savvy, and uses a mobile device to browse their feed. Instagram users are also 70% more likely to purchase a product through their mobile device than non-Instagram users. With all these impressive statistics, businesses are starting to pay attention.
Instagram now hosts over 25 million business profiles (71% of all businesses within the USA), as well as profiles for 90% of the top 100 brands
. So, for good reason, branding experts everywhere are doing everything in their power to maximize their Instagram marketing techniques.
Advantages to Scheduling Your Posts
Maybe you already have a successful Instagram feed with an impressive number of engaged followers and don't see the point of changing things up by scheduling posts. If this is your case, that's great, but it doesn't mean things couldn't be improved through the use of a scheduling tool.
Even for a successful Instagram marketer, there are still many advantages to scheduling posts in advance
:
Save Time
You can schedule a week's worth of posts in under an hour and not have to worry about it later. Just try not to schedule posts too far in advance as you want to keep your content fresh in a world where what's popular is changing nearly every other day.
Increase Consistency
Scheduled posts will be more consistent, so your users will know what to expect from your feed and help establish your brand.
Just be careful not to be too consistent; switch things up from time to time so your feed doesn't feel robotic and automated
.
Boost Engagement Levels
With consistency and well-timed posts, you're likely to be rewarded with higher numbers of impressions, likes, shares, clicks, and overall engagement. Scheduling also makes it easy to ensure that
your posts are always set during the optimal time window of 12pm to 1pm, Monday through Friday
.
Lessen Your Workload
You'll no longer have to set reminders to ensure that you're available to publish at the right times. Although, something to keep in mind is that, just because your posts are scheduled, doesn't mean that you can just ignore the platform for the rest of the week.
To keep your followers interested in your feed you still need to remain active daily, responding to comments, questions, and otherwise interacting with your followers
.
Improve Your Strategy
While there is a lot of conversation around the best average posting time for higher engagement levels, this isn't set in stone.
Your target audience may have different schedules, so the ideal time to publish can vary greatly depending on who you're trying to reach—and where
. By scheduling posts, you can easily test different time/day combos to see which get the highest engagement rates. Testing to learn more about the market segments that you're targeting will also greatly improve your overarching strategy.
Which Tool is Best For You?
When it comes to choosing the best tool for you, a number of factors come into play, such as your marketing goals, personal preferences, budget, and the needs of your organization
. An excellent start to making the optimal decision is to do your research. To learn more about these popular tools, read our expert reviews of
Sprout Social
  and
Hootsuite
. Once you know a bit more about the benefits of each tool, you should see which fits best within your budget. Both platforms offer a variety of pricing plans that can work for any company; check out their pricing pages (
Sprout Social
and
Hootsuite
) for more information. If you're hesitant to spend money on something before testing it, don't worry, as both tools also offer a free trial period allowing you to see which you like for yourself before committing. Bottom line? Do your homework, determine your needs, test out your options, and find the optimal tool to help accomplish your goals and you'll create an Instagram feed that your audience loves!
---
Sources
https: //www.forbes.com/sites/jaysondemers/2018/02/13/you-can-now-schedule-instagram-posts-in-advance-but-should-you/#6608c713439b
https: //blog.hootsuite.com/best-time-to-post-on-facebook-twitter-instagram/#instagram
https: //blog.hootsuite.com/instagram-statistics/
https: //www.statista.com/statistics/248769/age-distribution-of-worldwide-instagram-users/
https: //blog.hootsuite.com/how-to-schedule-instagram-posts/
https: //sproutsocial.com/insights/how-to-schedule-instagram-posts/
https: //support.sproutsocial.com/hc/en-us/articles/115000683263-Instagram-Publishing
https: //unsplash.com/photos/UPXAjm_I_fs
https: //media.sproutsocial.com/uploads/2018/07/[email protected]
https: //media.sproutsocial.com/uploads/2018/01/Spout-Scheduling.png
https: //support.sproutsocial.com/hc/article_attachments/360005853871/Screen_Shot_2018-06-06_at_3.16.38_PM.png
https: //marketerhelp.com/wp-content/uploads/2018/02/26656192_151070535551452_3405783412164788224_n.jpg
https: //i.ytimg.com/vi/xakYY9PqKv8/maxresdefault.jpg