Having hit the one billion monthly active user (MAU) mark in June of 2018, Instagram has become one of the fastest growing social media platforms available.
The large user base is why marketers have been flocking to this platform in droves over the past several years. And, with their 2018 ad revenues estimated to reach nearly $5.5 billion within the U.S. alone (an increase of 70% over the previous year), the Facebook subsidiary now accounts for more than 28% of all their parent company's mobile ad revenue.
But does that mean that this platform is right for your business? Keep reading and let the data speak for itself.
A Highly Engaged Audience—That's Growing!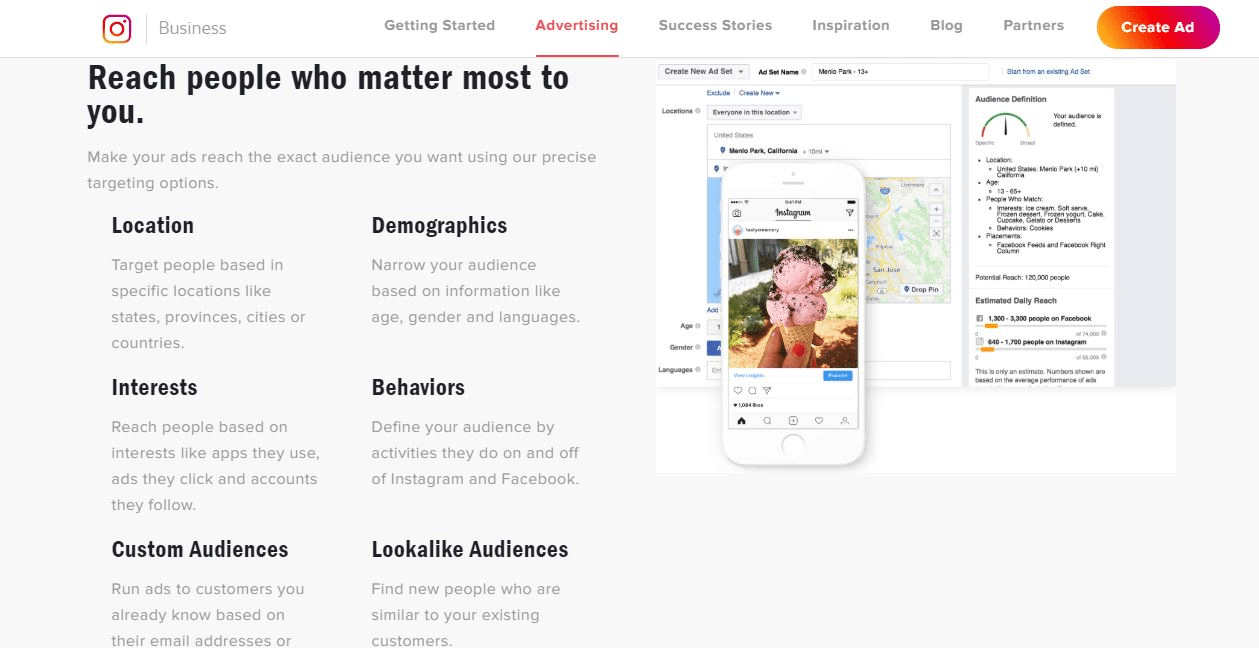 It's no accident that more than two million advertisers and 25 million businesses are currently investing in Instagram to help spread their brand message. With Instagram's incredibly active user base, half of whom—at 500 million—are daily active users (DAU), you can expect an audience that's engaged and more likely to interact with your posts.
In fact, Instagram's impressive engagement rates are in large part what makes this platform so attractive. This is because Instagram boasts the highest number of engagements per post out of all social networks. This includes engagement rates that are 54x higher than Pinterest, 10x as much as Facebook, and an shocking 84x more than the micro-blogging platform, Twitter. This engaged audience is how the sixth most popular social network in the world is able to rank as number two in terms of return on investment (ROI).
Instagram is also growing at an astonishing rate, gaining an incredible 200 million followers in less than a year's time. When compared to other major platforms, Instagram consistently outperforms. For example, during the first quarter of 2018, Snapchat's DAU grew by 2.13%, Facebook's by 3.14%, while Instagram's growth rate stayed at around 5%. In this same period, another major platform, Twitter, actually managed to lose users!
And, while Facebook used to dominate in user growth rates, sentiment against the social media giant has been in decline. This is especially true with younger demographics due to several recent privacy scandals, as well as the platform's role in dispersing false information during the U.S. 2016 election, as many are unaware that Facebook currently owns Instagram.
Plus, New Ways to Engage
Launched in 2016, Instagram Stories has been a success pretty much since the beginning. Created as a direct competitor to Snapchat's platform, Instagram Stories' DAU count has now grown to more than twice that of Snapchat's. While Snapchat still commands an impressive amount of DAUs at 191 million, they still pale in comparison to Instagram Stories' 400 million daily users. Stories' user counts continue to rise, and increased by more than 100 million DAU between the years 2017 and 2018 alone.
Who Uses Instagram?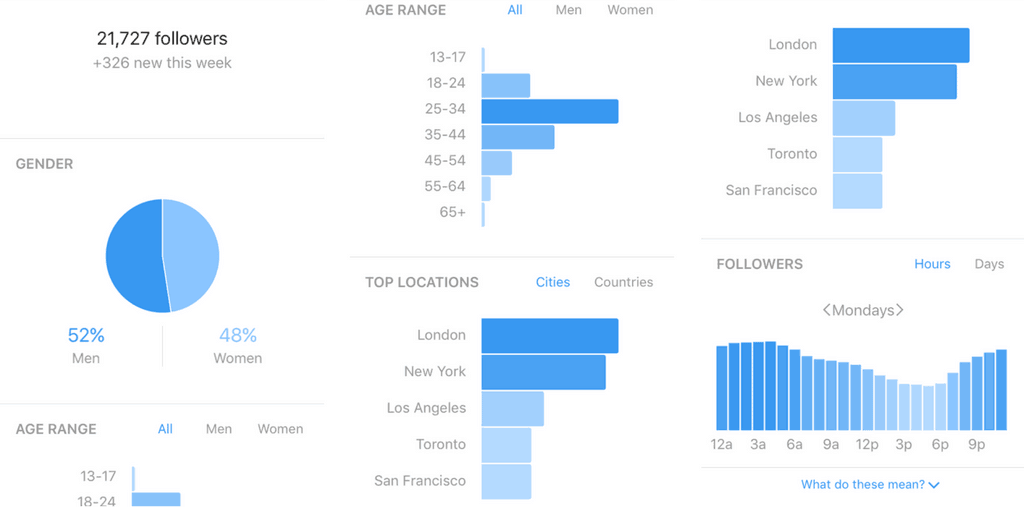 Across social media platforms, the average user demographics can be quite different. Ensuring that your target audience is represented in the platform on which you choose to invest your marketing budget is necessary for creating high converting ad campaigns. And, even if your target audience isn't within this platform's primary demographic, there are still plenty of great ways to use Instagram for your business.
On Instagram, the user base includes:
The large majority of Instagram users are from the U.S. with 121 million MAU, with India's 71 million coming in second, and Brazil, at 64 million MAU, a close third
At 64%, more than half of all young adults between the ages of 18 and 29 who reside within the U.S. are on the platform; and this is definitely still a young person's platform, as only 10% of Americans over 65 have accounts
Among American teens (aged 13 to 17), Instagram is the second most used platform (YouTube being first), as 73% of respondents said they use the platform, and 15% claimed it to be their most commonly used social network
When broken down by gender, global demographics are nearly identical, although females do have a small lead, with 50.4% of users identifying as female, and 49.6% as male
Instagram tends to be more popular among Americans that make a higher income, as 55% of Americans that earn between $70k and $80k are on the platform, as well as 60% of those earning over $100k annually; compared to only 44% of Americans earning under $30k a year having accounts
A quarter of Americans access the platform at least once a day, with 18% claiming to access it several times daily
Tracking Your Success
Tracking the analytics of an ad campaign is absolutely essential in order to maximize conversion rates. Knowing what elements of an ad are most effective can easily be tested through tracking its analytics. For Instagram, marketers have two primary options for tracking a campaign's success: 1) Instagram Insights or 2) a third-party social media management tool.
Instagram Insights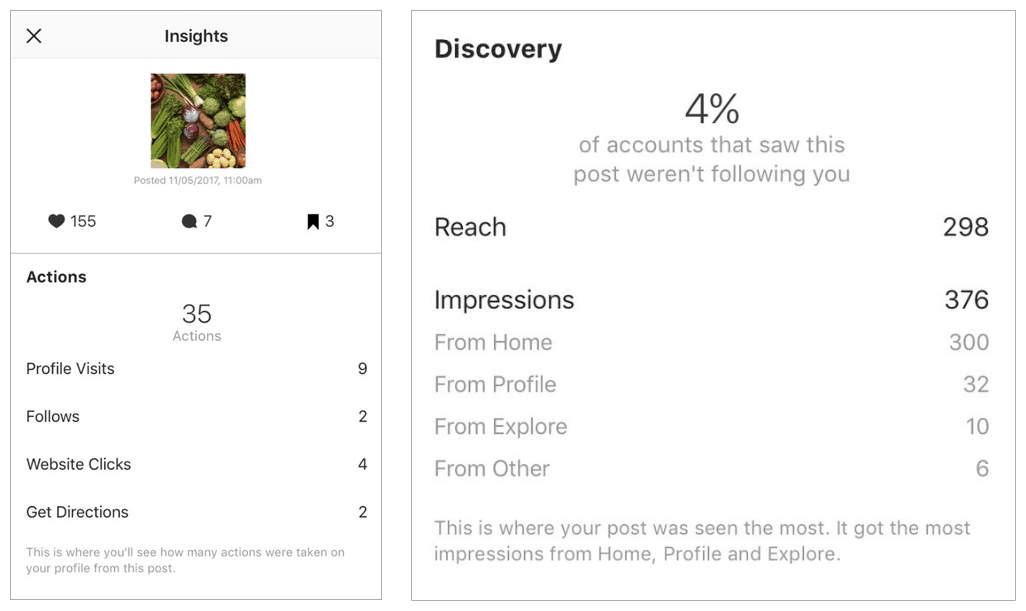 Instagram Insights comes free with any business account—which is also free to set up—and it allows you to track the demographics of your followers as well as the success of your posts. Insights works with your Stories, posts, as well as paid content. This free tool can be accessed through Instagram's mobile app, and is able to follow your impressions, reach, how your post was discovered, interactions, website clicks, and profile visits. While incredibly useful, Insights is still rather basic compared to many third-party tools.
Social Media Management Tools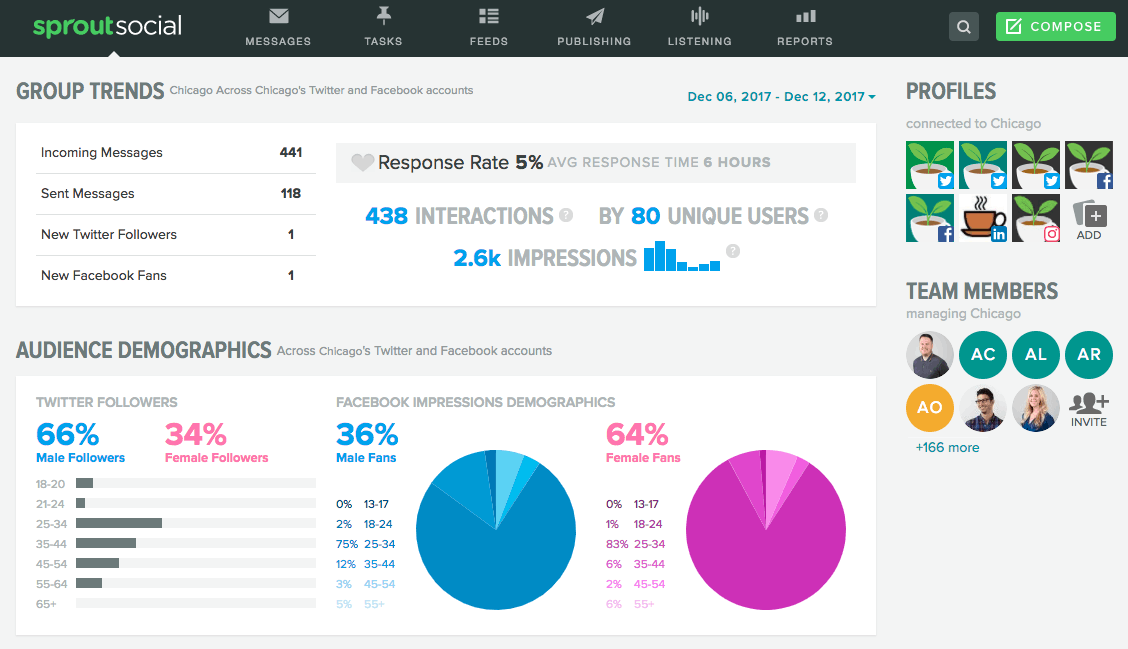 For marketers that require a more thorough analysis of their campaigns' metrics, or who are working across multiple platforms, a third-party tool may be the best option. Tools such as Sprout Social or Hootsuite give you plenty of additional functions, such as the ability to track campaigns across multiple platforms, more in-depth analytics, hashtag tracking, simplified A/B testing, and post scheduling.
If you want to learn more, check out our expert reviews (Sprout Social  and Hootsuite )​​ or try a free trial (Sprout Social and Hootsuite)
Making the Best of Your Instagram Ads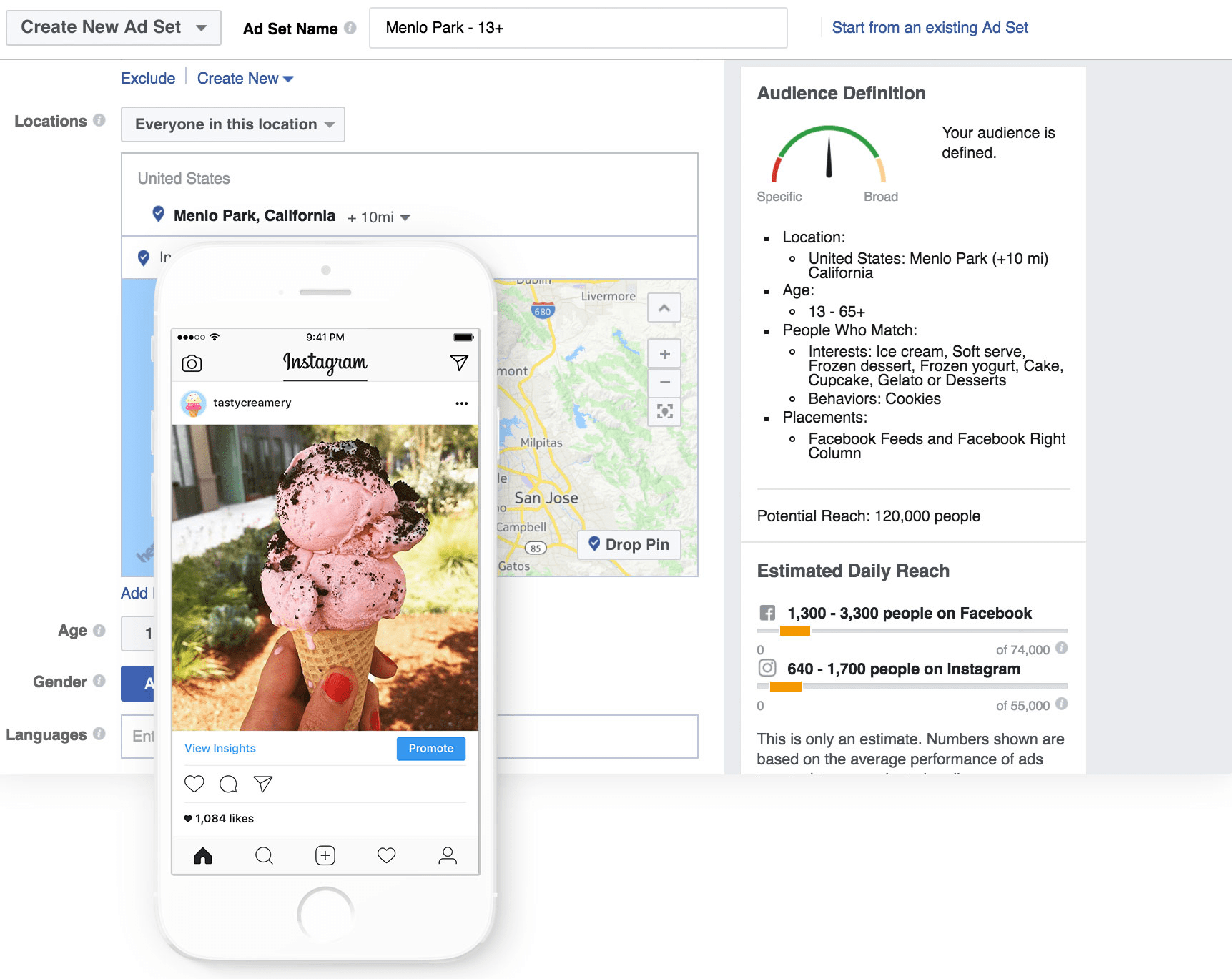 If at this point you still think Instagram is a great place to invest some of your marketing budget, chances are that you want to do everything in your power to maximize the success of your campaign. While there could be books written on this topic, here are some quick and easy tips to help get the most out of your ads:
Know Your Audience: Through Instagram's advanced targeting you can choose exactly who you'd like your ads to be seen by. If you know who your target audience is, Instagram gives you the ability to pinpoint them by location, interests, demographics, and/or behavior. If you're not quite sure who to target, Instagram's automatic targeting will choose the ideal users for you using their advanced algorithm
Define Your Goals: Know what you intend to accomplish with your campaign prior to creating it. Figure out what you want out of your ads, whether you're looking to drive traffic to your website, raise brand awareness, increase sales, or get more downloads; knowing in advance can help you optimize your marketing strategy
Find the Best Ad Type: Depending on your goals and target audience, the type of ad you choose can have an impact. Instagram allows several ad types, including photo ads, video ads, carousel ads, stories ads, and collection ads
Consider Using Video Ads: Data has shown that, overall, videos tend to receive a 38% higher engagement rate on Instagram, including more than twice as many comments than traditional photo ads
Use Hashtags: According to Sprout Social, posts that include hashtags receive a 12.6% higher engagement rate than those that don't
Instagram Ads can be effective if you use them correctly and follow the tips above. By doing so, you'll be well on your way to creating amazing ad campaigns with higher levels of engagement, and an impressive reach. This platform will only continue to grow with time, so establish your presence now, and take full advantage of this fantastic marketing tool!
---
Sources
https ://techcrunch.com/2018/06/20/instagram-1-billion-users/?guccounter=1
https ://www.statista.com/statistics/578364/countries-with-most-instagram-users/
https ://www.statista.com/statistics/246199/share-of-us-internet-users-who-use-instagram-by-age-group/
http ://www.pewinternet.org/2018/05/31/teens-social-media-technology-2018/#
https ://www.statista.com/statistics/248769/age-distribution-of-worldwide-instagram-users/
https ://www.statista.com/statistics/802776/distribution-of-users-on-instagram-worldwide-gender/
https ://www.statista.com/statistics/246204/share-of-us-internet-users-who-use-instagram-by-household-income/
https ://business.instagram.com/getting-started/#why-instagram
https ://sproutsocial.com/insights/social-media-statistics/#engagement
https ://www.statista.com/statistics/272014/global-social-networks-ranked-by-number-of-users/
https ://www.bigcommerce.com/blog/social-media-advertising/#the-6-best-social-networks-for-ecommerce-advertising
https ://www.cnbc.com/2018/06/28/instagram-stories-daily-active-users-double-snapchats.html
https ://business.instagram.com/advertising/
Image Credits
https ://images.pexels.com/photos/122383/pexels-photo-122383.jpeg?auto=compress&cs=tinysrgb&h=650&w=940
https ://socialgrowr.com/wp-content/uploads/2018/02/instagram-insights-followers-1024×576.png
https ://business.instagram.com/advertising/#precise-targeting
https ://scontent.fpnh1-1.fna.fbcdn.net/v/t39.2365-6/26479364_324217601406027_7988052950473768960_n.png?_nc_cat=105&_nc_ht=scontent.fpnh1-1.fna&oh=3e1e14e850f4afc111f0075e6120bf9b&oe=5C66205B https://media.sproutsocial.com/uploads/2017/12/sprout-social-group-trends-and-audience-demographics.png
https ://scontent.fpnh1-1.fna.fbcdn.net/v/t39.2365-6/15292550_1774023246182482_5710201883805614080_n.jpg?_nc_cat=105&_nc_ht=scontent.fpnh1-1.fna&oh=73904e55c78bd2c862f71dc750bfb256&oe=5C783D62