Is it your copy? Your visuals? Your purchase incentive? You're not sure, but something just isn't working.
It's frustrating, to say the least. That said, many companies would not be wasting their time or marketing dollars by focusing on this social media platform. After all, Instagram currently has over
800 million
monthly active users
with the average click-through rate being 0.94%, according to Conversion XL.
This is the second highest CTR compared to other social media channels.
If you know that your target audience is using this platform, you just need to figure out how to get them to buy your product or subscribe to your email list after they've clicked through from your ad. Let's take a look at some of the best ways to guarantee a boost in conversion rates.
#1: Make the Experience Mobile-Friendly
The first step in producing a click-worthy landing page is to optimize it for mobile devices. In fact, unless you do this, the rest of the advice here really won't even matter. Why? Well, basically
everyone
browses Instagram on their smartphone. Which means that you can absolutely guarantee that your landing page is going to be viewed on a mobile device. Think about it: If customers go from the beautifully designed and intuitive Instagram layout, to a landing page where the type is too tiny, the text is falling outside of the screen view, and there's no CTA button to be found, what do you expect them to do? Bounce, of course. This is something that you 100% need to be doing. But don't worry, it's easy. In fact, many of the
best landing page builders
can help you create a highly responsive and functional design that's super easy to navigate on any device.
#2: Visuals Are Everything
As well as being mobile-friendly, you need to ensure that both your Instagram ad and your landing page visuals are on point. What do I mean by the visuals? I'm talking about your branding, the images you use, the colors, the fonts, and the fill-in forms. Instagram claims that
75% of their users take action, such as clicking on a landing page, after looking at an advertising post.
But first, they have to like what they see. Once they arrive at your landing page, the same principle applies. Having captivated them initially with a splendid Instagram post, ensure not to forfeit conversions due to a lack of consistent time and effort invested in the design of your landing page! Make sure that the visual design of the landing page matches your original ad to deliver a consistent and cohesive message. Otherwise, you risk consumers getting confused or losing interest. Bottom line?
Keep the landing page minimal.
With landing page visuals, less is more—particularly when it comes to fill-in fields. Keep it clean, simple, and cohesive, like this example from Birchbox.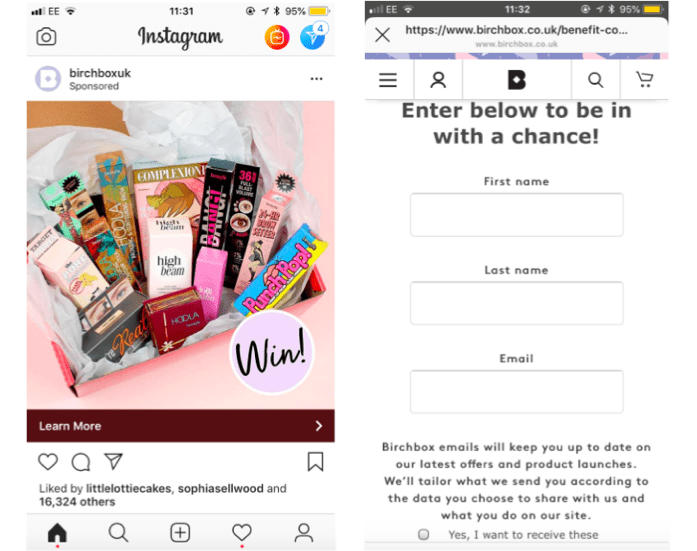 #3: Avoid the Fluff
Got your layout and visuals sorted? Awesome, now it's time to craft some compelling copy. When it comes to the words on your landing page—just like the visuals—keep them clear, concise, and on-brand. Make sure that you deliver the key points and leave out any fluff. Generally speaking, simple and direct language is best.
Invite them in with rhetorical questions and call-to-action buttons like "Shop Now" or "Ready to Save?" that gently nudges users in the right direction.
Fill-in forms are an area where you really need to keep an eye toward minimalism. I know this might seem like a good time to try and get as much information as possible, but remember, this is the feature that directly converts leads, so don't make it more difficult than it needs to be. In fact, if you reduce the fill-out box number to just four, it can result in up to
a 120% increase in conversions
. Ultimately, if you stick to what's crucial, you'll avoid overloading the user with information, improve your landing page visibility, and increase your conversion rate.
#4: Include Social Proof and Statistics
When crafting your short and sweet landing page copy, you might also want to consider using social proof and statistics. You might think that this would fall into the "fluff" category that I just told you to avoid, but social proof can be a powerful tool in the marketing world. As consumers,
we're much more likely to purchase a product or service if we read a positive review or know what type of result we can expect.
If you have any glowing testimonials or quantifiable pay-offs that your audience will love, consider including that info on your landing page. Even if the user decides not to convert straight away, social proof still adds to the persuasiveness of your landing page and builds recognition and trust, which means that they could ultimately turn into a customer in the future.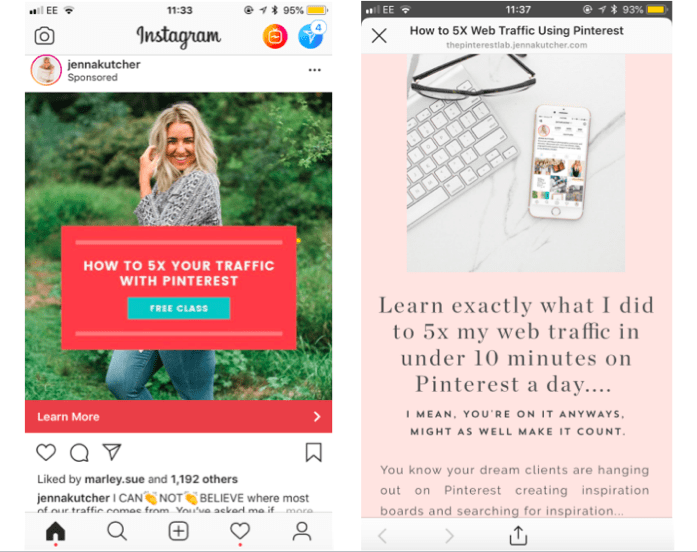 #5: Align Your Message
Finally, bear in mind that
you could lose conversions if you display mixed messages.
What do I mean by mixed messages? This could include a few things:
Claiming to have a special offer in an Instagram ad but, when a visitor clicks through to your landing page, the initial offer is nowhere to be seen
Featuring a specific product or service in your ad, and then displaying something entirely different on the landing page
Giving individuals the assumption that they will receive something for free, only for them to discover that there are hidden costs included
Presenting a very different brand voice or image on the landing page vs. the original Instagram ad
When the messages aren't aligned, this is both confusing and misleading to potential customers and
pretty much guarantees that they will quickly be clicking away
from your page. Not only that, but this does not instill a sense of trust in your company, which can hurt your brand reputation over time. Just think about if Airbnb had placed an ad where they asked individuals to find out how much they could earn as a host, but then the landing page directed viewers to sign-up, or worse, search for listings!
The best way to avoid these mismatches is to use the exact same wording in both your Instagram ad and landing page and deliver on your original promises.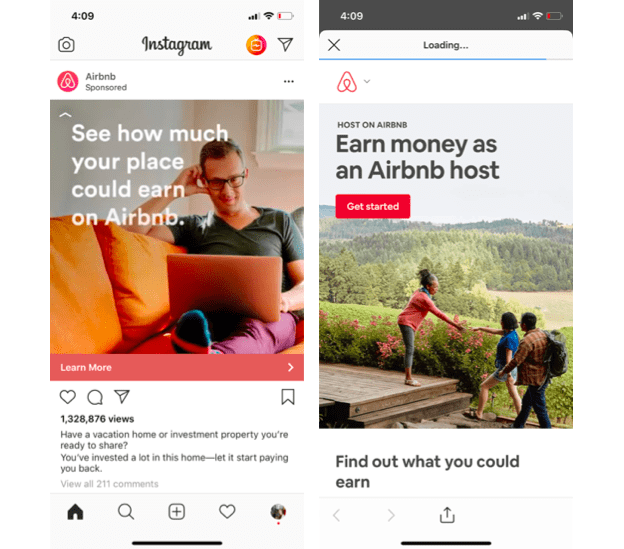 Explore Different Options
If you're new to Instagram advertising and building landing pages, it's unlikely that you're going to get it right the first time—and that's okay.
Every brand is different, and what works for one company and audience, won't work for another.
Don't be afraid to experiment with different formats, text, and visuals—it's the surefire way of finding out what works best for your business. As long as you have a focused strategy, which you continually monitor and adjust, it won't be long before your conversion rate is on the rise.
---
Sources:
https://sproutsocial.com/insights/instagram-stats/
https://conversionxl.com/guides/click-through-rate/benchmarks/
https://ssl.gstatic.com/think/docs/mobile-path-to-purchase-5-key-findings_research-studies.pdf
https://business.instagram.com/blog/500000-advertisers/
https://unbounce.com/conversion-rate-optimization/how-to-optimize-contact-forms/