Social media marketing is an indispensable part of content marketing today. Top social media sites such as Facebook, Twitter, Google+, and LinkedIn are hugely popular and can help you gather a huge number of visitors to your website.
For instance, Facebook has over 1.3 billion active users and over 680 million mobile users. If you properly schedule your content on social media sites, you will maximize your traffic and conversions. In this article, learn how you should schedule your posts on social media.
Identifying the Best Times to Post
Within Facebook, it is very easy to identify when you should make a post. If you have a Facebook page with many followers, you will be able to access FB Insights. Go to your Facebook Page and click "See Insights" and then "Posts". Here, in a tab named "When Your Fans Are Online", Facebook displays the time when you are likely to reach the maximum number of people.
In case of Twitter, identifying the best time to tweet may be a little difficult, as Twitter does not provide a feature like Insights. You can still identify the best time to tweet by using a service such as Tweriod or Followerwonk. These services compare your and your followers' tweets in order to identify the time when most of your followers are online. Followerwonk will give you deeper analytics into your Twitter followers by identifying their locations and the times they tweet.
It has been identified that Facebook posts are 18 percent more effective on Thursdays and Fridays, while Twitter is 17 percent more active during weekends. Since Facebook and Twitter are personal social networks, B2C companies prefer them more, and they will find more value during weekends. B2B customers on the other hand can find these networks to be useful on weekdays.
Scheduling Your Posts
On a few social media sites, there is an option to schedule a post for the future. For instance, on Facebook, when you make a post, you can click on the tiny clock icon below the post editor to schedule the post for the future. Twitter also provides scheduled tweets, but that feature is available only to people who use Twitter Ads. Promoted Tweets, Promoted Accounts, Promoted Trends, etc., are some of the services provided under Twitter Ads.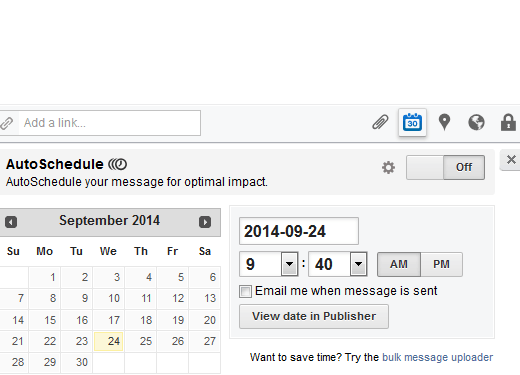 In order to easily schedule your social media posts, you can use a service known as Buffer. Buffer is available as a browser extension as well as a smartphone app, and it can be used to schedule posts to Facebook, Twitter, and LinkedIn. The app has become popular with more than a million users. Buffer lets you schedule posts to a limited number of social media accounts and provides paid subscription to add more social profiles.
Conclusion
Facebook uses its News Feed algorithm to show stories that are more important. A way to gather maximum Likes and shares for any social media post is making the post seen by maximum number of people. Scheduling posts at right times can help you achieve this.