According to recent statistics, 29% of small businesses still don't have a website. That's a shame, because 75% of small-business owners see internet marketing as a "very effective" marketing tool to attract new customers, and 37% of customers use the internet to find a store at least once a month.
That said, if you don't have a website for your business yet, you need to create one now. It's not as difficult as you might think. Website builders like Wix make creating and launching a website easy. There are just four steps to follow!
Step 1: Choose Your Platform
First-time website builders need to keep one rule in mind before beginning: start simple. That applies every step of the way, including choosing your platform.
You'll want to use a website builder that offers drag-and-drop capabilities so that all you'll have to do is point and click. That way, if you don't know HTML, the quality of your website won't be affected.
Next, the website editor layout and tools should feel intuitive to you. You'll build the best website for your business in a system that's easy for you to use.
Also, make sure your chosen platform puts emphasis on mobile optimization, including mobile-friendly layouts, as most people use the internet on their phones.
For Beginner Website Builders, We Recommend Wix
Luckily for you, we've found the perfect option for first-time website builders: Wix. A giant in the website-building industry, Wix follows our golden rule of simplicity where it counts the most: ease of use.
The key to simplicity is a streamlined workflow, which Wix provides in droves. First, you get to specify your experience and how comfortable you are with designing a website. This will dictate the level of guidance that Wix provides. Then, you choose your layout based on your type of business. Simple as that.
For this post, I decided to make a sample cupcakery website.
Let's take a closer look at the features that make Wix our winner!
Drag-and-drop Capabilities
Drag-and-drop capabilities in a platform are essential, especially for first-time website builders. And if you're not an HTML pro, you'll revel in the simplicity of Wix's drag-and-drop feature.
You won't have to find the right tags like <head> or <body> when editing something to ensure it's in the right spot. You won't need to worry about missing a character in the code that would otherwise screw up your entire website and turn it into an unrecognizable mess.
If you need to move something, just click, drag, and move it! ?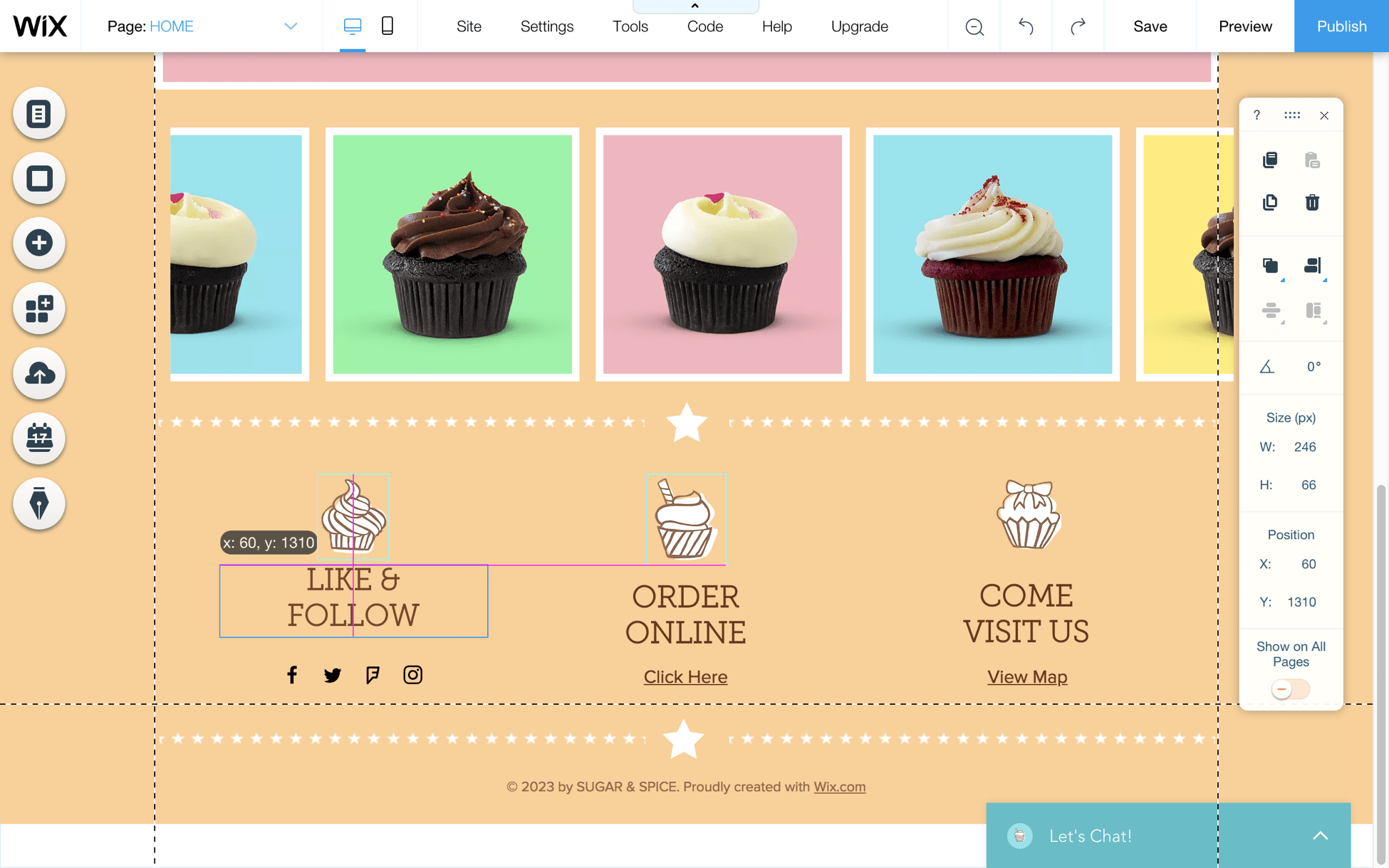 This is in stark contrast to WordPress, which provides just a container for content that requires HTML knowledge to customize. Wix simply provides a smoother experience that's easier to learn.
Wix App Market
Your Wix website will work fine without any extras. However, to take it from ordinary to extraordinary, take advantage of the Wix App Market. It has 300+ apps to help you expand your website's features.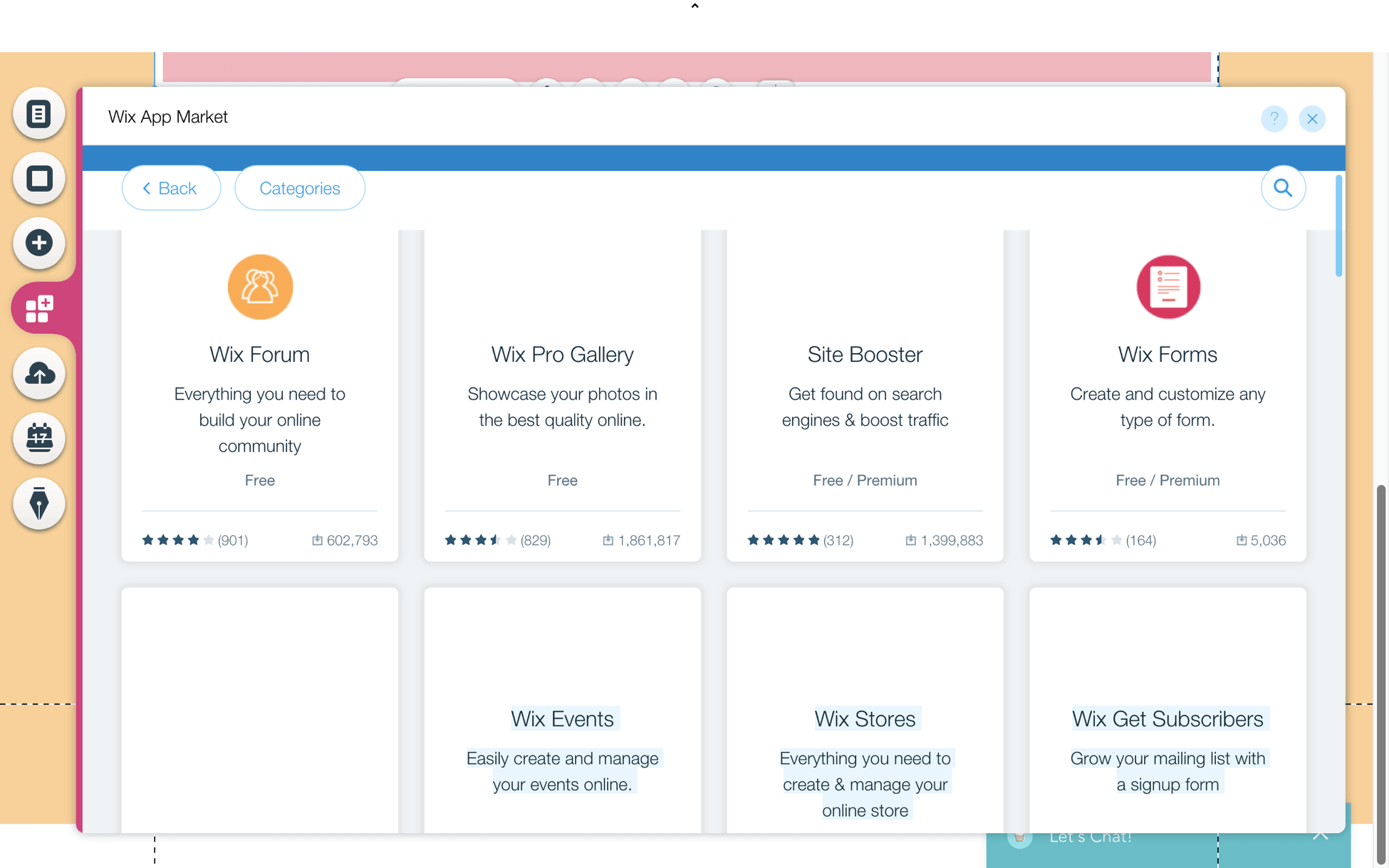 Some of the app categories include Blogs, Social, Photography, and Business Tools. There are both free and paid apps. Wix even helps you decide what apps to start with. Their "Must-Haves" category includes:
Photo gallery
Wix Blog
Online store
Visitor analytics app
I love that Wix is always adding apps to their market, so it's easy to find anything you need. On top of that, Wix's apps are tested and curated by their staff. So you can be sure they'll run smoothly.
Wix ADI
Wix uses advanced technology to create a website for you. It's called ADI, which stands for Artificial Design Intelligence. All you have to do is answer a few questions about your business, your design preferences, and some of the sections you may need. Wix's ADI will do the rest for you, fast.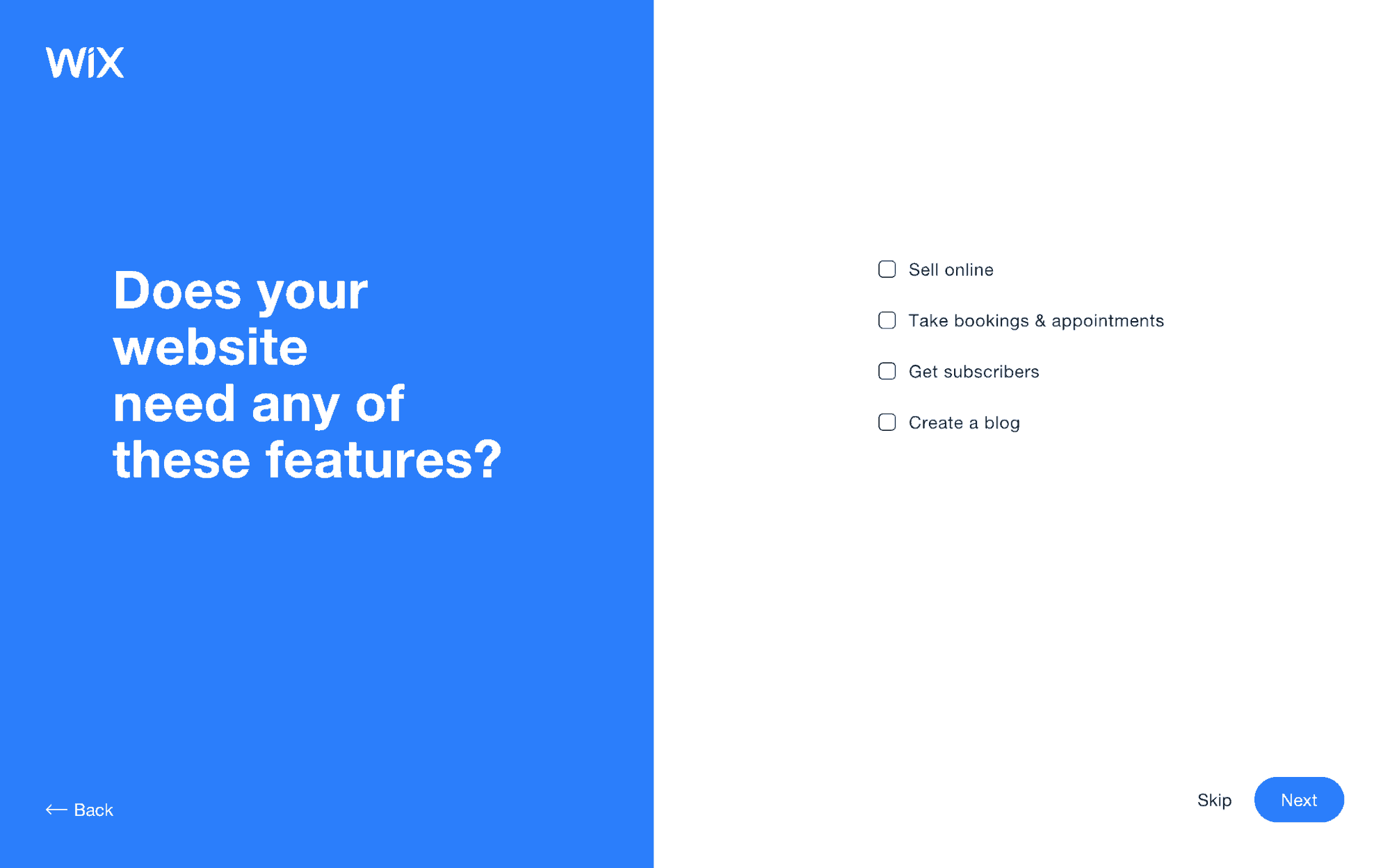 After you answer all the questions, it just takes a few minutes for Wix to load everything, and then Wix presents you with a complete website: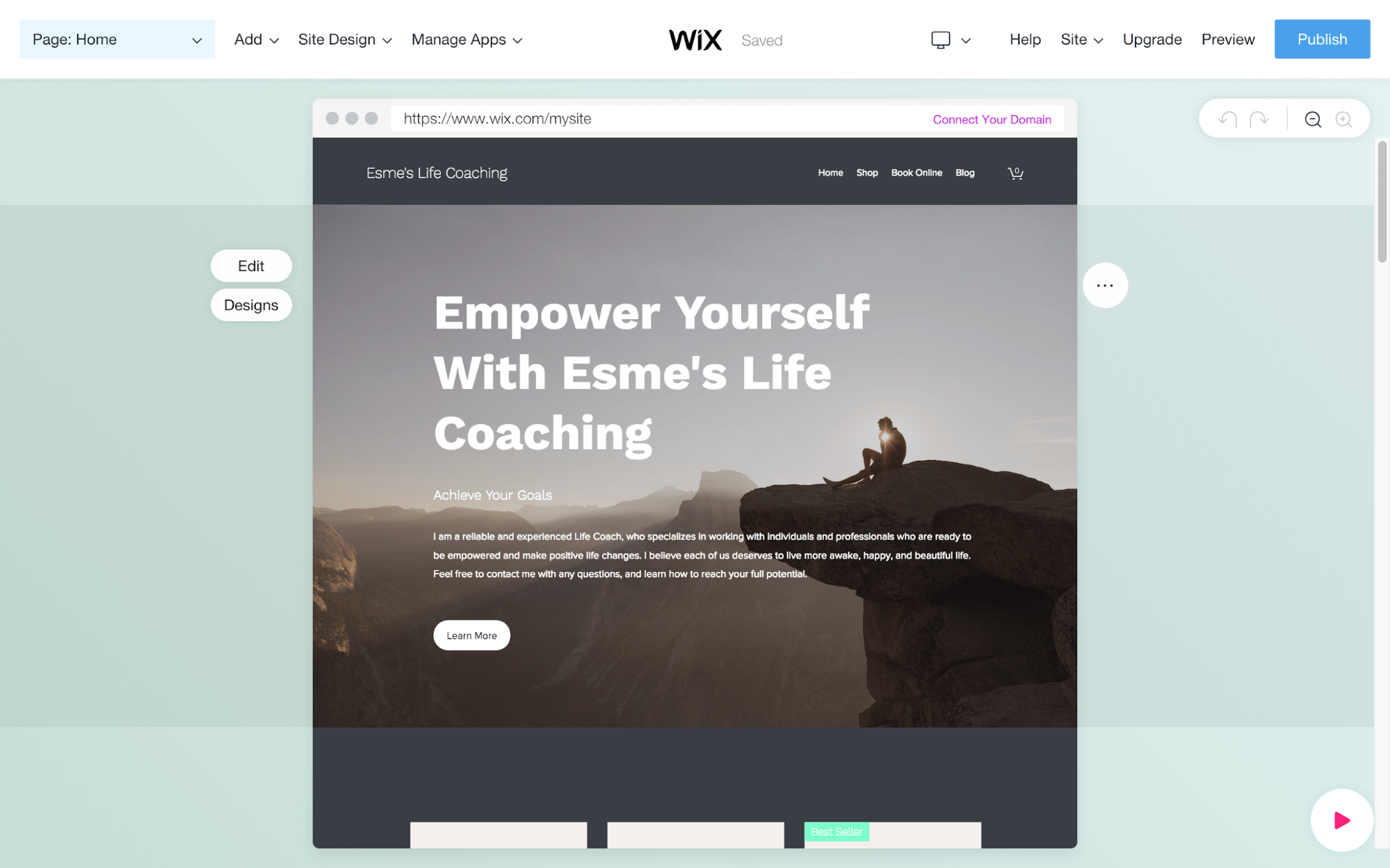 You do need to do some editing to personalize everything, but many details are provided for you — even down to the text describing your business. Do you see the headline? I didn't write it, but it has a call to action and everything. I didn't even write the more detailed description below that.
You should personalize as much as you can, but Wix ADI certainly provides a nice start. It's a great option for those with little time to build a website but want to do it themselves. A basic but still sleek-looking website is practically handed to you, and all you have to do is edit the text and pictures to make it more your own. And if you need help at any time, there's even a "play" icon at the bottom-right that you can click on for a guided tutorial.
SEO Capabilities
The point of a website is to promote your business, so people need to be able to search and find it. The way to do that is through search engine optimization (SEO.) A great website builder will support your marketing efforts with robust SEO features.
Wix boasts a powerful SEO Wizard and directly provides many SEO-optimized elements, including webpage titles, meta descriptions, headings, and image alt attributes. You can even customize your URLs for SEO, which is helpful because random combinations of numbers and letters would be hard for your website visitors to remember. All of these SEO features and are available directly on Wix. By contrast, platforms like WordPress offer some of these features exclusively through outside plugins.
And if you need any help with your SEO efforts, there are video tutorials to guide you. For example, the screenshot below is from a video about how to pick keywords that will get your website found: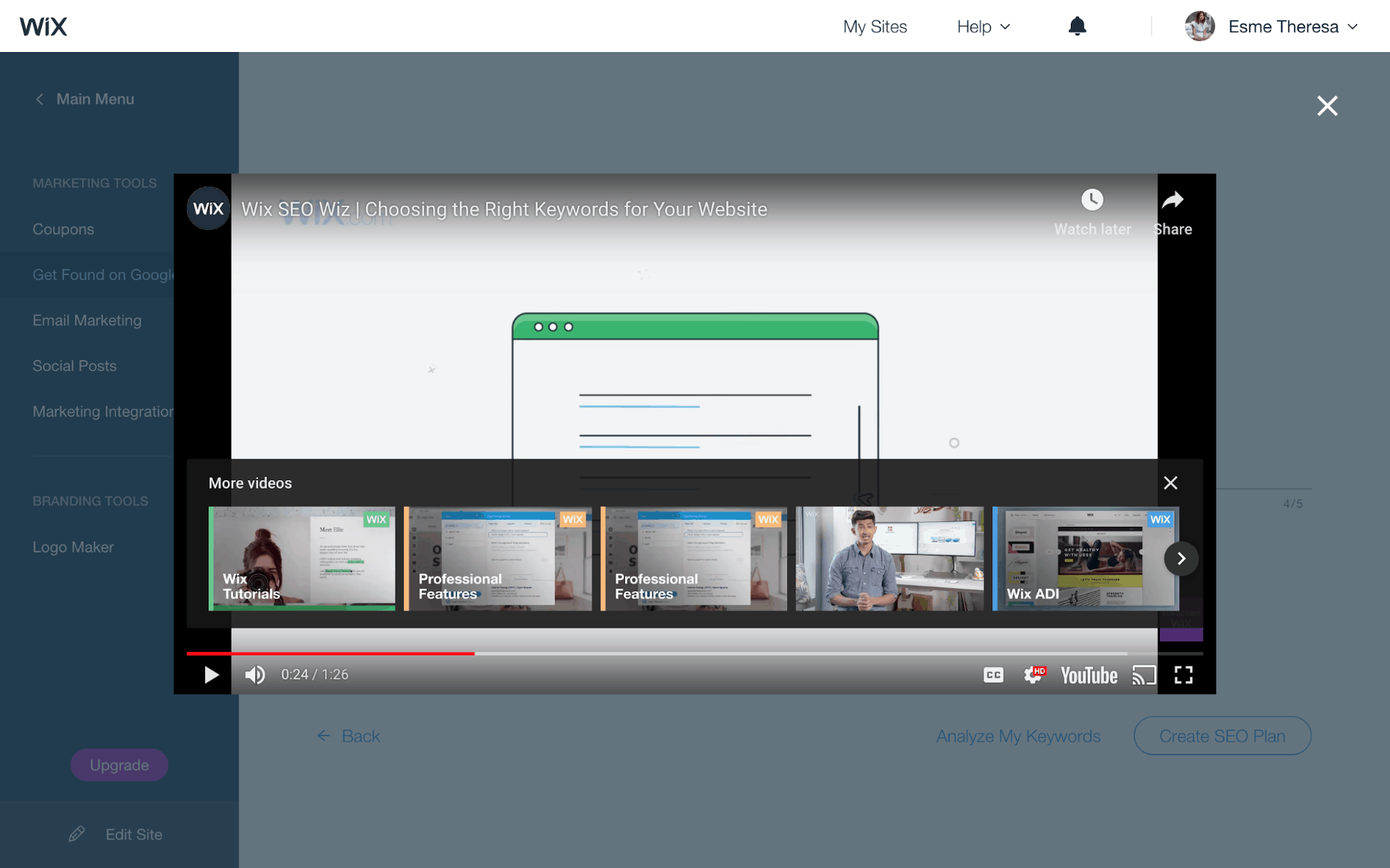 In minutes, you'll have a customized SEO plan, complete with step-by-step instructions on how to get your website to rank well on search engines.
Media Library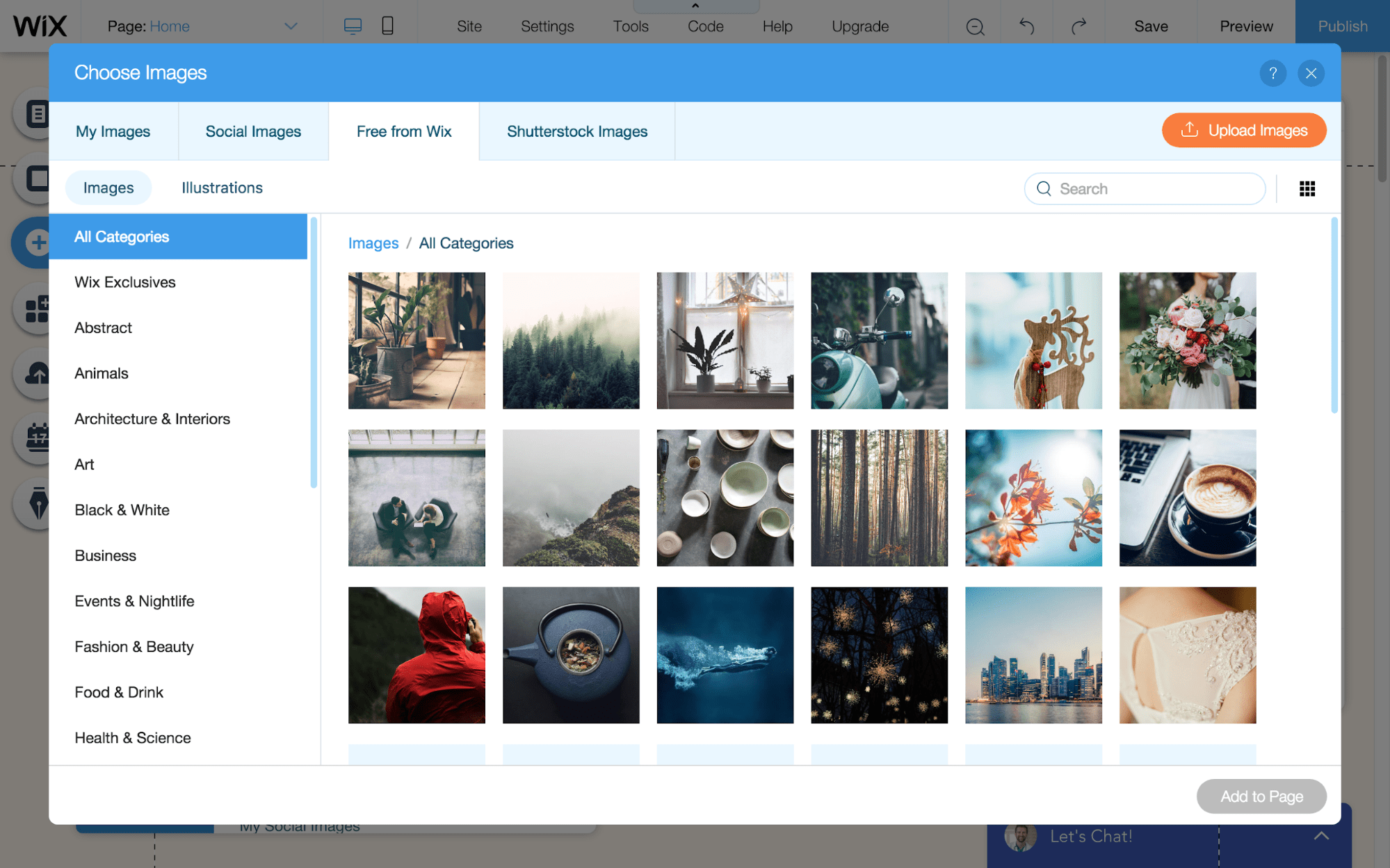 Finding pictures to use on your website can be difficult when you're just beginning. You can't use just any image because of copyright laws. But Wix provides a huge media library that's complete with images, videos, music, and more. Of course, you'll eventually have to use at least some of your own media, but the library is a unique resource to have available to you.
Not Sold on Wix? Here are a Few More Website Builders to Consider
Just because Wix is our choice for the best website builder for first-timers doesn't necessarily mean that you should make it yours. Beginners should research other viable options. Here are our recommendations:
GoDaddy
Primarily known as a web hosting service, GoDaddy's website builder – GoCentral – is a comprehensive platform all sized businesses and people can use to promote their goods and/or services. You can create a full-optimized website in under an hour using some great tools, including SEO tools, hundreds of custom-designed templates, and a large selection of e-commerce tools. You also get:
Drag-and-drop editor requires no coding knowledge
Website hosting included with 99.9% uptime guarantee
Fully responsive websites
Free SSL
Risk-free, one-month trial
Site123
The process of building a website using Site123 is as easy as one, two, three. Site123 is popular for its speed and ease of use, and it provides the following:
Basic website builder that requires no coding or even dragging and dropping
Ready-to-use, theme-specific layouts
Mobile-optimization features
Free hosting
Royalty-free images
1&1 IONOS
1&1 boasts numerous website-related services for beginners that set them apart from the competition. Everything you need to design a website is available at 1&1 IONOS, plus so much more:
Website design and hosting services
Cloud storage plans
Virtual private server plans
Linux compatibility
An email address that matches your domain name
Weebly
Weebly is another popular website building solution. Weebly is great especially if you want to build an online store .
A simpler drag-and-drop system than what competitors offer
E-commerce solutions, including a store builder, support for the most important methods of payment and delivery, and the ability to connect to numerous online marketplaces
The ability to customize HTML codes (if you know how)
Premium templates (available for purchase)
An image editor
Step 2: Get a Domain and Find the Right Web Hosting
Getting a website up and running requires a domain name (YourWebsiteName.com) and a host to connect your website content to the internet. When you build your website with Wix, by default Wix becomes your host. But if you pay a monthly fee, you can make sure your content will load faster and more reliably.
Another good reason to pay for a domain name is so that your website will look more credible and therefore seem more trustworthy. YourBusinessName.com looks much more professional than YourBusinessName.Wix.com, for example. When choosing your domain name, go for a .com, .net or .org extension. Those are the most recognizable.
If you don't opt for Wix for your hosting needs, find an affordable alternative that's trustworthy. You might luck out with a free domain name if you purchase a hosting package.
Step 3: Set Up and Design Your Website
Now for the fun part: setup and design.
First, log in to Wix and click Build Your Site. Then choose the theme of your website. I went with "Restaurants and Food" and then "Cupcake Shop." But as you can see from the screenshot below, there are plenty of specialized layouts in "Restaurants and Food" — even a niche theme specifically for food stylists!
To begin editing, you can choose what to add from the menu on the left side of the screen. Click the plus sign and then pick an element. I chose to add a shape: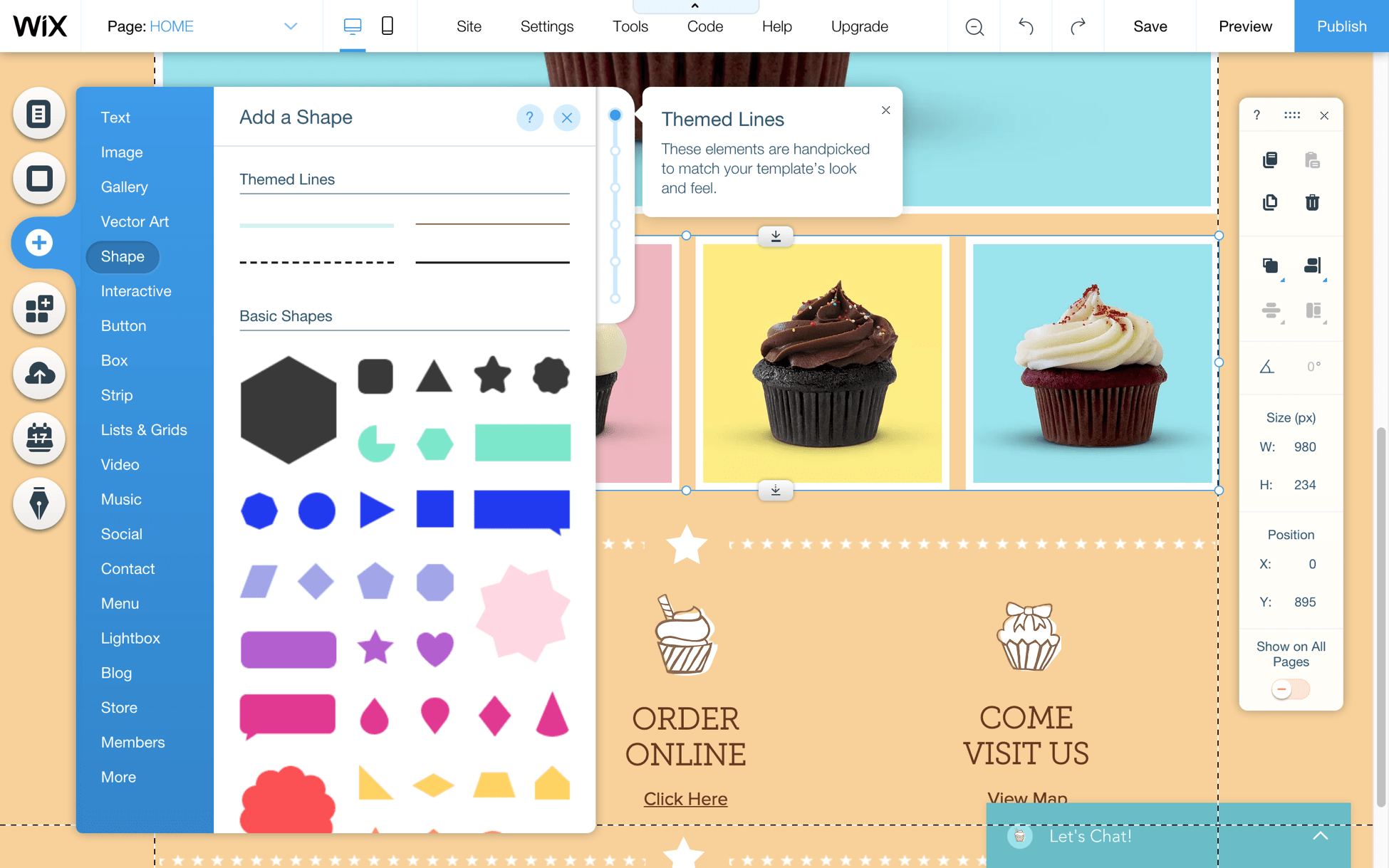 I changed the star in the top border by scrolling to find an alternative shape I wanted and dragging it onto the website. Then to customize the new shape, I simply clicked on it and changed its color from the element menu that popped up.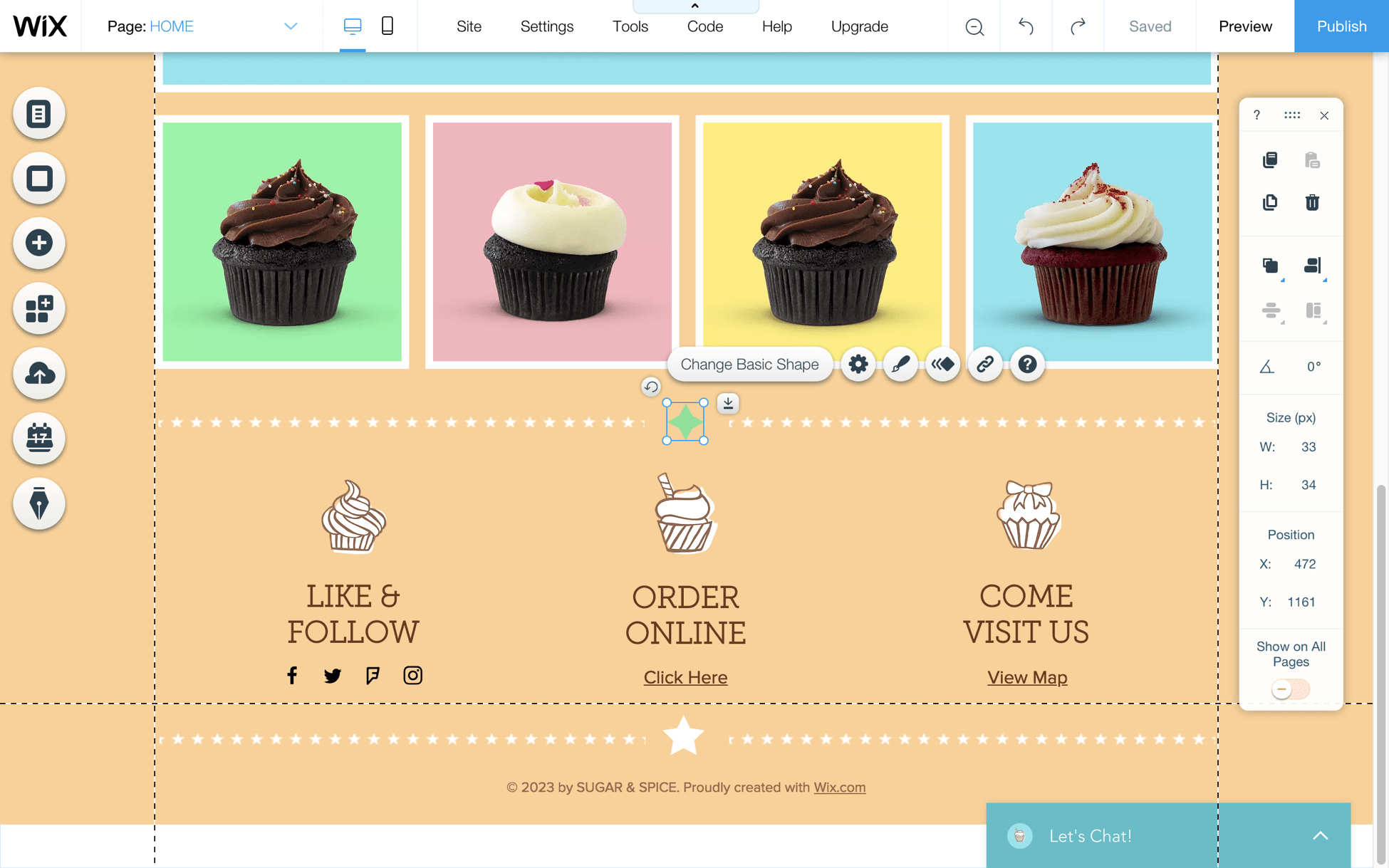 There are a few menus through which to access features like the image gallery. When you get there, this is what it looks like: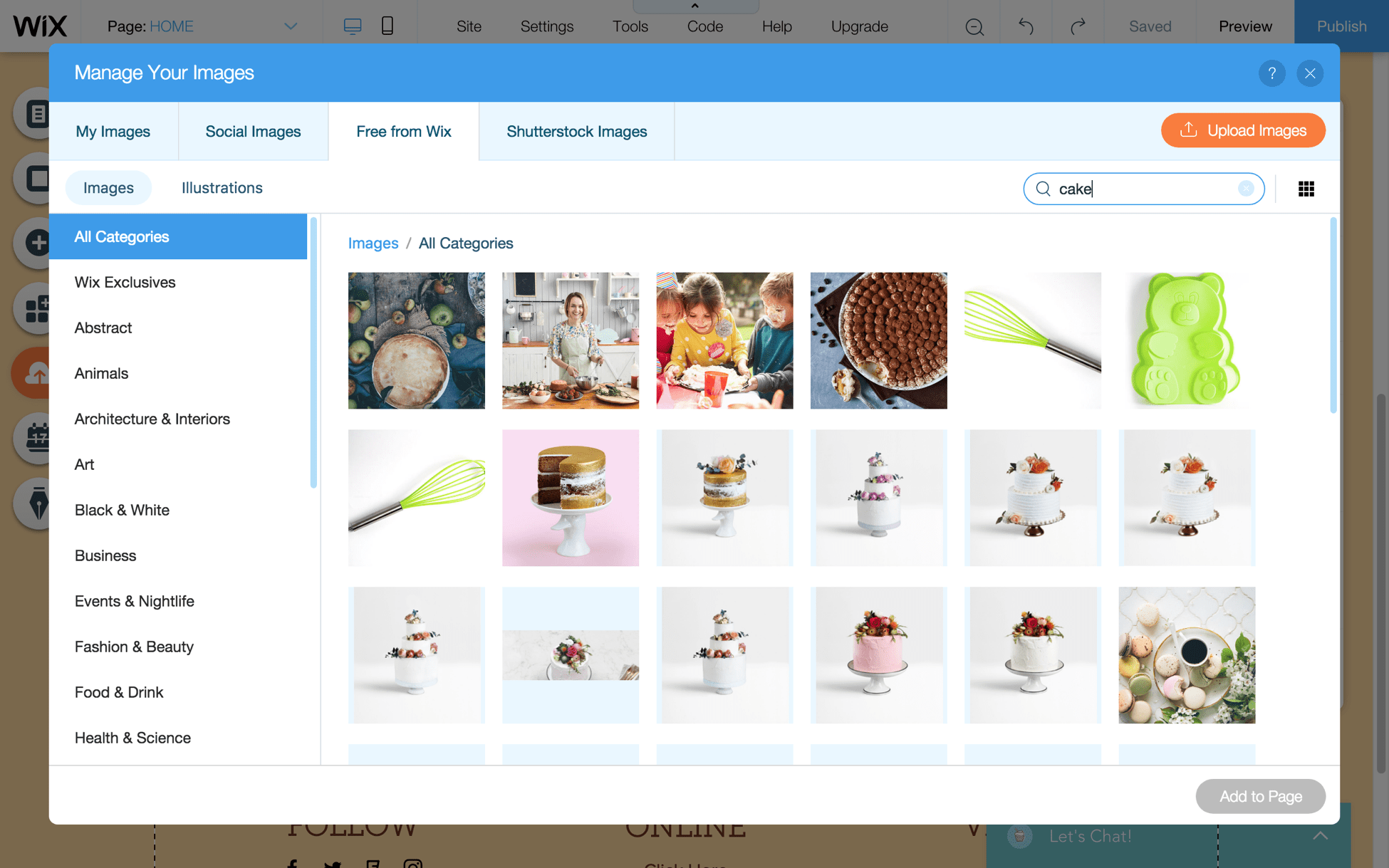 Be specific with your keywords. I searched "cake" and was presented with all sorts of beautiful options.
Now that you know some basics about how to add and edit features, here are some tips for designing your home page:
Keep it Clean and Simple
Yes, we're back to simplicity, because it matters. If you confuse visitors at any point, they're prone to leave. I made a few simple changes to embrace this rule.
For example, the name of my business is the first thing potential customers will read. Right below it, they'll learn where to go to get my cupcakes.
I decided to replace the image gallery with just one photo for now, and changed the color to match my new background: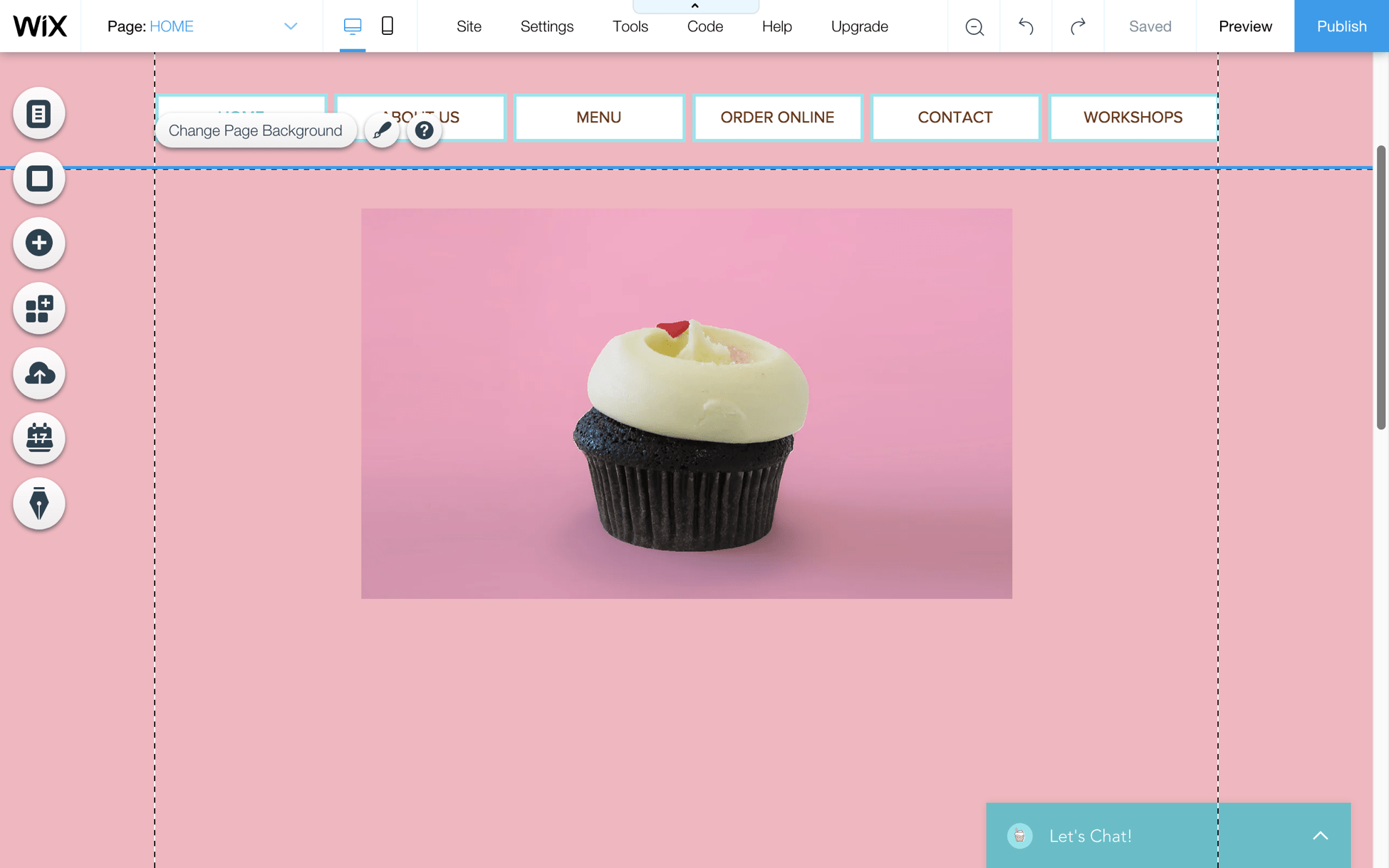 As visitors scroll down the webpage, I give more info. Never overwhelm people, especially at the top.
Perfect Your Navigation
Order your navigation links from most to least important. "Home" should probably always lead it off, and "Contact" is not a bad anchor.
Make sure the font is easy to read, and keep each button just one or two words.

Choose Your Applications  
Wix features a good amount of apps compared with other website builders. So the golden rule of simplicity applies here, too.
That means you should use only the apps that are relevant to your website. Apps for forums, music, and quizzes might seem fun, but leave them out if they're unnecessary. I chose apps like the blog, social media integrations, and analytics so I can keep my customers updated and track how many visitors my website attracts.
Other apps you might want to look into are:
Wix Forms
Wix Get Subscribers
Wix Events
Site Search
Wix Video
Don't add apps to your website that you plan to use later but won't use now. Might my cupcakery staff and I start a blog or showcase some videos? Yes! But I wouldn't add the blogging or video apps to my website until I'm ready. Now is not the time.
Step 4: Grow Your Audience 
Once your website is up, you need viewership. One of the most fundamental methods to get eyes on your website is through good SEO practices. Use the tools provided to you by your chosen website builder. One aspect of SEO is all about keywords, so choose them carefully.
Of course, people need a reason to come to your website, so give them one as often as you can. One of the easiest ways to do this is through a blog. No matter your business, there's something you can blog about. A local clothing store, for example, can blog about fashion trends and the items in their stock that match them.
And don't ignore social media. No matter what new content you provide, social media is a fast way to promote it. If you leverage the power of social media, you'll have an edge over the 82% of small-business websites that don't. But keep this in mind: When you post, be human. Don't just promote all day; actually talk with potential customers and address their concerns directly.
Showing people that you're relatable and caring is one of the best ways to get them to visit your website, nurture their loyalty, and ultimately grow your business.