Social media is one of the most effective forms of digital marketing in the Information Age. As well as having the potential to reach millions of consumers worldwide, it's a useful way of generating a buzz around your brand that will hopefully result in the three C's: conversation, clicks, and conversion.
Don't believe me? Well, the figures speak for themselves.
According to Hubspot, 92% of marketers claim that social media was instrumental for their business, with 80% being certain that their efforts led to increased website traffic.
In order to be one of the 80%, it's important to set social media goals for your brand. If your end goal is to "drive sales," like the rest of the twenty-first century entrepreneurial community, you can get to this by achieving mini goals within your social media strategy.
These mini goals can (and should!) be combined to excel your brand exponentially.
Read on for my top five goals of social media marketing to take your brand from "who?" to "wow!"
1. Generate Engagement
Generating engagement should be your number one priority as a social media marketing beginner. After all, if you can't even get a consumer to talk about you, then how do you expect to get them to buy your product or service?
Not to worry — I've got some good news for you.
Utilizing the best social media marketing tools and posting frequently on engaging topics is a surefire way to drive those sought-after likes and comments.
However, it's not just about how much you post—it's the quality of your posts that are important. Consider regularly posing questions, indulging in giveaways, and straight-up asking your consumers to comment on relevant topics.
Increased engagement means that your consumers are interested enough to interact with you. It shows you have brand authority in your niche, which ultimately builds trust with your consumer. And if you have trust, then your consumers will keep coming back for more, which results in more clicks and higher conversion rates.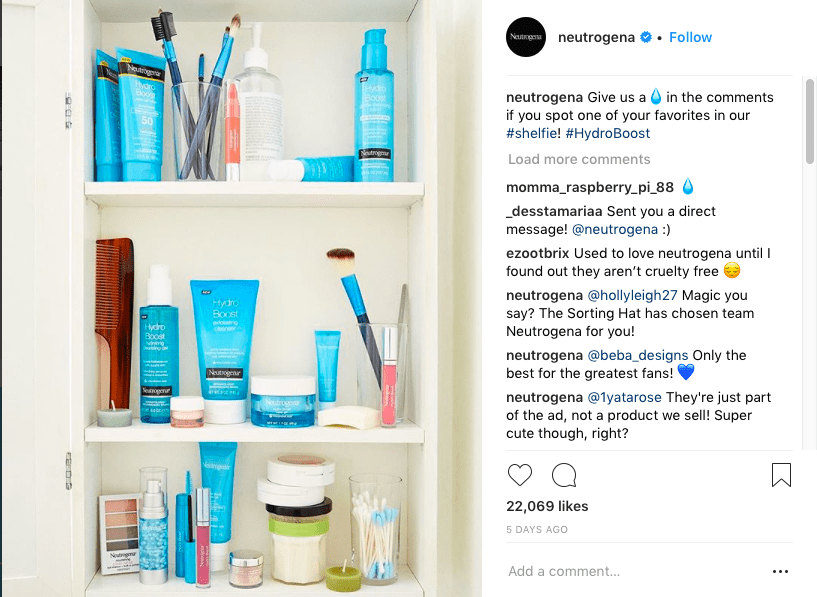 2. Develop Brand Awareness
Brand recognition is something all young businesses aspire toward. To be considered an "expert" in your niche and have that all-important brand authority is the dream.
And how do I achieve this, I hear you ask? The answer is simple: perseverance.
Generally-speaking, it's all being around long enough—and often enough—for consumers to sit up and start taking notice.
Whether you're using Facebook, Twitter, Instagram, or a combination of all three, using a social media management tool (like Hootsuite or Buffer) allows you to take the time to really think about the type of content you're posting, build on previous content to develop a strong brand personality, and ultimately attract and sustain the attention of your customers.
It's best to post at peak times (this will depend based on where your audience is located), use hashtags that are relevant to your niche, and talk about subjects that will intrigue and engage your customers for optimum results.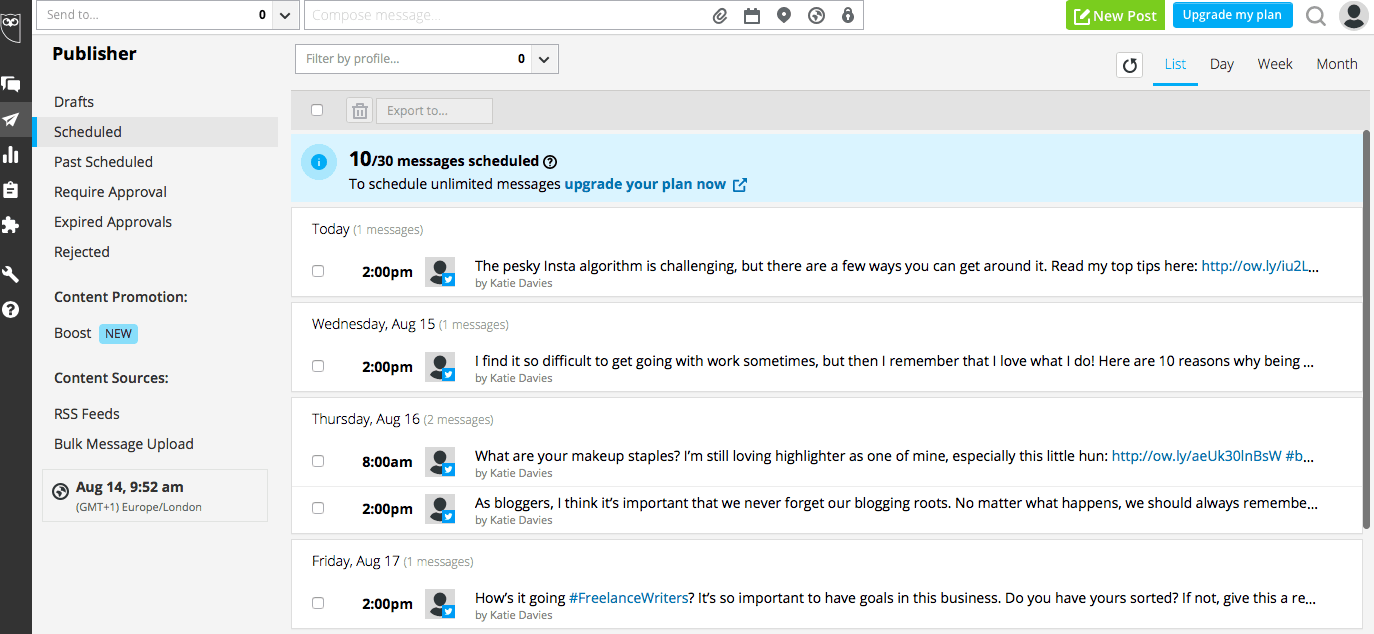 3. Gather Fans and Advocates
As you continue to generate engagement and brand awareness, you will begin to see a gradual increase in your fans and followers.
But remember, your follower count means very little if you can't get your audience to engage with you and, eventually, convert—which is why these social media marketing goals really go hand in hand.
In order to continually delight and inspire your audience, you'll need to offer quality content that will resonate with your audience, not just fluff for the sake of meeting your daily social media quota.
This is how you will transform regular followers into fans and advocates.
Be true to your brand, stay authentic, and don't just throw something on Facebook or Twitter "for the likes." Only click the all-important "Post" button if your content aligns with your brand, its values, and your mission.
After all, it's all about seeing the bigger picture and not getting lost in numbers and what everybody else is doing.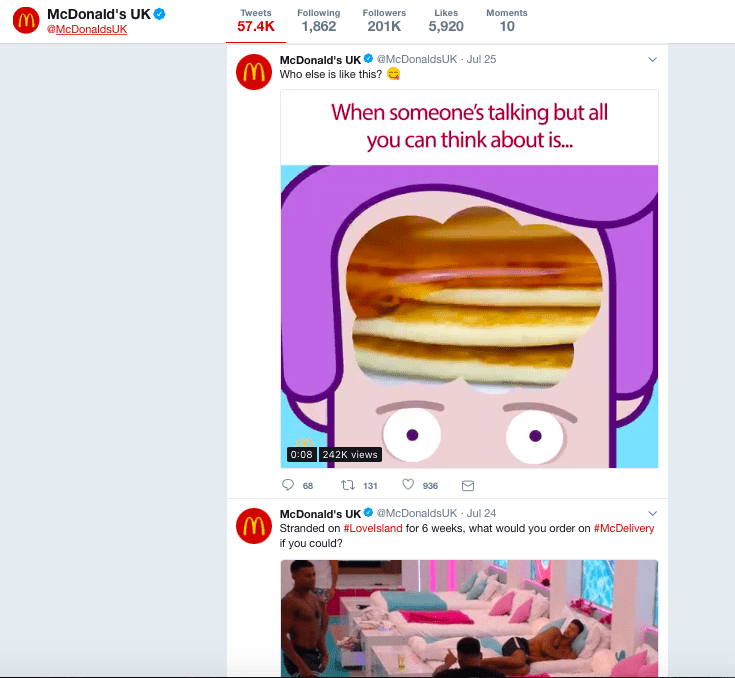 4. Increase Share of Voice
As you strengthen your brand and social media marketing strategy, you'll figure out what works and what doesn't. As you become more and more established, you should be aiming to increase your share of voice. This basically refers to what percentage of the conversation your brand is a part of compared to your competitors.
The earlier goal of engagement is intrinsically tied to one's share of voice. Social media mentions and shares are two of the biggest components here, so you'll want to do all that you can in order to keep your fans talking with you and about you (in a positive light, of course!)
Think about each stage of the customer journey, and seek to delight them every step of the way. Word of mouth has always counted for a lot in the offline marketing world, and it's also instrumental to your success in the social media stratosphere.
Beyond that, keep putting out killer content, finding opportunities to engage and interact with your audience, and proving to them that you're worthy of their love and attention.
5. Drive Website Traffic
While Instagram and Pinterest have been changing the game when it comes to "shoppable" posts and pins, many brands' ultimate goal when it comes to social media marketing will be to drive those website hits.
After all, the more people visiting your website, the more clicks surrounding your product or service, and the higher the chance of converting a consumer to a customer. And that's what this is all about, right?
Create opportunities for website visits by posting regularly, offering valuable content, and encouraging engagement through videos, games, and other interactive mediums.
You can also easily drive website hits just by including links to specific products and services in a post, whether it's a standalone product shoutout or a sequence of links to products featured in a video. This will then lead to click-throughs and, ultimately, purchases.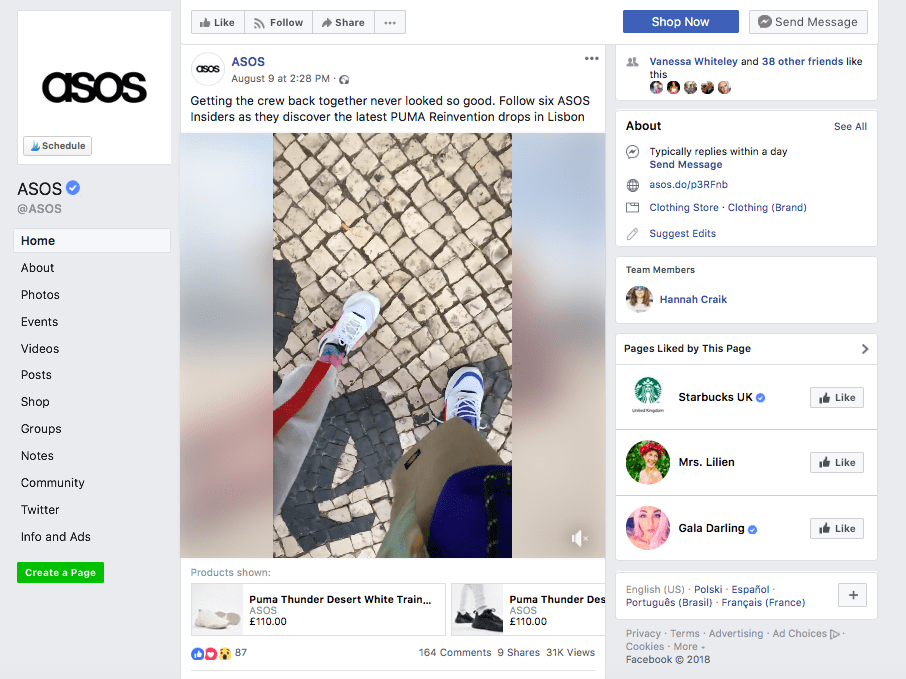 Utilizing Social Media to Market Your Brand
When done well, continuously indulging in social media will not only increase your brand loyalty with old customers, but it will also help you build relationships with new ones.
It would be a mistake for a brand to just focus on one of these goals and ignore the rest. Once you find the right combination for you, you'll see how interconnected they can be, and how your effort contributes to their mutual success.
Just always remember that your posts reflect your brand. Put as much time and effort into social media marketing as you would if you were advertising your brand offline, and you'll soon find that the results make it all worthwhile.