Update: The page to submit verification requests on Twitter is currently down as the platform makes some adjustments. We will update this article as soon as Twitter reinstates the process.
---
Have you always wondered what the little blue checkmark is next to an account's name on Twitter? Or wondered what all the fuss is about? Twitter awards a blue verified badge to indicate that accounts of public interest are authentic, as opposed to fan pages or impersonators.
It's no secret that this verification is highly sought after by brands and individuals alike.
Why? Well, it's the highest form of social currency. It equals celebrity status in the world of social media and
shows that you're an expert in your field
. In terms of the verification badge itself, Twitter states that the placement and color are always the same.
The little blue tick appears next to the account name in search results, as well as next to the account name on the profile page.
There are many benefits to being verified on Twitter, therefore it's definitely worth a try. There are also some things that you can do to help your chances of achieving verification.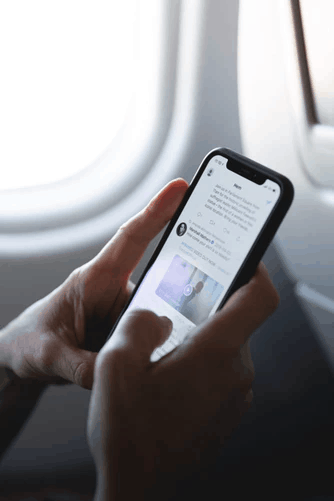 Benefits of Twitter Verification
The ultimate goal behind Twitter verification is to help people find specialized, high-quality accounts to follow. But what's so good about the little blue badge from a user perspective? Well, the main benefit is being able to receive recognition as an account that's worth following in a particular field, thus
boosting your organic growth
. Other benefits include:
Being able to filter: Verified users can filter their notification stream to only include replies, likes, and retweets from fellow verified users; verified users can also opt out of direct messages if they so choose
Building trust with your audience: 85% of consumers only purchase products or services from trusted brands—and the little blue tick demonstrates reliability and authority, increasing respect from your chosen community
Connecting to other verified users: Obtaining verification means that your interactions with other verified users can't be hidden, meaning that your content is always visible to the maximum amount of Twitter users possible
So Who Gets Verified?
If you're a profile of public interest in a specific field, you're one step ahead in the game of getting verified on Twitter. What kind of fields? Well, these typically include
music, fashion, journalism, media, politics, religion, sports, business, and other key interest areas.
Essentially,
if you're constantly praised for thought leadership in your industry and have a stream of impressive achievements, then you've got a good chance of grabbing that all-important blue tick.
Steps to Getting Verified
The steps to getting verified on Twitter are more straightforward than most people realize.
1. Prepare Accordingly
First things first, you need to make sure that your profile is ready to be considered for verification. Work on the following elements:
A profile picture: Make sure this is clean, clear, and matches the profile photo on other social networks where you have a strong presence
A cover photo: It helps if your header picture shows you doing something impressive in your field or includes your logo and branding if you're a company
A name: Make sure this reflects your public persona; for example, if you're an actress with a stage name, you should use your stage name; if you're a company, then you should use your public-facing company name
A website: Include a URL in your profile to demonstrate legitimacy
A bio: Include a strong job title and any relevant details that reflect your public persona
Your birthday: This helps to confirm your identity as an individual, but isn't as relevant for brands, companies, or organizations
Your location: Update your profile with a specific location as Twitter favors this over something generic like "worldwide" or "North America"
Your "public" settings: If you want to be seen as a public figure, it helps to change your settings from "private" to "public"
A verified phone number: This is used to confirm your identity and match your online and offline personas
A confirmed email address: If you have a company email address, make sure this is associated with your account
If you overlook any of these elements, Twitter might automatically reject your application for verification—and that's not exactly what we're aiming for here!
2. Fill Out the Verification Form
Once your profile is prepped and ready to go, proceed to access the verification form on Twitter and enter the username for your account. You will then be asked for
five links to showcase how awesome you are as a public figure.
These can be anything from credited articles if you're a writer to product reviews from customers if you're a business. Either way,
make sure your links make people go "wow" for all the right reasons.
If they don't, then it's not worth including them.
3. Get Pitch Perfect
Once the verification form is all filled out, it's time to work on your pitch. Twitter will ask for 500 characters on why your account should be verified—and
this is your chance to sell yourself.
Don't just tell Twitter what you do. Tell them what value you bring to people and how Twitter can benefit from having you as a verified user on their platform. Show them that you can enhance their community.
Remember, you need to make them want you.
4. Wait for the Verdict
Once you've submitted your application, it can take a little while for Twitter to get back to you. Didn't receive verification this time? Not to worry—
give it 30 days and you can try again.
Increasing Your Chances
If you've been rejected more than once, there are a few things that you can do to increase your chances of obtaining that little blue badge.
1. Be More Active
It's unlikely that Twitter is going to accept you as an expert in your field if you only tweet once per week and rarely engage with your audience.
The trick to obtaining verification is to be actively involved with the network and tweet frequently to keep the sense of community alive.
Need help doing this? The
best social management tools
like
Hootsuite
and
Sprout Social
can help you create a consistent tweeting schedule on your verification road to success. Oh, and make sure that you're super active for at least two weeks before you re-apply for verification to show Twitter just how serious you are.
2. Connect With Other Verified Accounts
Another tip if you're looking to increase your likelihood of verification is to demonstrate that you already have excellent connections.
Add social proof to your account through other verified accounts.
You can do this by mentioning these accounts in your bio, like journalist Jennifer Still who has tagged the publications that she writes for.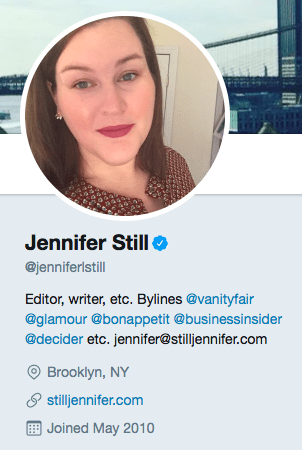 In addition, it's important to follow and tag other verified accounts while sharing content (when suitable, of course). This action enhances your credibility as a candidate for verification and demonstrates your commitment to the community interested in public welfare.
3. Sell Yourself With Your Bio
Speaking of great bios, you can use yours to your advantage in order to achieve Twitter verification.
Are you an individual? Showcase your personality and human side, but also use the right keywords through your job title so that you can reach the right audience
Are you a business? Describe what you can do for your customers
Are you an organization? Add numbers and statistics to your bio, as it actually helps to be a bit self-promotional about your successes and achievements
Take the World Scouting organization, for example. The fact that they have millions of members in 169 national organizations instantly widens their appeal and credibility.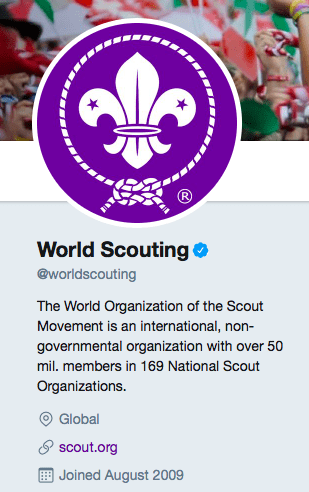 You can also use hashtags to expand your reach
and show that you're trying to engage in relevant communities.
4. Stay Informed
Last but not least, make sure you stay up-to-date with what's going on in the verification world to increase your likelihood of getting approved. For instance, actively look at other verified accounts on a regular basis to see what they are doing and saying.
And if there's a trend? Follow it.
It's All About the Blue Tick Life
For active Twitter users, having a blue checkmark next to their account name can be the ultimate goal. It demonstrates authority in an area of public interest and ultimately gains more followers. Verification might seem unattainable at first; however, there are several measures that you can put in place to achieve it. Don't worry if it takes more than one try—that little blue tick is going to be worth it in the long run.
---
Sources: Twitter mention: https://help.twitter.com/en/managing-your-account/about-twitter-verified-accounts Edelman Insights statistic: https://www.slideshare.net/EdelmanInsights/2011-edelman-trust-barometer Hootsuite statistic: https://blog.hootsuite.com/get-verified-twitter-essential-guide/ Sprout Social mention: https://sproutsocial.com/insights/how-to-get-verified-on-twitter/